The 3 common traits of successful neutral zone teams
The swelling interest in analytics within the hockey world has given birth to an important task beyond compiling mountains of numbers: drawing proper conclusions from said numbers - kind of an important step one - and finding their practical application.
One element the stat community is focused on is zone entries and zone exits. Those stats are simple tallies of how many times a player carries the puck across the blueline into the zone, with separate categories for dump-ins and failed attempts. This brings focus to neutral zone play, and allows us to highlight which players have the most (and least) success through the middle of the ice.
What was intuitive is being proven statistically: carrying the puck into the zone leads to more offense than dumping it in (roughly twice as much, according to one study). That makes sense - you're going to carry every time your opponent is sucking at defense, and when your opponent is sucking at defense, you're going to have better chances to score.
But it's more than just taking advantage of the situations you're given. We know that because certain players carry the puck in way more often than others. Phil Kessel had control of the puck on a whopping 79 percent of his zone entries last season, while Frazer McLaren had control a laughable nine percent of the time. Part of that is coaching - ole' fourth-liner McLaren's obviously not allowed to get creative at the blue, his role is to get it deep and bang ... but that doesn't make his percentage any less remarkably terrible.
So, how do certain players control the puck across the blue line more than others? How do you coach up a team to gain the zone better, and how do you do that without having to play the give-it-up, get-it-back game?
Well, let's discuss.
ENTERING THE OFFENSIVE ZONE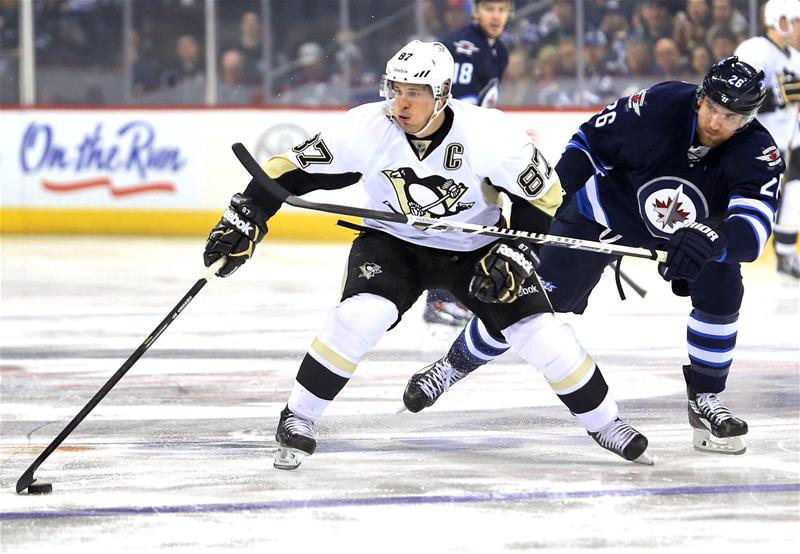 Support through the neutral zone
This entire coaching section could really be just this header. Support - which is simply providing close, available options for the man with the puck - is essential. So much of getting through the neutral zone minefield and into the offensive zone is using what's given to you until it's taken away, then finding the best out. Sometimes that means a dump-in, but obviously you'd like to not give the puck up.
So, what's good support?
* Wingers should be coming all the way across the ice to support their puck-carrying linemate on the far wall, especially when there's traffic. (If the opposing team has their neutral zone forecheck set up, few people can break through alone.) That also allows the supporting winger to get his jets going.
* You need hard-working centers given how often they're coming from behind their own net in the defensive zone. They don't need to bust up the ice - they're coming from a good place defensively in the event of a turnover - but those who work hard through the middle to get into the play provide more options.
* Support forwards need to read whether the player with the puck is going to be stood up early (say, at center), in which case they need to push behind the defender for a soft chip, or if the player is going to be able to get to the blue, in which case the support forward needs to stay below him for an outlet.
You're best coming up the ice together, and I mean together; all three forwards being on the same half of the ice isn't a terrible thing. Floaters play alone in traffic before skating back to the D-zone; cohesive lines play together at the other end.
Use ultimate frisbee-style short passes
NHL players are not minor league hockey players, as you know. They can make a dozen straight tape-to-tape passes without a catastrophe. Knowing that, players coming through the middle need to think like the Sedin twins. Five and 10-foot passes (something the Sedins excel at) make defenders ask questions - "Is that still my guy? Should I switch?" - and move the lane of entry, which provides an extra few feet of space for a puck carrier. It can also cross up the feet of a defender, who now has to change direction.
A five-foot pass under a D-man's triangle as players cross the blue line is instant zone access with possession. Good support and small passes everywhere are key.
Speed forces desperation
There's a lot to think of defensively in the neutral zone. The opposing center is trying to stay above yours, opposing wingers are trying to force the puck to the wall, and they're trying to get pressure before the red line. This all involves some reading of the play, and might entail a switch or two, and certainly involves everyone on the defensive side trying to do his part without the plan breaking down.
If a group can come through the middle with at least a couple of players flying, they can take the defensive team out of Tactical Planning Mode, and thrust them into Holy Shit Panic Mode. Teams have trouble playing "their game" against speed.
A quick example in stills, which I'll go in-depth on next week during our team previews, is from Dallas. Shawn Horcoff gets the puck on the wall and makes a talented little five-foot pass to his his then-linemates (Dustin Jeffrey and Ryan Garbutt), who are coming up with him, and flying. (Sorry it's in stills; you'll just have to trust me on that.)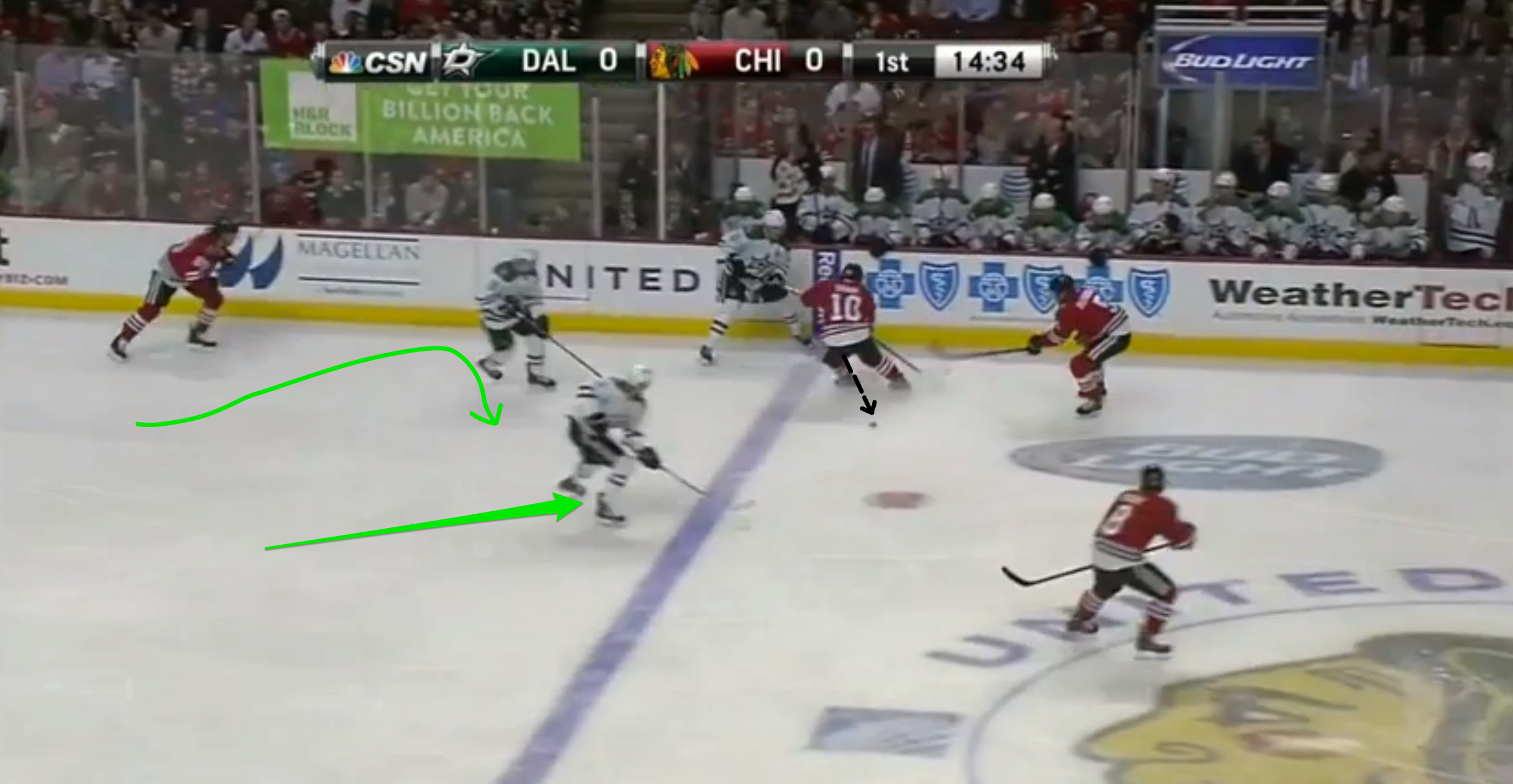 The Blackhawks defenders are left flat-footed, while the Stars push on, nearly forcing a 2-on-1.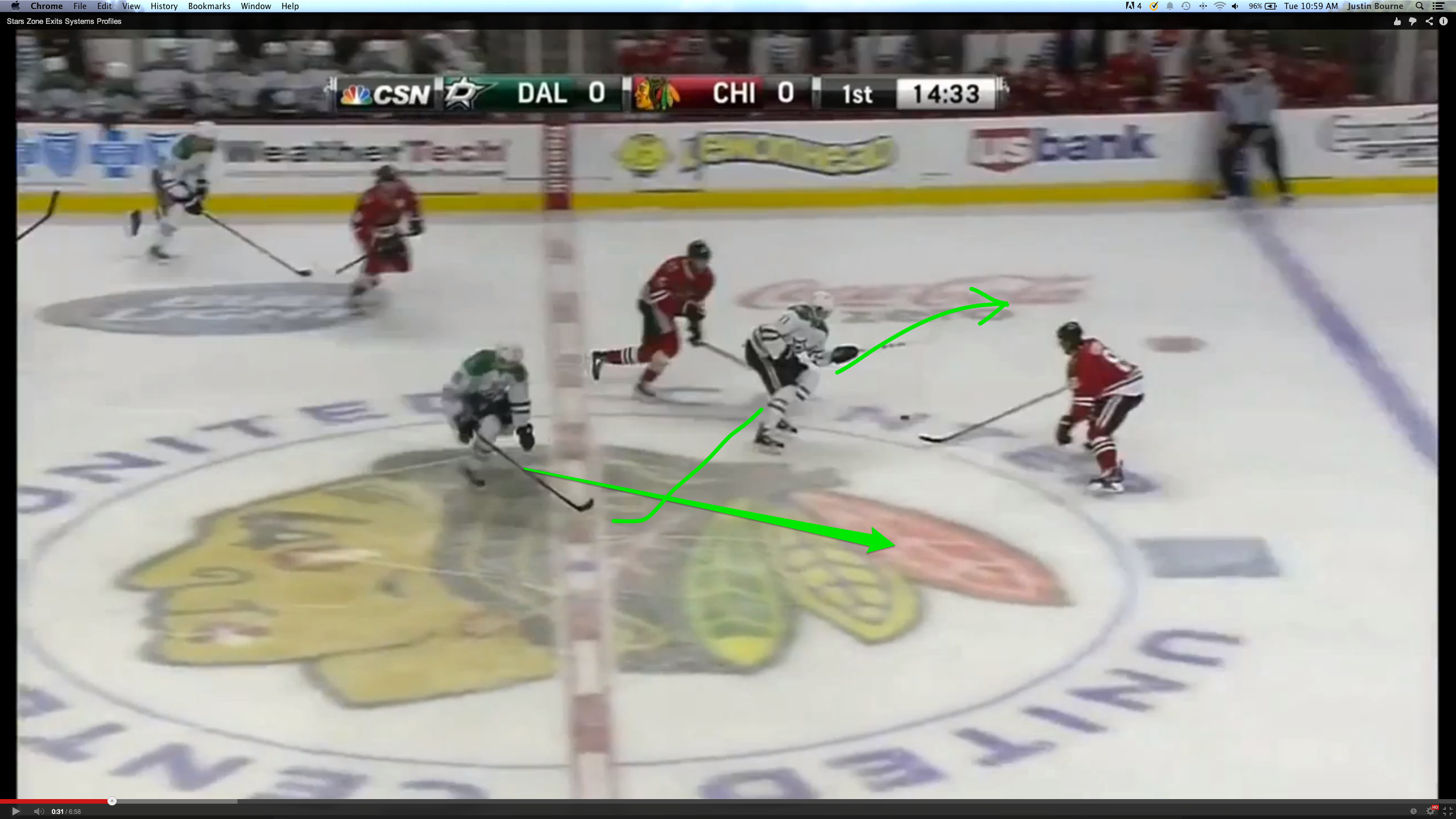 The play didn't result in anything special, but Dallas did gain the zone with the puck thanks to good support from low, a short pass, and speed. And when the puck is coming from behind your net, as it was in that play, you'll take that result every time.
*****
A team provided with zone entry data would easily be able to tailor its coaching far beyond the general rules I mentioned. It could highlight which players get less touches in the neutral zone, which might mean those players aren't offering good enough support. It could find a player with a high rate of failure and take to video to figure out what he can do differently. Tracking throughout the year, a team could even pin down which specific breakouts and systems are providing it with the most success.
It's all good information to have. For starters, though, the basic concepts are simple - if you support one another, move the puck early and often, and get those feet movin', you'll have a lot more success at gaining the opposing zone with possession of the puck.
Comments
✕
The 3 common traits of successful neutral zone teams
  Got something to say? Leave a comment below!