Detroit Red Wings: 3 storylines to watch this season
James Guillory / USA TODAY Sports
theScore's NHL editors take a look at three storylines to watch for each NHL team heading into the regular season.
Babcock's contract
The Detroit Red Wings have plenty of time to lock up head coach and hockey genius Mike Babcock before he becomes the equivalent of a free agent at the conclusion of the 2014-15 season. Until that's done, though, Babcock's status will hang over everything - and not just in Detroit.
In his 11 seasons as an NHL head coach Babcock, 51, has amassed a .629 point percentage - fourth best among active coaches. Barring a cataclysmic campaign for the Red Wings, he'll surpass 500 career wins this season. In addition to never missing the postseason during his time in Detroit, Babcock has guided Team Canada to two consecutive Olympic Gold Medals and is the consensus pick for "best coach in the NHL."
So what's the hold up? The two sides are expected to meet in September, and both Babcock and the team have spoken openly about getting a new deal done. But Babcock has insisted that he won't negotiate in-season, so talks better move briskly now before his status threatens to become a season-long traveling sideshow.
A quiet summer, a thin defense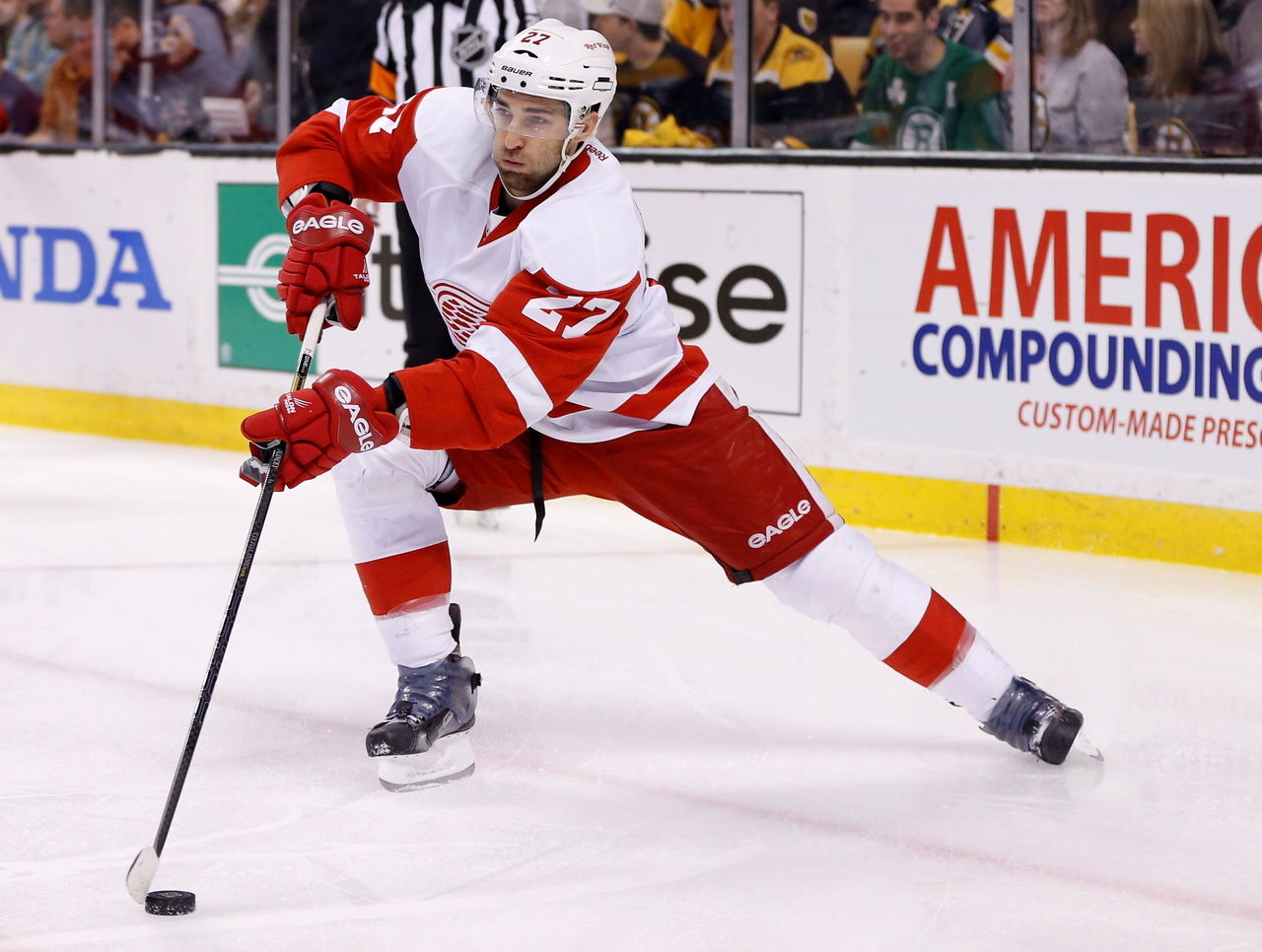 The Detroit Red Wings swung and missed on Dan Boyle, Stephane Robidas, and Matt Niskanen in free agency. 
Christian Ehrhoff, who the Red Wings were interested in acquiring at the trade deadline, elected to sign with the Pittsburgh Penguins. The Vancouver Canucks ultimately didn't move Alexander Edler, a player the Red Wings reportedly had 'considerable interest' in. Right-handed shooting defenders like Mark Fayne, Tom Gilbert, Mike Weaver and Anton Stralman all signed elsewhere. 
Ultimately the Red Wings turned to Kyle Quincey on July 2, but that seemed like a fallback move and he's probably best suited to a third-pairing role. Though Quincey can play his off-side, the Red Wings have no right-handed shooters along the blue line except for, and this is a stretch, rookie 22-year-old Alexey Marchenko. The club will probably play without a right-hander in their top four this season, which you know coach Babcock isn't happy about.
Will Detroit's uncharacteristically quiet summer and wafer-thin blue-line corps come back to bite them?
Tap here to read an extended a roundup of the Red Wings' not-so-busy offseason.
Back at full throttle 
The Red Wings battled through myriad injuries during the 2013-14 season and still qualified for the playoffs, thanks to the contributions of young players like Gustav Nyquist, Tomas Tatar, Riley Sheahan and Tomas Jurco among others. 
Now, after a long offseason, players like Henrik Zetterberg, Pavel Datsyuk, Stephen Weiss and Darren Helm are back in game shape. It's a good problem to have, but it does create something of a logjam. Where do the talented young kids fit in now that the veterans are off of injured reserve?
Are there enough minutes and pucks to go around in Motown?
In 2013-14, the Red Wings probably took too long to install Nyquist, Sheahan and Tatar into the lineup. That arguably nearly cost the franchise their now-23-year streak of qualifying for the Stanley Cup playoffs. Will the organization repeat that mistake this season?
Tap here to read about 5 Red Wings players you'll want to target in fantasy hockey!
Comments
✕
Detroit Red Wings: 3 storylines to watch this season
  Got something to say? Leave a comment below!