3 things you need to know about NHL salary arbitration
Brace Hemmelgarn / USA TODAY Sports
When a National Hockey League player has accrued enough professional experience (it varies based on the player's age when he signed his first NHL contract), he becomes eligible for salary arbitration. 
The NHL's arbitration process is formal, rigid and conventional (as opposed to the final-offer arbitration process used by Major League Baseball), but it serves to provide eligible restricted free agents with additional leverage in negotiations. There are currently 17 players and 13 teams with arbitration hearings on the docket, with hearings scheduled for the two-week period beginning July 21 and ending August 1.
Here are three things you need to know about the NHL's arbitration process:
Procedure
Let's run through how arbitration works as briefly as we can.
The first step, now that hearings are scheduled and arbitrators assigned, is for the two sides to exchange briefs - including each side's proposed salary figure - no less than 48 hours before the start of the hearing (nearly all of the hearings take place at 9 a.m. ET). Teams peg the value of their players at a figure significantly lower than what they're worth, while players generally do the same. This is part of why the process can be so damaging for relationships.
Also determined when the briefs are exchanged: the side against whom arbitration was filed gets to elect a term of either one or two years for the potential award. In "player-elected salary arbitration," the team will decide on a one or two-year term for the award. In "club-elected salary arbitration," the player will decide. 
At the hearing, each side has 90 minutes to present their case, and must allocate those 90 minutes between their direct case and rebuttal case in any manner they choose. If the party that presents their direct case second introduces a "substantive issue" or a new comparable player, then the second side can request an additional 10 minutes for rebuttal.
Here's how the salary arbitration hearings proceed, from the NHL/NHLPA collective bargaining (CBA) agreement Article 12.9 (k)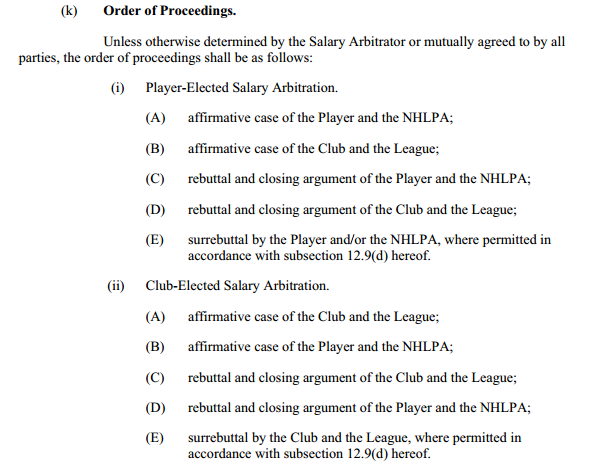 Once the hearing concludes, the arbitrator must issue his decision to both sides simultaneously (by e-mail) within 48 hours, and it will include the term, salary, and a brief summary of the reasoning behind the decision. 
The decision of the arbitrator is binding, although teams can walk away from an award in excess of $3.5 million if the salary arbitration hearing was player-elected (note: that $3.5 million figure is adjusted annually by the same percentage as the increase in average league salary, so the walk away limit is probably several $100,000 higher than $3.5 million this time around). 
Clubs cannot walk away from a salary arbitration hearing they've elected.
Parties can only offer specific types of evidence
The NHL/NHLPA CBA is very specific about what types of evidence can be submitted, to the detriment of certain types of players. Permissible evidence includes:
The number of games played and a player's injury history
 "Overall performance" (including NHL "official statistics")
Length of service of the player to the club or in the NHL
"The overall contribution of the Player to the competitive success or failure of his club in the preceding season" 
"Any special qualities of leadership or public appeal" 
The overall performance of alleged comparable players
The compensation of any comparable players that have been formally introduced as a comparable
Here's a sampling of what sort of evidence is inadmissible:
A contract entered into when "the Player" was not a "group 2" restricted free agent
Any contract signed by an unrestricted free agent (so only group 2 restricted free agents can serve as comparable players)
A contract signed by a player that is not being offered as a comparable player
Qualifying offers
Prior negotiating history between the club and the player
"Testimonials, videotapes, newspaper columns, press game reports 
or similar materials"
Any reference to walk-away rights
Any arbitration award that a club walked away from
"The financial condition of the club or the league"
References to the club's salary cap situation, or the players' share (of hockey related revenue)
Any arbitration award issued in 2005-06, or any reference to a salary arbitration opinion that took place prior to the beginning of the salary cap era
Particularly notable is that the "statistics" that players and teams can use are generally the prehistoric numbers - those "official statistics" that are "kept and maintained by the league." It's generally thought that this doesn't really include the sorts of metrics - zone starts, shot attempt differential (Corsi), quality of competition - that are increasingly common in evaluating players.
Real time statistics like "hits" and "turnovers," which are both extremely subjective and notoriously unreliable, are admissible.
Most cases settle
As a general rule of industrial relations, actors - both labour and employers - are wary of uncertainty in the face of binding arbitration, usually preferring to work out a deal on their own rather than have cost/salary issues settled by a neutral third party.
Specific to NHL arbitration (versus most other industries, baseball excluded), there are enormous egos at play, and the arbitration process can be extremely acrimonious. Often times players would prefer not to have their fitness, popularity, and performance slammed cynically and at length by their employer. Obviously teams generally prefer not to subject multi-million dollar assets to that type of ill treatment. 
Last season, 15 players were scheduled for arbitration hearings and in all 15 of those cases, the two sides settled prior to the hearing. This summer there were originally 23 different players scheduled to have salary arbitration hearings, but six have already settled, and the majority of the remaining 17 probably will too. 
What's critical to remember is that even if the team you root for and your favorite player appear to be headed into an uncomfortable setting that could strain even the most stable, mature business relationship, it's still more than likely that a 12th hour settlement will be reached. Except in the case of the Colorado Avalanche and Ryan O'Reilly; that case seems unlikely to get settled.
Here's the salary arbitration schedule as of Sunday, July 20th, for reference: 
| Date | Player | Team |
| --- | --- | --- |
| July 21st | Cody Franson | Maple Leafs |
| July 22nd | Antoine Roussel | Stars |
| July 23rd | Chris Kreider | Rangers |
| July 25th | Lars Eller | Canadiens |
| July 25th | Mats Zuccarello | Rangers |
| July 28th | Derick Brassard | Rangers |
| July 28th | James Reimer | Maple Leafs |
| July 29th | Jimmy Hayes | Panthers |
| July 30th | Kevin Poulin | Islanders |
| July 31st | Nick Spaling | Penguins |
| August 1st | Dwight King | Kings |
| August 1st | Joe Colborne | Flames |
| August 1st | Justin Fontaine | Wild |
| August 1st | P.K. Subban | Canadiens |
Club-elected arbitration hearing schedule:
| Date | Player | Team |
| --- | --- | --- |
| July 21st | Vladimir Sobotka | Blues |
| July 23rd | Ryan O'Reilly | Avalanche |
| July 31st | Michael Frolik | Jets |
Comments
✕
3 things you need to know about NHL salary arbitration
  Got something to say? Leave a comment below!