Why you should hope your favorite team drafts an NCAA hockey player
With the NHL draft on the horizon, there have been a few articles written that have highlighted a "market inefficiency" of sorts: college hockey players are undervalued.
It's nearly impossible to predict how recent draft picks will pan out, so it makes sense to go back a little ways. In a study of the draft from 2000-2006, College Hockey Inc. noted that 70% of NCAA players drafted in the first round went on to play 300+ career games (100+ for goaltenders), while only 57% of players drafted elsewhere accomplished the same.
Here's a look at the success rate of the different routes: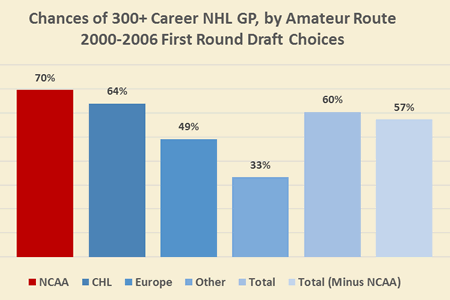 The study largely focused on the success of players in the early rounds, where teams are more likely to draft impact players (nearly half of all NHL players in 2013-14 were taken in the first two rounds, and the league is made up of 30% first rounders).
One interesting note from the study focused on the concept of "re-drafting." It's common these days to look back at previous drafts and "re-draft" players to see how accurate teams were in the first go-round. In numerous cases over those years, more college players were selected higher and more frequently than in the initial draft.
Neil Greenberg of the Washington Post took a different look at the same topic in a piece titled "College hockey players undervalued in the NHL draft and here's why."
He noted:
It takes about five years for a prospect to develop, and for the purposes of this article we will consider him a success if he plays in at least 200 games at the NHL level. That gives him five years of 40 games played to qualify. Of the players drafted from 2006 to 2009, 14.7 percent of players from Major Junior have hit that benchmark; players from collegiate programs, on the other hand, have hit that mark 17.1 percent of the time. And those players from Major Junior are picked close to a round earlier on average than those playing in college (97th pick vs. 121th pick).
One of the reasons Greenberg gave for this was the higher quality of competition. Since players are older in college, they're often playing against men instead of teenagers. (Partly because of that, a player's numbers in college tend to translate more accurately to their numbers in the pro ranks.)
It's interesting to note that while college players are getting drafted less often these days, their presence in the NHL continues to climb.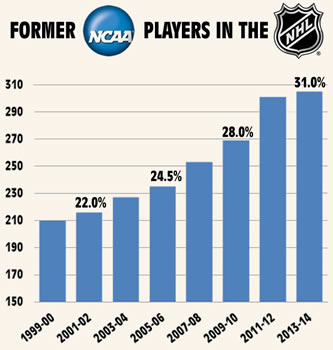 The biggest reason for these stats - draft frequency versus realized NHL talent - is simply age. Players get drafted at 18, and a big chunk of kids who go to college don't get there until they're beyond that. The junior leagues that lead to college are sparsely scouted (in comparison to major junior), and by the time players get to the NCAA they've already been passed over.
College hockey allows players to develop at their own pace. If you're a player who needs more time to develop - a late bloomer - the four years you're eligible for allows that. If you happen to take a big step early on, you can leave whenever you see fit. It's tailored to suit the player without rushing him.
On top of that, there's no limitations on placing college players in the AHL for the NHL club, meaning they can develop their drafted player exactly how they want. That's good for the player and the team that drafts him.
The biggest thing of all though is still the opportunity to get an education so you have something to fall back on if things don't pan out. Players (and their families) are realizing that it's not a hockey dead end either. It's an awfully safe route.
This season it looks like there will be somewhere between three and five NCAA players taken in the first round. Some of those potential names:
Sonny Milano (Boston College)
Alex Tuch (Boston College)
Dylan Larkin (Michigan)
Nick Schmaltz (North Dakota)
Jack Dougherty (Wisconsin)
Just looking at the stats from 2000-2009 in those two articles, it seems likely that these names will have a slightly higher chance of achieving successful NHL careers. If you're an NHL team looking for a way to increase your odds of drafting a valuable player, you'd be smart to consider these guys.
Comments
✕
Why you should hope your favorite team drafts an NCAA hockey player
  Got something to say? Leave a comment below!