5 very likely compliance buyout targets
Kirby Lee / USA TODAY Sports
Between Monday morning, and 5 p.m. ET on June 30, NHL teams can exercise one of their two "compliance buyouts."
The compliance buyout tool permits teams to buy out a standard player contract signed before 15 September 2012 without incurring the salary cap ramifications of an ordinary course buyout. This is the final window for a club to use a compliance buyout under the terms of the current NHL/NHLPA CBA, which expires following the 2020-21 season.
3 things you need to know about the NHL compliance buyout period
Here are five players that are very likely to be the target of a compliance buyout this month. The five players are rated out of five by theScore's hyper-scientific, proprietary Rick DiPietro buyout-ability scale. 
Brad Richards - New York Rangers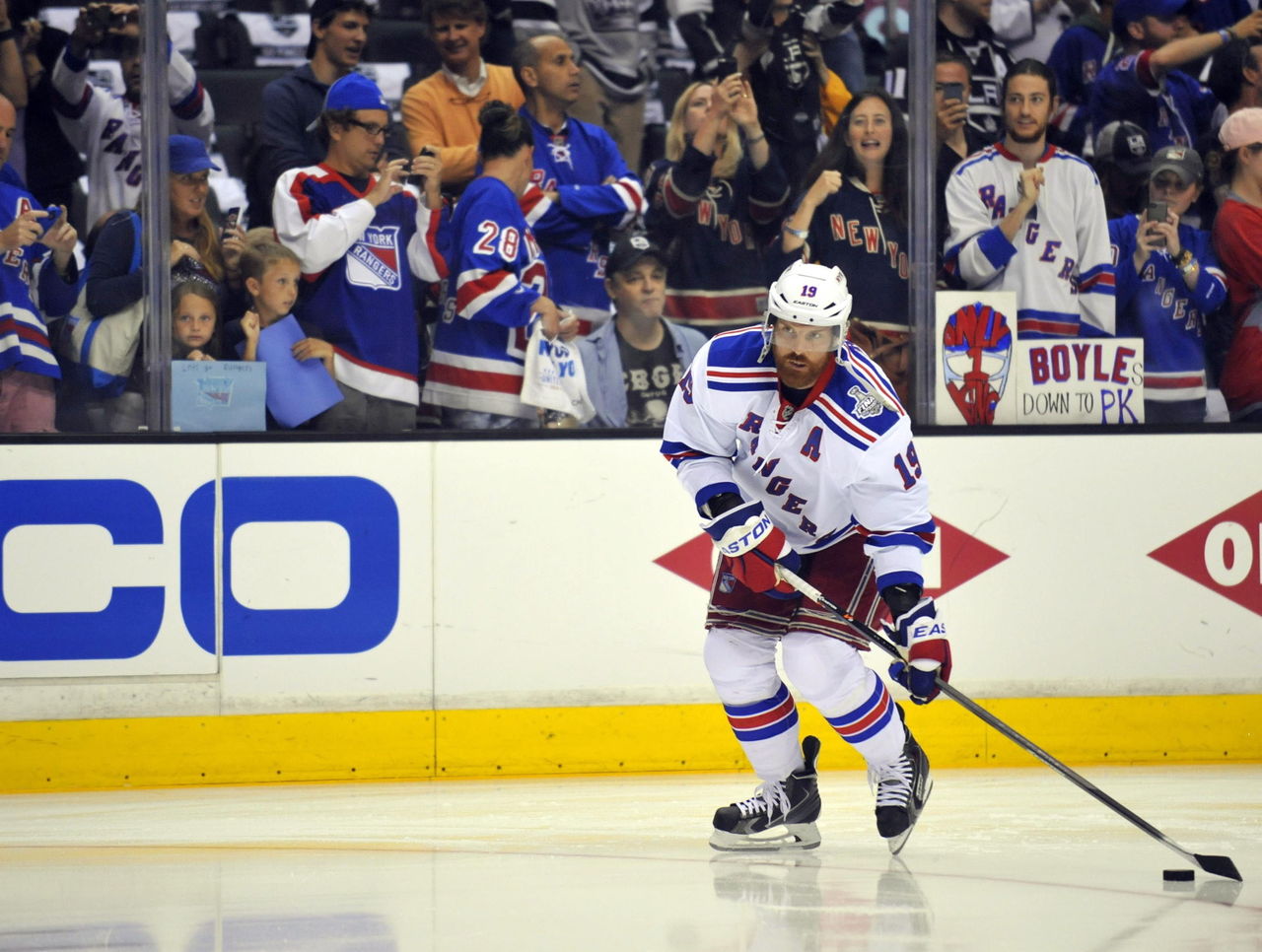 Cap hit and term: $6.66 million per year, through 2019-20
Buyout cost: $12.66 million spread over 12 years per capgeek.com
Brad Richards had a bounce back season for the New York Rangers and thrived thanks to the star-friendly deployment schemes of head coach Alain Vigneault. Still, Richards is 34 and is already incurring diminishing returns. 
On a deal that carries a $6.66 million cap-hit through Richards' age 39 season, the Rangers would likely be best served if they cleared the books of this sucker bet. Beyond the significant long-term risk, the Rangers have a handful of players (Derick Brassard, Mats Zuccarello, Anton Stralman, Chris Kreider) due raises this summer and could use the additional wiggle room.
Rangers general manager Glen Sather understandably didn't want to discuss the possibility of a Richards buyout during the Stanley Cup Final, but he didn't exactly give Richards a full-throated vote of confidence either.
Bourne's Take:
When John Tortorella put a soft skill guy with high expectations in the pressbox in the 2013 playoffs, hockey writers gasped in column form, then eventually opined on the hard-headedness of the old school coach.
When Vigneault demoted that same player to the fourth line in the Cup Final the next year, it became clear there's truly a real issue. Richards' "cap hit comparables" section sets the bar pretty high (starring names like Anze Kopitar, Patrice Bergeron, and Jonathan Toews), and the guy has simply walked under it. Buh-bye.
​Buyout-ability:
A 50-point regular season is cool and all, but we all know where this is headed. Richards' contract rates four out of five Rick DiPietro's on the buyout-ability scale:

Ville Leino - Buffalo Sabres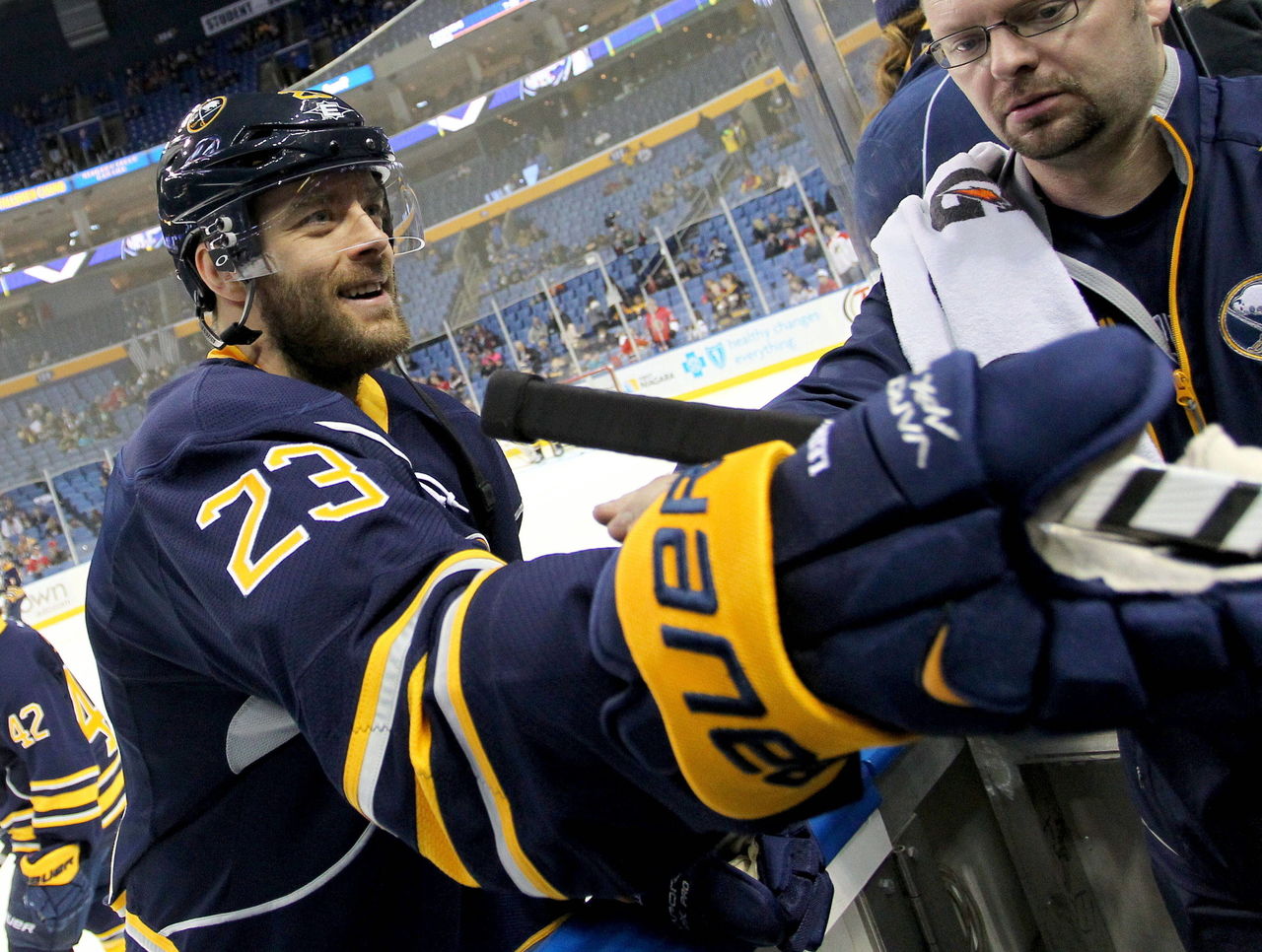 Cap hit and term: $4.5 million per year, through 2016-17
Buyout cost: $7.33 million spread over six years per capgeek.com
Among regular NHL forwards last season no one generated even-strength shots on goal at a lower rate than Ville Leino, and only six players generated points less efficiently. The rebuilding Buffalo Sabres will have to add a lot of salary this summer just to make the salary cap floor, but Leino's been so bad and is still signed for so long that general manager Tim Murray isn't even pretending like a Leino buyout isn't a foregone conclusion.
Bourne's Take:
Ask Sabres fans about this guy, and you'd swear his name was Villain Leino (maybe Vile Leino?).  In fairness, the man basically mugged Terry Pegula like a little old lady in a back alley, for the value he provided.
Fine, it's not his fault that the Sabres offered him the deal, but when you're making that Max Pacioretty money and getting out-scored by teammate John Scott on the year (1-0, similar games played - seriously), you can expect the ol' "pink slip taped to an incomprehensible amount of money" treatment. It'll be fun to see what he gets next year. Anything more than one mill over one year would be surprising. 
Buyout-ability:
Leino has more buyout-ability than Anakin Skaywalker has midi-chlorians. His deal rates five Rick DiPietro's out of five:

Jordin Tootoo - Detroit Red Wings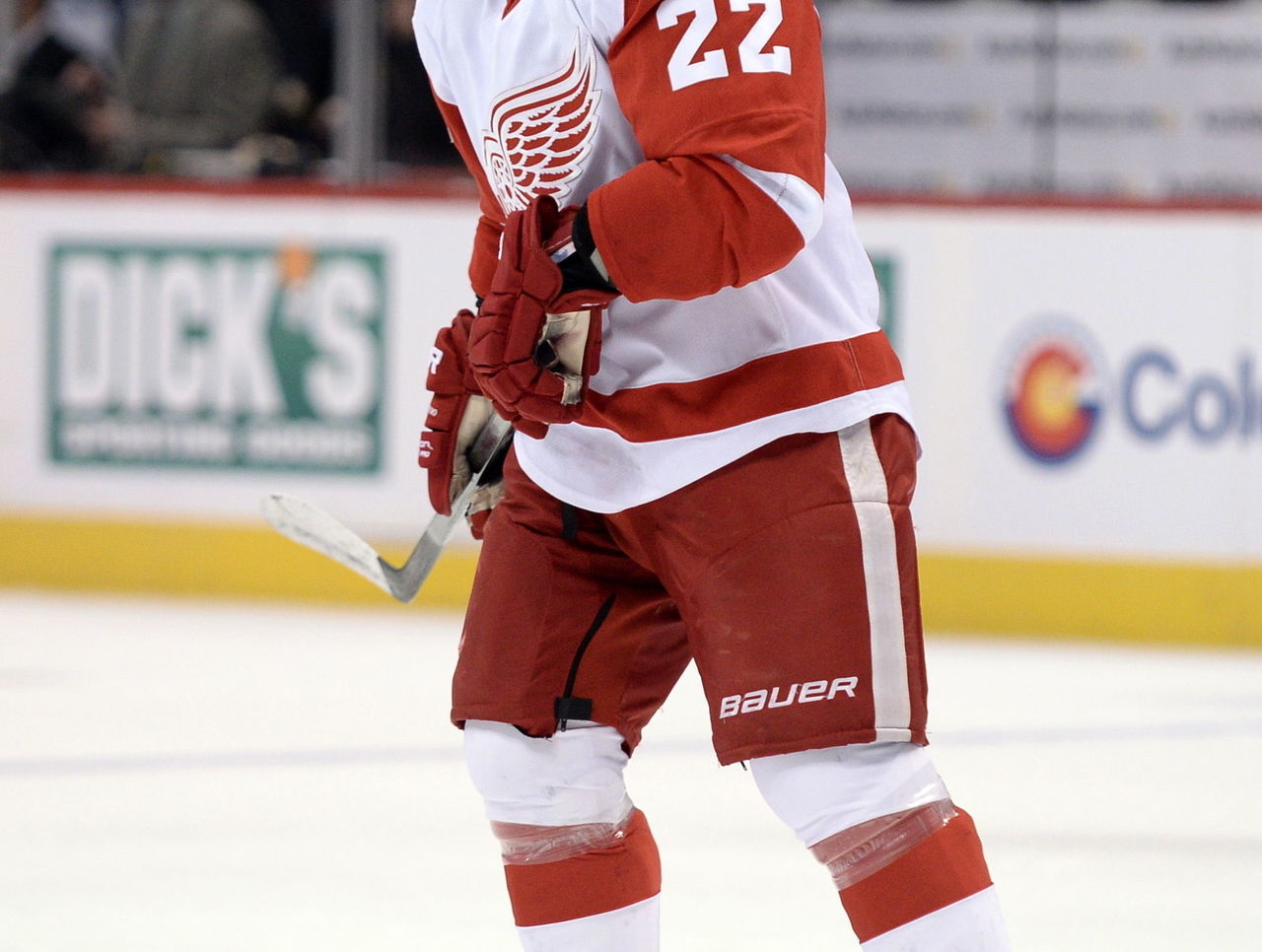 Cap hit and term: $1.9 million per year, through 2014-15
Buyout cost: $1.33 million spread over two years per capgeek.com
Jordin Tootoo only made it into 11 games with the Detroit Red Wings this season, spending the balance of the season with the Grand Rapids Griffins of the American Hockey League. Tootoo has never been a big point producer, but he was a credible bottom-six forward for several years with the Predators. His effectiveness has tailed off significantly the past two seasons though.
Red Wings general manager Ken Holland has been clear about Tootoo's future in Detroit: if he can't find a taker for him on the trade market, he'll likely be subject to a compliance buyout.
Bourne's Take:
At his best, Tootoo inspired a certain set of descriptors: firecracker, untameable, Raffi Torres-esque-minus-the-desire-for-actual-murder. He was a rolling ball of human chaos.
But age is not kind to players who build careers on on spirit and spunk and fire. This one's a no-brainer. Making nearly two million and playing in the AHL at 31 for a team that needs cap space? He will not be a Red  Wing next year.
​Buyout-ability:
The Red Wings need the cap-space desperately, Tootoo spent last season in Grand Rapids, and it isn't very expensive to buyout his contract. He rates the full five Rick DiPietro's on the buyout-ability scale:

Martin Havlat - San Jose Sharks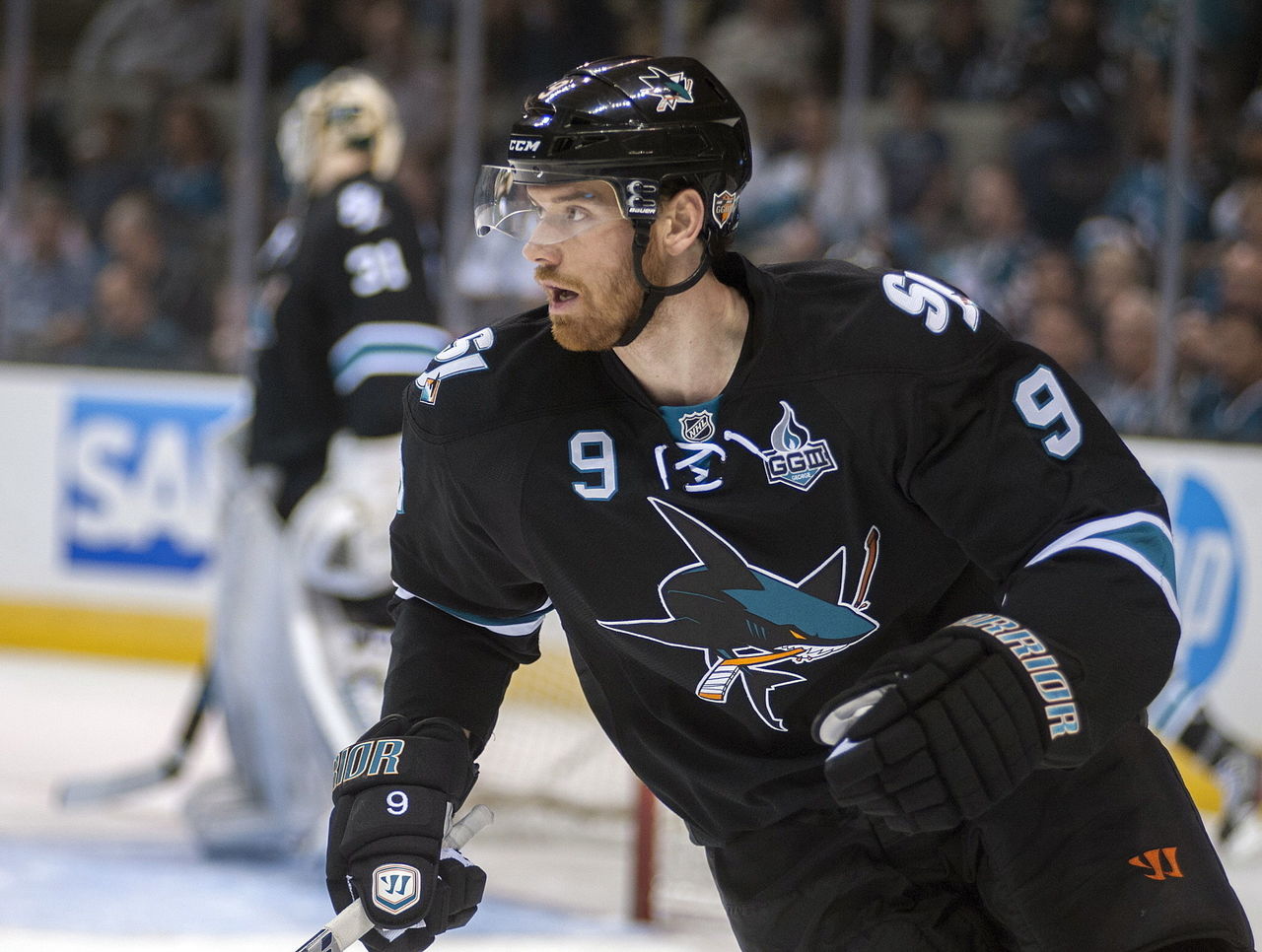 Cap hit and term: $5 million per year, through 2014-15
Buyout cost: $4 million spread over two years per capgeek.com
A reliable playoff point producer who remains somewhat effective at the age of 33, the Sharks have already informed Martin Havlat that he won't be back next season. They'll look to move him, but are more likely to buyout his contract.
Havlat played third-line minutes for the Sharks this year and managed a reasonable 22 points in 48 games. The Sharks have roughly $10 million in cap-space, a couple of restricted free agents due substantial raises (Jason Demers and Tommy Wingels), and pressure to win now; so Havlat will likely be bought out and hit the secondary market as an unrestricted free-agent before June 30th.
Bourne's Take:
James Neal. Bobby Ryan. Jamie Benn. This is the salary range shared by Martin Havlat.
"Mike Brown" is the name of a right-winger who played six playoff games for the San Jose Sharks while Martin Havlat watched, healthy, from the pressbox. They probably would've bought him out the season prior had he not been hurt. For all his talent, for whatever reason, Todd McLellan is just not a fan.
Buyout-ability:
The Sharks have made it clear that Havlat will be shown the door. It's tough to trade a player that everyone knows they'll have a chance at for a cheaper dollar figure a week from now, so he rates four Rick DiPietro's out of five on the buyout-ability scale:

Ryan Malone - Tampa Bay Lightning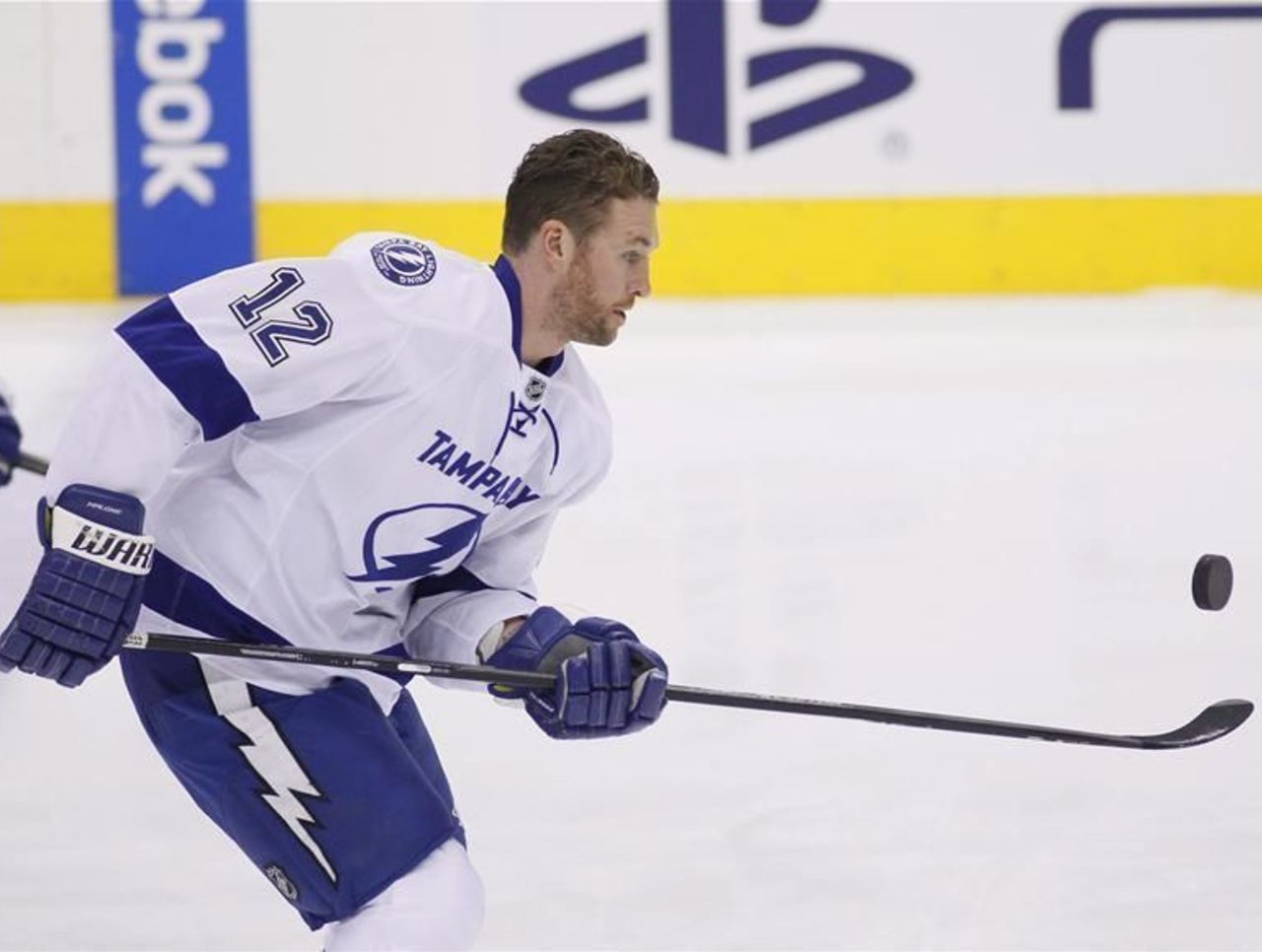 Cap hit and term: $4.5 million per year, through 2014-15
Buyout cost: $1.66 million spread over two years per capgeek.com
Ryan Malone's effectiveness has fallen off a cliff and he's proven completely unable to stay in the lineup due to myriad of injuries. Then, in mid-April, Malone was arrested and charged with DUI and cocaine possession. Think the Lightning might want to turn the page on the Malone-era?
It's believed that Malone's participation in the NHL's Substance Abuse and Behavioral Health Program (SABH) does not preclude the Lightning from exercising a compliance buyout on the final year of his contract.
Bourne's Take:
Almost as alarming for Tampa Bay as Ryan Malone's 15 points in 2013-14 are, is the fact that the guy just can't play a full season. He played in 57 games last year, in 24 contests the previous season, 68 the one before, 54 before that...he just can't stay healthy. That's not a great trait for a guy you're expecting to provide some sandpaper for your club.
At 34, there's little to no reason to expect Malone to do anything but provide less offense and become more fragile. With a guy like Jonathan Drouin on the way, you've gotta clear a spot. This one's a no-brainer.
Buyout-ability:
Unless there's a hold up because of Malone's active status in the SABH program, he's a sure bet to be bought out. He rates five Rick DiPietro's on the buyout-ability scale:

Comments
✕
5 very likely compliance buyout targets
  Got something to say? Leave a comment below!