Kings 3, Rangers 0: Quick blanks Rangers in Game 3 of Stanley Cup Final
Wha' Happened?
The New York Rangers put forth a pretty nice effort in Game 3 - they outshot the Kings badly (32-15), created a bunch of chances, and earned a boatload of powerplays. Unfortunately, Jonathan Quick stole a few of those near-goals, they couldn't bury on the power-play, and Los Angeles happened to get a ton of breaks.
It's not that the Kings were exactly "lucky" to win Game 3 - they played a solid road game - but they definitely got the bounces to pull out the 3-0 win. 
And just like that, the series sits 3-0.
The Scoring
LA - 1, NYR - 0
Absolute heart-breaker for the Rangers. With 0.8 seconds left, a Jeff Carter wrister clipped the skate of Dan Girardi, who was sliding to block the shot. It found the top corner, and sent the Rangers to the dressing room dejected.
LA - 2, NYR - 0
On the power-play, Jake Muzzin snapped a puck towards the Rangers net. Martin St. Louis legitimately made like a goalie and went for the glove save. He got a piece, and you guessed it - tipped it past his own tender.
LA - 3, NYR - 0
On a 2-on-1, Mike Richards opted to make the pass, only it redirected off Ryan McDonagh's skate, and came right back to him. Lundqvist, who was initially sliding across to stop the possible shot off the pass was just a split-second too late getting back. Another bad break.
Best Player, Winning Team
Jonathan Quick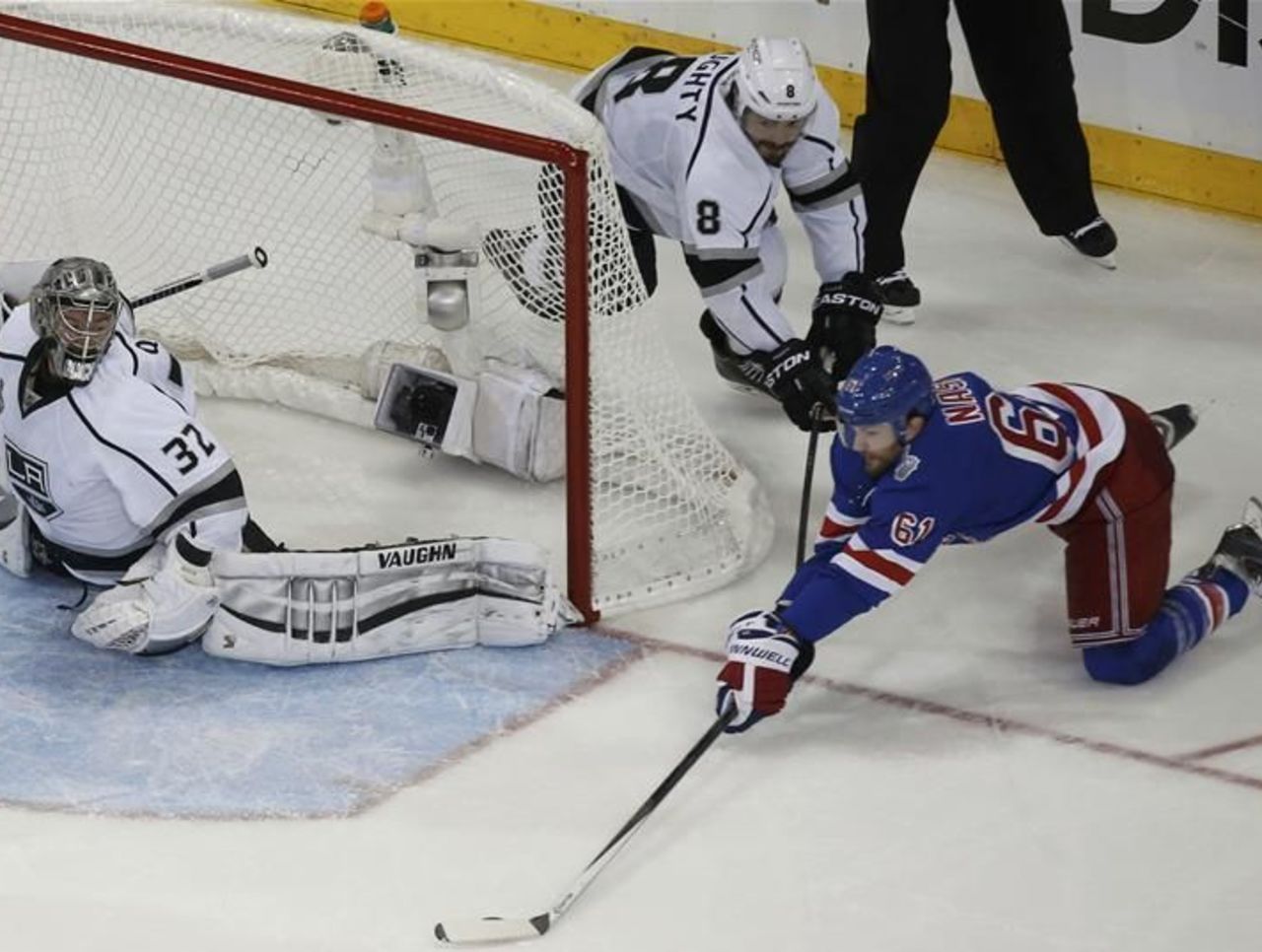 Why: Jonathan Quick was at his absolute finest in Game 3. If there's anything he does noticeably well, it's shoot from post-to-post like he's been fired out of a cannon. He's athletic, he's active, and those things helped him make at least two ridiculous goal-stealing saves.
He certainly hasn't been at his best in the post-season, statistically...
...But he was last night.
Best Player, Losing Team
Derick Brassard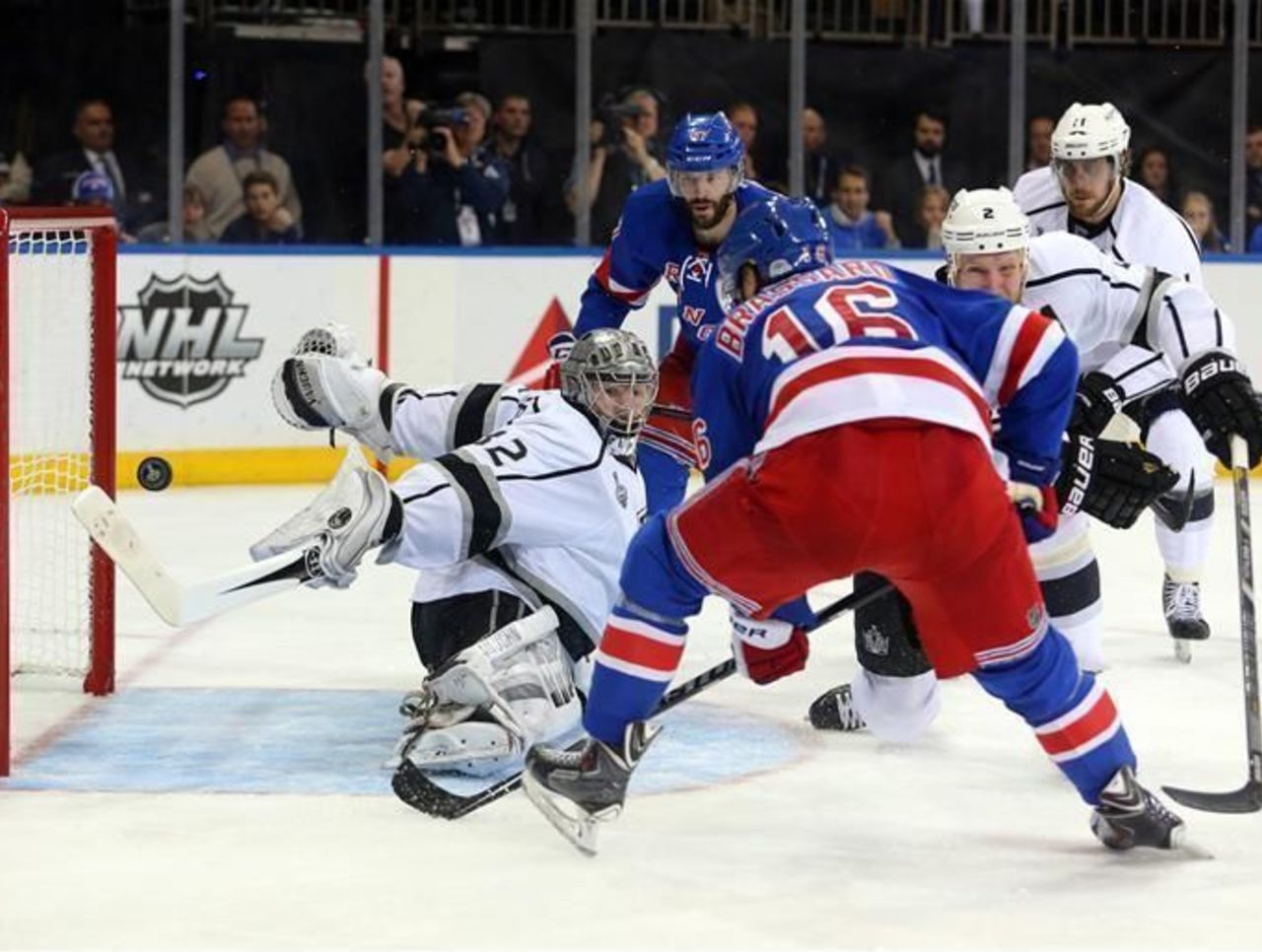 Why: He may not be one of the first names you think of when it comes to the Rangers offense, but Brassard was all around the crease in Game 3. He recorded a team high five shots, and played just shy of 20 minutes, which is a huge compliment from Alain Vigneault.
The Controversy
Once again nothing major in this category, which is nice. There's still the minor issue that slashing a guy's stick gets you two minutes, which is going to happen often when guys are using twigs made of pretzels as they do these days, but Carl Hagelin's second period hack on Jake Muzzin's stick didn't greatly affect the game's outcome.
What the Winners Did Well
They got tremendous goaltending. Whether you think Quick is elite or average or awful, it's tough to deny he possesses the raw ability to make the type of spectacular saves few others can duplicate. His aggressive positioning seems to create more opportunities to use that flash, and it was on full display in Game 3. The Kings only registered 15 shots - they needed Quick to be great.
How the Winners Stopped their Opponent
The Kings defensive-zone coverage is art. There's a patience, or a trust there that was probably developed over years of winning. While the Rangers rushed about madly, L.A. seemed content staying positionally quiet. They played pretty soft in coverage (as they do), but the second the puck wasn't held in full control, they struck like cobras. They killed chances before they could be generated, and when they were, Quick bailed them out.
The Takeaway
The Rangers are a legitimately good hockey club, but Los Angeles is just on another level. Combine that with the Kings getting the breaks, and you've got the makings of an awfully short series.
I might be old school in my thinking here, but for all the things written defending Rick Nash in playoffs, I still expect my eight-mill-per-season goal scorer to score the odd goal. Drew Doughty took a penalty to "stop" an open wraparound by Nash, but it wasn't anything he shouldn't have been able to fight through. He was only given 16:24 of ice time. He had four shots, but again - at some point, you're going to need your difference-makers to make a difference. Nobody on the Rangers scored, but when you're the face of the offense, you're going to get called out first. And here we are.
Stray Thoughts
* Man. How much do you think people regret this bit of self-talk: "I know $5,000 for a single ticket to a hockey game is ridiculous, but I'm a lifelong Rangers fan, they haven't won a Cup for 20 years...I'm gonna do it. I'm pulling everything out of my savings and going for it."
Shut-out. Ouch.
* How bout that shot-attempt chart? There's some score effects at play there, but still - L.A. kinda stole one on Monday: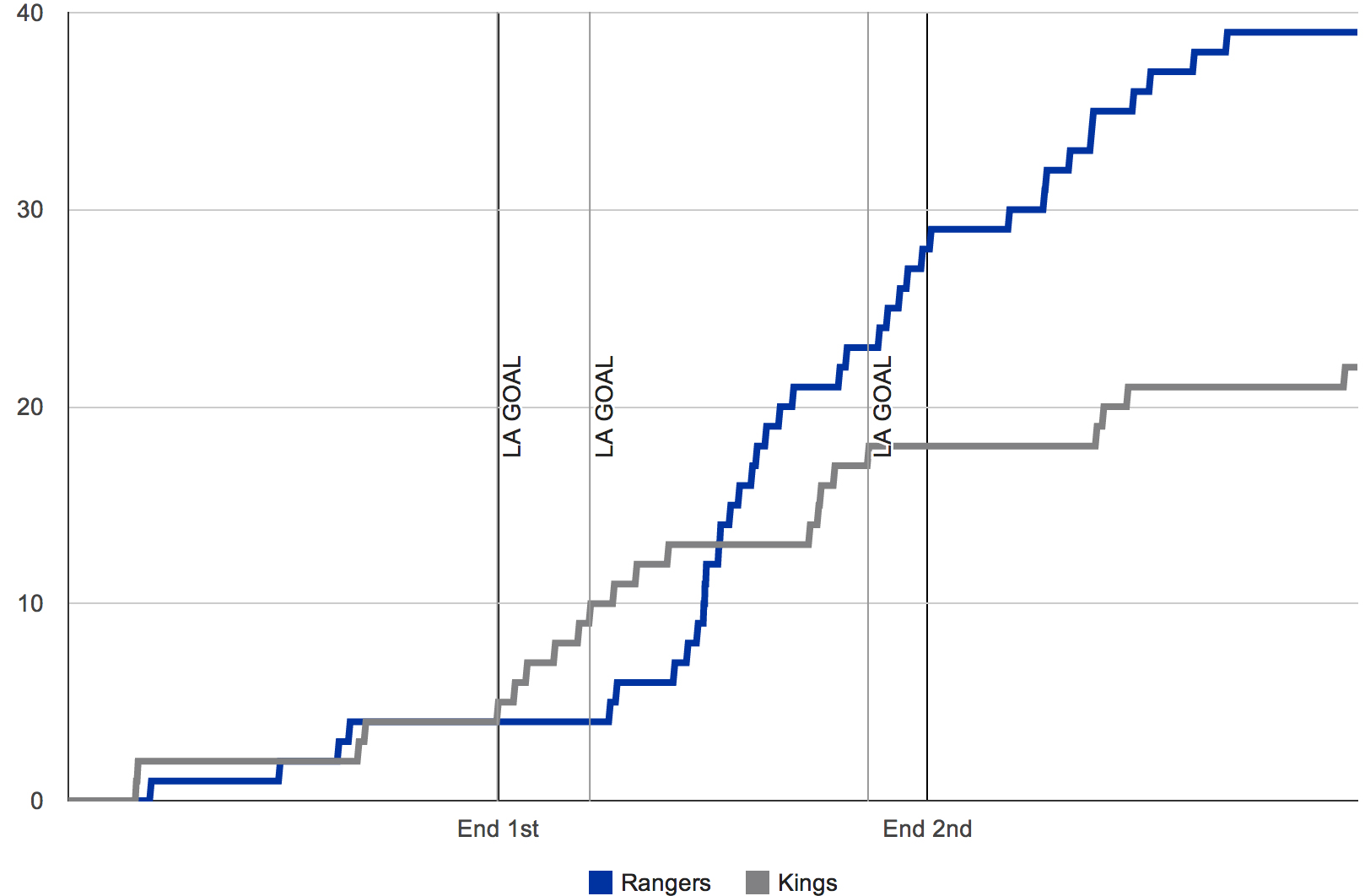 * The NHL was so excited about a Los Angeles/New York Final. I'm guessing a sweep wasn't how they were hoping it would go.
* During pre-game, CBC had the Rangers say who their favorite players were. Chris Kreider? Martin St. Louis and Brad Richards. I'm 90 percent sure he did that for laughs in the room, but I love it regardless.
Oh, and Mats Zuccarello? Martin St. Louis and Patrick Kane. Yeah, Patrick Kane, who's one year younger than him. That one had to be for laughs.
* Justin Williams has to be hockey's best bad player. I know, I know, he's not "bad" in the slightest, but style-wise, when you watch him play, he just looks like a rec leaguer. I want him to switch to all-Jofa gear.
* Silly time:
* Lastly, more Sutter... He's just the best.