The top 12 goalie masks of the 1990s
Goalie masks, they're pretty cool... until they're not. 
The fibreglass/cage combo gave rise to creative expressionism for goaltenders. While many of the top goaltenders of the 90s went with rather bland looks for the head and face protection (looking at you, Patrick Roy and Martin Brodeur), others preferred to incorporate their own nicknames, team lore, or pop culture references into their masks. Like Ed Belfour (pictured above) who leaned on his "Eagle" nickname and carried the look with him everywhere he stopped, just switching up the colors when needed.
Here are 12 of the best goalie masks of the 1990s.
Mike Richter (New York Rangers)
Mike Richter was a good American boy who gave a nod to the Statue of Liberty on his mask. Alex Auld later paid homage to Richter and other former Rangers greats Ed Giacomon and John Davidson with his own mask in 2010.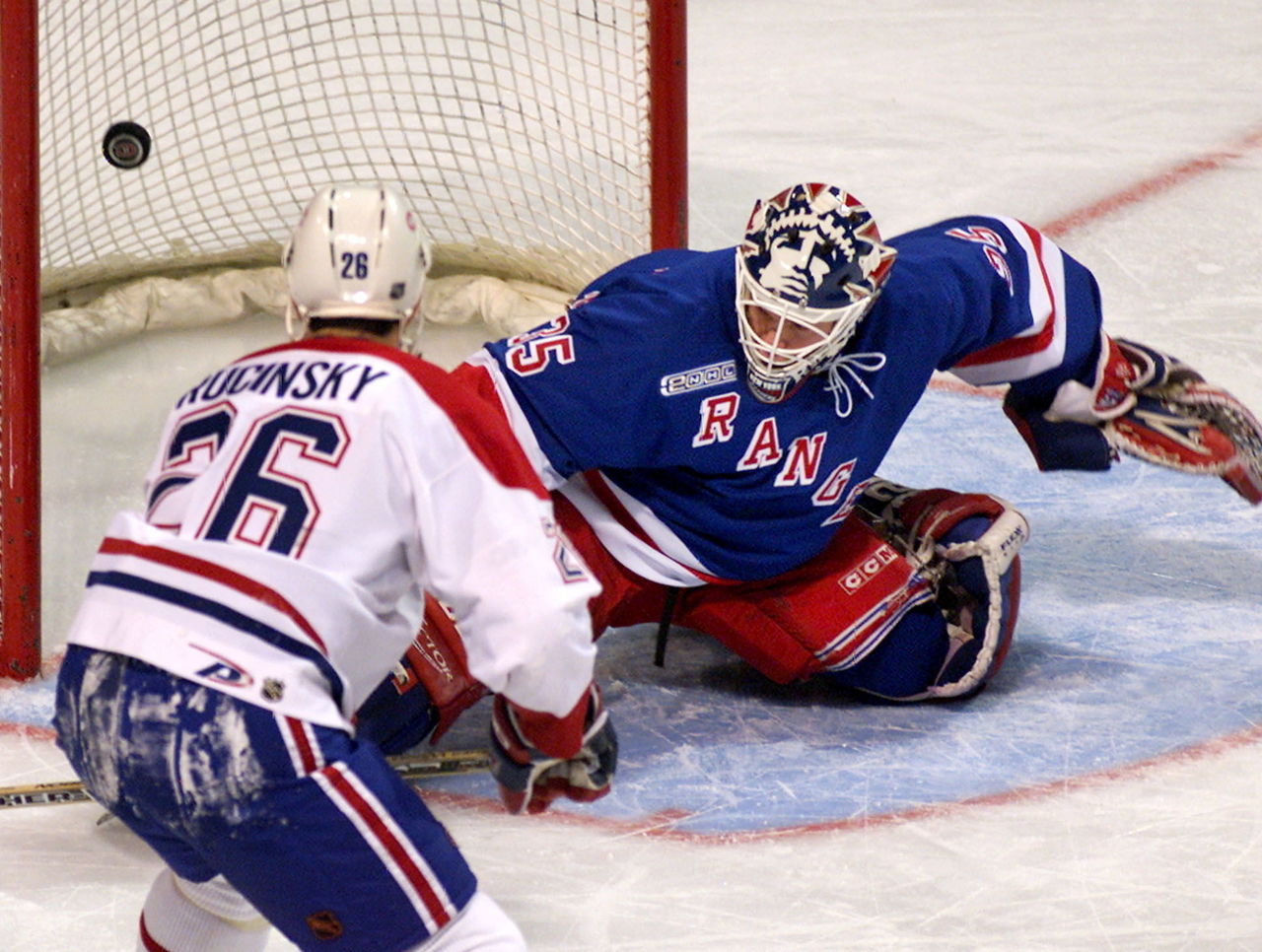 Curtis Joseph (St. Louis Blues)
Like Belfour, Curtis Joseph took his mask design with him through several stops around the NHL. It was a play on the 1983 film Cujo and 1981 novel of the same name by Stephen King. 
Stephane Fiset Quebec Nordiques)
Stephane Fiset was once thought to be one of the next great French-Canadian goaltenders. Unfortunately, he never panned out as a legitimate starter. His mask, which appears to be some sort of a nod to Quebec City's Winter Carnival was as cool as it got in the early 90s.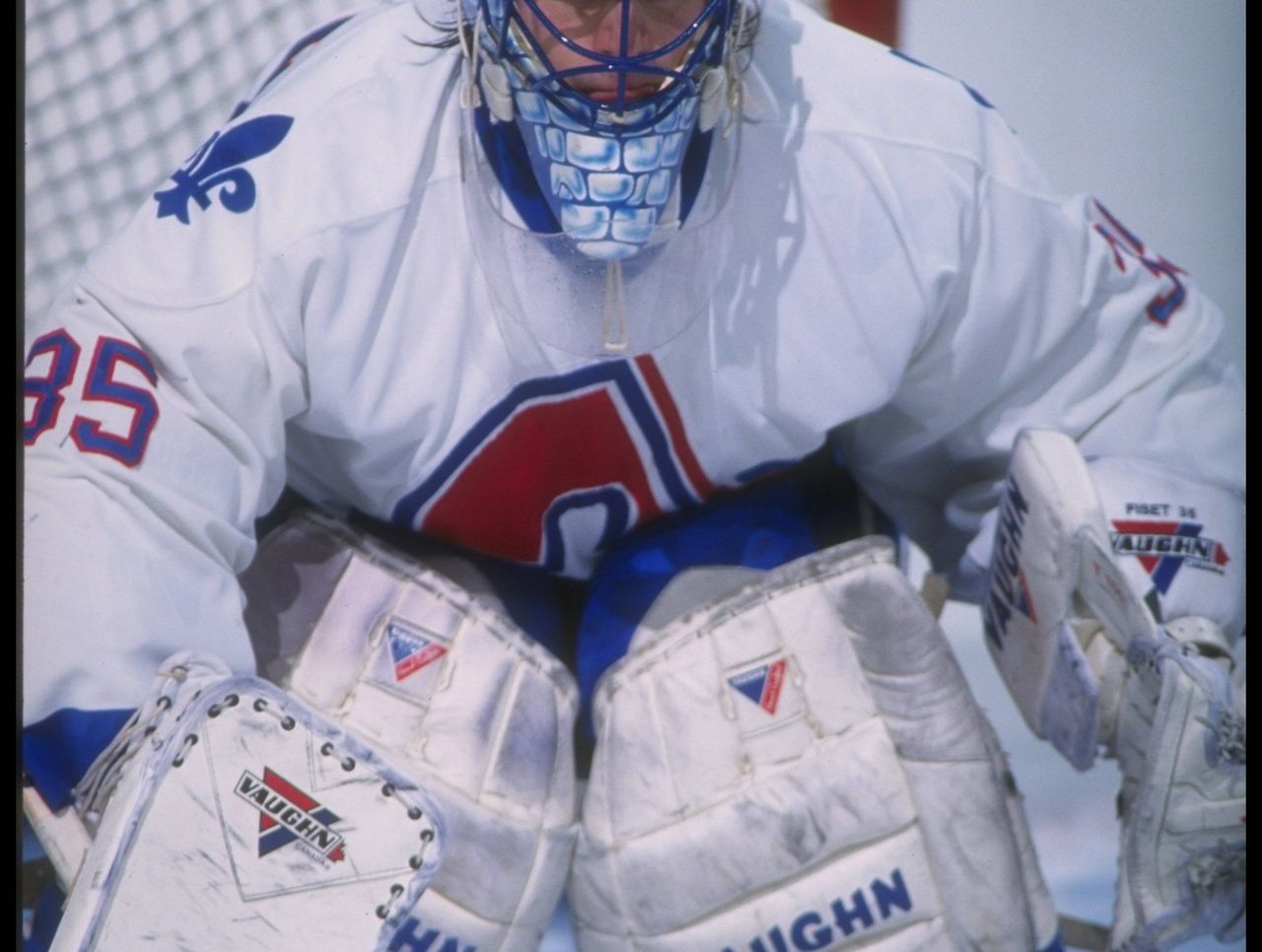 Garth Snow (Philadelphia Flyers)
The abominable snowman + Garth Snow = genius! The abominable snowman is actually more realistic than the return Snow got for Thomas Vanek on trade deadline day this year.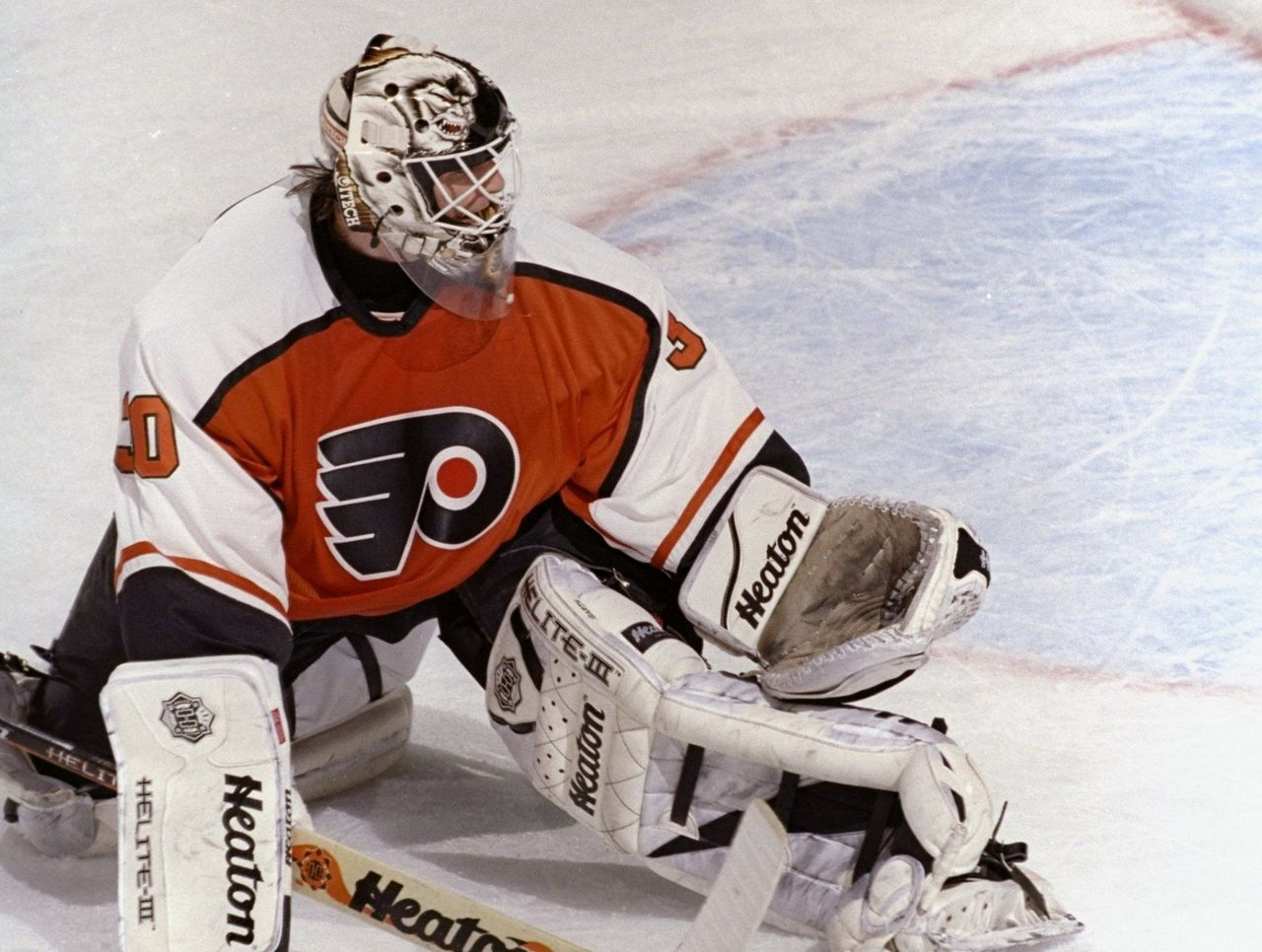 Jason Muzzatti (Hartford Whalers)
Remember obscure NHL backup Jason Muzzatti? Probably not. His Hartford Whalers mask referenced Moby Dick and Captain Ahab, which is all you really need to know about him.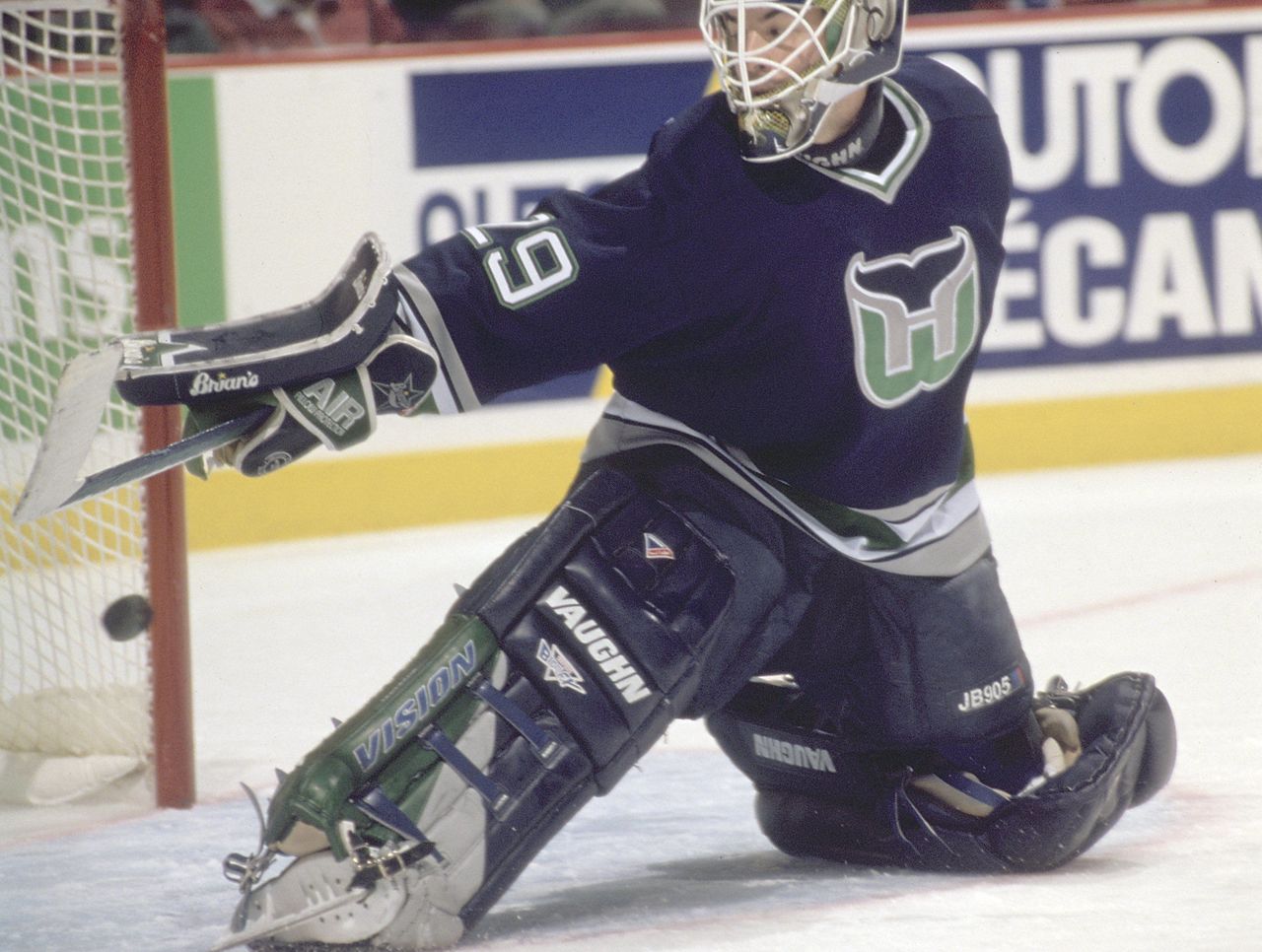 Brian Hayward (San Jose Sharks)
Although he played just 25 games with the San Jose Sharks, Brian Hayward was an original member of the 1991-92 expansion franchise. His shark mask was rather outstanding.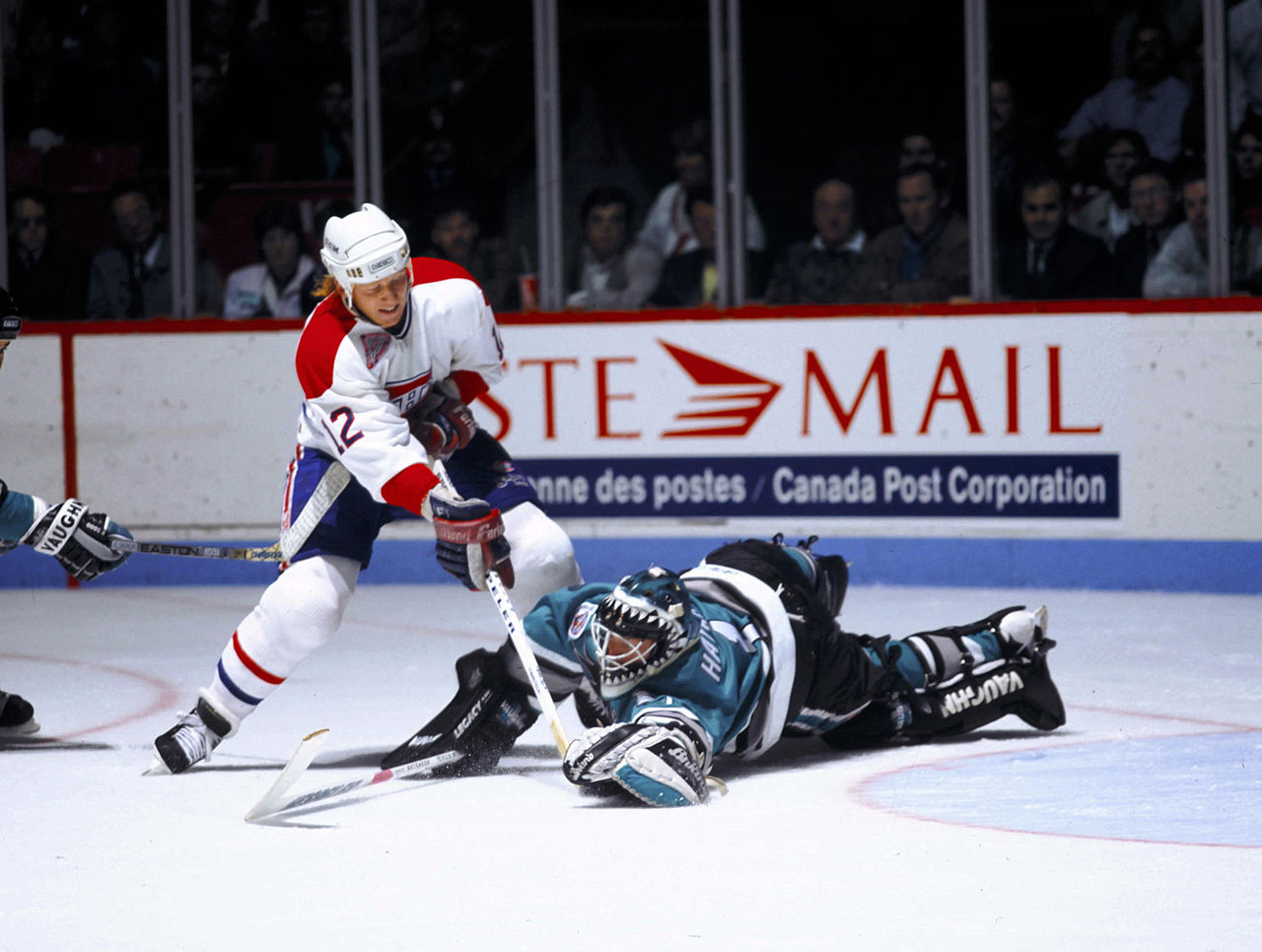 Don Beaupre (Washington Capitals)
An interesting tidbit about Don Beaupre is that he was shipped from one nation's capital (Washington, D.C.) to another's (Ottawa) in 1995. His Capitals mask featured a White House graphic, and he had Parliament Hill painted on his Senators mask.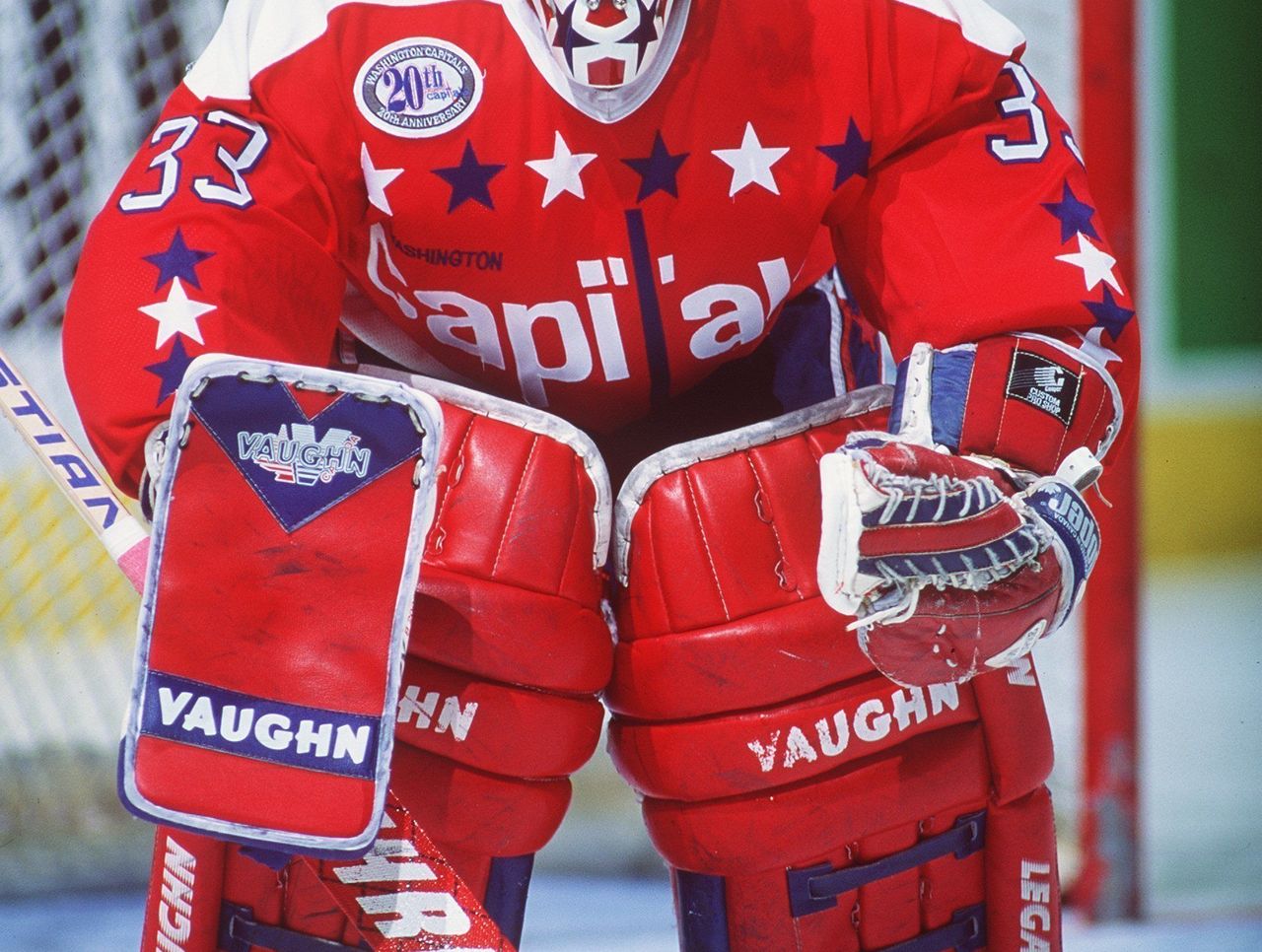 Jim Carey (Washington Capitals)
Jim Carey will always be remembered for two things. 1) Sharing a name (Carey vs. Carrey) with comedian/actor Jim Carrey - and - 2) Winning the 1995-96 Vezina Trophy before disappearing from the NHL three years later. Jim Carey, Net Detective.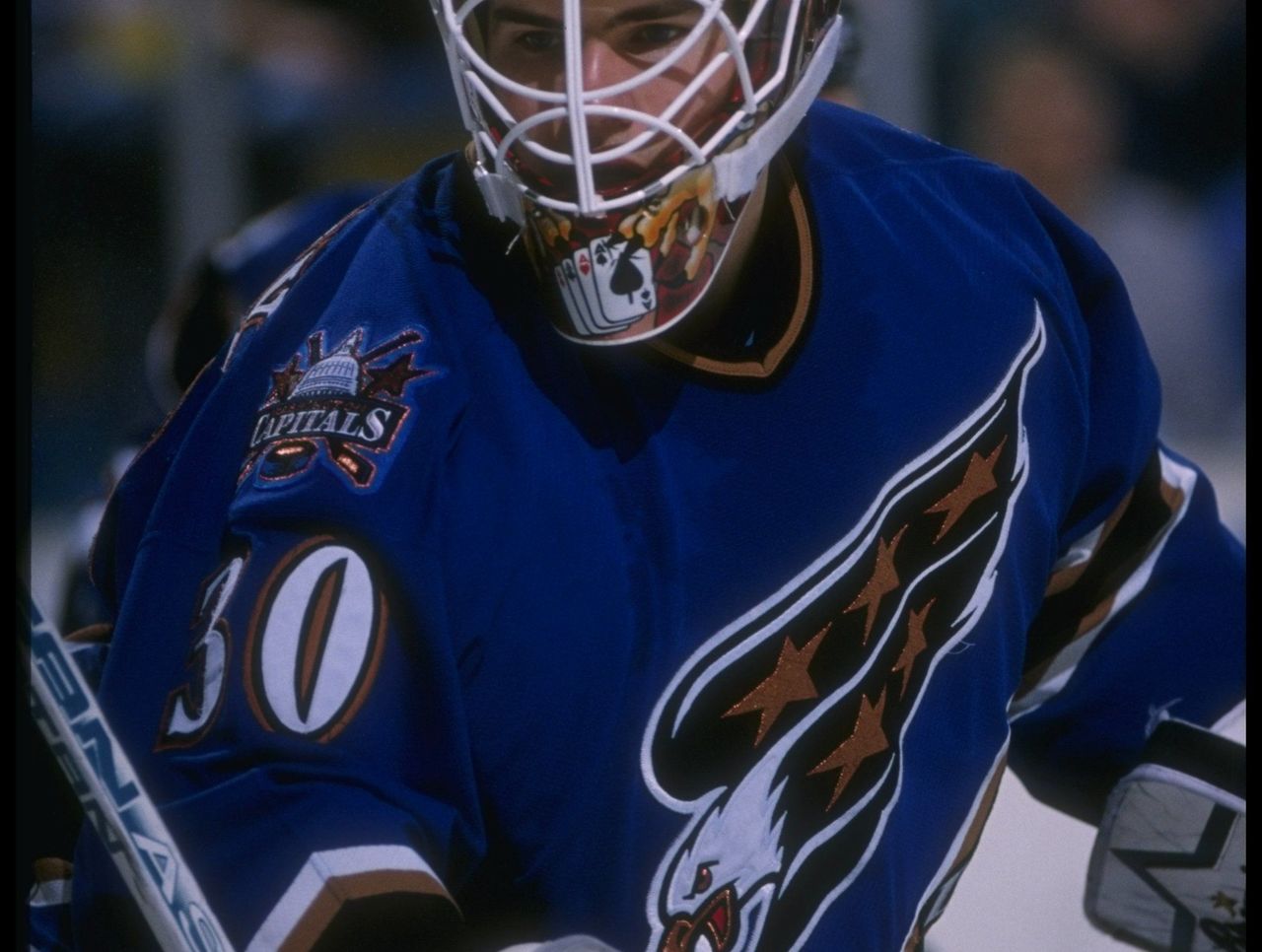 Ron Hextall (Quebec Nordiques)
Ron Hextall joined the Quebec Nordiques as a piece in the Eric Lindros trade. He and Fiset helped backstop the Nordiques back into relevancy and a near upset of the Montreal Canadiens in the first round of the 1992-93 playoffs. His polar bear mask may have been the second best look in the league to Fiset's ice wall.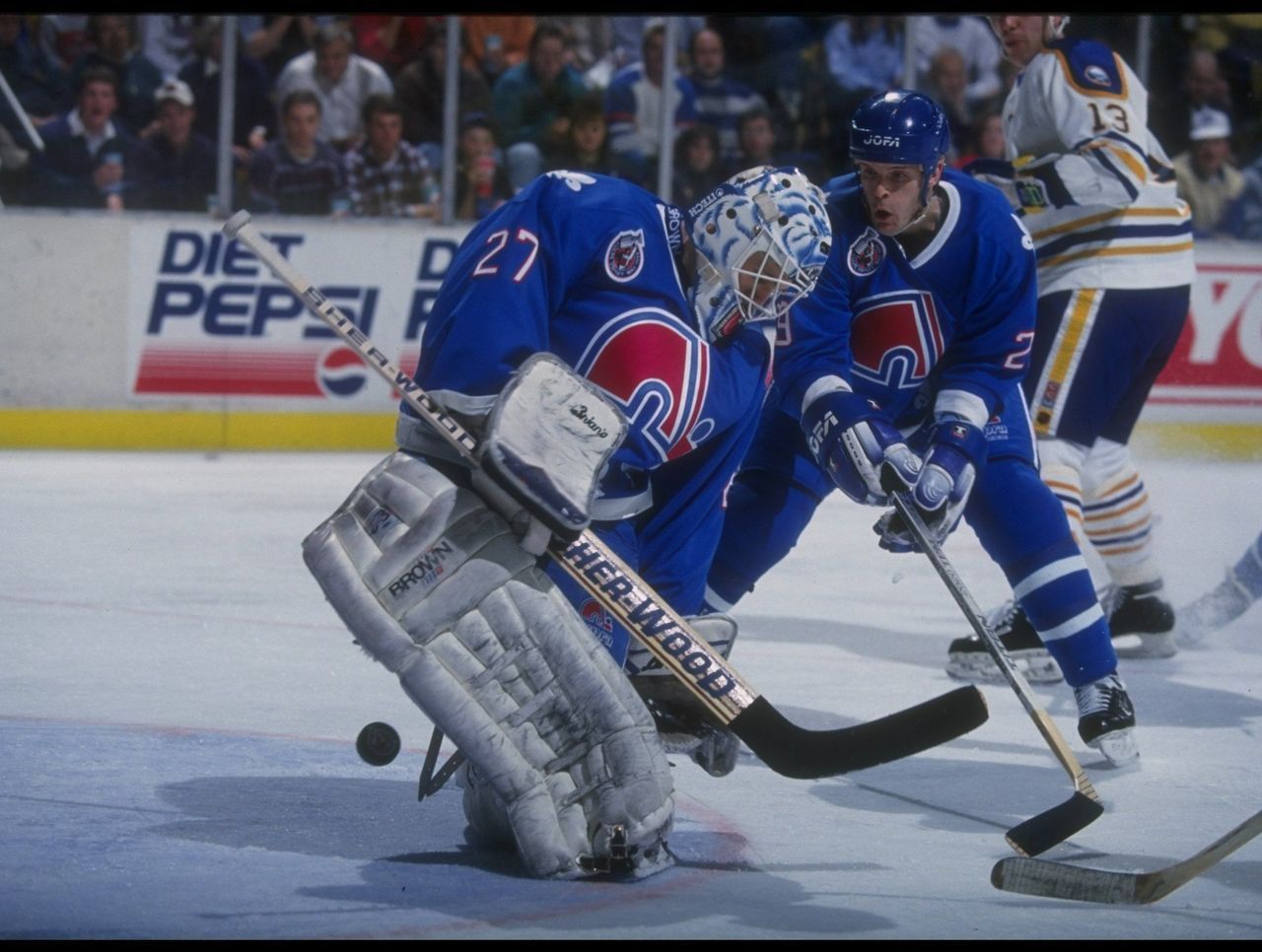 Trevor Kidd (Calgary Flames)
Trevor Kidd may have flamed out but his mask lives forever, man.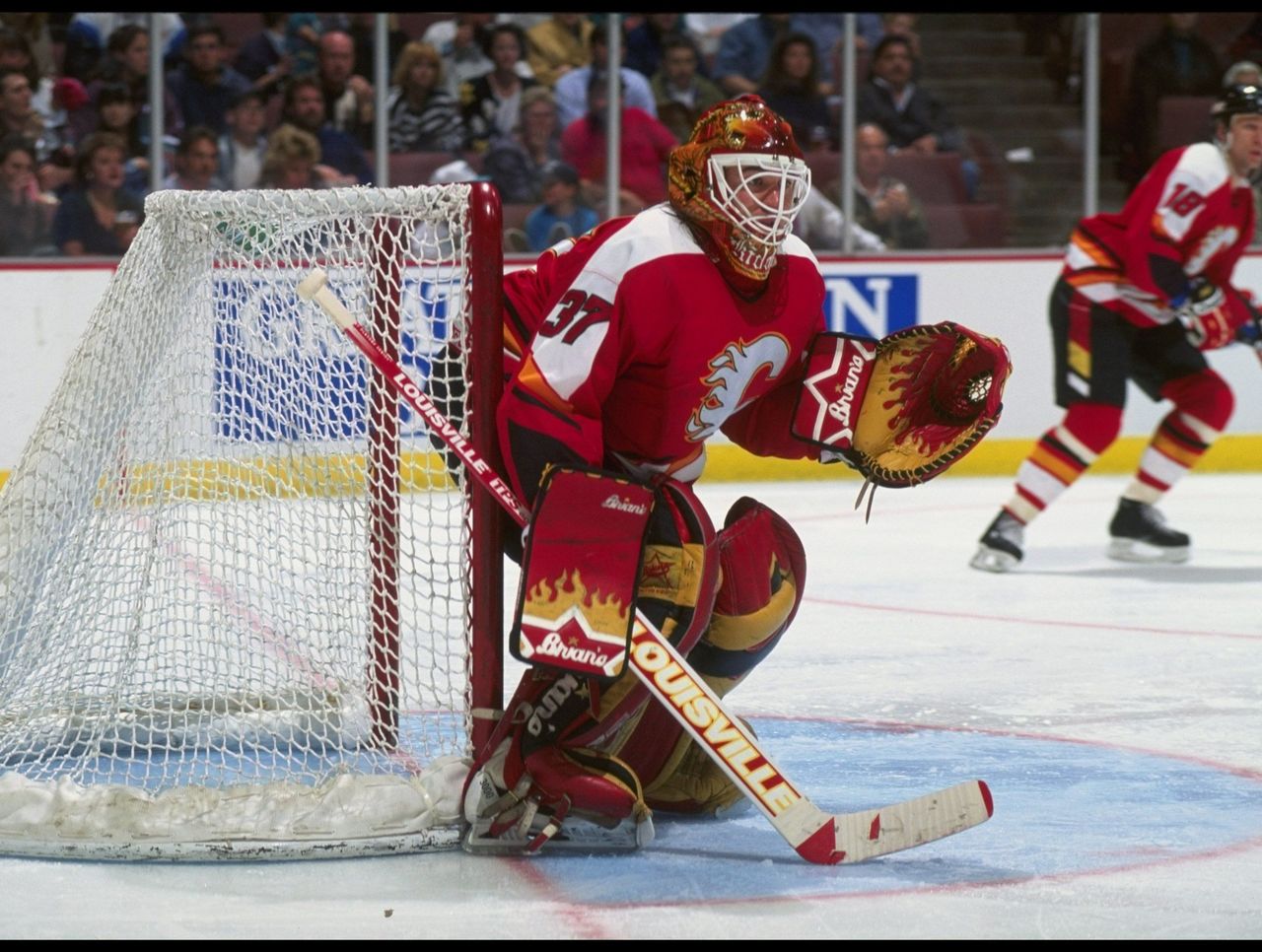 John Vanbiesbrouck (Florida Panthers)
Few designs of the era are as immediately recognizable as John Vanbiesbrouck's Florida Panthers mask.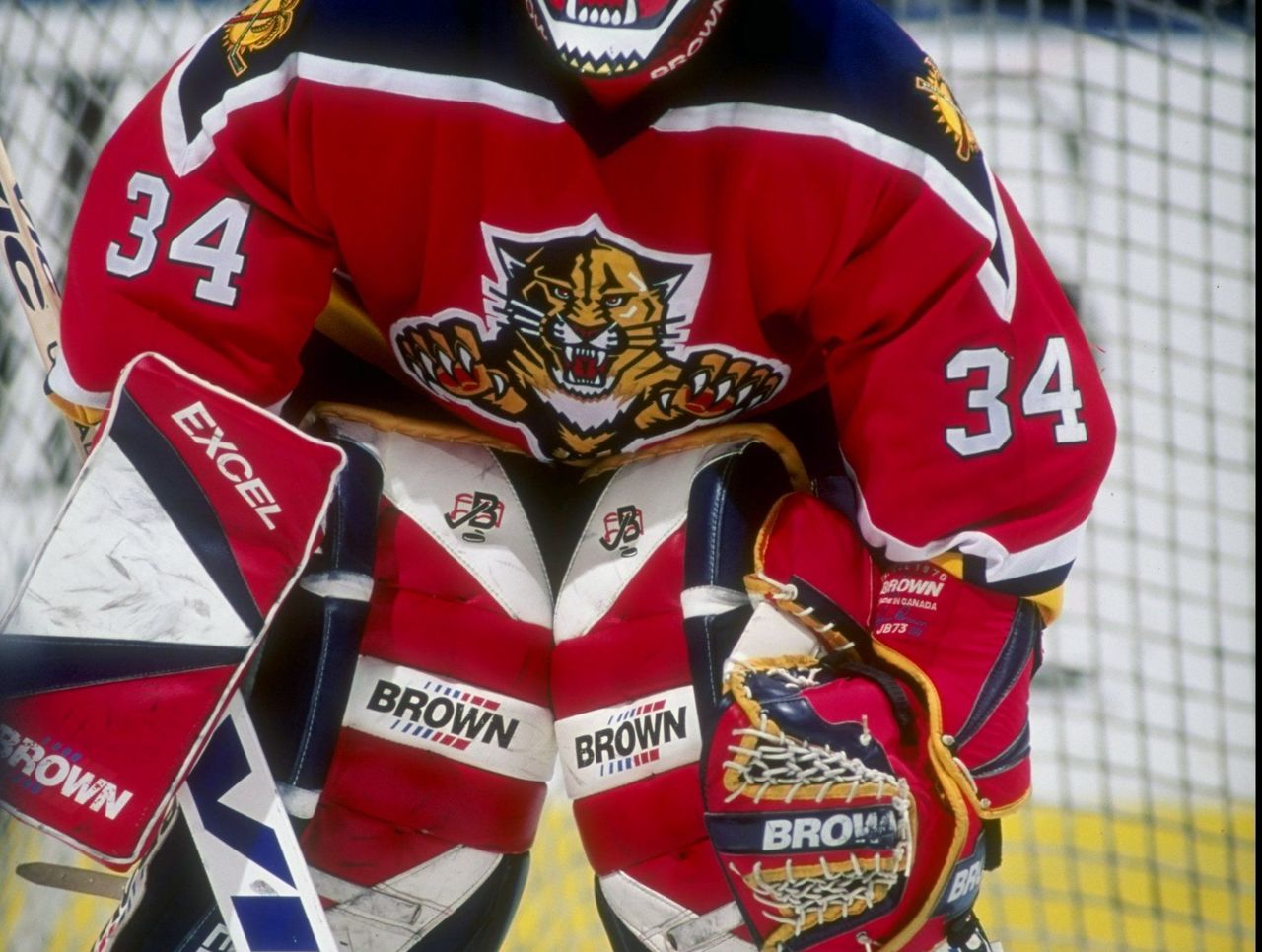 Comments
✕
The top 12 goalie masks of the 1990s
  Got something to say? Leave a comment below!