Fantasy: 10 breakout candidates to draft in 2023-24
Ben Jackson / National Hockey League / Getty
Finding a player hitting his stride at the right time in fantasy hockey can be just as satisfying as landing a bona fide star at the top of your draft. Quality depth is crucial to competing for a championship, and below, we identify options who may fit the bill this coming season.
Here are 10 candidates - ranging from star sophomores to veterans who'll play alongside scoring machines - poised to break out in 2023-24.
Forwards
Matias Maccelli, LW, Coyotes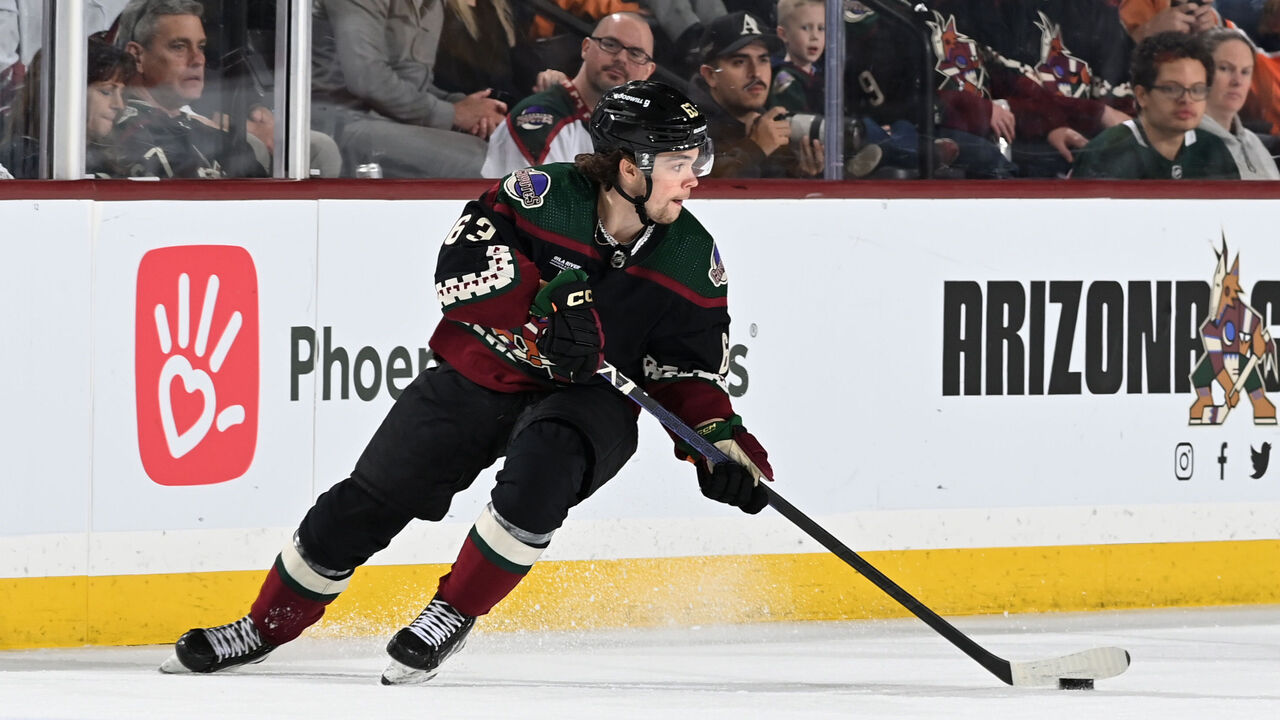 Maccelli could be one of the best-kept secrets in fantasy hockey this year, and it'd be wise to target him late in your drafts as a breakout option. Though he finished fourth in Rookie of the Year voting this offseason, he led all freshmen in points per game (0.77) and five-on-five points per 60 (2.21) while ranking second in even-strength points (36) despite appearing in only 64 contests.
Coyotes players typically don't get a ton of action in fantasy, but Arizona did bring in a lot of offensive talent over the summer - and Maccelli is in prime position to benefit. Early projections have him on a line with top prospect Logan Cooley and veteran Jason Zucker, along with deployment on the top power-play unit. Maccelli is a gifted playmaker; a modest uptick in production with the man advantage could make him a worthwhile gamble.
Connor Brown, RW, Oilers
Brown's inclusion on this list is simple: he projects to play alongside Connor McDavid. That should mean career highs across the board for Brown, who's cracked the 20-goal mark twice in his career. Power-play time on Edmonton's stacked top unit will be difficult to come by for the veteran grinder, and a knee injury that limited him to only four games last season is a legitimate concern, but there's no need to overthink this one. Top-line exposure with the best player in the world makes Brown a worthy draft pick this fall.
Owen Tippett, RW, Flyers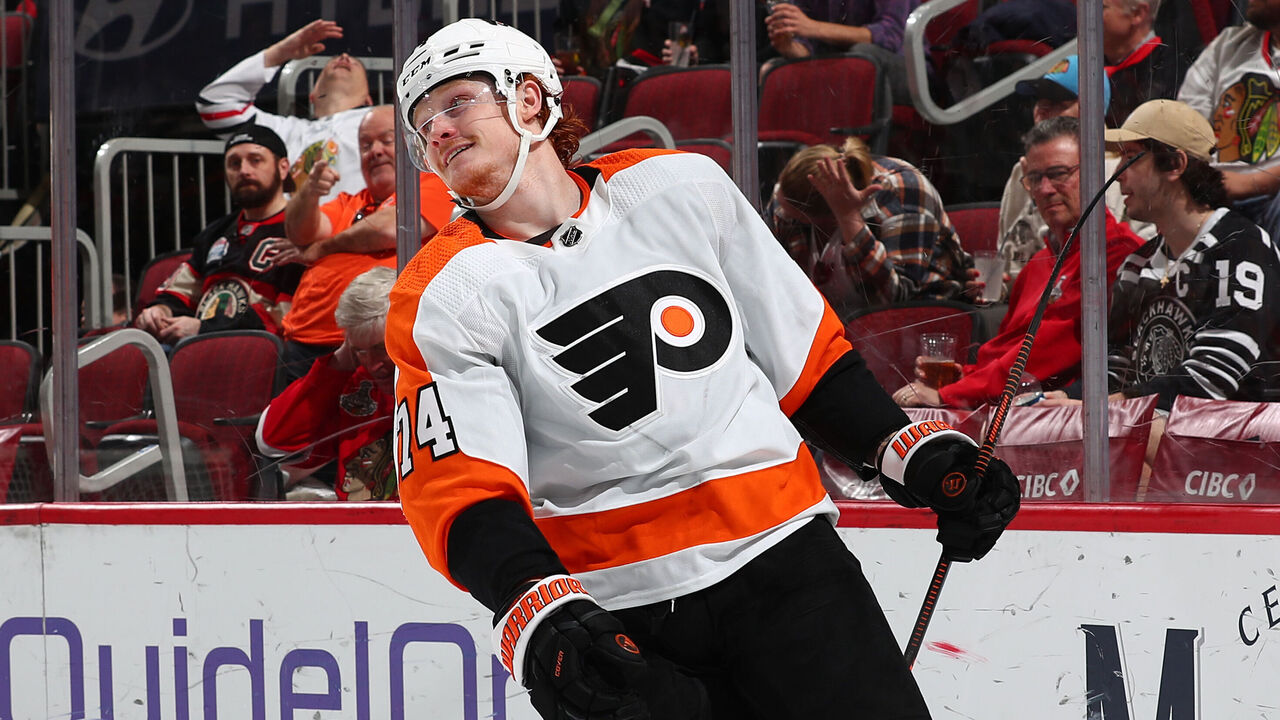 It's common knowledge the Flyers are embarking on a full-scale rebuild, but someone needs to score while they're in the doldrums, and Tippett is the best bet. The 24-year-old, who was the main piece of the return in the Claude Giroux trade in 2022, erupted for 27 goals last season after a previous career high of 10. Another uptick could be on the horizon as he projects to be the Flyers' main triggerman at five-on-five and on the power play.
Tippett's high-end shot was a major reason he was the 10th overall pick in 2017. He fired more pucks than ever last season, with an average of three per game. That would add strong peripheral value to his goals and assists should you roster him. While Philadelphia doesn't have enough talent to push for the playoffs, Tippett will be one of its most heavily involved players. That's often a better situation in fantasy than drafting a player buried on the depth chart of a good team.
Kent Johnson, C/LW, Blue Jackets
Johnson produced a solid 40 points in his first full NHL campaign last year and showed flashes of the offensive brilliance that made him the fifth overall pick in 2021. His 16 goals and 24 assists came despite averaging only 14:31 per game. An increase in ice time under new coach Pascal Vincent could go a long way toward making Johnson a must-have player.
Players tend to hit sophomore slumps as defenses start to figure them out, but Johnson can be insulated by a ton of talent in Columbus' top six. He could suit up on the left side with captain Boone Jenner or this year's No. 3 pick and former University of Michigan teammate Adam Fantilli - both attractive options. Johnson is likely to slot behind both Johnny Gaudreau and Patrik Laine on the top unit's depth chart. That may prevent him from challenging for the team's scoring title just yet, but it's safe to expect him to elevate his totals in Year 2.
Anthony Beauvillier, LW/RW, Canucks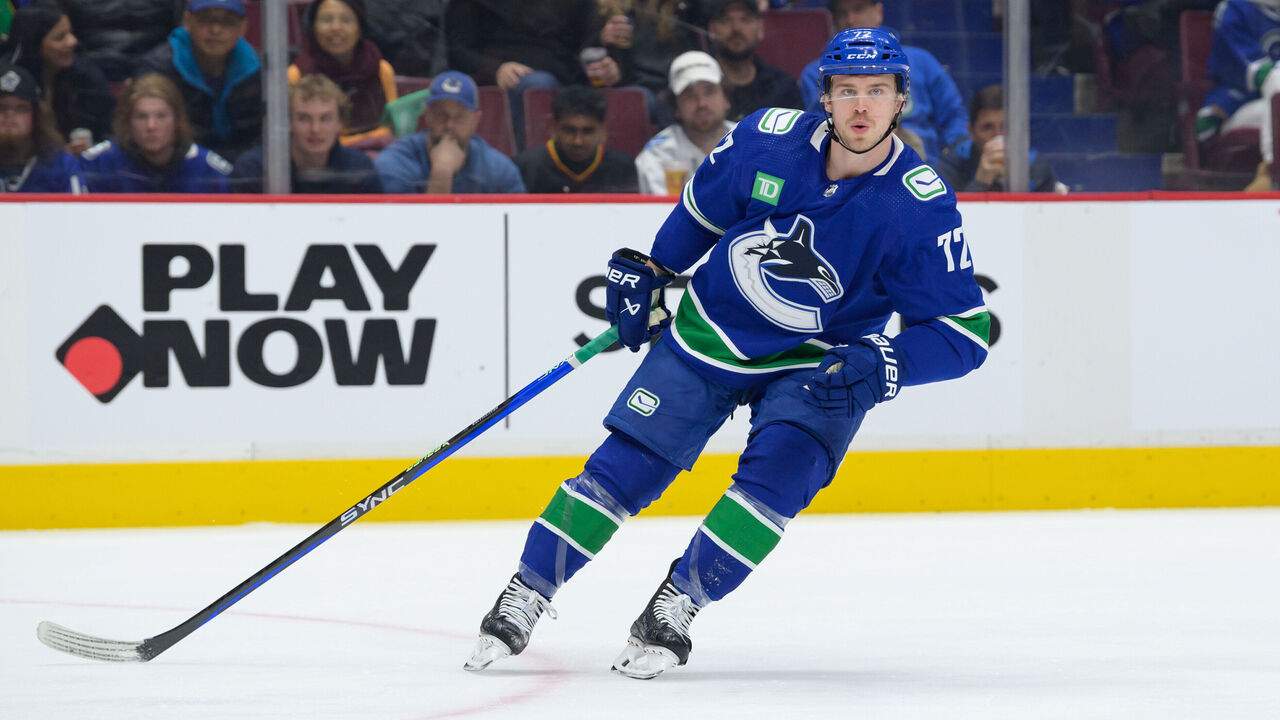 Beauvillier's never topped 40 points through seven seasons in the NHL, but he now has a prime opportunity to set new personal benchmarks as the top left winger on Vancouver's depth chart - and riding shotgun to Elias Pettersson. The pair posted positive metrics and outscored the opposition in just under 300 five-on-five minutes together after Beauvillier arrived from the Islanders last season. It's fair to assume coach Rick Tocchet will allow them to re-establish their chemistry.
Clinging to Pettersson is an easy way for any player to up their point totals. But Beauvillier is worth an extra look come draft season if he snags a piece of Vancouver's loaded top power-play unit, which could also feature J.T. Miller, Andrei Kuzmenko, and Quinn Hughes. Beauvillier won't be the driving force of the Canucks' offense at five-on-five or with the man advantage, but points are points, and he's well-positioned to rack them up as it stands.
Defensemen
Evan Bouchard, Oilers
Listing Bouchard here kind of feels like cheating considering he had 17 points in 12 playoff games just a few months ago, but we expect the young blue-liner to evolve from a household name into a bona fide superstar this coming fantasy season. After all, the young rearguard runs point on one of the best power plays in NHL history. While it's easy to dish it off to McDavid or Leon Draisaitl, Bouchard's capable of creating goals himself thanks to a bomb of a shot, bringing an entirely new element to the Oilers' man advantage.
He notched 19 of his 40 points last season in just 21 contests after taking over top-unit responsibilities. The sky's the limit over a full 82-game slate.
Jake Sanderson, Senators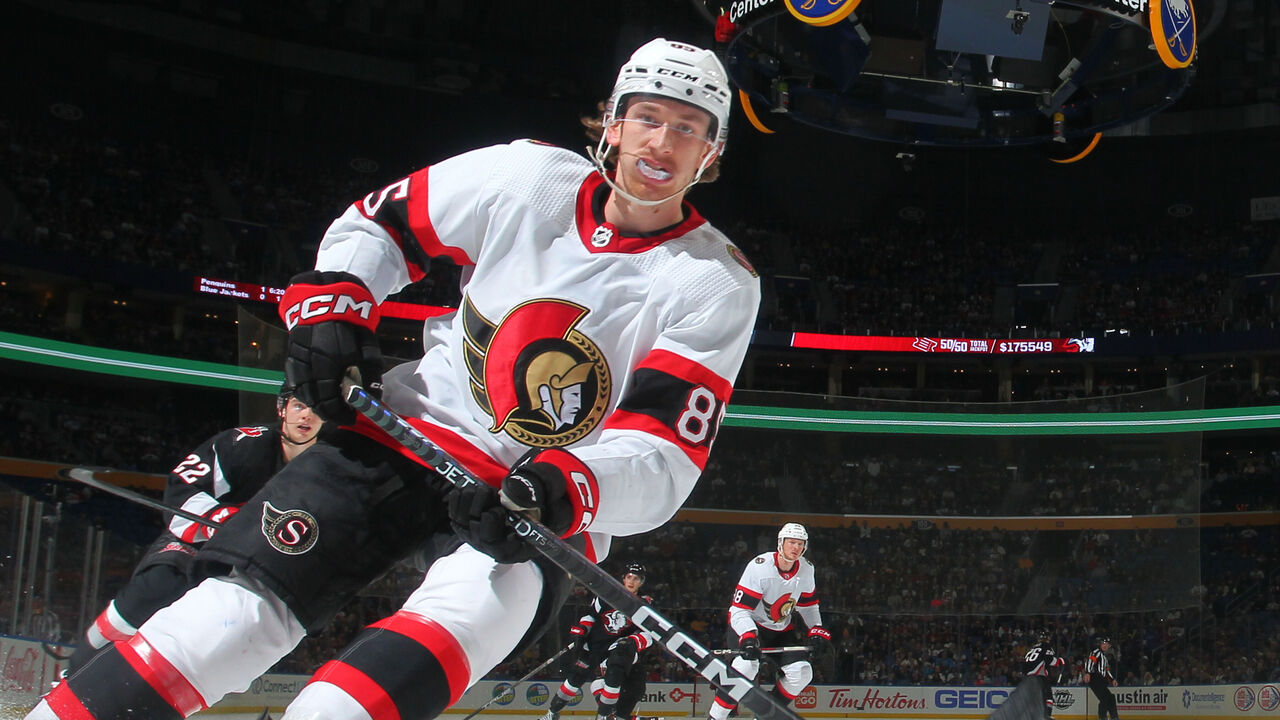 It's time for the Senators' $64.4-million defenseman to show the hockey world what he's capable of. Many scoffed when Ottawa awarded the 21-year-old an eight-year extension after just 77 NHL games played, but Sanderson quietly produced 32 points, including 17 on the power play, in his freshman campaign. Wrangling the top-unit spot from Thomas Chabot is a long shot, but Sanderson has shown he's more than capable of filling in for the oft-injured veteran.
Sanderson averaged nearly 22 minutes per game as a rookie, most of which came behind one of Ottawa's stacked top two lines. If he doesn't get adequate power-play time, five-on-five production shouldn't be much of an issue given who he projects to share the ice with. His 147 blocks also offer enticing value elsewhere if you're in a banger league.
Luke Hughes, Devils
Hughes' status as a breakout candidate might be best served in keeper or dynasty leagues, but the 20-year-old turned heads this past spring with four points in five games between the regular season and playoffs after the Devils pried him from the University of Michigan. His inclusion on this list is largely based on reputation - his older brothers Quinn and Jack sure are doing alright for themselves - rather than an elite lineup situation. Still, the youngest Hughes should get power-play time with New Jersey's second unit and generate plenty of looks at even strength with a strong supporting cast of forwards.
Goalies
Devon Levi, Sabres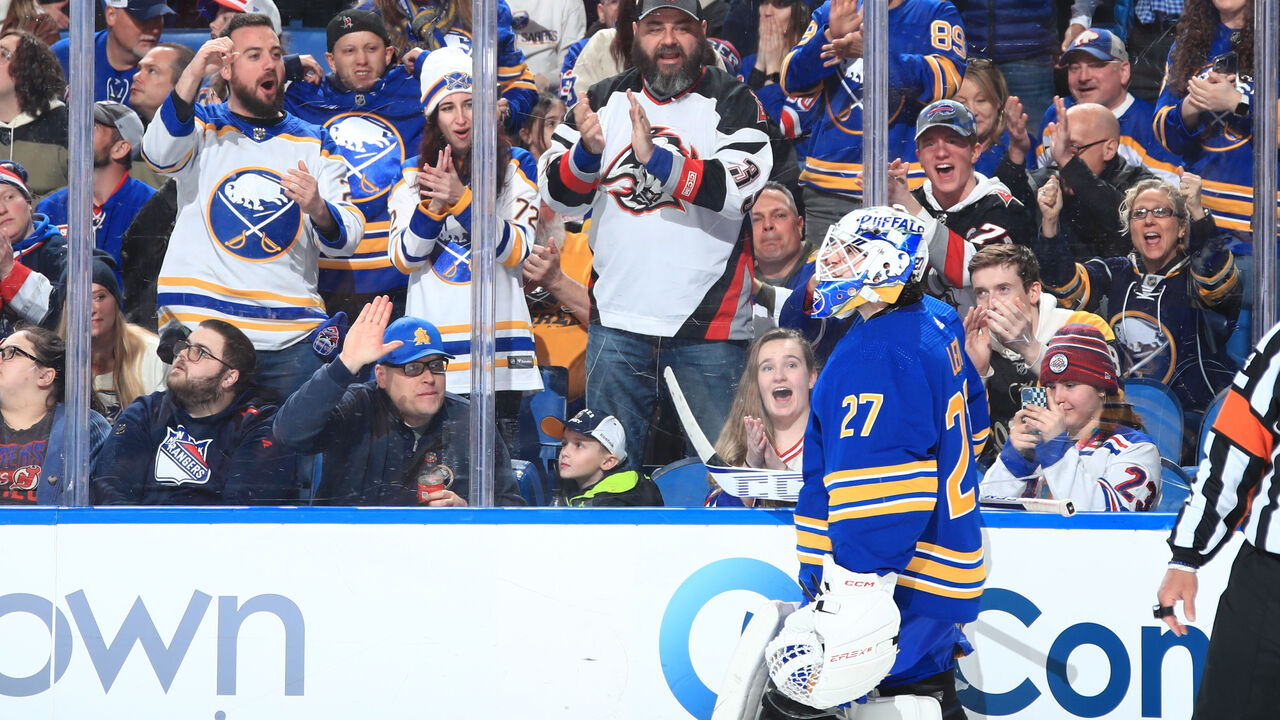 Investing in a rookie goaltender - in fantasy and real life - can be a frightening proposition, but Levi is too tantalizing of a talent to ignore. The 21-year-old will backstop the up-and-coming Sabres in his first full campaign after going 5-2 with a .905 save percentage in his first taste of the NHL late in 2022-23.
Those numbers don't exactly jump off the page, but Levi's amateur track record speaks for itself. He was a Hobey Baker finalist twice at Northeastern, where he also was named collegiate goaltender of the year in both of his NCAA seasons. Levi also won world championship gold with Canada, albeit in a limited role, to further strengthen his pedigree. We're not suggesting you bet on Levi to win the Vezina in his rookie year. But Buffalo would've made the playoffs with stronger goaltending last year, and its new netminder looks like the answer.
Pyotr Kochetkov, Hurricanes
Kochetkov is buried behind Frederik Andersen and Antti Raanta on Carolina's depth chart, but the veteran duo is highly injury-prone, which could open the door for the 24-year-old. The Hurricanes clearly believe in Kochetkov as a viable NHL goaltender, as they signed him a four-year extension in November with only a handful of games under his belt.
Should Kochetkov find his way into Carolina's crease, he can be trusted to rack up wins behind Rod Brind'Amour's defensive structure. He went 12-7-5 in his chances last season while posting a respectable .909 save percentage.