Ranking the NHL's 6 best lines heading into 2023-24
NHL Images / National Hockey League / Getty
NHL teams' offensive attacks seem to get scarier and scarier every year, so we're going through the six lines we think will be the most lethal in 2023-24.
For this edition of the exercise, we focused solely on lines we expect to be consistent trios with a high chance of getting substantial ice time together. There are some new lines featured here, but each one includes an established duo from the 2022-23 campaign.
With that out of the way, let's get to it.
Statistics guide:
GP = Games played together
TOI = Total time on ice together
GF% = Goals for percentage
xGF% = Expected goals for percentage
SCF% = Scoring chances for percentage

All chart figures are 2022-23 regular-season numbers as a line at five-on-five unless otherwise indicated
6. Hagel-Point-Kucherov ⚡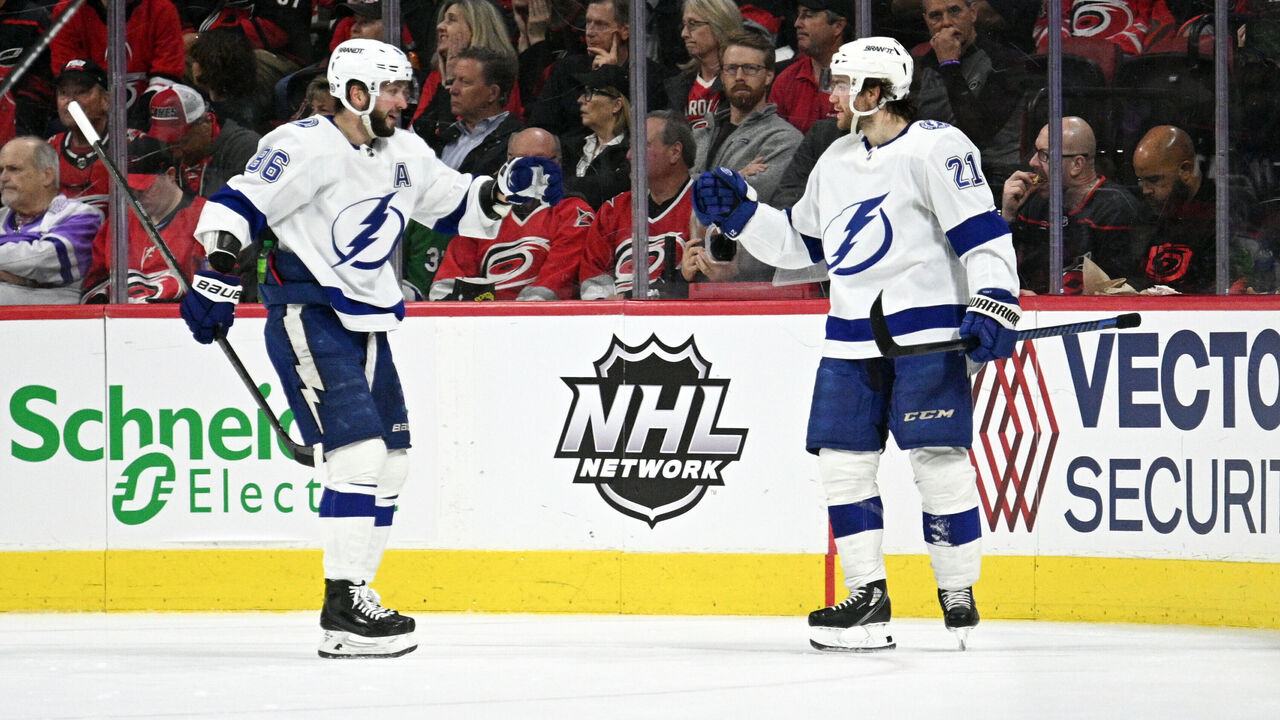 | GP | TOI | GF% | XGF% | SCF% |
| --- | --- | --- | --- | --- |
| 81 | 619 | 51.4 | 55.7 | 58.7 |
Combined cap hit: $20.5 million
Come on now, we couldn't omit a trio that combined for 111 goals and 272 points last season. Bolts head coach Jon Cooper has a tendency to load up his top unit by slotting Steven Stamkos into the mix, but Brayden Point and Nikita Kucherov played most of 2022-23 with Brandon Hagel to make up the Lightning's most utilized line.
Point and Kucherov are the obvious star attractions of this trio. The former placed fifth in goals league-wide (51) last season, while the latter tied Boston Bruins sniper David Pastrnak for the third-most points in the NHL (113).
An electric winger with three 100-point seasons under his belt, Kucherov is the last player not named Connor McDavid or Leon Draisaitl to win the Art Ross Trophy. Point, meanwhile, has the 10th-most goals (218) in the league since his debut in 2016-17. Hagel isn't just a hanger-on, though: He scored a career-high 30 goals in 2022-23, matching Kucherov for the third-most tallies on the Bolts. That's amazing value given Hagel carries a cap hit of $1.5 million (that'll change in 2024-25 when he'll get a $5-million raise).
The Lightning narrowly outscored opponents 36-34 with Hagel, Point, and Kucherov on the ice at five-on-five last season. That may be surprising given their offensive talent, but they also owned the worst on-ice save percentage (.896) out of all the other lines on this list that played together in 2022-23.
5. Barbashev-Eichel-Marchessault ⚔️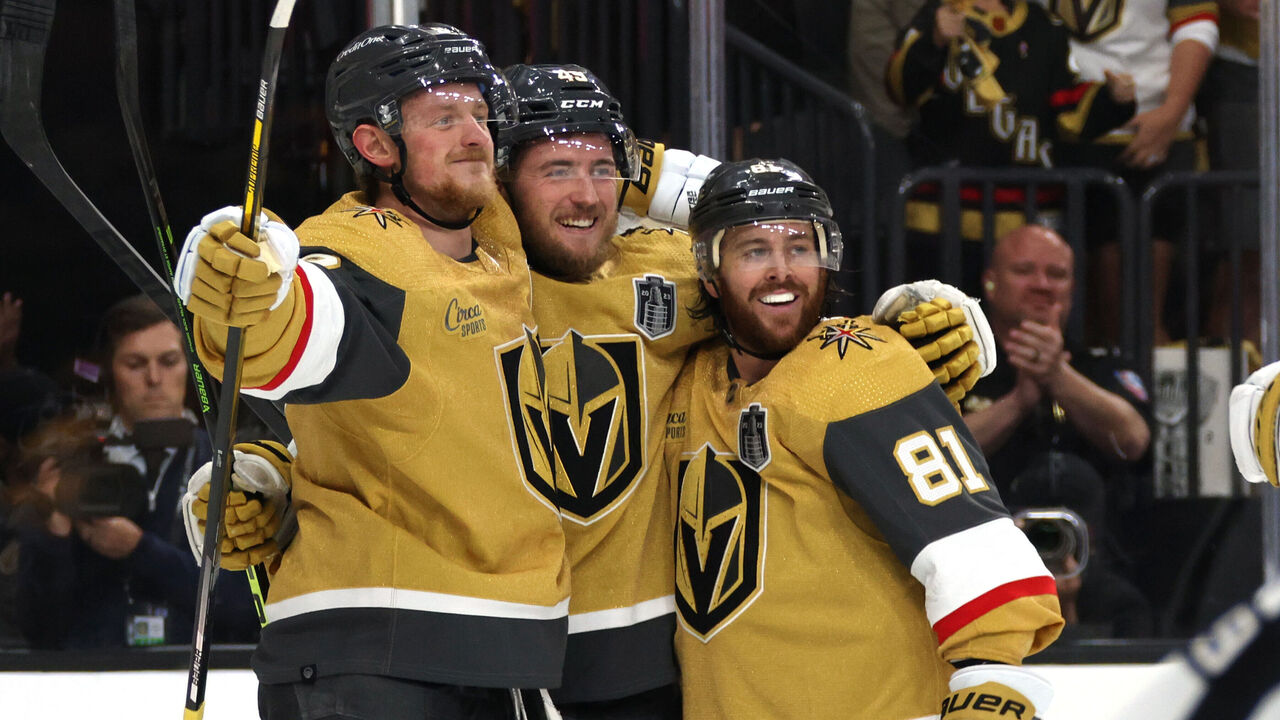 | GP | TOI | GF% | XGF% | SCF% |
| --- | --- | --- | --- | --- |
| 21 | 221 | 61.9 | 44.6 | 43.8 |
Combined cap hit: $20 million
Excluding a line that just helped the Vegas Golden Knights win their first Stanley Cup championship simply wouldn't be wise.
The trio of Ivan Barbashev, Jack Eichel, and Jonathan Marchessault became a staple in Sin City after Vegas acquired the Russian from the St. Louis Blues in February. Sure, the threesome didn't put up the most dominant underlying numbers during its limited regular-season tenure, but that was just a practice run, a precursor to the amount of damage it'd deal in the postseason. To put it plainly, this line caused problems in the spring.
Eichel was a beast in his first-ever postseason appearance and led the entire league with 26 points in 22 games. Marchessault won the Conn Smythe Trophy as playoff MVP after going off for 13 goals - tying Draisaitl for the most in the NHL - and 25 points. Barbashev proved to be a perfect complementary piece and wreaked havoc with 18 points while ranking second on the team with 64 hits.
On a collaborative front, the unit owned a commanding 72.7 GF%, 54.6 xGF%, and 54.4 SCF% at five-on-five in the playoffs. It's no wonder the Golden Knights signed Barbashev to a five-year, $25-million extension in June. Let's see what these guys can do together once they get a full season under their belts.
4. Bertuzzi-Matthews-Marner 🍁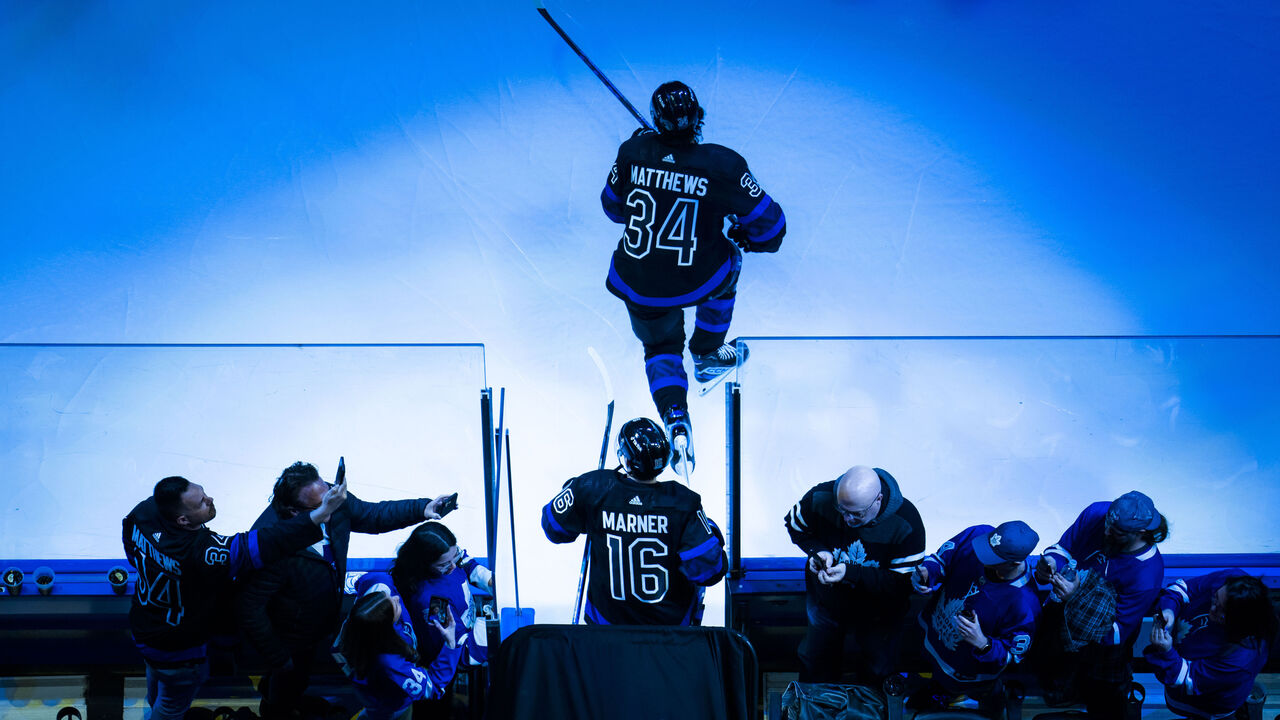 Combined cap hit: $28.04 million
We have yet to see this trio in any real action because Tyler Bertuzzi just signed on as a free agent, but the NHL is well aware of the damage Auston Matthews and Mitch Marner can do together. In 540 minutes with the high-octane duo on the ice at five-on-five last season, the Toronto Maple Leafs owned 57.1% of the shot attempts and 58.7% of the expected goals while outscoring opponents 33-20. Known for his wizardry as a setup man, Marner assisted on nearly half of Matthews' 40 goals in 2022-23 and led the team with 99 points in 80 games.
Matthews and Marner made their debuts in 2016-17. Since then, Matthews leads the NHL with 299 goals, while Marner's 386 assists are the fourth most in the league. Combining one of the NHL's top goal-scorers with one of the best playmakers just makes sense. Bertuzzi - a physical, snotty pest - is an upgrade on Michael Bunting, who was stapled to Matthews' wing the past two seasons.
Bertuzzi, 28, was handcuffed by two separate hand injuries in 2022-23, mustering eight goals and 30 points in 50 regular-season games as a result. But he emerged as a beautiful, gritty force of nature for the Boston Bruins in the playoffs (albeit for one round), putting up five goals and 10 points in seven games. He netted a career-high 30 goals during the 2021-22 campaign as a Detroit Red Wing while spending most of his time on a line with the tremendously talented Dylan Larkin and Lucas Raymond. Matthews and Marner have a more elite edge. If Bertuzzi turns out to be the go-to left-winger on Toronto's top line beyond the preseason, he can reach new heights.
3. Hyman-McDavid-Brown 🛢️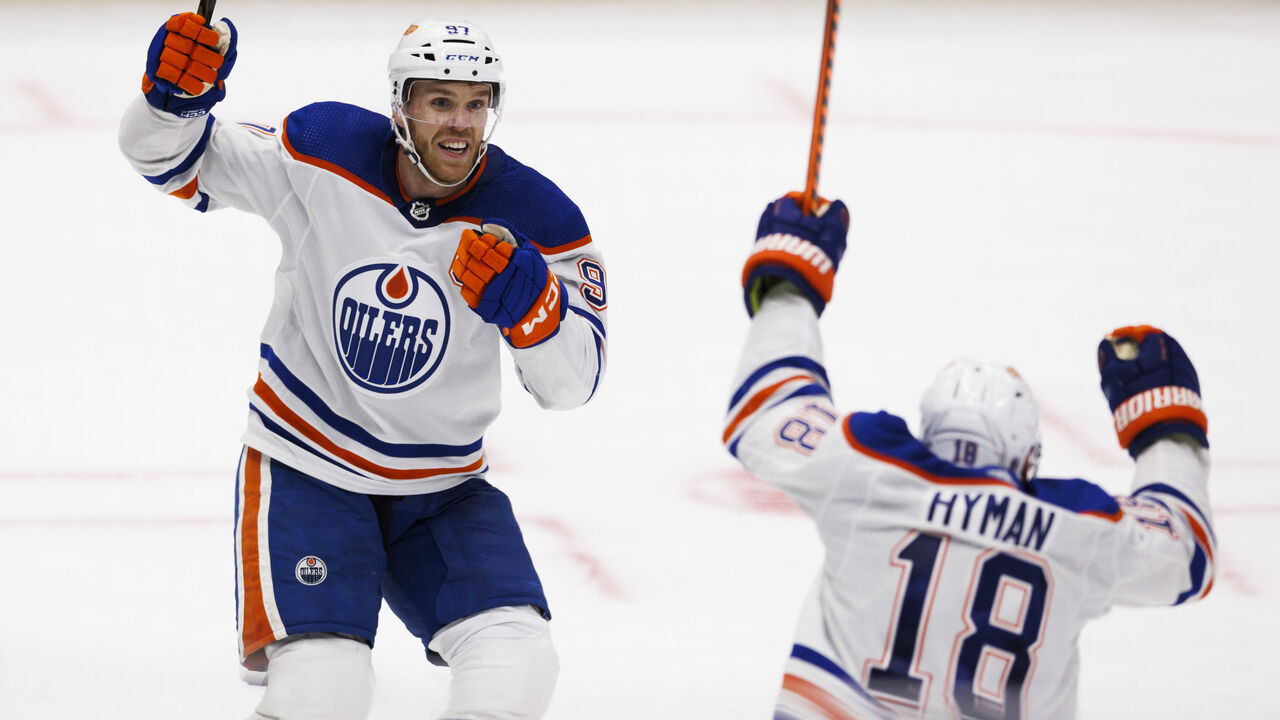 Combined cap hit: $18.775 million
This line features the best player on the planet, so of course it wound up on the podium of these rankings. There's nothing to say about McDavid that hasn't already been said: The Edmonton Oilers superstar scored an outlandish 153 points last season, there's nothing he can't do, blah blah blah.
Riding on his line is one of the best jobs in the NHL, a fact that Zach Hyman must be well aware of. He's posted his two best statistical seasons - highlighted by a 36-goal, 83-point performance in 2022-23 - since his arrival in Edmonton while spending the majority of his time at McDavid's side. But Hyman is more than just a benefactor of the McDavid show: Around 45% of McDavid's points last season came on the power play, while nearly 70% of Hyman's offensive production came at even strength. The Oilers were also outscored 17-26 with McDavid on the ice at five-on-five without Hyman. Edmonton does most of its damage on the man advantage, so the fact that Hyman does his best work at five-on-five is a big help.
Rounding out this trio is new addition Connor Brown, who is known for being a workhorse and has already been praised by McDavid as the "perfect addition" to the Oilers: They were linemates with the OHL's Eerie Otters and combined for 227 points in 2013-14. Brown won't blow you away with his NHL point totals, but to be fair, neither did Hyman, whose previous career high was 41 points before his move out west. Brown and Hyman also have four seasons' worth of experience playing together from their time with the Maple Leafs.
Even if Evander Kane ends up taking the spot on McDavid's left wing instead of Hyman, the line would still belong on this list. Kane spent the bulk of his time last season with Draisaitl, but he and McDavid generated excellent results together in 2021-22, with the Oilers dictating 63.8% of the goals and 57% of the expected goals with the duo on the ice at five-on-five.
2. Robertson-Hintz-Pavelski 🌟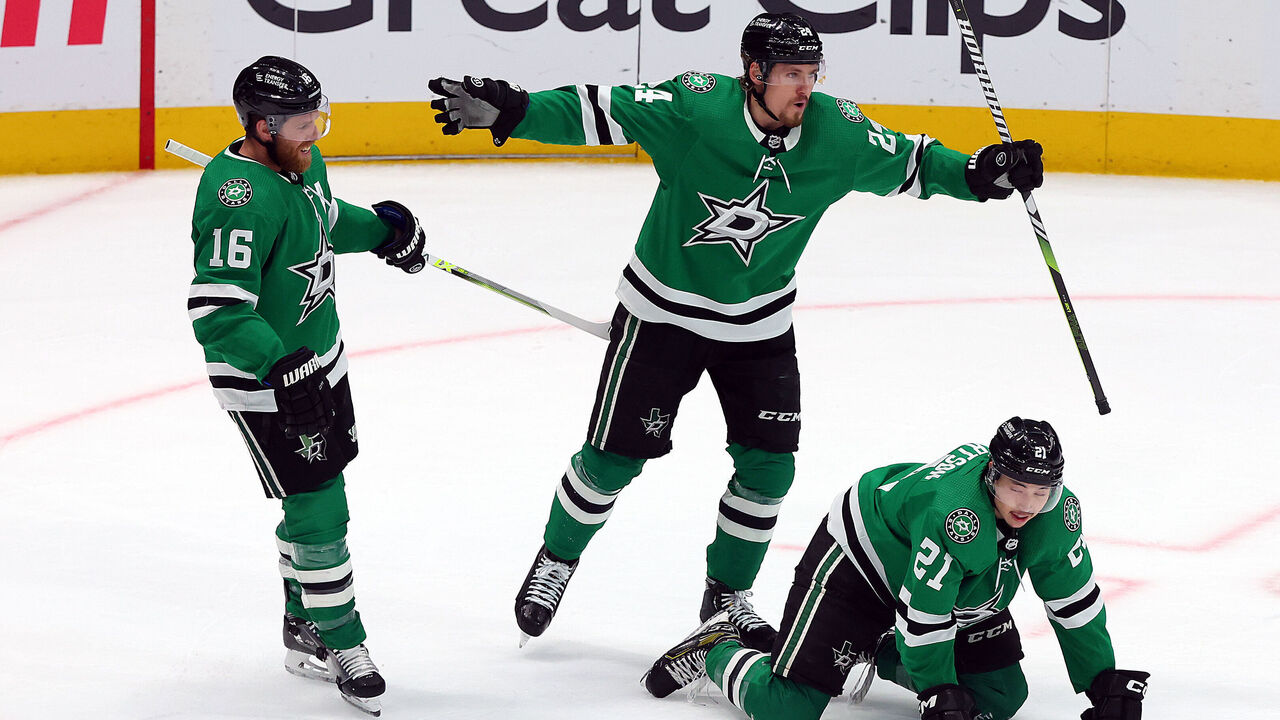 | GP | TOI | GF% | XGF% | SCF% |
| --- | --- | --- | --- | --- |
| 73 | 759 | 68.4 | 58.8 | 59.7 |
Combined cap hit: $19.7 million
It takes a lot to beat McDavid's line on this list, but Jason Robertson, Roope Hintz, and Joe Pavelski have earned this. The Dallas Stars' top unit led all lines in ice time last season while putting up some gaudy numbers.
The trio simply drives offense at an alarming rate. Dallas outscored opponents 52-24 with Robertson, Hintz, and Pavelski on the ice at five-on-five in 2022-23, operating at bonkers clips of 4.11 goals for and 1.9 goals against per 60 minutes. If that wasn't enough, the line also helped the Stars dictate over 60% of the high-danger goals and chances. In layman's terms, it was obscenely difficult to not get scored on with this threesome off the bench, which is the effect you want your top line to have when you're in hot pursuit of the Cup.
Two members of the line enjoyed career years last season, too, with Hintz potting 75 points in 73 games and Robertson going off for 46 goals and 109 points in 82 contests. Pavelski was no slouch, either, producing at a 0.94 point-per-game rate in his 17th NHL season. Together, they combined for 111 goals - almost 40% of the Stars' 281 tallies - while making up three of the team's top four scorers.
Unlike some of the other lines on these rankings, Robertson, Hintz, and Pavelski won't need any time to gel: They've amassed almost 1,800 minutes of experience together over three seasons. The Stars are a wagon, and their three-headed dragon of a top line is a huge reason why.
1. Drouin-MacKinnon-Rantanen ⛰️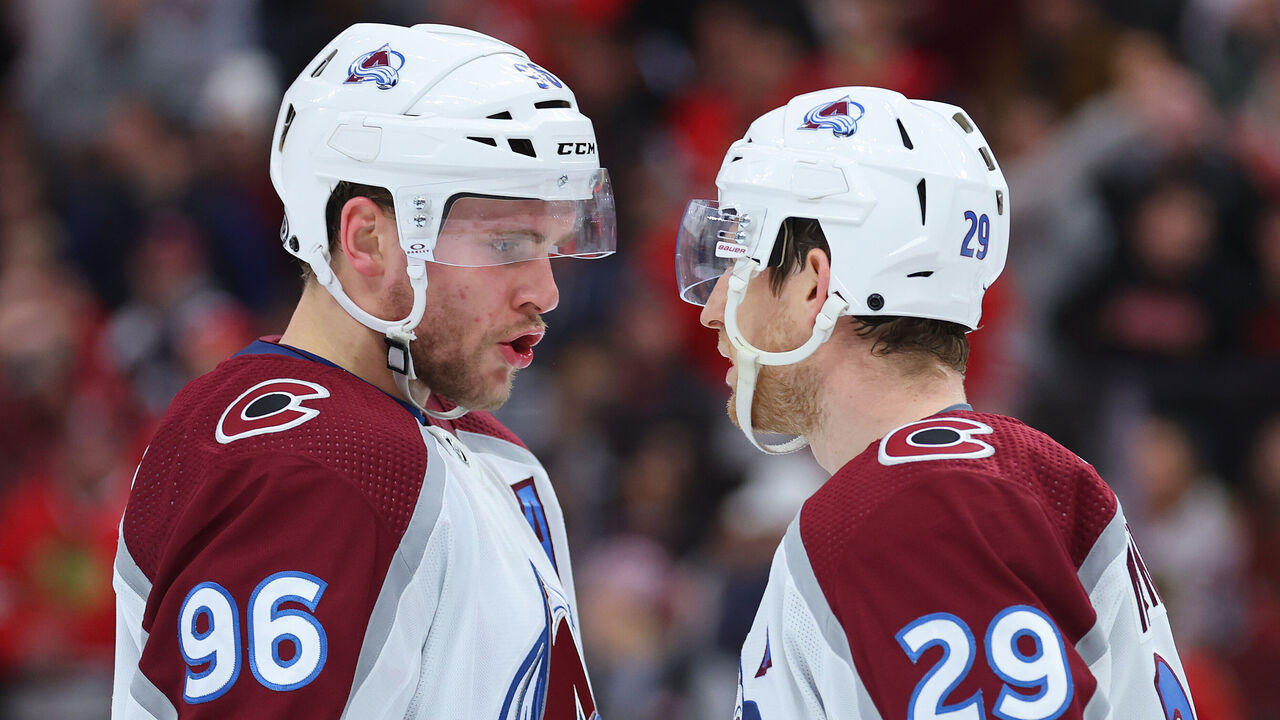 Combined cap hit: $22.675 million
Along with the Oilers, the Colorado Avalanche were the only team to boast multiple 100-point-getters in 2022-23, and both of them are on this line.
Nathan MacKinnon hit the century mark for the first time in his career last season despite missing 11 games, while Mikko Rantanen posted the first 50-goal season in franchise history since Milan Hejduk in 2002-03. Their production was key for the Avalanche, who were decimated by injuries but still finished in first place of the Central Division.
Any line that has both MacKinnon and Rantanen has a shot to take the No. 1 spot on this list - it doesn't really matter who's with them. Artturi Lehkonen took the most reps alongside them last season, but we're giving first crack at the 2023-24 job to new acquisition Jonathan Drouin. He and MacKinnon were teammates on the QMJHL's Halifax Mooseheads for two seasons, combining for 111 goals and 287 points in 184 games and winning the Memorial Cup. Drouin's NHL career hasn't panned out as well as MacKinnon's, but he was in need of a fresh start after a rough stint in Montreal. There's no guarantee their reunion works out, but wouldn't it be cool if it did?
For transparency's sake: Gabriel Landeskog is out for the season again, so the Avalanche may not want to load up their top line like this. But, in Colorado's first Landeskog-less season in 2022-23, MacKinnon and Rantanen were each other's most common linemate at five-on-five, so there's a real chance it happens again.
Other lines to watch that missed the cut:
Nick Schmaltz-Barrett Hayton-Clayton Keller, Coyotes
Jesper Bratt-Jack Hughes-Tyler Toffoli, Devils
Quinton Byfield-Anze Kopitar-Adrian Kempe, Kings
Jordan Eberle-Matty Beniers-Jared McCann, Kraken
Brady Tkachuk-Tim Stutzle-Claude Giroux, Senators
Kirill Kaprizov-Ryan Hartman-Mats Zuccarello, Wild
(Analytics source: Evolving-Hockey, Natural Stat Trick)
(Salary source: CapFriendly)