Most intriguing free agents, 2003 redraft, and 4 other NHL items
Spoiler alert for July 1: The 2023 unrestricted free-agent class doesn't have a headliner.
There's no Johnny Gaudreau of 2022, Dougie Hamilton of 2021, Alex Pietrangelo of 2020, or Artemi Panarin of 2019. There are plenty of household names available, sure, but most are past their prime and thus less desirable.
This year's crop is, in a word, underwhelming. However, that doesn't mean it's boring, especially with the upper limit of the salary cap likely rising once again by only $1 million for the 2023-24 season (to $83.5 million). With so little additional cap space available, some players are going to get squeezed.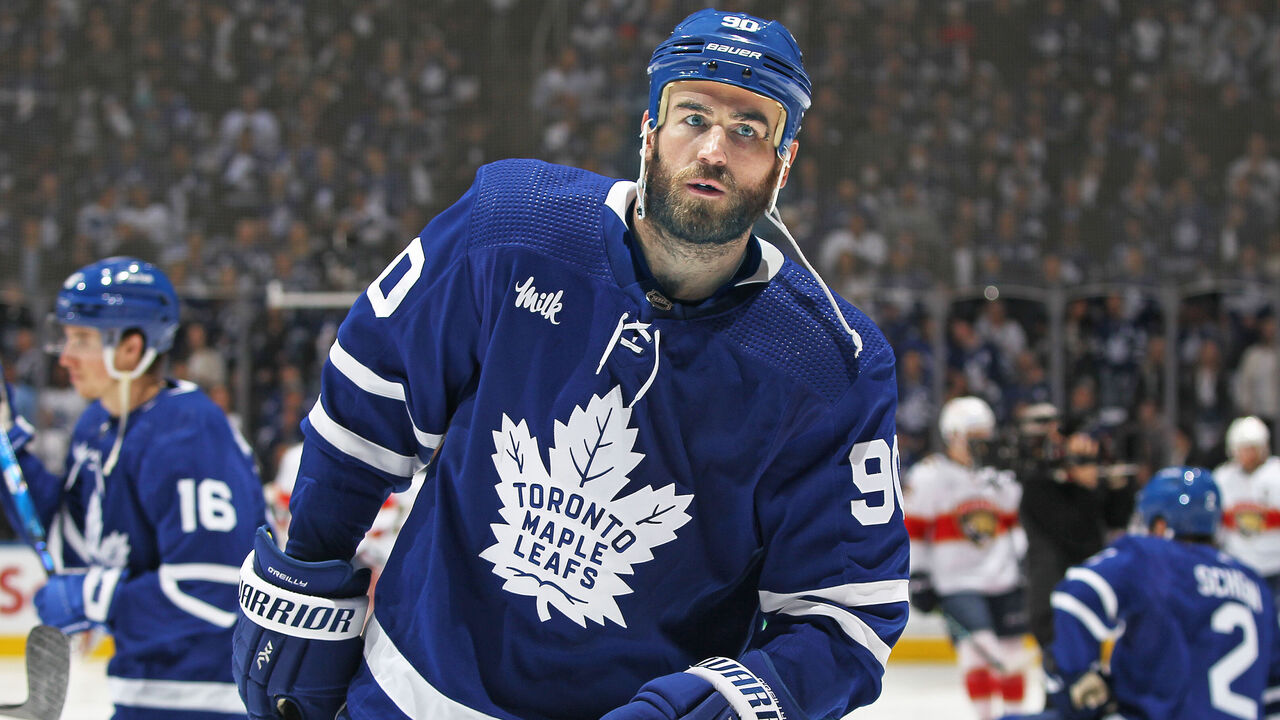 "Is it the top-tier guys since there's no real big name in the class? Is it the guys in the middle? Or is it some of the lower-end, lower-lineup guys?" Kyle Stich, president of AFP Analytics, wondered aloud during a recent interview.
Will teams eat a "bad" cap hit for this coming season in order to sign a player they really like for multiple seasons, then feel better about it once the upper limit jumps? Or, with teams and players eyeing that big increase over the next couple of years, will there be more short-term deals than usual this summer?
With the help of Stich and AFP Analytics - which recently released contract projections for hundreds of free agents - let's take a look at three particularly intriguing UFAs.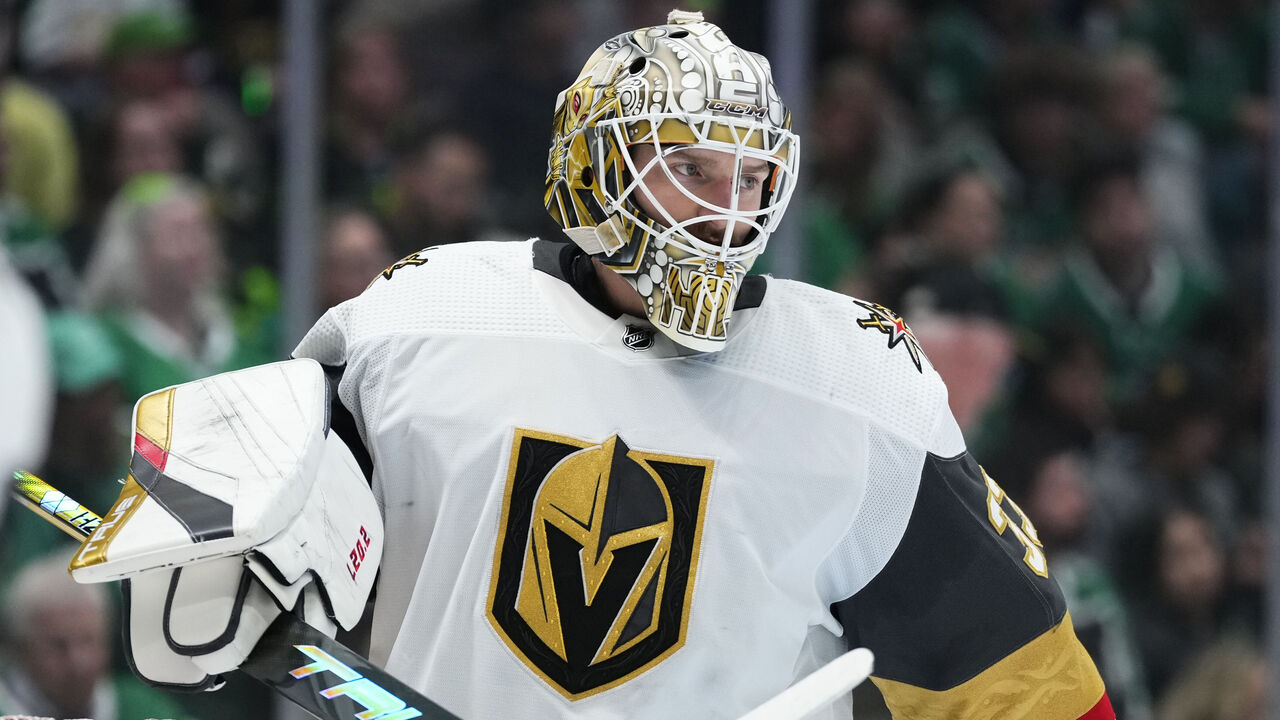 Adin Hill (AFP projection: 2 years, $3.34-million cap hit)
AFP's projections were finalized after the regular season, so, as Stich puts it, the 27-year-old Hill "might have earned himself another year or two and another couple of million each year" by posting a .934 save percentage in 14 playoff games. Winning the Stanley Cup would be the icing on the cake.
Hill's stellar play in the Vegas crease this spring has moved him into Jordan Binnington and Scott Darling territory. Binnington signed for two years at $4.4 million per year in 2019 (5.4% of upper limit at signing time), while Darling signed for four years at $4.15 million per year in 2017 (5.7% of upper limit).
Hill's NHL sample size is small (115 total games), which could be viewed as a plus or a minus, depending on the front office. "If you're a team that wants to buy into what you've seen so far, you can talk yourself into him," Stich said. "If you're a team that wants to steer away, you can talk yourself out of him."
Michael Bunting (AFP projection: 5 years, $5.26-million cap hit)
Bunting's suspension in the first round of the playoffs may not have left a favorable impression on prospective future employers. But there's no denying the 27-year-old winger can slot into any top six. In Toronto, he showed he can play the heel alongside play-drivers Auston Matthews and Mitch Marner.
AFP envisions Bunting's next deal ending up in the same ballpark as Blake Coleman's deal with Calgary (six years, $4.9 million per, 6% of upper limit at signing) and Zach Hyman's deal with Edmonton (seven years, $5.5 million per, 6.8% of limit). Jonathan Marchessault, who, like Bunting, took a while to break through in the NHL, is another data point (six years, $5 million per, 6.7%).
Bunting's just one of many useful UFA wingers, such as Tyler Bertuzzi, Alex Killorn, and Ivan Barbashev. "Does he get signed first, get a high-dollar amount and term, and then the market dries out for somebody else?" Stitch wondered.
Dmitry Orlov (AFP projection: 5 years, $6.27-million cap hit)
Orlov must have been smiling ear to ear Friday as he learned of the sign-and-trade between New Jersey and Columbus. That deal took Damon Severson, Orlov's stiffest competition among UFA defensemen, off the market entirely.
Suddenly, the demand for Orlov, which was presumably already fairly high, is even higher. The 31-year-old Russian recorded a career-high 36 points this past season while splitting his time between Washington and Boston after a midseason trade. Orlov's ability to break the puck out, intimidate physically, and help out on the power play makes him an enticing, top-pairing package.
Two relevant contracts: Jeff Petry's deal with Montreal and Mattias Ekholm's deal with Nashville. Both defensemen, now playing for other teams, signed in their early 30s for four years, $6.25 million per season, and 7.7% of the upper limit at the time.
2003 draft, 20 years later
June 21 marks two decades since Cape Breton Screaming Eagles goalie Marc-Andre Fleury was selected first overall in the 2003 draft. A historically strong class, 130 picks have played at least one NHL game, including all 30 first-rounders, ranging from Hugh Jessiman (two games) to Eric Staal (1,365).
The depth doesn't stop there: 48 of 292 total draftees, or a whopping 16.4% of the class, have appeared in 500 or more games. And 16 have reached the 1,000-game milestone, with the 38-year-old Fleury not far behind (985) heading into the second season of a two-year deal with the Minnesota Wild.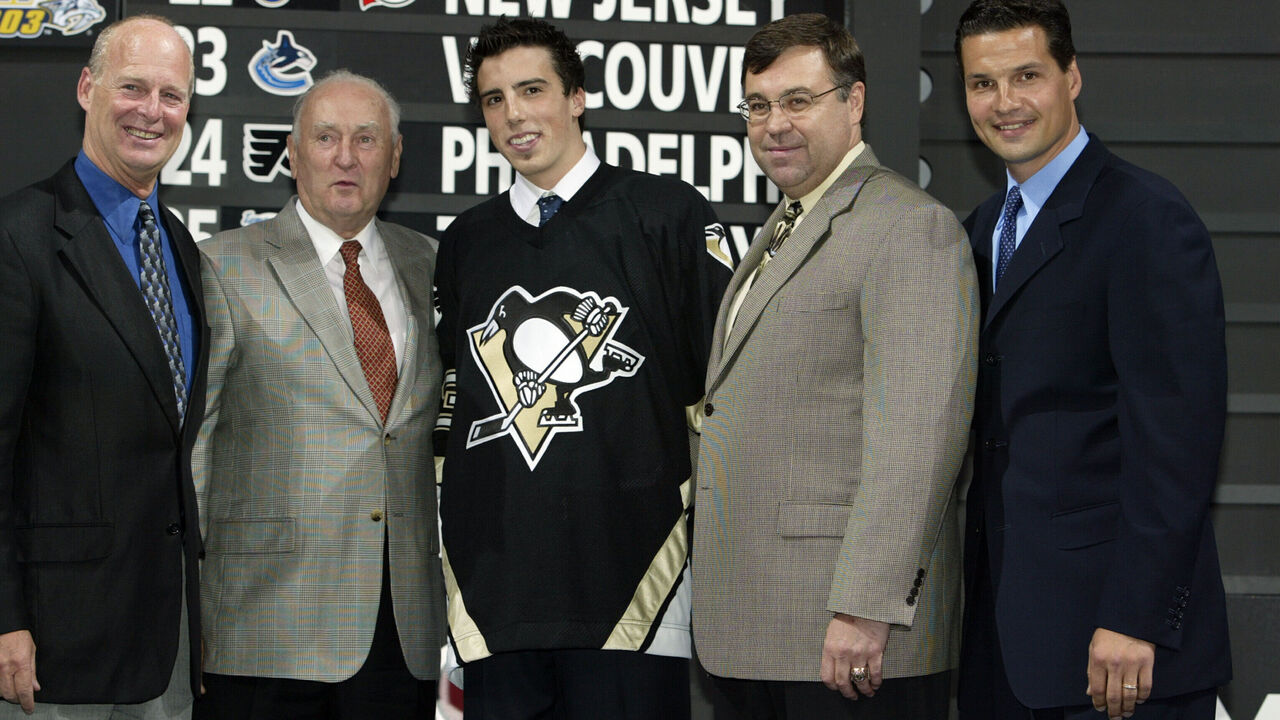 The top-five picks from draft day:
Marc-Andre Fleury, G, Pittsburgh Penguins

Eric Staal, F, Carolina Hurricanes

Nathan Horton, F, Florida Panthers

Nikolai Zherdev, F, Columbus Blue Jackets

Thomas Vanek, F, Buffalo Sabres
The Penguins, Hurricanes, and Sabres made out well. The Panthers did OK. The Blue Jackets ... not so great. Zherdev left in 2011 for the KHL. He was 26.
Placing a heavy emphasis on longevity, here's who I'd pick in a redraft:
Patrice Bergeron, F, Pittsburgh (actual slot: 45th)

Marc-Andre Fleury, G, Carolina (1st)

Corey Perry, F, Florida (28th)

Ryan Getzlaf, F, Columbus (19th)

Eric Staal, F, Buffalo (2nd)
Honorable mentions: Shea Weber (49th), Joe Pavelski (205th), Ryan Kesler (23rd), Brent Seabrook (14th), Brent Burns (20th), Corey Crawford (52nd).
Caps' Carbery no ordinary rookie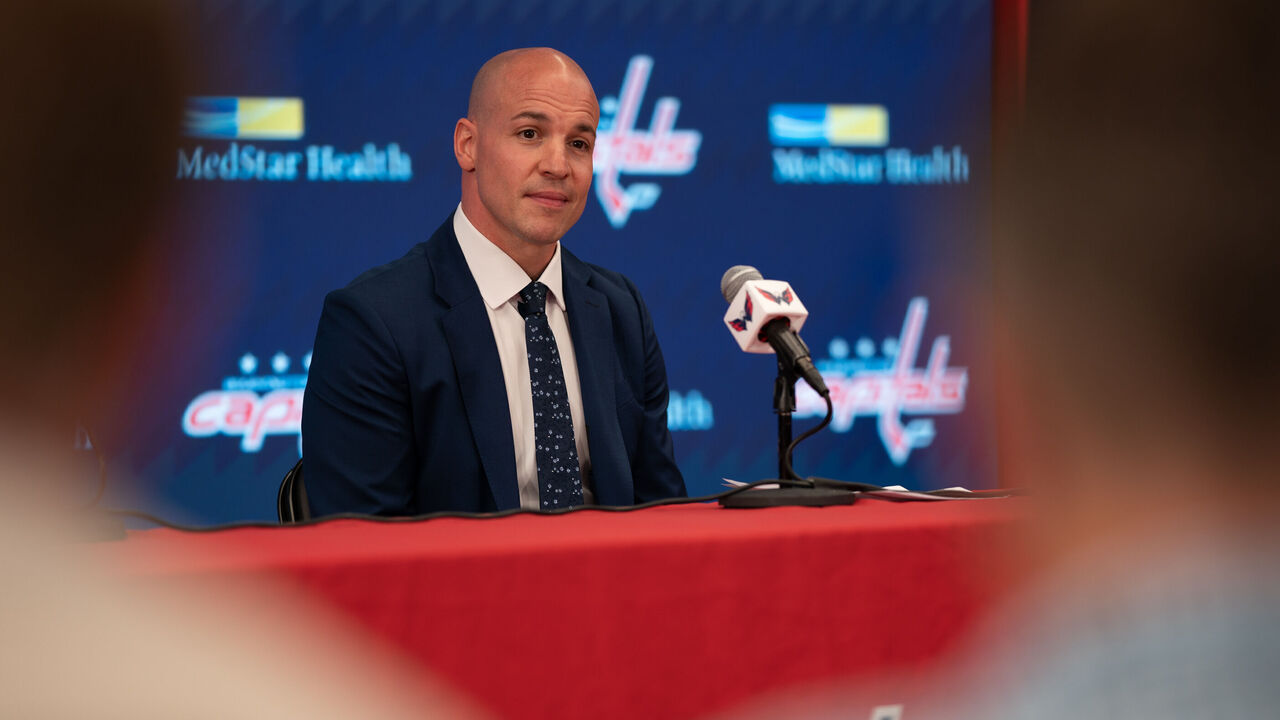 Back in 2016, Dave Drinkill reached out to NHL executive Kyle Dubas. Drinkill, the general manager of the OHL's Saginaw Spirit, had never hired a coach and was seeking advice from colleagues who'd been through the process.
Dubas told Drinkill to be thorough in his search and to trust his instincts. It's hard to explain, Drinkill recalls the Penguins' new president of hockey operations saying, but when you find your guy, you'll know. It's a gut feeling.
Drinkill felt it as he interviewed Spencer Carbery, a former minor-league winger who'd just won the ECHL's coach of the year award. The GM and prospective coach talked for several hours straight - about life, family, hockey - yet the conversation never dragged because they found so much common ground.
Carbery checked off all the boxes: On top of being detail-oriented and a strong communicator, his teaching philosophies and work ethic aligned with Drinkill's. Plus, Carbery had the "it" factor seen only in natural leaders.
"If someone walks into the room with a presence, and they're in charge, you just feel it," Drinkill explained. "You buy into what they're telling you, you get to work, and soon enough, you're ready to go through the wall for that person. You respect them, and they respect you. You can have fun, but when it's time to work, it's time to work. There's an understanding there. Carbs had that."
Fast forward six years, and Carbery is the Washington Capitals' new bench boss after successful head-coaching stints in the ECHL, OHL, and AHL. According to reports, the hottest NHL coaching prospect on the market also interviewed for vacancies in New York (Rangers), Anaheim, and Nashville.
An assistant on Sheldon Keefe's staff the past two seasons, Carbery led the Toronto Maple Leafs to first- and second-ranked power plays. In Washington, the 41-year-old is armed with a capable group of offensive contributors - including ultimate trigger-man Alex Ovechkin - that finished a disappointing 23rd and 16th in power-play percentage the last two seasons.
Carbery knows the Caps organization well, having spent eight total seasons as head coach of its ECHL and AHL affiliates. On one hand, the team's in transition after recently trading a handful of veterans. On the other, it remains tied to a core anchored by Ovechkin, Nicklas Backstrom, and John Carlson.
Carbery wants the Caps to play with more pace and better connectivity. You can expect him to spend as much time teaching the club's depth players as its stars. He'll be invested in matters big and small. That's how he's wired.
"I'm going to put everything I've got into this organization," Carbery said last week during a press conference. His old boss Drinkill has no doubts about it.
Parting shots
Barry Trotz: I love the idea of Trotz transitioning from head coach to general manager. (He officially takes over as Nashville Predators GM in July.) Always seeming very wise, Trotz is a hockey lifer who isn't afraid to change with the times or think outside the box.
I love the hire even more after reading a few of his recent comments. For one, Trotz told reporters he wants his scouting staff to "take some swings" and target players who "get people out of their seats" in the draft because the front office can find depth players in free agency or via trade. Of course, it's easy to ask for swings when your club has 13 picks in a draft being held locally. What a perfect time to make a splash. Still, the comment shows he's trying to attack team-building from a different angle than, say, his predecessor David Poile, who's been in the Preds' GM chair since 1997.
Player empowerment: Star players getting what they want, excelling, then motivating others to follow is an under-the-radar theme of the Stanley Cup Final. Vegas has Jack Eichel, who in 2021 got what he wanted after arguing with his old team, the Buffalo Sabres, over which type of neck surgery was the best route. Peers Tyler Johnson and Joel Farabee have since undergone the same artificial disc replacement procedure. Florida has Matthew Tkachuk, who, as a restricted free agent last summer, got what he wanted after telling his old team, the Calgary Flames, he wasn't interested in signing a long-term extension. Peers Alex DeBrincat and Pierre-Luc Dubois are both currently working with their respective clubs to facilitate a trade despite being RFAs. It turns out the NHL can be a copy-cat league at the player level, too.
Columbus Blue Jackets: GM Jarmo Kekalainen is about to hire Mike Babcock as head coach. He acquired Ivan Provorov in a complicated three-way trade on Tuesday, bidding farewell to a first-round pick in the process. He brought in Severson on an eight-year, $50-million contract on Friday. I don't like any of those moves in isolation, but props to Kekalainen for decisively turning the page on an injury-filled 2022-23 season and forging ahead at warp speed.
The NHL's first European GM is banking on a core led by Gaudreau, Patrik Laine, Zach Werenski, Kent Johnson, and David Jiricek - and is probably just getting started. The small-market Blue Jackets will be active on July 1, which, if nothing else, will be entertaining.
Takes, Thoughts, and Trends is theScore's biweekly hockey grab bag.
John Matisz is theScore's senior NHL writer. Follow John on Twitter (@MatiszJohn) or contact him via email (john.matisz@thescore.com).
Comments
✕
Most intriguing free agents, 2003 redraft, and 4 other NHL items
  Got something to say? Leave a comment below!