7 Golden Knights-Panthers questions that will decide who hoists the Cup
Julian Catalfo / theScore
Here. We. Go. At some point over the next two weeks, either the Vegas Golden Knights or Florida Panthers will raise the Stanley Cup for the first time in franchise history. Expect these seven questions to shape the Cup Final, which begins Saturday night. (Note: Tracking data is courtesy of Sportlogiq.)
Which star will shine brightest?
Seismic trades turned the Golden Knights and Panthers into genuine Cup contenders. When superstar forwards demanded to leave their previous teams, each conference champion engineered an NBA-style blockbuster to level up offensively.
Fed up with the Buffalo Sabres, Jack Eichel joined Vegas in the fall of 2021. Matthew Tkachuk said he wouldn't extend with the Calgary Flames last summer at the perfect time for Florida. These dynamos lead their squads in scoring - Tkachuk has 21 points in 16 games, Eichel has 18 in 17 - and will command Conn Smythe Trophy consideration.
The Golden Knights became perennially competitive by taking big swings. They traded for captain Mark Stone. They signed Alex Pietrangelo and Alec Martinez, partners on the top defense pair, to rich free-agent deals. Parting with Alex Tuch, Peyton Krebs, and high draft picks to land Eichel fit this strategy and is paying off handsomely.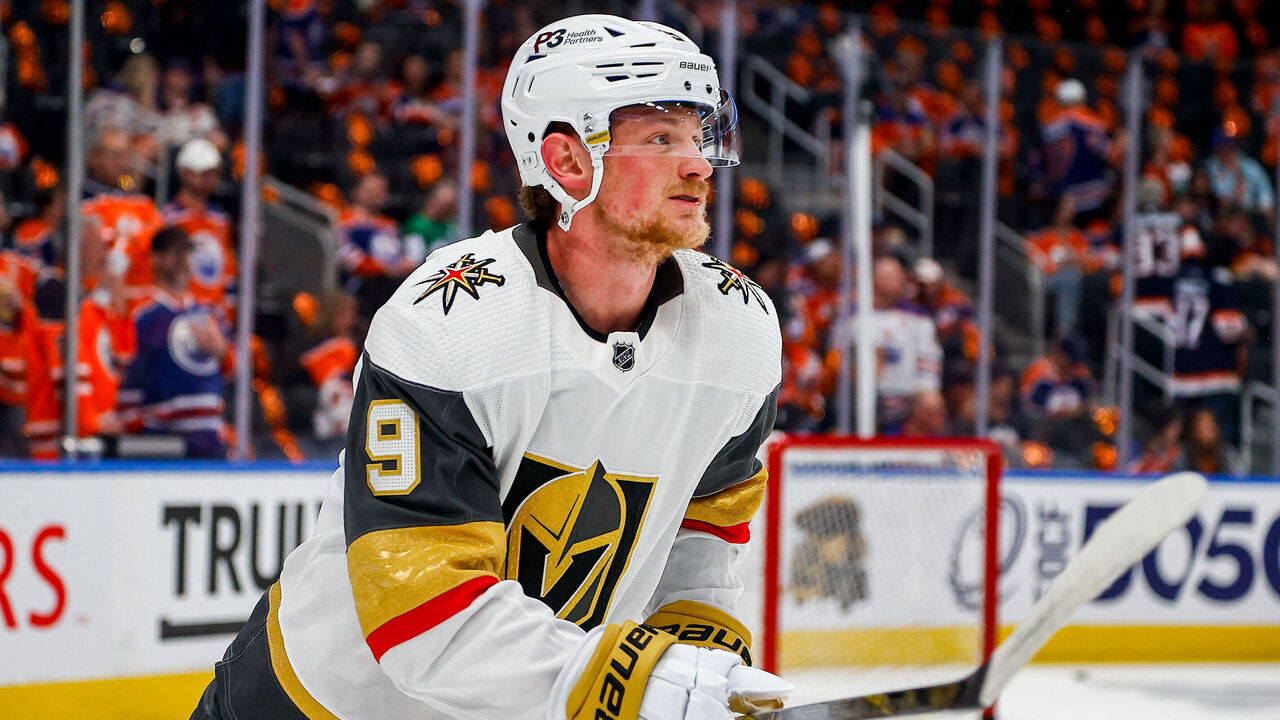 Eichel has assisted six of linemate Jonathan Marchessault's nine tallies. He's caved in opponents alongside Marchessault and Ivan Barbashev (12-4 in goals in the playoffs, 56.3% expected goals rate, per Natural Stat Trick). The puck has been on Eichel's stick in the offensive zone for 1:03 per game, a top-five possession figure in the NHL.
Tkachuk's postseason has been epic. His three overtime goals included back-to-back literal walk-offs against the Carolina Hurricanes. He scored with five seconds left in Florida's latest contest to clinch the berth in the final.
Since Game 5 of the first round, the Panthers are 11-1 overall, 9-1 in one-goal matchups, and 6-0 in sudden death. They've barely wavered since staving off elimination against the mighty Boston Bruins, who succeeded Florida this season as the Presidents' Trophy winner. Tkachuk's clutch production has made a massive difference.
Who benefits from stylistic clash?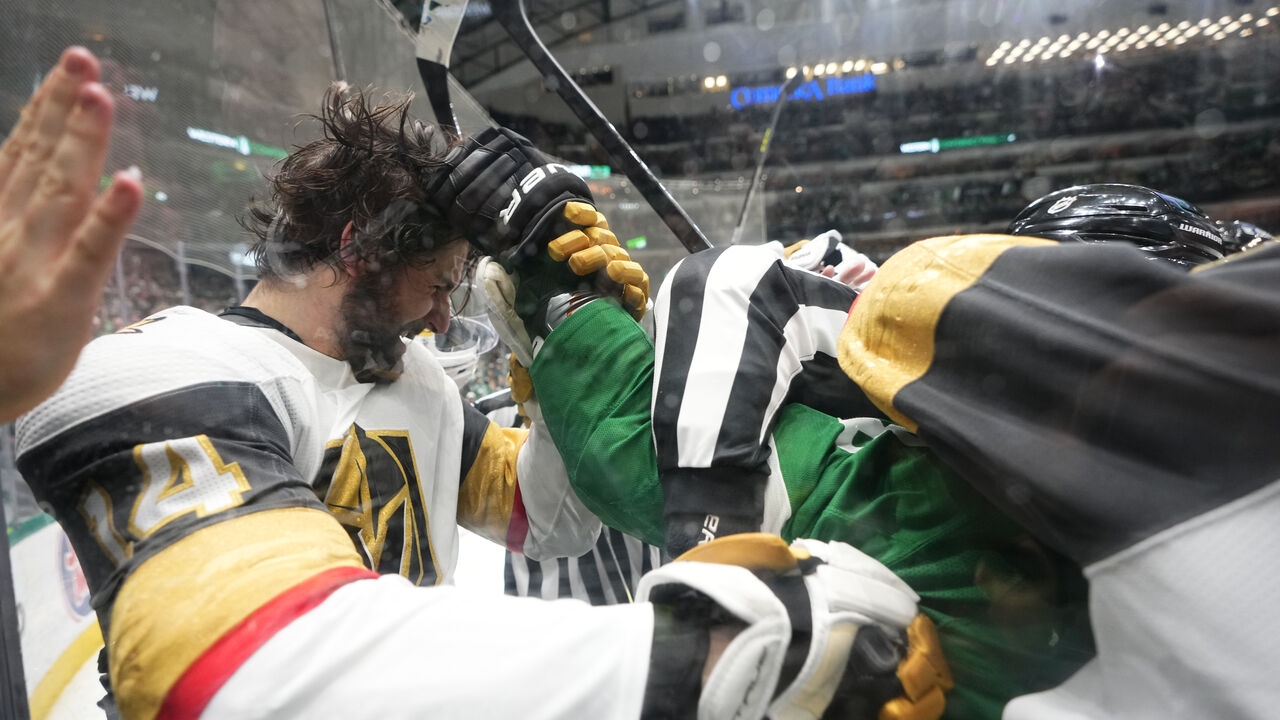 Stylistically, there are a few similarities between Florida and Vegas, namely the way both teams can make the opposition pay off the rush for committing a turnover. Both teams also cycle the puck well in the offensive zone, block a ton of shots in the defensive zone, and generally love to throw their weight around.
The biggest stylistic difference: The Golden Knights run a rush-based attack and the Panthers run a forecheck-based attack. While both defenses are more than capable of stymieing the other's greatest strength, it won't be easy.
Vegas excels at insulating its goalie by keeping shots to the perimeter - but can Florida's relentless pressure low in the zone allow the Panthers to infiltrate the defensive shell? Florida's decent at defending in transition thanks to some high-end skaters and stick-checkers - but can Vegas' speedy centers and crafty wingers combine to open up space in order to enter the zone cleanly?
It's too simplistic to frame this series as "awesome defensive team (Vegas)" versus "awesome offensive team (Florida)." However, the Golden Knights win the Cup if they're able to neutralize Florida's top forechecking threats (Tkachuk, Sam Bennett, etc.), and the Panthers win the Cup if they're able to overwhelm Vegas' top defensemen (Pietrangelo, Shea Theodore, etc.).
Will Bobrovsky remain unbeatable?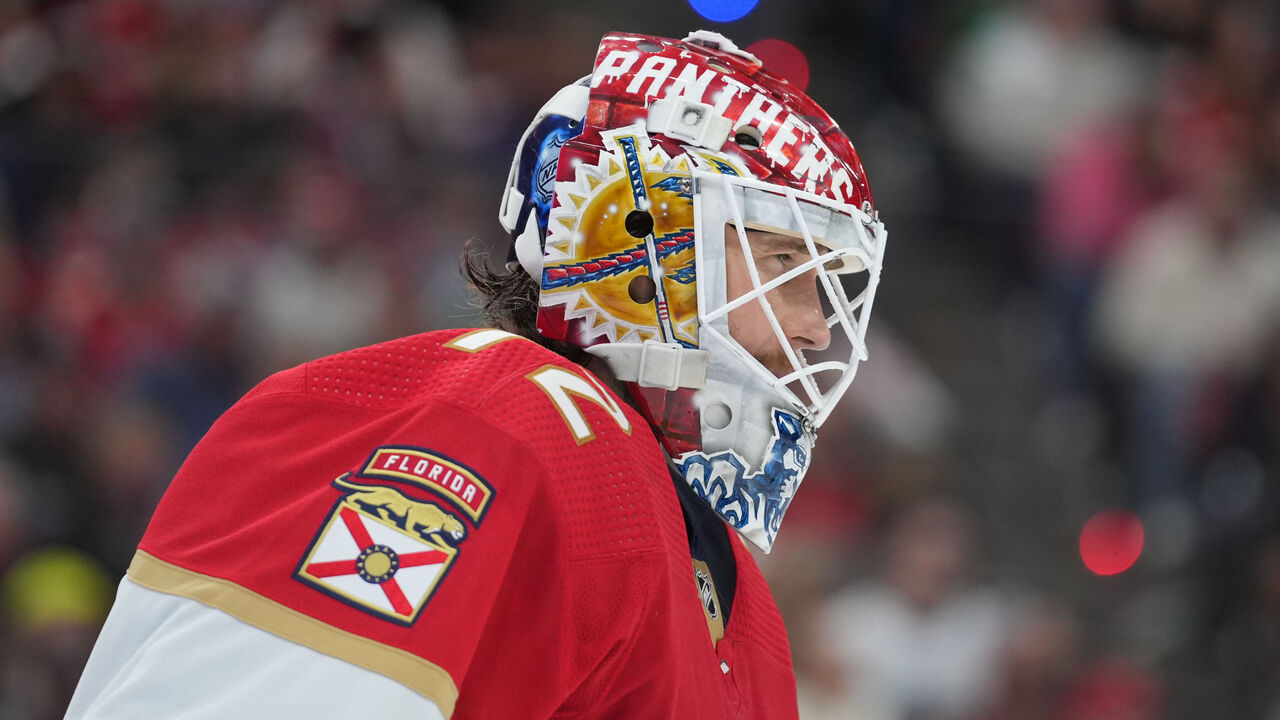 If shelling out $70 million to ink Sergei Bobrovsky nets Florida the Cup, no critic will mock his contract again.
Bobrovsky consistently has ranked near the bottom of the NHL in cost per save since signing his lavish seven-year deal in 2019, per CapFriendly. His .905 save percentage over four regular seasons with the Panthers falls below the league average. So it was astounding to see the 34-year-old Russian stonewall the Hurricanes and Toronto Maple Leafs after taking over from Alex Lyon in the first round.
Bobrovsky posted a .954 denial rate across Rounds 2 and 3. He limited Carolina to one goal in a 230-minute span as the Panthers won a four-overtime classic and went on to sweep the series. Bobrovsky leads the playoffs with four so-called steals, meaning his total goals saved above expected in a game exceeded the margin of victory. No other goalie has recorded more than one steal.
For the whole postseason, Bobrovsky is saving 0.62 goals above expected per 60 minutes. Adin Hill's 0.44 mark is also strong. The Vegas goalie boasts a .937 save percentage over his 11 appearances. We'll witness a heck of a duel if both hot streaks continue.
Which 4th line contributes more?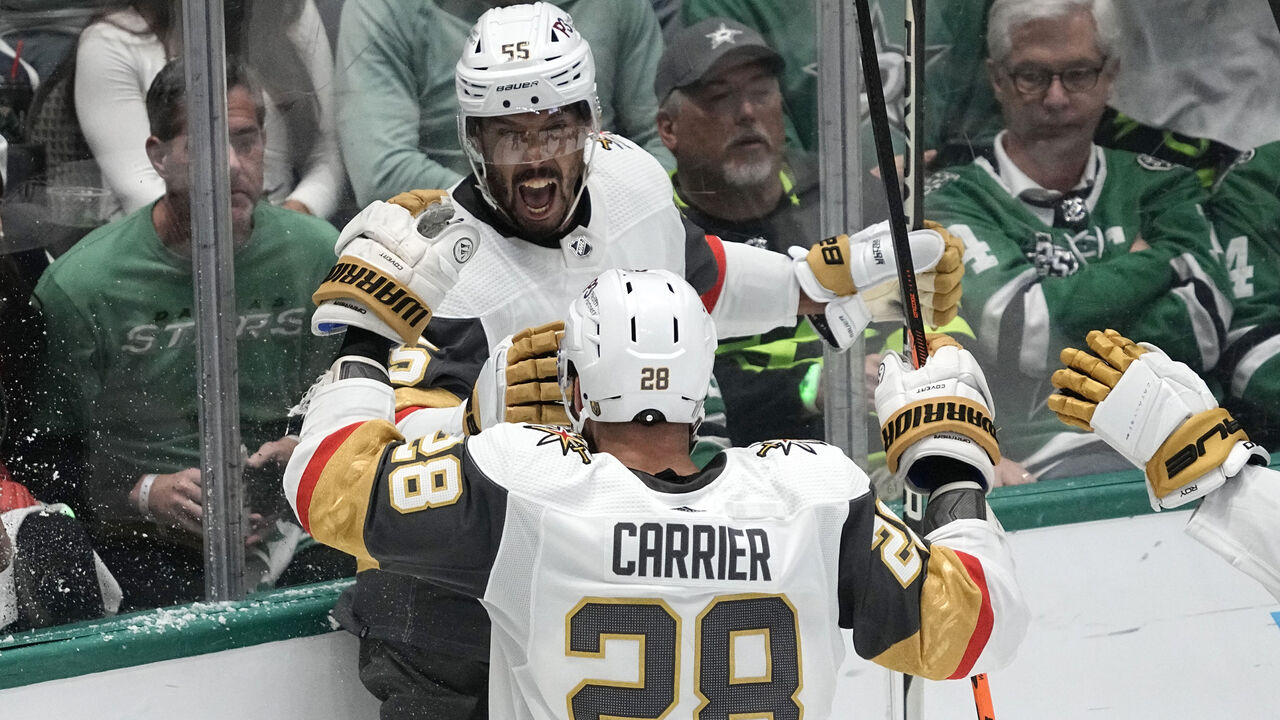 Teams typically don't earn a spot in the Cup Final without enviable depth scoring. This year's no different: 15 of Vegas' regular skaters have scored a goal, and eight of them have three or more tallies. And 13 of Florida's regulars have a goal - seven of them with three or more.
Vegas' fourth line of Nicolas Roy between William Carrier and Keegan Kolesar is coming in hot. The quick, puck-hungry trio was especially impressive in the sixth and final game of the West final, where it bagged two goals - one off the rush, the other off the forecheck - in just seven five-on-five minutes.
On paper, the Golden Knights hold the edge in the battle of fourth lines. Carrier-Roy-Kolesar have controlled the run of play throughout Vegas' playoff run, while Ryan Lomberg-Eric Staal-Colin White have been solid if unspectacular for Florida.
In 42 total minutes together, Carrier-Roy-Kolesar has scored more goals than the opposition (3-1), accumulated more expected goals per 60 minutes (2.1-1.9), and generated more scoring chances per 60 (15.8-12.9). In 30 minutes, Lomberg-Staal-White has tied in goals (1-1), trailed in expected goals per 60 (1.9-1.4), and gotten absolutely destroyed in scoring chances per 60 (14.1-6.1).
Can Montour be the X-factor?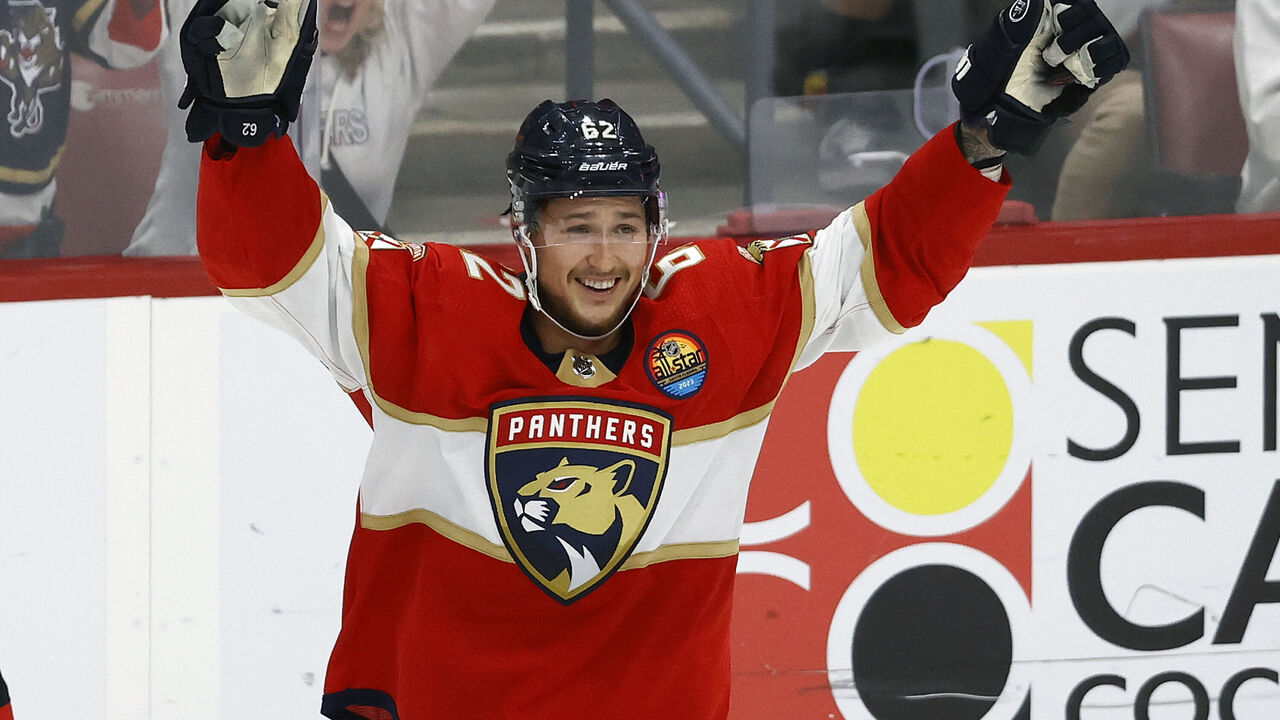 Both blue lines are filled with giant humans. The average height and weight of Vegas' six regulars is 6-foot-3 and 212 pounds, while Florida's regulars clock in at 6-foot-1, 201 pounds. Among these 12 defensemen are stay-at-home types, two-way forces, mobile puck-movers … and brilliant Brandon Montour.
Montour's followed up a breakout regular season with an amazing postseason. He ranks first among all defensemen in goals (six), shots on goal (59), scoring chances (23), and individual expected goals (3.13). He also sits second in offense-generating plays (89), zone exits (84), and zone entries (29). In other words, Montour's been an offensive juggernaut from the back end.
The Golden Knights don't have a Montour equivalent. At times in his career, Theodore has been that guy, but right now, the 27-year-old's game-to-game impact simply isn't on the same level as Montour's. His elite skating, anticipation skills, and competitive streak allow him to act as a fourth forward.
The dude's a workhorse, too, skating for 27:35 per night, which is tops among players in the Cup Final. The next-level stamina is palpable. If he's stuck on the ice for a minutes-long shift - finishing off a lengthy run as power-play quarterback, or working his way toward a 58-minute game like he did as Game 1 of the East Final neared five overtime periods - he doesn't seem overly tired.
If Florida prevails, Montour's dynamism will be a major reason why.
Will Vegas kill enough penalties?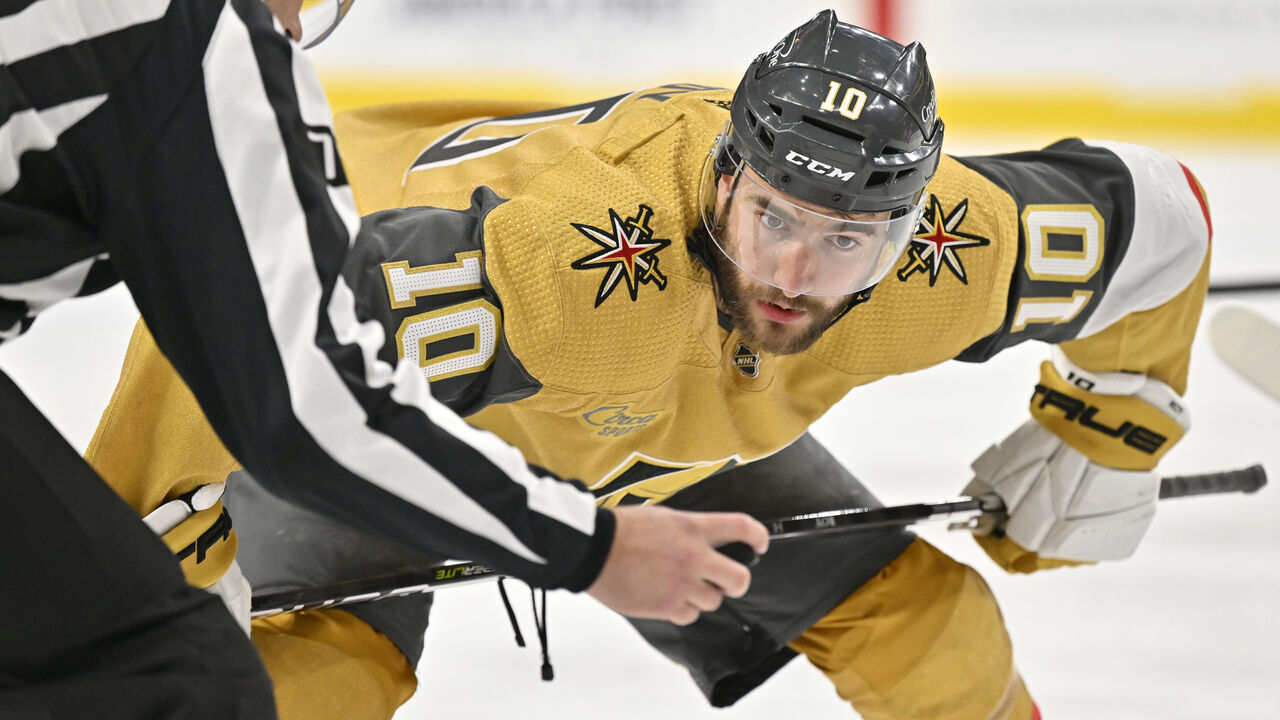 Neither finalist excels in this phase. Florida's postseason kill rate is 71.2%, which would have ranked last in the NHL in the regular season. Vegas' dreadful 63.0% rate is the worst in history for a playoff team that advanced past the first round.
Vegas' success rate by matchup breaks down as follows: 58.3% against the Winnipeg Jets; 60.9% against the Edmonton Oilers, whose power play admittedly was unstoppable all year; and 72.7% against the Dallas Stars. Meanwhile, Florida's PK unit is on the upswing. The Panthers killed 21 of 25 penalties (84.0%) across Rounds 2 and 3 after Boston shelled them in the opening series.
Florida's 27.9% power-play conversion rate trumps Vegas' 18.5% mark. The Golden Knights' go-to faceoff takers, Karlsson and Roy, have combined to win a mere 40.6% of draws on the PK, per Natural Stat Trick. These numbers could dent Vegas' championship hopes if they don't improve.
Can 8th-place underdog prevail?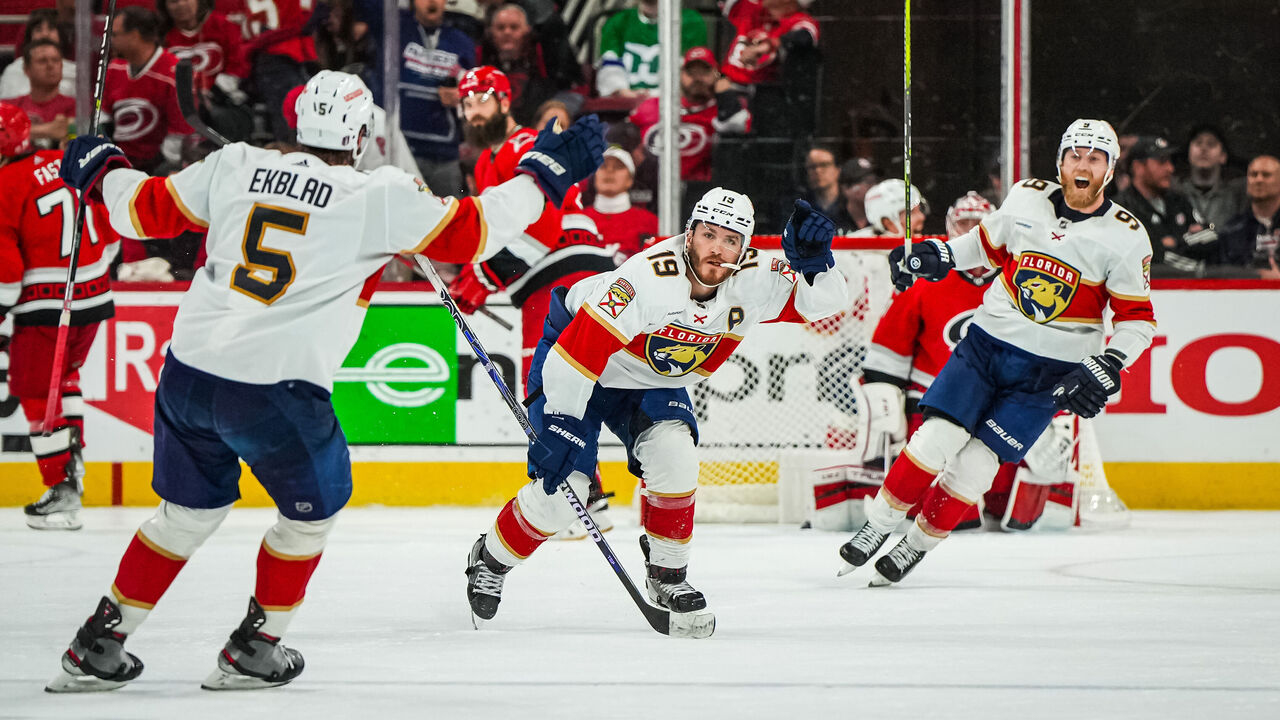 The NHL hasn't employed a 1-through-8 playoff format in a decade, but a striking trend from that period endures: The last team to sneak into the postseason, like Florida in the Eastern Conference, occasionally catches fire and wins three or more rounds.
These low seeds have surged to the Cup Final in the salary-cap era:
2021 Montreal Canadiens: 16th-place playoff qualifier, minus-9 goal differential in the regular season, .527 points percentage, lost to Tampa Bay Lightning in five games.

2017 Nashville Predators: Western Conference's second wild-card team, plus-16 differential, .573 PTS%, lost to Pittsburgh Penguins in six.

2012 Los Angeles Kings: West's No. 8 seed, plus-15 differential, .579 PTS%, beat New Jersey Devils in six.

2010 Philadelphia Flyers: East's No. 7 seed, plus-11 differential, .537 PTS%, lost to Chicago Blackhawks in six.

2006 Edmonton Oilers: West's No. 8 seed, plus-five differential, .579 PTS%, lost to Hurricanes in seven.
Vegas dwarfed Florida this season in goal differential (plus-43 to plus-17) and points percentage (.677 to .561). The Golden Knights set a franchise record by racking up 111 points. Underdogs usually falter in the final, but the Panthers' incandescent run proves this is no mismatch. The stage is set for a stirring showdown.
Comments
✕
7 Golden Knights-Panthers questions that will decide who hoists the Cup
  Got something to say? Leave a comment below!