'Still has that aura': Crosby remains your favorite player's favorite player
Brian Babineau / NHL / Getty Images
Sidney Crosby settled into his chair last Friday, gazed at a group of eager reporters, and flashed his patented aw-shucks grin. His plain outfit - white T-shirt, black jeans, comfortable sneakers - matched his tidy mop of hair and scruffy yet short beard. He very much looked like Sid the Kid, only a little older now.
In a stately, unimpeachable kind of way, Crosby is still the NHL's lead ambassador. His play remains elite. His words continue to carry weight. He just happens to be 35 years old and in the middle of his 18th pro season.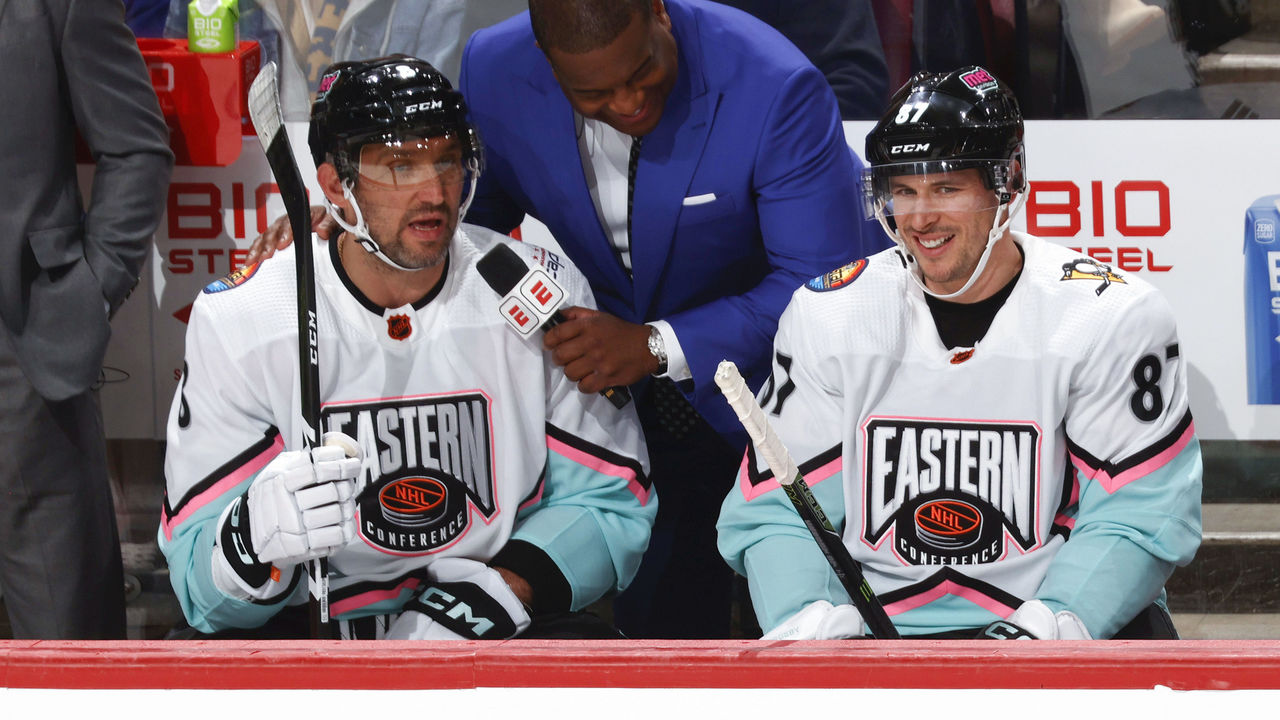 At All-Star Weekend in Sunrise, Florida, the Pittsburgh Penguins captain was asked about playoff races, the postseason format, and sharing the ice and a dressing room with longtime frenemy Alex Ovechkin. The conversation eventually turned to 26-year-old Connor McDavid - who surpassed Crosby as the consensus best player on the planet a few seasons ago - then to 17-year-old Connor Bedard.
"I had a chance to skate with him last summer and, yeah, just no weaknesses," Crosby said of Bedard, the next hockey phenom out of Canada. "It's pretty cool to see someone at that age be as dominant as he is."
Survey NHL stars about late-career Crosby and similar responses flow in: It's pretty cool to see someone at that age be as dominant as he is.
"The longevity," Colorado Avalanche defenseman Cale Makar said.
"One of the most complete players in the game," said Nathan MacKinnon, Makar's teammate and one of Crosby's closest pals.
"He has that presence when he steps on the ice. You just know he's out there, and there's only three or four guys like that in the entire league," Detroit Red Wings captain Dylan Larkin said. "He still has that aura."
Added Vegas Golden Knights forward Chandler Stephenson: "He's the captain and the guy you'd want on your team - 10 times out of 10."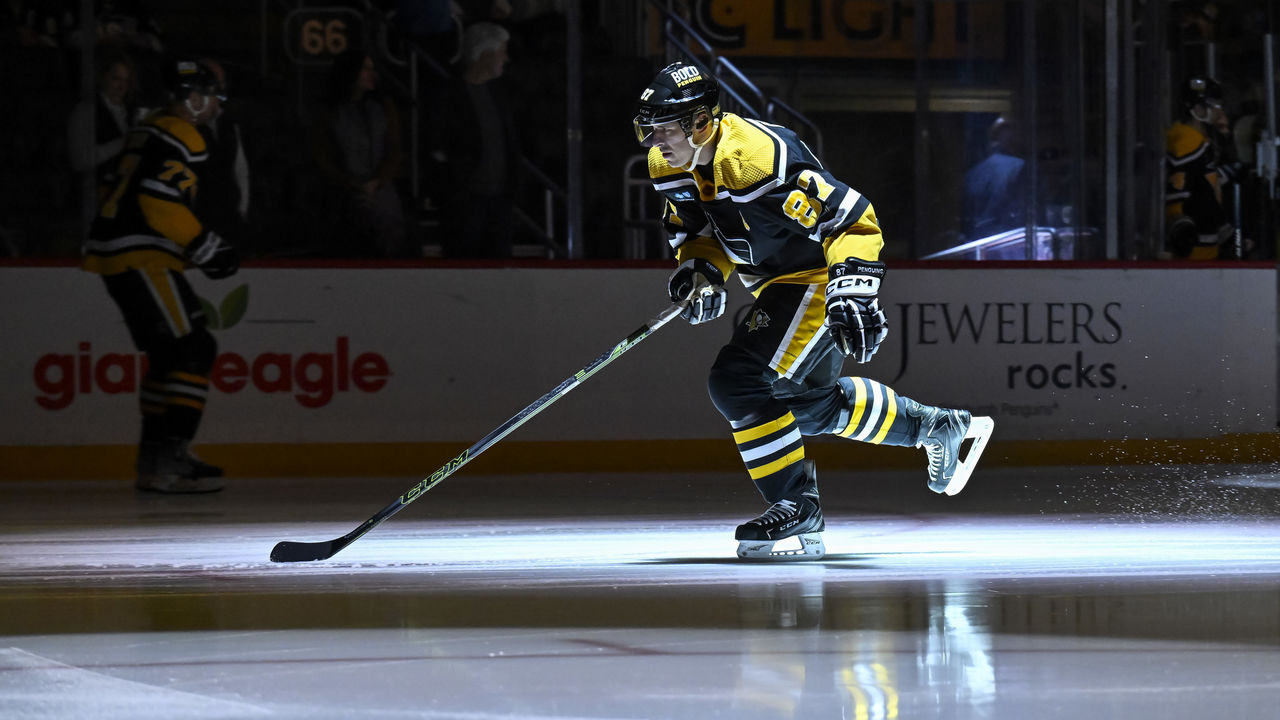 Born on Aug. 7, 1987, Crosby is the 42nd-oldest player among the 945 to appear in at least one NHL game this season. Overall, he's tied with Mikko Rantanen for 10th in points (61 in 50 games) and is on pace to record his seventh 100-point season. The only players aged 35 and older enjoying campaigns on par with Crosby's? Ovechkin and Patrice Bergeron.
Crosby has evolved as the sport's skill level and pace of play have ratcheted up during the salary-cap era. As McDavid put it, Crosby has made a habit of introducing "little tweaks" to delay any meaningful decline, seemingly always adjusting before the opposition can key in on a flaw. "Little different things here and there to keep opponents guessing," McDavid said. "He's done that time and time again. It's amazing to see."
In 2023, Crosby is slightly less dynamic and physical than his younger self. Yet the foundation and spirit of his game have barely changed. The two-way center with three Stanley Cup rings, a pair of Olympic gold medals, and a trophy case full of individual awards is still one of the NHL's smartest, most efficient players and a feared, below-the-hash-marks grinder.
"He's like a little bull," Edmonton Oilers superstar Leon Draisaitl said of the 5-foot-11, 200-pound Crosby's low center of gravity. "He's so strong on his skates. You can't knock him over. He's just so balanced."
"He can kill you in so many different areas, whether it's puck protection in the corner or net-front battles tipping pucks," said the 24-year-old Makar, who grew up idolizing No. 87 for his hockey IQ. "You always have to be aware of where he is."
"You could hit him as hard as you want, and he's not getting off that puck," said Adam Fox, a defenseman for the Metropolitan Division rival New York Rangers. Fox later added: "His brain isn't slowing down, either. He's one of the toughest guys to defend in the league."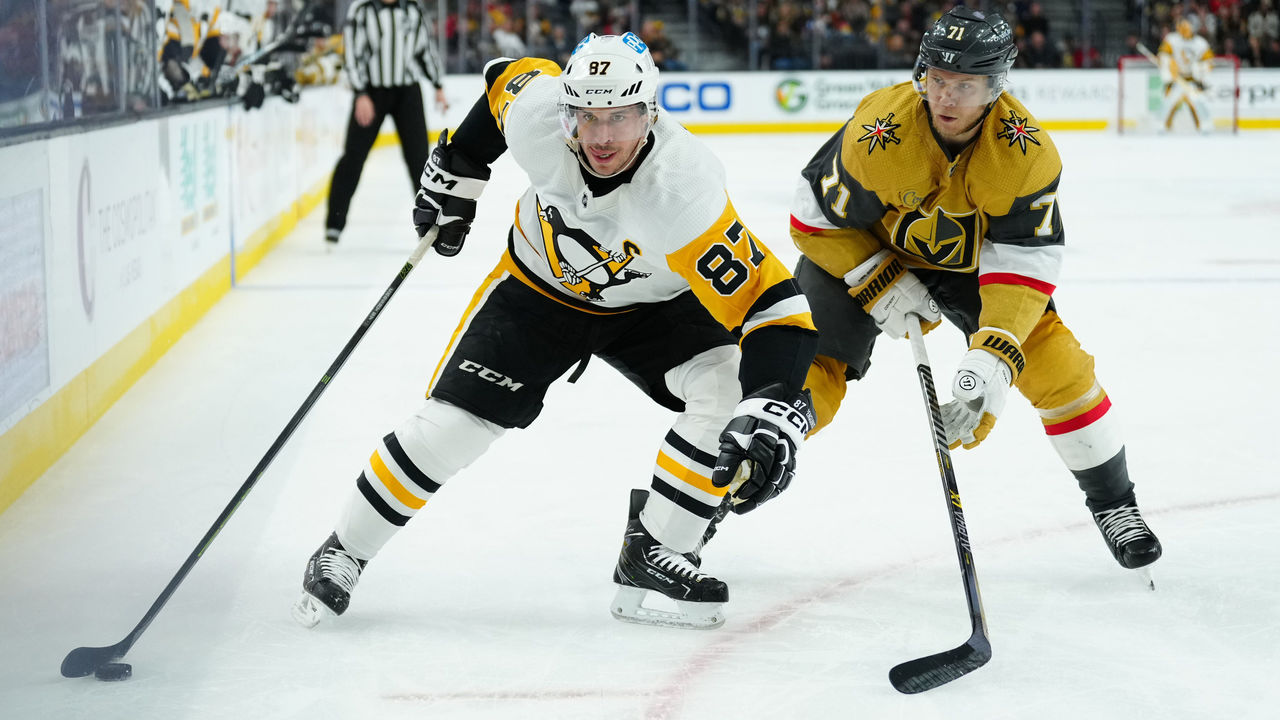 Concussions disrupted the first half of Crosby's career, forcing him to consider retirement for a stretch in his mid-20s. A decade later, there don't appear to be any red flags surrounding his health. The passion to compete still burns bright, and the motivation to chase a fourth Cup remains alive. He'll be a month shy of 38 when his 12-year, $104.4-million contract expires in 2025.
"The second half of his career, he's stayed really healthy. I don't know when he's going to stop playing," MacKinnon said of Crosby, adding that the fellow Cole Harbour, Nova Scotia, native is "a little bit more chill" as a veteran star.
Which part of Crosby's repertoire does MacKinnon nerd out on?
"The way he thinks the game. And that's in his own brain, so you can't really copy that," MacKinnon said. "But he plays at his own pace out there. He really controls the tempo of the game when he's on the ice, which is hard to do. It's not always with his speed or his power, just the way he's always in the right spots."
The relaxed setting of All-Star Weekend offered a rare in-season opportunity to mingle with rivals. Crosby's hockey stick was an item of curiosity for several players. The shaft is short and stiff, and the blade sports hardly any curve. The tool used to pot 1,470 points in 1,158 career games, not to mention the 2010 Olympic golden goal for Canada, is both iconic and an anachronism.
"Anything that had the Crosby name on it, I wanted in my hands," Toronto Maple Leafs winger Mitch Marner, 25, said of using Reebok sticks as a kid. "It's cool now to be in the locker room with him and be kind of shooting the crap."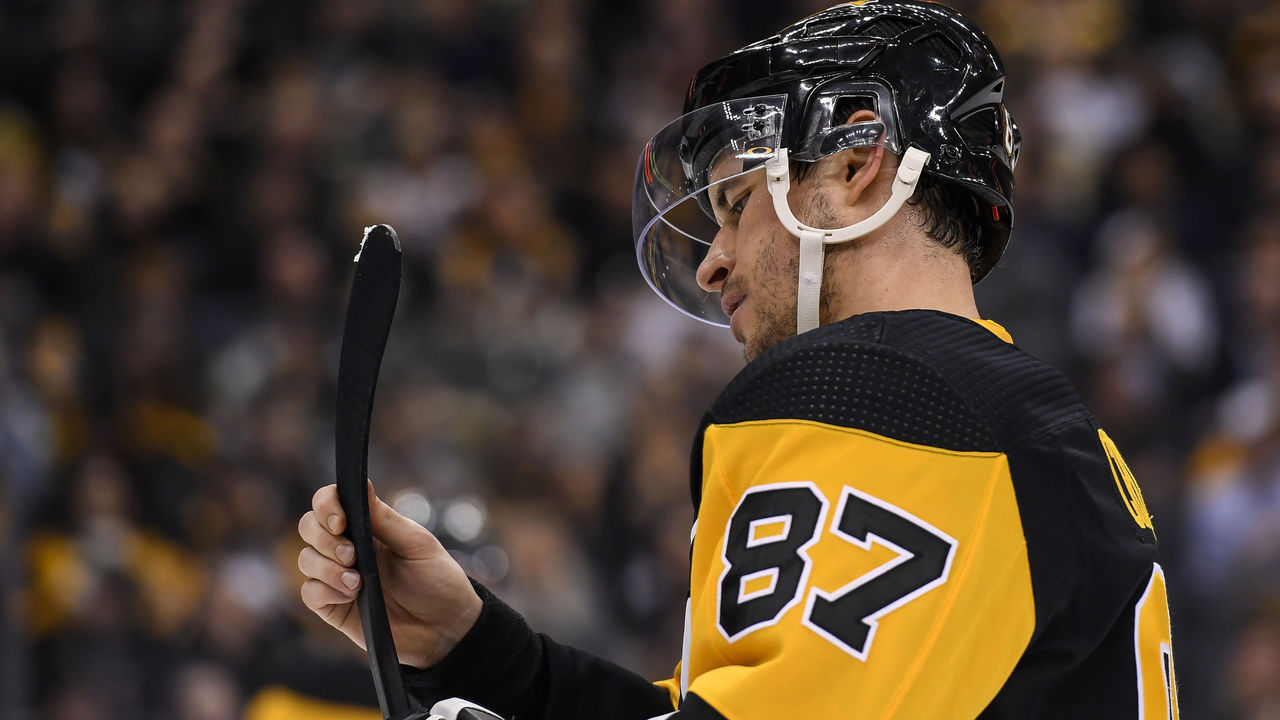 Asked if he'd ever use Crosby's stick in a game, Larkin laughed and said "no chance." It simply doesn't have enough whip or flex. Larkin would rather marvel from afar, as would Elias Pettersson.
"When I was like 16, 17," said the 24-year-old Vancouver Canucks forward, "I switched to a more straighter blade. I played my worst hockey. I could barely shoot. I learned my lesson."
Along with Draisaitl and Patrick Kane, Crosby is on the shortlist for best backhand in the NHL. "His backhand and forehand, it's almost the same thing," said David Pastrnak of the Boston Bruins. Crosby often combines quick footwork and extreme leg power - his thighs, for one, are legendarily large - to befuddle defenders and then deliver a nifty backhand pass or shot.
"He's competitive as hell," Marner said.
New York Islanders forward Brock Nelson notes Crosby couldn't have maintained a world-class standard for nearly two decades if he didn't obsess over his craft on a daily basis, honing in on the smallest of details. "The fact that Sid is having another big year doesn't surprise me," he said.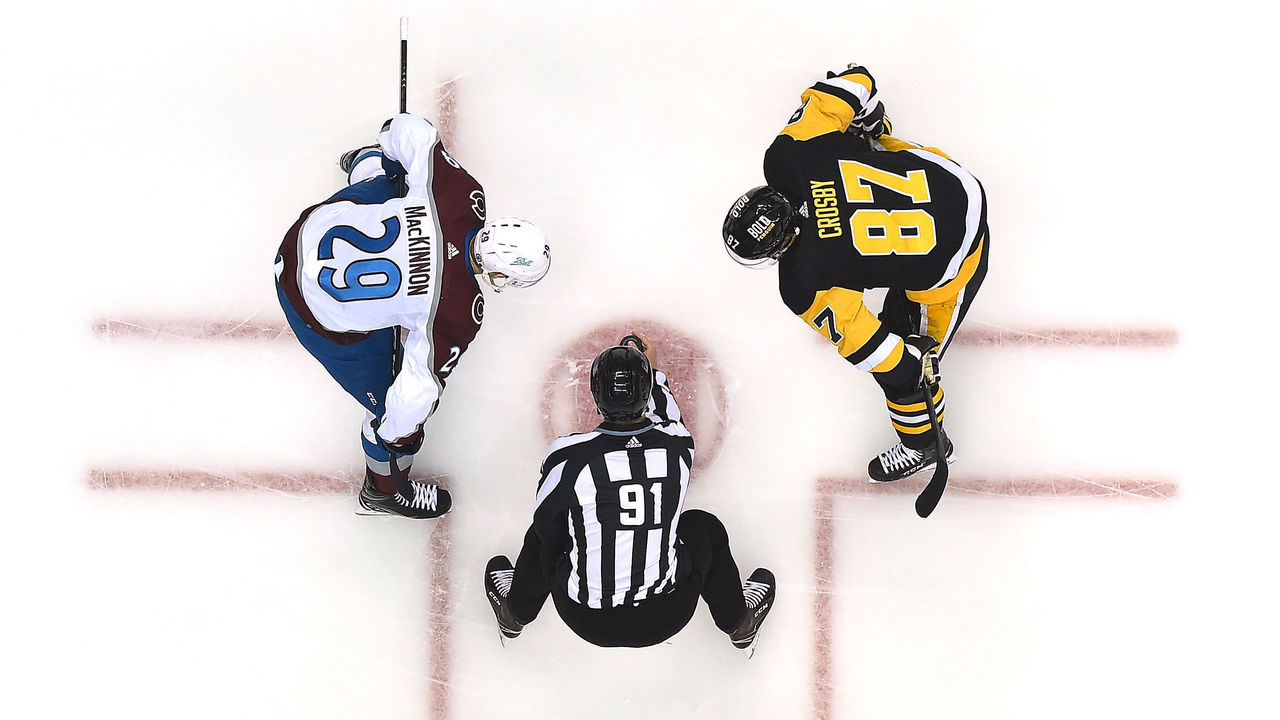 McDavid and local favorites Matthew Tkachuk and Aleksander Barkov attracted plenty of attention last week in South Florida. However, Crosby and Ovechkin, faces of the league for so long, were the true rock stars behind the scenes. They remain untouchables, hockey celebrities to many of their peers.
"You say hi, but at the same time, they are big names. You don't want to bother them too much, right?" said Pastrnak, who's in his ninth NHL season and is fourth in league scoring.
"Anytime you get to talk to and be in the presence of somebody like that, that's such a legend, it's pretty awesome," Makar said.
"One day they won't be here, and it won't feel like an All-Star Game," MacKinnon said.
Jack Hughes has lost count of the number of times his New Jersey Devils have faced off against Crosby and the Penguins. The teams played each other on eight occasions in the 2020-21 pandemic-shortened season alone. Yet the shine of lining up across from Crosby hasn't worn off.
"He's still got it," the 21-year-old said. "You walk into Pittsburgh, and you're playing Sid. He was the best when I was growing up.
"It's pretty cool he's still doing it at this age."
John Matisz is theScore's senior NHL writer. Follow John on Twitter (@MatiszJohn) or contact him via email (john.matisz@thescore.com).
Comments
✕
'Still has that aura': Crosby remains your favorite player's favorite player
  Got something to say? Leave a comment below!