2023 NHL All-Star Skills Competition roundup
Bruce Bennett / Getty Images Sport / Getty
Some of the NHL's biggest and brightest stars took their talents to sunny Florida, where they did their best to regale us all during Friday's 2023 NHL All-Star Skills Competition.
Some things worked, and some things didn't. But a few players earned bragging rights after winning their events.
Here's what went down.
Svechnikov turns on the jets to win Fastest Skater 🏃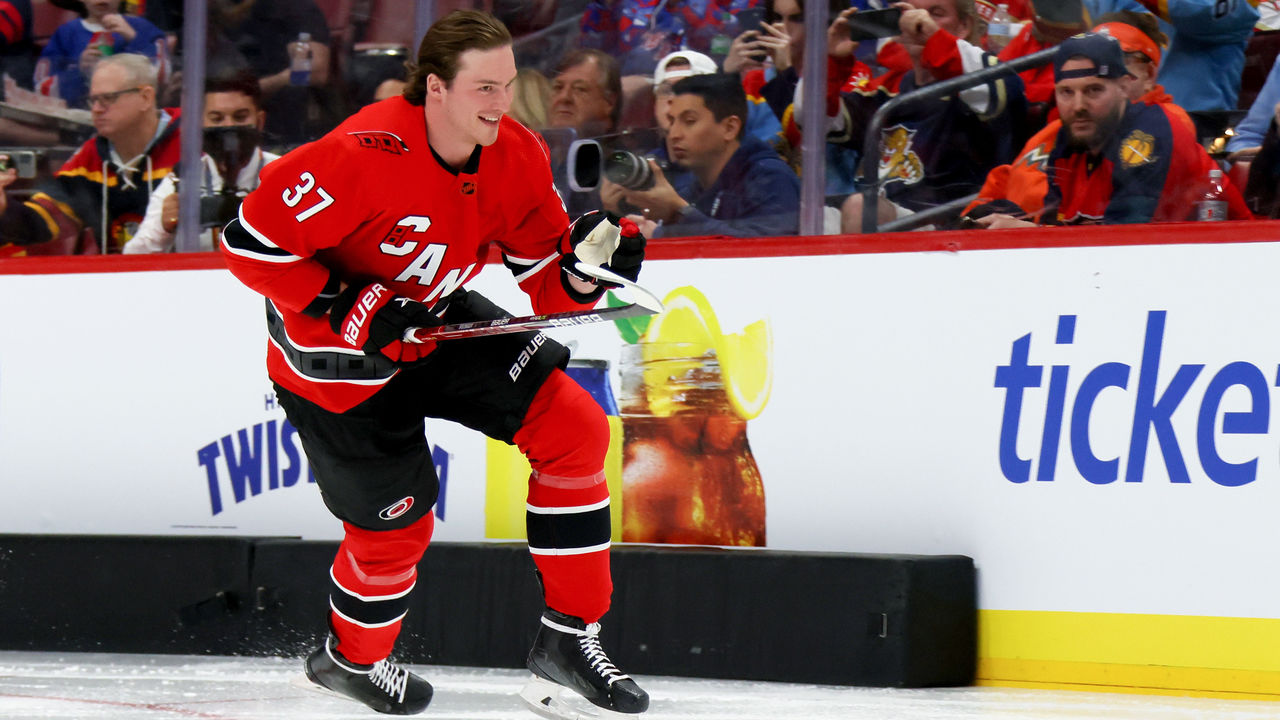 The field was wide open for this one with Edmonton Oilers speedster Connor McDavid sitting on the sidelines, and Carolina Hurricanes forward Andrei Svechnikov took full advantage.
Svechnikov bested Los Angeles Kings winger Kevin Fiala in the final with a run of 13.699 seconds, the night's fastest time. Fiala booked his spot in the last heat after clocking in at 13.996 in the opening round. However, he faltered in the final and exceeded a time of 14 seconds.
Colorado Avalanche defenseman Cale Makar knocked himself out of contention by falling to the ice (he's OK) and failing to complete his lap. Detroit Red Wings captain Dylan Larkin, who set the event's record time as a rookie in 2016 with a 13.17 run, clocked in with the slowest time at 14.558.
The Ovis and Crosby win the Breakaway Challenge 🐧🦅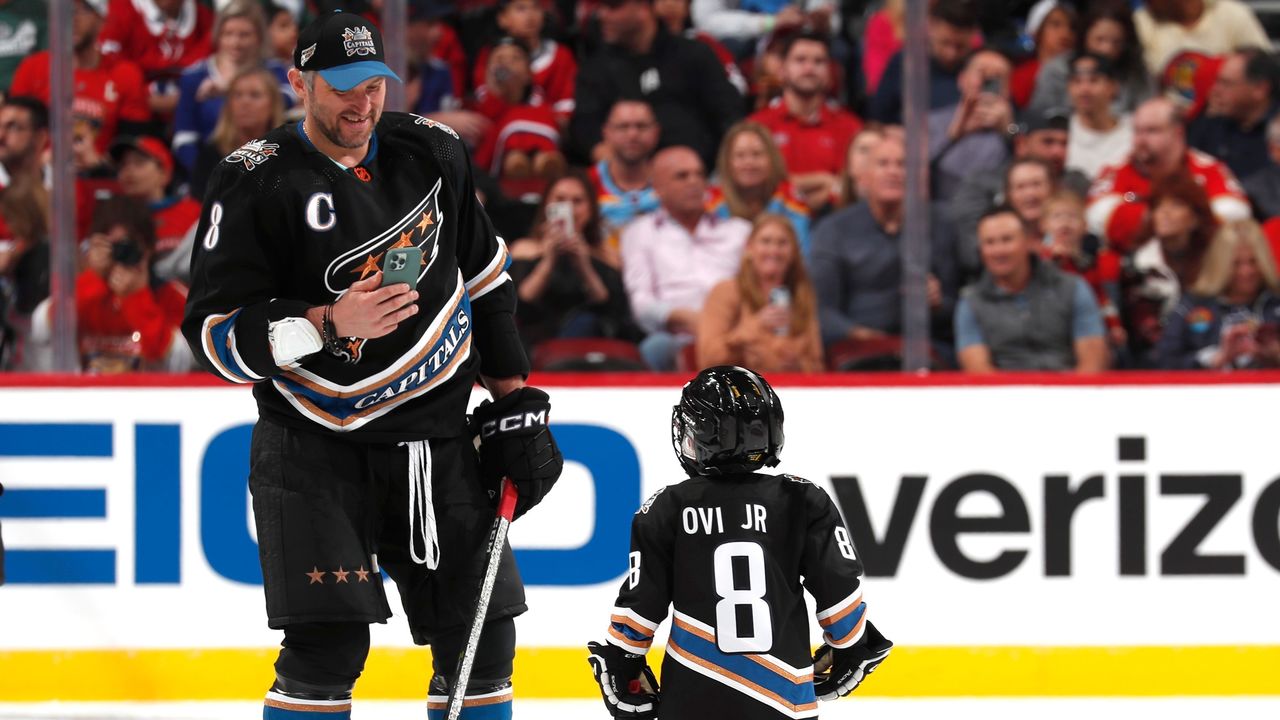 Let's be honest; some of this year's breakaway attempts were a little cringy (we miss Trevor Zegras). Not to worry, though. Sergei Ovechkin came to the rescue.
Toronto Maple Leafs stud Mitch Marner started things off. Dressed like Don Johnson in "Miami Vice" to match his stylish skates, Marner didn't get off the best shot and was easily thwarted by Hall of Fame goaltender Roberto Luongo.
Later in the night, Boston Bruins sniper David Pastrnak leaned hard into the "Happy Gilmore" theme and, after much fanfare, putted the puck into an empty net.
Next up was Ovechkin and Crosby, who called on the help of the former's 4-year-old son, Sergei - a.k.a. Ovi Jr. Sergei had no problem getting the puck past Luongo in what was the cutest moment of the night. His performance won the event with 10s across the board.
Finally, Panthers pest Matthew Tkachuk went full-on Florida for his attempt by rocking a floral shirt, bucket hat, and scuba goggles for the home crowd. Teammate Aleksander Barkov pulled up dressed like a lifeguard, and his brother, Ottawa Senators captain Brady Tkachuk, settled into a beach chair on the ice to witness the action. Matthew started by bouncing the puck on his stick, caught it in his hat, and then shot his hat past Luongo, who didn't stand a chance while wielding a pool noodle.
Arkells singer and celebrity judge Max Kerman wasn't impressed and gave Tkachuk a score of two for his efforts.
Here's how the final scoring went down:
| Player | Score |
| --- | --- |
| The Ovechkins and Sidney Crosby | 40 |
| David Pastrnak | 38 |
| Matthew Tkachuk | 33 |
| Mitch Marner | 21 |
Saros and Hellebuyck take the Tendy Tandem 🧱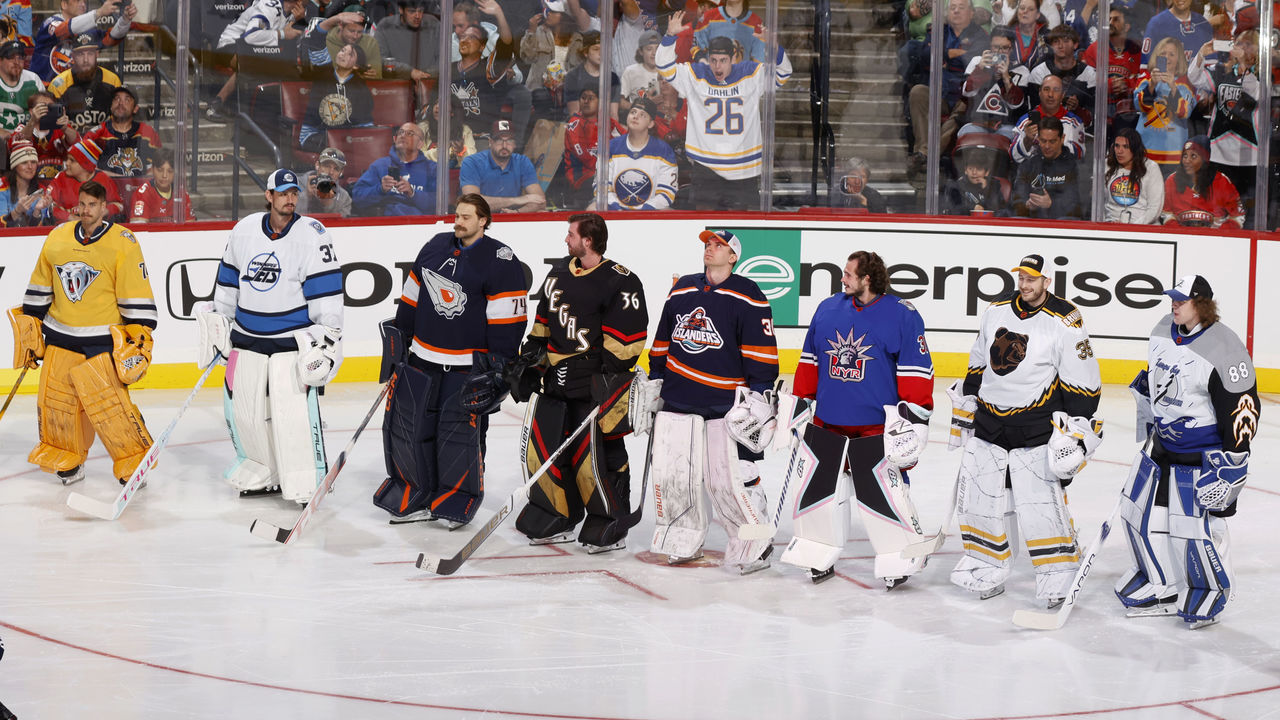 In one of three new events to grace the All-Star stage, Juuse Saros and Connor Hellebuyck reigned victorious to take home the crown for the Central Division.
| Tandem | Division | Points |
| --- | --- | --- |
| Juuse Saros (shooting) and Connor Hellebuyck (in-net) | Central | 13 |
| Stuart Skinner (shooting) and Logan Thompson (in-net) | Pacific | 11 |
| Linus Ullmark (shooting) and Andrei Vasilevskiy (in-net) | Atlantic | 9 |
| Ilya Sorokin (shooting) and Igor Shesterkin (in-net) | Metropolitan | 6 |
For this competition, the shooting goalies got five attempts to shoot the puck at the net from the opposite end of the ice, and how well they did would determine how many skaters the opposing in-net goalies faced. The shooters got points based on the accuracy of their shots, while the in-net goaltenders scored points based on how many skaters they stopped.
Saros and Oilers rookie Stuart Skinner were the competition's best shooters, each sending one puck into the hole.
However, Canadian women's hockey star and Olympian Sarah Nurse stole the show when she won a one-on-one duel with New York Rangers stud and reigning Vezina Trophy winner Igor Shesterkin.
Rantanen and Makar dunk on their opposition in Splash Shot 🤿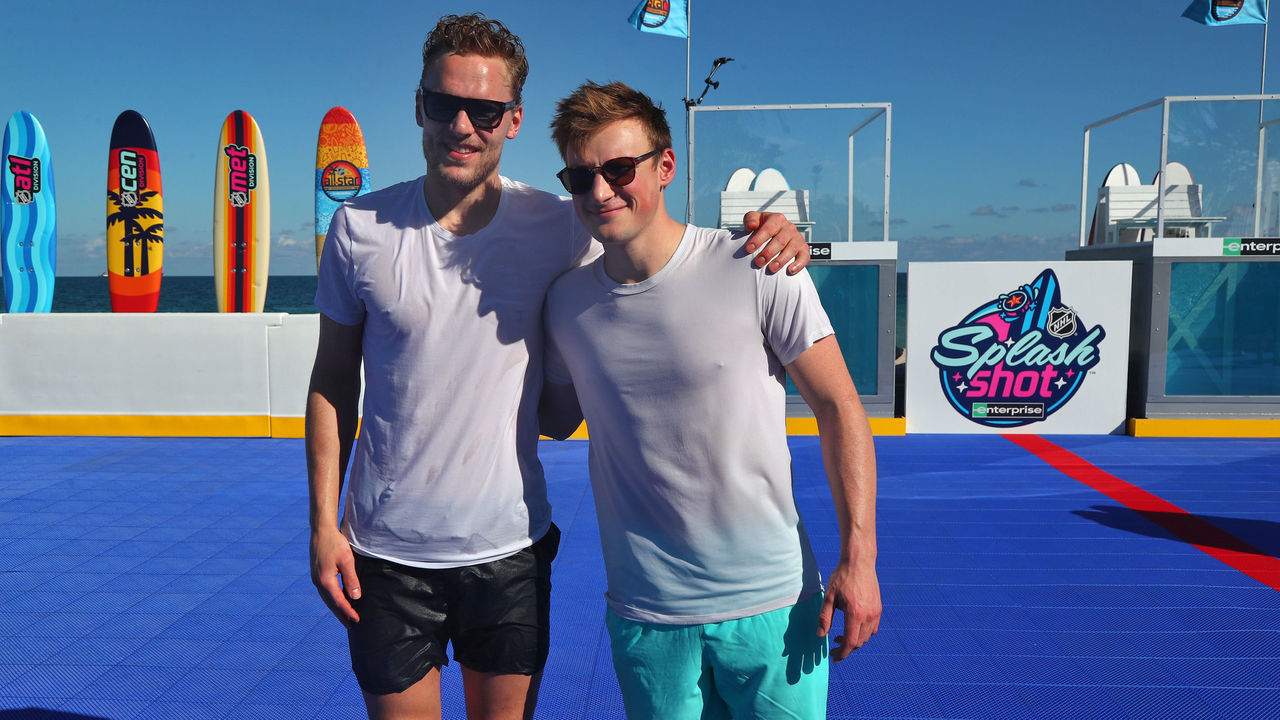 Mikko Rantanen and Makar sent their opponents to sleep with the fishes (not literally, just into a dunk tank) on the beach at Fort Lauderdale after winning the first-ever edition of Splash Shot.
Eight players were divided into four teams, and participants raced to knock down seven targets to dunk their opponents. Rantanen bested the duo of Crosby and Nathan MacKinnon by taking down all the targets in 25.5 seconds.
Adam Fox and Shesterkin eliminated the Tkachuk brothers in the opening round but fell to the Avalanche teammates after Makar only needed 18 seconds to drop Fox into the tank.
The pre-recorded event wasn't without controversy. One of the sets of targets had some technical difficulties and wouldn't fall, according to ESPN's Greg Wyshynski.
Nelson picks the corners during Accuracy Shooting 🎯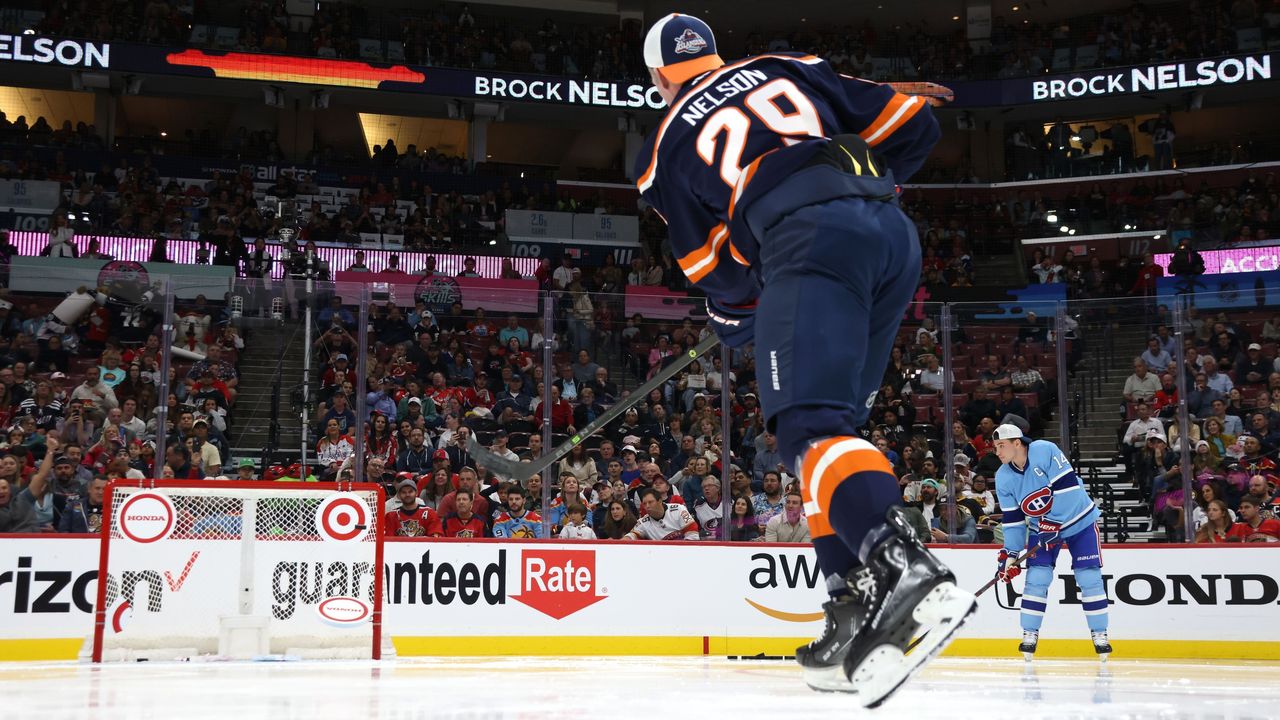 Brock Nelson beat Nazem Kadri in the third and final round of the Accuracy Shooting contest by posting a time of 12.419 seconds to earn a win in his first-ever All-Star appearance.
Kadri eliminated McDavid in the semifinal, but the Oilers superstar took the league by storm after going four-for-four in 9.497 seconds during the opening round.
After seeing that performance, it makes sense why McDavid wanted to try his hand at this event rather than Fastest Skater.
Suzuki dominates the green in Pitch 'n Puck 🏌️‍♂️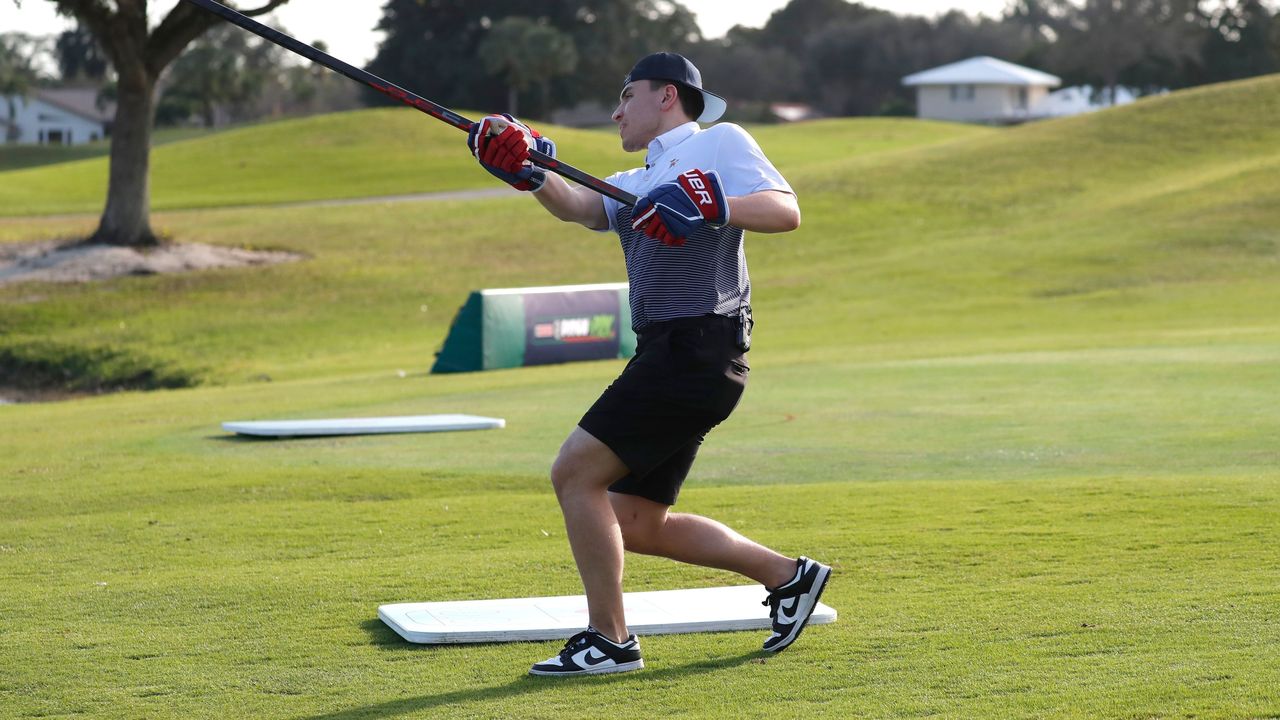 Montreal Canadiens captain Nick Suzuki proved he has what it takes on the ice and on the golf course by winning the inaugural Pitch 'n Puck challenge. He beat out the likes of Johnny Gaudreau, Clayton Keller, and Jason Robertson, who all broke even.
Suzuki sank a clutch birdie putt to secure the victory on the par-4 island green in an event that made players combine golf and hockey shots.
Pettersson launches a rocket during Hardest Shot 💥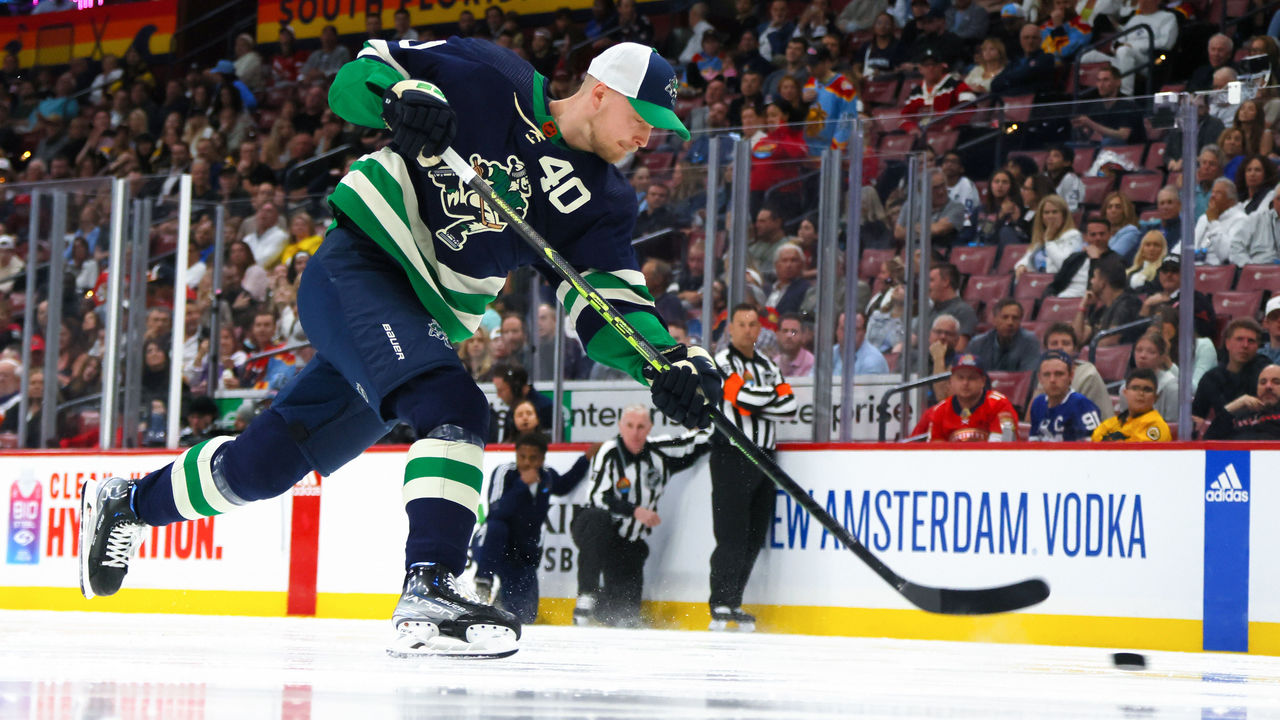 Vancouver Canucks forward Elias Pettersson took the Hardest Shot title after cranking a 103.2-mph bomb.
Buffalo Sabres defenseman Rasmus Dahlin was the only other participant to hit triple digits, launching a 102.3 howitzer.
Ovechkin's dangerous-looking shot rang off the post.
The winners of each event earned $30,000. Players will take to the ice Saturday for the All-Star Game at 3 p.m. ET.