NHL Power Rankings: Each team's best hope to win an individual award
National Hockey League / Getty
This is the 12th and final edition of theScore's NHL Power Rankings for the 2022-23 regular season. Check back for updated rankings before the playoffs begin.
In this edition, we break down each team's best hope to win an individual award at the end of the season. Note that most awards are legit, but some have been creatively thought up.
1. Boston Bruins (57-11-5)
Previous rank: 1st
Patrice Bergeron (Selke Trophy). It's safe to say between Linus Ullmark winning the Vezina Trophy and Jim Montgomery taking home the Jack Adams Award, the Bruins are going to clean up on awards night. But the biggest lock of all is Bergeron being named the best defensive forward for a record-extending sixth time.
2. Carolina Hurricanes (47-16-9)
Previous rank: 3rd
Jordan Staal (Selke Trophy). We know we just highlighted Bergeron for the same award, but Staal is equally as deserving to be a finalist. Among all forwards to log at least 800 even-strength minutes this season, Staal ranks second in expected goals against per 60 at 2.05.
3. Vegas Golden Knights (46-21-6)
Previous rank: 5th
Logan Thompson (Calder Trophy). Injuries derailed a legitimate case for hardware in this instance, as Thompson leads all rookie netminders this season in save percentage (.915), goals against average (2.65), and shutouts (two).
4. Los Angeles Kings (43-20-10)
Previous rank: 12th
Rob Blake (GM of the Year Award). This award always seems to go to a team that makes it to the conference finals. While there's no guarantee L.A. goes that far, Blake's additions of Kevin Fiala, Joonas Korpisalo, and Vladislav Gavrikov have been paramount to the team's success.
5. New Jersey Devils (46-19-8)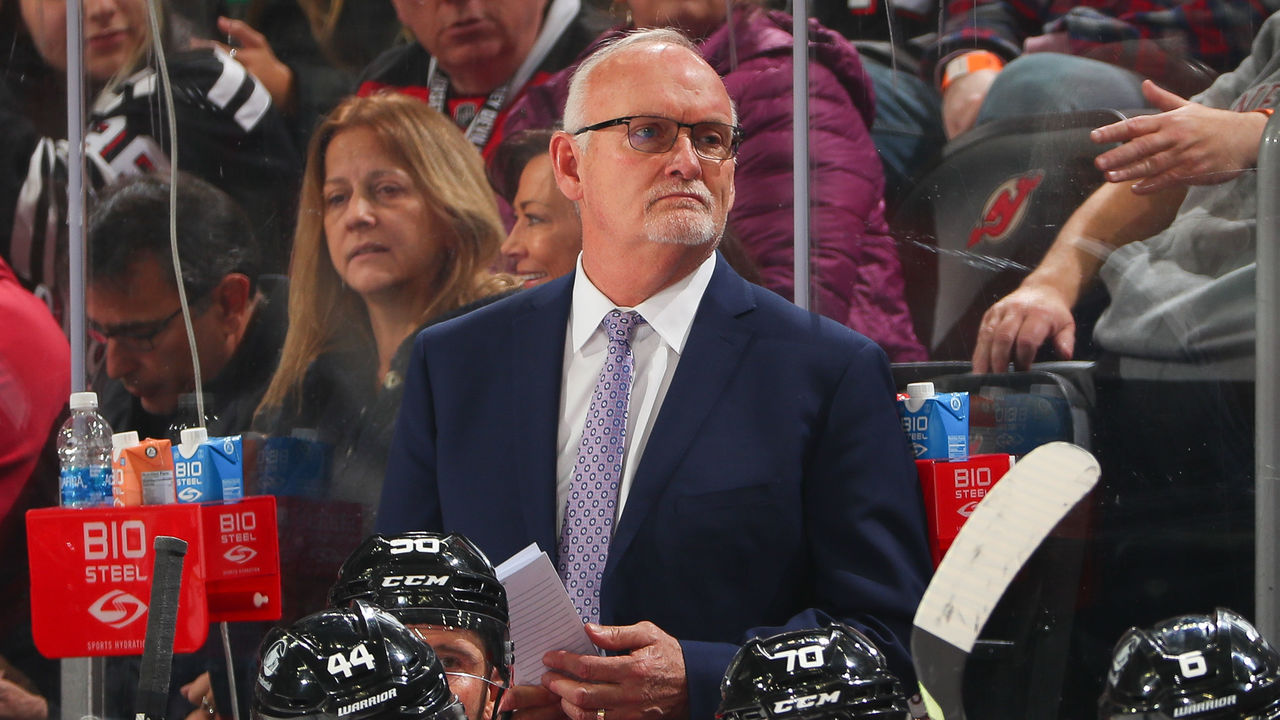 Previous rank: 2nd
Lindy Ruff (Jack Adams Award). Ruff's tenure behind the Devils' bench had a rough start. The team finished in the bottom five of the league's standings in 2020-21 and 2021-22, but he has New Jersey singing a different tune (not to mention a "Sorry Lindy" chant) this season. Under his guidance, the Devils have clinched their first playoff berth since 2018.
6. New York Rangers (43-20-10)
Previous rank: 7th
Adam Fox (Norris Trophy). The 2021 top defenseman has a great chance to be a finalist again this year. Fox hasn't attracted much of the spotlight but has put up 65 points in 73 games while averaging over 24 minutes per night and is in the top 10 among all blue-liners in Evolving-Hockey's WAR and GAR metrics.
7. Colorado Avalanche (43-23-6)
Previous rank: 10th
Mikko Rantanen (Conn Smythe Trophy). The Avalanche have been hampered by injuries all season, but Rantanen hasn't missed a single game while helping Colorado overcome several key absences with a career-high 48 goals in 72 contests. If he can keep up that production in the playoffs, he's got a real shot at being named postseason MVP.
8. Edmonton Oilers (41-23-9)
Previous rank: 11th
Connor McDavid (Hart Trophy). McDavid might need a bigger trophy room. While he's also a lock to win the Art Ross Trophy, the "Rocket" Richard Trophy, and the Ted Lindsay Award, we thought we'd highlight the Hart since not only is it the most important of the bunch, but he'll probably win it unanimously for the second time in his career.
9. Toronto Maple Leafs (44-20-9)
Previous rank: 4th
Mitch Marner (Selke Trophy). We've already covered why this award is likely going to Bergeron, but Marner shouldn't be slept on, either. The Maple Leafs star leads the team with 94 points while pacing all NHL forwards with 97 takeaways. He's also a key part of the Leafs' penalty kill, averaging north of two minutes shorthanded per contest. Talk about a two-way player.
10. Minnesota Wild (42-22-9)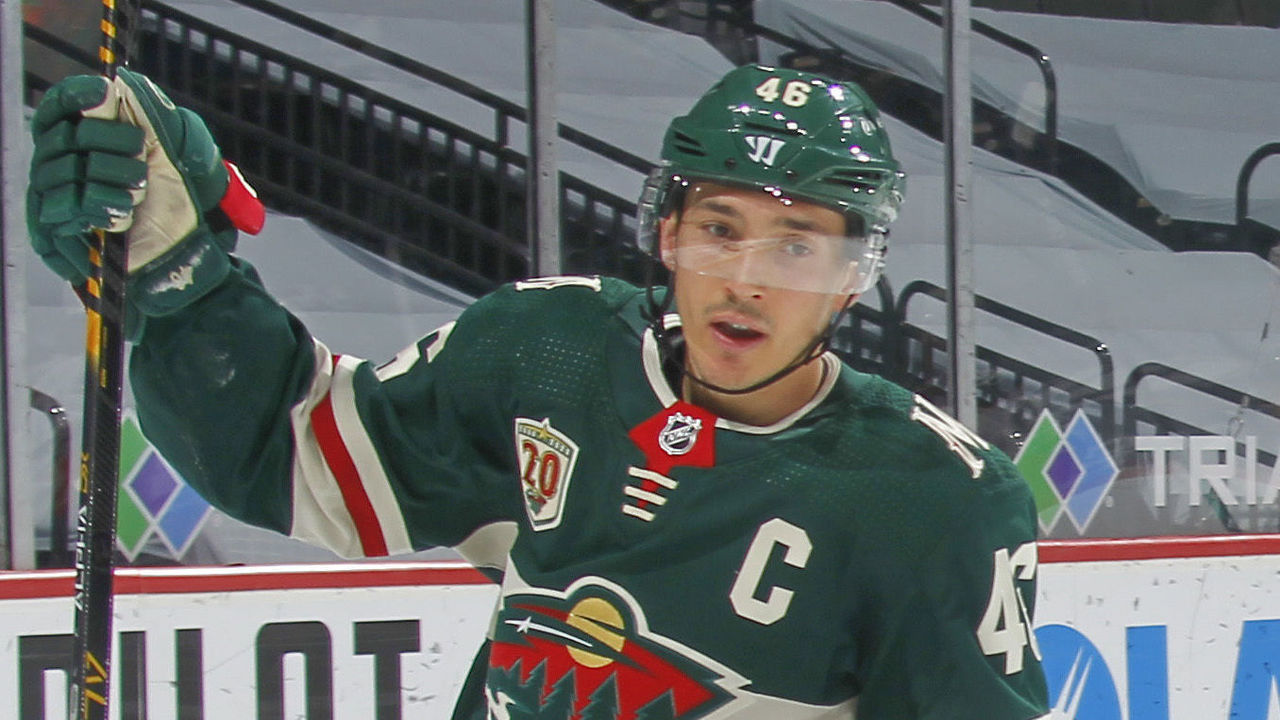 Previous rank: 9th
Jared Spurgeon (Lady Byng Trophy). Spurgeon has been a finalist each of the last two seasons, so the third time is the charm, right? The Wild captain is one of the most underrated defensemen in the league, is well-respected by his peers, and has only taken 10 penalty minutes all season.
11. Tampa Bay Lightning (42-26-6)
Previous rank: 8th
Steven Stamkos (Mark Messier Leadership Award). Stamkos is in his 10th season as captain of the Lightning. Not only has he been a leader on the ice as part of two Stanley Cup-winning teams, but he also leads off the ice as a fixture in the Tampa Bay community.
12. Dallas Stars (39-20-14)
Previous rank: 6th
Joe Pavelski (Lady Byng Trophy). Pavelski has received down-ballot votes for this award several times in the past, but this could be the year. The 38-year-old is having another stellar season with 67 points in 73 games, he's one of the most classy and well-respected players in the league, and he's only recorded eight penalty minutes.
13. Seattle Kraken (40-24-8)
Previous rank: 13th
Matty Beniers (Calder Trophy). This should come as no surprise, seeing as the Kraken rookie has been in the driver's seat for the hardware virtually all season. Beniers paces all first-year players with 50 points in 70 games while ranking second on Seattle with 16 even-strength goals. The center has taken his large role with the Kraken in stride as they look to make the playoffs.
14. Winnipeg Jets (41-30-3)
Previous rank: 14th
Josh Morrissey (Norris Trophy). His nickname is "Norrissey" for a reason. The Jets defenseman ranks tied for second among all blue-liners with 69 points in 72 games, trailing only the resurgent Erik Karlsson. Morrissey's previous career high in points was 37. What a coming-out party it's been for the 27-year-old.
15. New York Islanders (37-28-9)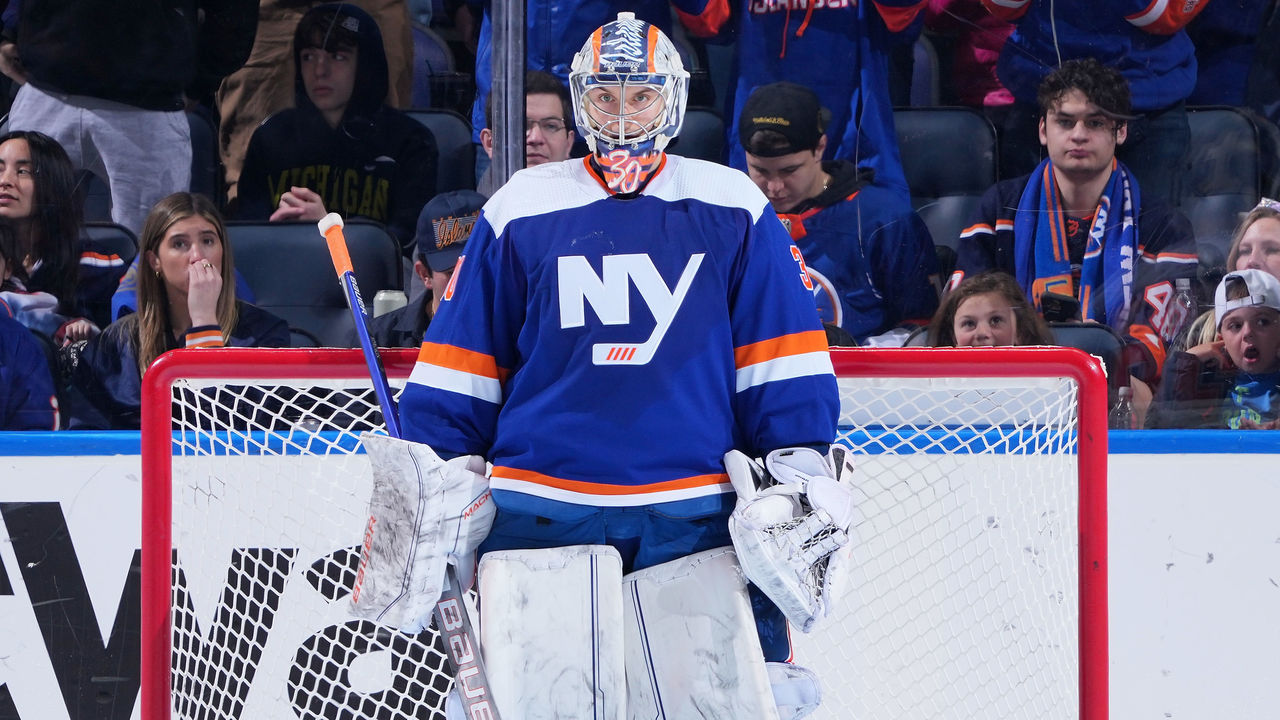 Previous rank: 16th
Ilya Sorokin (Vezina Trophy). Ullmark is a heavy favorite, but there's a valid argument that Sorokin has been the NHL's best goalie this season. He's played 10 more games than Ullmark and leads the league with 42.92 goals saved above expected - eight more than the Bruins netminder. Sorokin is the only reason the Islanders are in line to make the playoffs.
16. Calgary Flames (33-26-15)
Previous rank: 18th
Jacob Markstrom (Anti-Vezina Trophy). Flames fans, we apologize because this is kind of mean, but come on. Markstrom went from being a finalist for the Vezina last season to falling directly on his face. He owns a 20-20-10 record this season to go along with an .890 save percentage while ranking among the league's worst netminders in goals saved above average (minus-19.59).
17. Florida Panthers (36-30-7)
Previous rank: 17th
Matthew Tkachuk (Hart Trophy). The Panthers haven't enjoyed a strong follow-up to their Presidents' Trophy-winning campaign, but that hasn't been Tkachuk's fault. He's come as advertised in his first season in Florida, leading the team with 97 points - 31 clear of Aleksander Barkov and Carter Verhaeghe in second place. Tkachuk will be key to the Cats' playoff hopes.
18. Pittsburgh Penguins (36-27-10)
Previous rank: 15th
Kris Letang (Bill Masterton Trophy). If returning to NHL action 12 days after having a stroke doesn't display "perseverance" and "dedication to hockey," then what does? Letang is a warrior, and he's still playing at a high level in his age-35 season with 34 points in 55 games.
19. Nashville Predators (36-28-8)
Previous rank: 21st
Juuse Saros (Vezina Trophy). Saros has done his absolute best behind a disastrous defensive outfit this season, ranking third among all goaltenders in GSAx at 33.98. Saros has virtually no chance of winning this award with Nashville outside the playoffs, but it's scary to imagine where the club would be without its star between the pipes.
20. Buffalo Sabres (35-31-6)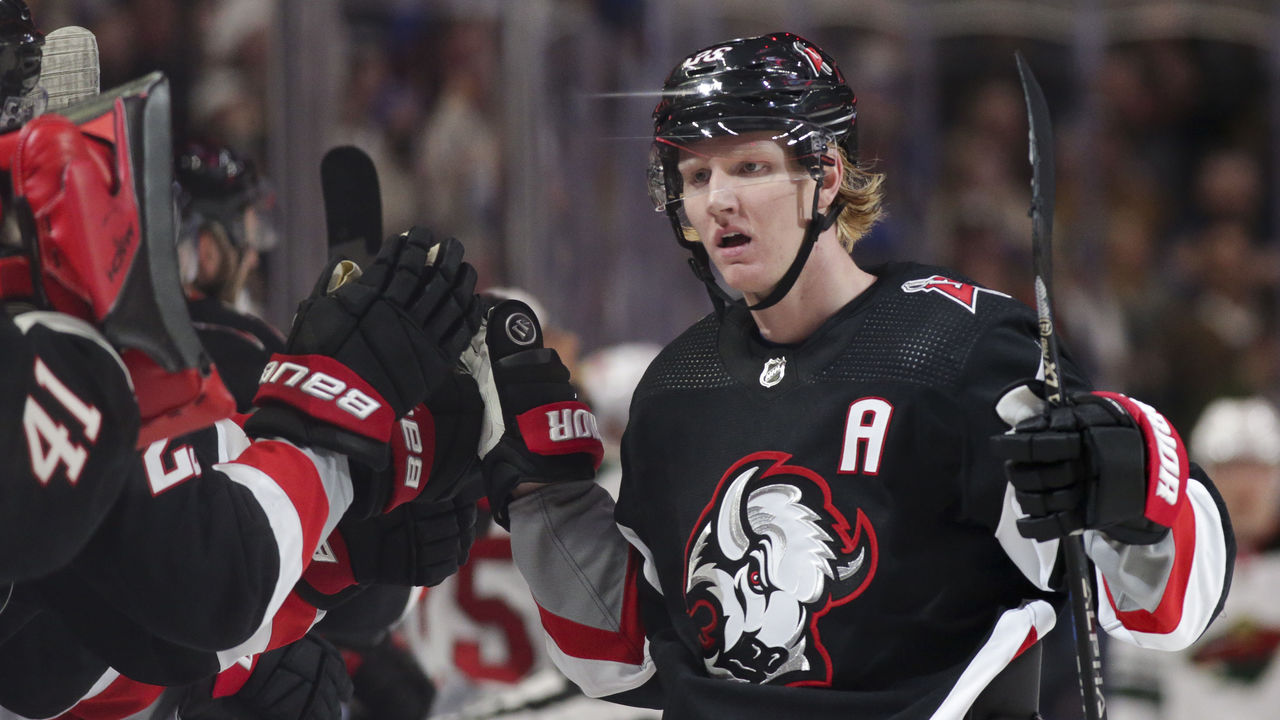 Previous rank: 20th
Rasmus Dahlin (Norris Trophy). Karlsson is the favorite, but Dahlin is having a sensational season in his own right that'll warrant plenty of consideration. He's tallied 65 points in 68 games while displaying exemplary two-way play.
21. Vancouver Canucks (34-34-5)
Previous rank: 23rd
Quinn Hughes (Norris Trophy). The Canucks rearguard doesn't have any time for critics of his defensive ability, and for good reason: Hughes is a plus-18 on a struggling Vancouver team that owns a goal differential of minus-17. He also sits tied for second in blue-liner scoring while ranking second in goals above replacement (19.7).
22. Washington Capitals (34-32-8)
Previous rank: 22nd
T.J. Oshie (King Clancy Trophy). An award for humanitarian contributions is difficult to quantify, and there are always several worthy winners around the league. But Oshie, who's generous with charities that support Alzheimer's and youth hockey, would be a deserving winner this year.
23. Ottawa Senators (35-33-5)
Previous rank: 19th
Brady Tkachuk (Mark Messier Leadership Award). This award typically goes to more of a veteran player, but Tkachuk is mature beyond his years in the way he carries himself off the ice. On the ice, he's willing to do anything for his teammates, even if it means dropping the gloves.
24. St. Louis Blues (33-34-6)
Previous rank: 25th
Jordan Kyrou (Green Jacket). Unlike Masters champions in golf, this is a jacket Kyrou certainly won't want to wear. The Blues forward is an NHL-worst minus-34 on the season.
25. Philadelphia Flyers (28-32-12)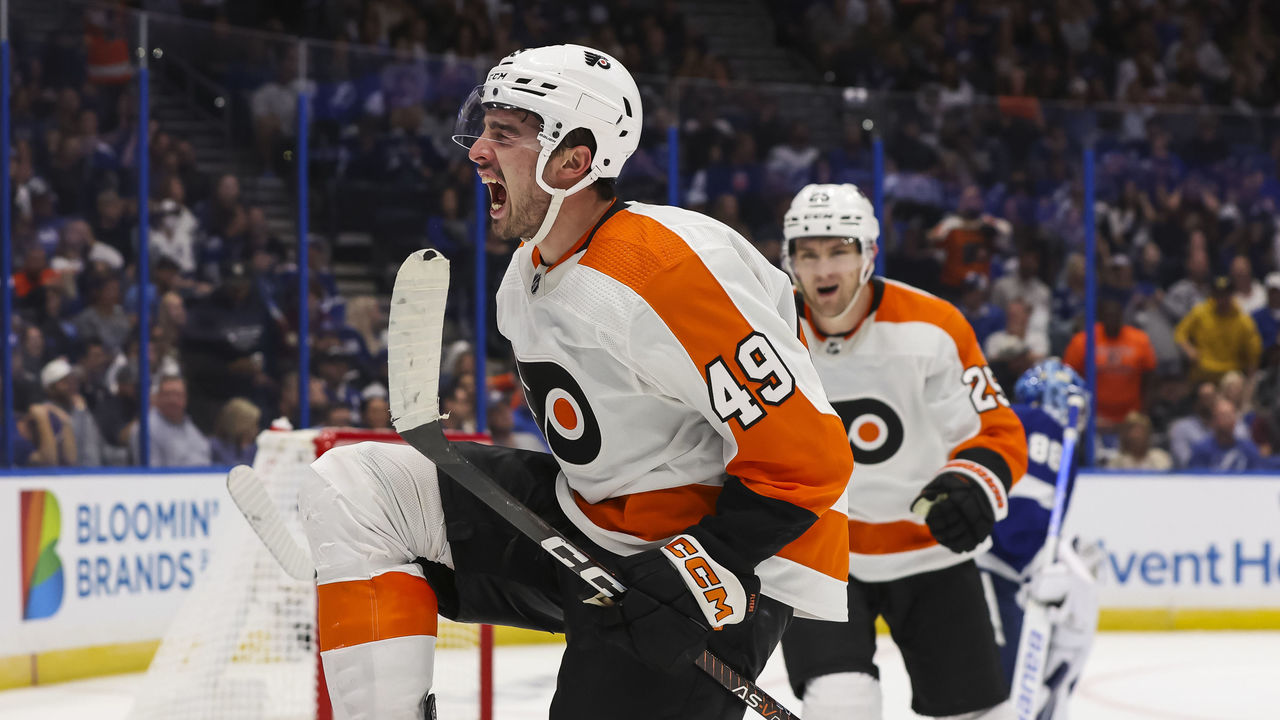 Previous rank: 28th
Noah Cates (Selke Trophy). It's Bergeron's award to lose, but Cates, who's probably an unknown player to the average fan, has been one of the league's best defensive forwards this season. His six defensive goals above replacement rank second among forwards.
26. Detroit Red Wings (31-32-9)
Previous rank: 24th
Ben Chiarot (Least Impactful Signing). The Red Wings inked the rugged blue-liner to a four-year, $19-million deal last summer, and in his first year in Detroit, Chiarot is a minus-27 while ranking last among the club's D-corps in expected goals and shots against.
27. Arizona Coyotes (27-34-13)
Previous rank: 26th
Connor Ingram (Bill Masterton Trophy). It's a difficult award to measure, but Ingram would be an excellent choice. He voluntarily entered the player assistance program in 2021-22, and this season he's played well with a .907 save percentage in 27 games on a clearly tanking team.
28. Montreal Canadiens (29-38-6)
Previous rank: 27th
Cole Caufield (Maurice "Rocket" Richard Trophy). Sure, Caufield's season ended in January thanks to a shoulder injury, but he still leads the Habs with 26 goals in 46 contests. That would put him on pace for 46 tallies over an 82-game season, which obviously wouldn't be enough to catch McDavid, but we wanted to give the sniper a shoutout here.
29. Chicago Blackhawks (24-43-6)
Previous rank: 30th
Taylor Raddysh (Anti-Art Ross Trophy). Raddysh paces the abysmal Blackhawks with 33 points in 73 games, which is by far the lowest total that leads a team this season. Oof.
30. Anaheim Ducks (23-40-10)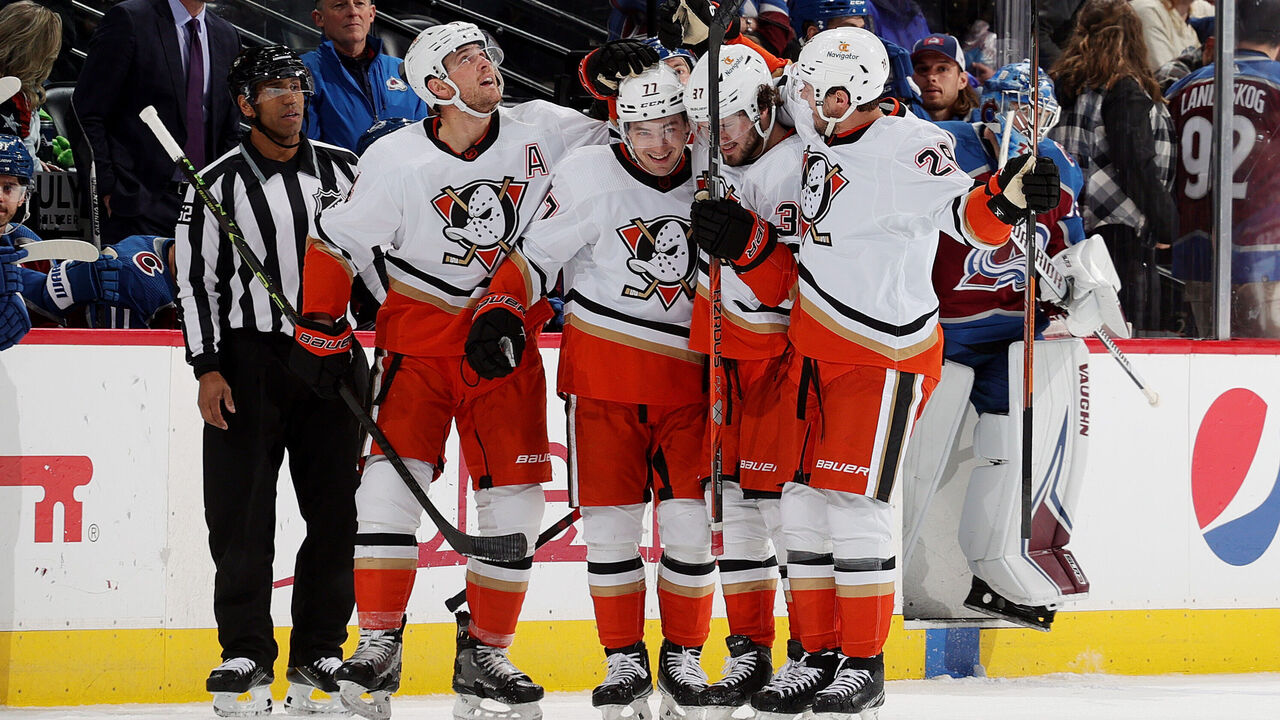 Previous rank: 29th
The fans (Bill Masterton Trophy). Oh boy. The Ducks have been a tire fire this season and own a cataclysmic minus-108 goal differential. Any fan still watching Anaheim limp across the finish line has shown perseverance and dedication to hockey.
31. Columbus Blue Jackets (23-42-7)
Previous rank: 32nd
Kirill Marchenko (Cy Young Award). Marchenko's goal-to-assist ratio of 19-3 is awfully reminiscent of a Cy Young-winning MLB pitcher's win-loss record. We're not mad; we're impressed.
32. San Jose Sharks (19-39-15)
Previous rank: 31st
Erik Karlsson (Norris Trophy). As bad as the Sharks may be, Karlsson has put together a historically great campaign that makes him the front-runner to be named top defenseman. Points aren't everything, but he has 21 more than the next-closest blue-liner.
(Analytics sources: Evolving-Hockey, Natural Stat Trick)
Comments
✕
NHL Power Rankings: Each team's best hope to win an individual award
  Got something to say? Leave a comment below!