Bruins surprise themselves, Giordano thrives, and 4 more NHL items
Boston Globe / Getty Images
Sidelined to start the season thanks to shoulder surgery, Boston Bruins defenseman Matt Grzelcyk watched his team explode out of the gate in October and says half-jokingly that he began to worry.
"Ah, I hope I don't come back and mess this thing up!" a smiling Grzelcyk said Wednesday from his dressing room stall at Scotiabank Arena in Toronto.
Grzelcyk, of course, didn't mess anything up. Later Wednesday, the Bruins defeated the Toronto Maple Leafs 5-2 to stop a season-long skid at three games and elevate their record to 39-7-5 ahead of the All-Star break.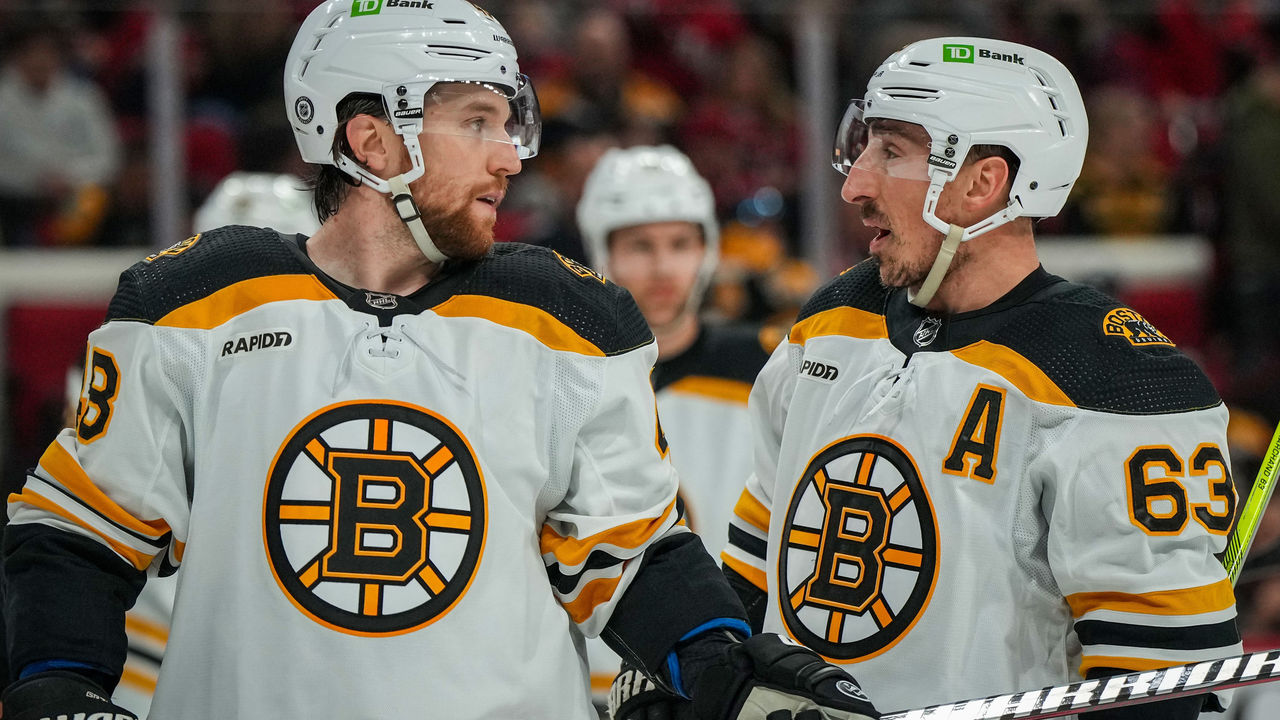 The Bruins were riddled with uncertainty coming out of the offseason. They had a new coach, an aging core, and injuries to key players. Boston was a popular choice to either miss the Eastern Conference playoffs or barely make them. Toronto and the Tampa Bay Lightning were expected to rule the Atlantic Division, while the Bruins would be chasing down the third spot alongside the Florida Panthers, Buffalo Sabres, Ottawa Senators, and Detroit Red Wings.
Now, 51 games later, the Bruins are on pace for a stunning 134 points. That would establish a new NHL record, while their projected 62 wins would tie the 1995-96 Red Wings and 2018-19 Lightning for most all time. None of the factors identified in the preseason have proved to be an issue, while a number of Bruins players - chief among them forward David Pastrnak, goalie Linus Ullmark, and defenseman Hampus Lindholm - are enjoying career years.
"You couldn't have predicted this," Grzelcyk said.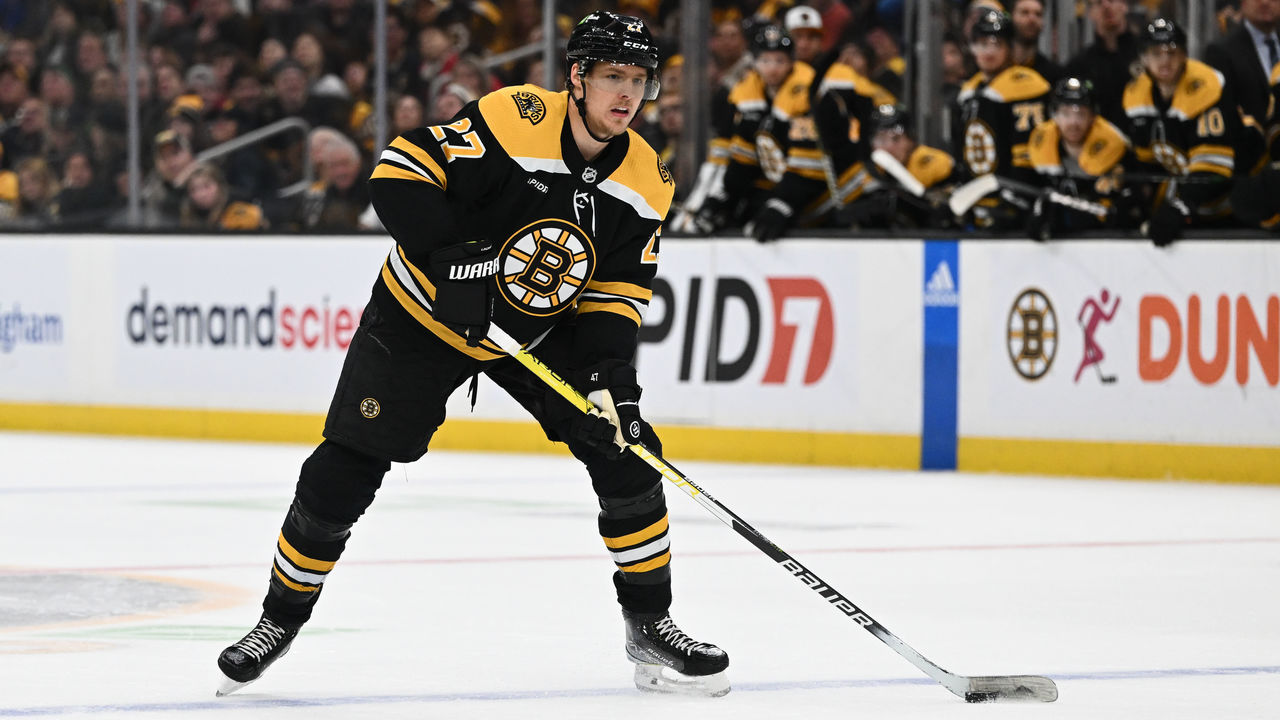 One catalyst for the Bruins' unexpected dominance: Coach Jim Montgomery telling his defensemen to be more aggressive in the offensive zone.
"He showed us a lot of video early on, and he would say, 'Instead of being here, you want to be a little bit lower.' Or, 'Instead of having to play rush defense, why don't you try to keep the puck in?'" Grzelcyk said. "We'll spend 20 extra seconds in the offensive zone now, where the other team is trying to flip the puck out for a change but they just can't. This approach allows you to go right back down their throat, versus always being conscious defensively."
Added Lindholm, who's racked up 33 points in his first full season in Boston: "If you look at the teams that have had success over the years, they have five players involved both defensively and offensively to create that offense."
In Grzelcyk's eyes, the Bruins have two No. 1 defensemen in Lindholm and Charlie McAvoy. "He's 6-foot-4, 220 pounds, and he literally skates like he's 5-foot-7. It's insane," Grzelcyk said of Lindholm. "He's super competitive, too. He's played a hard game for us this year - harder than people on the outside probably think - and he takes a lot of pride in shutting the top guys down."
One thing Montgomery didn't have to tinker with was the Bruins' culture. Led by captain Patrice Bergeron and alternate Brad Marchand - who learned from retired Bruins great Zdeno Chara - Boston's veterans set a daily standard of professionalism, focus, and togetherness.
"Everyone holds himself to a certain level and accountability. It starts with our leaders and then works its way down," defenseman Brandon Carlo said. "(Montgomery's) recognized that as well, that it's not necessarily something he needs to be harping on us because we're already hard enough on ourselves."
Lindholm, acquired at last year's trade deadline, joked, "It's not like you come here and you sign a waiver." It's instead obvious what's acceptable and not acceptable, and buying into the culture is a no-brainer.
"If you see your leaders and you see your top guys doing certain things, it makes it easy for you to do it as well, and then you pass it along to whoever comes in after you," he said. "It's fun that way, and you do accomplish things better when you're a big group. No one's valued more in this locker room than anybody else. Everyone's on the same page and fighting for the same thing."
Old man Giordano still thriving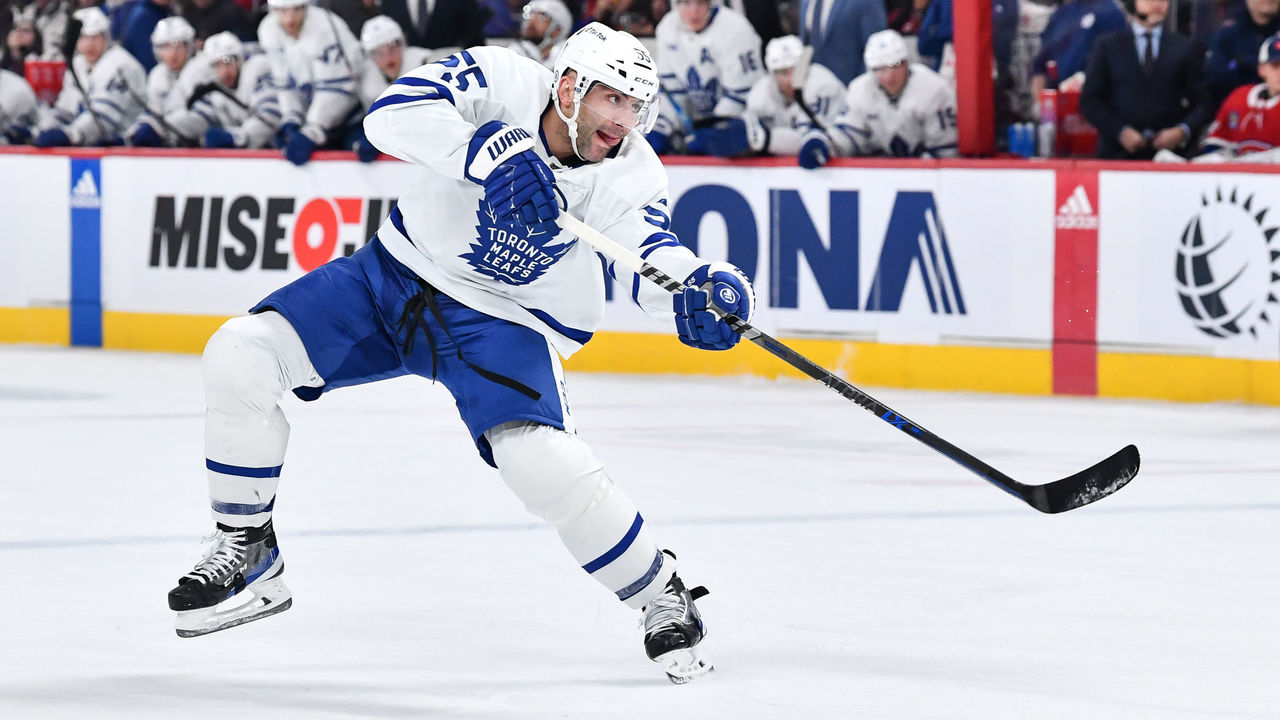 What a career arc for Mark Giordano.
In 2004, he was signed as an undrafted free agent. Two years later, at 22, he made his NHL debut for the Calgary Flames. He didn't earn his first Norris Trophy vote until 30 then won it at 35. At 37, he was an expansion-draft selection by Seattle. He was traded a few months later to Toronto.
Giordano, now 39, is the oldest skater in the league - and a massive bargain. His $800,000 cap hit is money well spent for the Maple Leafs. In Giordano's 830 five-on-five minutes spread across 52 contests this season (he has yet to miss a game), the Leafs have outscored the opposition 35-24.
"He just manages the game really well," teammate Morgan Rielly said last week. To Rielly, experience is a big part of Giordano's game. "He really doesn't chase the game. He's calm. He has a good feel for when things are going well and when things need to change."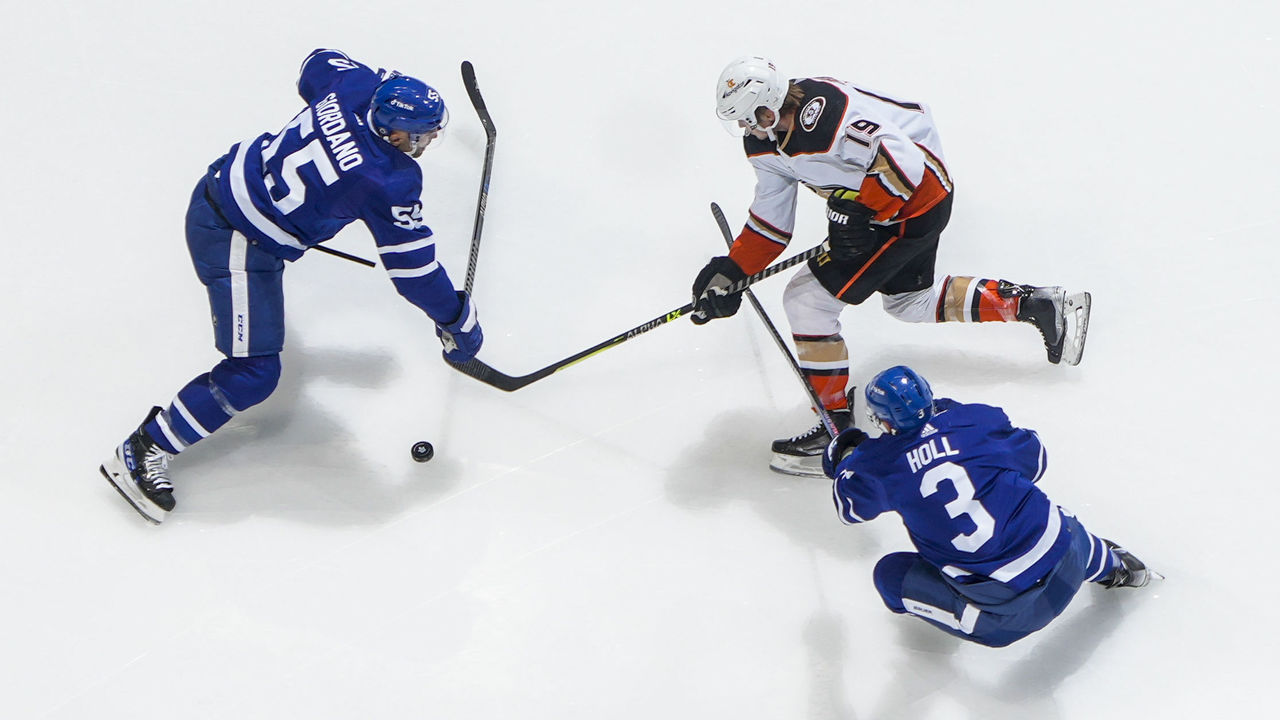 Leafs coach Sheldon Keefe was asked what he's learned about Giordano since the high-IQ veteran arrived roughly 11 months ago.
"I just didn't have a great enough appreciation for how much he battles, whether it's the shot blocks and getting in lanes or recovering or competing at the net front or engaging physically to kill plays and kill cycles," Keefe said.
At the All-Star break, Giordano leads the Leafs with 100 blocked shots.
"He makes very good reads to make sure the opposition has to come through him," Keefe said. "Mistakes that he makes are very few. Defensively, there's not a lot of times you notice somebody getting by him or him making a poor read."
Nobody deserves - or needs - the Leafs' nine-day break more than Giordano. Load management down the stretch would be wise, too. If the Leafs are going to finally make some noise in the playoffs, the old man must be well-rested.
Whirlwind continues for Horvat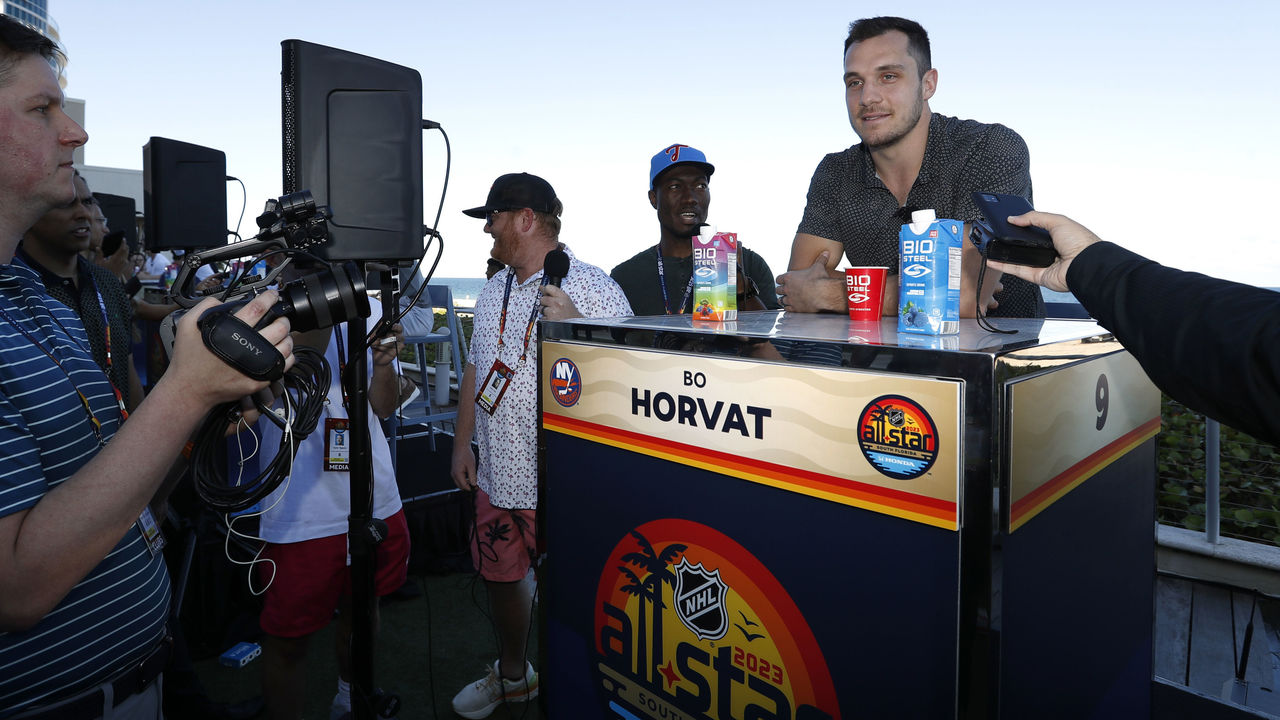 All-Star Weekend can be a dizzying few days for players. They're pulled in every direction to meet fans, sponsors, and reporters. There's a social aspect to being around 40 of your peers. The on-ice portion is a giant production.
It's safe to say no All-Star will have his head spinning quite like Bo Horvat, who on Monday was traded from the Vancouver Canucks to the New York Islanders. On Thursday, he was fielding media questions from Fort Lauderdale.
"You never think about getting a trade call. Ever," Horvat, 27, said. "To actually get one, it was definitely weird. I really didn't know how to take it. It still hasn't sunk in, really, yet. I think it'll start to more and more when I get (to Long Island) and meet the guys and put on the jersey for the first time."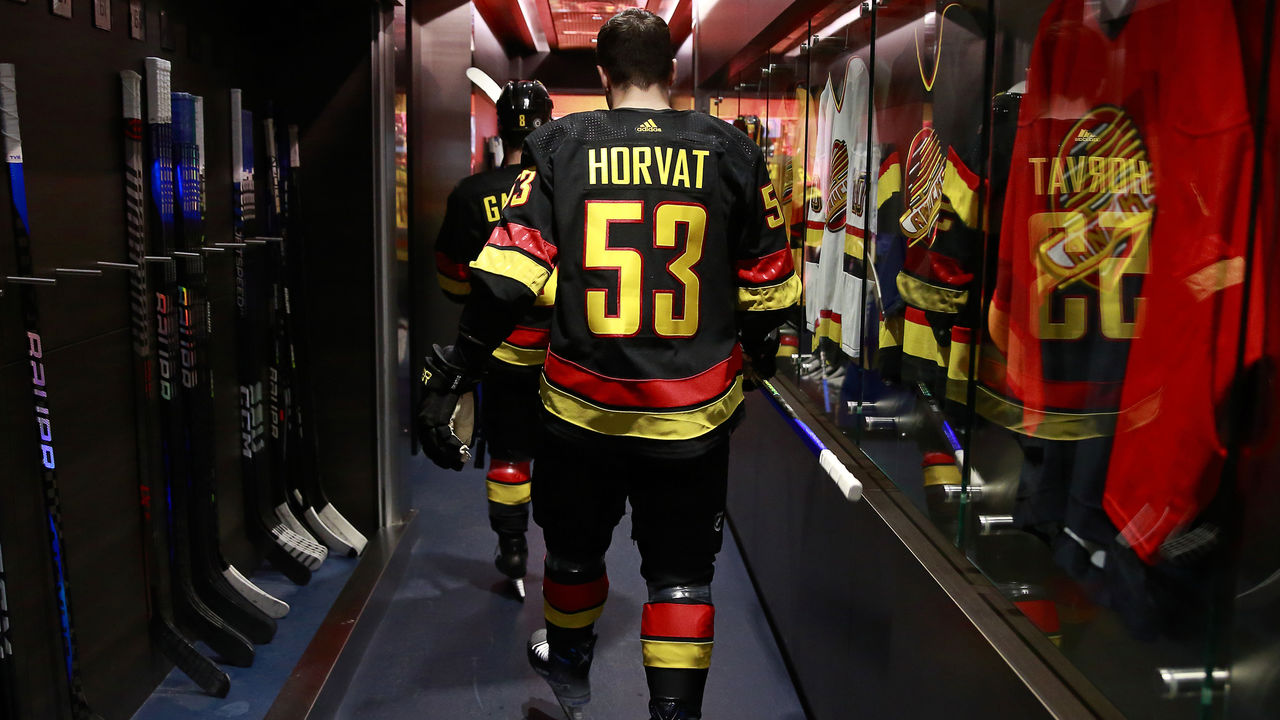 Technically, Horvat will be putting on New York's jersey for the first time this weekend. He's a member of the Pacific Division All-star Team, which means he'll play alongside former teammate Elias Pettersson one more time. However, the NHL wants him to rock an Isles jersey with his new No. 14.
"Four plus one is five and four minus one is three," is how Horvat and his wife landed on 14 after nine years of 53 in Vancouver. "I really had to concentrate to write '14' instead of '53' today," he said of autographing a jersey in Florida.
Horvat, a pending unrestricted free agent, says he hasn't thought much about a possible extension. He's trying to get through the weekend and then focus on the hockey part of the transition. Who can blame him?
Parting shots
Vincent Trocheck: Count on the New York Rangers winger breaking through offensively after the All-Star break. Trocheck's shooting percentage is 9.5% this season, down from 12.5% last year and 13.8% in 2020-21. He could be due for a rebound. He's also rung 10 pucks off the post and another off the crossbar; his total of 11 is tied with Elias Pettersson (seven post, four crossbar) for most in the NHL.
Trocheck, who's tied for ninth in the league in scoring chances off the cycle per game and tied for 11th in chances off the forecheck per game, lives around the net. He constantly creates high-leverage opportunities. Those posts and crossbars ought to turn into goals sooner than later.
Mini Sticks CO: Tucker Shedd, a defenseman for the Omaha Lancers of the USHL, is just 18 years old but is already giving back. Shedd runs the Mini Sticks Charitable Organization, a nonprofit supporting children who are battling cancer. The program offers tickets to Lancers games, a tour of the club's home rink, a seat on the bench for warmup, a shoutout on the overhead video board, and a care package to take home.
"I've never had to deal with cancer myself, but seeing it from the outside, I understand what they're going through," said Shedd, whose mother was diagnosed with breast cancer when he was 9. (She's doing well now.) "I know distractions can go a long way. It gives them a night off from what's going on in their life." Shedd plans on continuing the program at Michigan State when he starts college hockey in the fall.
Cousinly love: Philadelphia Flyers forward Kevin Hayes grew up around NHL players. His late older brother, Jimmy, played in the league and his cousins Keith Tkachuk and Tom Fitzgerald enjoyed long careers. This led to an interesting dynamic when Keith's kids, Matthew and Brady, started eyeing the pros. Guess who the younger Tkachuks listened to when it came down to hockey tips? "Keith would have me and my brother tell them things that he wanted to tell them," Hayes said with a smile at Thursday's media day. "They thought we were really good because we were at Boston College or drafted to the NHL. It was funny, having Keith Tkachuk, (arguably) a Hall of Fame player, ask us about his kids because his kids don't want to listen to him."
Takes, Thoughts, and Trends is theScore's biweekly hockey grab bag.
John Matisz is theScore's senior NHL writer. Follow John on Twitter (@MatiszJohn) or contact him via email (john.matisz@thescore.com).
Comments
✕
Bruins surprise themselves, Giordano thrives, and 4 more NHL items
  Got something to say? Leave a comment below!