Renewable energy: Cup-hunting Lightning betting on internal growth
Mark LoMoglio / Getty Images
At any given moment this season, Jon Cooper can scan the bodies in front of him on the Tampa Bay Lightning bench and see nameplates synonymous with three straight trips to the Stanley Cup Final, two ending in elation.
Stamkos. Hedman. Kucherov. Point. And so on.
Cooper, Tampa Bay's head coach since March 2013, can also see nameplates that barely register with hockey fans and media outside of central Florida.
Perbix. Koepke. Colton. Myers. And so on.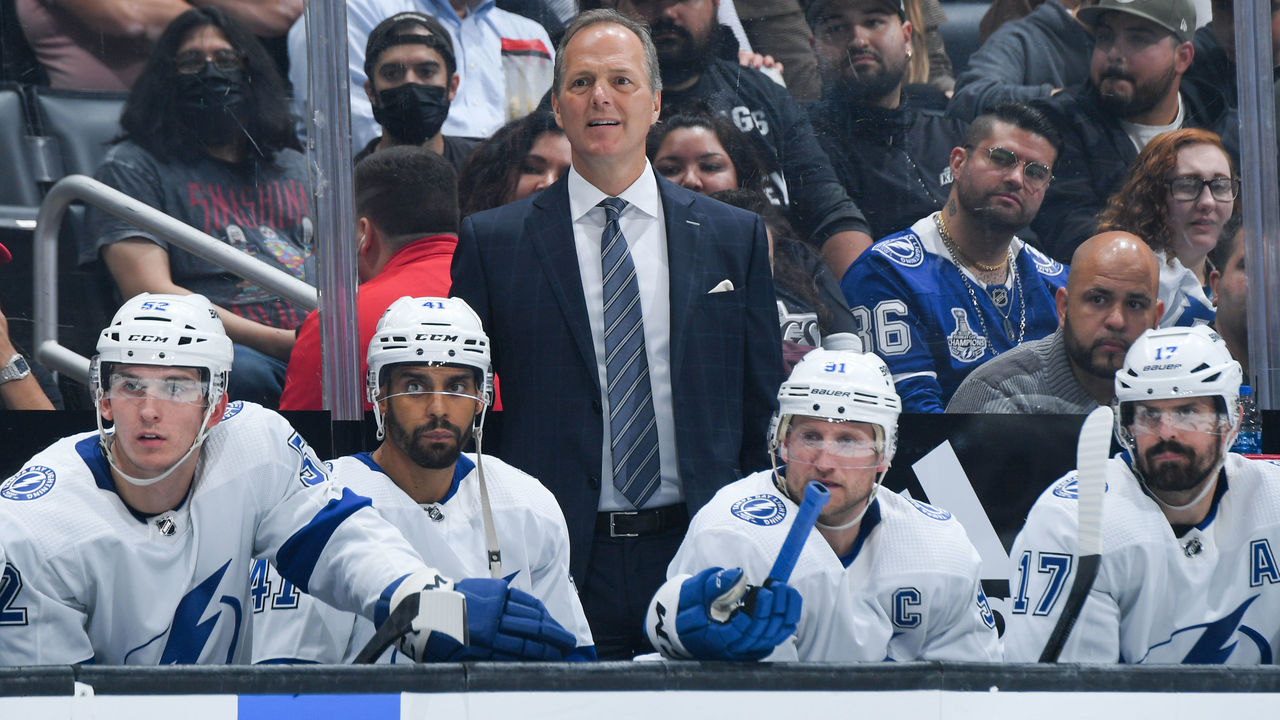 Tampa Bay won its second of two recent Cups just 16 months ago. Yet the club's roster has turned over significantly. Forward Anthony Cirelli, set to return from injury any day now, will be the 27th player to appear in at least one Lightning game this season. Of those 27, 14 have never hoisted the Cup, while offseason signee Ian Cole, a two-time champ, won his with Pittsburgh.
"That's our vibe. We're not a new team, but we kind of are a new team," Cooper, the NHL's longest-tenured coach, said in an interview Monday.
That might be the perfect way to frame it. There's been no official retooling or rebuilding process for the Lightning. The championship core is largely intact, so they're not an entirely new group. But to balance the books over the last two offseasons, Tampa has sacrificed plenty of depth. The salary cap, stalled for three seasons at $81.5 million, increased in 2022-23 but only by $1 million.
Yanni Gourde, Barclay Goodrow, and Blake Coleman - members of a terrific third line - all left in 2021. The same goes for Tyler Johnson and defenseman David Savard. Top-flight winger Ondrej Palat, plus two serviceable blue-liners in Ryan McDonagh and Jan Rutta, were this past summer's cap casualties.
On Tuesday in Boston, Cooper trotted out these lines (newcomers in bold):
Brandon Hagel - Brayden Point - Nikita Kucherov
Steven Stamkos - Nick Paul - Alex Killorn
Ross Colton - Vladislav Namestnikov - Corey Perry
Cole Koepke - Pierre-Edouard Bellemare - Pat Maroon
And the defense pairings in the 3-1 loss to the Bruins:

Victor Hedman - Erik Cernak
Mikhail Sergachev - Nick Perbix
Ian Cole - Zach Bogosian
With cap space nonexistent and the team's draft capital greatly diminished by recent all-in moves, general manager Julien BriseBois, without much of a choice, is banking on internal growth from players up and down the lineup.
Most crucially, can Hagel and Paul, both acquired to enhance the team's forward depth during previous playoff runs, excel in elevated roles in the top six? Can Perbix, a virtual unknown out of college, handle the rigors of second-pair usage and deployment alongside burgeoning star Sergachev? Realistically, how much can be expected of that fourth line and that third pair?
The early returns have been decent. Tampa Bay sits third in the Atlantic Division with a 13-8-1 record and a plus-5 goal differential. At the 22-game mark of last season's schedule, the eventual Cup finalists had earned three extra standings points (13-5-4) and owned a slightly better differential (plus-9).
"For us, it's always been, 'We don't need to finish first. We just need to finish in the top eight,'" Cooper said of the Eastern Conference playoff picture.
"Don't get me wrong, we're never trying to throw a game. But we know where we have to be, and we've just got to finish in the top half. As you've seen with us over the years, anything can happen in the playoffs." He added, "We're a new team, but our goals are exactly the same. So far, so good."
If it wasn't clear, those goals are to challenge for and then win the Cup ... again. The Lightning appreciate how special these past few years have been and don't want to waste the rest of this window of contention.
As in previous seasons, the range of outcomes for this squad doesn't include finishing in the bottom 10 leaguewide. It's also very unlikely Tampa will miss the playoff cutline. This high floor is set by the team's five world-class players - forwards Kucherov, Point, and Stamkos, defenseman Hedman, and goalie Andrei Vasilevskiy - and some valuable second-tier contributors, namely Cirelli and Killorn up front, and Cernak and Sergachev on the back end.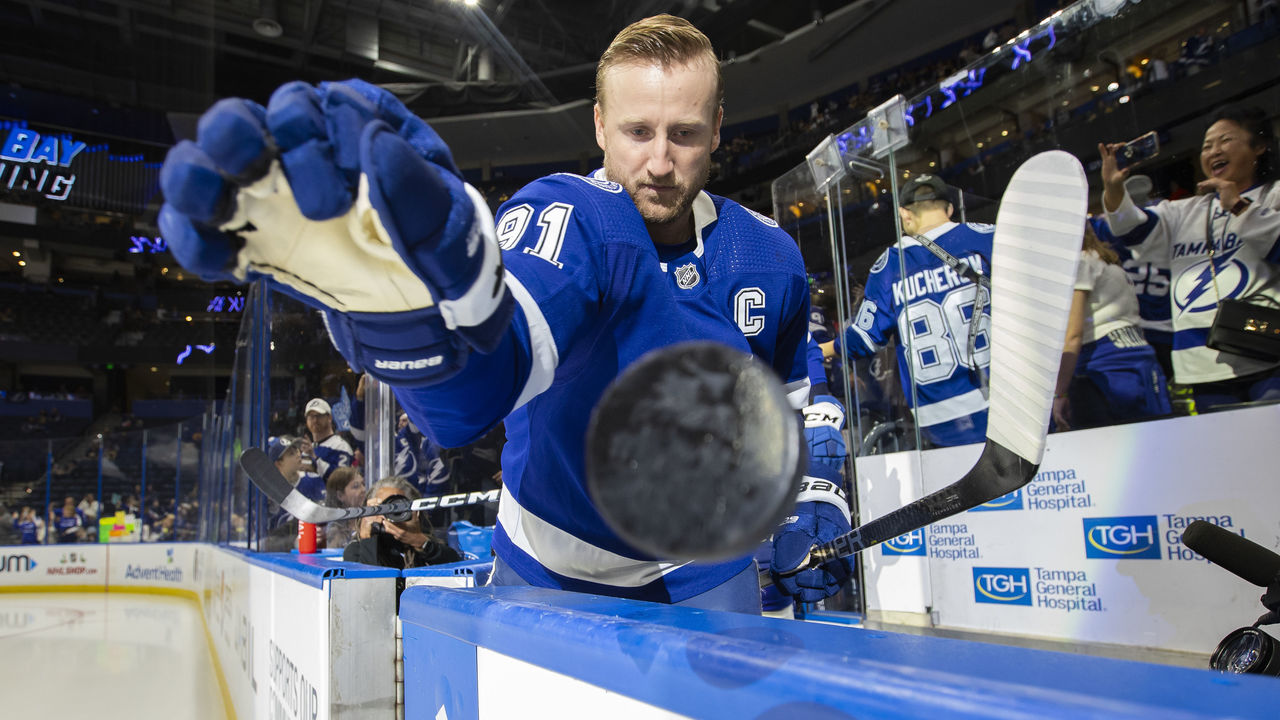 "When you're successful, you can create that core and keep it around," said Stamkos, a careerlong Bolt. "You look at Chicago and their heyday. You look at Pittsburgh and what they've done. There was L.A.'s run. Boston still has the same core, more or less. You can throw us in there now. In the NHL, you have those four or five guys to build a team around, and you just go from there."
Kucherov, a maestro with the puck on his stick, leads the NHL in assists (25) and is third in points (35). Stamkos, who's one point from 1,000 for his career, is tied for eighth in goals (13) and 13th in points (27). The speedy and smart Point has been buzzing, too, picking up 24 points while firing a league-high 59 shots on goal from the slot area, according to data tracked by Sportlogiq.
That said, Vasilevskiy hasn't performed to his lofty, best-in-class standards, posting a middling .906 save percentage and only eight quality starts through 16 games, per Hockey Reference. Hedman's numbers, from overall point production to five-on-five shot metrics, are down across the board this season.
The Lightning have played 71 playoff games since the start of 2019-20, 26 more than any other team in that span. Vasilevskiy's and Hedman's current dips could be a sign of fatigue. But the smart money is on both players snapping out of it sooner than later. Vasilevskiy's 28, not 35. Hedman's 31, not 38. They didn't turn borderline ineffective overnight.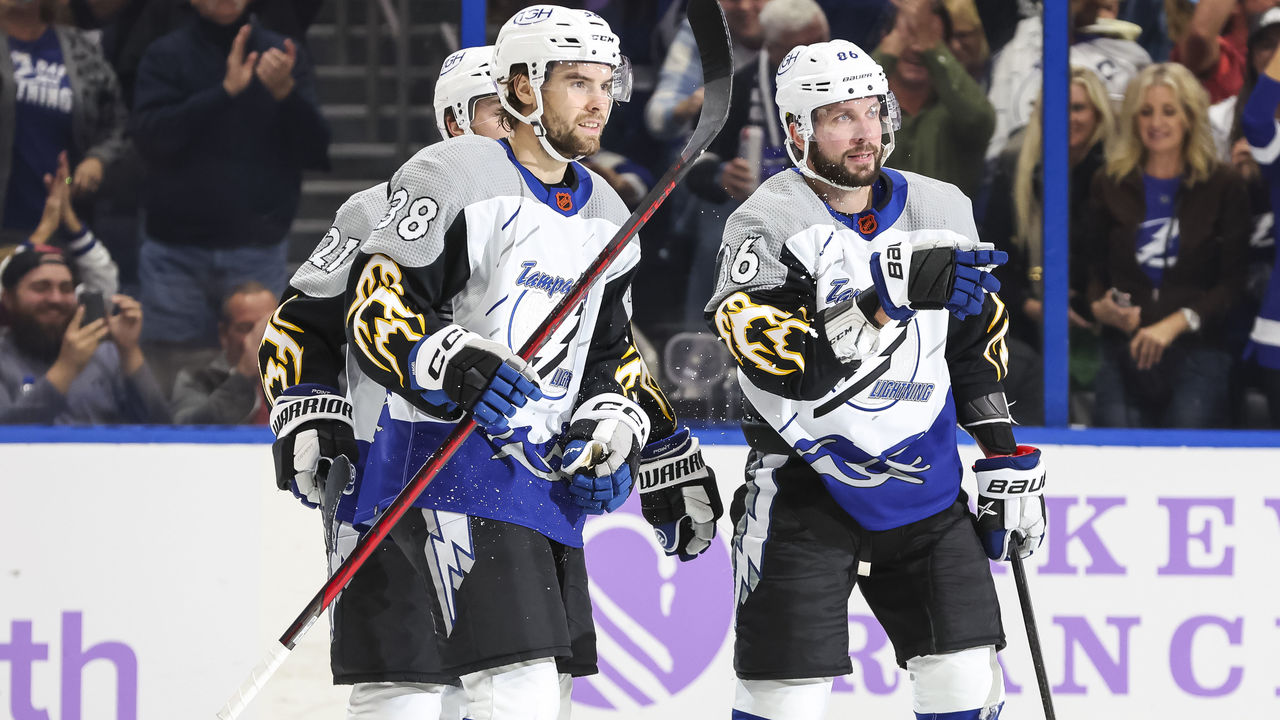 Meanwhile, the rest of the lineup will determine this team's ceiling.
Hagel, whose ice time has jumped to 18:48 from 14:21 in the playoffs, has been Palat's replacement. A steal at a $1.5-million cap hit this campaign and next, the 2016 sixth-round draft pick of the Buffalo Sabres has been tasked with retrieving pucks for Point and Kucherov and creating traffic at the netfront.
"He's one of those kids who says, 'Yeah, just count me out because I'll prove you wrong,'" Cooper said. "What's impressed me the most is that he was put in a big-time checking situation last year when we made our march to the final, and now this year he's playing with two of the best players in the league, and he's excelling. It goes to the scope of his talent level."
"You just have to play, be your best self every shift, and hopefully, you get that opportunity one day," said 24-year-old Hagel, who went unsigned by Buffalo before catching on with the Chicago Blackhawks in 2018. "It happened to be this year, and I'm grateful for it. I'll never take that for granted."
Paul has filled in for Cirelli, a versatile two-way forward who could either knock Paul down to the third line or center the third unit himself when he returns. The latter option may make the most sense, given the Lightning have now outscored the opposition 13-6 in the 171 minutes Stamkos, Paul, and Killorn have been on the ice together at five-on-five. And that's after a slow start.
Stamkos believes there are "two things you need to be successful in life: opportunity and confidence." In Paul's case, he's seizing the moment as a big-bodied, hard-to-play-against, skilled third piece of a high-scoring line. "You have to give him credit," Stamkos said of his new running mate. "It could have gone the other way. Sometimes opportunities are too big for people."
That leads us to the blue line, where Perbix's been given an opportunity other defensemen coming out of the NCAA can only dream about. The St. Cloud State alumnus turned pro toward the end of last season and appeared in 12 games for the Lightning's AHL affiliate. His spot in the top four wasn't gift-wrapped. But he's certainly benefiting from the club's cap constraints.
Tampa Bay needed a reliable, inexpensive partner for Sergachev. And while no defenseman with 248 total NHL minutes is fully acclimated to the challenges of the position, the 24-year-old Perbix, conveniently a righty, sure is close.
"Really good," Point said when asked about Perbix's adjustment period. "He sees the game really well, he skates really well, and he's a smart player."
Added Stamkos: "Not many of us knew much about him, coming in as a college guy, a little bit older than your typical rookie. I wasn't sure how he would translate, but he's been great. Keeps getting better, more confident."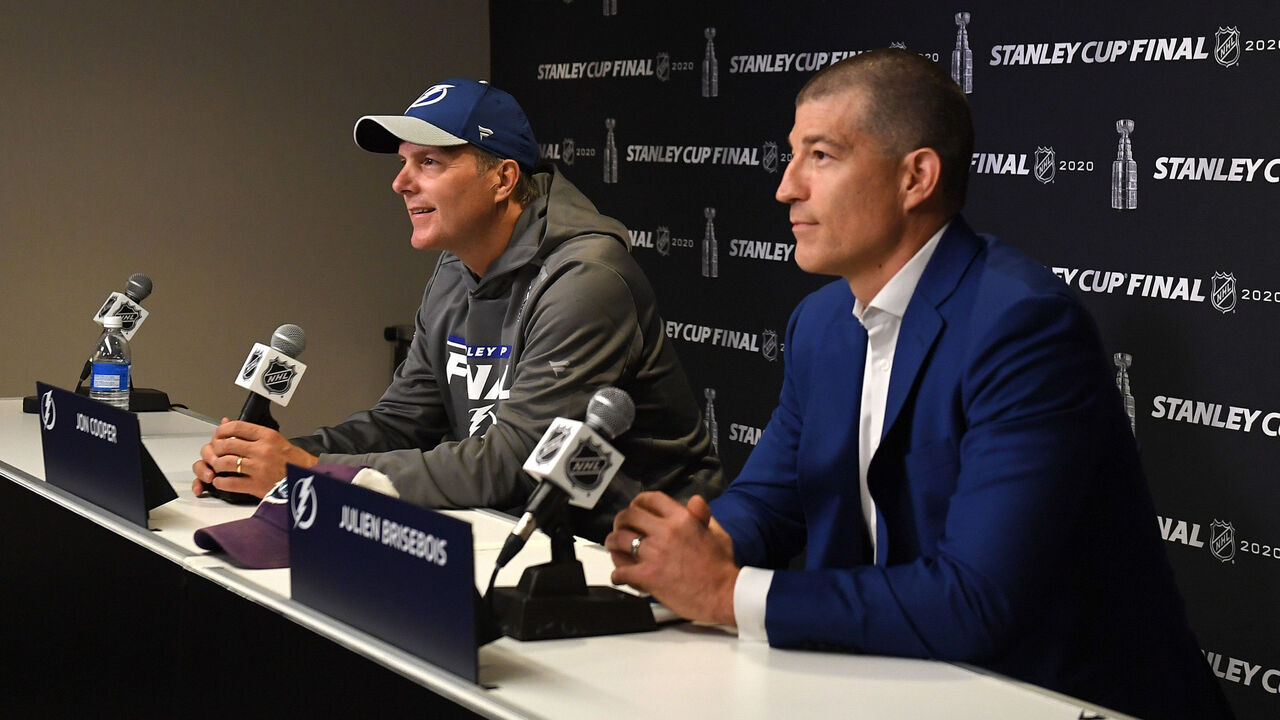 The Lightning are known for drafting and developing well. Cirelli, Point, Killorn, Colton, and Palat were all drafted in the third round or later. Gourde and Johnson were both undrafted free-agent finds. So if it happened again with Perbix, a 2017 sixth-rounder, nobody in the hockey world would bat an eye.
Seeing the organizational depth deplete to the point where a rookie is skating on a top-two pair to start his career, though? Not ideal. Yet it's the cost of doing business for a team with an enviable core still stuck in a flat-cap world.
Injuries and cold streaks are inevitable, and BriseBois doesn't have a first-round pick in 2023 or 2024 to swap for help. Each depth piece - whether it's Perry (1,198 career games) or Colton (130) at forward, or Haydn Fleury (227) or Philippe Myers (153) on defense - will be tested at some point or another.
This is life for a franchise trying to make four straight Cup Finals. And it's a problem 31 other clubs would love to try to solve. To circle back on Cooper's framing, it's OK that the Lightning aren't the exact same group this year.
"It hasn't been bad," he said. "It's just new."
John Matisz is theScore's senior NHL writer. Follow John on Twitter (@MatiszJohn) or contact him via email (john.matisz@thescore.com).