Examining trade scenarios for 3 high-profile players
Icon Sportswire / Getty Images
The March 3 trade deadline is three months away, but the NHL rumor mill is already buzzing. One notable report: the Chicago Blackhawks aren't convinced Patrick Kane and Jonathan Toews will waive their no-trade clauses.
That doesn't mean Kane or Toews, both pending unrestricted free agents, won't be traded prior to the deadline. But at the very least, the report suggests neither will be leaving Chicago soon. So let's put the discussion about those players aside and focus on three others who could be moved sooner than later: Brock Boeser, Timo Meier, and Jakob Chychrun.
What are the facts of each player's current situation? What unique context surrounds them? And what are some possible landing spots?
Brock Boeser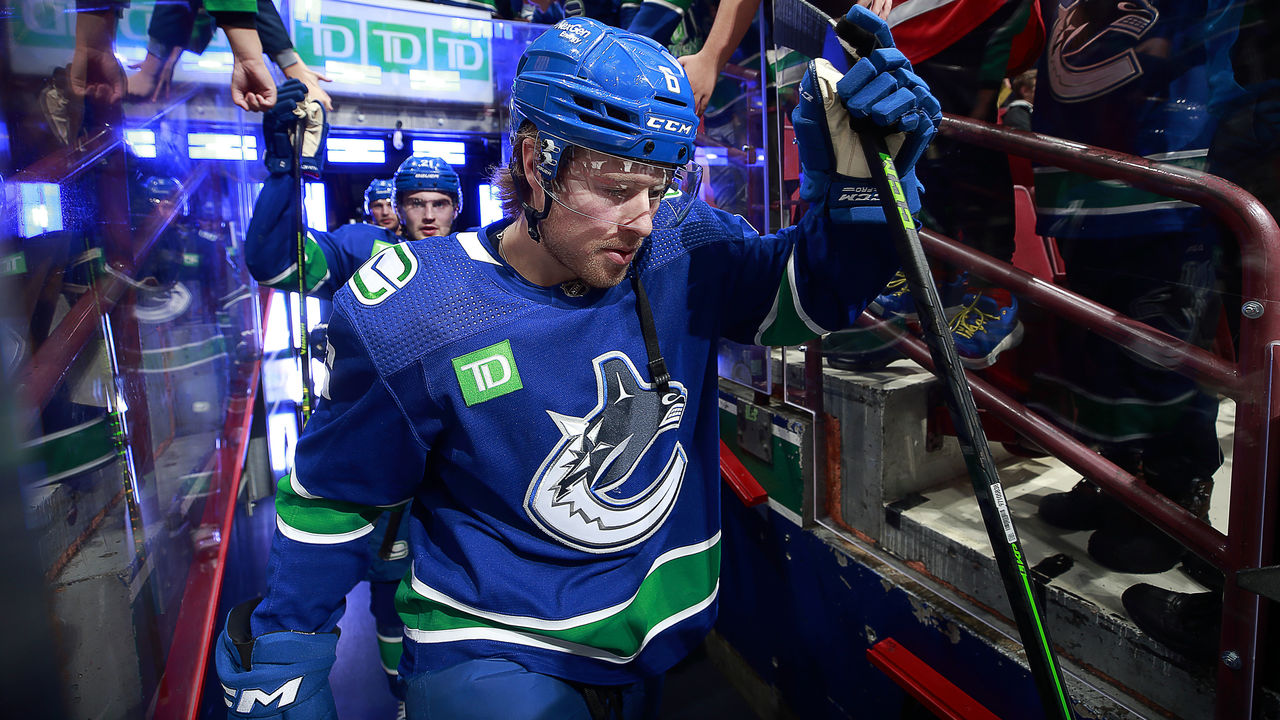 Facts of the situation: Just five months after signing a three-year, $19.95-million contract extension, Boeser's Canucks tenure may be nearing an end.
Vancouver, a seemingly directionless franchise with a losing record, several burdensome contracts, and a middling prospect pool, is stuck in no man's land. Despite his own recent struggles, Boeser is one of the Canucks' top trade chips.
On the surface, this season's results look fine. Boeser, 25, has recorded four goals and 12 assists in 19 games, which is in line with his career average. Below the surface, though, there are a few red flags; the winger's five-on-five goal-scoring and shot-based metrics are down from last season.
Clearly, Canucks coach Bruce Boudreau isn't pleased. Boudreau planned to make Boeser a healthy scratch for last Saturday's game against the Arizona Coyotes before a teammate's injury forced Boeser back in the lineup.
Boeser ended up potting a goal, but the planned scratch stung. It was Hockey Fights Cancer night and Boeser, whose dad died of cancer in May, said "it hurt bad" to learn he was scheduled to miss such an important moment.
It's fair to say a change of scenery is in the best interest of player and team.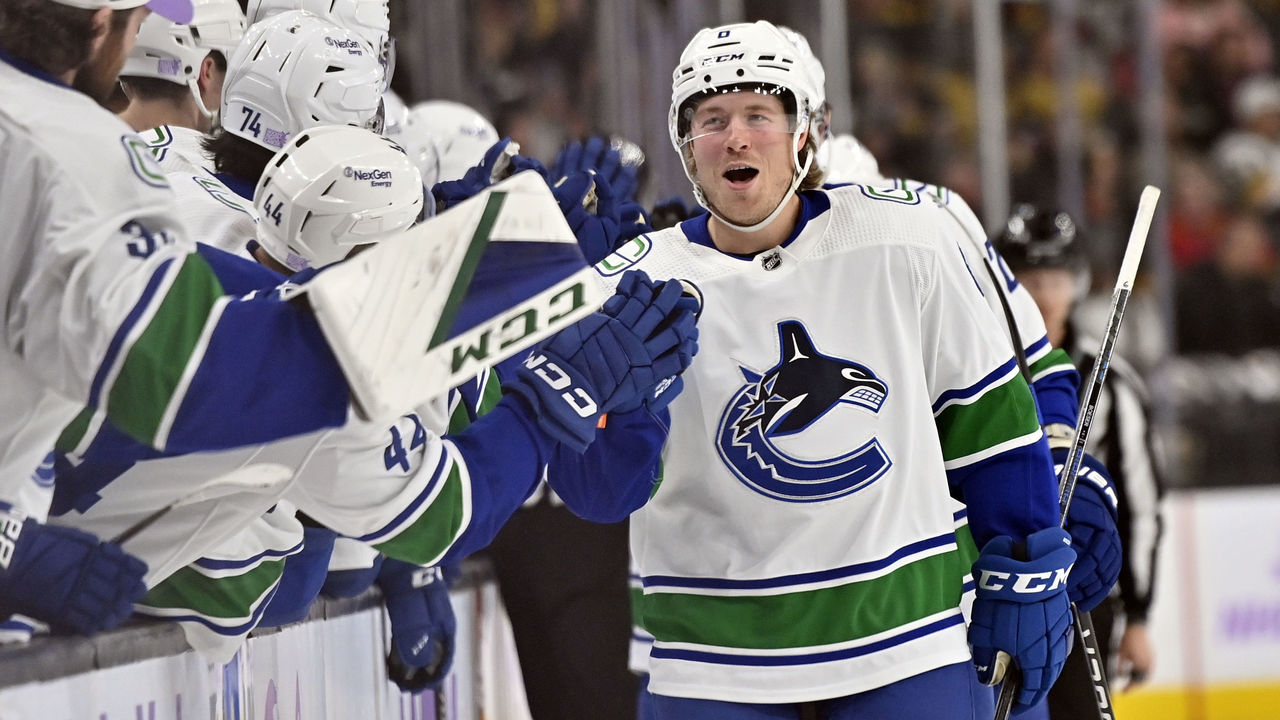 Context and landing spots: Boeser hasn't specifically asked for a trade, according to Sportsnet's Elliotte Friedman. However, there's reportedly an understanding between his camp and the Canucks that he'd prefer a move.
Friedman also reported that Boeser's agent, Octagon Sports' Ben Hankinson, has been given permission to search for a trade partner. The Athletic's Thomas Drance wrote that the timing of it all - the planned scratch and the same-day report on Hankinson's involvement - is mostly coincidental. Still, whenever an agent gets permission to essentially negotiate on behalf of a front office, the market for the player presumably isn't particularly strong.
That said, at least six teams have reportedly expressed some degree of interest in Boeser, whose contract carries a $6.65-million salary-cap hit through 2024-25. Nobody's confusing him with a Selke Trophy candidate, but Boeser can wire the puck, scoring the equivalent of 30 goals over 82 games in multiple seasons. He's in his prime. Maybe all he truly needs is a fresh start.
As for landing spots, the Minnesota Wild come to mind immediately. The Wild could flip defenseman Matt Dumba ($6-million cap hit) or a draft pick to Vancouver for Boeser, a native of Burnsville, Minnesota. Dumba, a pending UFA, doesn't appear to be part of the Wild's future, and the club has so far failed to replace the offense it lost in the Kevin Fiala trade. The Canucks would probably choose the pick over Dumba because they are intent on clearing cap space.
The New York Islanders and Detroit Red Wings are two more teams with cap space and draft capital that could use a shoot-first winger. If either is OK with the contract and believes new surroundings can unlock Boeser's next level, a second- or third-round pick is worth sacrificing. Time to buy low.
Timo Meier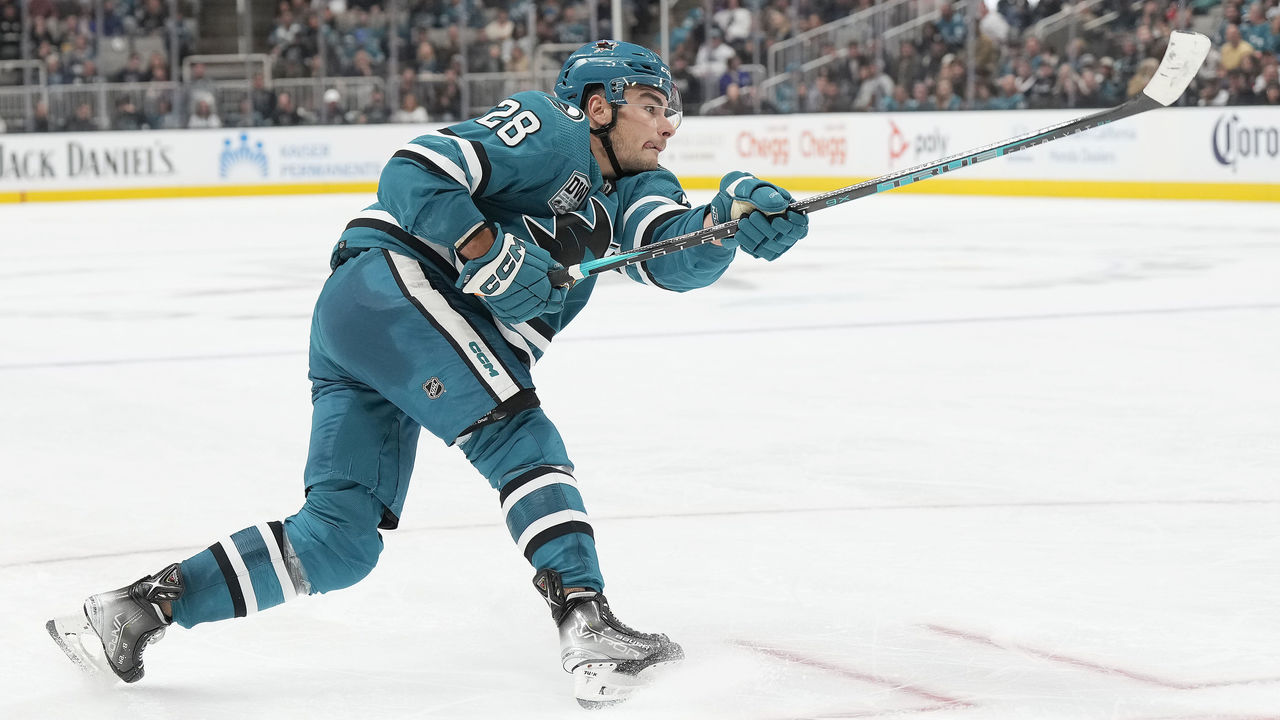 Facts of the situation: Meier is a first-line forward on pace for 70 points after establishing a new career high in points last season with 76 in 77 games. The 6-foot, 210-pound winger leads the league in shot attempts (233) and shots on goal (132) while playing roughly 20 minutes a night for the 8-16-4 Sharks.
San Jose is in transition and Meier is a pending restricted free agent one year away from UFA eligibility. Unlike other veteran Sharks, his four-year, $24-million deal doesn't include trade protection. Yet Meier's situation is not straightforward. He has a fair amount of power for an RFA. His qualifying offer would be $10 million because that's what he's making in actual dollars this season, plus he has arbitration rights.
Meier's agent, Claude Lemieux of 4sports Hockey, has said his client is open to re-signing with the Sharks. But Mike Grier, who took over as general manager in July, can't possibly commit big dollars and term to Meier, right?
San Jose is already paying Tomas Hertl, Logan Couture, Erik Karlsson, and Marc-Edouard Vlasic a combined $34.6 million next season. Trading Meier, as Grier did with Brent Burns this summer, would help refresh an old roster.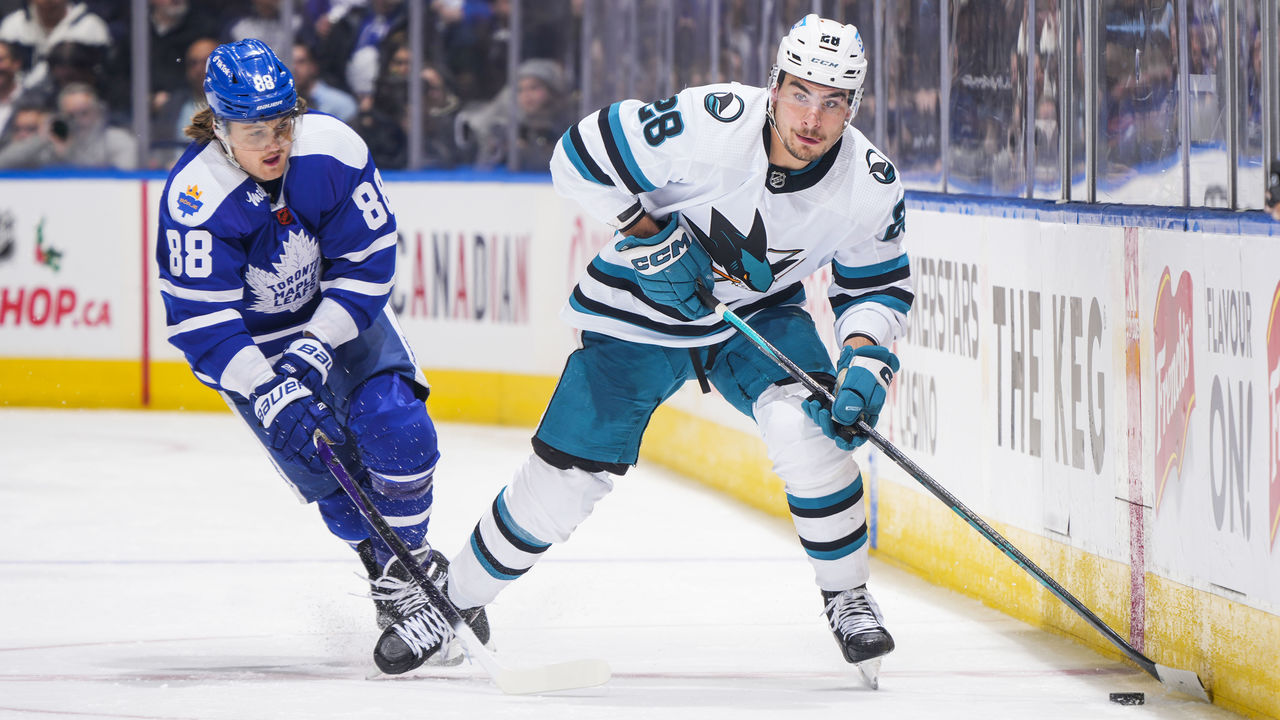 Context and landing spots: Grier let his GM peers know earlier this season that he'll listen to offers on pretty much any Sharks player not named Hertl, according to The Athletic's Pierre LeBrun. In late November, Daily Faceoff's Frank Seravalli reported it's more likely Meier moves than the red-hot Karlsson.
Meier is, by all accounts, Grier's prized trade chip between now and the deadline. The Sharks desperately need to restock the cupboard with quality prospects and early-round draft picks.
Considering his upcoming qualifying offer, the team acquiring Meier could work on the framework of a long-term extension as part of the trade. That club could offer security in exchange for a lower cap hit. There's a chance Grier waits until the offseason to unload Meier, although that option carries significant risk if the objective is to move the player before he's due for a hefty raise.
Meier fits the competitive timeline for most NHL teams because he is productive and relatively young at 26. The Anaheim Ducks, Seattle Kraken, and Columbus Blue Jackets all leap off the page as potential fits.
Rebuilding Anaheim has an open top-six spot and the cap space to lock up Meier over the long term. Seattle, on the rise, needs another game-breaking forward and can surely find a way to squeeze Meier under the cap. Columbus, struggling this season but arguably on a tighter timeline due to the recent Johnny Gaudreau signing, has the requisite picks and prospects to get a deal done. We all know Blue Jackets GM Jarmo Kekalainen loves to swing for the fences.
Jakob Chychrun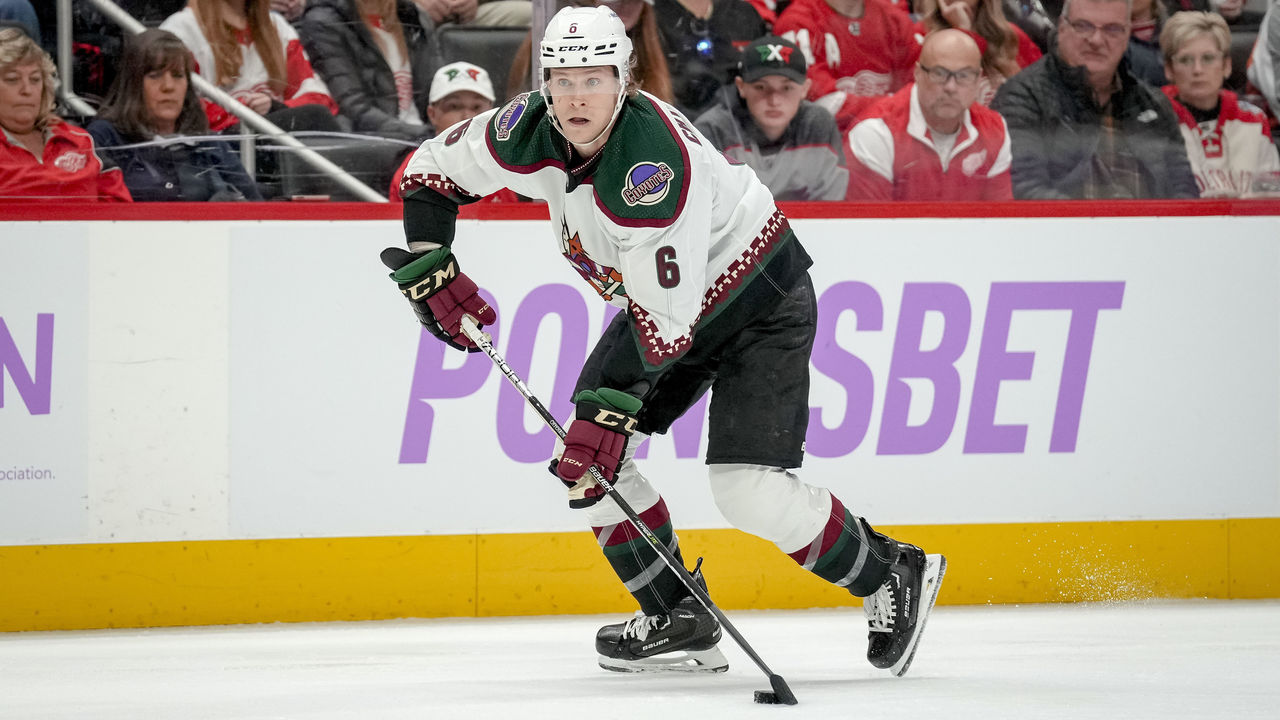 Facts of the situation: Chychrun is finally back in the Coyotes' lineup following offseason wrist surgery. He's played well through seven games, registering three goals, three assists, and 31 shots on goal in 22:25 a night.
This is Chychrun's seventh season on Arizona's blue line. The 24-year-old former first-rounder is an offensively minded player with impressive physical tools, the type of gunslinging defenseman who can quarterback a power-play unit. He led all rearguards with 18 goals in 2020-21 before seeing his production dip last year amid injury and trade rumors.
On one hand, Chychrun's career is littered with injury absences, which is not ideal. On the other, he's being paid $4.6 million annually through 2024-25, which is close to the ideal contract. Even contenders counting every penny this season can figure out a way to absorb that number with a little creativity.
Most importantly, Chychrun and Coyotes GM Bill Armstrong have talked publicly about moving on, removing any awkwardness. The player is sick of losing, and the team knows it can speed up the rebuild by trading somebody of Chychrun's caliber, especially when his contract is so attractive.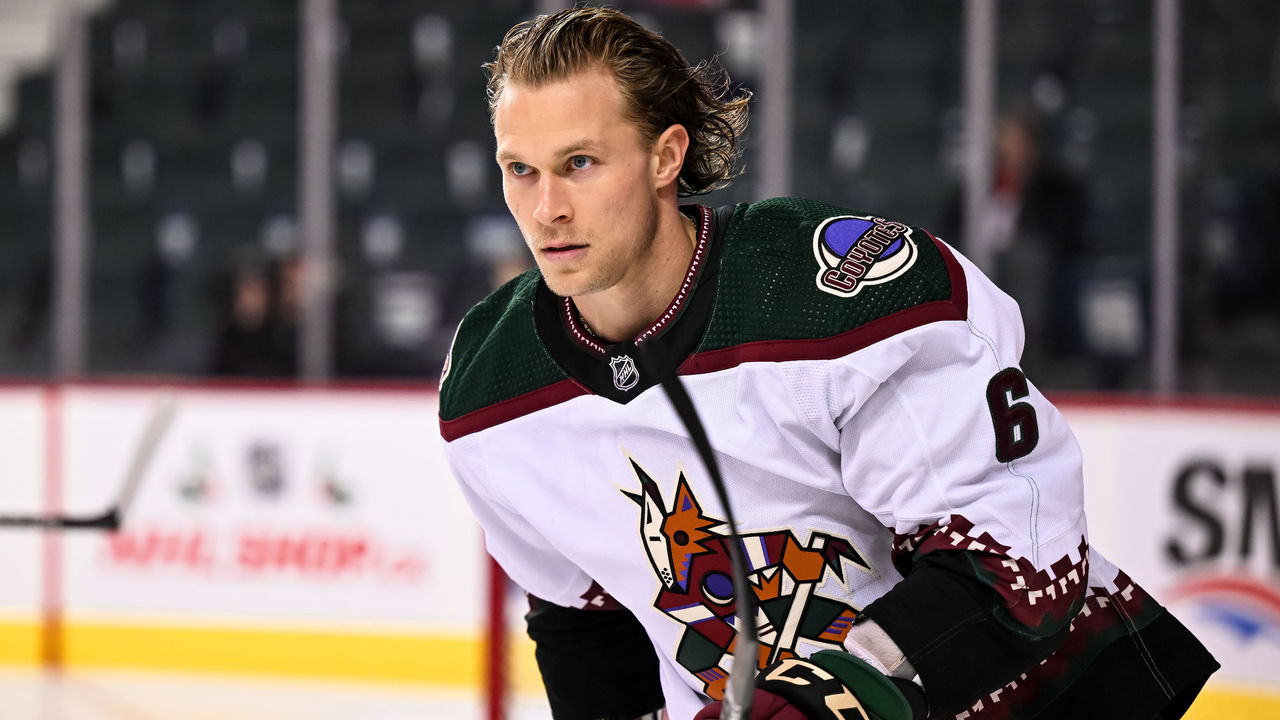 Context and landing spots: The Blue Jackets, Islanders, and Buffalo Sabres are among the teams interested in Chychrun, according to Sportsnet's Jeff Marek. Before the season, TSN's Darren Dreger listed the Blue Jackets, Los Angeles Kings, Ottawa Senators, Toronto Maple Leafs, St. Louis Blues, and Edmonton Oilers as Chychrun suitors. No doubt even more have checked in.
Friedman reported Armstrong is asking for two first-rounders - either future picks or prospects recently selected in the first round - plus "something else," so acquiring Chychrun won't be cheap. Given the asking price, he would likely be the only impact pickup the acquiring team could make midseason.
Chychrun wants to be moved to a contender. Without trade protection, though, he doesn't have much say in the matter. It's hard to project, but Armstrong will probably find common ground with a club that's past its bottoming-out phase and on track to building a sustainable contender.
The Sabres - who have an abundance of desirable assets, whether it be top-flight prospects or high picks - can offer a sexier package than, say, the Maple Leafs. Buffalo's top four already features Owen Power, Rasmus Dahlin, and Mattias Samuelsson. Wouldn't Chychrun look nice as the fourth piece? Also of note, Sabres ownership knows the Chychrun family really well.
Like the Sabres, the Kings have first-round picks and plenty of highly touted prospects. At the NHL/AHL level, L.A. has a surplus of right-handed defensemen. They'll move one eventually, and the Coyotes - who, let's face it, need help at every position - could definitely use a righty on the back end.
A third team to consider: the Blue Jackets. The rationale is similar to what's makes them a match for Meier. The GM isn't afraid to chase big fish, Chychrun's young enough to fit the team's timeline, and they need better defensemen.
John Matisz is theScore's senior NHL writer. Follow John on Twitter (@MatiszJohn) or contact him via email (john.matisz@thescore.com).