Brady Tkachuk is one of a kind as an NHL captain and personality
Richard A. Whittaker, Ethan Miller, David Kirouac / Icon Sportswire / Getty Images
The hockey world saw Tkachuk channel this energy when he ferried beers - plural - up the stairs at Calgary Flames home playoff matchups. By the time Matthew Tkachuk scored a hat trick in the Battle of Alberta opener, his brother had thrown merch to fans thronged outside the rink, hoisted someone's kid onto his shoulders in the crowd, and threatened to remove his shirt following an in-game national TV interview. Budweiser raced to sponsor him.
People called Tkachuk the main character of a postseason his own team missed by 27 points. That isn't to say he sought the spotlight.
"I definitely didn't want to distract. If it was distracting to Matthew, of course I would have been off the grid," Tkachuk said in an interview with theScore this summer, reflecting on the excitement he caused.
"But Matthew loved it. Matthew was like, 'You've got to keep doing it.' I just kept being myself."
Tkachuk is his team's first-line left winger and its center of attention. When the Ottawa Senators signed him long term a year ago, he shimmied at the home opener like Frank the Tank does in "Old School," foreshadowing how he'd celebrate some of his 30 goals last season. Few NHL players record as many shots, hits, or penalty minutes as Tkachuk. He's rowdy and doesn't stifle it.
He captains an ascendant squad. The Senators haven't sniffed the playoffs since Tkachuk was drafted in 2018, but general manager Pierre Dorion had a dominant summer, reeling in Claude Giroux in free agency and adding Alex DeBrincat and Cam Talbot in splashy trades.
Progress is expected now. The Senators have to move beyond the brutal starts to the year and roster upheaval that darkened the team's half-decade rebuild.
Exactly 100 players - 90 skaters and 10 goalies - suited up for Ottawa during Tkachuk's first four seasons.
The ones who know him well say he's an NHL original.
"He's a 23-year-old inside a 40-year-old's body and mindset. That's not easy to do. That's just him," Senators linemate Josh Norris said. "There's not many guys like him in the league. He can pass. He scores. He hits. He fights. He leads. We're lucky to have him."
Tkachuk's exploits galvanize Senators fans and enhance the family legacy. Keith Tkachuk, one of hockey's consummate power forwards, scored 538 goals and 1,065 points over his 18 NHL campaigns. Matthew cleared 40 goals and 100 points in 2021-22 before the Panthers acquired him in a July blockbuster. Bragging rights and divisional headway are on the line this season in Ottawa's three skirmishes with Florida.
All eyes will be on Brady Tkachuk in those games. Viewers will catch a glimpse of who he is.
"He's two different people. We like to say that about him," Taryn said.
"On the ice, he's this crazy teammate who will do anything for anyone. Off the ice, he does that too, but he's very loving and kind. I see him as a little bit of a softie. But I don't know if he wants people to know that."
There are four dimensions to Tkachuk's personality that endear him to Ottawans and sometimes make him go viral. Let's break them down.
The fiery competitor: When Brendan Lemieux bit Tkachuk's hand and he teed off postgame on the "brickhead" agitator, a fan paid Gilbert Gottfried to narrate the rant for laughs on Cameo. His 19 NHL fights include slugfests against Jacob Trouba, Shea Weber, and Blake Wheeler. Mark Stone used to house Tkachuk, so when he jumped to Stone's defense as a rookie, Tkachuk joked that his takedown of Justin Abdelkader amounted to a rent payment.
"It can go way back to my brother and I playing roller hockey (as kids). He was always older and always bigger than I was. He would always beat me," Tkachuk told theScore. "Usually, a couple tantrums followed. What drives me most is I don't like to lose."
The fun guy: Photographed celebrating without sleeves at Stone's wedding, Tkachuk duplicated the look in May when he poured drinks downtown to kickstart his offseason. Fresh off battling the Toronto Maple Leafs at home one Saturday night, he bought a New England Patriots vintage jacket off a bar patron and grabbed the mic to sing The Killers' early-2000s classic "Mr. Brightside."
"He'll take his shirt off, usually, when he sings that song," Taryn said. "He's a vibrant person. He gets everyone off their feet. People listen to him. People have a great time with him."
The beloved neighbor: Tkachuk remained in Stone's west-end house after Ottawa sent Stone to Vegas, then helped thrill the kids on the block. Tkachuk let them bombard the backyard with hats in 2021 - the neighboring Morrisey family's idea - when new tenant Tim Stutzle tallied three goals in an empty arena. Pulling into his driveway following a Sunday matinee win last season, Tkachuk came upon a street hockey game and joined in.
"He plays a physical, tough brand of hockey that's got to be tiring even if you're (23) - and took time out of his day to go play with neighborhood rugrats," said Andy Morrisey, an Ottawa realtor whose sons were part of the game. "Sure, that's an effective way of building a brand amongst kids. I'm sure that's in the back of his head. But he doesn't have to do that. They all know him. It was Brady being Brady. Not contrived, just authentic."
The hype man: Earlier that weekend, Tkachuk followed teammate Nick Holden to a local rink to see Holden's kids play youth hockey. When he skated in Michigan last fall to stay fit during his contract dispute, he did the same for the 12-year-old son of Nick Fohr, who coached Tkachuk at the U.S. National Development Team Program. Jaws dropped on the bench at the sight of what Fohr calls a genuine, goodhearted gesture.
"Being a player, sometimes you're put on a pedestal and think you're above everything else. But I'm just a normal guy. Just your usual average guy who's fortunate to do what he loves," Tkachuk said.
He added: "It's every kid's dream to meet an NHL player. For some kids, maybe they're a player that they really admire. I think that's important, to give back and share that memory with them. Usually with that stuff, watching games or playing ball hockey, I have as much fun as those kids do."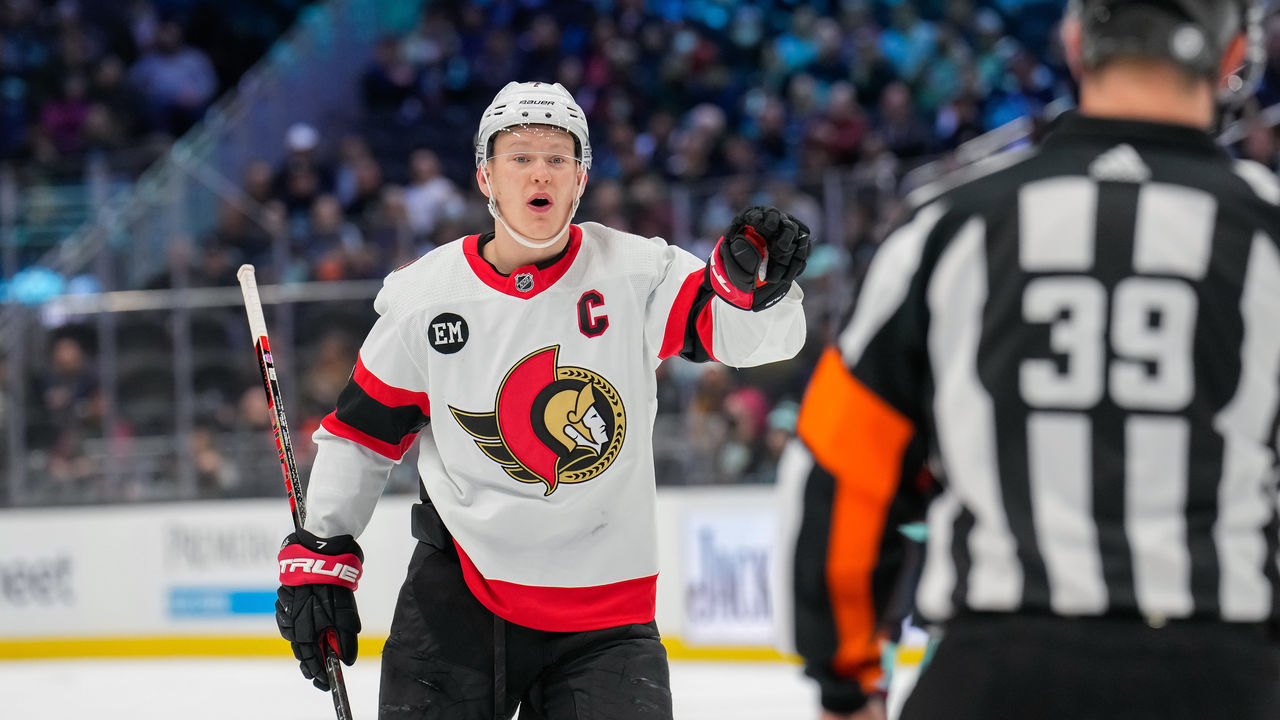 Tkachuk was born in Arizona halfway through his dad's NHL career and grew up in St. Louis while Keith starred for the Blues. Obviously, his childhood was rambunctious. Smaller than Matthew until he eventually sprouted to 6-foot-4, Tkachuk teamed with his sister to level the playing field in mini-sticks.
"We'd have holes in the walls from pushing people into them," Taryn said. "We made up this game - trampoline football - where we'd tackle each other."
Besides his dad, Tkachuk's favorite player was Barret Jackman, the rugged Blues defenseman and 2003 Calder Trophy winner who frequented his youth games. When Jackman celebrated Keith's 50th birthday at a Sens game in Nashville, Tkachuk scored on a redirect and crossed his arms into an "X" to signal to him in the stands.
"It seems like he wasn't a fun guy to play against," Tkachuk said about Jackman. "He did whatever it took to win and whatever it took to protect his teammates."
Tkachuk is wired that way - "He drags teams into the fight," Senators assistant general manager Trent Mann said - but his style is unique. He's probably the sport's most talented player who regularly drops the gloves.
Tkachuk's skill set fascinates Micah Blake McCurdy, the mathematician behind HockeyViz.com who described him on Twitter this summer as "he of the ludicrous shot generation and woeful finishing." He shuns defensive duties by playing low in the O-zone, but his passing's high-end. His relentless net drives fluster the opponent and lead to Ottawa power plays. Tkachuk shoots constantly to create rebounds and chaos; inevitably, some attempts go in.
"He knows he doesn't have a tremendously good shot for picking corners. He's playing in a very deliberate way. That applies to (Brendan) Gallagher also - and that's probably the end of the list for similar players in the league," McCurdy told theScore.
"What makes him so unusual is that it's a style most people could not possibly play even if they felt like it. A lot of players, they can't get the puck into those spots in tight to take those shots in the first place - let alone do it again and again and again and again."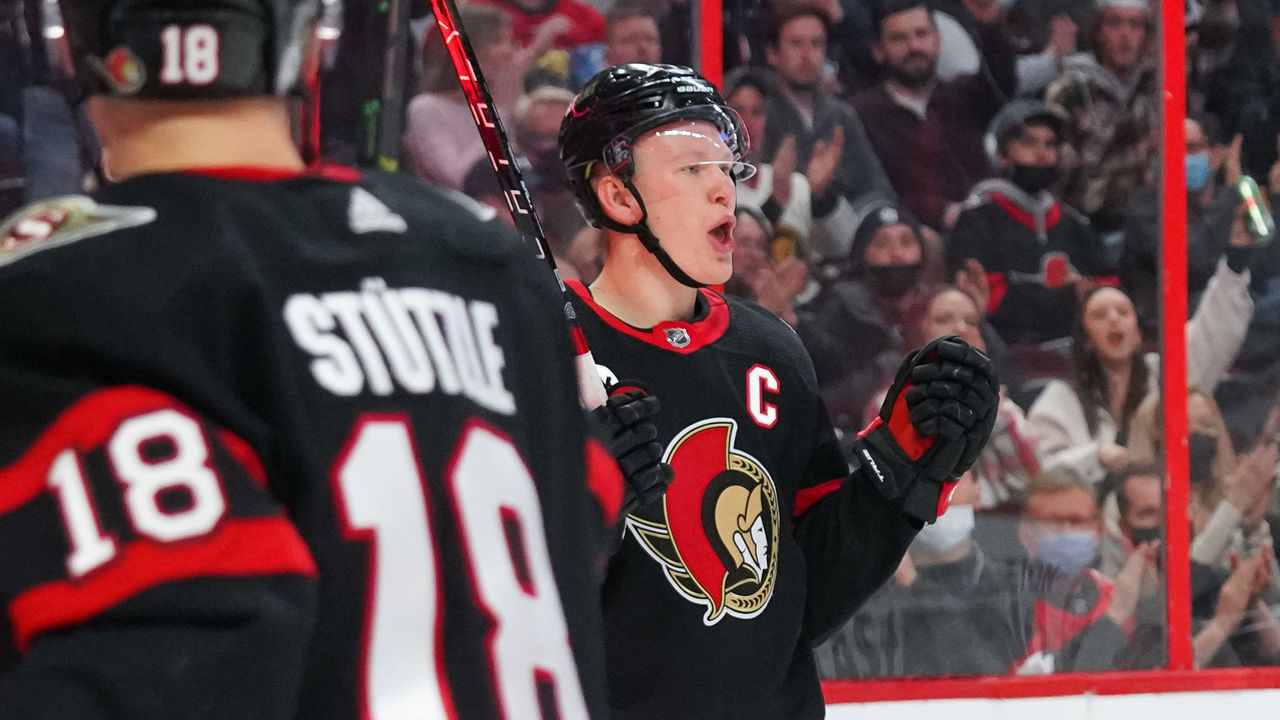 Tkachuk was 15 when he arrived at the USNTDP bent on establishing himself as a physical force. He lacked the strength to achieve that: "We referred to him at times as a wet noodle," Fohr said, describing a recurrent in-game sequence. Some big defenseman would knock over Tkachuk in front of the net and he'd clamber to his feet smiling.
Unshaken, Tkachuk grew into his frame and his destined role.
"The apple doesn't typically fall too far from the tree. That's the way his dad played. I think the (Tkachuk) boys, both of them, frankly, grew up idolizing their dad, as they should have," Fohr said.
"That was Keith's big strength, too - having a personality that was boisterous and out in front and in people's faces, yet understand how to do it where people like you."
The Atlantic Division got more pugnacious when Florida traded for Matthew, though the Tkachuks maintain that their mom, Chantal, would never let them fight each other. Matthew confirmed at the preseason NHL/NHLPA Player Media Tour that they won't scrap: "Absolutely, that rule is still in place." That didn't stop him from slashing his brother below the belt last winter upon being dumped to his backside in Calgary.
Playing with an edge is "what gets us into the game," Matthew told reporters at the media tour, speaking for Brady. Mann said Ottawa rebuilt its roster with that temperament in mind.
"We battle every night. When it's time to turn a corner and be a playoff contender, (that's) a quality that we're going to need to help us win. He allowed us to embed that in the direction that we were going to go with this team," said Mann, who drafted Tkachuk in 2018 as the Senators' chief amateur scout.
"You watch how Brady goes about his business. That's how we're going to play. And if you're not going to do that, that's fine, but you're going to be doing your thing somewhere else."
Tkachuk's first day in the NHL was chaotic. Training camp was hours old on Sept. 13, 2018 when Dorion traded Erik Karlsson, the captain and transcendent defenseman who carried the Senators to the brink of the Stanley Cup Final. The San Jose Sharks sent Norris - Tkachuk's best friend from the NTDP, Dorion noted at the time - to Ottawa in the seismic deal.
The face of the rebuild almost didn't notice.
"The nervousness was going through the roof," Tkachuk said. "I was more distracted with being overwhelmed and not sure what to do, where to go. We had some tough (off-ice fitness) tests that day, too. Had to make sure I did well on those."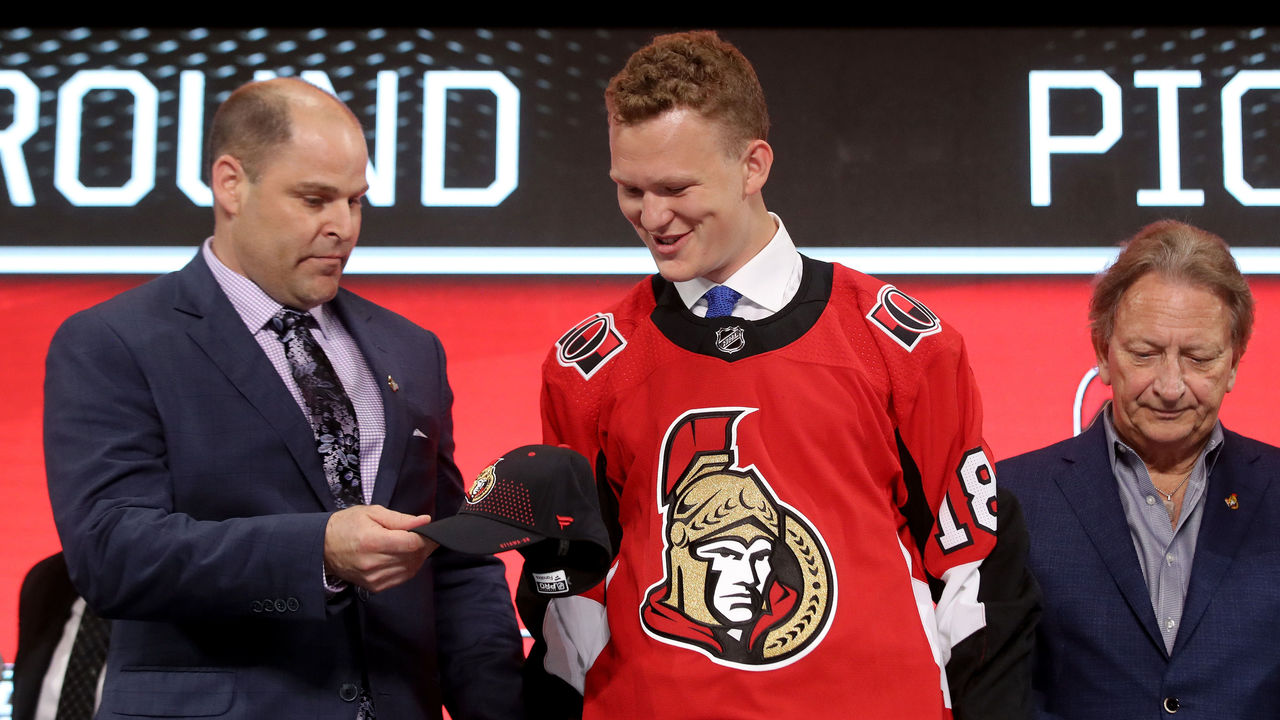 Tkachuk got to Ottawa at a miserable time in franchise history. Billboards urged Eugene Melnyk to sell the Senators after he threatened relocation. Hockey executive Randy Lee resigned for harassing a shuttle driver at the draft combine. Melnyk said the team was "kind of in the dumpster" in an in-house interview. Matt Duchene equated the waiving of popular veteran Zack Smith to "a kick in the balls," then trashed the Sens' coaching staff and defensive structure during the notorious Uber ride that was caught on camera.
Cratering in the standings and in the public eye, the club nailed draft day. Tkachuk was "our guy" in 2018, Mann said: Ottawa scouts prized his motor and playmaking and liked that he was a versatile scorer, projecting he'd bag goals in the NHL despite being held to eight as a Boston University freshman.
If Tkachuk was off the board at No. 4, Mann said, the Senators might have thought harder about ceding the pick to the Colorado Avalanche, which would have satisfied a condition of their Duchene trade. But the Montreal Canadiens chose Jesperi Kotkaniemi third and Ottawa jumped at the chance to add a difference-maker immediately. The Senators gave up their 2019 first-rounder instead to fulfill that trade condition.
"We needed core pieces to help us (rebuild). We don't know that there's going to be another Brady Tkachuk a year and a half down the road," Mann said, summarizing the front office's 2018 line of thinking.
"It seemed the timing was right for us: Let's get this moving and let's make sure we keep going in the right direction as soon as possible."
The Senators rave about Tkachuk's development. D.J. Smith, his head coach since 2019, said he's elevated his skating and now stays even-keeled through highs and adversity. Asked about Tkachuk in recent preseason media scrums, Norris hyped his linemate's offseason gains - "It seems like he gets bigger every time he comes back" - and Stutzle voiced his desire to step up and complement Tkachuk as a leader.
"He didn't have a training camp (last season). I think he's going to hit the ground running," center Shane Pinto said. "The ceiling's so high for Brady. He's just going to keep on getting better."
He's bred belief locally that Ottawa can win again. Mann said the eight-year extensions Norris and Stutzle inked this summer correlate directly to Tkachuk signing long term. Fans scarred by the dismantling of the 2017 conference finalist team have new stars to embrace, said Ross Levitan, co-host of the "Locked On Senators" daily podcast.
"Maybe he does, but I don't think he understands just how much he means to the city. This was a city without a true leader. (Thomas) Chabot is awesome, but there's this it factor with Brady Tkachuk," Levitan said. "Even as a fan, I'd run through a wall for him. That's just seeing him from the outside."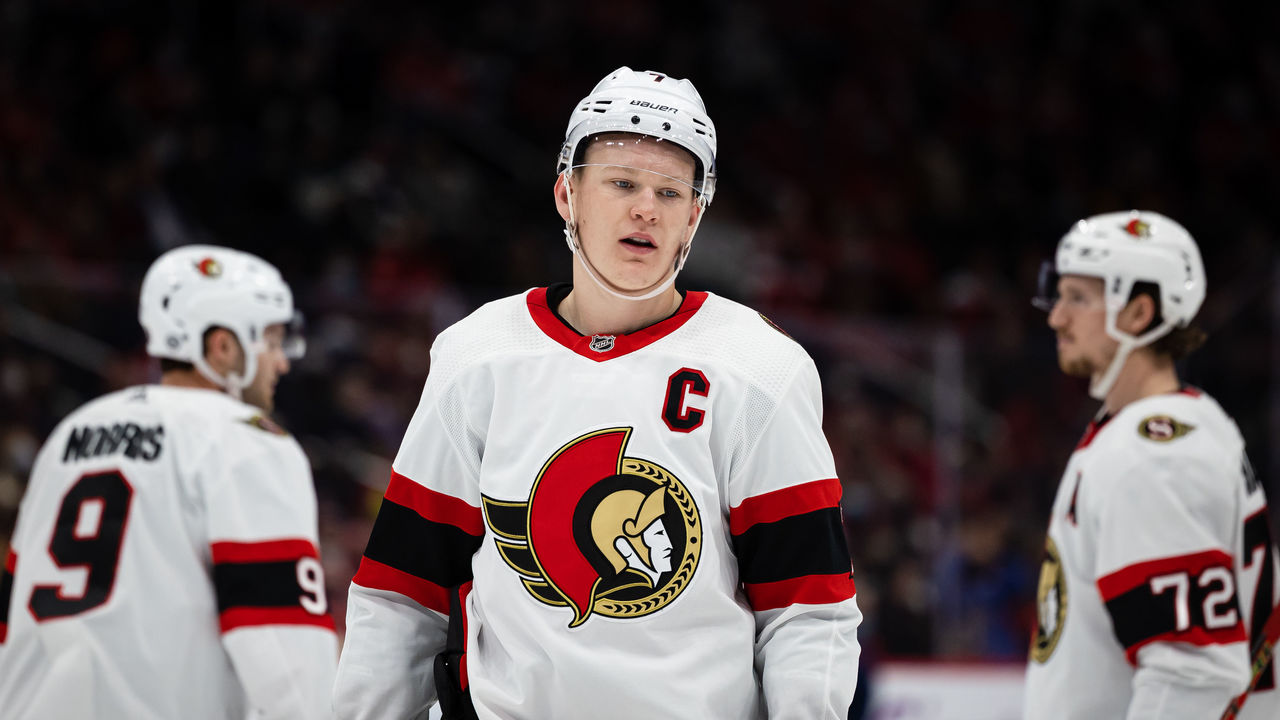 The Senators have playoff potential in 2022-23, but also questions to answer at all positions. Stutzle's talented new wingers, DeBrincat and Giroux, could take time to gel. Dorion's summer heat check didn't land the team a top-four defenseman. Talbot, acquired to share the net with Anton Forsberg, is expected to miss the next five-to-seven weeks with an upper-body injury he sustained in the preseason.
Separately, the NHL continues to investigate the sexual assault allegation against members of the 2018 Canadian world junior team. Ottawa forwards Drake Batherson and Alex Formenton, a restricted free agent who remains unsigned, played for Canada in 2018. Batherson told reporters he's cooperating with investigators. Dorion said the NHL ordered its teams not to comment.
Back in the summer, Tkachuk said he'd never been so excited to return to the rink. He'd endured hard, frustrating seasons with the rest of the young core. The group is tight-knit and raring to "prove to everybody that we're capable of accomplishing a lot."
His story mirrors that of the franchise.
"I think of a guy who's always battling against the odds. Initially, (Tkachuk) shouldn't have been drafted where he was. Then he's playing on a team that's no good. Then he's in charge at a young age," Levitan said.
"He's in charge of bringing this team back to respectability."
Toward the end of 2020, when Tkachuk headed north to play an NHL season in front of no fans, he emerged from 14 days of isolation at Stone's place and walked over to the Morrisey home. He knocked and invited their sons, Matthew and Nicholas, to play street hockey.
Norris - another temporary housemate - was the netminder. Tkachuk screened and chirped him while the Morrisey boys fired shots on goal.
Andy Morrisey and his wife looked out for the players after that. He smoked brisket and ribs and dropped off the odd meal to be sure they ate well. His sons made the players fudge using a cousin's recipe. They connected through backyard conversations and the Stutzle tribute.
Tkachuk moved out of Stone's house at the end of last season. Before he left, he handed the Morriseys a bottle of red wine with a note attached, thanking the parents for their friendliness.
"He is what you hope he is," Morrisey said, speaking as a fan who got to know Tkachuk. "From a neighborly perspective, that's what I can tell."
— With files from John Matisz
Nick Faris is a features writer at theScore.
Comments
✕
Brady Tkachuk is one of a kind as an NHL captain and personality
  Got something to say? Leave a comment below!