Predicting the top 5 scorers of the 2022-23 NHL season
National Hockey League / Getty
Scoring was up across the NHL last season, as eight players broke the 100-point barrier for the first time since 1995-96. From an entertainment standpoint, let's hope the offensive surge wasn't an outlier and that we get more of the same from the league's biggest stars starting in October.
There's no guarantee on who may or may not light the lamps next season - health is the biggest factor in production - but we're taking a stab at guessing this campaign's top-five point-getters. Our list is full of usual suspects, but alas, here's how we think the scoring race will shake out.
5. Kirill Kaprizov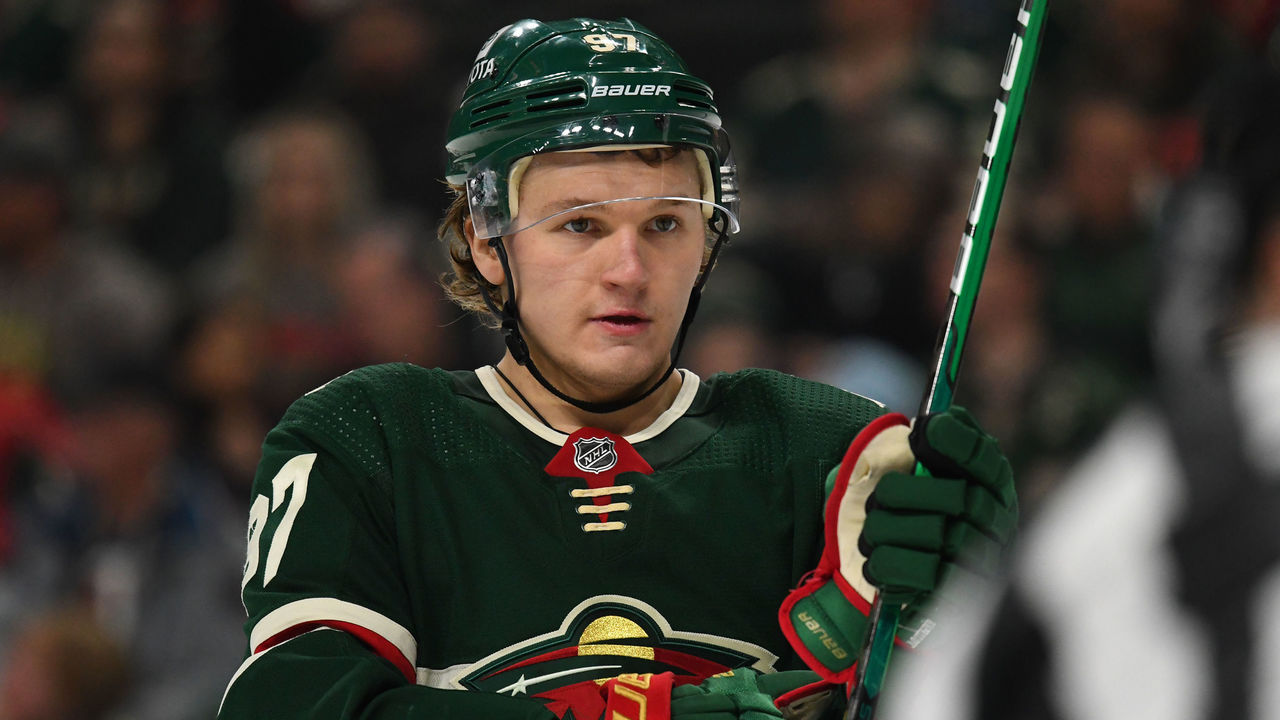 2021-22 stats: 81 GP, 47 G, 61 A, 31 PPP, 19:06 ATOI
Kaprizov was sensational in his first full NHL season, finishing fifth in the NHL with 108 points after winning the Calder Trophy a year prior. He scored 23 more points than the next most productive Minnesota Wild skater. Kaprizov achieved his monstrous numbers despite ranking 47th among all forwards in average ice time.
His production in limited minutes - Kaprizov slotted fifth league-wide in points per 60 (3.24) last season - is one of a few reasons the Russian should be counted on to push for an Art Ross. If he sees an increase in minutes, it's only natural to assume a player of his caliber will take advantage of a bigger role. Minnesota also lost a key contributor in Kevin Fiala this summer, meaning more of the offensive load will fall on Kaprizov's plate.
Kaprizov doesn't have the luxury of a deep cast of offensive catalysts on his team like the players ranked ahead of him on this list. He's projected to share the Wild's top line and first power-play unit with Ryan Hartman and Mats Zuccarello. Kaprizov is unquestionably the guy in Minnesota, and making him an even bigger centerpiece of the attack should lead to fireworks.
4. Nathan MacKinnon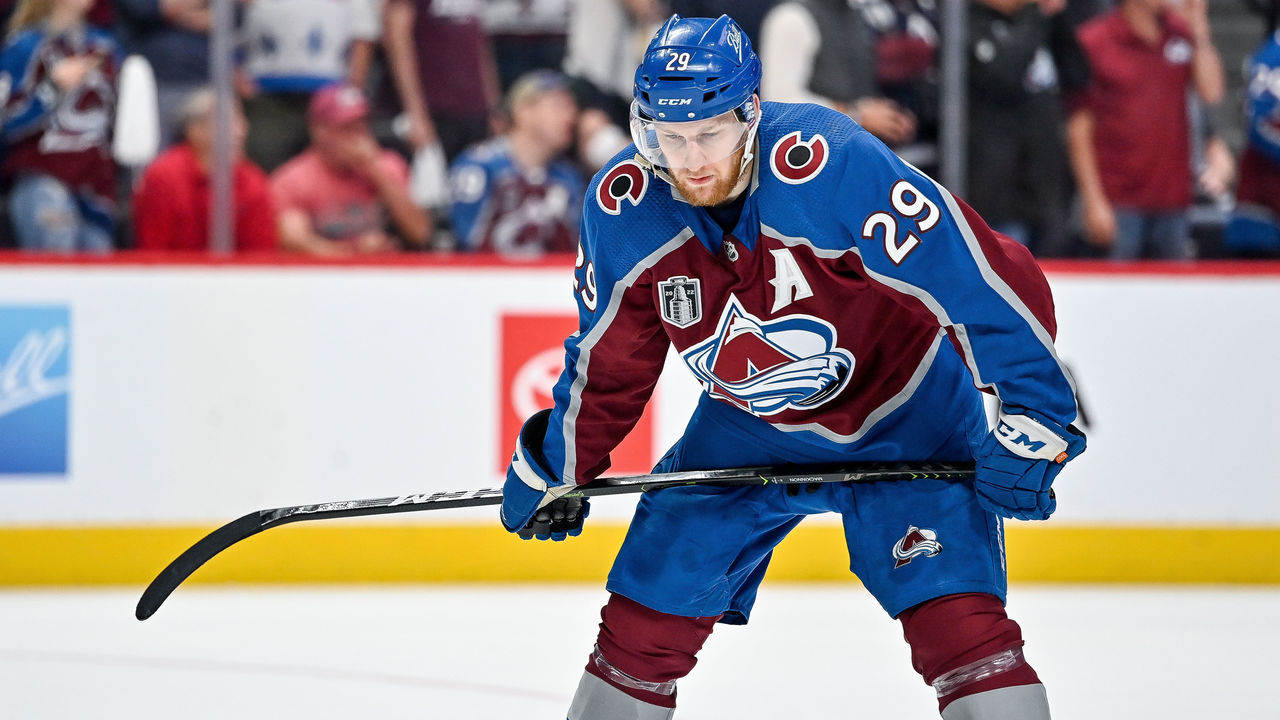 2021-22 stats: 65 GP, 32 G, 56 A, 27 PPP, 21:04 ATOI
Stanley Cup? Check. Richest contract in the league coming his way? Check. MacKinnon has virtually nothing left to accomplish in the hockey world after a gigantic summer, but we all know he's not the type to rest on his laurels. In our minds, his recent accomplishments should leave him unencumbered to achieve one thing that's surprisingly eluded him throughout his career: a 100-point season. MacKinnon has been on pace to reach the century mark in each of the past three campaigns but came up short due to the pandemic and injury. The closest he's come is recording 99 and 97 points.
There are no hot takes required to justify this selection. MacKinnon is on the shortlist for best-player-in-the-world status. He owns a 1.35 points-per-game rate over the past three seasons combined. He's the focal point of the league's most dangerous offense. He's fresh off lighting the playoffs on fire. And he'll be motivated as anyone to get back to hockey's summit. There's no need to overthink this.
3. Auston Matthews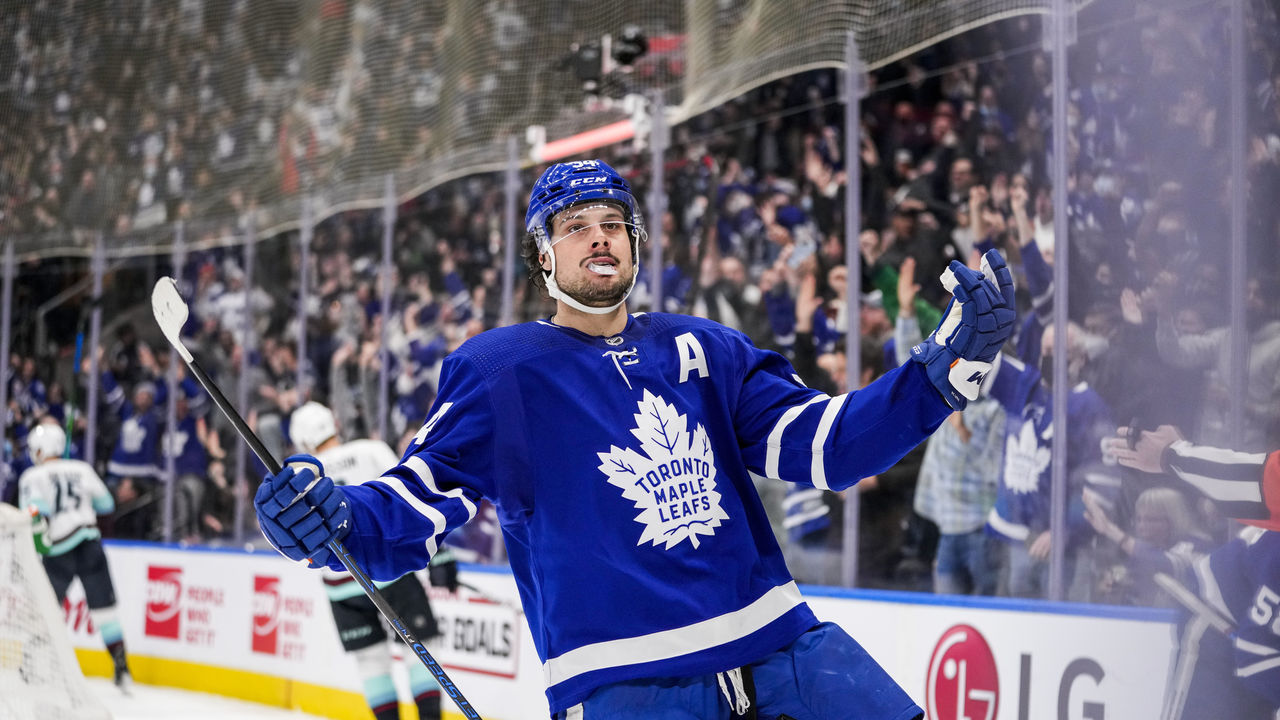 2021-22 stats: 73 GP, 60 G, 46 A, 29 PPP, 20:37 ATOI
Matthews provided the NHL's first 60-goal campaign in a decade and topped the 100-point mark for the first time last season. We think he's in store for even bigger things in 2022-23. The reigning MVP finished sixth in scoring (and third in points per game) last campaign despite recovering from an early-season wrist injury that limited him to only two points in six games in October. If Matthews is full speed for 82 contests, the sky is the limit.
Although the Toronto Maple Leafs iced the league's top power-play unit a season ago, Matthews managed a modest 29 points on the man advantage - good for 16th in the NHL and second among Toronto skaters. If Matthews catches a few more breaks while the Leafs are up a man, he's almost a lock to establish new career highs due to his even-strength dominance. He ranked third with 77 even-strength points in 2021-22, and his five-on-five expected goals mark of 64.16% was the best in the league among players to log over 1,000 minutes.
Matthews is the odds-on favorite to capture a third consecutive goal-scoring crown, but we estimate this is the year he'll throw his hat in the ring for the Art Ross as well.
2. Leon Draisaitl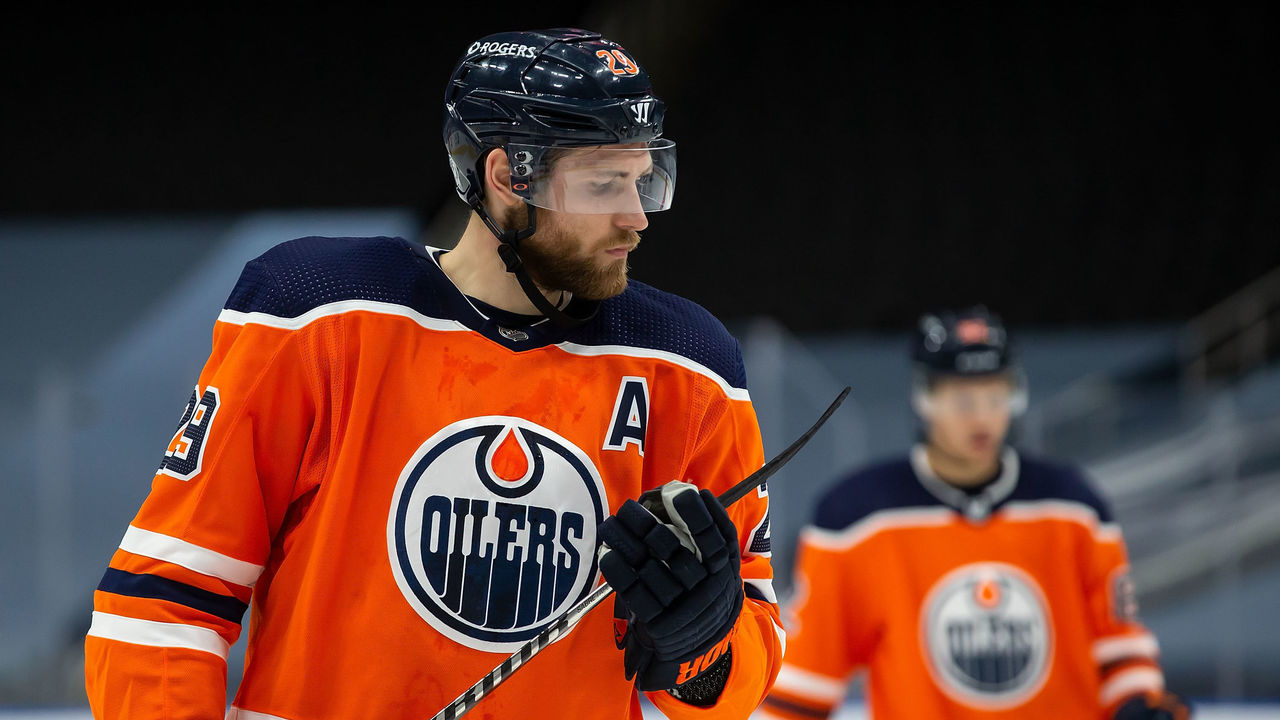 2021-22 stats: 80 GP, 55 G, 55 A, 41 PPP, 22:21 ATOI
Given that only one of the last six Art Ross winners has played on a team outside of Edmonton, you probably could have guessed who our top two candidates are before even opening this list.
Draisaitl's racked up 409 points in 289 games since 2018-19. Sure, he shares a lot of ice time with the best player in the world, but the Oilers' dynamic sidekick deserves his fair share of credit as one of the most gifted talents in the game. If he keeps going at the rate he's established, it's safe to say he's on the fast track to the Hockey Hall of Fame.
The German is one of the league's top marksmen but also has the intelligence to set up teammates with ease - as evidenced by his 32 playoff points this past spring while visibly fighting through a high ankle sprain. Draisaitl hasn't finished outside the top five in scoring since the 2017-18 campaign. Barring something completely unforeseen, there's no reason to believe he won't be there again this coming season.
1. Connor McDavid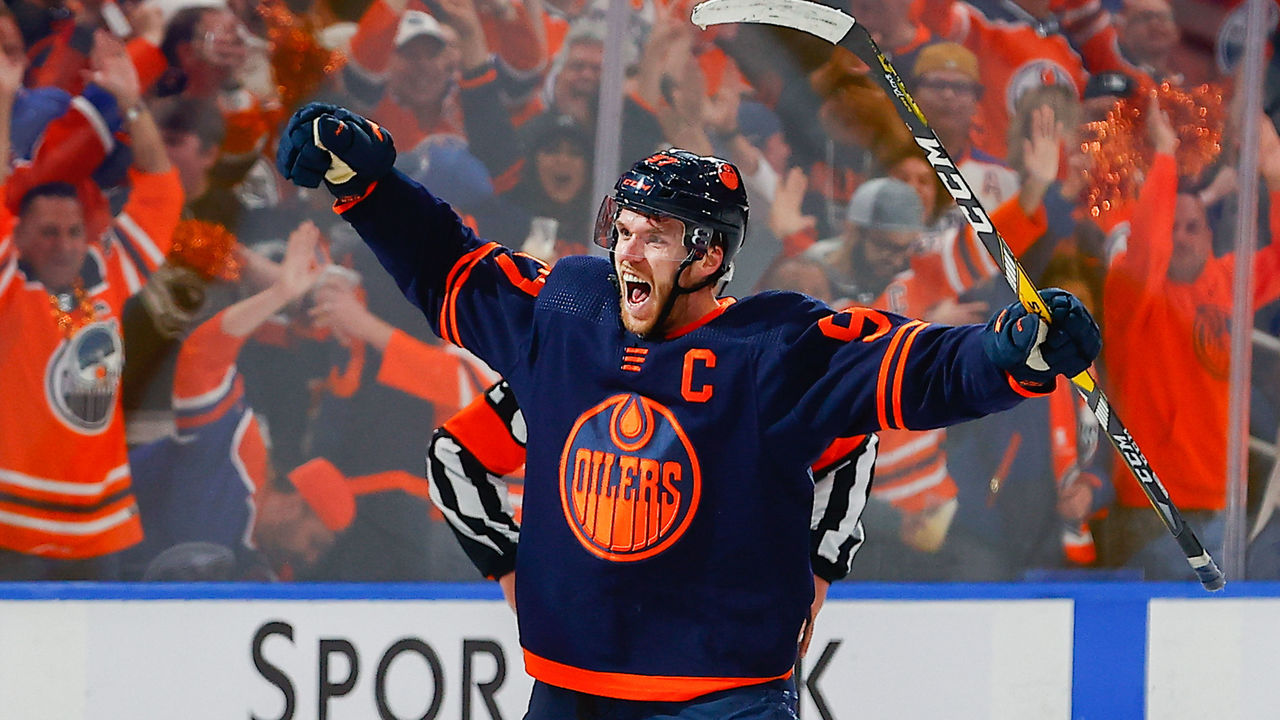 2021-22 stats: 80 GP, 44 G, 79 A, 44 PPP, 22:04 ATOI
Shocker, we know.
McDavid is fresh off his fourth scoring title in seven years and set new career highs across the board. No. 97 has become so dominant offensively that nothing he can do from here on out will surprise the hockey world. But it's important that fans and pundits alike relish in his excellence while he's still in his prime. For context, McDavid is approaching the 500-game mark, and his career 1.43 points-per-game clip is good for fourth in league history. He trails only Wayne Gretzky (1.92), Mario Lemieux (1.88), and Mike Bossy (1.49) in that department.
McDavid's 123 points last season were the third most of the salary cap era. Shortened seasons aside, the 25-year-old has set a new career high every campaign, so the 130-point barrier is certainly in play in 2022-23 if he suits up for 82 games.
While McDavid has been viewed as an elite setup man throughout his career, we may see a slight changing of the guard this season. He said at the NHL's media tour that he devoted plenty of time this summer studying different ways to score goals and has flirted with the idea of being "a little more selfish" on the ice.
Good luck, opposition.
Just missed the cut:
Nikita Kucherov, Lightning
Mitch Marner, Maple Leafs
Artemi Panarin, Rangers
Mikko Rantanen, Avalanche
Aleksander Barkov, Panthers
(Advanced stats source: Evolving-Hockey, Natural Stat Trick)
Comments
✕
Predicting the top 5 scorers of the 2022-23 NHL season
  Got something to say? Leave a comment below!