Ranking the NHL's 10 best lines heading into 2022-23
Mark Blinch / National Hockey League / Getty
Every offseason brings changes that completely dismantle or fundamentally alter some of the previous campaign's dominant forward lines.
Luckily for us, many top lines stayed intact or were enhanced over the summer.
From old faces to new, here are the top 10 lines entering the 2022-23 season.
Statistics guide:
GP = Games played together
TOI = Total time on ice together
GF% = Goals for percentage
xGF% = Expected goals for percentage
SCF% = Scoring chances for percentage
All chart figures are 2021-22 regular-season numbers as a line at five-on-five unless otherwise indicated
10. Gaudreau-Jenner-Laine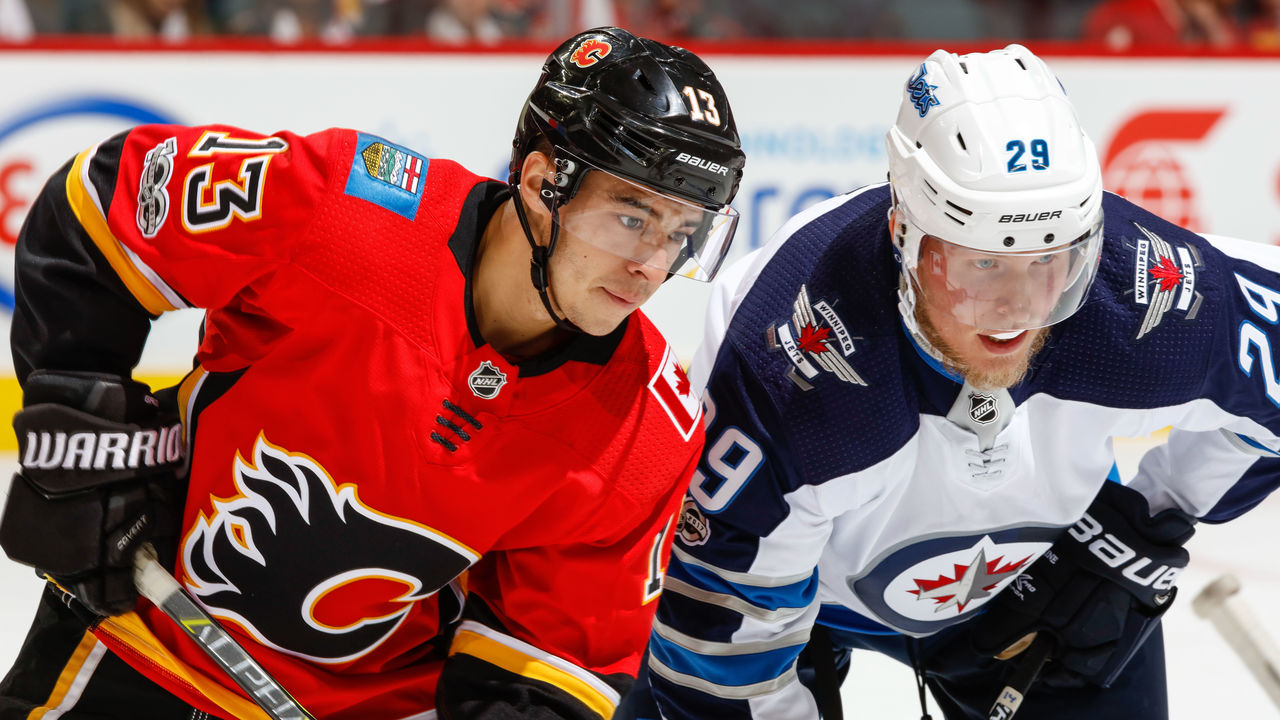 Combined cap hit: $22.2 million
Columbus Blue Jackets head coach Brad Larsen opted to start the preseason with Johnny Gaudreau and Patrik Laine, his top two offensive weapons, on the same line. We think that's a good idea.
Laine has never hit the 50-goal mark and hasn't reached 30 since the 2018-19 campaign while with the Winnipeg Jets. An argument could be made that the Blue Jackets aren't deep enough to justify loading up the top line, but if Gaudreau is the key to unlocking Laine's full productivity, isn't that worth it? Laine has just 36 goals in 101 games with the Blue Jackets, and his goals-per-game rate has slipped from 0.46 with Winnipeg to 0.36 with Columbus. Gaudreau is a savvy playmaker who accrued 115 points last season, including 56 assists at even strength.
It doesn't really matter who goes in between the pair of All-Stars. Boone Jenner was tapped for the job to start the preseason, and he and Laine played almost 500 minutes together at five-on-five last campaign. Jenner missed the last two months of the 2021-22 season with a back injury but was on pace to best his previous career high of 49 points. If he stays healthy and spends the season with Gaudreau and Laine, he'll no doubt shatter that total. In any case, the three of them are currently the only Blue Jackets forwards signed until at least 2025-26, so they may as well get used to playing together.
9. Huberdeau-Lindholm-Toffoli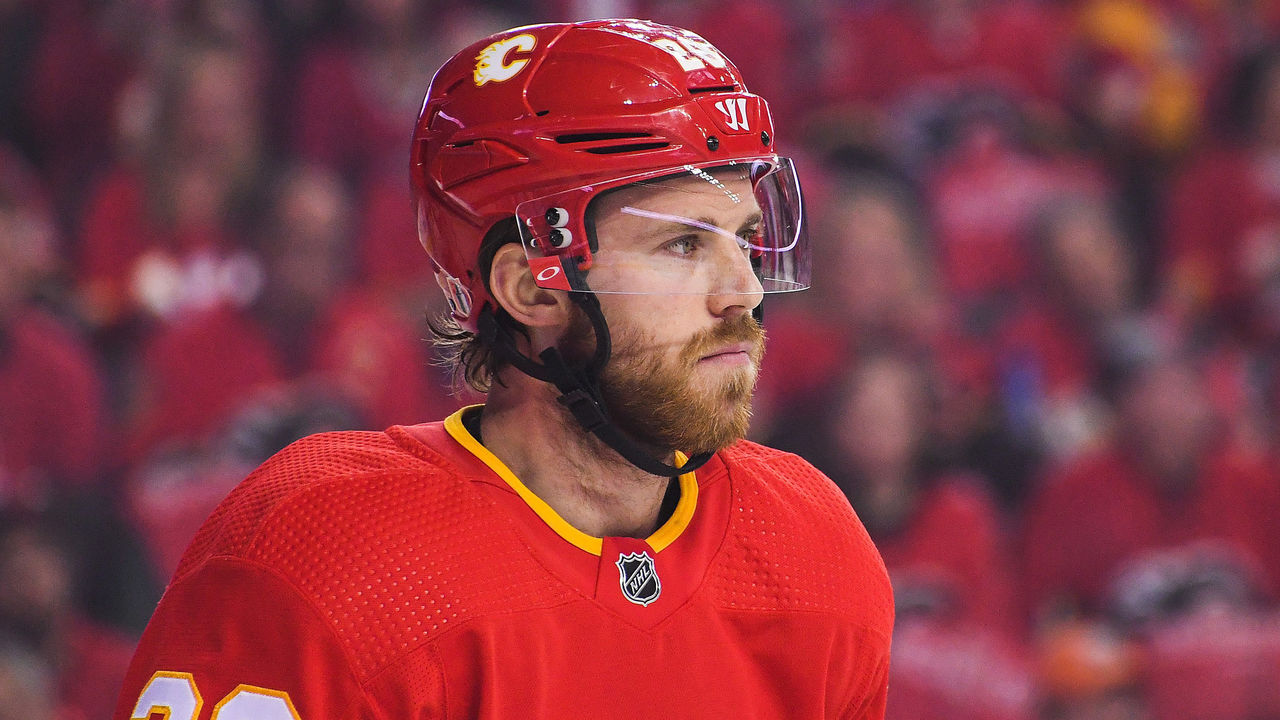 Combined cap hit: $15 million
Elias Lindholm is the last man standing from the Calgary Flames' dominant top line last season. The Flames lost a combined 219 points when wingers Johnny Gaudreau and Matthew Tkachuk left this summer, but acquiring Jonathan Huberdeau helped launch them back into the contention conversation. The best way to deal with the loss of a 115-point winger (Gaudreau) is by replacing him with another 115-point winger (Huberdeau).
Now, Tyler Toffoli can't totally make up for the loss of Tkachuk. Toffoli potted 14 points in his first 15 games with the Flames after they acquired him from the Montreal Canadiens in February, but he struggled down the stretch and into the playoffs. However, Toffoli is a Stanley Cup champion who is a frequent member of the 20-goal club. He potted 28 tallies in 52 contests with the Canadiens in 2020-21 and can potentially score 30 by moving up the lineup in Calgary.
With Lindholm in the middle, this line is bursting with potential. The center potted a career-high 42 goals in 2021-22 and received his first nomination for the Selke Trophy after being a two-way force for the Flames all season. Toffoli and Huberdeau didn't have as strong underlying possession stats as the wingers they're replacing, but Lindholm is a stabilizing presence.
8. Guentzel-Crosby-Rust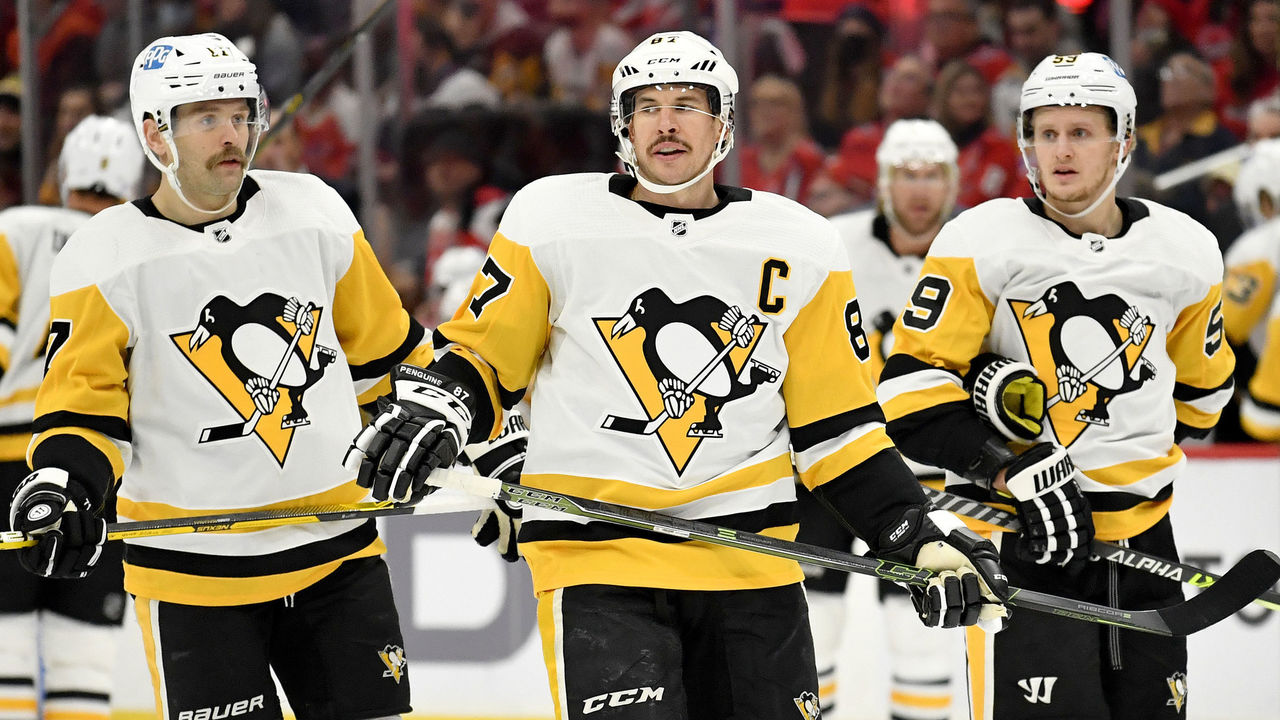 | GP | TOI | GF% | XGF% | SCF% |
| --- | --- | --- | --- | --- |
| 53 | 530 | 55.6 | 51.1 | 53.9 |
Combined cap hit: $19.83 million
The Pittsburgh Penguins' top unit didn't boast the gaudiest underlying numbers during the regular season, but Jake Guentzel, Sidney Crosby, and Bryan Rust forced their way onto this list by virtue of their performance in the playoffs.
In six games against the New York Rangers in the opening round, the Penguins controlled 70% of the goals, 78.4% of the expected goals, and 73.1% of the scoring chances with the trio on the ice at five-on-five. The Penguins' GF% and xGF% dropped by around 20% each without Guentzel, Crosby, and Rust there to stymie the Rangers' offensive weapons.
Before forming one of the most dominant lines in the playoffs - albeit only for one round - Crosby produced at a clean 1.22 point-per-game rate in the regular season, while Guentzel and Rust each had the most productive campaigns of their careers (84 points in 76 contests and 58 in 60, respectively). Luckily for Pittsburgh, Rust signed a six-year, $30.75-million extension this summer, so we can see even more of this line in 2022-23.
7. Robertson-Hintz-Pavelski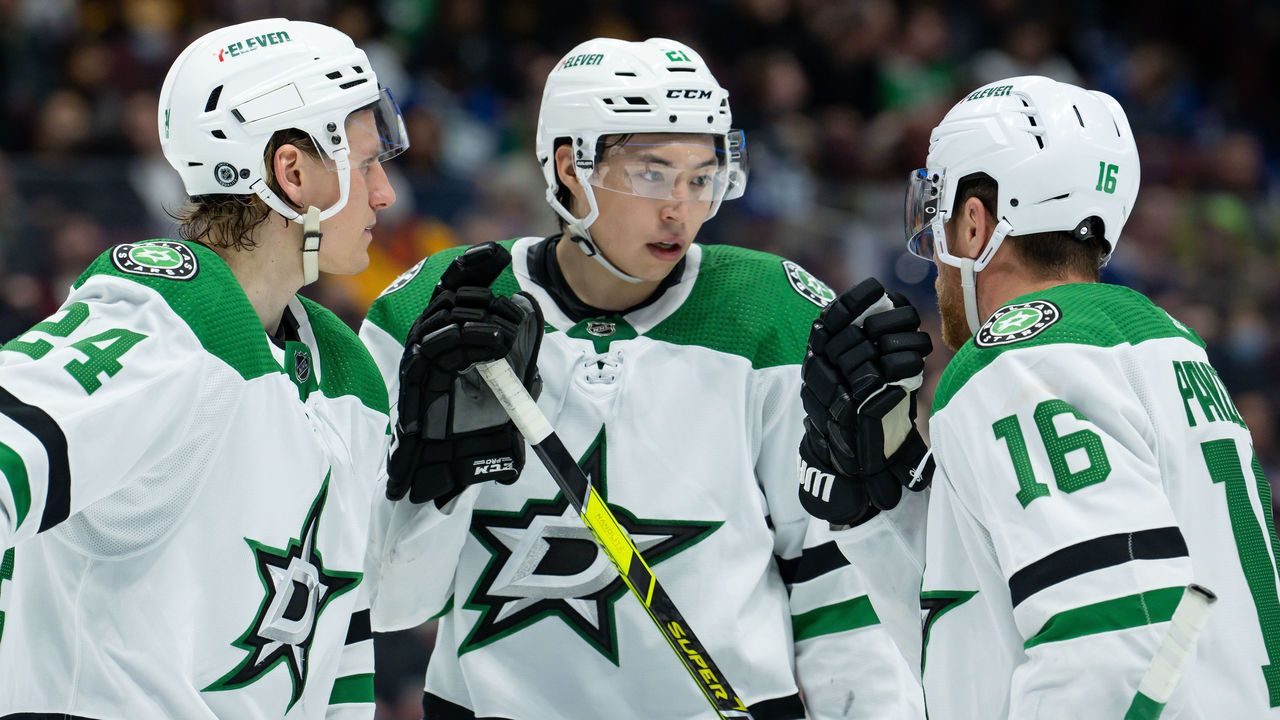 | GP | TOI | GF% | XGF% | SCF% |
| --- | --- | --- | --- | --- |
| 72 | 786 | 59.3 | 58.9 | 61.2 |
Combined cap hit: N/A
Jason Robertson, Roope Hintz, and Joe Pavelski are the most utilized line on this list and were the second busiest group in the NHL last season, behind only the now-defunct Gaudreau-Lindholm-Tkachuk line.
There's a lot to love about this unit. Robertson led the Dallas Stars with 41 goals in 74 games last season, Pavelski paced the team with 81 points in 82 contests, and Hintz nearly cracked 40 goals himself. Dallas was also kind of a mess without its top line: Of all the Stars' forward lines to log at least 100 minutes together at five-on-five, they were only able to convincingly direct play with Robertson, Hintz, and Pavelski on the ice. The team's GF%, xGF%, and SCF% all dipped below 50% whenever the unique trio was on the bench.
Of course, there's a major caveat here: Robertson remains an unsigned restricted free agent, so Hintz has been getting some reps alongside newcomer Mason Marchment and Denis Gurianov at training camp. Depending on how much time Robertson misses, the new trio may build enough chemistry to justify breaking up last year's top unit. However, the Stars can be certain they have an effective top-line option to fall back on once Robertson returns to the fold.
6. Kaprizov-Hartman-Zuccarello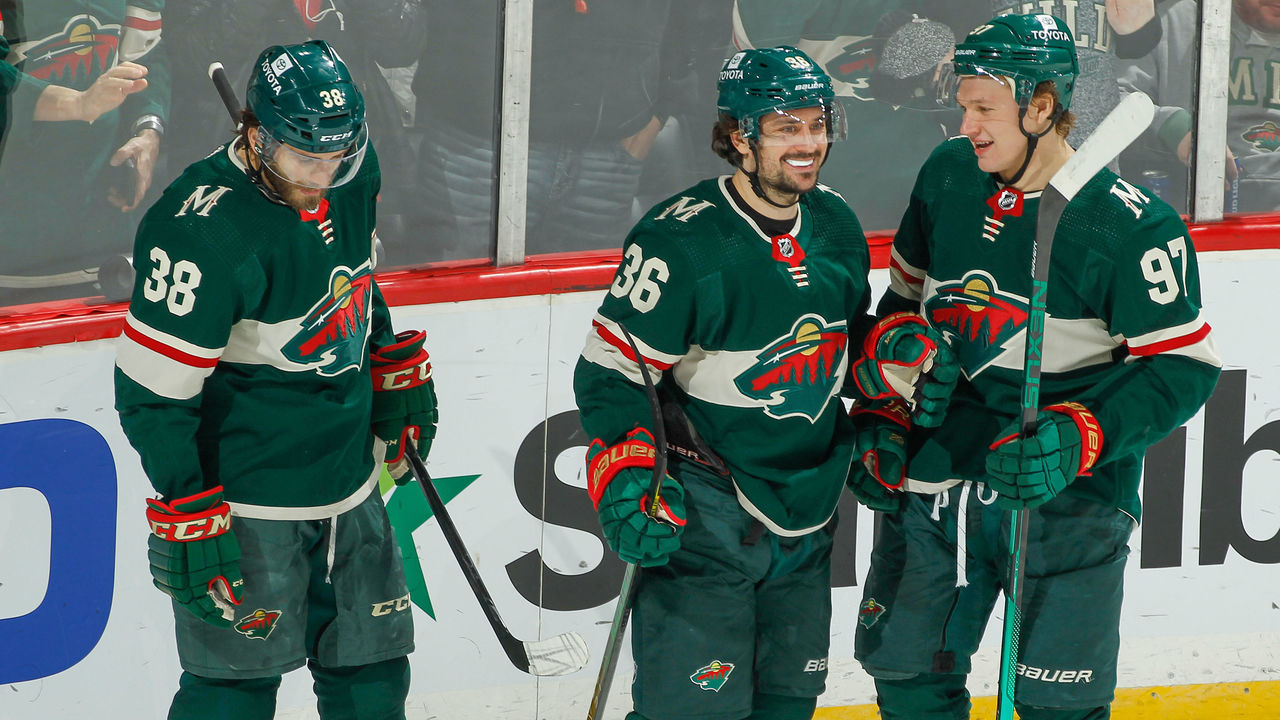 | GP | TOI | GF% | XGF% | SCF% |
| --- | --- | --- | --- | --- |
| 69 | 639 | 64.9 | 54.1 | 57.1 |
Combined cap hit: $16.7 million
Kirill Kaprizov, Ryan Hartman, and Mats Zuccarello saw almost 90 minutes of game action at five-on-five in 2020-21 and posted some strong underlying numbers. When head coach Dean Evason reunited them in late November, they proved their chemistry was no fluke.
Kaprizov and Zuccarello have always clicked, but Hartman is way more than just a warm body between them. Top two-way center Joel Eriksson Ek got the first crack at the coveted spot in 2021-22, but it didn't really pan out: The Wild were outscored 6-2 in the 86 minutes that Kaprizov, Eriksson Ek, and Zuccarello played together at five-on-five, as the team was handcuffed by a shooting percentage of 4.35% with the three on the ice. What's more, without Hartman between Kaprizov and Zuccarello, Minnesota only controlled 45% of the goals at five-on-five.
The spotlight will always burn brightest on Kaprizov, but Hartman managed to grab a couple headlines of his own after the hard-nosed grinder potted a career-high 34 goals and 65 points in 82 games. Hartman seemed to be on a hot streak for the entire season - he only went three games or more without registering a point twice - but it will be interesting to keep an eye on his shooting percentage, which was a career-high 14.2% in 2021-22. His average before last season was 9%, so we'll see if potential regression impacts his place on the team.
5. Kane-McDavid-Yamamoto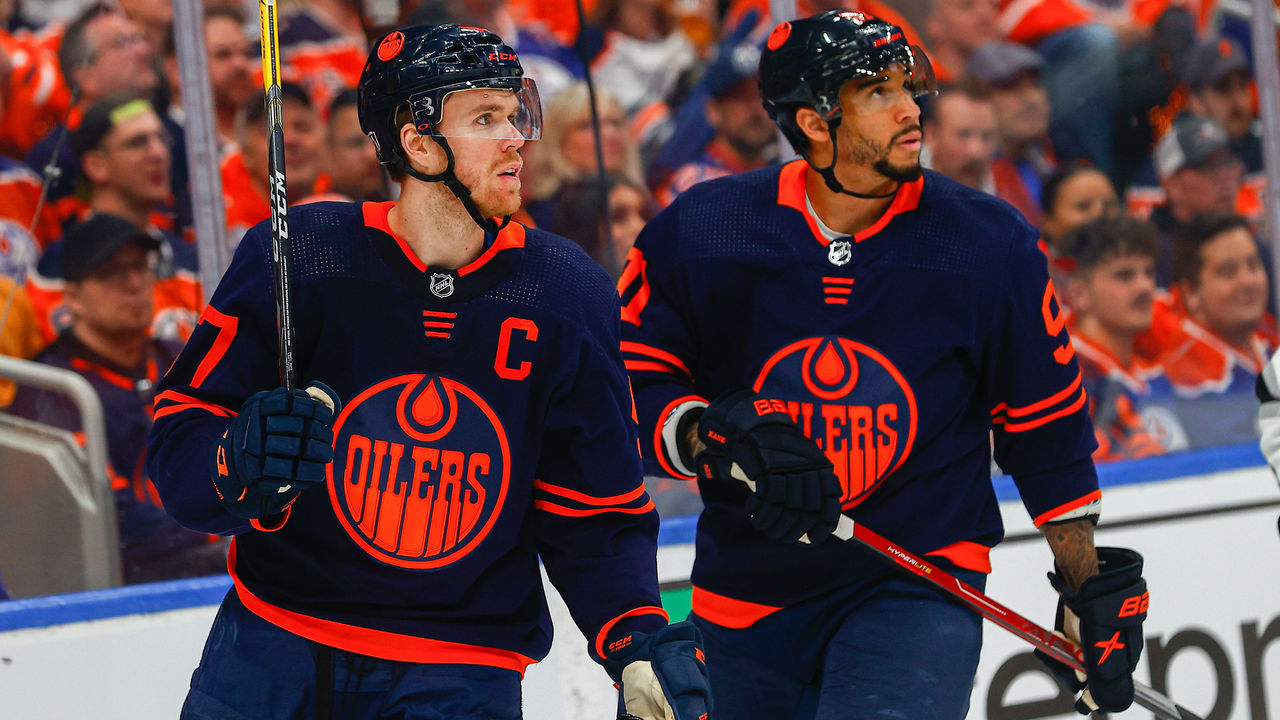 | GP | TOI | GF% | XGF% | SCF% |
| --- | --- | --- | --- | --- |
| 41 | 193 | 65.4 | 60.8 | 54 |
Combined cap hit: $20.73 million
Playing on Connor McDavid's wing is one of the cushier jobs in the NHL, and Evander Kane is extremely good at reaping the benefits. After signing with the Edmonton Oilers in January, Kane spent the bulk of his time on a line with McDavid and rattled off 22 goals and 17 assists in 43 contests, which put him on pace for a career-high 74 points over a full 82-game season.
Kane took another step in the postseason while playing with McDavid and Leon Draisaitl, tying Nathan MacKinnon for most playoff goals (13) despite playing in five fewer games. The Oilers were able to re-sign Kane in July, which is good news for Edmonton: Just as a duo, he and McDavid generated 4.3 goals for per 60 minutes in the regular season and a whopping 5.88 goals for per 60 minutes in the playoffs.
McDavid and Kane have some serious chemistry, and it's terrifying to think their bond can grow even stronger with a full season ahead of them. Whoever takes the spot on their right wing is in for a good time, and for now, it looks like that person is Kailer Yamamoto. He isn't the focal point of the line, but he doesn't have to be. Edmonton can also try Zach Hyman or Jesse Puljujarvi in that spot, but either way, this line will be a force to be reckoned with.
4. Marchand-Bergeron-DeBrusk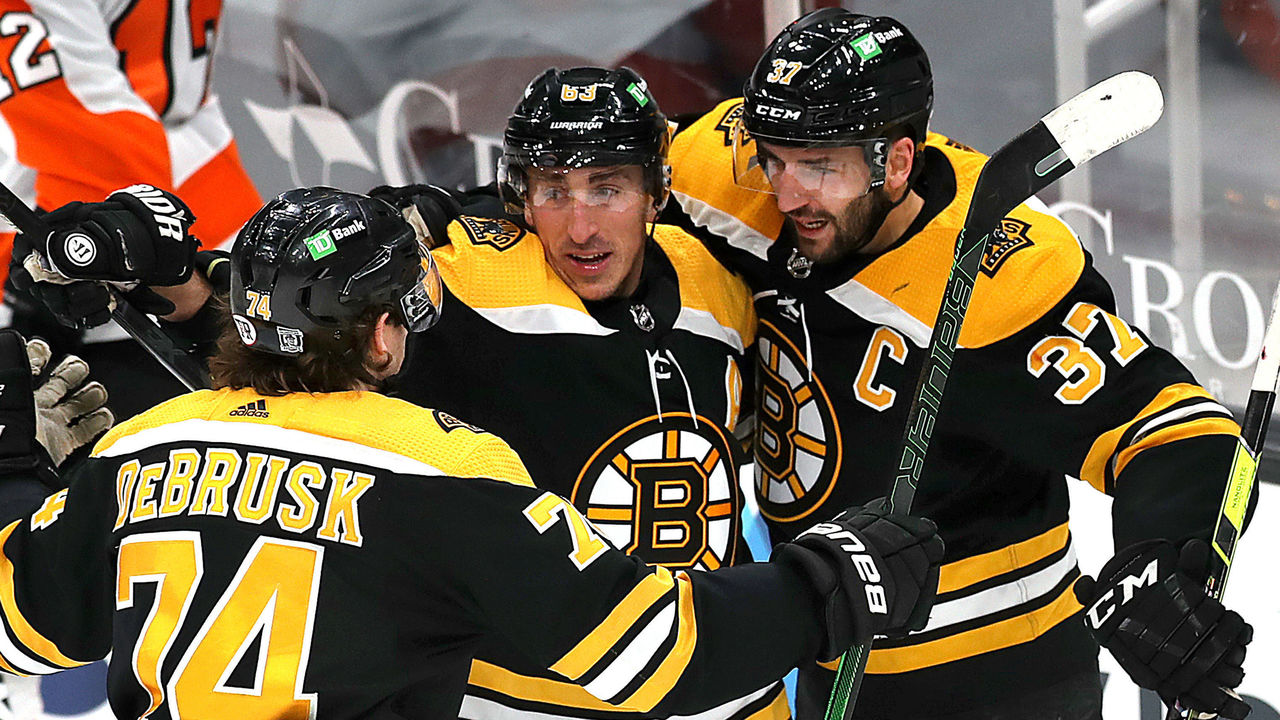 | GP | TOI | GF% | XGF% | SCF% |
| --- | --- | --- | --- | --- |
| 61 | 281 | 68 | 69.7 | 68.7 |
Combined cap hit: $12.63 million
Yes, Brad Marchand will be sidelined until late November, but we couldn't possibly omit the best line in Beantown. Marchand and Patrice Bergeron are pretty much always going to put up garish possession stats - Bergeron has won the Selke five times and led the league in xGF% last season - so they'll always end up on this list, no matter who is riding with them.
But, we've got to give Jake DeBrusk some props here, too. He requested a trade last fall but was ultimately bumped up to the Boston Bruins' top line in February, which did wonders for his production. Prior to his promotion, DeBrusk had just 17 points in 45 games. Afterward, he put up 25 points in his final 32 contests while leading the Bruins with 16 goals. DeBrusk isn't the straw that stirs the drink, but he seemed to enjoy his time with the talented veterans and rescinded his trade request in July. The trio is also criminally cheap - the cheapest one on this list - for the value it provides, but it's mostly because Marchand is underpaid as hell with a $6.125-million cap hit and Bergeron re-signed for just $2.5 million this summer.
Pavel Zacha was initially primed to take Marchand's place until he comes back, but Taylor Hall's injury forced the Bruins' new winger onto the second line. A.J. Greer, Trent Frederic, and Nick Foligno are set to audition for the top-line spot instead. Regardless, Boston likely won't be as offensively dominant as usual for about the first month, which ultimately kept the unit outside the top three on these rankings.
3. Nichushkin-MacKinnon-Rantanen
Combined cap hit: $21.68 million
| GP | TOI | GF% | XGF% | SCF% |
| --- | --- | --- | --- | --- |
| 43 | 181 | 55.6 | 53.4 | 58.9 |
The top line for the Colorado Avalanche heading into the 2022-23 campaign has a mystery to solve on the left wing. The team lost some depth up front with Andre Burakovsky and Nazem Kadri departing in free agency, so it might not be the best course of action to put Gabriel Landeskog, MacKinnon, and Mikko Rantanen all on one line once Landeskog is healthy.
That leaves a couple of options in Valeri Nichushkin and Artturi Lehkonen, who has been taking first-line reps during training camp while Nichushkin nurses an injury. Both wingers work, but we'll assume Nichushkin eventually joins MacKinnon and Rantanen because they have more experience together. They saw about 70 minutes of action together at five-on-five in the playoffs and, even though the Avs got outscored 3-2 with the trio on the ice, they owned 63.5% of the expected goals and 65.4% of the scoring chances.
The bottom line is, no matter who is with MacKinnon and Rantanen, the Avalanche's unit would still belong in one of the three top spots here. Rantanen led the Avs in scoring with 92 points in 75 games in 2021-22, while MacKinnon is ... MacKinnon.
2. Bunting-Matthews-Marner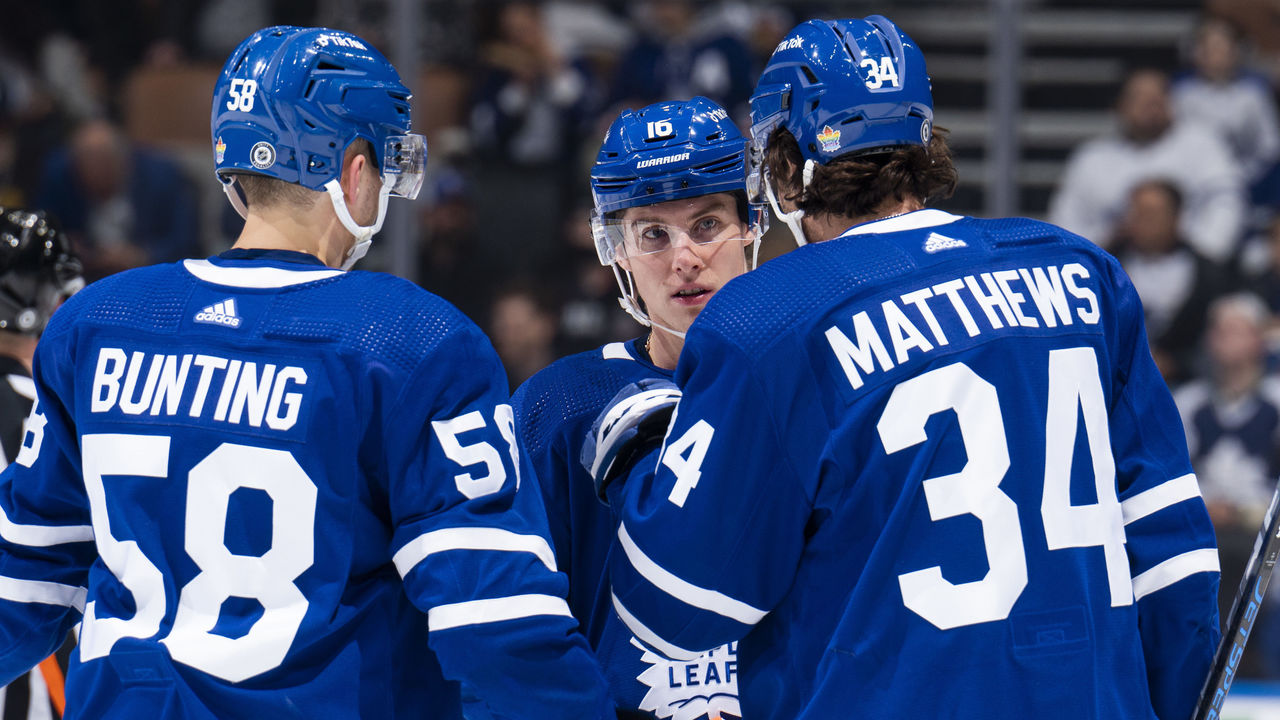 | GP | TOI | GF% | XGF% | SCF% |
| --- | --- | --- | --- | --- |
| 62 | 554 | 66.3 | 65.7 | 64.5 |
Combined cap hit: $23.49 million
Just accept it: Any line that has both Auston Matthews and Mitch Marner on it is probably going to end up on the podium of lists like this. However, gritty rookie Michael Bunting proved to be the perfect complementary piece to the two stars in 2021-22. Together, they combined for some seriously stellar underlying stats similar to Marchand, Bergeron, and DeBrusk, but the Toronto Maple Leafs trio saw far more ice time together.
Toronto's top guns always seemed to make something happen last season, as evidenced by how often their three names appeared on the scoresheet: Matthews scored 60 goals and captured his second consecutive Maurice "Rocket" Richard Trophy, Marner enjoyed a career year with 97 points in just 72 games, and Bunting was up for the Calder Trophy after leading all rookies with 63 points in 79 contests.
As to be expected, the Maple Leafs were worse without Bunting, Matthews, and Marner on the ice. Their GF% dropped by almost 15% and their xGF% slipped by 14% without them at five-on-five. It's scary to imagine the threesome can get even more fearsome as it continues to build more chemistry in Year 2.
1. Stamkos-Point-Kucherov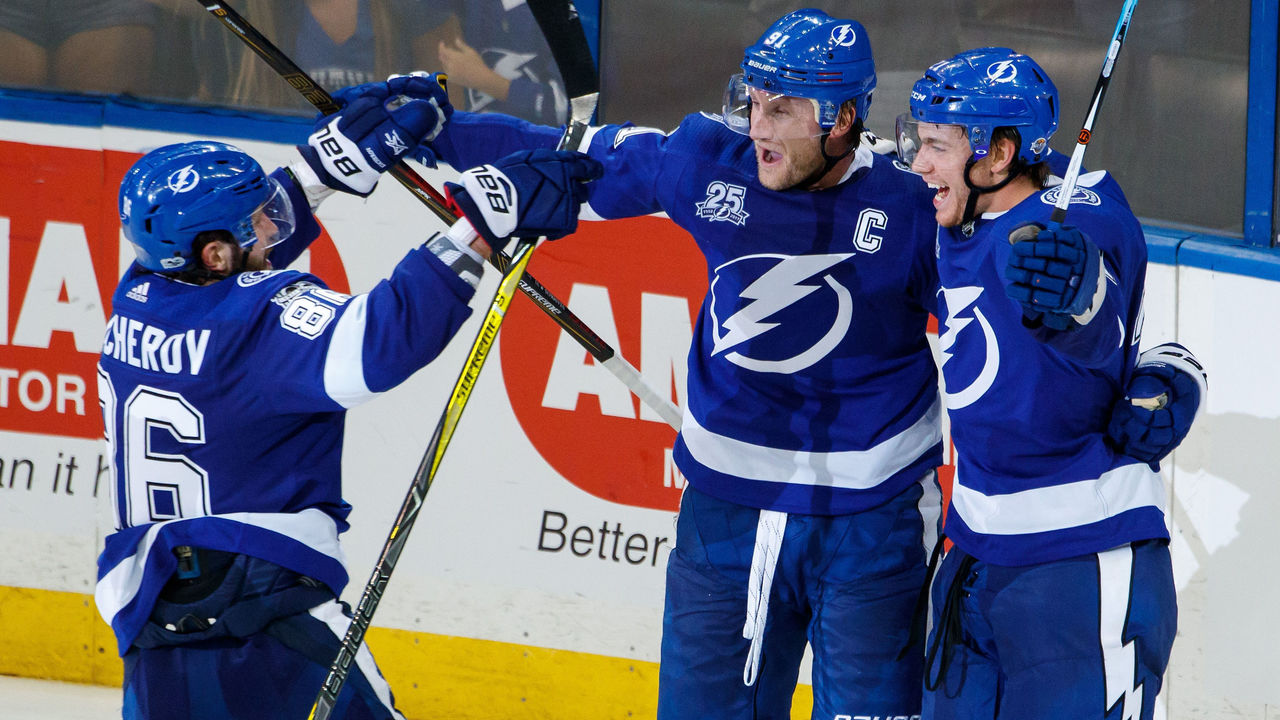 | GP | TOI | GF% | XGF% | SCF% |
| --- | --- | --- | --- | --- |
| 45 | 101 | 75 | 60.8 | 61.5 |
Combined cap hit: $27.5 million
The Tampa Bay Lightning are looking at a top unit of Steven Stamkos, Brayden Point, and Nikita Kucherov at training camp. If the Bolts opt to load up their No. 1 line in 2022-23, opposing teams might as well start waving their white flags now. Any number of them can find themselves in the NHL awards conversation at any time, whether it's the Art Ross, Hart, or Conn Smythe. This line is the priciest one on this list and for good reason.
They didn't play a whole lot on the same line last campaign, and Point's injury prevented them from seeing any significant ice time in the playoffs. In fact, we have to go all the way back to the 2019-20 regular season to see how Stamkos, Point, and Kucherov performed with substantial ice time as a unit. Unsurprisingly, it went well: In just under 300 minutes together at five-on-five, the Bolts controlled 70.7% of the goals, 59.3% of the expected goals, and 58.8% of the scoring chances.
However, the Lightning may want to run with both Stamkos and Point as centers this season to distribute the talent (especially with center Anthony Cirelli out until at least late November), which would spell bye-bye for the super line: Tampa Bay lost Ondrej Palat in free agency, which leaves a gaping hole at left wing. If the Stamkos-Point-Kucherov line survives the preseason and consistently plays together, it has the potential to be the most dominant line in the league. That's a big "if," but the three of them are far too talented individually to keep them out of the No. 1 spot on these rankings.
Honorable mentions
Forsberg-Granlund-Duchene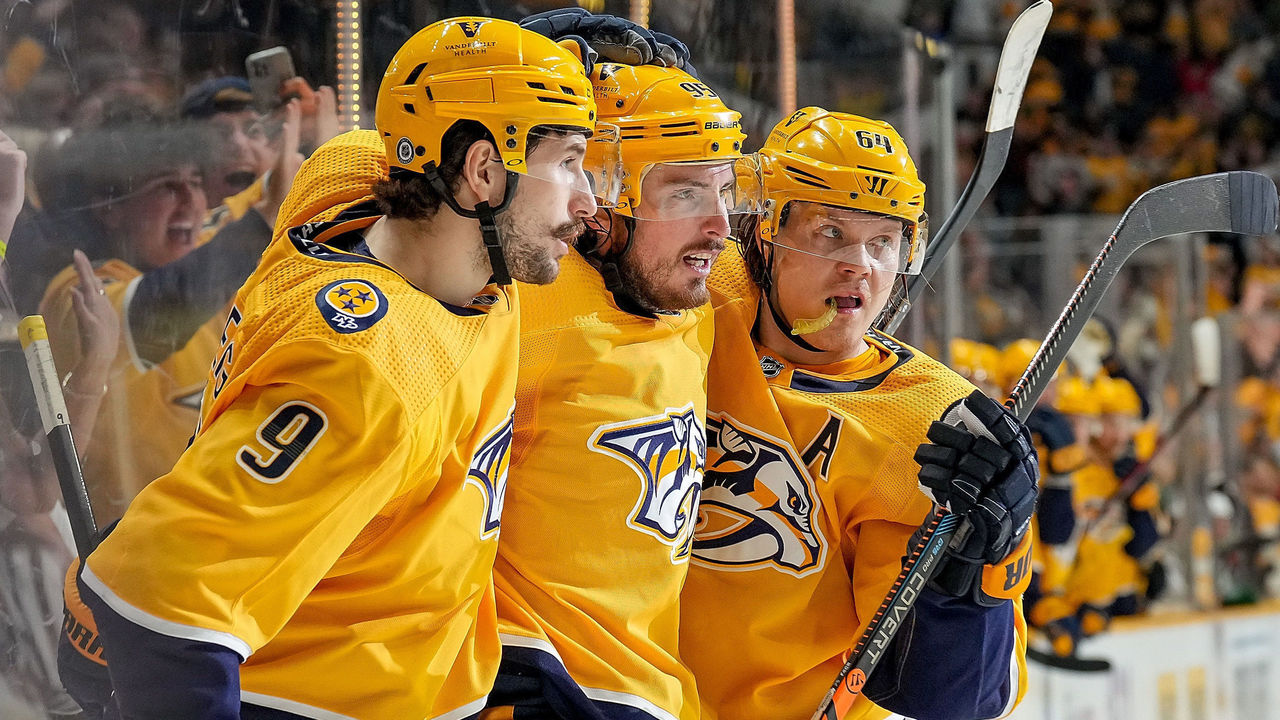 Combined cap hit: $21.5 million
| GP | TOI | GF% | XGF% | SCF% |
| --- | --- | --- | --- | --- |
| 65 | 491 | 62.5 | 55 | 56.6 |
Filip Forsberg, Matt Duchene, and Mikael Granlund just missed the cut here.
This Nashville Predators trio boasts two 40-goal-scorers in Forsberg and Duchene. What gives us pause is that both of them far surpassed their career average shooting percentages last season and may come back to earth. Meanwhile, Granlund put up a career-high 53 assists, 62% of which came on Forsberg and Duchene goals. Collectively, their productivity might dip in 2022-23, and their other underlying stats weren't quite convincing enough to knock any of the other lines outside of the top 10.
Best of the rest
Buchnevich-Thomas-Tarasenko, St. Louis Blues
Connor-Scheifele-Ehlers, Winnipeg Jets
Svechnikov-Aho-Jarvis, Carolina Hurricanes
DeBrincat-Stutzle-Giroux, Ottawa Senators
Reinhart-Bennett-Tkachuk, Florida Panthers
(Analytics source: Natural Stat Trick)
(Salary source: CapFriendly)
Comments
✕
Ranking the NHL's 10 best lines heading into 2022-23
  Got something to say? Leave a comment below!