3 takeaways as Oilers' season ends, Avalanche head to Stanley Cup Final
Derek Leung / Getty Images
The Colorado Avalanche won 6-5 in overtime on Monday to sweep the Edmonton Oilers from the playoffs and advance to the Stanley Cup Final. Here are three takeaways from the riveting conclusion to the Western Conference title series.
Colorado's many weapons delivered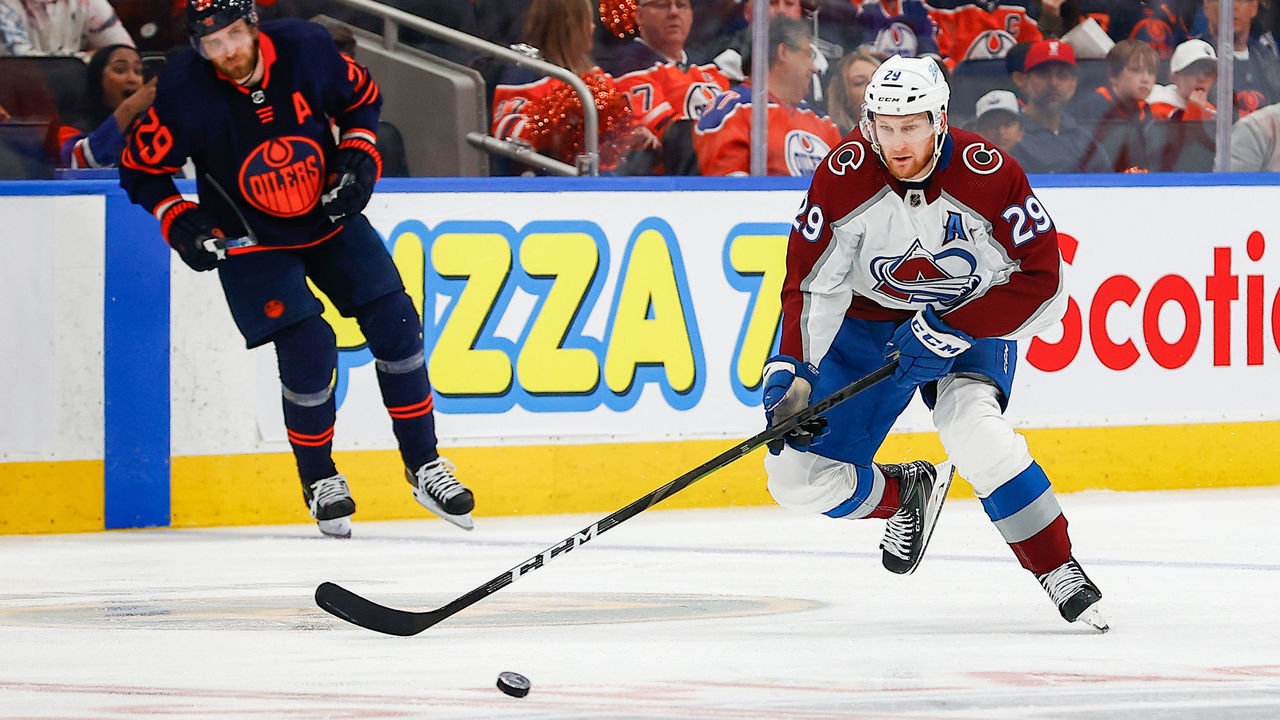 After Colorado's usual suspects continued to one-up Mike Smith, a newcomer ended the club's long wait to return to the final.
Deadline acquisition Artturi Lehkonen scored the OT winner in Round 3, just as he did in 2021 as a member of the Montreal Canadiens. Lehkonen's eye-level tip produced a rebound that he wired past Smith, and the goal was upheld upon review. Colorado's now set to play for the Cup for the first time since 2001.
Lehkonen's Game 4 winner followed goals from Cale Makar, Devon Toews, Gabriel Landeskog, Nathan MacKinnon, and Mikko Rantanen - five of the Avalanche's top seven scorers in the regular season. Lehkonen, J.T. Compher, and Valeri Nichushkin all beat Smith multiple times this round; Nazem Kadri added four points before Evander Kane boarded him from behind.
Although Kadri had thumb surgery and might miss the final, Colorado's scoring depth remains elite. Wrap your mind around these nuggets:
The Avalanche had the offensive juice to erase a 3-1 deficit in Monday's electric third period. Smith allowed goals off a fortunate ricochet, a net-front scramble, a snipe off the rush, and a pretty four-man passing sequence.

Colorado outscored Edmonton 22-13 on aggregate and tallied four-plus goals for the 10th time in 14 playoff games.

The Avs' nightly scoring average - 4.64 goals per game - is an NHL playoff high since 1988. Their oldest players (Jack Johnson, Darren Helm, and Andrew Cogliano) were born the previous year.

Makar's OT assist made him the first defenseman since Al MacInnis in 1994 to record a five-point playoff game. Besides Connor McDavid and Leon Draisaitl, no Oiler scored that many points in the entire series.
Kane's suspension Monday magnified Edmonton's offensive imbalance. Against Colorado, the forwards on the third and fourth line averaged fewer than 12 minutes per night. Draisaitl's ice time, like McDavid's, spiked above 25 minutes as Jay Woodcroft's desperation increased. The two superstars and Zach Hyman shone in Game 4, but almost everyone else's contributions were paltry.
Not the same story for Colorado. Helm, the fourth-line center who scored to eliminate the St. Louis Blues in Round 2, controlled the faceoff Monday that led to Lehkonen's OT goal. Pressure mounted and Jared Bednar was able to trust his whole lineup.
Oilers stars did all they could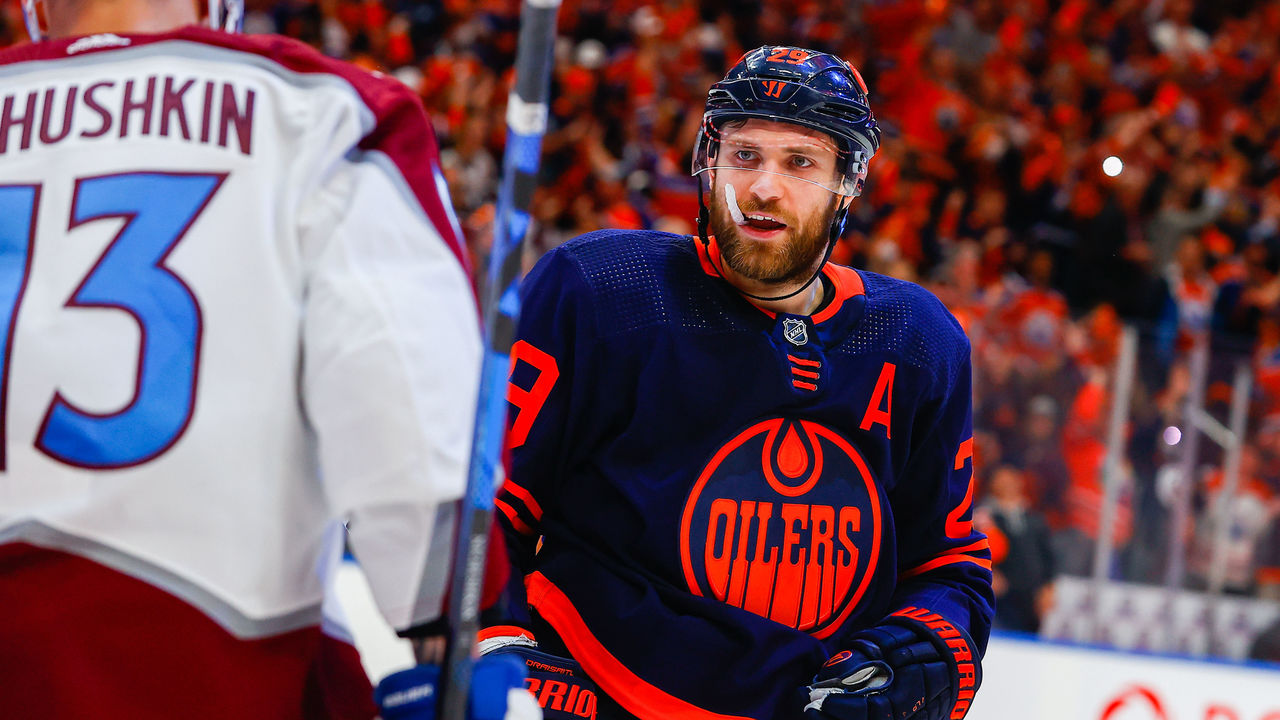 When Round 3 started, McDavid and Draisaitl were on track to score 40 points apiece, rare air that only Wayne Gretzky and Mario Lemieux have reached. History awaited - so long as they kept producing and Edmonton managed a few more victories.
They got remarkably close to the milestone even with the loss. McDavid bows out as the playoff scoring leader with 33 points; Draisaitl's four primary assists Monday raised his total to 32. They join Gretzky, Lemieux, and Paul Coffey as the only NHLers who've averaged two points per game in the postseason (minimum 10 appearances). Evgeni Malkin's post-lockout scoring record - he put up 36 points in 24 games in 2008-09 - almost fell.
Draisaitl's gutsy effort in defeat warrants kudos. Hobbling in Game 4, he threaded pinpoint passes that sprung Hyman for two goals and created the rebound that Zack Kassian tapped in to force overtime. He could barely swivel at times, but that didn't cloud his sublime vision or stop him from recording his seventh three-point performance, two shy of Gretzky's playoff record.
Monday was a memorable last hurrah, but the Avalanche prevailed unlike the Los Angeles Kings or Calgary Flames because they otherwise contained Edmonton's stars. Blanked in Game 2, McDavid promptly scored off his first touch in Game 3, but the Makar-Toews pairing's attentiveness and pace neutralized many of his rushes.
Makar and Toews are exemplary two-way defensemen, and mobile rookie Bowen Byram continues to tease that potential. Icing several of those guys is how a team curbs greatness.
Avs took care of business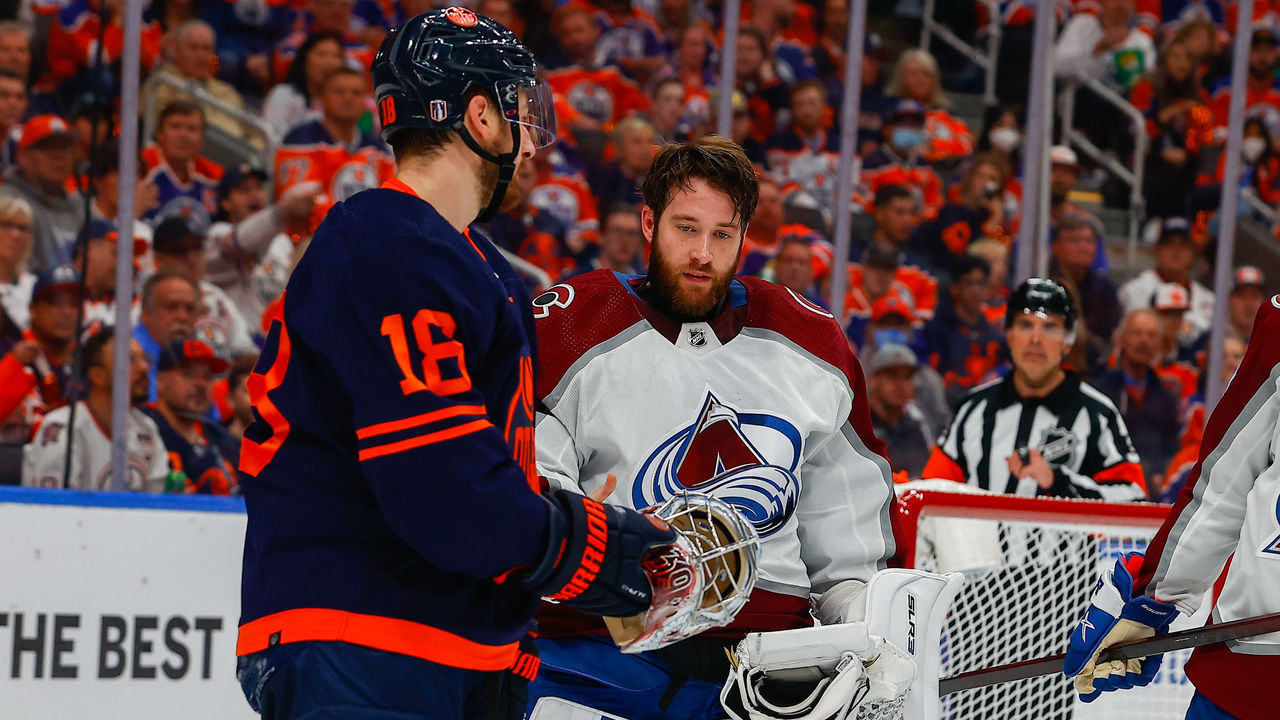 Regular-season powerhouses don't always rise to expectations in the playoffs. The Florida Panthers won the Presidents' Trophy and their dynamite offense promptly sputtered. The Eastern Conference's next-best clubs, the Carolina Hurricanes and Toronto Maple Leafs, squandered Game 6 closeout opportunities and lost at home in Game 7. Out west, the Minnesota Wild and Calgary Flames exited earlier than most predicted.
The Avalanche have done that before. Favored in the second round in 2020, they fell to the Dallas Stars in seven games before blowing a 2-0 series lead in 2021 against the Vegas Golden Knights.
Resisting the Blues last round seemed to rouse the Avalanche, who did everything necessary to sweep Edmonton. The Avs weathered Kadri's injury and mostly dictated the run of play in the series. Good bounces produced glorious chances that they converted at opportune times.
Darcy Kuemper's departure from Game 1 didn't rattle them; Pavel Francouz posted his first shutout since January in Game 2. Minutes after Francouz let in a softie in the third period of Game 3, he stoned McDavid with the glove on an Edmonton power play, enabling Compher to pot the winner when he emerged from the box.
Sequences like these preserve and ruin Cup runs. Evan Bouchard hit the post right before that penalty expired and Compher beat him to the ensuing clearance. Smith - whose 39 saves in Game 3 included a two-pad stack that cleaned up his own giveaway - let Compher's shot slip through his legs. The highs and lows are extreme when Smith's in net, as he demonstrated by surrendering five goals in 21 minutes to end Game 4.
Edmonton went deep in the playoffs because McDavid's and Draisaitl's first dozen games were legendary. But the Oilers weren't the conference's best team, not with Darnell Nurse laboring through a torn hip flexor - Colorado outscored them 9-3 during Nurse's five-on-five shifts - and Smith's save percentage against the Avalanche sagging to .872. Kane was another key player who stumbled this round, which hastened the start of his summer.
Meanwhile, the Avalanche's playoff record is 12-2 now. It signals they'd be worthy Cup champions. They're four wins away from fulfilling that potential.
Nick Faris is a features writer at theScore.
Comments
✕
3 takeaways as Oilers' season ends, Avalanche head to Stanley Cup Final
  Got something to say? Leave a comment below!