From joke to juggernaut: Avalanche's well-earned Cup completes cycle
Julio Aguilar / Getty Images Sport / Getty
The scene was equal parts surreal and appropriate.
After blocking a shot with just over a minute remaining in Game 6 of the Stanley Cup Final, Gabriel Landeskog's left skate blade popped off its boot. All the Colorado Avalanche captain could do in that one-in-a-million scenario was crawl to the bench for a line change - literally crawl. Nathan MacKinnon saw Landeskog in trouble, so he dragged his teammate most of the way there.
Crisis averted.
Final minute killed.
Stanley Cup lifted.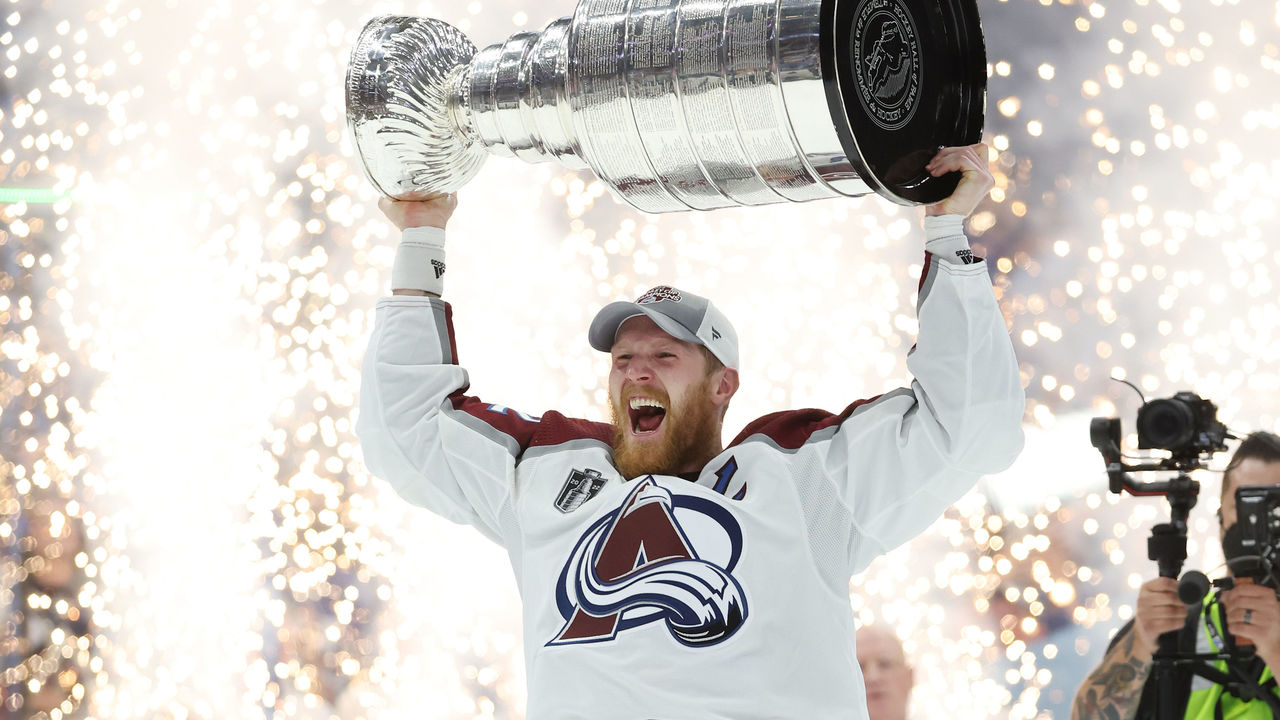 Five members of this 2021-22 Avs core - Landeskog, MacKinnon, Mikko Rantanen, J.T. Compher, and Erik Johnson - did worse than crawl through the '16-17 season. Bailed on by coach Patrick Roy a month before the season, Colorado finished with 22 wins in 82 games, 46 points shy of the playoff cutline. To be blunt, they were horrible. Putrid. Awful. Everything went wrong.
Five seasons later, with general manager Joe Sakic and Roy's replacement, Jared Bednar, still in charge, the Avs are Cup champions for the third time in franchise history (1996, 2001). Sunday's 2-1 win over the dynastic Lightning in Tampa Bay was the capper on a relatively smooth 20-game playoff run.
"Heavier than you think. And then it's like I was watching a video game or something like that," a stunned Johnson, the longest-tenured Av, told Altitude TV after lifting the Cup. "I can't believe it. It was amazing."
Tampa Bay ran out of gas in its third consecutive appearance in the Cup Final. There's no denying it. But Colorado deserves full marks for taking advantage and executing in key moments. Forget all of the mini controversies for a second - the better team, both on paper and out on the ice, won this series.
In fact, the Avs were arguably the most talented and deepest team in the NHL throughout the 2021-22 season. For various reasons, the best teams don't always win the title at season's end. This year was different.
"Going to be a waste of eight days," was how Calgary Flames head coach Darryl Sutter famously characterized the chances of Colorado's opponent advancing past the first round back in March. The Avs went on to sweep two of four series.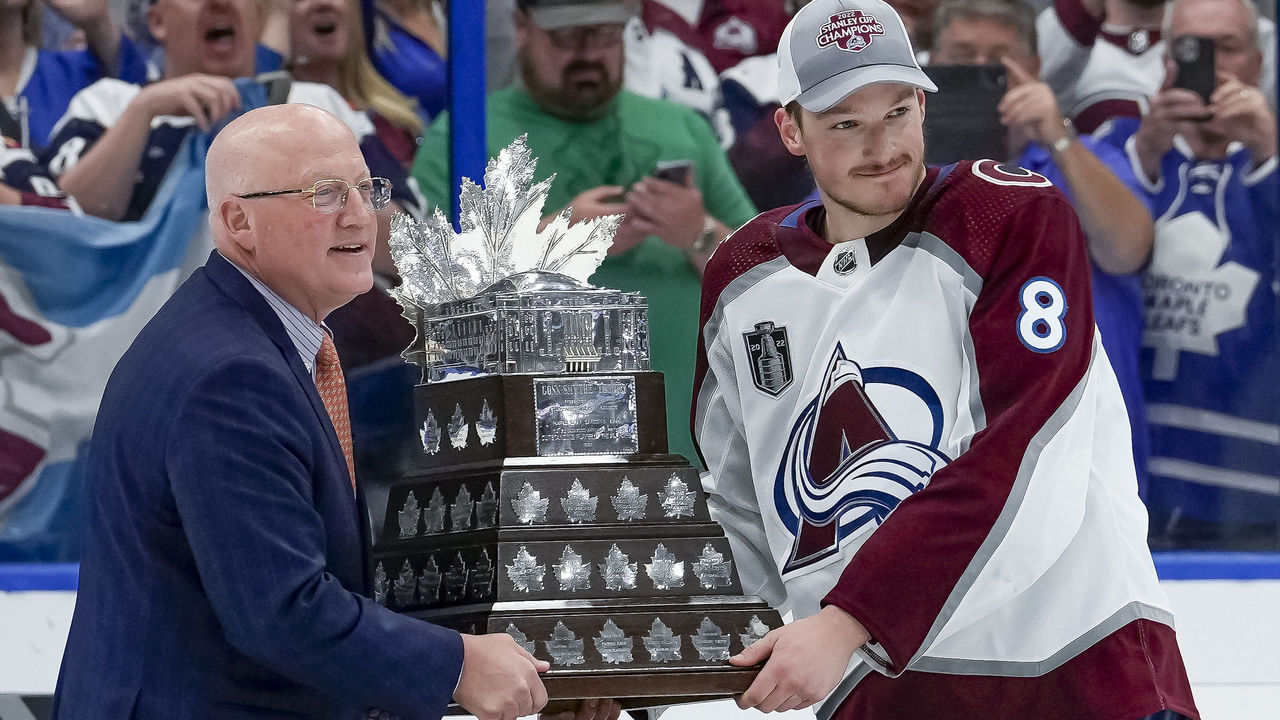 Cale Makar, who at 23 might be a top-five player in the world, now has a Cup and Conn Smythe to go along with his first Norris Trophy. He logged an outstanding two months of hockey - eight goals and 21 assists for 29 points in 20 games to pace all players not named Connor McDavid and Leon Draisaitl while more than holding his own on the defensive side of the puck.
Landeskog was asked on the ESPN broadcast what NHL teams can take away from the Avs' run. His reply: "Find a Cale Makar somewhere."
This ring is huge for MacKinnon's legacy, too. The 2013 first overall pick is uber-talented and legendarily fiery. His generation of players has thus far been robbed of competing for Olympic gold. A Cup win proves MacKinnon can reach the top of the mountain, just like his mentor and good friend Sidney Crosby. And he didn't ride Makar's coattails, pitching in 24 points of his own.
Props also go to Rantanen for his playmaking; Valeri Nichushkin for his two-way prowess; Artturi Lehkonen for his big-game performances; and Bowen Byram for breaking out in a big way on the biggest of stages. And, of course, kudos to Nazem Kadri and his ability to flip the script. After getting suspended in three of the previous four postseasons, he put up 16 points in 15 games, amazingly scoring the overtime winner in Game 4 of the Cup Final.
"For everyone that thought I was a liability in the playoffs, you can kiss my ass," Kadri said in a true mic-drop moment on the Sportsnet broadcast. (Keep in mind, too, that the man underwent thumb surgery only a few weeks ago.)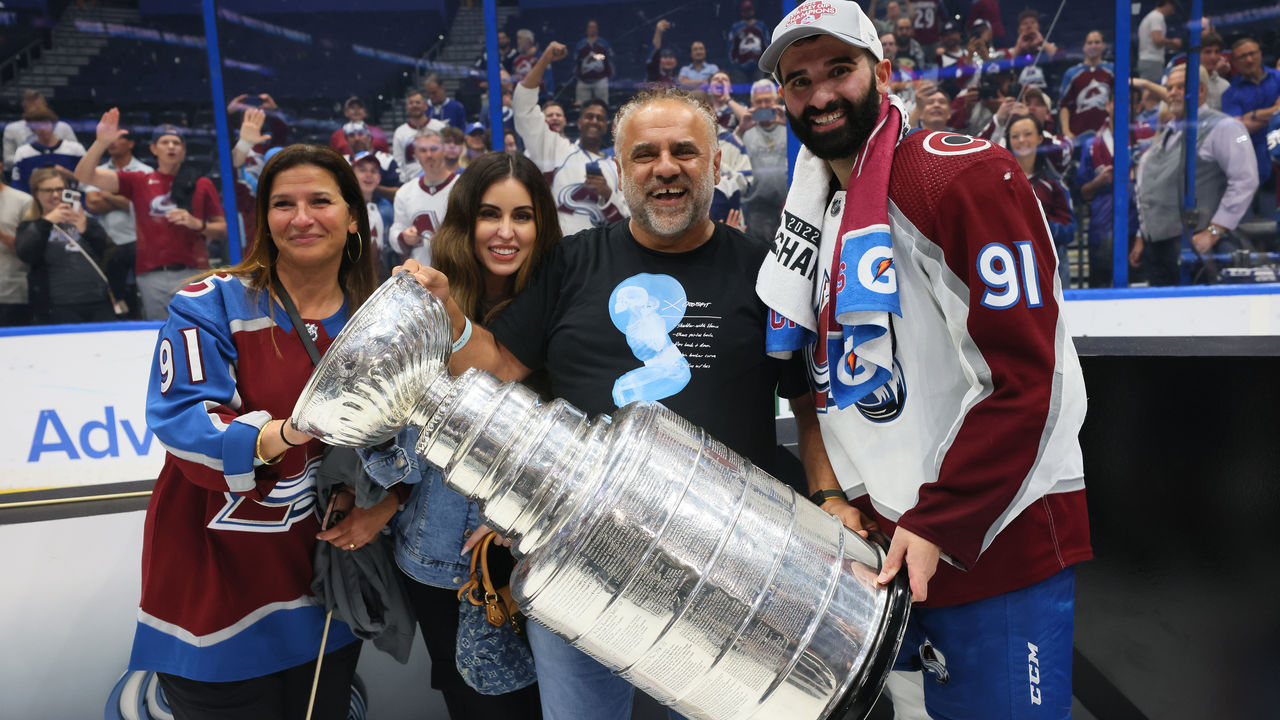 Kadri, acquired from Toronto for essentially Tyson Barrie and Alexander Kerfoot, was a fantastic addition but not quite Sakic's slickest work as an aggressive and opportunistic GM. The Hall of Famer basically turned Matt Duchene into Byram and Samuel Girard. He also swapped two second-rounders for Devon Toews.
Other quality pickups include Nichushkin (signed on the cheap after getting bought out by Dallas), Andre Burakovsky (plucked out of Washington's tight salary cap situation), and Lehkonen (hefty price paid but absolutely worth it). Everybody in Colorado's pro scouting department deserves a raise.
The Avs haven't missed with high-end picks, either. Makar, Byram, Rantanen, and Tyson Jost are the four top-10 selections of the Sakic era. Three of them are home runs, and the other (Jost, now in Minnesota) still counts as a hit.
This Colorado team is modern hockey at its finest. Sakic built it on the premise that skill and creativity can be the foundation of a winner, with grit and physicality complementing the core - not the other way around. And Bednar's influence? Unparalleled connectivity between the forwards and defensemen. The Avs have such strong skating ability throughout the lineup that a blueliner leads the rush or pinches in the offensive zone seemingly every shift.
It's beautiful, exhilarating hockey.
What distinguishes Colorado from a team like the Florida Panthers, who also play a high-event style, is that the Avs actually care about defending. The bulk of the 23-man roster is made up of strong two-way players who can skate.
The most intriguing part of the Avs' triumph is that there's no reason, as it stands now, they can't repeat as champs. This is a juggernaut. Heck, we could look back on Sunday night as the moment Tampa Bay passed the baton to Colorado.
"Some tough years mixed in there," MacKinnon said when asked by ESPN to reflect on the journey from Point A to Point B. "But it's worth it now."
John Matisz is theScore's senior NHL writer. Follow John on Twitter (@MatiszJohn) or contact him via email (john.matisz@thescore.com).
Comments
✕
From joke to juggernaut: Avalanche's well-earned Cup completes cycle
  Got something to say? Leave a comment below!