Mapping out the Leafs' path to eliminating the Lightning in Game 6
Mark Blinch / Getty Images
Will demons be exorcised at Amalie Arena on Thursday?
Following a wild 4-3 victory Tuesday, the same Toronto Maple Leafs core that's failed to close out consecutive series against the Boston Bruins, Columbus Blue Jackets, and Montreal Canadiens now has a chance to eliminate the Tampa Bay Lightning in Game 6 of a seesaw first-round matchup.
"I don't think tonight is going to matter if we don't take the next step. The hardest step," Leafs coach Sheldon Keefe told reporters following Game 5.
Keefe's right. Going up 3-2 on the Lightning isn't an accomplishment in and of itself. So, how might the Leafs take the "hardest step" on Thursday?
We map it all out below.
Deliver star-caliber performances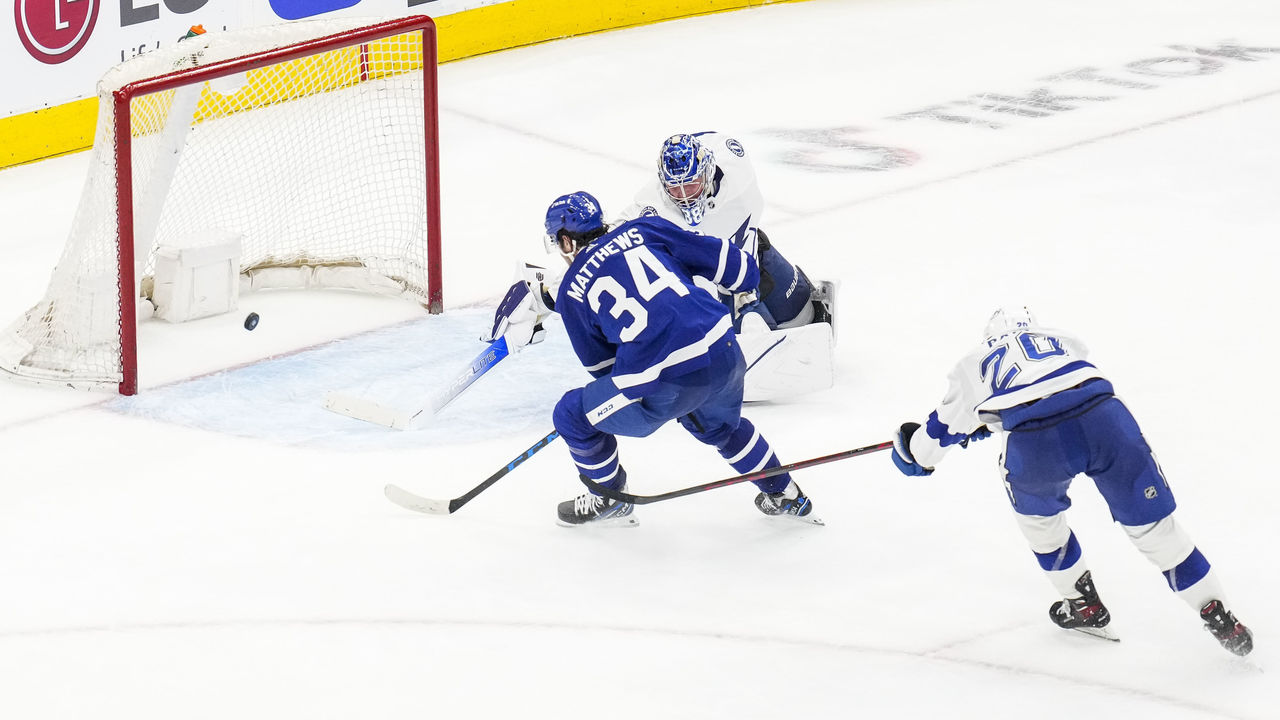 The NHL playoffs tend to bring all of hockey's tired cliches to the forefront. Most are just that - tired and eye roll-worthy. Yet every year a select few prove instructive, including, "Your best players need to be your best players."
Toronto's four highest-paid players - Auston Matthews, Mitch Marner, John Tavares, and William Nylander - must rise to the occasion in Game 6. There are no ifs, ands, or buts about it. Their collective ineffectiveness in crucial games in the past has hung over this Leafs era like a stormy cloud, and the skies won't clear until they, at minimum, push the club into Round 2.
The Leafs were putrid in the first period of Game 5. However, they redeemed themselves in the final 40 minutes as the Big 4, along with goalie Jack Campbell, led the way. Tavares, Nylander, and Matthews all scored, Marner earned the primary assist on Matthews' game-winner, and a textbook display of puck protection by Tavares led to Toronto's other goal, potted by defenseman Morgan Rielly. Matthews was especially impactful, recording 13 shot attempts, issuing seven hits, and winning 11 of 18 faceoffs in 23:42.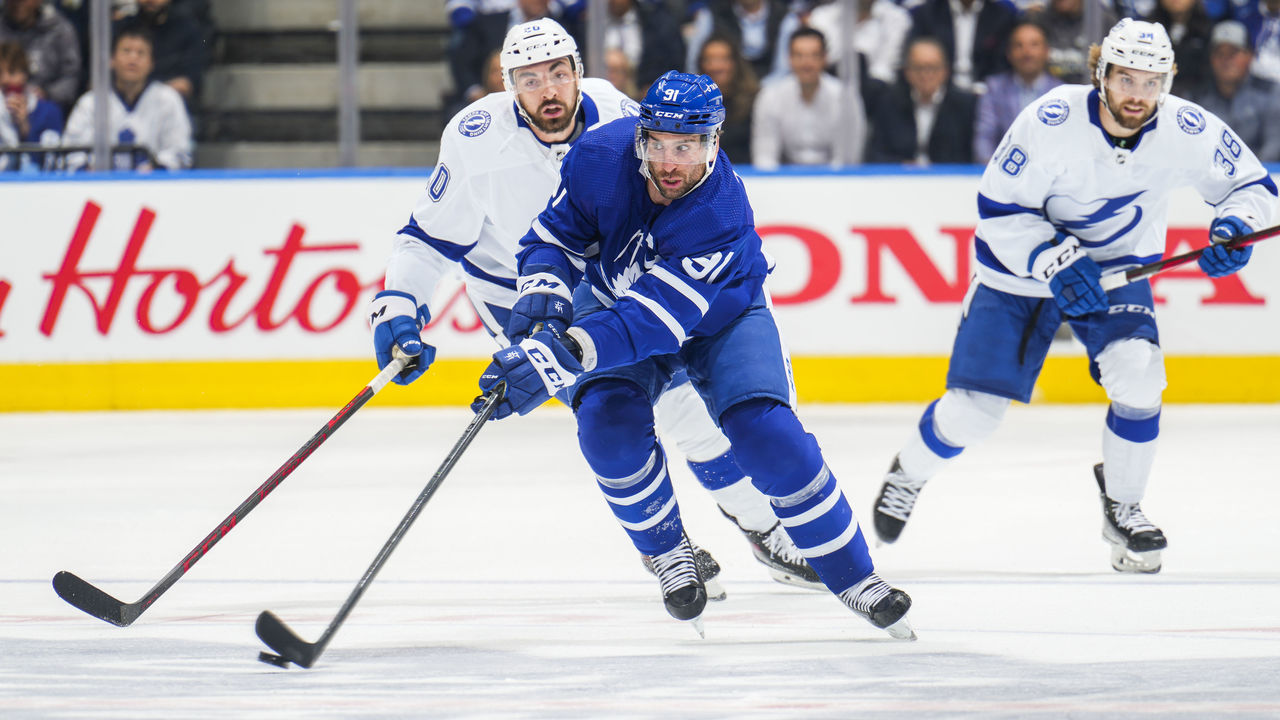 Matthews and Marner have been steady over the series. They haven't always been super productive - and they've been tamer on the road when Tampa Bay has held last change - but they've also never been a drag. Neither guy has been accused of disengaging like Nylander or disappearing for stretches like Tavares. The $11-million-a-year captain, in particular, entered Game 5 with a target on his back.
"John's time is going to come," Keefe said of Tavares on Tuesday morning, and it certainly did. Meanwhile, Nylander was instrumental in the 4-3 come-from-behind victory.
That said, given the Big 4's checkered history and the roller-coaster vibe of this series, there's no guarantee all four of them will pop off in Game 6. Tampa Bay has regained last change, which means Matthews and Marner will get a healthy dose of shutdown forward Anthony Cirelli and all-world defenseman Victor Hedman. Hypothetically, while the Lightning focus on Matthews and Marner, Tavares and Nylander should be feasting on easier minutes. After all, you invest in a Big 4 in part to create matchup headaches for the opposition.
It'll be interesting to see how that dynamic plays out in a do-or-die for Tampa Bay. Not only are the Lightning the two-time defending Stanley Cup champions, but they're also a ludicrous 16-0 following their last 16 playoff losses. It's a mind-boggling stat, really. So, if there's one certainty heading into Thursday, it's that the Lightning won't be intimidated by a strong Game 5 by the Leafs' Big 4.
Break even in the crease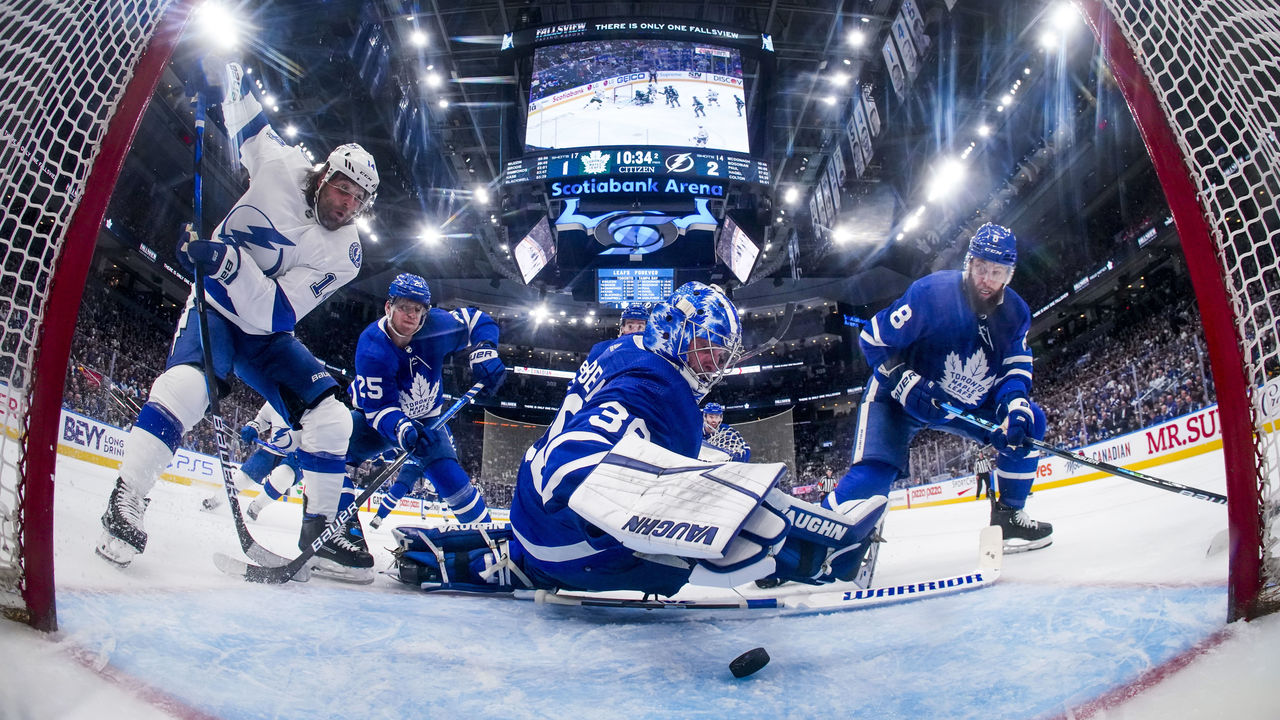 This high-powered matchup hasn't been kind to the goaltenders. Neither Campbell nor Tampa Bay's Andrei Vasilevskiy has looked particularly sharp for longer than a couple of periods in a row, and their save percentages reflect it.
Through five starts apiece, Campbell's sitting at .895, Vasilevskiy's at .880. The numbers are somewhat close only because Campbell had an awful Game 4 where he allowed five goals on 16 shots before getting pulled. Otherwise, the Leafs starter has undeniably been the better goalie, which is no small feat considering Campbell's a journeyman and Vasilevskiy's a future Hall of Famer.
Campbell, who had an up-and-down regular season, was mostly phenomenal in Game 5. He surrendered two goals on his first four shots before settling in to save 30 of the next 31, including multiple point-blank opportunities by Nick Paul and a Steven Stamkos one-timer when Tampa Bay led 2-1.
Goaltending is generally difficult to pin down game to game. It seems almost impossible to say for certain Campbell or Vasilevskiy is the better bet in Game 6. On one hand, Campbell is confident. He's coming off a well-earned win, so shouldn't he get the love? On the other hand, Vasilevskiy has a proven track record. He's the best goalie in the world, so shouldn't we expect him to shine brightest in a bounce-back scenario, especially with his season on the line?
Goaltending is always an X-factor, but in this series, the skaters appear to be dictating the outcome. So, at the end of the day, if Campbell can simply be as good as Vasilevskiy, the Leafs' chances of finishing off the Lightning on Thursday go up substantially. Just break even.
Rein in unicorn Hedman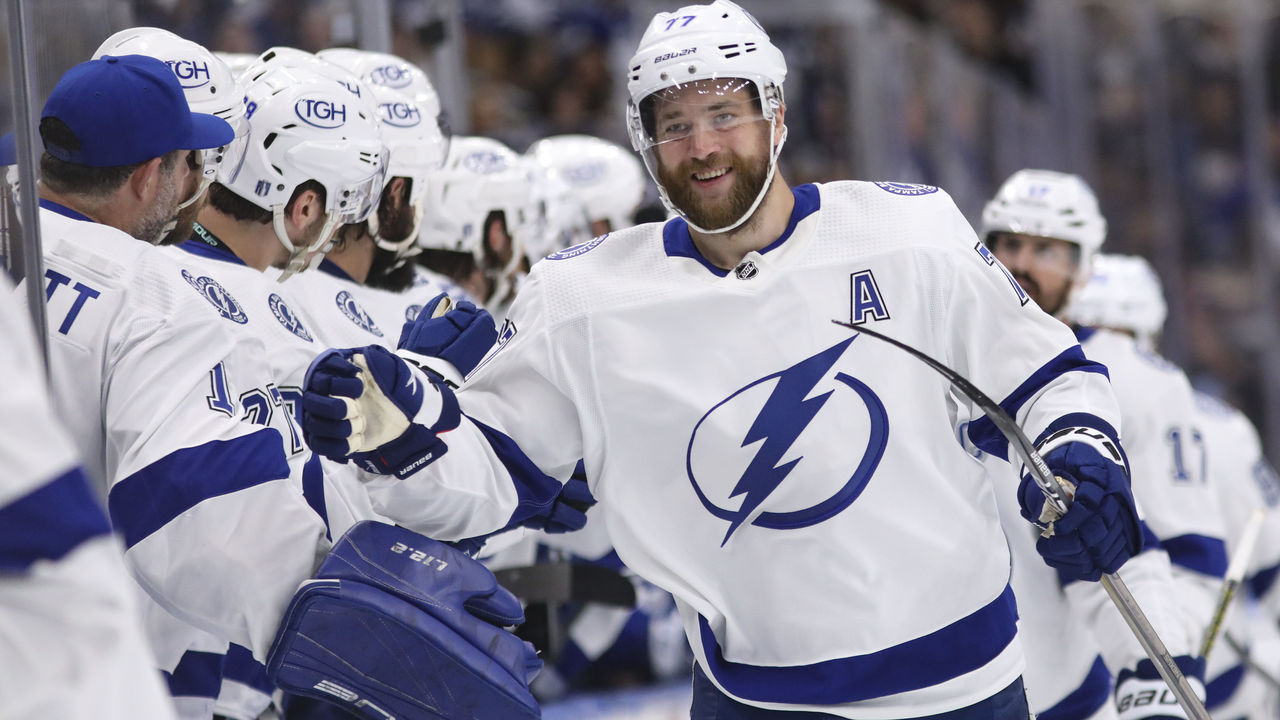 Hedman has arguably been the series' most valuable player through five games. He's been borderline dominant at times, and if he logs another fine performance in Game 6, expect Game 7 to go in Toronto on Saturday night.
"As Heddy goes, we go," is how Lightning coach Jon Cooper has framed it.
Hedman, who earned his sixth straight Norris Trophy nomination earlier this week, has been a monster this series in all three zones. With the 6-foot-6, 240-pounder on the ice at five-on-five, Tampa Bay is controlling 57% of the shot attempts, 60% of the expected goals, and 63% of the goals scored. His seven points are tied for first on the Lightning with winger Nikita Kucherov.
Tampa Bay players constantly moved their bodies and sticks into shooting lanes during Game 5. This led to Toronto forcing passes, firing the puck from weird angles, or shooting directly into shin pads. Naturally, Hedman played a huge role in the Lightning blocking 16 shots, as he tied for the team lead with three.
Tampa Bay players also made a ton of stretch passes Tuesday. This led to plenty of odd-man rushes and breakaways. As you'd expect, Hedman contributed to this scheme, too, while not neglecting his defensive responsibilities. The Leafs' blue line has its weapons, yet there's no defenseman in the entire NHL who combines skating, smarts, size, and skill quite like Hedman. He's a unicorn.
Hedman's not perfect (he wasn't great in Game 1). Still, similar to Vasilevskiy, Stamkos, Kucherov, and Brayden Point, he's got big-game DNA. If Toronto can somehow rein him in, it would solve a lot of the team's problems.
Be aware of the environment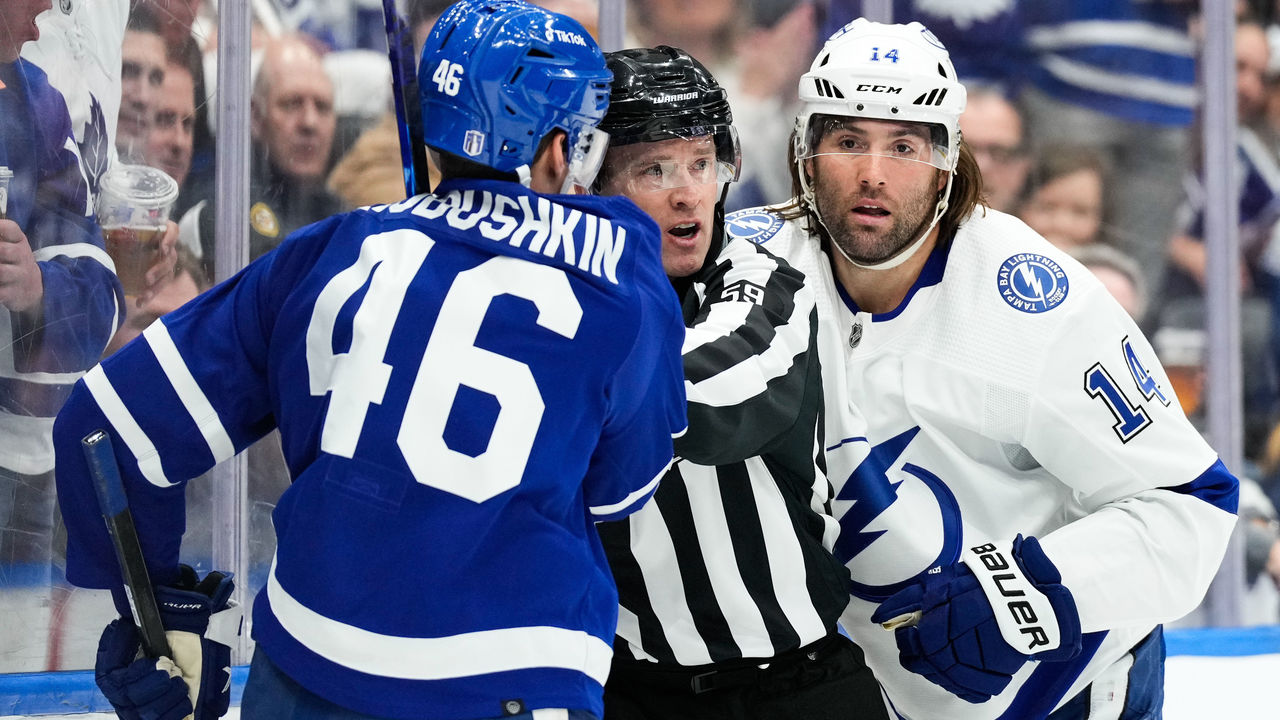 There are three key environmental factors the Leafs must be mindful of.
First, the officiating standard. Both teams now have five games of intel on what is and isn't a penalty in this series. The mature approach is to adjust to the soft calls and play within the new boundaries. Toronto currently leads the playoffs with 24.4 penalty minutes per game. A power-play goal for Tampa Bay could spoil the elimination game and force a coin-toss Game 7.
Second - and this is connected to the first factor - is the buzz inside Amalie Arena. Like we saw at Scotiabank Arena for Game 5, the crowds are getting raucous. So raucous, in fact, that it looked like Stamkos' second-period penalty on Matthews on Tuesday was assessed only after the hometown fans reacted to the collision. Hey, officials are human. They'll sometimes whistle iffy penalties based on crowd behavior. The Leafs have to watch themselves Thursday.
Third, start on time. Going down 2-0 in the first period of Game 5 was dangerous business. The Leafs can't play with fire like that again if they expect to win this series. Bringing intensity to the first shift and not letting your foot off the gas is a basic concept, but, for whatever reason, Toronto has a history of easing into games. It can't happen Thursday, plain and simple.
John Matisz is theScore's senior NHL writer. Follow John on Twitter (@MatiszJohn) or contact him via email (john.matisz@thescore.com).
Comments
✕
Mapping out the Leafs' path to eliminating the Lightning in Game 6
  Got something to say? Leave a comment below!