What Edmonton's smackdown win in Game 3 signifies about Oilers-Kings
Andrew D. Bernstein / NHL / Getty Images
The Edmonton Oilers destroyed the Los Angeles Kings 8-2 on the road Friday to go up 2-1 in their Pacific Division playoff series. Here are three observations about the first-round clash.
McDavid has plenty of help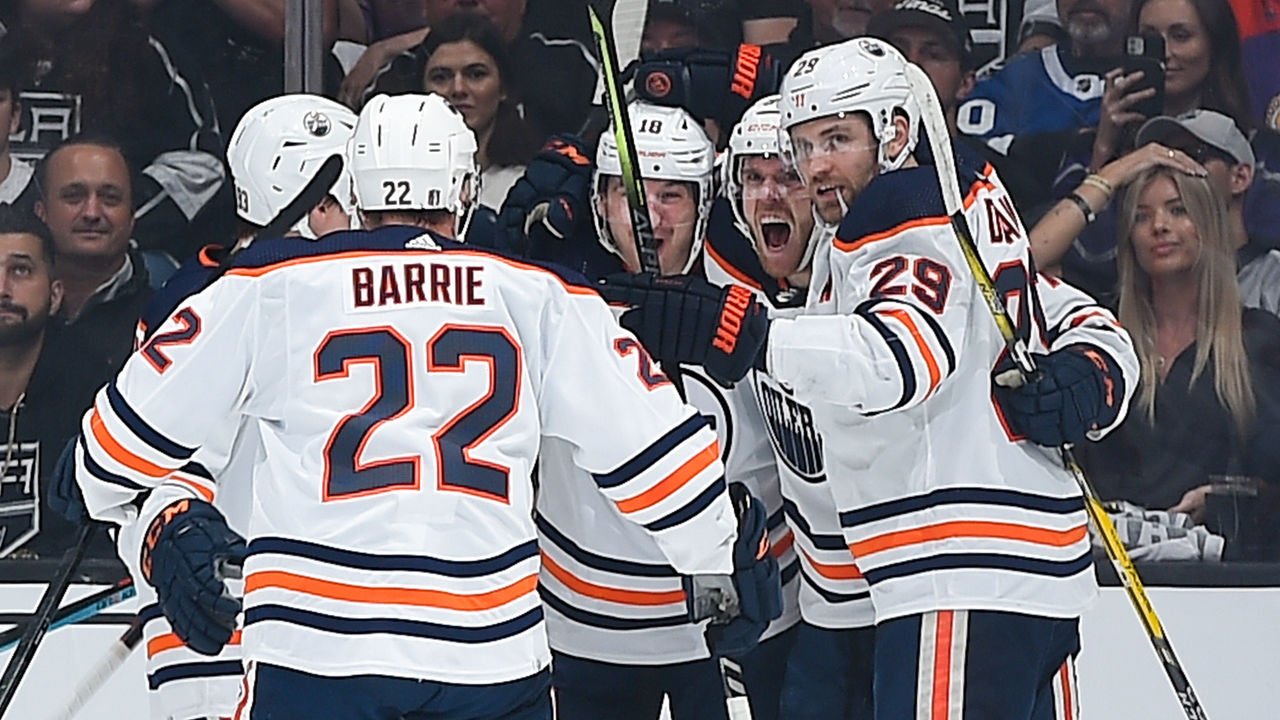 Two Oilers benefited from Connor McDavid's vision in Game 3 as Edmonton raced to an early lead. One of them, Leon Draisaitl, is a sublime talent who's endured playoff misery alongside McDavid. The other, Zach Hyman, was signed last summer to elevate the offense and end that trend.
McDavid and Draisaitl scored a lot in recent postseasons but didn't get enough support to win a round. In 2020, they exited the Edmonton bubble after four play-in games despite combining to rack up 15 points. Last spring, the Oilers managed a mere two goals when McDavid was on the bench while getting swept by the Winnipeg Jets.
This hasn't been a problem against the Kings. Complementary scorers abound, and the superstars are doing their thing, diversifying Edmonton's modes of attack in the series.
Draisaitl's pinpoint release netted him two power-play goals before McDavid set him up at four-on-four Friday.

McDavid scored off a brilliant solo rush in Game 1 and is also up to five assists.

Evander Kane has scored five times, twice off rebounds that he cashed at the crease in Game 3.

Hyman and Ryan Nugent-Hopkins have two tallies apiece, and four more Oilers - Jesse Puljujarvi, Kailer Yamamoto, Ryan McLeod, and Darnell Nurse - each have one.
Nugent-Hopkins as a third liner gives the Oilers enviable center depth. In Kane and Hyman, McDavid and Draisaitl now have skilled finishers on their respective left wings. The offense is balanced and prolific, exactly what was needed to erase L.A.'s initial series lead. And it's also precisely what Edmonton needs, should it go deep, to scare the Calgary Flames or Colorado Avalanche.
Long before Game 3 turned into a laugher, Trevor Moore held McDavid's stick in the first period and watched from the box as the captain fed Hyman for a tap-in. McDavid's second drawn penalty of the round was two more calls than he got in the bubble or in last year's playoffs. Maybe this Oilers season really is different.
Kings need a kingpin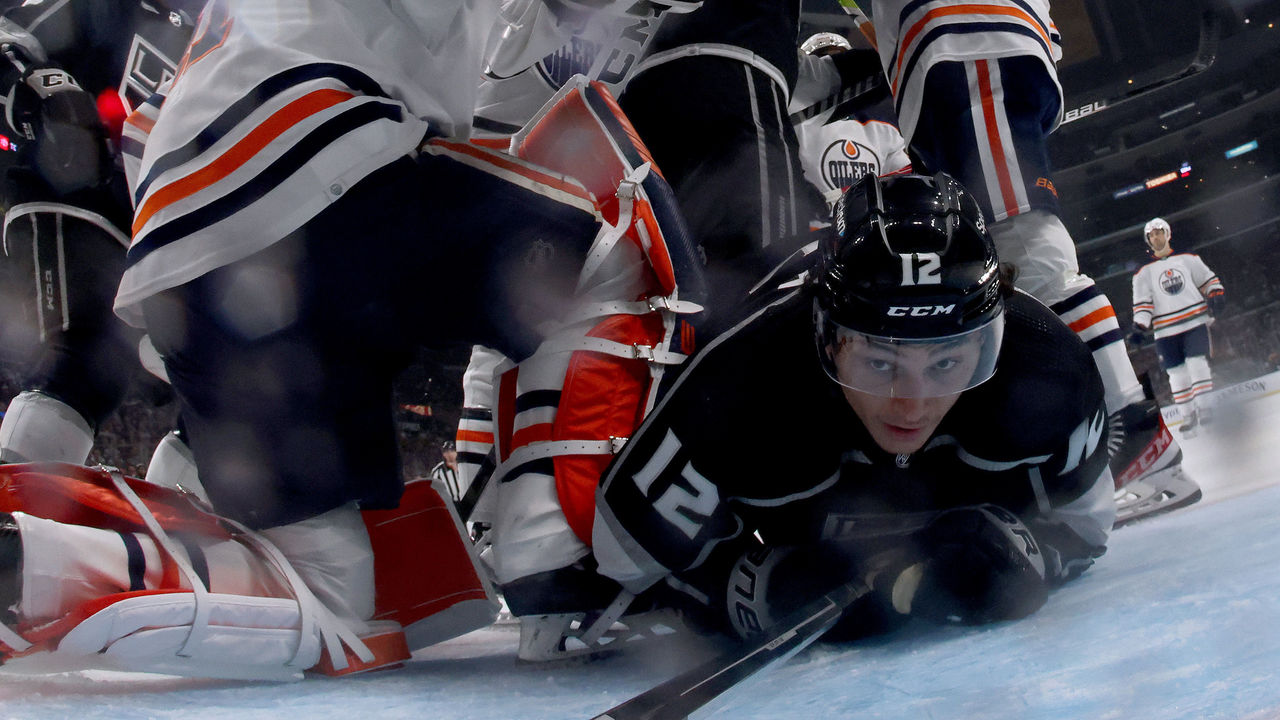 For the Kings to fight back in the series, one Los Angeles forward line needs to be the best on the ice or close to it. The special teams battle seems to be a lost cause - Edmonton's up 5-1 in power-play goals - so dictating play and harrying Mike Smith at even strength is vital.
Phillip Danault's line achieved that in Game 1. Danault, Moore, and Alex Iafallo each scored, and they accounted for 80.14% of the expected goals at five-on-five. But Draisaitl, Hyman, and Yamamoto outplayed them head-to-head in Game 2, while McDavid's linemates, Kane and Puljujarvi, lit the lamp 21 seconds apart.
Only the Kings' third line, Blake Lizotte between Brendan Lemieux and Dustin Brown, was effective in Game 3. They outchanced the Oilers 16-5 during their shifts, but Natural Stat Trick classified all five chances they allowed as high danger. Meanwhile, the Anze Kopitar line got burned on Edmonton's backbreaking third and fourth goals - one of which stemmed from a failed clearance, the next from Hyman bodying Andreas Athanasiou off a loose puck.
L.A.'s top lines lack great finishers, an acute issue in this matchup. Until Viktor Arvidsson returns from injury, Danault and Adrian Kempe will be the club's only active 20-goal scorers. The Kings scored fewer goals this season than any playoff team except the Dallas Stars, whose path to victory against the Flames hinges on Jake Oettinger delivering four shutouts.
L.A. couldn't dream of doing that even before Kane and Hyman heated up since Edmonton's superstars rarely get neutralized in the same game. Opponents held both McDavid and Draisaitl pointless just 10 times in the regular season.
Kopitar and Danault - L.A.'s equivalent duo - are fine two-way centers. At least one of them has to level up and dominate if the Kings are to avoid further embarrassment.
Smith is trending upward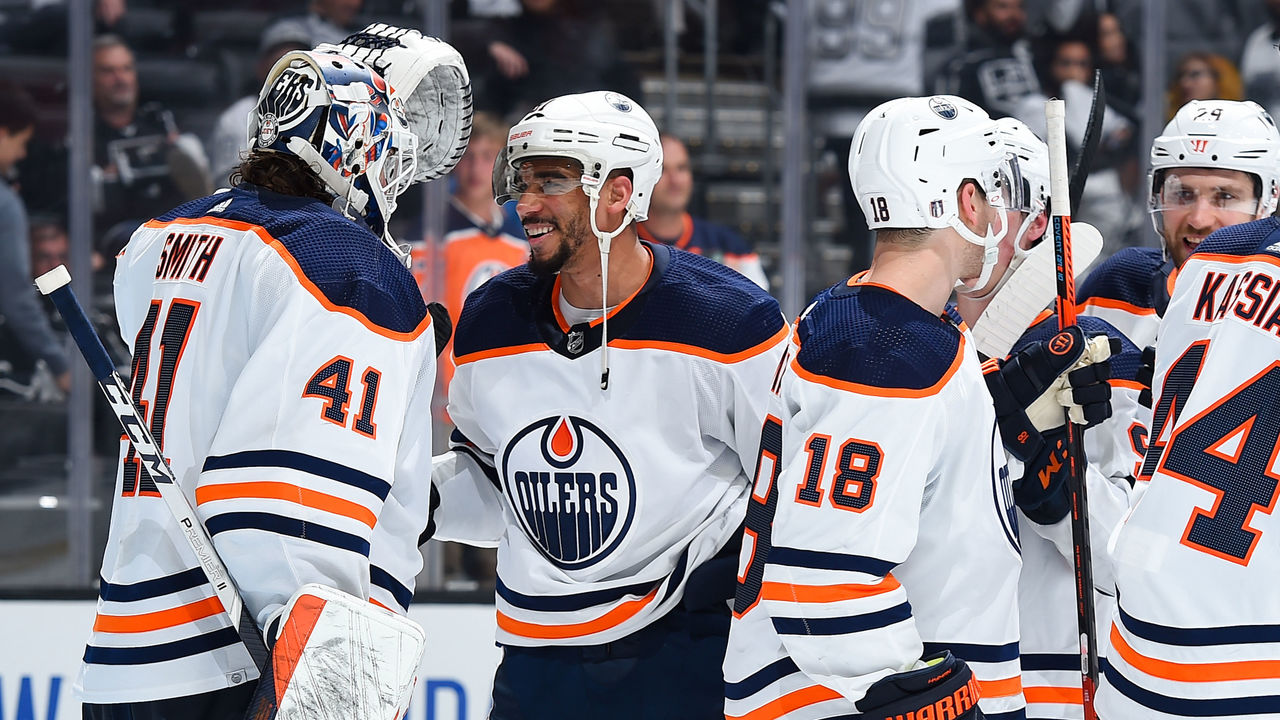 Smith's performances with the Oilers have swung between extremes. He looked washed after the 2019-20 campaign, elite in 2020-21, and reliable when he wasn't injured this past regular season.
The 40-year-old goalie won nine straight appearances heading into these playoffs and promptly gifted L.A. Game 1 via that ghastly giveaway, which clinched his 10th straight postseason loss since 2019. Then Smith blanked the Kings with 30 saves in Game 2. He stopped 44 shots in Game 3.
A fan's faith in Smith can waver by the season, month, or night. But his play Friday was reassuring. L.A. outshot the Oilers 19-7 in the first period, yet Smith shut the door while McDavid capitalized on two openings to secure the lead. When Edmonton led big in the second, Smith peeked at the weak side of a developing attack, spotted Kopitar lurking, and moved laterally to glove his one-timer with ease rather than lunge in desperation.
Smith's impenetrability in Game 2 made him the sixth goalie to record a playoff shutout in his 40s. He was the first to do it since Dwayne Roloson in 2011. Two of those old-timers, Jacques Plante and Dominik Hasek, are NHL legends who improved on the feat by getting another shutout in the same postseason.
Smith doesn't need to resemble prime Hasek to finish off L.A. and help spark a deep run. Remaining trustworthy would suffice.
Nick Faris is a features writer at theScore.
Comments
✕
What Edmonton's smackdown win in Game 3 signifies about Oilers-Kings
  Got something to say? Leave a comment below!