How Roman Josi got his mojo back
Getty Images / Photo illustration by Nick Roy / theScore
His phone buzzed late in the afternoon, and on the other end of the line was Nashville Predators head coach John Hynes. Given the state of the team, Josi knew the call wouldn't be brief, so he stepped into his backyard, dogs in tow.
"Things have to change with the team, with you. What can I do to help?" Hynes asked Josi, triggering a nearly hour-long "man-to-man" conversation.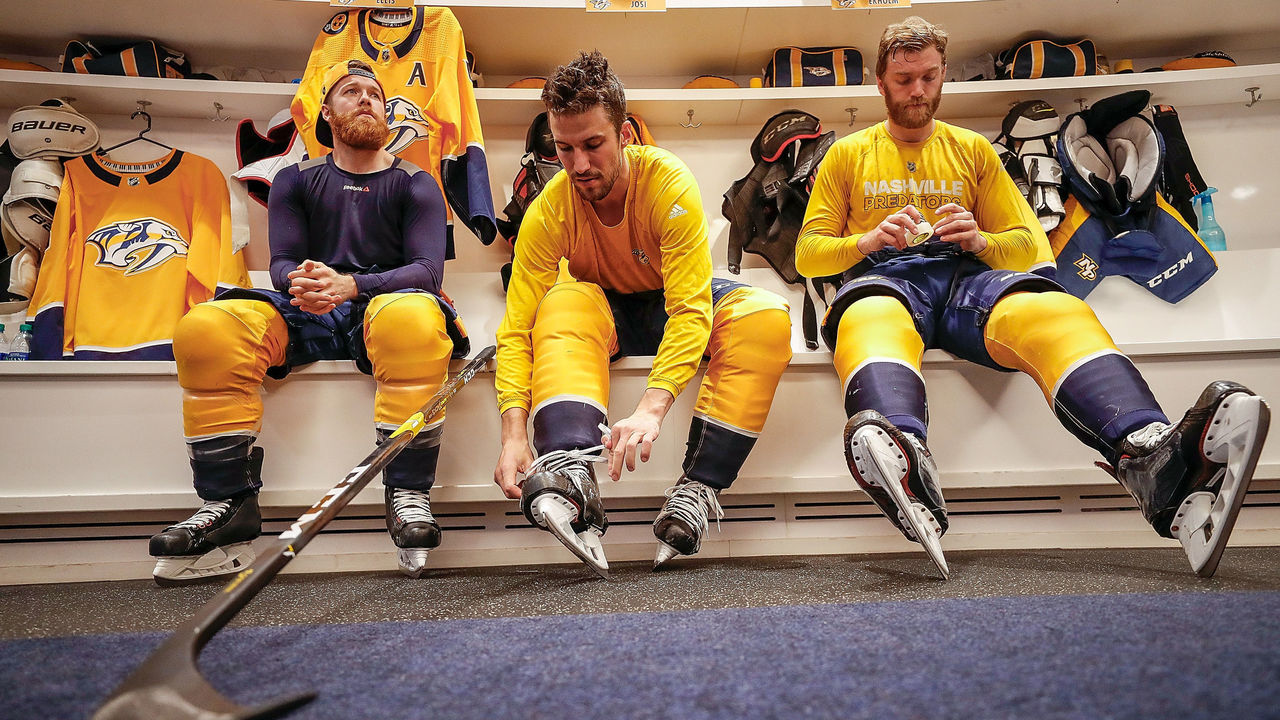 At the time, Nashville had accumulated only 10 wins through two months of the delayed and shortened 2020-21 NHL season. An upcoming eight-game road trip had the potential to derail all hope for a playoff berth.
Hynes didn't lecture his captain, and Josi didn't defer to his coach. It was an honest, civil discussion about how the leader of the players and the leader of the coaches would fix the issues underpinning inconsistent play.
"It was a turning point record-wise, and also a turning point culturally," Hynes said. "It was a conversation that helped us get to a place and level that was going to give us the best chance to be successful."
After going 4-3-1 on the trip, the Predators posted a .729 points percentage over their final 24 games to secure the last playoff spot in a temporarily rejigged Central Division. Through 48 games this year, Nashville sits third in the Central. The group has bought into a hard-nosed style of play, Juuse Saros is providing Vezina Trophy-caliber goaltending, and Josi has returned to peak form.
Ultimately, the Predators go as Josi goes, and the native of Bern, Switzerland, is the first to admit last season was a down year by his standards. The past four months, though, he's been playing arguably the best hockey of his 11-year career.
But why the stumble in 2020-21? And how did Josi get his mojo back?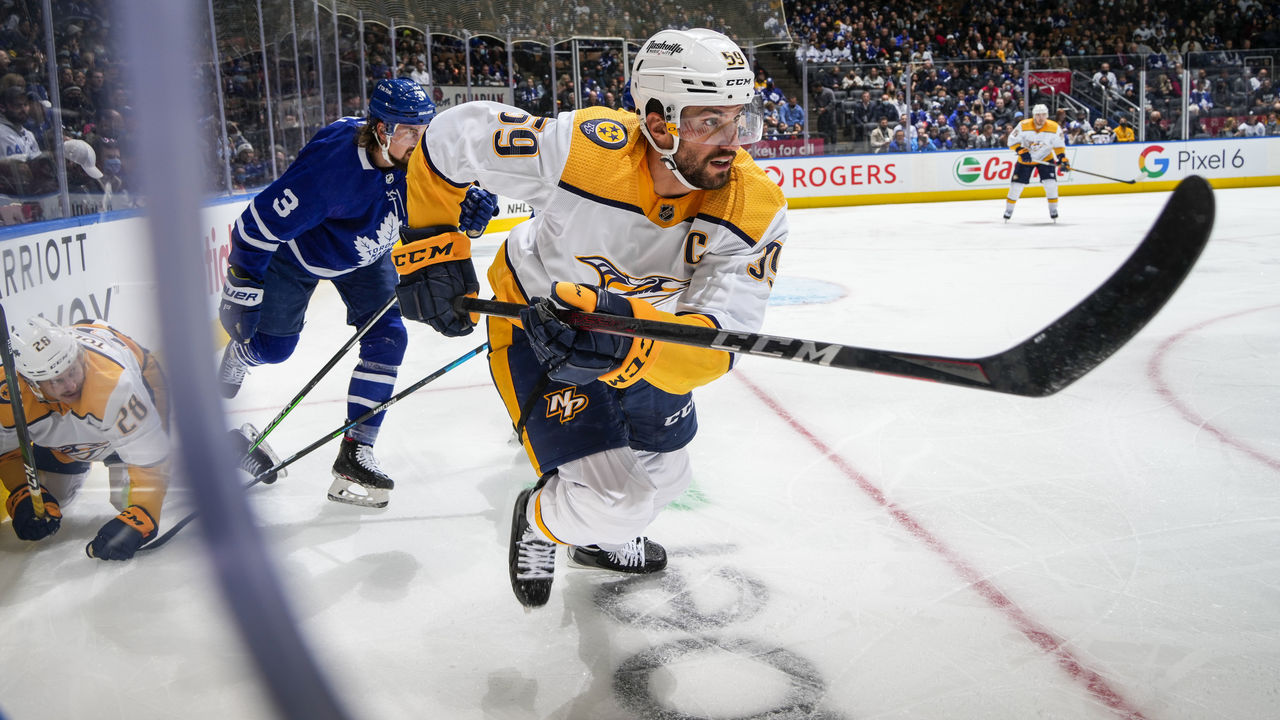 Josi and Mattias Ekholm are the Predators' longest-tenured players. Wide-eyed rookies in 2011-12, they've since grown into key roles on Nashville's blue line, inked multiple long-term contract extensions, and become husbands and fathers.
Along the way, Josi has adopted a modern approach to his health and wellness, while Ekholm has remained "old school" in his methods.
"It's funny to see how different you can be in those regards," Ekholm said with a laugh.
Josi, described as curious and conscientious by those close to him, has a full menu of holistic practices, starting with mindfulness meditation.
"It's good for your brain to calm down sometimes. I feel like it helps me in life but also in hockey - to be more calm out there," Josi said, noting that a mental skills coach working for the Predators a few years ago encouraged him to try meditation. He's found 5-10 minutes a day can help ease his mind.
"I told myself I wanted to give it a try, give it a shot, and not just do it for two or three days and then give up," Josi said. "I stuck with it. It took some time, but after a while, I felt some benefits. Now, it's just a part of my routine."
Josi regularly invites chiropractors, acupuncturists, and massage therapists into his home for treatment. Sometimes he'll stop by the local cryotherapy clinic on his drive back from the rink. In the offseason, when he can maintain a steadier daily schedule, he likes to track his nutrition, hydration, and sleep.
This appetite for mental and physical health optimization is virtually limitless for Josi, who underwent tests at a Chicago neurology clinic this past offseason to better understand how his brain processes the action on the ice.
"Roman's always (hungry) for more information, trying to stay ahead of the curve," said Judd Moldaver, Josi's agent and an executive vice-president at Wasserman Hockey. "And he's really, really disciplined."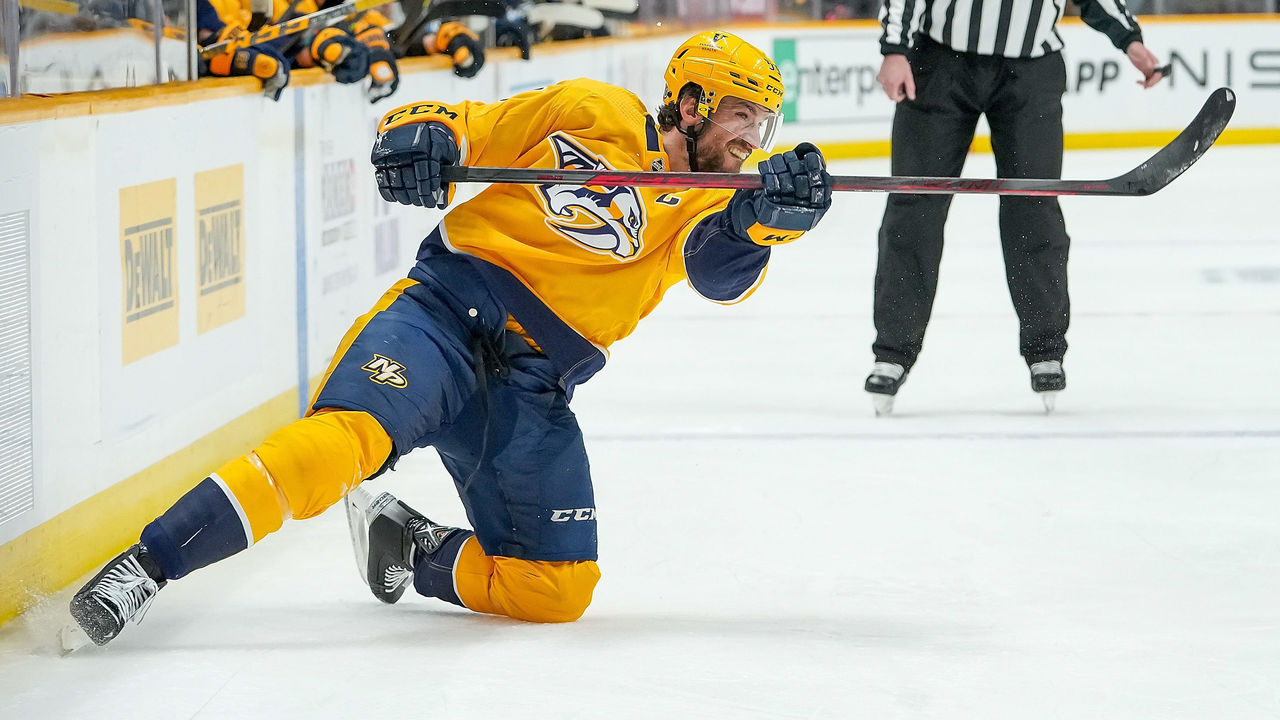 The NHL calendar is usually predictable: training camp in early fall, regular season from fall to early spring, and playoffs from spring to early summer.
For the Predators and several other teams, the first offseason of the COVID-19 pandemic ran from August 2020 to January 2021. That meant Josi didn't compete in a meaningful hockey game for 160 days and instead did nothing but train throughout the fall. With his head down but his rhythm out of sync, Josi overextended himself in the gym and at the rink ahead of camp.
"It was almost like you started skating so early, and then the season got delayed, season got delayed, season got delayed," he recalled. "I put in so much time and energy into it all that I almost lost a bit of that balance of getting enough rest and also training hard."
Ian Mack, Josi's personal sports scientist and trainer and the founder of Tomahawk Science, said the uncertainty of the situation complicated matters.
"That offseason was so funky for so many people," Mack said. "It was a long offseason, but that was also only in hindsight, right? We didn't know it was long in the middle of it. We were like, 'Alright, we need to keep guys ready to play because they might be at camp next Monday.'"
Mack noted the skating motion, if repeated too often over a short period, can be "so detrimental" to a player's hips - especially for someone like Josi, who's in his 30s and relies heavily on his elite skating ability. "It was a struggle for a lot of guys," Mack said of the 2020-21 season. "The injury rate was pretty high."
Josi missed seven games due to injury and didn't always look his dynamic self when healthy. He was out of sorts on the mental side, as well. After winning the Norris Trophy in 2019-20, his internal expectations went into overdrive.
"You go into that next season comparing everything to last season. You want to take your game to the next level, and you put a lot of pressure on yourself. I just felt like I didn't meet my own expectations," Josi said. He added that he couldn't break out of that mental spiral for a while, leading to a subpar product on the ice.
Hynes didn't fault Josi for the regression. Everything Josi had done in the offseason was in the spirit of bettering himself and, by extension, the team. He hadn't acted recklessly; he simply lost perspective for a stretch.
"Usually, when you win that type of an award, you had a tremendous year, and a lot of times, everything you did worked out well. Everything you shot went in the net or a lot of the passes you made wound up as productive points," Hynes said. "And then you come in next year, and you're expecting the same. You're expecting to be at that level, and sometimes you just can't get there."
Visualization is part of Josi's mental work. Another component is goal-setting. Ahead of the 2019-20 season, Josi slapped Post-it notes on various surfaces in his home. They read "NT" - for "Norris Trophy."
This past fall, the Post-its were gone, and the annual goals were less specific.
"Focus on the day-to-day instead of focusing on results," Josi said of his mindset for this season. "Results are good. I need to have goals. But you have to enjoy the whole process, enjoy the everyday. That's the emphasis this year."
Josi - who's helped shape the mold for the modern defenseman - is once again contending for the Norris. The field is stacked, with Victor Hedman, Adam Fox, Cale Makar, and Aaron Ekblad all building legitimate cases. Among NHL blue-liners, Josi is tied for first in primary points (32), tied for second in total points (47), and ranks second in goals (13). He's scored or assisted on 32% of the Predators' 149 goals, a better rate than all Norris front-runners except Fox.
Josi logs a team-high 25:04 of ice time per game and, quite frankly, is Nashville's catalyst in every sense of the word. He's hugely influential in all three zones, the connective tissue between his five teammates on the ice. He's the rare player who enters the broadcast's frame of play seemingly out of nowhere, turning a two-on-two into a three-on-two on offense and a one-on-two into a two-on-two on defense. His world-class instincts and skating allow him to manage the game, with the flow of a shift often running directly through him.
"When he's at his best, he's never standing still," Ekholm said. "It doesn't matter if he's in his own end, if he's at the blue line offensively, if he's in the neutral zone - he's constantly moving and changing directions all the time."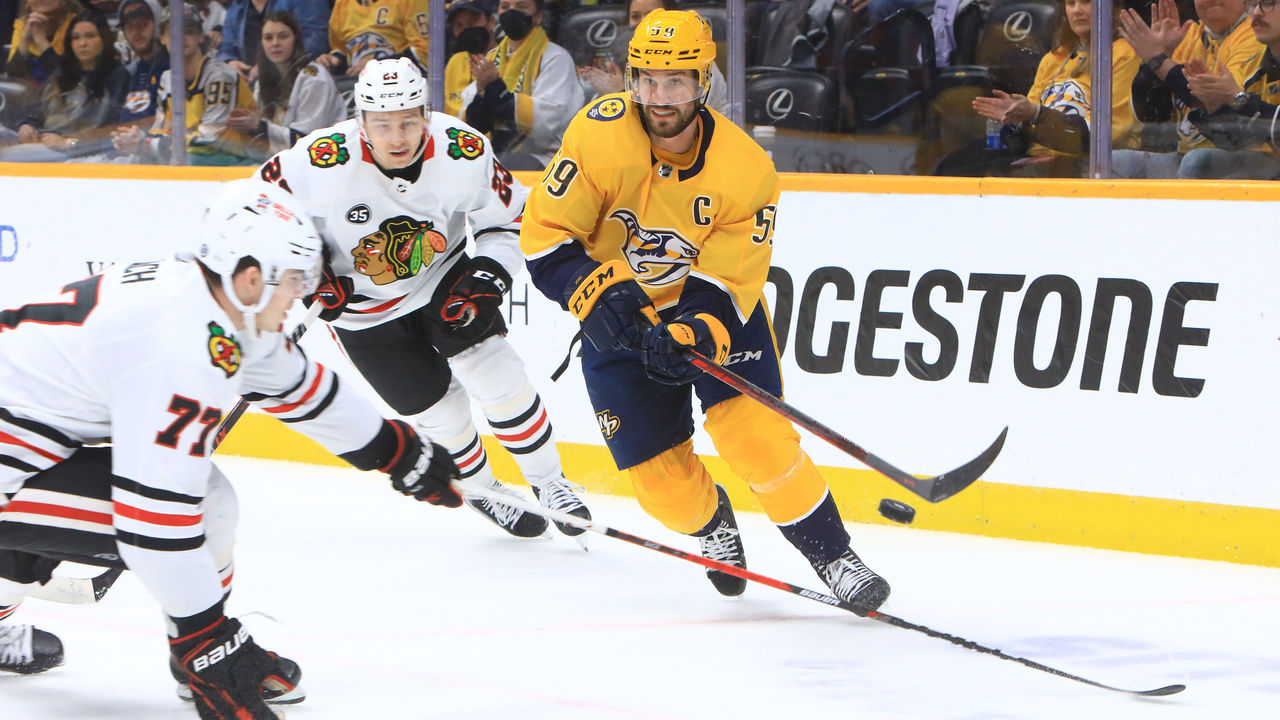 Hynes, who took over as coach in January 2020, has noticed the return of Josi's power and explosiveness this season, as well as an improvement in his decision-making. He trusts Josi more than ever because the no-panic defenseman will backcheck as doggedly as he rushes the puck.
"It's freedom with responsibility. That's what it is," Hynes said.
He continued: "He understands that maybe the rush game isn't there every night. There aren't a lot of gaps, not a lot of free ice today, so how else can he generate it? It might be from offensive-zone play, where he's more active in the (offensive) zone. That's where we think his game is continuing to grow because he's picking his spots better and creating offense in different ways."
While Saros may be the Predators' most valuable player this season, Josi is undoubtedly the franchise's most important player of the recent past, present, and future. Last year's funk was never going to throw the veteran off course.
"He's incredibly talented, works hard, but his mentality seems to be very Teflon. Things kind of slide off of him. Things don't seem to affect him," said retired NHL forward Colin Wilson, a teammate of Josi's from 2011-17.
"Game in and game out, he has that consistency. You knew what kind of game you were getting with him, and even though you knew, he would also elevate it. That's why he's been so valuable in Nashville all of these years."
Back in 2012, Josi escaped to Miami over the All-Star break with countrymen Nino Niederreiter and Mark Streit. The lasting memory from that weekend getaway? Josi accidentally wrecked a hotel-room TV after watching Swiss icon Roger Federer lose to rival Rafael Nadal in the Australian Open semifinal.
"Roman would never do something to hurt somebody or something. He's always cool," Streit said, chuckling. "But when Roger's playing, he's so emotional. He gets so upset. It was literally a plastic cap from a water bottle. He threw it at the TV. The screen went out, and we couldn't put it back on."
A decade later, Josi is fresh off his fourth All-Star appearance and 59 points clear of Streit for most points by a Swiss-born NHLer. Nobody can compete with Federer, but Josi is a "top-three, top-five" Swiss sports celebrity, according to Niederreiter. "Everybody knows where he plays and what he does and how good he is," the Carolina Hurricanes forward said.
Nowadays, Josi is as synonymous with Nashville as he is with Switzerland. He's laid down roots in Tennessee with his wife, Ellie. Their son, Luca, turned 1 this past weekend, and they're expecting a baby girl in July. And while high-end defensemen Ryan Suter, Seth Jones, Shea Weber, P.K. Subban, and Ryan Ellis have come and gone, Josi has continued to don a Predators jersey. He's already the team's all-time assist leader, and he's outlasted another face of the franchise in recently retired goalie Pekka Rinne.
"The torch got passed. He's picked it up and ran with it seamlessly," former teammate and current Ottawa Senators forward Austin Watson said of Josi. "I don't know what sums it up best other than to say that he is the Nashville Predators franchise right now."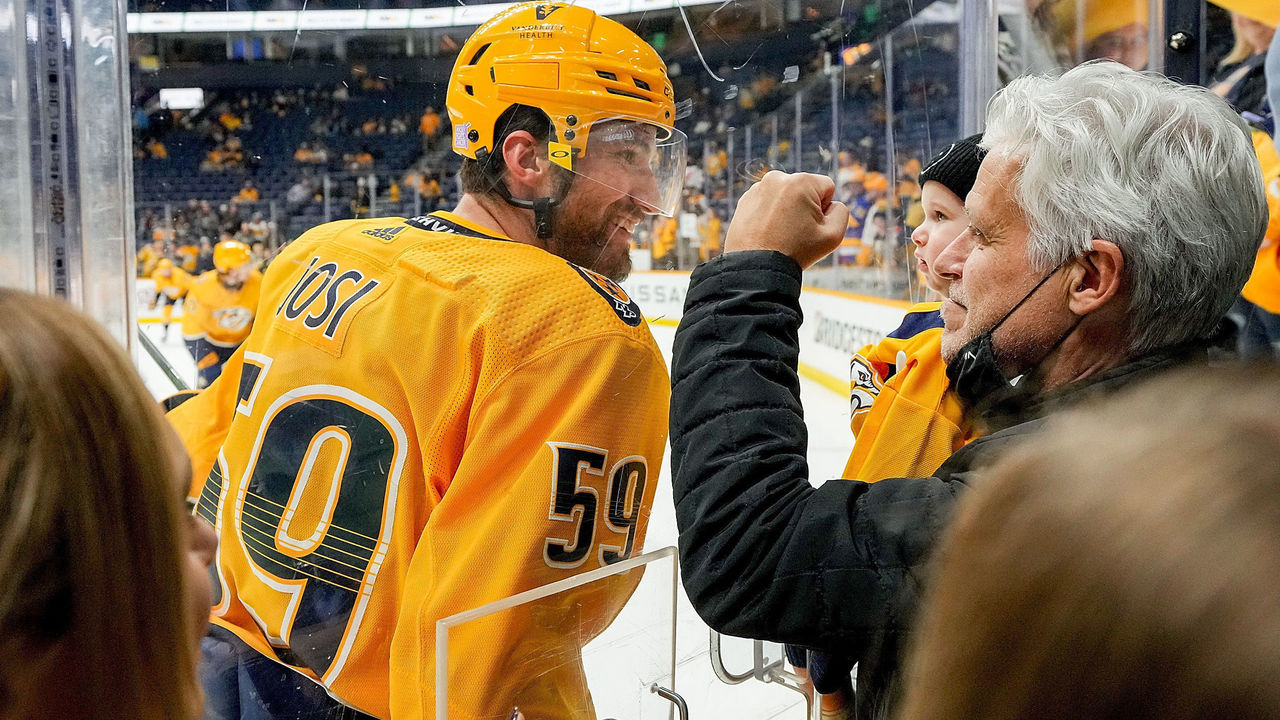 Behind the scenes, Watson said, Josi is as invested as any captain in the league. When Watson was battling substance abuse issues earlier in his career, Josi assumed the role of sounding board and "go-between" for management.
"Whenever you needed it, he was there to talk," Watson said. "He was always concerned with how I was doing and if he could do anything."
Speaking more generally about Josi, Waston added: "There's just so many day-to-day dealings with not just big things but also little things. Are we skating today? What time are the meetings? Do the guys need a break? Do we need to lean on the guys harder? All of those things. There's a responsibility that comes along with wearing the 'C' and being that face of the franchise. It takes a special person to be able to handle all of those things and maintain their level of performance as well, and Jos has been able to do that."
As Josi and those close to him now know, even the most talented, most meticulous athletes can lose their mojo and must find a way back to normalcy.
"Even though he's a 31-year-old guy who's accomplished so much in the league, he's still growing," Hynes said. "He's still growing on the ice, and he's still growing off the ice. The best is still to come for Roman."
John Matisz is theScore's senior NHL writer. Follow John on Twitter (@MatiszJohn) or contact him via email (john.matisz@thescore.com).
Comments
✕
How Roman Josi got his mojo back
  Got something to say? Leave a comment below!