ECHL indefinitely suspends player accused of making racist gesture
Ethan Miller / Getty Images Sport / Getty
The ECHL suspended Jacksonville Icemen defenseman Jacob Panetta indefinitely Sunday pending a hearing "as a result of his actions" during a game Saturday night.
Jordan Subban, a blue-liner for the South Carolina Stingrays who is Black, tweeted after the game Panetta directed a racist gesture toward him.
The ECHL's short statement made no mention of the specifics.
The Icemen initially said Sunday they were cooperating with the ECHL's probe of the incident but added they were waiting until after it's completed to make "decisions" or comment further. Jacksonville CEO Andy Kaufmann later followed up to say the team will release Panetta and apologized "to (anyone) who was offended."
Jordan's brothers, New Jersey Devils rearguard P.K. and Buffalo Sabres goaltender Malcolm, called Panetta out Saturday night while lamenting a lack of consequences for racist acts.
In a pair of videos posted to Twitter on Sunday night, Panetta said he was making a "tough guy, body-builder-like gesture" towards Subban and added that he'd made similar gestures towards white players in the past.
On Friday, the AHL suspended San Jose Barracuda forward Krystof Hrabik for 30 games for directing a racist gesture at Tuscon Roadrunners winger Boko Imama during a game on Jan. 12.
Jalen Smereck, who was the victim of a racist taunt in the Ukrainian Hockey League in September, expressed dismay at the frequency of incidents in such a short period of time and wondered how many more have taken place.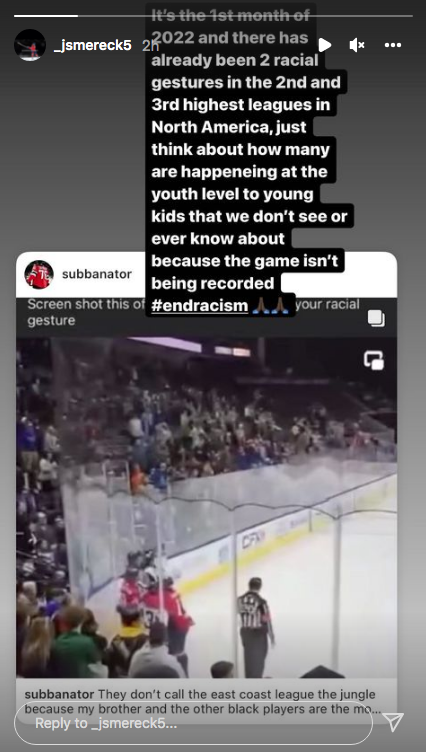 (Courtesy: Instagram/@_jsmereck5)
Stingrays president Rob Concannon condemned Panetta's actions and backed Subban in a statement Sunday.
"The South Carolina Stingrays are disgusted and appalled by last night's incident involving Jordan Subban," he said. "Our organization stands in support of our friend and teammate, Jordan, as well as all other players who continue to deal with racism and discrimination. This behavior has to stop and is unacceptable."
The NHL also issued a statement, but like the ECHL, it did not mention any specific racist acts.
"Incidents of racism, whether they occur in hockey or anywhere else, are abhorrent," the league said. "The NHL will continue to make its resources available to the hockey ecosystem to educate and inform, with the goal of making the game welcoming and safe for all players and fans."
Comments
✕
ECHL indefinitely suspends player accused of making racist gesture
  Got something to say? Leave a comment below!