Hockey Diversity Alliance spotlights racist abuse in powerful new campaign
About a month ago, Minnesota Wild defenseman Matt Dumba was connected with a youth hockey player in the Minneapolis-Saint Paul area. The main topic of conversation wasn't the local NHL team, skill development tips, or Dumba's career. It was about how the player had been accused recently of "stealing stuff" from his own teammates.
"It's because he's the Black kid on his team," Dumba told theScore.
"He's been called racial slurs during games, and by his own teammates. Like, this is insane. For people to turn their cheek and have a blind eye (to these incidents), it's just really frustrating to our group. We see it every day."
Dumba relayed that anecdote earlier this week to help explain why the Hockey Diversity Alliance, in partnership with Budweiser Canada, chose to center its new #TapeOutHate campaign on raw examples of overt racism.
On Saturday, the HDA and Budweiser released a two-minute video spot highlighting the real-world abuse that many NHLers of color face on a regular basis:
Warning: Video contains graphic/offensive content
After a short introduction, the video starts by highlighting the kind of racist messages received by the players on social media, including a slur aimed at Dumba, who is Filipino Canadian.
Dumba later asks Wayne Simmonds of the Toronto Maple Leafs if he'd consider enrolling his kids in hockey. Simmonds, who had a banana thrown at him in the middle of an NHL exhibition game in Ontario in 2011, replies: "If I knew she was gonna have to face the stuff I faced, probably not."
Uncensored and censored versions of the commercial, which was filmed in Toronto last August, have been posted and shared online. The commercial will also be shown on Hockey Night in Canada on Saturday when Simmonds' Leafs and Nazem Kadri's Colorado Avalanche meet in the broadcast's prime-time slot.
"We wanted to keep things as raw as possible," Kadri said in an interview. "Sometimes, for people to understand, they've gotta see (the vulgar language). I feel like if most people watch it and read those comments, they're going to be disgusted. ... For us, it's about us trying to create awareness and have people see things through a different lens and a different perspective."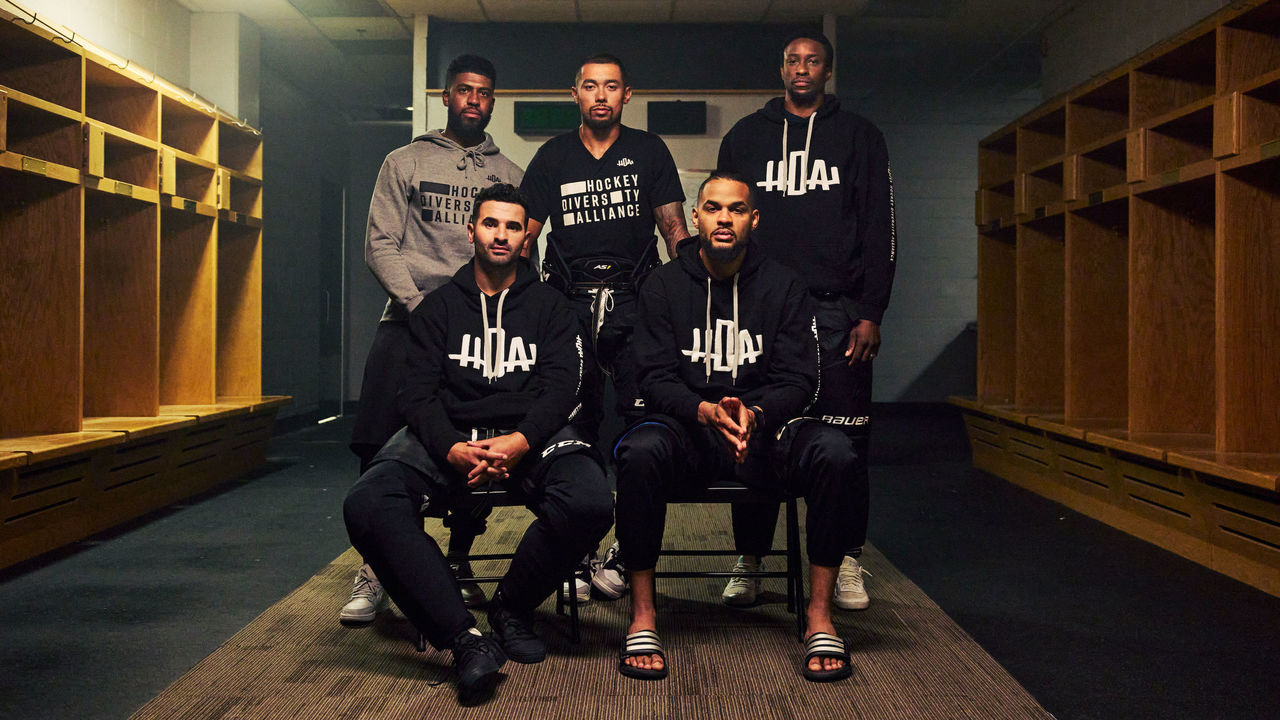 The HDA was formed in June 2020 in the wake of George Floyd's murder by a Minneapolis police officer. Active players Dumba, Simmonds, Kadri, and Anthony Duclair, as well as ex-NHLers Akim Aliu, Trevor Daley, Chris Stewart, and Joel Ward, comprise the HDA's executive board. (Another founder, Evander Kane, has been on voluntary leave since last year.) The group's mission is "to eradicate systemic racism and intolerance in hockey."
The #TapeOutHate spot has been paired with HDA-themed hockey tape. The rolls of black tape (which are available for purchase online and, as of Jan. 22, at Canadian Tire stores) feature the words "RACISM HAS NO PLACE IN HOCKEY" in white lettering. Budweiser is funding the tape production by Renfrew Pro, with $1 from each purchased roll being donated to the HDA.
"The truth of the matter is that these are real stories," said Mike D'Agostini, a senior director of marketing at Budweiser. "These are real experiences that the players of the HDA experience - if not every day, then far too often. We felt like it was the right thing to do, to spread that message in the rawest form possible."
Over the years, at different levels of the sport, Dumba's been harassed in person and online. "Social media has become kind of a monster behind all of this," Dumba said. He has received hateful messages on Instagram and elsewhere - especially in the summer of 2020, after he delivered a speech condemning racism and then kneeled for the U.S. national anthem before a game in the NHL playoff bubble in Edmonton.
Dumba, 27, admits he feels numb to all the hate. "Which isn't right," he said.
"This is something that I've been dealing with for a long time," said Kadri, who's 31. "And for me to remember certain specific situations when I was 10, 11 years old - you know, this is 20 years ago - it must have had a pretty traumatic impact on me. It was definitely hurtful at the time, but, for myself, I think I had mental toughness to persevere. We're worried about the youth maybe not having that, this really affecting people long term."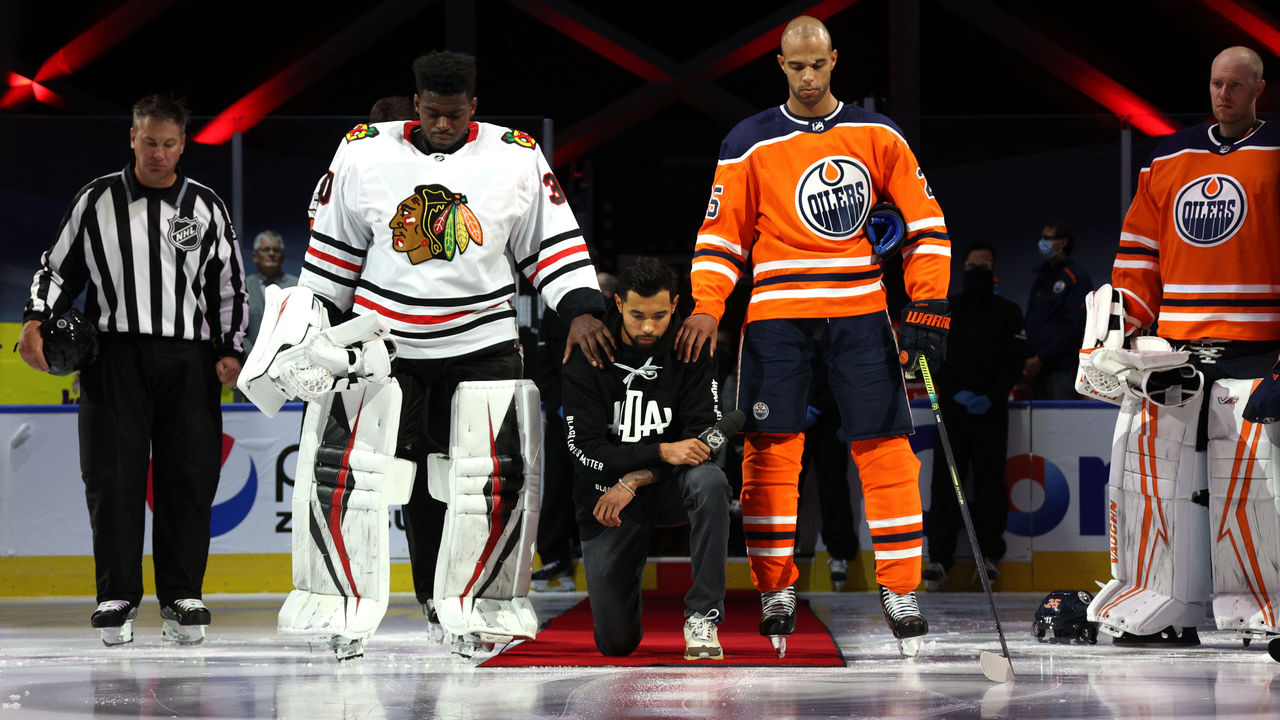 The NHL is not involved in the #TapeOutHate campaign. After an initial partnership, the HDA broke off from the league in October 2020, saying the league was "focused on performative public relations efforts that seemed aimed at quickly moving past important conversations about race needed in the game."
Dumba said the NHL was "given several opportunities to be involved and participate and help spread this message," referring specifically to the #TapeOutHate campaign, "and they chose not to." He said the league is "scared to create real change and make real difference. At every turn." The blue-liner added: "It always has to be their idea or come from their people."
Asked about Dumba's remarks, a league spokesperson provided the following statement to theScore: "The NHL applauds our partner Budweiser and the Hockey Diversity Alliance for their efforts to promote diversity and inclusivity in the sport of hockey. This ongoing movement requires vision and commitment from every stakeholder in hockey. We welcome all who are using their voices and platforms to pursue these important goals and remain determined to continue to use ours and to do the work necessary to create real change."
Ultimately, both Dumba and Kadri said, the HDA would like to get on the same page as the league. In the meantime, the group is marching on.
"There's still racism in our game," Dumba said. "You see it, you hear these stories from these young kids, what they're going through. We've got to stay grinding on this and try tackling this all together."
John Matisz is theScore's senior NHL writer. Follow John on Twitter (@MatiszJohn) or contact him via email (john.matisz@thescore.com).
Comments
✕
Hockey Diversity Alliance spotlights racist abuse in powerful new campaign
  Got something to say? Leave a comment below!