Yanni Gourde embodies who the Kraken want to be
Christopher Mast / NHL / Getty Images
The people of Saint-Narcisse, Quebec, Yanni Gourde's hometown, packed 10 buses when they flocked an hour south to Victoriaville to watch the last regular-season game he played in junior.
He treated them to a show. Gourde's team, the Victoriaville Tigres, handed out thousands of yellow T-shirts to salute his 2011-12 QMJHL scoring title. Coach Yanick Jean wore one to spice up his pregame speech. Then Gourde met the convoy's expectations, eviscerating the Shawinigan Cataractes for a goal and four assists in a 7-5 win.
"Racking up points," Jean said. "That's what he was doing that year."
Offensive punch was Gourde's calling card a decade ago, when he bagged close to two points nightly as a 5-foot-9 overager who'd gone undrafted to the NHL. Gourde was used to the snub; no QMJHL club drafted him, either. From humble origins, he became a Stanley Cup champion twice over, pestering puckhandlers and scoring in the clutch as the Tampa Bay Lightning surged to back-to-back titles.
It was no surprise when Macklemore called Gourde's name in the Seattle Kraken expansion draft. Two months into the Kraken's NHL debut, they're several points out of the Western Conference playoff picture, but Gourde's fit in fine. Coming off summer shoulder surgery, he's put up 16 points in 22 games while matching up against elite opposition, rising to fulfill his city's standards as he did in Victoriaville.
"I think he's become a fan favorite already because of his passion and his tenacity," Kraken assistant general manager Jason Botterill told theScore recently.
Plenty of Kraken veterans have interesting backstories. Jaden Schwartz and Vince Dunn won the Cup with the St. Louis Blues in 2019. Jordan Eberle came close but never made the final with the Edmonton Oilers and New York Islanders. Once traded for Taylor Hall, former Oilers defenseman Adam Larsson signed in Seattle for a fresh start. Mark Giordano, the 38-year-old captain, just exited COVID-19 protocol and is 31 appearances away from playing his 1,000th NHL game.
Then there's Gourde, the Kraken archetype. His scrappy, underdog journey to the hockey mountaintop aligns with the identity the league's 32nd club is trying to establish. Namely: Be miserable to play against for 60 minutes, and don't let up.
"Nothing's going to come easy for us. We're not the most talented group. But we do have something in common. We work hard," Gourde said in a phone interview this week.
"It's been like that for my whole career: trying to be relentless on the puck, stay on the puck, do the right thing every time I'm on the ice," he added. "Little details of the game. Not forcing plays. Wait for your chances. You don't have to make the hero play every shift. Just being smart and competitive and trying to win every battle I'm in."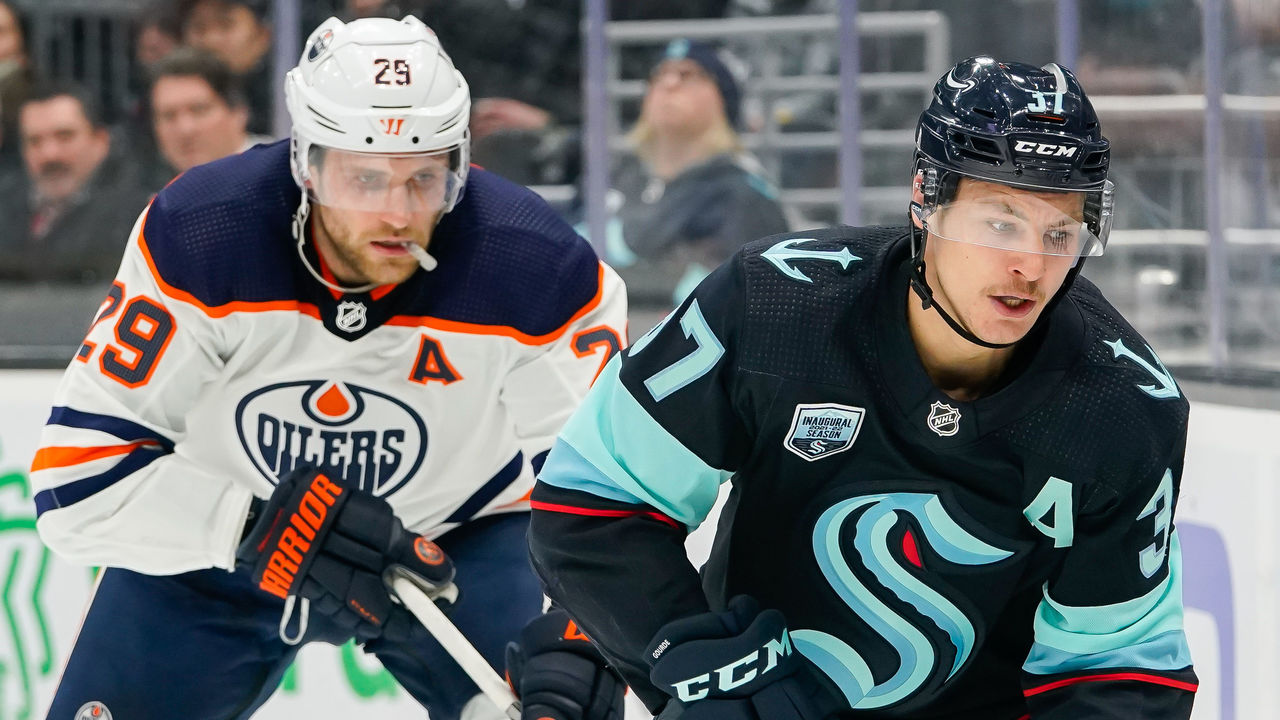 Seattle is 9-15-2 so far this season, and goaltending is largely to blame.
A low-event team that doesn't concede many dangerous chances, the Kraken have generated 49.18% of expected goals at five-on-five, according to Natural Stat Trick. But their goalies grade out as the NHL's worst - by save percentage (.875), by high-danger save percentage (.766), and by Philipp Grubauer's goals saved above expected mark (minus-16.87) as measured by Evolving-Hockey.
Gourde's fared better in the role of jack-of-all-trades center. He plays 18:51 a night, second among Kraken forwards to Alex Wennberg. Like Joonas Donskoi, Gourde logs minutes on the power play and penalty kill. Like Morgan Geekie, he wins 54% of his faceoffs. Like Schwartz, he's among the team leaders in primary assists. He's drawn 10 penalties and taken three, one of the league's best differentials.
Twice this season, Gourde's scored in the first minute of regulation, both times by speeding into open space and teeing off from the top of the faceoff circle. When Seattle visited the Buffalo Sabres recently, Gourde's merciless stick-lift of Rasmus Dahlin cued up Carson Soucy's shorthanded opening goal. Later, his quickness and vision on the rush led to Schwartz scoring in close.
"What we've talked a lot about is being competitive in every game and bringing a work ethic and a pace of play. That's where Yanni fits our identity to a tee," Botterill said.
"He plays fast and he plays hard. He exemplifies what we're trying to build as an organization."
He checks stars, too. Kirill Kaprizov is the opposing forward that Gourde's faced most frequently this season, per Natural Stat Trick. Not far down the list: Kyle Connor, Leon Draisaitl, Alex Ovechkin, and Artemi Panarin.
Jon Cooper entrusted Gourde with heavy assignments when he centered Tampa Bay's third line, the turbocharger that helped spur two Cup runs. Last postseason, Jonathan Huberdeau burned the Lightning for 10 first-round points, but the Florida Panthers didn't score in the 41 minutes during which Gourde shadowed him at five-on-five. In Game 7 of Round 3, Gourde snuck into the slot and sniped shorthanded to key a 1-0 win over Eberle's Islanders.
Cooper was the coach who likened Gourde and his old linemates, Blake Coleman and Barclay Goodrow, to gnats, so irritating were they to play against. Back in 2017, when Gourde stuck with Tampa Bay out of training camp as a 25-year-old rookie, Cooper's comparison of choice was the Energizer Bunny, since he never stopped moving.
Botterill endorses both analogies: "I can't trump those," he said. They reflect the fact that effort is still Gourde's secret sauce.
"It's a message that we've (emphasized) to our younger players that we draft at age 18," Botterill said. "You look at Yanni: undrafted, but continued to develop, continued to work at his game to eventually get to where he is in the National Hockey League.
"It's a great story. So many kids who get drafted at 18, 19, they think it's done. No, it's still a long process. And, hey, we talk about Yanni's story so much to other players - young prospects in our organization."
When Gourde led the QMJHL in scoring in 2011-12, his 124 points were 23 better than the next guy's tally. He had a lot going for him when he left Victoriaville, Jean said: high-end skill, expert hockey sense, physical maturity, and the nerve to produce in big moments.
What Gourde's game lacked was more dimension. He played with an edge but rarely threw the body, Jean said. His interest in defense was negligible. In 2012, Gourde parlayed an AHL tryout into his first pro contract, but was sent down to the ECHL and skated in 336 games across both leagues before the Lightning called him up permanently.
"At the junior level, when you're dominant, you don't have to take care of those details. There are some guys who get to the pro level and they cannot make the adjustment. If you don't do it, someone else will do it, and he's going to get your spot," Jean said.
"The way (Gourde) plays now, such a complete game, it's really that he worked at it at the next level."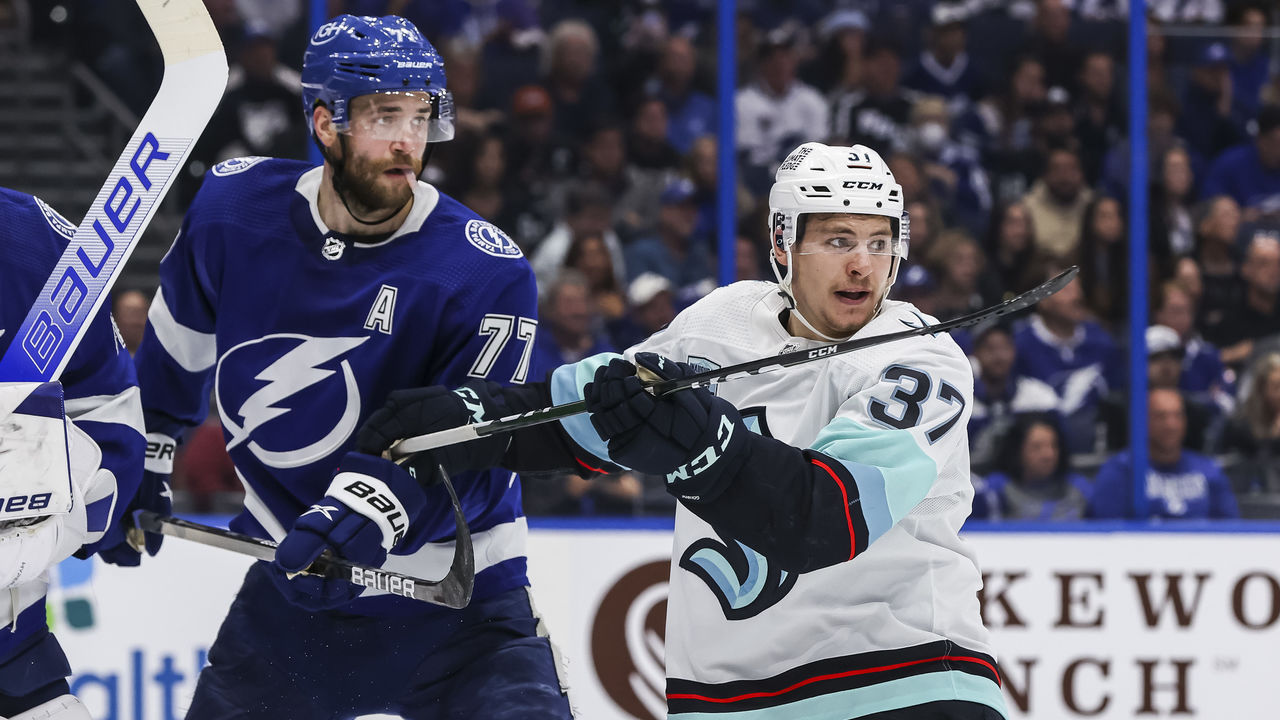 Early in Gourde's odyssey through the minors, he signed with the ECHL's Kalamazoo Wings, whose head coach Nick Bootland saw him tease his NHL potential.
Then a second-year pro, Gourde told his wife, Marie-Andrée, that the Kalamazoo stint was his last shot to carve out a living in hockey. He never had to activate Plan B. Bootland recalls Gourde arriving in tiptop shape, munching minutes on special teams, sticking up for teammates in scrums, and voicing his opinion on the Wings' breakout patterns and other Xs and Os configurations.
To Bootland, competitiveness became Gourde's "biggest separator" once he figured out how to channel his pugnacious streak. Jawing at every opponent who hits or bugs a teammate is admirable, the coach said, but it can distract a player. When that realization clicked, Gourde's relentlessness was a net positive on more shifts.
"If you find a player who's gone down to a four-letter league and then worked his way up to the best league in the world, he's really had to battle for that. He's not going to take anything for granted," Bootland said.
"That's the guy I would have selected (in the expansion draft), knowing who he is and knowing the passion he has for the game and wanting to get better on a daily basis. Who (else) would you want to lead your team?"
Kraken management agreed. Exposed in the draft because Tampa Bay protected four defensemen, Gourde was already gone from the Lightning in August, when he and Marie-Andrée ate maple taffy from the Stanley Cup in Saint-Narcisse. In October, Seattle tapped him, Eberle, Larsson, and Schwartz as alternate captains to Giordano.
Kraken coach Dave Hakstol has shuffled his forward lines this season, testing how new combinations jell. When Gourde centers Brandon Tanev and Calle Jarnkrok, Hakstol has praised the trio's diligence and pace. Gourde said he's enjoyed lining up with Schwartz and Eberle, whose compasses are oriented in the same direction.
"They want to go north. They want to make the right plays," Gourde said. "That's right into my game and right into my identity."
In November, when Gourde returned to Tampa to receive his second Cup ring, Seattle lost 3-0 in a reflection of the NHL's pecking order. The Kraken managed a season-low 17 shots against that lockdown Lightning defense. The literal silver lining: Gourde is a product of that winning environment. Down the line, Botterill said, he pictures Gourde passing on his workhorse habits and playoff wisdom to Seattle draft picks.
His no-quit approach, too. A few weeks ago, Seattle was shorthanded and trailing the Chicago Blackhawks at home when Gourde outmuscled Seth Jones in a puck battle. Gourde shoved Alex DeBrincat behind the Chicago net, drew a penalty when Jones roughed him, and dropped the gloves when DeBrincat sought retaliation himself.
TNT's cameras captured Gourde smiling as they punched each other.
"You can see he's enjoying being in the game. Enjoying being in the atmosphere in our building right now. Enjoying being a Kraken," Botterill said. "It's a pretty cool thing to watch."
Nick Faris is a features writer at theScore.
Comments
✕
Yanni Gourde embodies who the Kraken want to be
  Got something to say? Leave a comment below!