'When you go up, don't come back': How the Red Wings are building from within
Skates dig into the ice surface. A shot rings off the goalpost. Cursing fills the air after a shooter narrowly misses the net. A coach barks "Gap up! Gap up!" at a defenseman competing in a two-on-two drill.
In this hockey laboratory, there's one coach for every two-and-a-half players. The players' red hockey pants are emblazoned with the Detroit Red Wings' iconic winged wheel logo, but the Grand Rapids Griffins emblem on each helmet serves as a reminder of the present moment. This is the minor leagues.
"Up top, in the NHL, you're just worried about the final product," says Mike Knuble, the former NHL forward who's now an assistant coach for the Griffins. "Down here, it's more so about the process to create the product."
A variation of these sights and sounds can be seen and heard daily in AHL rinks across the continent, from San Diego to Laval, Quebec. All 32 NHL organizations are inherently invested in the development of their prospects - particularly in the AHL, where top affiliates compete not only for the league championship but also for the feeder league's highest graduation rate.
For the Red Wings, a proud Original Six franchise, the significance is amplified.
Amid an extensive rebuild, Detroit hasn't made the postseason since 2015-16, the last hoorah in a 25-year playoff streak that produced four Stanley Cups. Over the past five-plus seasons, the Wings' points percentage ranks 31st in the NHL, ahead of only the expansion Seattle Kraken, who've played all of 23 games.
Even though super rookies Lucas Raymond and Moritz Seider have provided a jolt of momentum in 2021-22, the rebuild under general manager Steve Yzerman - also known as the "Yzerplan" - remains far from complete.
Effective and efficient player development is how Detroit intends to advance past the pain of the rebuild and into the competitive stage of the cycle. Eventually, if all goes according to plan, the Wings will start contending for Cups again.
"Every guy you draft isn't going to turn out to be an NHL home-run player. But what you want to do is maximize each guy the best you can," Red Wings head coach Jeff Blashill says. "It's something that's been important to our organization for a long time. It's become even more in focus here in the last few years."
With 5:45 left in the third period of the Wings' eighth game this season, ESPN's John Buccigross could barely contain his excitement on national TV.
"That's the craziest sequence I've ever seen!" Buccigross blurted out.
The Wings had just denied eight straight scoring attempts in a whirlwind shift against a then-undefeated Florida Panthers squad. Forwards Adam Erne and Robby Fabbri each blocked two attempts in fearless fashion. Defenseman Danny DeKeyser blocked another, and then, as he tried to fire the puck out of harm's way, watched his stick snap into two pieces. In the thick of the chaos, goalie Alex Nedeljkovic frantically turned aside the three other attempts.
The Shift - as some Wings fans came to call it - was stressful and exhilarating. The boisterous home crowd supplied an appropriate soundtrack, the volume seeming to rise a few decibels after every defensive stop. "Detroit is a blue-collar town," says Knuble, who was drafted by the Wings and played parts of two seasons with them from 1996-98. "They've always liked guys like that - the Darren McCartys, the Kris Drapers, the Kirk Maltbys."
A cynic might suggest The Shift was a single moment in a long, 82-game season, a blip on the radar in the middle of a deep rebuild. Besides, getting hemmed in one's zone for nearly a minute, no matter the degree of sacrifice, isn't exactly conducive to winning. (The Panthers went on to win the game 3-2 in overtime.)
Those inside the organization wouldn't disagree with the cynical viewpoint, but they believe The Shift is also tangible proof the 2021-22 Wings players care a great deal about each other and the team's record. Shot-blockers Erne and Fabbri instantly earned respect and admiration from fans and teammates, as well as players and coaches within the Wings' farm system.
"Stuff like that is infectious. It spreads like wildfire," Griffins head coach Ben Simon says. Grand Rapids' dressing room was buzzing about The Shift the following day, he adds. The coaches didn't bring it up; the players did.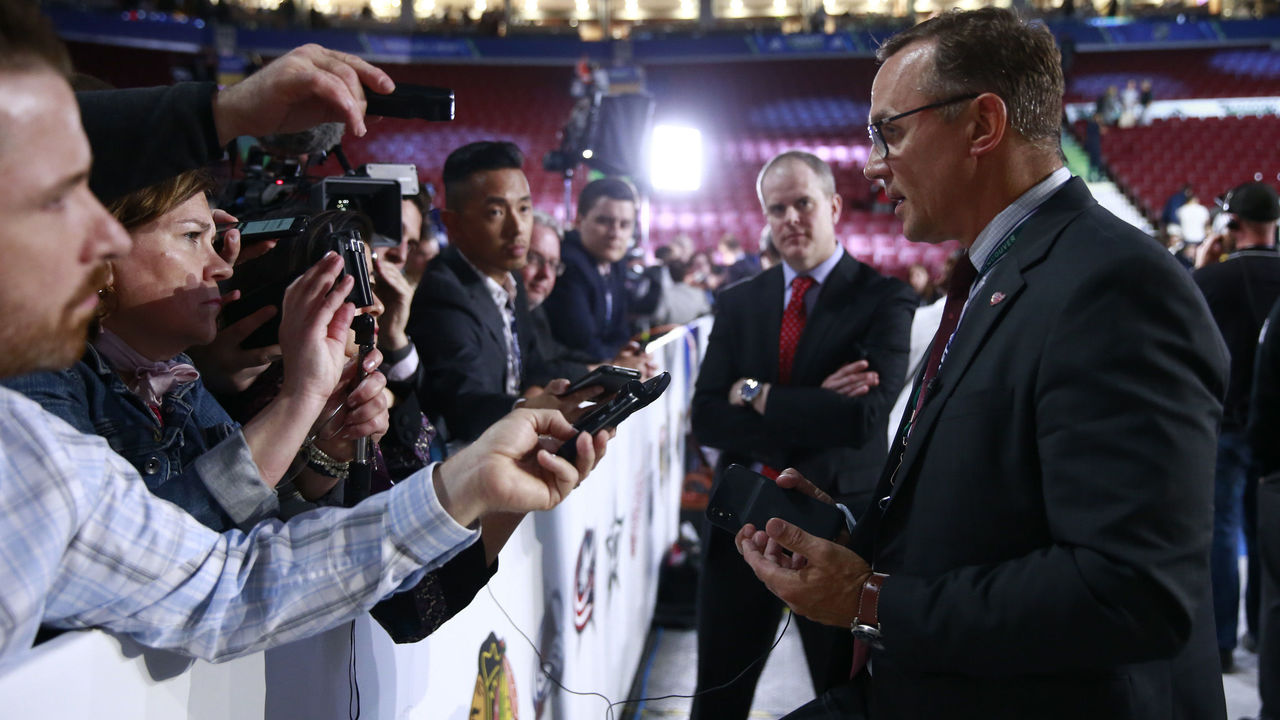 If nothing else, The Shift is daydream material - a playoff-style sequence in an encouraging season. Through roughly a quarter of 2021-22, the Wings are 12-9-3 and occupy the first wild-card spot in the Eastern Conference. For the first time in a while, promise is being turned into progress.
Yzerman, who captained Detroit to three Cups as a player, didn't set a firm timeline for the rebuild when he took over from Ken Holland in April 2019 - an approach that helps manage expectations both internally and externally. Yzerman's previous work as GM of the two-time defending champion Tampa Bay Lightning has armed him with additional credibility. Few teams have figured out how to assemble a sustainable winner in the salary-cap era quite like Tampa Bay, and now the Wings have one of the Lightning's masterminds.
Under both Holland and Yzerman, Detroit hasn't been shy about using the trade market to acquire draft capital. The team has selected a whopping 52 players since 2017, which is 17 more than the number normally allotted to teams over a five-year span. They've had horrible luck at the draft lottery, though, receiving a top-five pick only once (Raymond, fourth overall in 2020).
This dynamic - a boatload of picks but none at the very top of the draft - puts the onus on identifying hidden gems and then developing them into NHLers.
"At the end of the day, if you're going to be an organization that has success and wins Stanley Cups, there's gotta be some of those guys," Shawn Horcoff, the Wings' director of player development, says of unearthing future NHLers later in the first round and beyond. "Obviously you need your superstars, your high picks to turn out. But you have to find a way to draft and develop other players that eventually come into the league and become impact players."
At the moment, the Wings' core of young, full-time NHL stars (or, in some cases, potential future stars) features Raymond, Dylan Larkin, Tyler Bertuzzi, Jakub Vrana, and Filip Zadina at forward; Seider and Filip Hronek on defense; and Nedeljkovic in goal. Interestingly, only Raymond, Vrana, Seider, and Hronek are signed beyond next season, so there's a chance not all of the eight names listed above will be around to see the rebuilding process through.
The rebuild has already cast aside two first-round picks. Yzerman sent forward Anthony Mantha (2013, 20th overall) to Washington at last season's trade deadline for a package that included Vrana and picks. Defenseman Dennis Cholowski, the Wings' 20th overall pick in 2016, was left unprotected and selected in Seattle's expansion draft.
There are plenty of roster spots up for grabs. And once a player makes the big club, he can't rest on the accomplishment. "The minute you get stagnant or too pleased is the moment when you maybe take a step or two backwards," says 22-year-old depth forward Michael Rasmussen, another Holland-era first-rounder. Some of those NHL jobs are expected to be nabbed by blue-chip prospects, such as 2021 top picks Simon Edvinsson and Sebastian Cossa, and others by players acquired via free agency or trade.
The rest? Horcoff and the six-man player development group, in lockstep with the five-man AHL coaching staff headed by Simon, are tasked with guiding the organization's less-polished prospects into the conversation.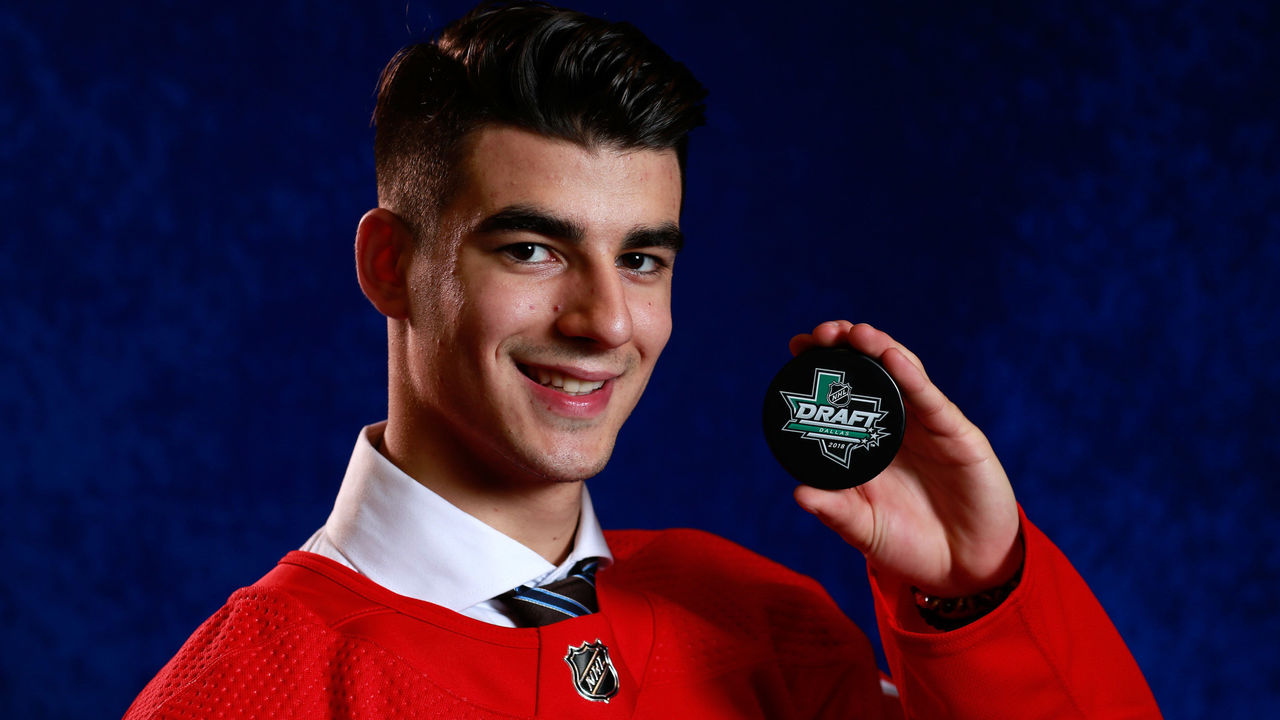 In 2015, Joe Veleno became the first player in QMJHL history to be granted "exceptional status," allowing him to enter the league at age 15. Three years later, the Wings scooped up the offensively gifted forward on Day 1 of the draft. A projected top-20 selection, Veleno fell into the club's lap at No. 30.
Veleno attended his first NHL training camp in September 2018, impressing in preseason action. He was trending in the right direction. After the Wings sent him back to the Drummondville Voltigeurs, however, he failed to dominate the QMJHL. He was in his own head, thinking junior was suddenly beneath him.
The big club noticed. Horcoff quickly booked a three-day trip to Drummondville for what Veleno now refers to as "the wake-up call." Horcoff diagnosed and dissected Veleno's on-ice issues while educating the youngster on proper nutrition and sleep habits. They went out for dinner one night and also spent time assessing the setup at Veleno's billet home.
One interaction from Horcoff's visit still resonates. Veleno remembers being greeted by multiple video screens and a bunch of detailed notes when he first walked into Horcoff's hotel room. "I was like, 'Oh god,'" Veleno says, laughing.
"We had a pretty big talk about what I can do better," Veleno adds. "He told me, 'If you want to play in the NHL, you've got to do this, this, and this. It's necessary. The next level, it's just so much different.'"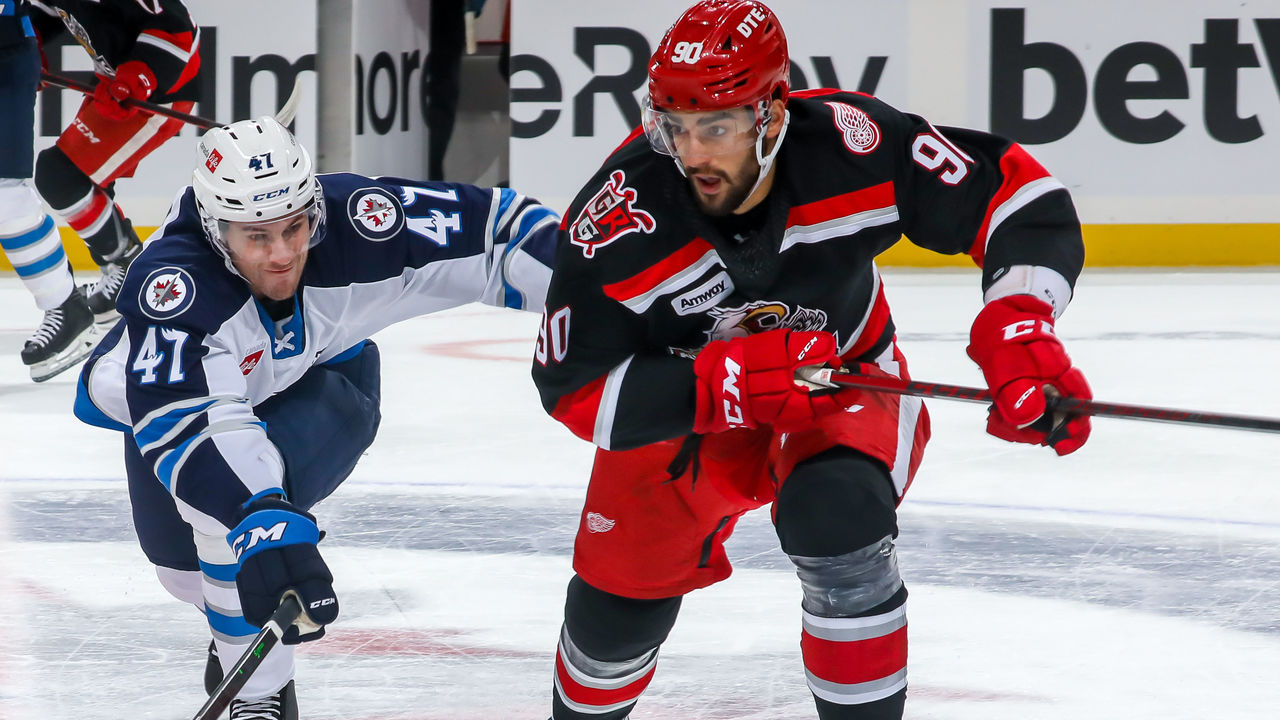 Even back then, when Veleno had a tendency to cut corners on defense, the Wings believed he could be groomed into a two-way NHL forward. There was no reason the skating ability, hockey IQ, and stick work that made Veleno a dangerous offensive player couldn't be applied to other parts of his game. Luckily for the Wings, he was coachable - a tireless worker who accepted criticism well.
Now 21, Veleno is much closer to a complete, 200-foot player. He turned pro with the Griffins in 2019-20 and spent most of last year with the Malmo Redhawks in Sweden while the AHL was shuttered because of COVID-19. In 2021-22, he's been called up to the Wings on two occasions. (He's currently on the roster but is day-to-day with an upper-body injury.) In nine total games, there have been glimpses of a future in which Veleno slots in as the team's regular second- or third-line center.
Based on the lofty expectations associated with the "exceptional status" label in junior - John Tavares, Connor McDavid, and Aaron Ekblad also earned that distinction - a projection as a top-nine NHL center is underwhelming. For a 30th overall pick, though, a top-nine center would be good value for the Wings and a meaningful role for Veleno.
"I just want to be the best version of myself and be the best player I know I can be," Veleno says. "I definitely know I have that potential to be great, and I've gotta try to figure it out by coming to work every day trying to be better."
Todd Krygier, the Griffins' forwards coach, has assured Veleno multiple times that he's already an NHL-caliber player. The yo-yo between Detroit and Grand Rapids is more or less rooted in one thing: Refining the areas of Veleno's game that will help him contribute every single night, regardless of how confident and dialed in he may feel with the puck on his stick.
"If you don't have your 'A' game, try to find and bring your best 'B' game," Veleno says, reciting one of the Wings' frequent talking points. Winning a defensive zone draw late in the game or backchecking while on a power play are two examples that would apply to Veleno and others trying to permanently bridge the gap between the AHL and NHL.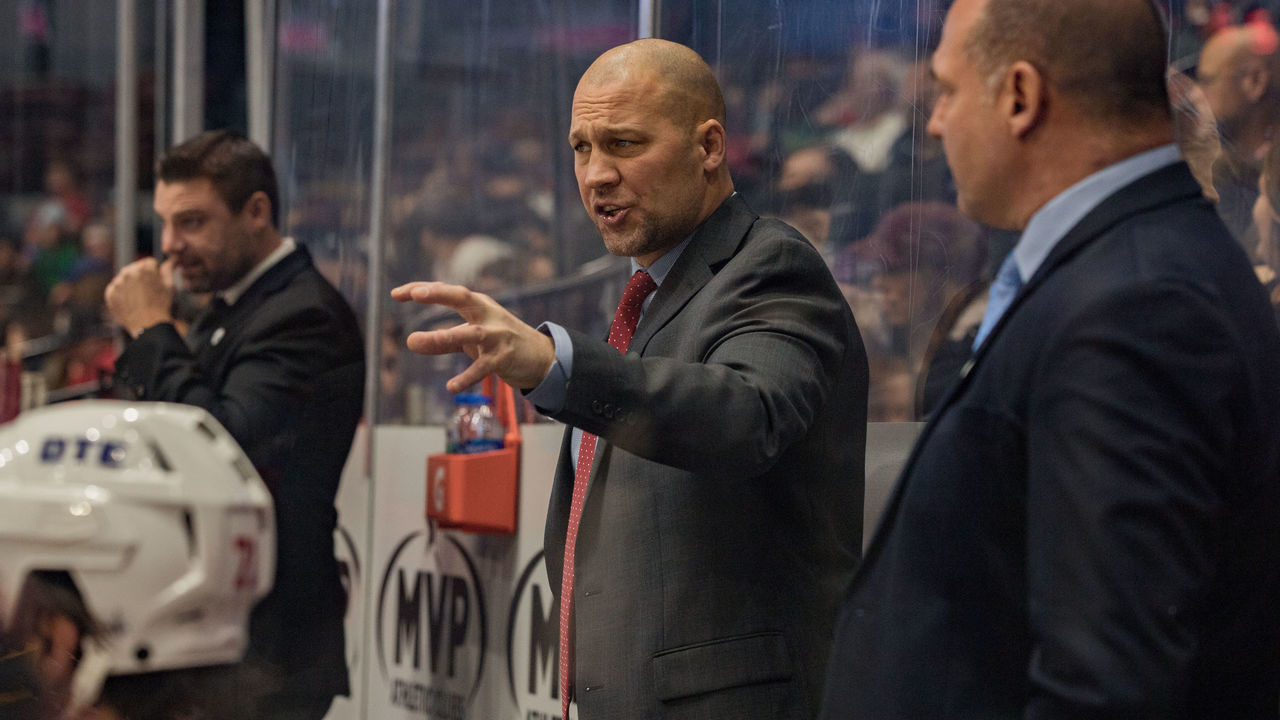 The Holland-era Wings gained a reputation as a franchise that kept its prospects in the AHL until they were "overripe." That term may not be thrown around in an official capacity within the organization in 2021, but the player development philosophy hasn't changed drastically under Yzerman.
"Dominate down here, marinate down here, and then when you're ready - even when you're over-ready - go up to Detroit. And when you go up, don't come back. That's our goal," Simon says. "Sometimes that happens and sometimes that doesn't happen. The NHL is a hard league."
In Grand Rapids, an AHL/NHL tweener like Veleno assumes a first-line role at even strength and a top-unit spot on both the power play and penalty kill. A revved-up workload and list of responsibilities can test a player physically and mentally, though concrete results rarely arrive overnight. "Part of development is learning by failing," Simon says. "How many times do you get back up?"
So many prospects don't make it to Veleno's stage in the development process because the jump from junior or college to the AHL presents its own set of unique challenges. For a brand-new pro, finding consistency can mean learning how to "become boring," as Simon puts it. "You have a good routine at and away from the rink. You stick with it. You do the little things right."
In his best-selling book "Atomic Habits," author James Clear argues that "you do not rise to the level of your goals. You fall to the level of your systems." Simon, who's in his fourth season as the Griffins' bench boss, hasn't read Clear's book, but he subscribes to the exact same thought process: the AHL environment should be focused on habit formation and fine-tuning.
"You resort to your training level, you don't rise to the occasion," Simon says in his own parlance. "In practice, it's the coaching staff's job to make sure these guys are doing everything the right way. It's our job to make sure they're attentive to detail and they're ready when that call comes from the Wings."
In an alternative universe, Sam Gagner is a Stanley Cup champion. He would have champagne-soaked memories with Taylor Hall, Jordan Eberle, and Ryan Nugent-Hopkins, the fellow first-rounders on those pre-McDavid Edmonton teams. The Oilers, after all, were the up-and-coming club a decade ago.
"It's interesting talking to those guys about it now - what they've learned, what I've learned," says Gagner, who's in his second full season in Detroit.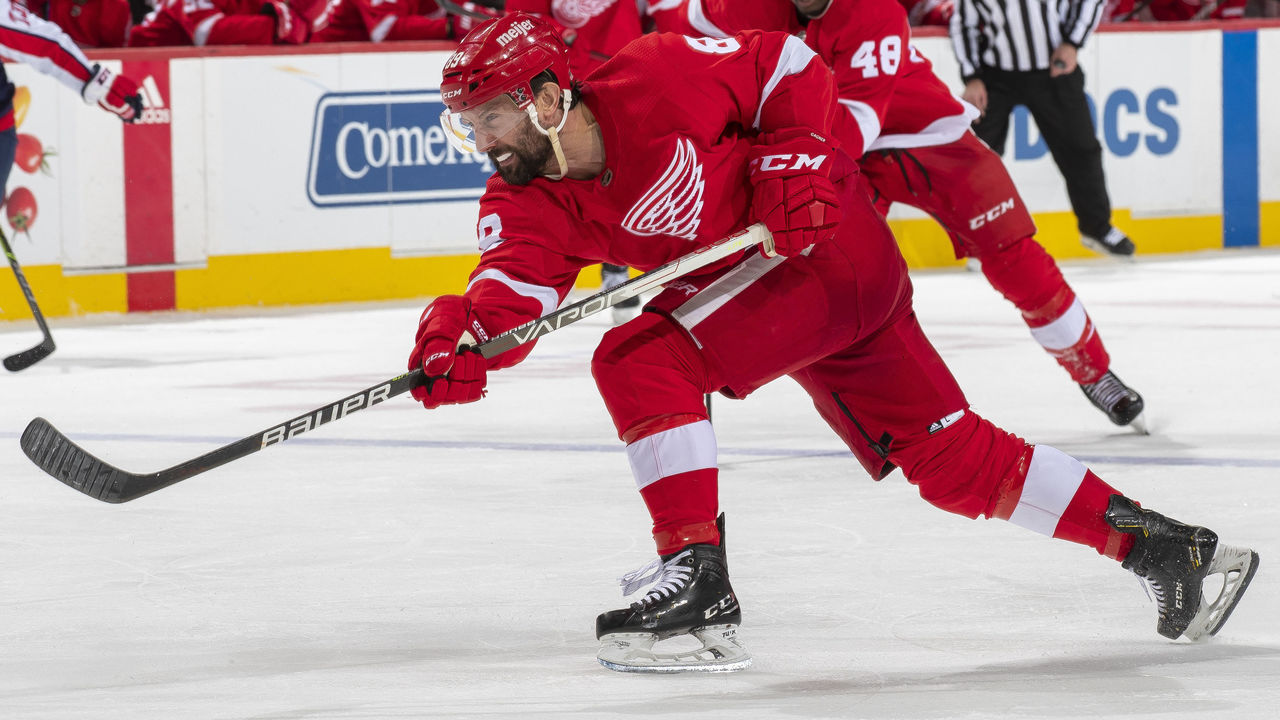 Individual struggles can easily weigh on young players, Gagner explains, and the pressure only mounts when a team playing in a demanding market decides the best course of action is to lean heavily on a handful of skilled youngsters. Without patience, a cap-era rebuild can spiral out of control.
"I don't think you can expect young players to come in and turn it around all on their own and in a short period of time. They need to be insulated by other good players. It takes a full roster to build out a successful team," Gagner says. He notes he's grateful for the Oilers experience; it's perspective.
Gagner, now 32 and playing on a one-year contract in his 15th NHL season, says he fully intends to stay in Detroit - assuming Yzerman's on board with an extension. A bottom-six forward who leads the team in shorthanded minutes, Gagner's pleased with the niche he's carved out within the Wings' lineup. Off the ice, he's embracing the mentor's role.
"There's 82 games in a season. In some 10-game segments, things are going to feel easy and in others it's going to feel really hard," he says when asked to share a pearl of wisdom. "You need to make sure you go about your business every day in the same way and keep the same mindset. Guys generally work really hard, regardless of the situation, but it's the mindset that tends to change when things don't go exactly the right way."
Gagner was drafted in 2007 and since then the amount of money and resources devoted to NHL player development has skyrocketed. Every franchise now has a specific arm of hockey operations dedicated solely to developing prospects. Also, video and statistical analysis have evolved significantly. The introduction of tracking devices has opened up a whole new world of biometric data. (Wings prospects can volunteer to have their heart rate and energy output, among other things, monitored.)
These investments lead to fully personalized development plans. The plans are only useful, of course, if players take ownership of their own trajectory.
"What do you guys think? How are you seeing it?" Krygier asks rhetorically. "If you're not giving them ownership, I don't think you're going to get the quality of results that you want. You want everybody to take ownership of their game and their situation. When they start to take ownership, they become better."
Blashill adds: "You can push players. You can help provide the right avenue for them to be successful and provide the right resources. But they have to have the inner drive."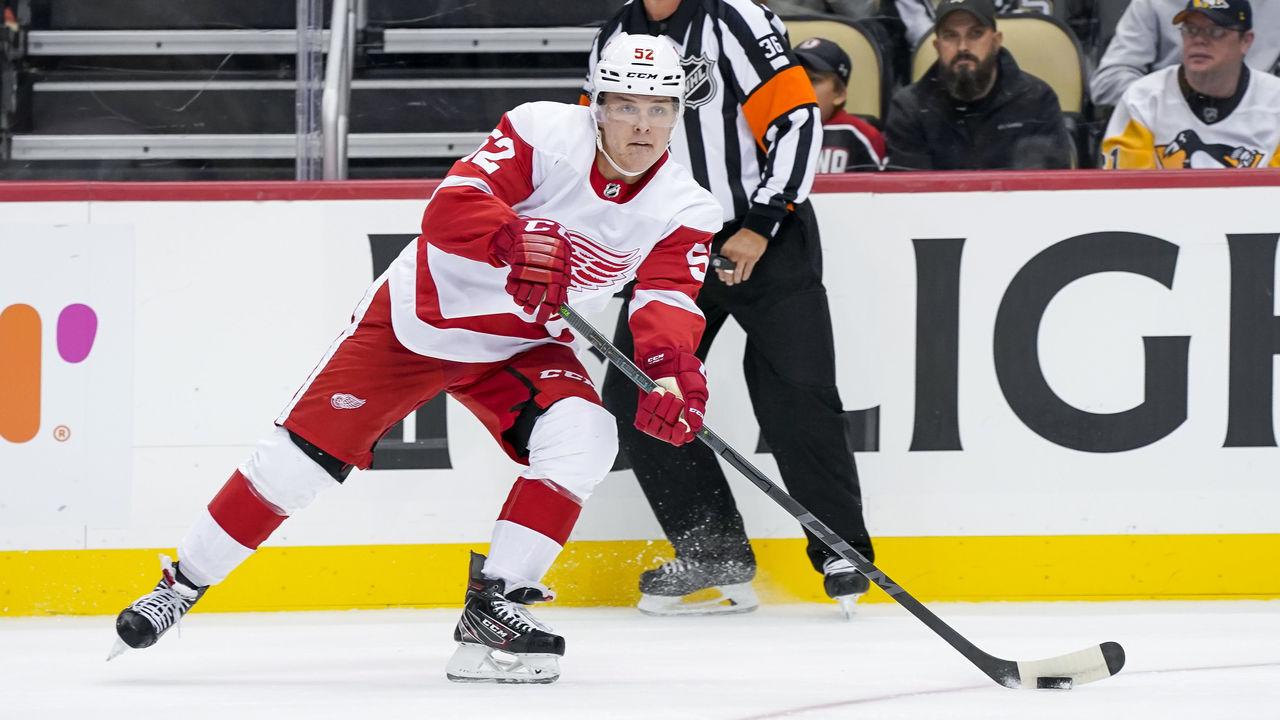 In one-on-one video sessions, the Griffins staff will fire up clips of alumni turning a weakness into a strength so current players can relate to the material and advice being passed on by the coaches. For instance, Zadina has been used as a pseudo-template for crafty Swedish forward Jonatan Berggren.
Zadina, drafted sixth overall in 2018, wasn't shooting from dangerous areas of the ice in the early days of his North American career. The sniper had flourished on the perimeter back in the Czech Republic and in junior, but in the AHL and NHL a large portion of goals - 85%, according to Krygier - are scored in the slot and crease areas. Zadina adjusted his approach in time, supplementing his lethal shot with a hungry net-drive game.
Berggren, chosen 27 spots behind Zadina and three behind Veleno in 2018, says he likes to be an "entertainer player." The organization doesn't want to quash what made the 5-foot-11, 195-pound winger productive on the larger rinks in Europe. The Wings just want him to add versatility to his game by deploying his low center of gravity as a weapon.
"I need to have the courage to take my body to the net," Berggren says. "It will hurt, but sometimes you need to just get ugly goals, not the fancy plays."
There are two Calder Trophy front-runners to study, too. Despite being 19 and 20, Raymond and Seider are complete players who play a mature game.
"People see some of the fancy plays he makes," Blashill says of Raymond, the NHL leader in rookie goals (10) and points (22). "But he does it in a way that doesn't take on any unneeded risk. He'd be one of our lowest players in terms of scoring-chance minuses. He does it with very little risk, and I think that's critically important to becoming a winning team."
It's Friday afternoon, the day after Griffins practice, and Blashill is sitting inside a restaurant at Little Caesars Arena. It's at ice level, directly across from the Wings' dressing room. On game nights, fans in the restaurant can watch Detroit players pass within close view on the way to the ice.
The interactive bit might feel tacky elsewhere. In Hockeytown, it hits, because throughout the arena are reminders of the franchise's prestige - a statue depicting the legendary Ted Lindsay in the concourse, framed photos of other all-time Wings greats above each dressing-room stall, a gigantic banner showing Yzerman hoisting the Cup near one of the arena gates.
"Something I believe, and what's certainly been made clear to me by Steve Yzerman, is that we want to create a playing style that's going to win long term," Blashill says. "We want to teach our guys how to play winning hockey, so that when we do have the pieces in place to win, we're ready to win."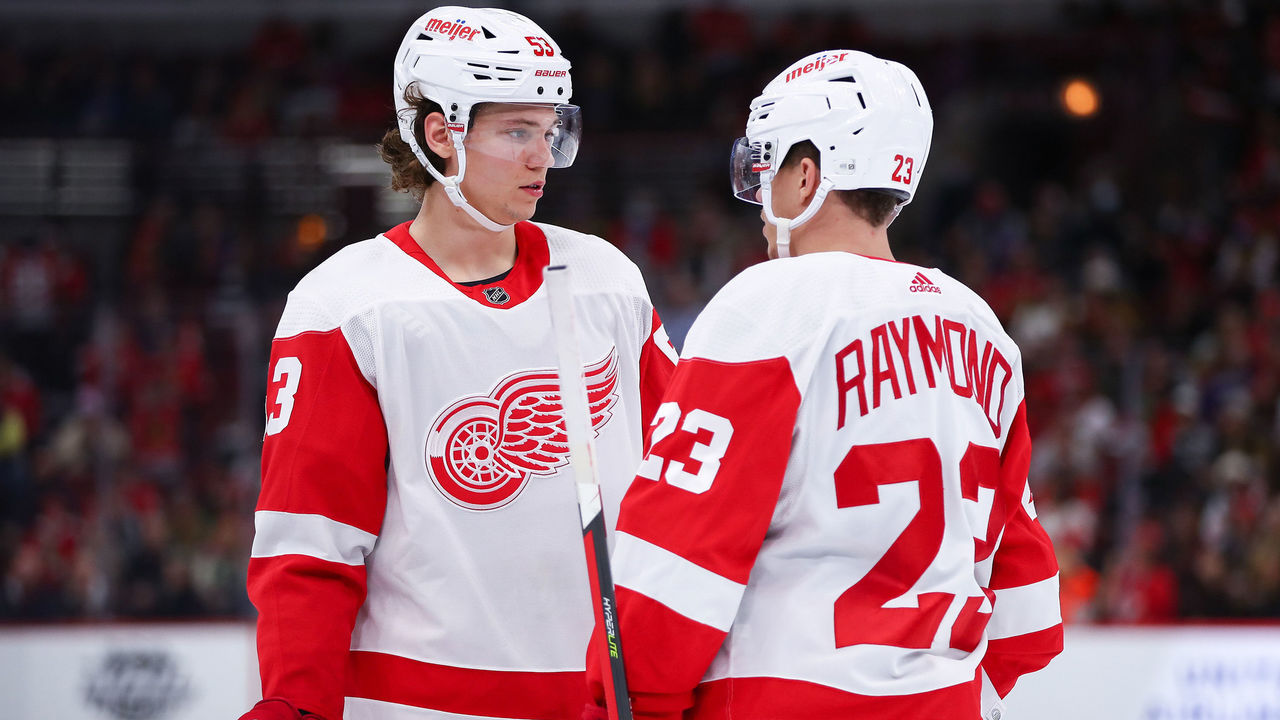 Blashill is talking about The Shift within the scope of the entire rebuild.
"We want to have lots of moments like that. They may not all go viral, but we'll see them," says Blashill, who was promoted from Griffins head coach to Wings head coach in 2015.
"We'll know when our sacrifice is to that level. That's the type of culture we're trying to rebuild here. That type of culture of sacrifice, when you'll do anything it takes to win a hockey game, and it doesn't matter if it's in October or April or May, it's the same type of sacrifice. Slowly but surely, we're building that."
Larkin, the captain at age 25 but already in his seventh season, is the heart and soul. Raymond and Seider are cornerstones. Others - from Hronek to Nedeljkovic - are key pieces, too. Veleno and a few of his peers are on their way to full-time duty. What's still to be determined are the timelines for each player and then the team as a whole. Detroit won't rebuild forever.
"Hopefully all of our young guys can be up there together one day," Veleno says. "I think it's sooner than later that it'll happen."
John Matisz is theScore's senior NHL writer. Follow John on Twitter (@MatiszJohn) or contact him via email (john.matisz@thescore.com).
Comments
✕
'When you go up, don't come back': How the Red Wings are building from within
  Got something to say? Leave a comment below!