'When Goalies Were Weird' - Episode 6: Brodeur, Rhodes, and more 🎧
"When Goalies Were Weird" is a six-part narrative podcast about 1990s-era NHL goalies. In the '90s, the position was undergoing a revolution in style and substance, as the butterfly goalie replaced the stand-up while advancements in equipment technology helped usher in a modernized, more athletic playing style. The old guard's quirks and the new guard's innovations melded together to produce an era of pure chaos in the blue paint.
Jim Carey stockpiled individual awards before quitting the game in his mid-20s. Damian Rhodes stood out as eccentric on a team filled with superstitious players. Garth Snow talked trash without remorse and fought enforcers. Martin Brodeur was a transcendent talent whose jolly presence made him unique. These are their stories.
To hear the full episode, click here to listen on:
Apple Podcasts
Spotify
Google Podcasts
Stitcher
Castbox
Pocket Casts
(Note: This excerpt has been lightly edited for clarity and length.)
Damian Rhodes was never Vezina- or Stanley Cup-caliber. What makes him a memorable 1990s-era goalie, then? His zaniness.
Rhodes, who played 10 NHL seasons for the Toronto Maple Leafs, Ottawa Senators, and Atlanta Thrashers, was a character who did offbeat things and got himself into abnormal situations. One example: He's one of six netminders to have scored an NHL goal without shooting the puck.
When Rhodes and the Senators met the New Jersey Devils in the first round of the '97-98 playoffs, he was rocking a leopard-skin jockstrap under his equipment. He also had blond locks under his goalie mask, having dyed his hair that March and simultaneously gone on a heater, winning nine of his last 14 regular-season starts as the Senators clinched a playoff spot.
Teammates, and even kids around Ottawa, bleached their heads. After Rhodes stonewalled the Devils, Sports Illustrated nicknamed him the "Peroxide Kid."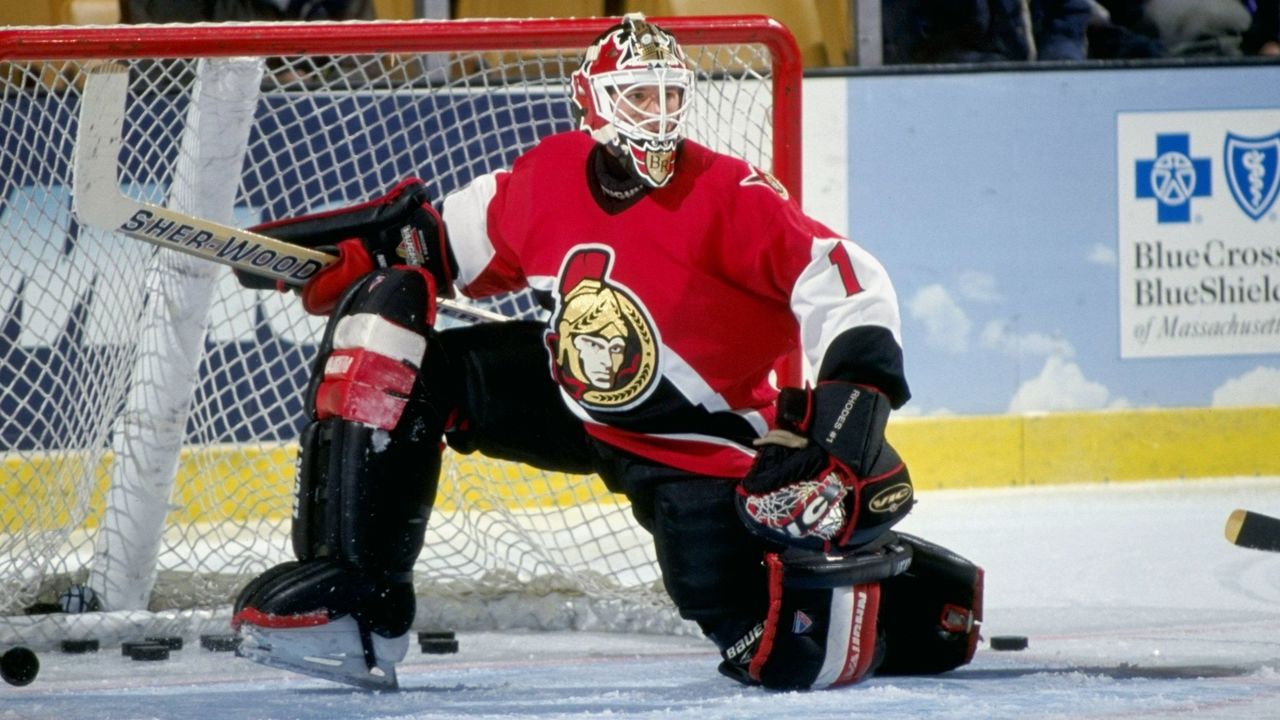 Throughout his time in Ottawa, Rhodes' quirks tended to surface when the Senators hit the road. According to former defenseman Lance Pitlick, Rhodes packed exactly one suit per game, reluctant to repeat an outfit.
Another Ottawa alumnus, blue-liner Jason York, roomed with Rhodes at the team hotel. That's how he learned about - and came to depend on - the goalie's so-called "sleep machine."
"It was one of those, I don't know, dehumidifiers," York recalled. "It didn't even work, but it made some kind of noise. And he had to have it, or else he couldn't sleep.
"So I got used to it. I said, 'Damian, you bring the sleep machine with ya?' He goes, 'I got it, Yorkie. I got it in my bag here.' It kind of sucked because after - when I got a different roommate - I didn't have it anymore, and I was a little bit lost without a sleep machine."
One thing Rhodes didn't do was look up at the jumbotron during games.
This was to avoid seeing the opponent's shot count. Rhodes didn't want to give in to the urge to calculate - then obsess over - his save percentage while pucks zipped around him.
Rhodes has an explanation for his jockstrap, by the way.
His preferred brand of cup was produced by a goalie equipment company called Brian's. And when Brian's introduced a line with funky designs, Rhodes saw the leopard-skin pattern and thought, "I've got to have THAT."
The connective thread between these mannerisms and peculiarities is that they got Rhodes into the right headspace. He wasn't a player who could diversify what he did on game days and show up at the rink ready to stare down clappers.
It may have looked weird, but controlling certain things is what calmed his nerves and cleared his mind.
"I know when I was playing, a lot of people called it superstitions," Rhodes said. "And I hated that because I just felt like it all brought luck in the game.
"Some guys could do whatever they want. They could have a submarine sandwich that day, or they could take a five-hour nap and still show up. But I wanted to keep it as routine as possible. And I felt like those things were ultimately what got me in my routine. And yeah, it's a little crazy, I would say."
To hear the full episode, click here to listen on:
Apple Podcasts
Spotify
Google Podcasts
Stitcher
Castbox
Pocket Casts
And be sure to follow the podcast to check out all six episodes of "When Goalies Were Weird."
Comments
✕
'When Goalies Were Weird' - Episode 6: Brodeur, Rhodes, and more 🎧
  Got something to say? Leave a comment below!