'When Goalies Were Weird' - Episode 5: Curtis Joseph 🎧
"When Goalies Were Weird" is a six-part narrative podcast about 1990s-era NHL goalies. In the '90s, the position was undergoing a revolution in style and substance, as the butterfly goalie replaced the stand-up while advancements in equipment technology helped usher in a modernized, more athletic playing style. The old guard's quirks and the new guard's innovations melded together to produce an era of pure chaos in the blue paint.
Curtis Joseph was the loveable workhorse among 1990s-era goalies. He was a down-to-earth star who thrived in hectic, pressure-filled playing environments. After an improbable rise through the ranks, "Cujo" manned the crease in 19 NHL seasons for six teams, most notably the Blues, Oilers, and Maple Leafs. This is his story.
To hear the full Curtis Joseph episode, click here to listen on:
Apple Podcasts
Spotify
Google Podcasts
Stitcher
Castbox
Pocket Casts
(Note: This excerpt has been lightly edited for clarity and length.)
Curtis Joseph possessed an internal index of tape jobs. As in, he could instantly recognize an opposing puck carrier solely by his stick tape color and the pattern in which the stick was taped.
This was part of Joseph's charm as the ultimate thinking man's goalie.
And it helps explain how he developed his awkward puck-moving technique.
Joseph caught with his left hand but struggled to handle the puck in a normal fashion with a left-handed stick. So, one day he decided to start moving the puck on his backhand. After hundreds of reps in practice, he had polished it enough for game use. From there, he showcased the unique technique fairly often.
Actually, that may be underselling it: Joseph learned to backhand the puck to the red line like nobody's business.
It was efficient and smooth. He resembled a football quarterback.
Or, as former Toronto Maple Leafs teammate Mike Johnson remembers it, Joseph was a puck-moving "maestro."
"We'd be five-on-five or killing a penalty and somebody would dump it in, and Cuj would stop the puck behind the net, and you'd see him flip his hand over so his catcher would be on the knob and his blocker would be down by the middle of the stick, and he'd get ready to do a big scooper," Johnson said, laughing at the memory.
"And he could drop them out at center, just so perfectly. We would joke that we'd be having a forward-line meeting out at the red line waiting for him to drop one in our breadbasket for a breakaway."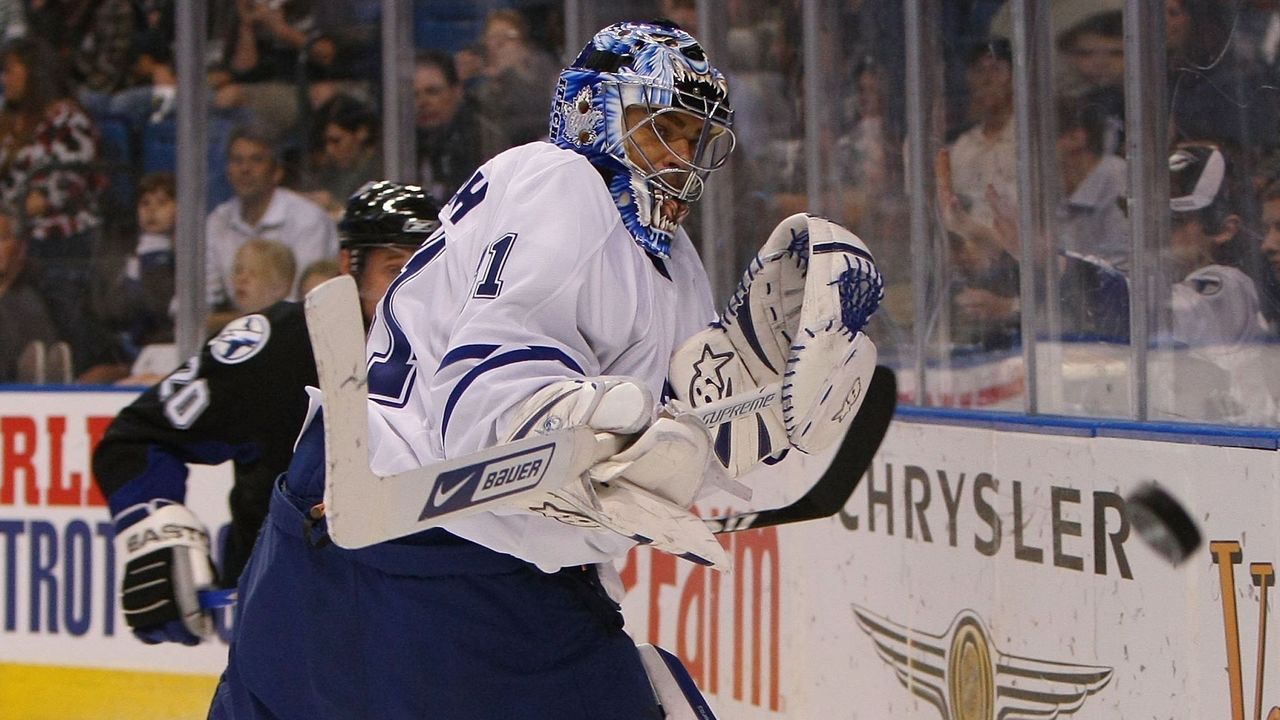 Strategizing was a joy for Joseph. He would talk shop for hours on end with teammates, most notably St. Louis Blues star Brendan Shanahan and Phoenix Coyotes captain Shane Doan.
Former Leafs defenseman Cory Cross recalls several in-depth conversations.
On a two-on-one, Joseph once said to the 6-foot-5 Cross, "Why don't you go down early to force the shooter to try to pass over you?"
This went against conventional wisdom. Typically, a goalie prefers to focus on the shooter while the D-man takes care of the second attacker.
With shot-blocking, Joseph liked when his teammates stood up straight and squeezed their arms against their body. In Joseph's mind, this reduced the number of funny bounces off equipment and also allowed him to concentrate on covering certain parts of the net.
Forward Dean McAmmond was around for the entirety of Joseph's three-year tenure with the Edmonton Oilers. McAmmond says a major takeaway from their time together is a piece of advice Joseph dished out during a quiet moment in practice.
"One time I came down on him, and he was giving me all glove hand," McAmmond recalled. "After I shot there, he just moved over and made the save. It was like, 'What's this guy doing?!' Like, he's not squaring up. He's just cheating, right? And I remember him saying to me, 'Well if you ain't cheatin', ya ain't tryin'.'
"And that's one phrase I actually used with my players when I was a coach. Cuj wasn't a cheater off the ice, but on the ice, you try to get any advantage."
Johnson, who also played with Joseph in Arizona for one season, can relate to McAmmond. Joseph may have been on the back nine of his career when the two crossed paths in the desert in 2005-06, but the goalie certainly wasn't afraid to instruct or teach.
"He was maybe not quite the only, but certainly the most prominent goalie willing to talk about scoring in practice," Johnson said. "He would talk about how I'm doing or how I'm shooting and what he's seeing, and maybe, 'Try this,' or 'Think about that.' Or, 'Goalies struggle with this.' And, 'This is a trickier one …'
"He wasn't just worried about his job of stopping pucks, doing his own thing in practice. He would talk to you, work it through with you, and break it down from a goalie's perspective."
To hear the full Curtis Joseph episode, click here to listen on:
Apple Podcasts
Spotify
Google Podcasts
Stitcher
Castbox
Pocket Casts
And be sure to follow the podcast to check out all six episodes of "When Goalies Were Weird."
Comments
✕
'When Goalies Were Weird' - Episode 5: Curtis Joseph 🎧
  Got something to say? Leave a comment below!