Jones and Blackhawks in trouble, Kyrou's breakout, and Kraken impressions
Joe Sargent / Getty Images
It's less than two weeks into the season and Chicago is already underwater.
On Thursday night, the Blackhawks' record wilted to 0-4-1 following a 4-1 loss to the Vancouver Canucks. Through five games, they've been outscored 21-9. The gap widens if special teams are excluded, with the opposition outscoring Chicago 17-3 during five-on-five action. Yikes.
The heat is on fourth-year head coach Jeremy Colliton, and fingers are being pointed in all directions for not only the dreadful early-season record but also the process by which the Blackhawks arrived at this unsavory point.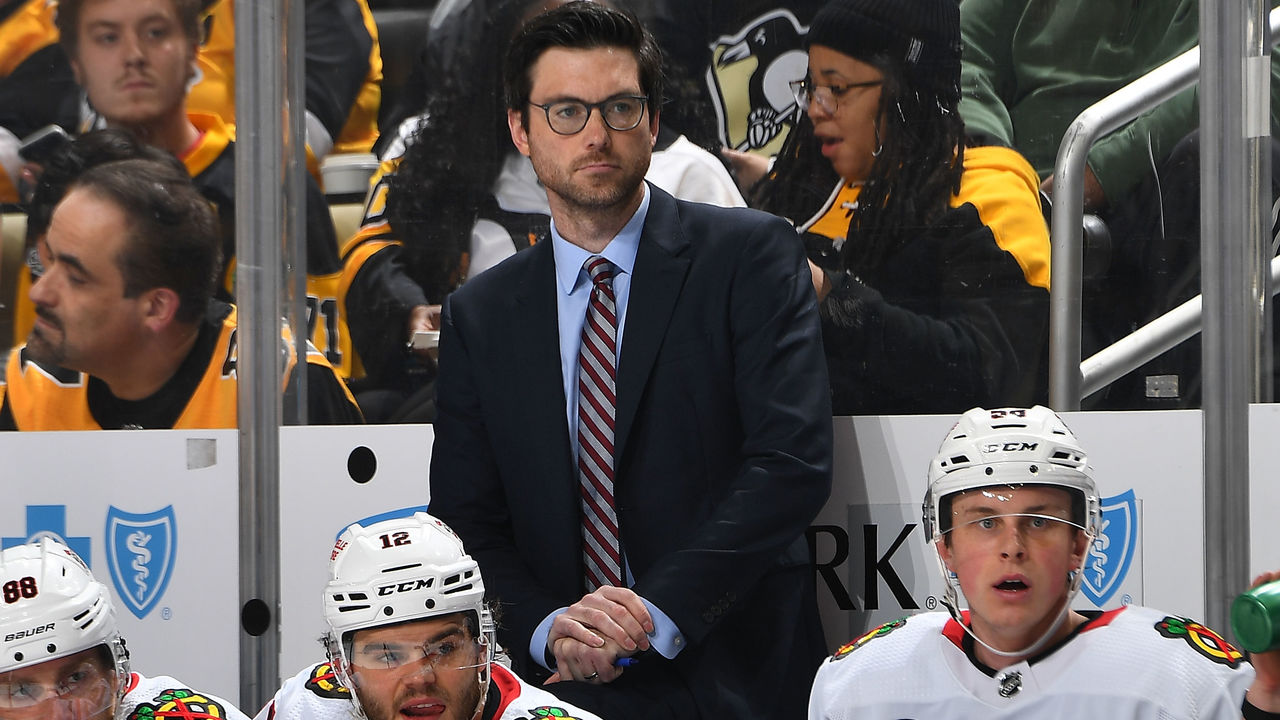 It may all seem dramatic - there are 77 games to go - but, in reality, it's not. Chicago aggressively retooled this past offseason with the goal of returning to the playoffs and, really, none of the significant moves have panned out so far.
Not Marc-Andre Fleury, nor Tyler Johnson, nor Jake McCabe. Seth Jones certainly hasn't either.
Jones, a three-zone defenseman who finished fourth in Norris Trophy voting a few years ago, was acquired via trade from the Columbus Blue Jackets in July. Blackhawks general manager Stan Bowman sent promising blue-liner Adam Boqvist, two first-round picks, and a second-rounder to Columbus in exchange for Jones, a lower first-round selection, and a sixth-rounder. Then Bowman turned around and handed Jones, now 27, an eight-year contract extension (which doesn't kick in until 2022-23) at $9.5 million annually.
The Jones trade-and-sign was mocked by many, especially the analytics-savvy, because of the quality of assets Bowman sent to Columbus after Jones flat-out stunk in 2020-21. Jones' loyalists rebutted with the fact that he'd been an all-star-level defenseman the previous four seasons, and the last 18 months of pandemic life haven't been easy on anybody. Naturally, intrigue and expectation levels were high coming into Jones' first year in Chicago.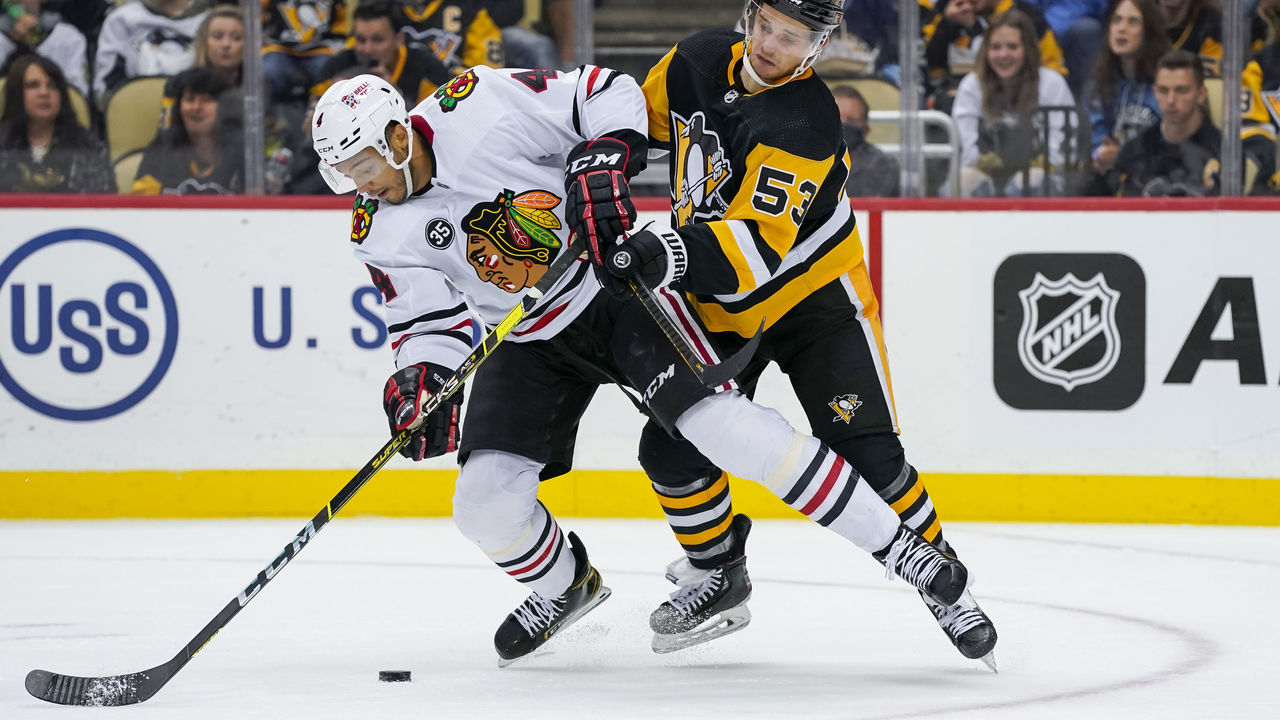 Paired with veteran Calvin de Haan, Jones has been getting carved up too often through five games. It's true, Jones has flashed some brilliant play - especially in the club's overtime loss to the New Jersey Devils, where he was arguably the best player on the ice - but the overall body of work ain't pretty.
The underlying data suggests Jones isn't playing anywhere near his career-best right now. Yet five games is a tiny sample size, so it's more than possible Jones rebounds. Heck, he's earned the benefit of the doubt for at least a couple of months, seeing as in the past he's proven he can be a dominant NHL player.
So, unlike some, I'm not ready to give up on the 2013 fourth overall pick. My confidence in Jones has assuredly eroded, but adjusting to a new city and learning a new system can take time. He deserves a little breathing room here.
The tricky thing is that Jones' nightly influence - good or bad - is outsized on this Blackhawks team. Because he plays nearly 26 minutes a night between even strength and the power play, and also tends to figure out a way to be heavily involved in the action every single shift - again, good or bad - Chicago will go as he goes. In other words, Jones is the Blackhawks' most important player.
To be clear, that's most important to righting the ship in 2021-22 and most important over the long term as the franchise attempts to win a fourth Stanley Cup this century. Oh boy, what a predicament Bowman has put himself in.
Are we witnessing a Kyrou breakout?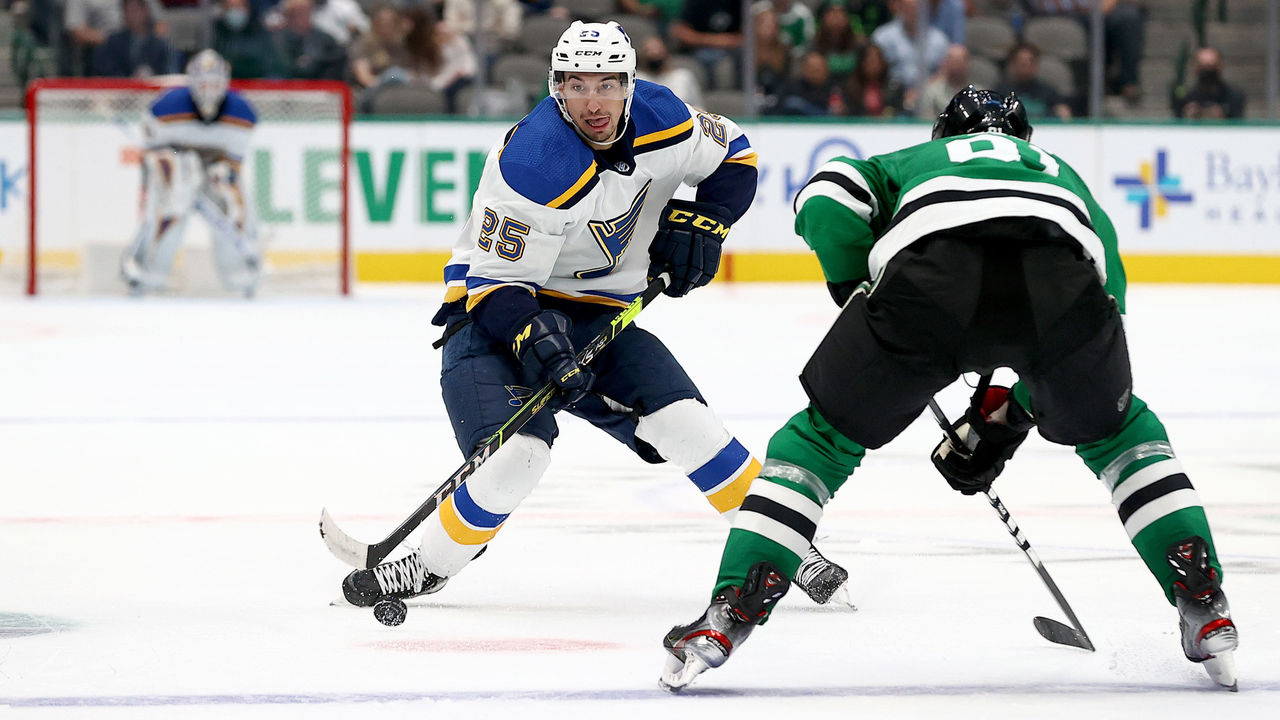 Shortly after the St. Louis Blues drafted forward Jordan Kyrou in 2016, Derian Hatcher, the ex-NHLer and Kyrou's junior coach, touched base with Blues general manager Doug Armstrong. He had valuable insight to pass along.
First, Hatcher expressed to Armstrong how shocked he was that Kyrou was still available to the Blues at No. 35. Hatcher strongly believed the dynamic star of the OHL's Sarnia Sting was a first-round talent. Then, Hatcher explained to Armstrong how much Kyrou, an elite skater whose speed actually increased with the puck on his stick, reminded him of an old teammate.
"Mike Modano was the same way," Hatcher, who played with the Hall of Famer for 11 seasons in Dallas, told theScore this week. "Mike was able to make plays at full speed, which not many people can do in the NHL."
If the early returns of the Blues' season are any indication, Kyrou may well live up to the Modano 2.0 label soon. The 23-year-old right-winger has been electric, accumulating seven points (two goals, five primary assists) in three games despite ranking eighth in ice time (13:53) among St. Louis forwards.
His starring moment came Monday in a 7-4 victory over the Arizona Coyotes:
Yes, the Coyotes are terrible. Yet only a certain caliber of player can make a highlight-reel tally look so effortless. Here, Kyrou is audacious enough to dangle multiple opponents, and he possesses the requisite patience and skill to execute.
This is technically Kyrou's fourth NHL season, though he split time between the AHL (63 games) and NHL (44) in the first two. Last year, he posted a respectable 35 points in 55 games before signing a two-year, $5.6-million extension. So far, in 2021-22, he's taken even-strength shifts with center Brayden Schenn and either Jake Neighbours or Pavel Buchnevich.
Overall, Hatcher is pleased with what he's seen from Kyrou since the 6-foot-1, 196-pounder left Sarnia to turn pro. However, he does have one criticism.
"Mentally," Hatcher said, "he still has to figure it out."
In which ways?
Daily attitude and preparation, the junior bench boss replied. Rounding out his game, Hatcher added, will also be key to Kyrou's growth. "Some guys don't realize how hard it's going to be on a daily basis," he said. "It takes time."
OK, we'll hold off on printing "Kyrou Breakout SZN" T-shirts. But for the Blues' sake, Kyrou reaching star status ASAP would be a boon. As one of the NHL's oldest squads, they're in desperate need of young difference-makers.
Early impressions of the Kraken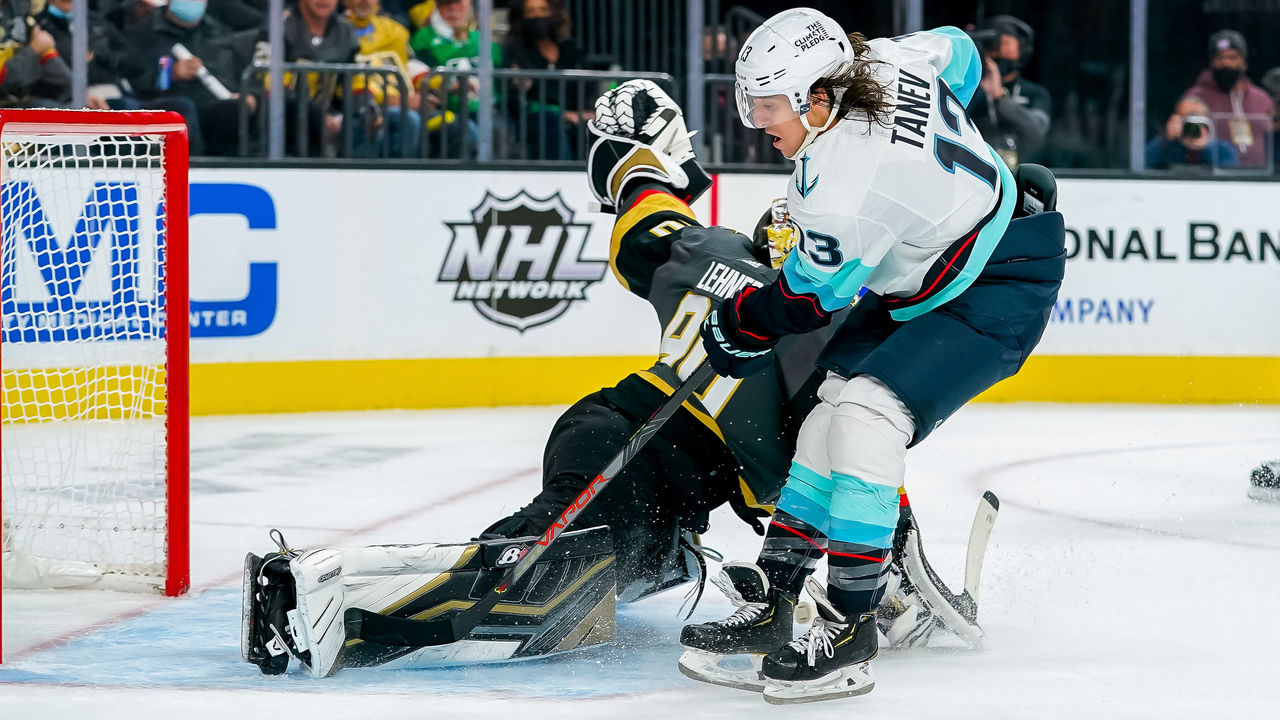 Necessary disclaimer: The Seattle Kraken, an expansion team that's played a grand total of five games, are obviously still very much figuring things out.
That said, here are a few first impressions of the 1-3-1 club.
Seattle's goaltending and defense corps may look solid, if not good, on paper. However, the Dave Hakstol-coached group has been overwhelmed while trying to defend rush chances. Another major issue: turnovers galore. Sure, well-paid starting goalie Philipp Grubauer hasn't held up his end of the bargain (-4.56 goals saved above average), but he's also received little help.
Apparently, the Kraken like to tussle. Surprisingly, Seattle leads the league in fighting majors (six), putting the club on pace for 98 fights over 82 games. The willingness to throw down so often is notable, although it's probably just early-season noise. Last year's co-leaders, the Ottawa Senators and Tampa Bay Lightning, finished with 23 fights in 56 games, or a 34-fight pace over 82.
On a positive note, the Kraken seem to be establishing an identity up front. There's some noticeable greasiness in the attack, and the majority of the team's 11 goals have been scored within a few feet of the goal line. Former Pittsburgh Penguins forward Brandon Tanev, for one, has been an animal around the crease.
Lundqvist taking to broadcast role
Hockey fans in the United States have been blessed with a number of different faces on national TV broadcasts. From Wayne Gretzky and Paul Bissonnette on TNT to Mark Messier and John Tortorella on ESPN, there's now some high-end influencers breaking down the game - a nice upgrade from the NBC days.
It's easy to understand why. The league's new TV partners have invested in their product and swung big on talent, especially in Gretzky's case.
All of this national buzz has overshadowed the debut of Henrik Lundqvist on MSG Networks. The 39-year-old future Hall of Famer - who retired from playing last month - found a comfy landing spot between old goalie partner Steve Valiquette and veteran host John Giannone on New York Rangers broadcasts.
There've been no hiccups in the chemistry department:
Lundqvist is as polished as you could reasonably expect from a rookie analyst. He's articulate, poised, willing to laugh at himself, and if we're being completely honest, it absolutely doesn't hurt that he's impossibly handsome.
"When I was playing, I was always interested in media," Lundqvist said on a recent conference call. "I've done a lot of different projects throughout my career, mostly overseas, but some stuff here in New York. It's a little bit of my creative side." The NHL's all-time wins leader among European goalies added that he expects to mostly dig into the player mindset for his on-air analyses.
3 parting thoughts
Why I love this sport: There was a flurry of feel-good stories during the first 10 days of action: Jonathan Drouin scoring in his return from personal leave; Brian Boyle scoring after missing the entire 2020-21 season due to health issues; LTIR mainstay Andrew Ladd competing again; the Columbus Blue Jackets winning 8-2 on Matiss Kivlenieks night; and the Minnesota Wild coming back to win 6-5 in overtime on Tom Kurvers night.
Evander Kane: The polar opposite of a feel-good story. On Monday, the NHL suspended Kane for 21 games for violating COVID-19 protocol, which, based on reports, centers around submitting a fake vaccination card. He also has myriad financial issues and recently has been investigated for various off-ice allegations, including gambling on NHL games. (The NHL found no evidence he had done so.) Watching from afar, the escalation of Kane's troubles has been perplexing and, mainly, sad.
NHLer sons: Ready to feel old? NHL Central Scouting released its "players to watch" for the 2022 class, which reminds me that those eligible for the upcoming draft were born in either late 2003 or 2004. The familiar names on the list add more shock value. Defenseman Josh Niedermayer (dad Scott), and forwards Marek Hejduk (Milan), Cole Knuble (Mike), Jakub Kopecky (Tomas), and Landon Sim (Jon) are some of the prospects who have NHLers for fathers.
Takes, Thoughts, and Trends is theScore's biweekly hockey grab bag.
John Matisz is theScore's senior NHL writer. Follow John on Twitter (@MatiszJohn) or contact him via email (john.matisz@thescore.com).
Comments
✕
Jones and Blackhawks in trouble, Kyrou's breakout, and Kraken impressions
  Got something to say? Leave a comment below!