Jackpot? Breaking down the trade sending Eichel to Vegas
Bill Wippert / NHL / Getty Images
The months-long soap opera starring Jack Eichel and the Buffalo Sabres has finally concluded.
The Sabres traded Eichel and a third-round pick in the 2023 NHL Draft to the Vegas Golden Knights for forwards Alex Tuch and Peyton Krebs as well as a top-10-protected first-rounder in 2022 and a second-rounder in 2023.
The blockbuster swap signals the end of an era in Buffalo, while in Vegas, the front office hopes it's hit the jackpot (sorry) with another marquee acquisition.
Let's break down the trade from the perspectives of the three parties involved.
Eichel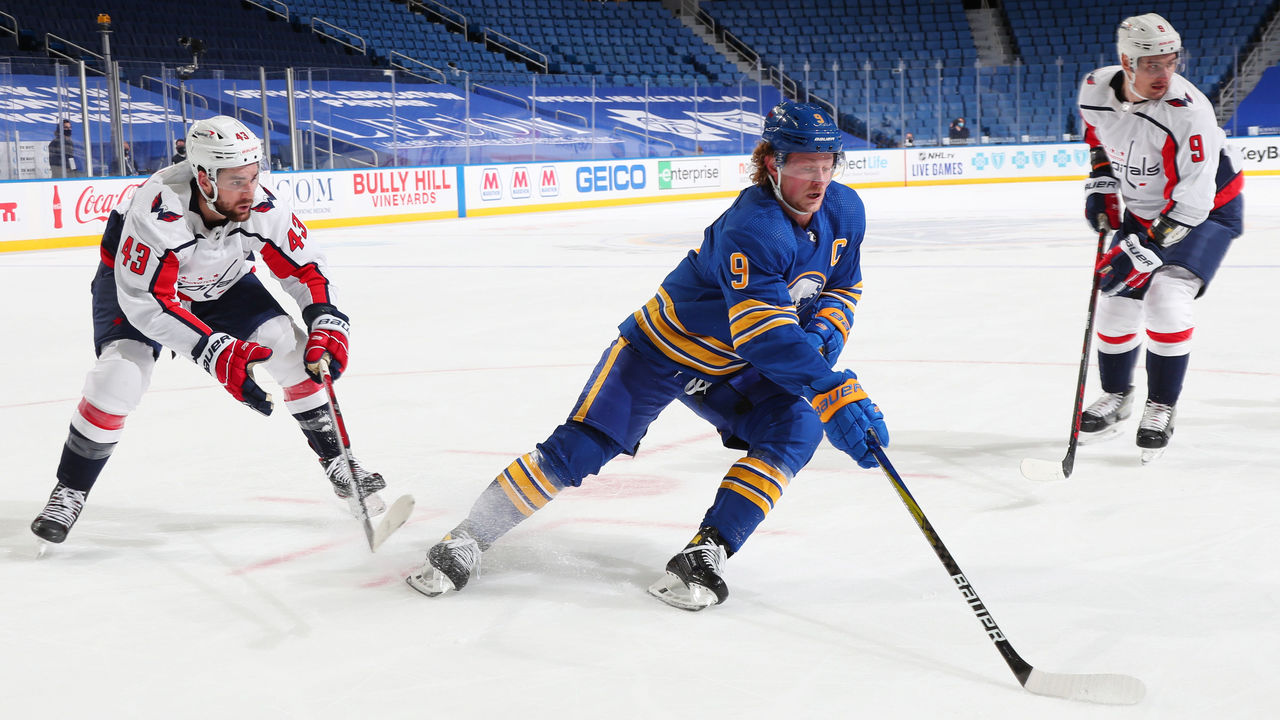 Eichel is a gigantic winner here for two chief reasons.
Firstly, the 25-year-old center is getting his way after digging in his heels for almost six months. It was revealed in May that Eichel wanted to undergo artificial disc replacement surgery to repair a herniated disc in his neck. However, the Sabres refused to grant permission based on the advice of their doctors, suggesting the 2015 second overall pick have fusion surgery instead. Eichel never relented on his desired procedure - even switching agents during the standoff - and now Vegas will in fact let him do exactly what he wants.
Secondly, Eichel is joining a hockey team that actually wins games on a regular basis. The Sabres were horrible in the six seasons Eichel played, posting a league-worst .444 points percentage. Conversely, the Golden Knights became the most successful expansion franchise in North American pro sports history in 2017-18 and during the three-plus years since that incredible debut have refused to take their foot off the gas.
This season, the Golden Knights own a mediocre 4-5-0 record. The club has been dealing with injuries to key players - most notably Mark Stone, Max Pacioretty, and Tuch - and have now added another forward to the list. So it would be disingenuous to say Eichel is walking into an ideal situation where the sky's the limit on Day 1. In reality, the situation has very strong potential, and if 2021-22 ultimately ends up being a dud for Vegas, there's no need to panic. Eichel's contract, which carries an AAV of $10 million, runs through 2025-26.
The Golden Knights haven't broken up William Karlsson, Jonathan Marchessault, and Reilly Smith for an extended period of time since the team entered the league, so Stone and Pacioretty appear to be the obvious linemates for Eichel once all three are healed. Eichel, who was arguably a top-10 center before getting sidelined, has never played with wingers of Stone and Pacioretty's caliber. Given he's also in the prime of his career, there's no reason to believe Eichel won't flourish in Vegas.
That said, there is a little bit of uneasiness. When will Eichel return to action? Recovery time from artificial disc replacement surgery tends to be measured in multiple months, not weeks. If he undergoes the procedure in the immediate future (which is reportedly the plan) he'll be scheduled to return at some point in early 2022. He last played in March. How will he look after such a long layoff, with his peers so deep into the season?
Unrelated side plot: Eichel is now in the same division as Connor McDavid, the generational talent and draft buddy he's constantly stacked up against.
Golden Knights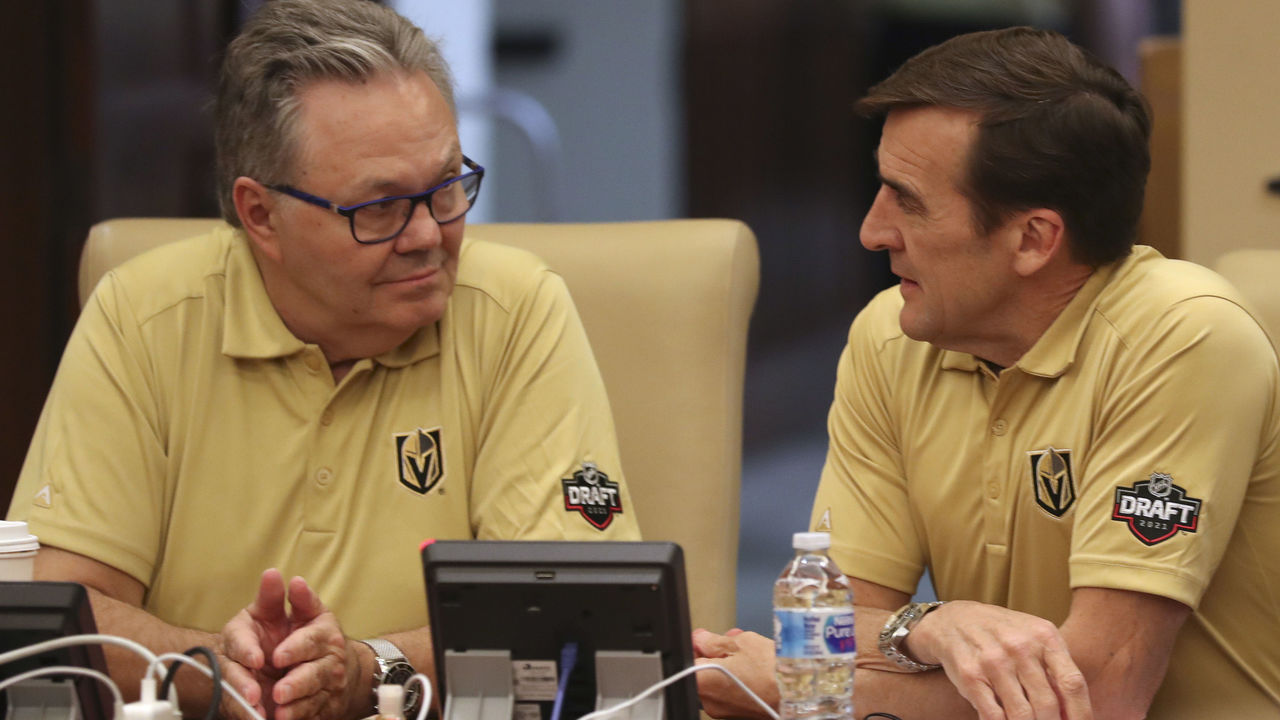 Paul Stastny. Pacioretty. Stone. Robin Lehner. Alex Pietrangelo. Eichel.
The Golden Knights' front office, which is led by the one-two punch of president of hockey operations George McPhee and general manager Kelly McCrimmon, has reeled in its sixth big fish. Whether it's via trade or free agency, Sin City's team never settles for the minor move, and owner Bill Foley deserves props for consistently giving management the green light.
This deal could be the most impactful of the bunch considering the one quibble with Vegas' roster construction through its short history has been the absence of an elite center. Eichel, who for his career has averaged 0.95 points a game despite lackluster support, immediately addresses that need. His eventual arrival to the lineup will allow head coach Pete DeBoer to slide Karlsson and Chandler Stephenson into the 2C and 3C roles. If, like in the past, Vegas struggles to bag goals in the playoffs, it won't be management's fault.
Something very important to keep in mind moving forward: The Golden Knights are in a salary-cap bind after the trade. Once their roster is at full health, they'll be well over the $81.5-million upper limit since the Sabres didn't retain salary in the deal. (Tuch and Krebs make a combined $5.6 million.) In other words, a Golden Knights player, or players, of considerable value will likely be shipped out of town. Smith and his $5-million-a-year expiring contract jump off Vegas' CapFriendly page, but he isn't the only option.
Of course, bidding farewell to an asset or two would be par for the course for Vegas, an organization so aggressive in its pursuit for a Cup that trading picks and prospects (Nick Suzuki, Cody Glass, Erik Brannstrom, and Krebs) - to say nothing about outgoing veterans like Marc-Andre Fleury, Nate Schmidt, Stastny, and Tuch - has simply become part of the club's brand and identity.
Sabres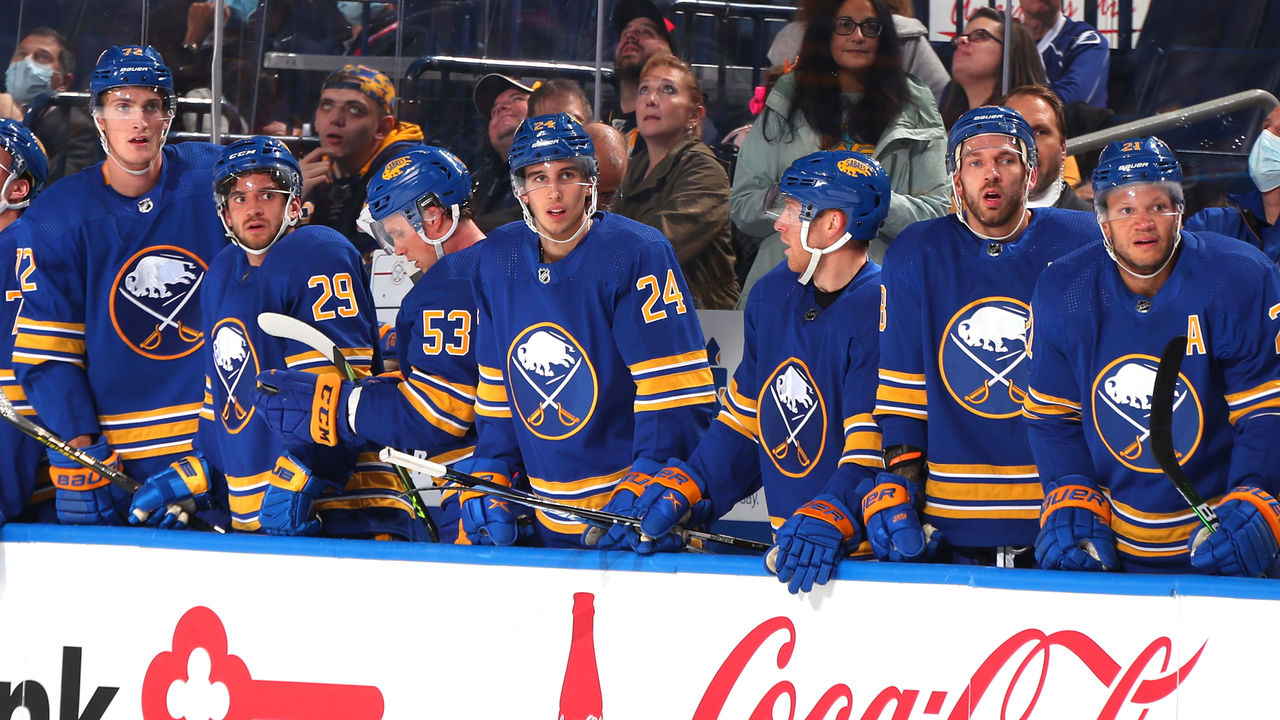 Look, it isn't a joyous day for the 5-3-1 Sabres and their loyal fan base.
Drafting Eichel in 2015 was supposed to be the start of something special. It turned into years of losing games and quality players, Eichel eventually getting stripped of his captaincy, and a decent yet unremarkable return from Vegas.
Tuch, who's 6-foot-4, can skate like the wind and can snipe. He's one of the NHL's most entertaining forwards and will undoubtedly be a fan favorite in Buffalo after he's recovered from an injury. Krebs, meanwhile, is still developing. The 20-year-old's ceiling is a two-way second-line center. If reached, that's an impactful piece. Still, neither Tuch nor Krebs will change the trajectory of the franchise and combined they likely won't bring as much value as Eichel.
The late first-round pick is obviously crucial to the trade's success or failure. The Sabres could conceivably hit a home run with it, especially since the 2022 draft class projects to be quite strong. Yet it's one lottery ticket, not two or three high-end picks. Netting two firsts, or a first and two seconds, would have greatly improved the overall package received by GM Kevyn Adams.
Where the return evolves from "unremarkable" to "decent" is in the context of the situation. It's difficult to criticize Adams too much considering Eichel's displeasure with the organization precedes his tenure as GM. When Adams was hired last June, he inherited a disgruntled captain whose last straw proved to be the disagreement over which surgery was best for his future. The Sabres could have allowed Eichel to have his preferred surgery, but they clearly didn't want to be pushed around (and, let's not forget, the NHL/NHLPA CBA gave them the final call). Once the dispute went public, Adams lost a significant chunk of his negotiating leverage with rival GMs.
At the end of the day, the relationship between player and team was frayed beyond repair and Adams waited out the market long enough to fetch a decent return (and the Sabres aren't retaining salary). Decent, under these circumstances, which calls for a grade of B-. And now a new era begins in Buffalo.
John Matisz is theScore's senior NHL writer. Follow John on Twitter (@MatiszJohn) or contact him via email (john.matisz@thescore.com).
Comments
✕
Jackpot? Breaking down the trade sending Eichel to Vegas
  Got something to say? Leave a comment below!