5 biggest head-scratchers of the offseason
Jonathan Daniel / Getty Images Sport / Getty
This past NHL offseason truly had it all - a successful offer sheet, an expansion draft, several blockbuster trades, and hundreds of millions of dollars in cash doled out in shiny new contracts for players across the league.
Keeping up with the wide variety of storylines was an exhausting and chaotic task at times. As we wait to see how it all pans out this coming year, let's reflect on some moves that still have us scratching our heads.
5. Oilers splurge for Keith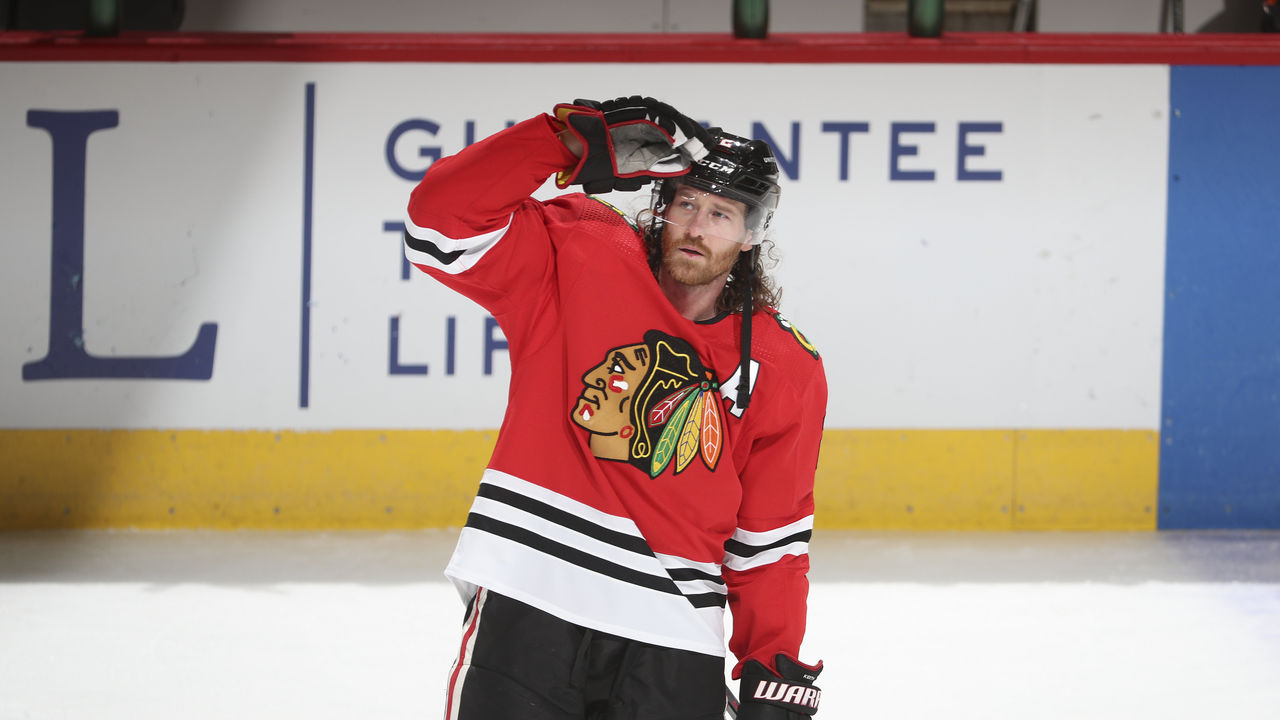 The Edmonton Oilers entered the offseason with a solid chunk of cap space but immediately handcuffed themselves by acquiring Duncan Keith. The Oilers brought in the 38-year-old future Hall of Fame defenseman in exchange for Caleb Jones and a conditional pick in 2022. While the cost wasn't outrageous, it made little sense for Edmonton to take on Keith's entire $5.538-million cap hit and full no-movement clause for the next two seasons.
Keith's legacy is undeniable. Three Stanley Cups, two Olympic gold medals, two Norris trophies, and a Conn Smythe make him one of the greats of his generation. But he's been an ineffective defender for years now. Keith hasn't posted a positive expected goals rate at five-on-five since 2015-16 and has been below 50% in shot share in each of the last three seasons.
There's no question the Oilers needed to add a blue-liner this summer. However, targeting Keith doesn't solve any of their defensive problems, especially considering Adam Larsson joined Seattle and Cody Ceci and Tyson Barrie - the club's only other signings on the back end - are prone to surrendering a ton of chances.
4. Flyers add Ristolainen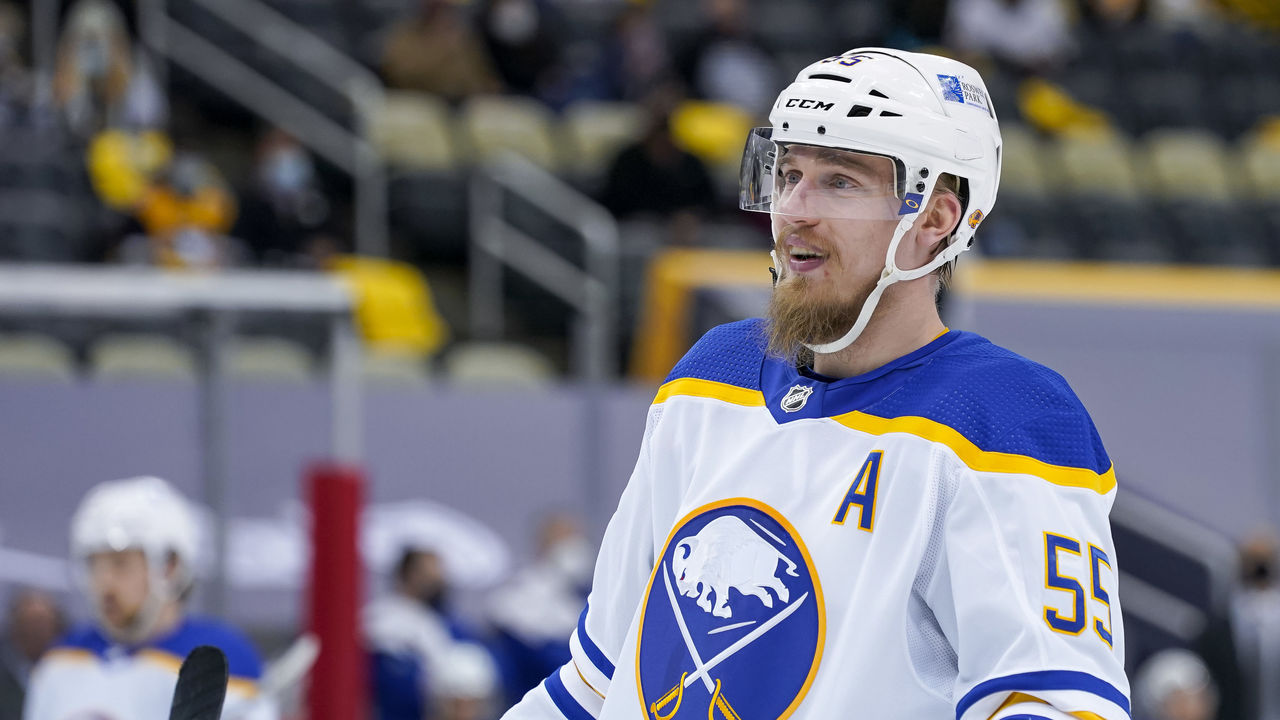 The Philadelphia Flyers were one of the league's busiest teams this offseason, setting out to make significant changes after a disappointing 2020-21 campaign in which they missed the playoffs. Some of the club's moves should genuinely help the cause, while others, like trading a first-round pick for Rasmus Ristolainen, are less likely to do so.
Ristolainen has been one of the NHL's worst defenders by almost every metric for years. Here's a peek at his overall impact over the past three seasons. In the chart below, red is bad.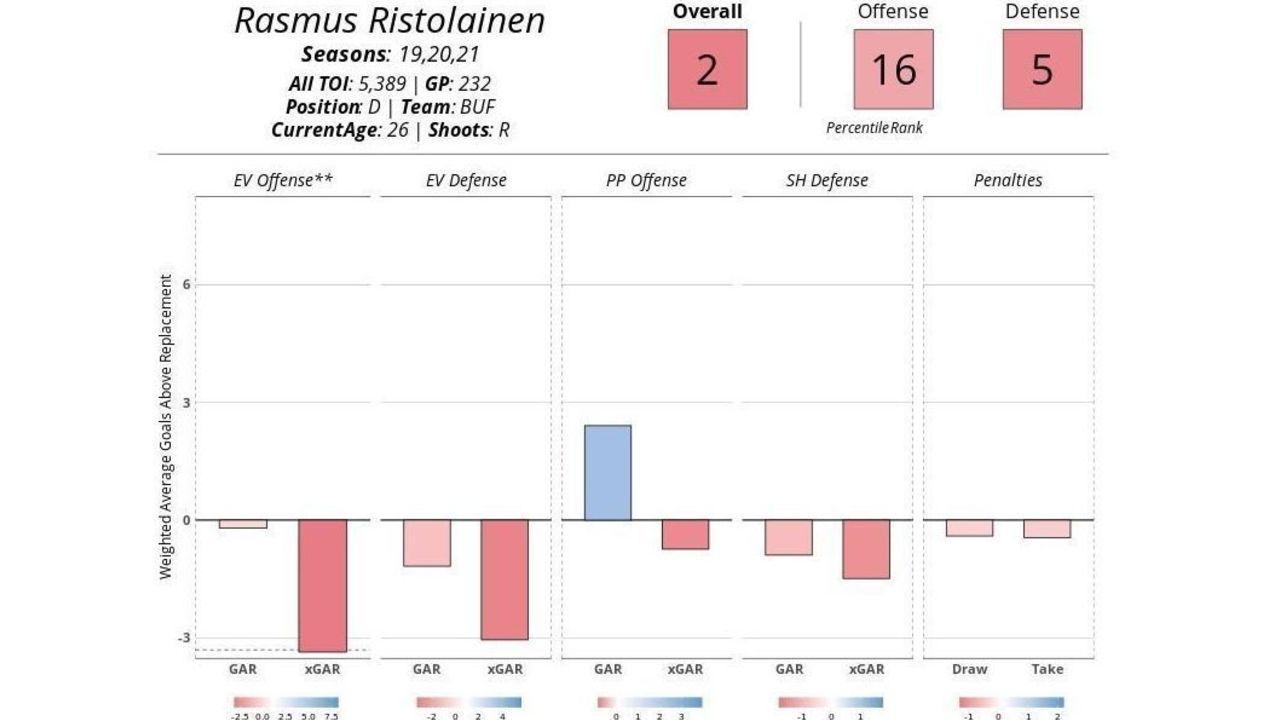 It's difficult to excel when playing for a Buffalo Sabres team constantly spinning their tires in a seemingly never-ending rebuild, but Ristolainen has a big enough sample size under his belt to indicate that he likely won't change at this point in his career.
Philadelphia's decision to pay such a high price for Ristolainen looks worse when you consider he's an unrestricted free agent next summer. Trading Shayne Gostisbehere for literally nothing to accommodate Ristolainen's $5.4-million cap hit only adds to the mystery of what general manager Chuck Fletcher envisions for his defensive corps this season.
3. Hurricanes send Nedeljkovic to Red Wings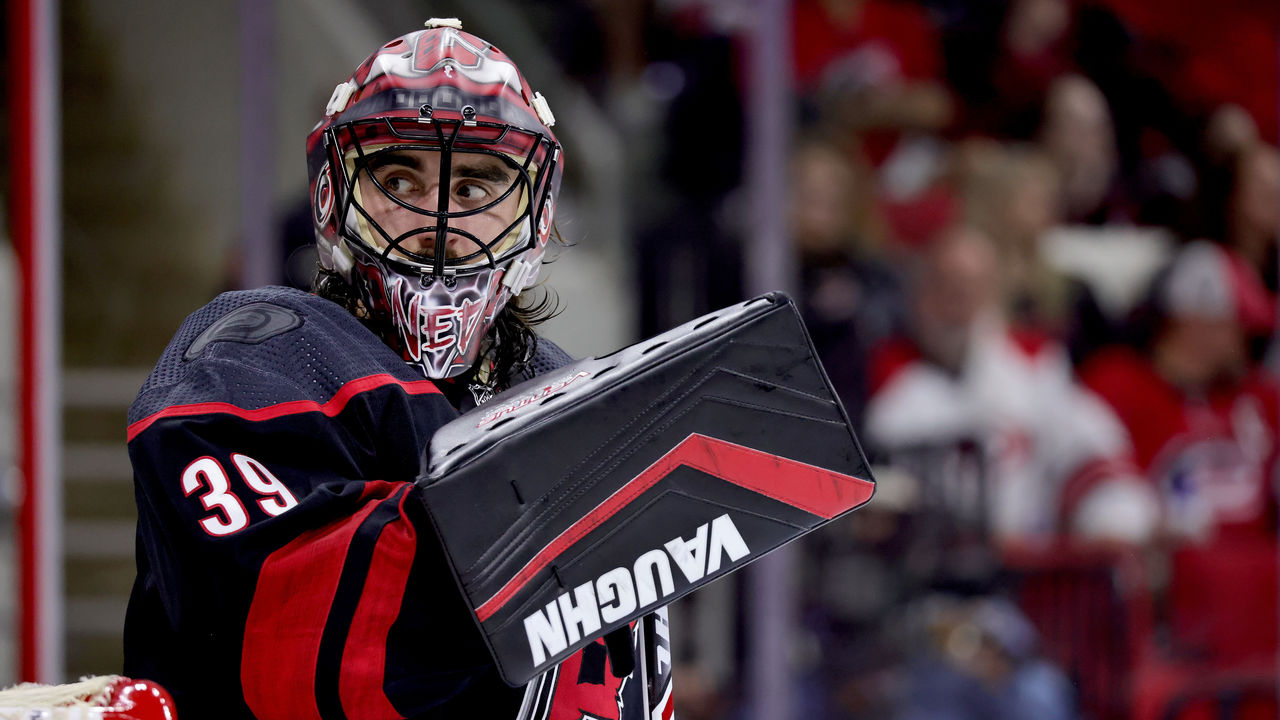 It feels like only yesterday the Carolina Hurricanes had their future in goal stabilized by a young netminder up for the Calder Trophy. Then they traded him for peanuts.
Alex Nedeljkovic took over No. 1 netminding duties for the Canes last year and led the NHL in save percentage (.932) and goals-against average (1.90) while shining in several underlying metrics. With incumbents Petr Mrazek and James Reimer set for unrestricted free agency, it seemed like the perfect time for Carolina to commit to Nedeljkovic, who was a restricted free agent himself.
Instead, the Hurricanes traded Nedeljkovic to the Detroit Red Wings for Jonathan Bernier's signing rights and a third-round pick. Carolina let Bernier walk and then committed $6.5 million for the next two seasons to an uncertain veteran tandem in Frederik Andersen and Antti Raanta. Meanwhile, Detroit locked up Nedeljkovic to a modest two-year, $6-million contract.
That's a price the Hurricanes could afford, but perhaps they weren't ready to commit to a goalie with only 29 NHL appearances. After all, Carolina's front office is privy to much more information than we are, but on the surface, this trade was curious at best and one that could backfire immensely at worst.
2. Golden Knights dump Fleury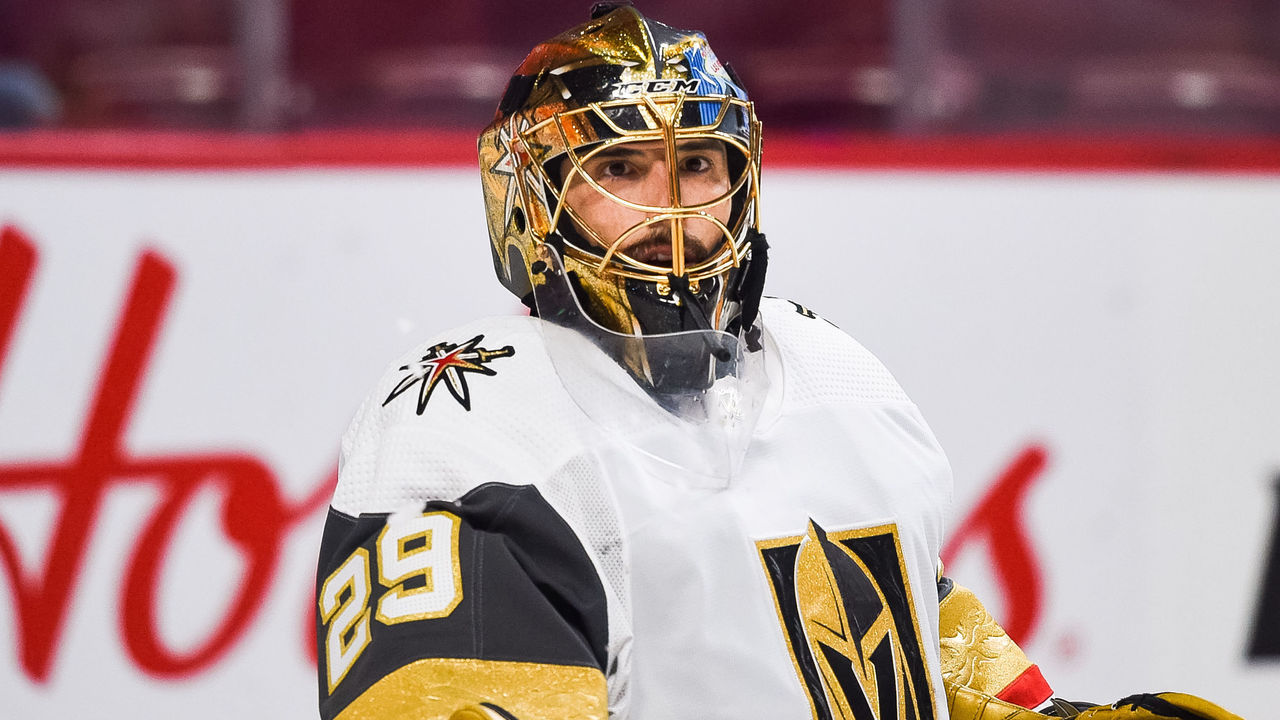 From a hockey ops perspective, the Vegas Golden Knights can't afford to pay their goalie tandem $12 million if they want to compete for Stanley Cups perennially. As the older, more expensive, closer-to-free-agency option, it made sense for the Golden Knights to trade Marc-Andre Fleury.
From a personal perspective, the heartless way Vegas cut ties with the face of its franchise is puzzling. Fleury had been the Golden Knights' heart and soul since being selected in the expansion draft. He was a fan favorite from the get-go and played an enormous role in the club's immediate success. Despite the future Hall of Famer's popularity and stature within the organization, Fleury was left in the dark about the stunning move and found out he'd been traded over Twitter.
Making matters more bizarre, Vegas dumped Fleury for Mikael Hakkarainen, a 23-year-old fifth-round pick of the Chicago Blackhawks who's bounced between the ECHL and AHL since 2019.
Fleury's tenure in Vegas always felt like an unlikely fairytale. He revived his career, backboned the most successful expansion franchise in league history, won a Vezina Trophy, and became a household name in a hockey market many believed was destined for failure. For it to end in such an ugly fashion was the final chapter no one saw coming.
1. Eichel, Sabres in limbo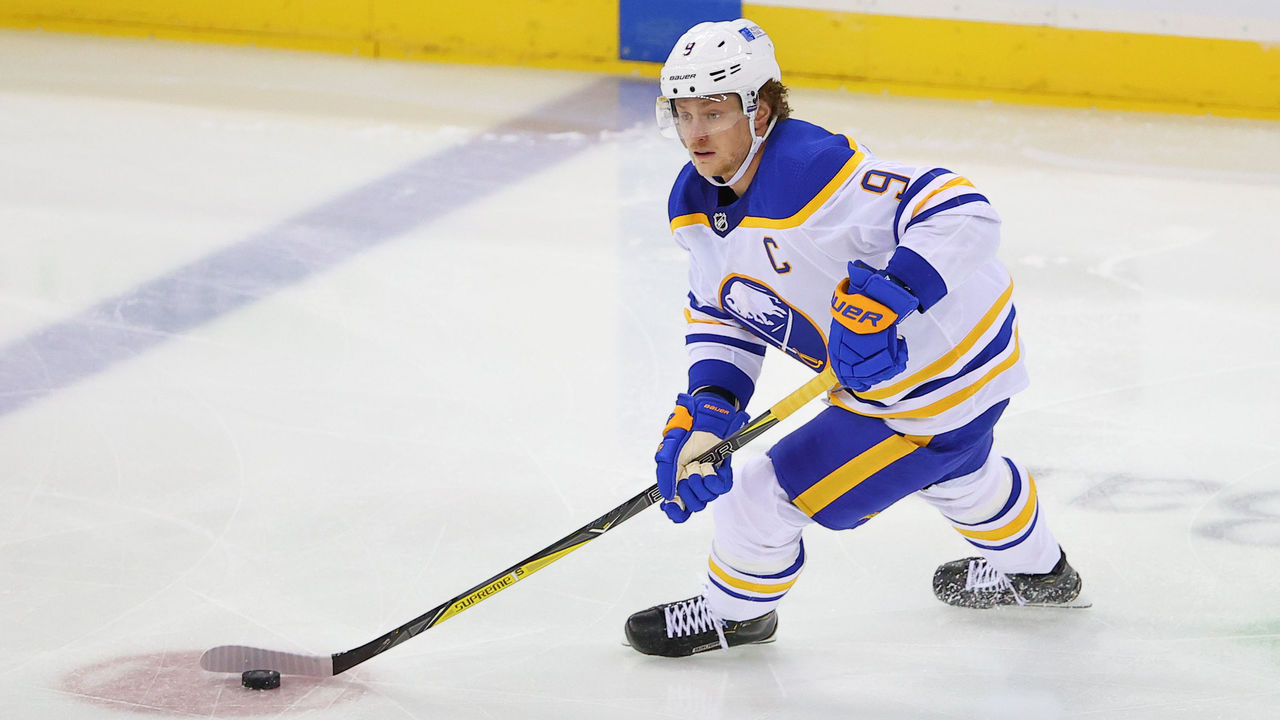 At the outset of the offseason, the narrative surrounding a Jack Eichel trade was a matter of when and not if. It was supposed to be the story of the year - a young, disgruntled superstar dealt in the prime of his career for a king's ransom. Now just days away from the start of the 2021-22 season, it still hasn't happened.
The team and player remain at odds about the best course of action for Eichel's ailing neck. Amid the stalemate, Eichel has fired and replaced his agent, been stripped of his captaincy, and had former teammates, as well as commissioner Gary Bettman, publicly address the dubious twists and turns this saga has taken.
What was once a gigantic storyline for hockey fans to look forward to has now evolved into an unprecedented game of chicken that neither side will benefit from any time soon. How can the Sabres establish fair value in a trade at this point? When can we reasonably expect Eichel to retake the ice? What is his quality of life like as he awaits significant neck surgery?
How and when this all gets resolved remains a mystery.
Comments
✕
5 biggest head-scratchers of the offseason
  Got something to say? Leave a comment below!