22 predictions for the 2021-22 NHL season
Are you ready for the first full NHL season since 2018-19? We've cooked up 22 predictions - some complete long shots, others pretty realistic - to preview the 2021-22 campaign. OK, here goes nothing:
1. Lightning almost three-peat, lose to Avalanche in Cup Final
The Tampa Bay Lightning, along with the Vegas Golden Knights and Colorado Avalanche, are a popular Stanley Cup pick. Frankly, the two-time defending champions are probably the most talented team in the Eastern Conference and another lengthy playoff run would not register as a surprise. Still, there's a reason why no franchise has won three titles in a row since the early 1980s: burnout. Too much hockey. Coach Jon Cooper also lost his entire third line this past summer, which is no minor development given the trio's contributions to Tampa's Cup wins. It says here either the Golden Knights or Avalanche will meet the Lightning in the Cup Final, and my money's on Nathan MacKinnon-led Colorado winning for the first time since 2001.
2. McDavid destroys regular season, collects 150 points
Mario Lemieux was the last NHLer to record 150 points, doing so in 1995-96 when he put up an absurd 161 in 70 games. Connor McDavid, who's in the prime of his career at 24 years old, is more than capable of hitting 150 if he can play all 82. This is the year. I don't think people realize the historical relevance of his 2020-21: McDavid's 105 points in 56 games sits ninth all time on Hockey Reference's era-adjusted ranking. A regular offseason with no rehab will help. The cross-checking crackdown will, too. Having puck retrieving wizard Zach Hyman on his wing won't hurt. Most of all, McDavid has been getting progressively more pissed off every time the Edmonton Oilers are bounced early from the playoffs. He's on a mission here. Speaking of the Oilers, they may not be better overall after a busy offseason but the forward group is unquestionably deeper. Which, again, will help McDavid in his quest for 150.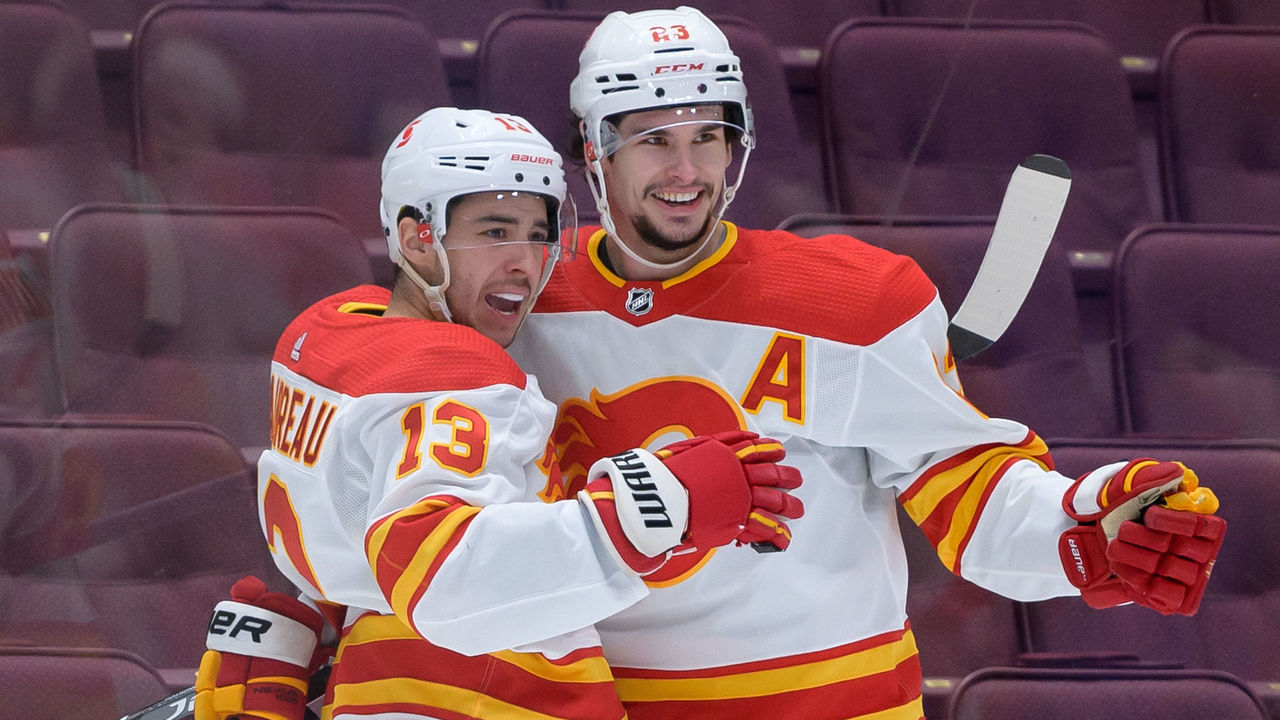 3. Flames' Gaudreau-Monahan era ends
Since forwards Johnny Gaudreau and Sean Monahan first donned Calgary Flames jerseys back in 2013-14, the team has won a grand total of two playoff series. It's looking unlikely Calgary will add to that tally in 2021-22. On an individual level over that time, both players have neither greatly exceeded expectations or completely disappointed the fan base. All of that context, combined with the fact their playing styles don't mesh perfectly with how coach Darryl Sutter prefers to play, points toward a major shakeup in Flames land. Maybe Gaudreau, a pending unrestricted free agent, is gone by this time next year. Maybe it's Monahan, the goal-scorer. Maybe both leave. There will be a market for two pillars of a Flames core that's already lost Dougie Hamilton, TJ Brodie, Sam Bennett, Mark Giordano, and others in recent years.
4. Theodore wins Norris Trophy
Shea Theodore has never finished higher than sixth in Norris voting, so this prediction is relying heavily on the Vegas Golden Knight's upward trajectory. Theodore, who's 26 years old and entering his sixth NHL season, has the prototypical modern defenseman's toolkit, plus size. His mobility and vision are elite. He's leveled up the past two seasons in terms of point production and his ice time is slowly creeping up to the 25-minute mark. Award voters are analyzing blue-liners with greater sophistication today than, say, 10 years ago, and Theodore boasts excellent underlying numbers. Yes, Cale Makar, Dougie Hamilton, Victor Hedman, and a few others might have better betting odds for the Norris. But Theodore's a guy who still has another gear or two.
5. Kraken finish bottom five in goals scored
If I had magical powers I'd make sure the Seattle Kraken are one of the 16 teams competing in the 2022 playoffs. Expansion teams are undeniably intriguing and easy to root for. Obviously, I don't have magical powers - which sucks because I just don't believe in the Kraken. It's hard to envision them snagging a Western Conference playoff spot when they're on track to trot out Yanni Gourde, Jared McCann, Alex Wennberg, Morgan Geekie, and Riley Sheahan at center. (Making matters worse, McCann is in COVID-19 protocols and Gourde is injured right now.) Seattle is set in net and the defense corps is strong. A serious lack of goal-scoring will be their undoing.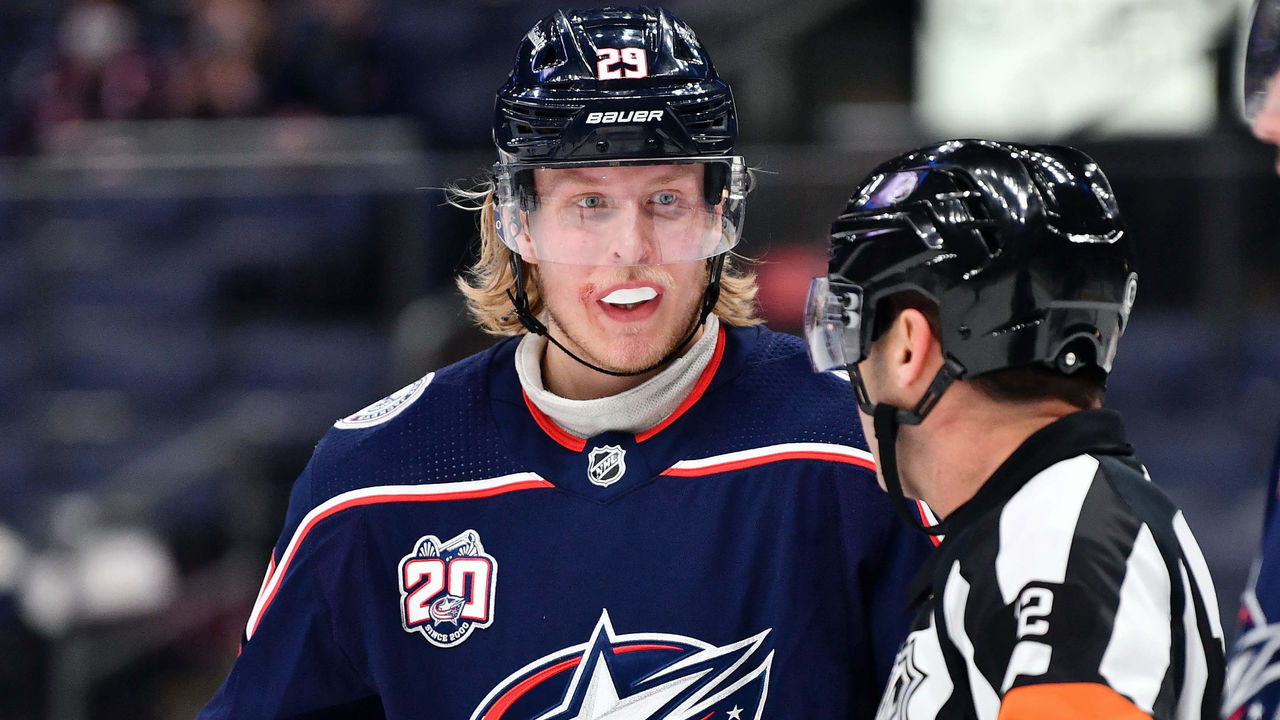 6. Laine rebounds, gets traded - again
Patrik Laine is coming off the worst statistical season of his career. Yet he's too young (23) and too dazzling in spurts (see this?) to be labeled a bust. This year, he should garner plenty of ice time on a talent-light Columbus Blue Jackets team. New coach Brad Larsen is a breath of fresh air after John Tortorella. Time to showcase Laine, who's still chasing down a spot on the Finnish Olympic team. If all goes well, how does Laine, a pending restricted free agent, not get flipped ahead of the trade deadline? He doesn't scream "Columbus lifer" and the rebuilding Jackets can easily retain salary.
7. Knight wins Calder Trophy, earns Vezina votes
Spencer Knight, the Florida Panthers' 20-year-old goalie, doesn't boast a robust pro resume (six total games). And yes, partner Sergei Bobrovsky's annual salary is 10 times greater. But this Knight kid is unshakeable in the crease. He possesses all of the requisite skills to be a franchise goalie in the modern NHL, and GM Bill Zito and coach Joel Quenneville - who weren't around for the Bobrovsky signing debacle - aren't tied to the other guy. Knight will get starts and Florida will provide him with more than enough support, defensively and offensively. Fellow rookies Cole Caufield, Trevor Zegras, and Quinton Byfield (currently injured) are terrific talents, and I expect them to put up impressive numbers. Knight's arc, though, should win him the hardware.
8. Cringeworthy race to bottom of standings
With Connor McDavid up for grabs in the 2015 NHL Draft, the Buffalo Sabres and Arizona Coyotes took tanking to the extreme. The race for last culminated when Sabres fans cheered for the visiting Coyotes during a late-season matchup. It wasn't a great look, to say the least. This coming season, with the Coyotes, Sabres, Detroit Red Wings, and to a lesser extent, Columbus Blue Jackets, all actively trying not to win, expect a similar vibe down the stretch. (Those goaltending tandems in Buffalo and Arizona are, uh, something.) The grand prize in 2021 is Shane Wright, another can't-miss center prospect.
9. Canucks nab Pacific Division playoff spot
On paper, the Pacific can be divided into three tiers. At opposite ends are the Stanley Cup-contending Vegas Golden Knights and the basement-dwelling San Jose Sharks and Anaheim Ducks. In the chaotic middle are the Edmonton Oilers, Vancouver Canucks, Seattle Kraken, Calgary Flames, and Los Angeles Kings. The Oilers should finish second. The Canucks, meanwhile, hold the slight edge for the third spot. Vancouver's forward group is scary, from Elias Pettersson and Conor Garland to Bo Horvat and Brock Boeser, and so on. Goalie Thatcher Demko is an absolute stud. And the Canucks are due to bounce back after getting hammered by COVID-19 in 2020-21.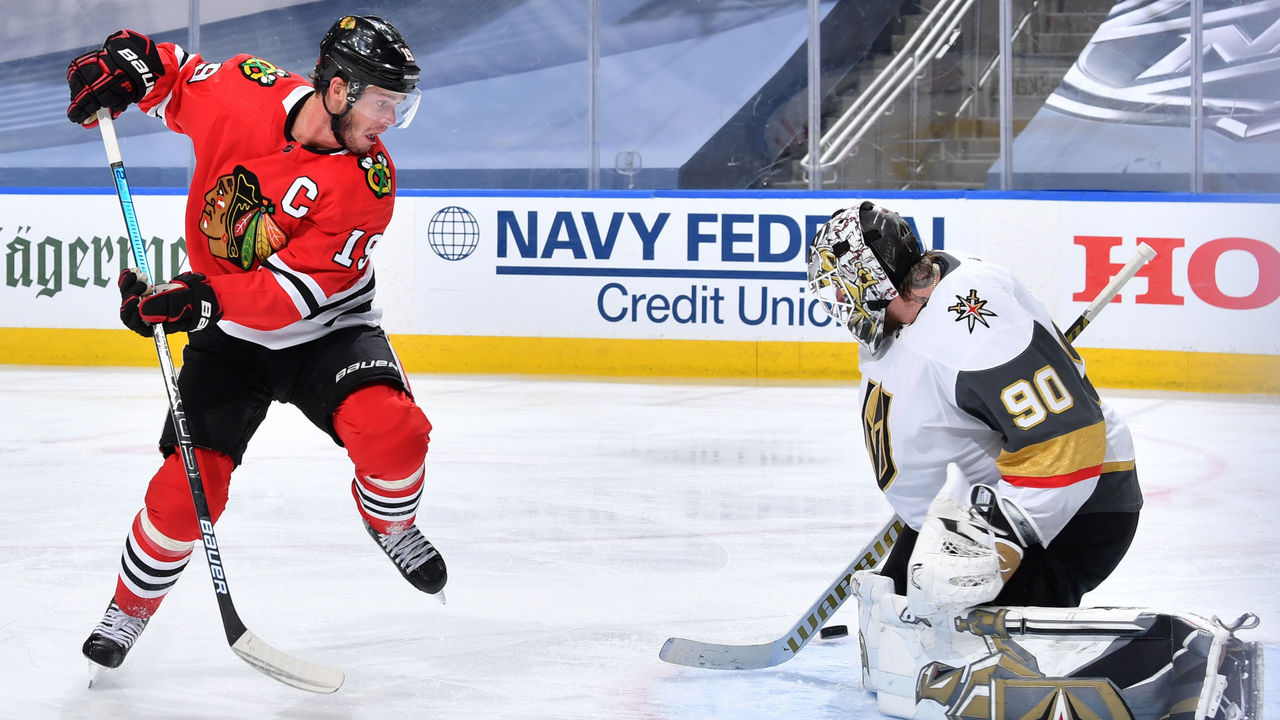 10. Toews plays his way into Olympic conversation
Predicting Jonathan Toews' inclusion on Team Canada would be the truly bold take. Given Canada's enviable forward depth and how far Toews must come over the next few months just to be in the conversation for an Olympic roster spot, it's simply a bridge too far after the Chicago Blackhawks captain missed all of last season. That said, I'm willing to predict Hockey Canada will strongly consider him. The 33-year-old has looked fantastic in preseason action. Kirby Dach's emergence as Chicago's No. 1 center will give Toews easier matchups, and there's a compelling case for selecting a two-time Olympian like Toews, even if it's in a depth/leadership role. At any rate, let's hope Toews' health continues to hold up so he can reach the 1,000-game milestone (he's 57 games shy) and earn a Bill Masterton Trophy nomination.
11. Avalanche thrive in net despite losing Grubauer
In one of the offseason's biggest splashes, Philipp Grubauer left Colorado and signed a six-year deal with the expansion Seattle Kraken. Avalanche GM Joe Sakic reacted by trading for Arizona Coyotes netminder Darcy Kuemper, who's entering the final season of a two-year deal. Not only will the Avs survive the perceived downgrade in goal (remember, Grubauer is a reigning Vezina Trophy finalist), but they'll thrive with Kuemper between the pipes. The Avalanche are underrated defensively. They are absolutely capable of insulating Kuemper, who through 242 NHL games has mustered an impressive save percentage of .917. Kuemper's issue has been nagging injuries, not performance. Here's to a clean bill of health for the Saskatchewan native because he's now in the goalie-friendly environment that helped lift Grubauer.
12. Poile becomes first coach/executive fired
It never ceases to amaze that David Poile has been GM of the Nashville Predators for the entirety of the franchise's existence. Since 1997, the Preds have made the playoffs a respectable 14 times, including seven straight years coming into 2021-22. Less impressive? The lack of postseason success (aside from a trip to the Stanley Cup Final in 2017) and the current roster Poile has constructed. Nashville's in an awkward stage. It isn't officially rebuilding, yet it's not close to contending, with bloated contracts on the books and a pipeline that isn't bursting at the seams with premier talent. Clearly, the Preds' ownership group has been incredibly patient with Poile over the years. It's time to move on, though, and see what somebody else can do in the GM role.
13. Coyotes flip Kessel early in season
The Arizona Coyotes' CapFriendly page is something to behold. Only seven of 23 players on the NHL roster are under contract for the 2022-23 season, and just three of those seven (Clayton Keller, Nick Schmaltz, Jakob Chychrun) are committed for 2023-24 and beyond. It's remarkable what GM Bill Armstrong is doing, stripping the team down to the studs. And forward Phil Kessel, at a $6.8-million cap hit, should be the next asset flipped for futures. Timing is the unpredictable part. There's a case to be made for an early-season Kessel trade, however. Give him a month to strut his stuff, then get on with it. The acquiring club gets a proven sniper for the vast majority of the season and Arizona can facilitate by retaining half of his salary. There's absolutely no reason to wait until the trade deadline next March.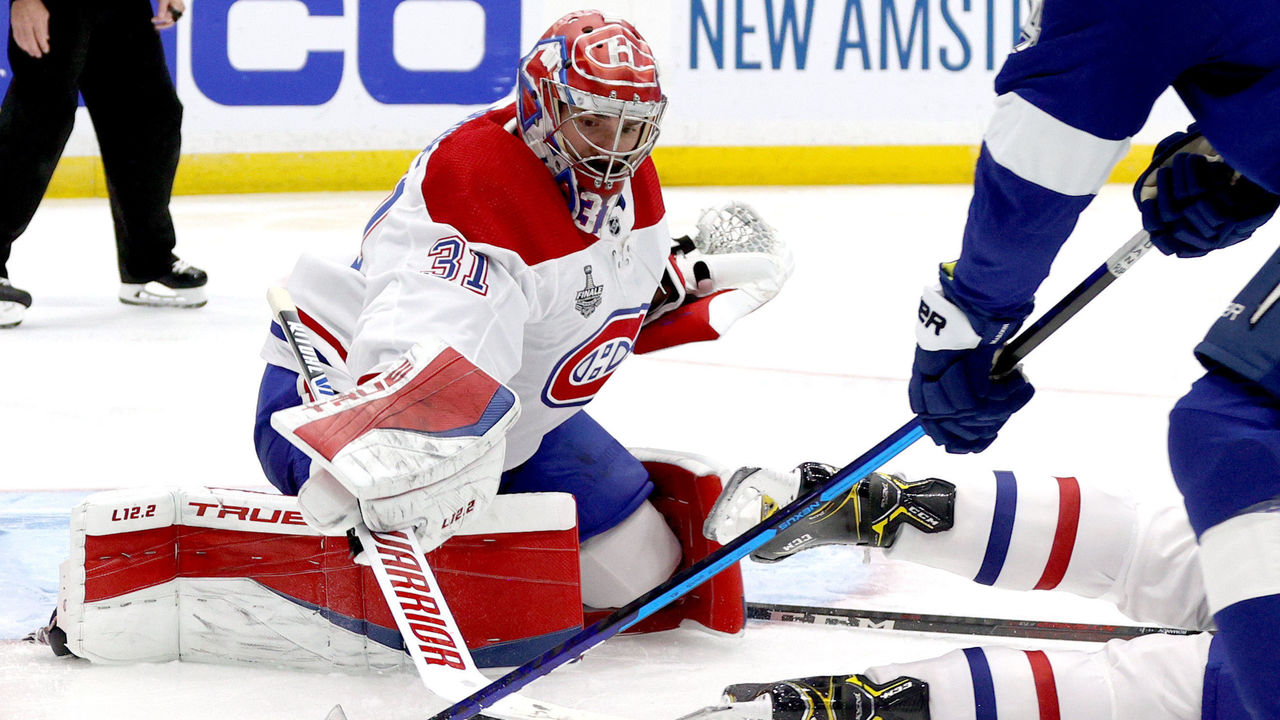 14. More NHLers come forward with their stories
In the last few weeks alone, Montreal Canadiens forward Jonathan Drouin has gone public with his battle with anxiety, Vegas Golden Knights goalie Robin Lehner has called out the NHL for alleged medical malpractice, and Canadiens goalie Carey Price has voluntarily entered the NHL/NHLPA player assistance program. Each situation is unique, but there is a binding theme: Players are ostensibly becoming increasingly comfortable speaking out and prioritizing their personal health. This isn't an overnight phenomenon, mind you; players have put themselves out there previously. However, it does feel like there's been a destigmatization over time, which is very encouraging, and it wouldn't be a shock if the vulnerability and candor continue throughout this coming season.
15. Leafs pursue proven goalie midseason
Look, the Toronto Maple Leafs' goaltending tandem of Jack Campbell and Petr Mrazek could be fine, even good. Those are two netminders who have shown flashes of being a quality NHL starter. But is there enough reliability and security? There is simply too much riding on this Leafs season for so many people in the organization - namely GM Kyle Dubas and coach Sheldon Keefe - to be gambling, in any way, on the most important position. It won't be easy from a salary cap perspective, but the names John Gibson (Anaheim), Tuukka Rask (free agent), and Anton Khudobin/Ben Bishop (Dallas) come to mind immediately as possible upgrades, assuming their respective situations allow for a change of scenery. If 2020-21 was "All or Nothing" for Toronto, 2021-22 is "Win or Big Changes." Dubas must do everything he can to ice the best possible squad heading into the playoffs, and that includes goaltending.
16. Kuznetsov-Capitals drama escalates
Reports out of Washington Capitals training camp suggest everything is hunky-dory with respect to top-six center Evgeny Kuznetsov. And, hey, maybe team and player can get back on the same wavelength in 2021-22. But let's not forget 2020-21 was an unmitigated disaster for Kuznetsov, who was suspended for breaking COVID-19 protocols, twice tested positive for the virus, became a healthy scratch after showing up late to a team function, and failed to produce offense at a rate worthy of his hefty contract. The offseason rumor mill had Kuznetsov firmly on the trade block. What changed, if anything? Is the preseason optimism legitimate or simply a function of a new beginning? Here's a theory that makes some sense: Kuznetsov is on a short leash, and one more misstep will trigger the end of his Caps tenure. Another theory: Kuznetsov is Plan B for teams that don't land Jack Eichel via trade.
17. Eichel resolution farther away than it appears
Nobody really knows when the months-long staredown between the Buffalo Sabres and Jack Eichel will end. Pat Brisson, Eichel's new agent, is one of the most powerful figures in hockey, so this thing should be headed in the right direction. That said, because of the risk inherent in acquiring an injured $10-million player, I have a hunch this complex situation drags on all the way past the Beijing Olympics and bumps up against the trade deadline. By then, hopefully Eichel has finally healed (whether through surgery or rehab) and can be showcased for a handful of games in a Sabres uniform. The former captain last played this past March. He might not get traded until March 2022.
18. Svechnikov scores 40 goals
This is the year Andrei Svechnikov exchanges the "future all-world sniper" tag for "all-world sniper." In 82 games as a rookie, the Russian potted 20 goals, all at even strength. Then, in the past two shortened seasons, he scored 24 in 68 contests, for a pace of 29 over 82 games, and 15 in 55, for a pace of 22 over 82. Armed with a long-term contract and a proper offseason to polish his game, watch Svechnikov pop playing alongside superstar center Sebastian Aho. Svechnikov has the tools - that wicked shot, specifically - and now the reps. A 40-goal breakout is next.
19. Maurice wins Jack Adams Award
Predicting the coach of the year is tough because voters tend to gravitate toward bench bosses of teams who far exceed expectations. Paul Maurice's Winnipeg Jets received a decent amount of preseason buzz based on a productive offseason. Yet seemingly nobody is talking about the possibility of the Jets finishing first in the Central Division. If that happens (they'd have to usurp the Colorado Avalanche, which is unlikely but doable), Maurice will no doubt be in contention for the Jack Adams. The league's broadcasters make up the voting body, and Maurice is arguably the NHL's most media-friendly coach. In general, he's well-respected in hockey circles; he's a 54-year-old with oodles of experience who manages to evolve with the times.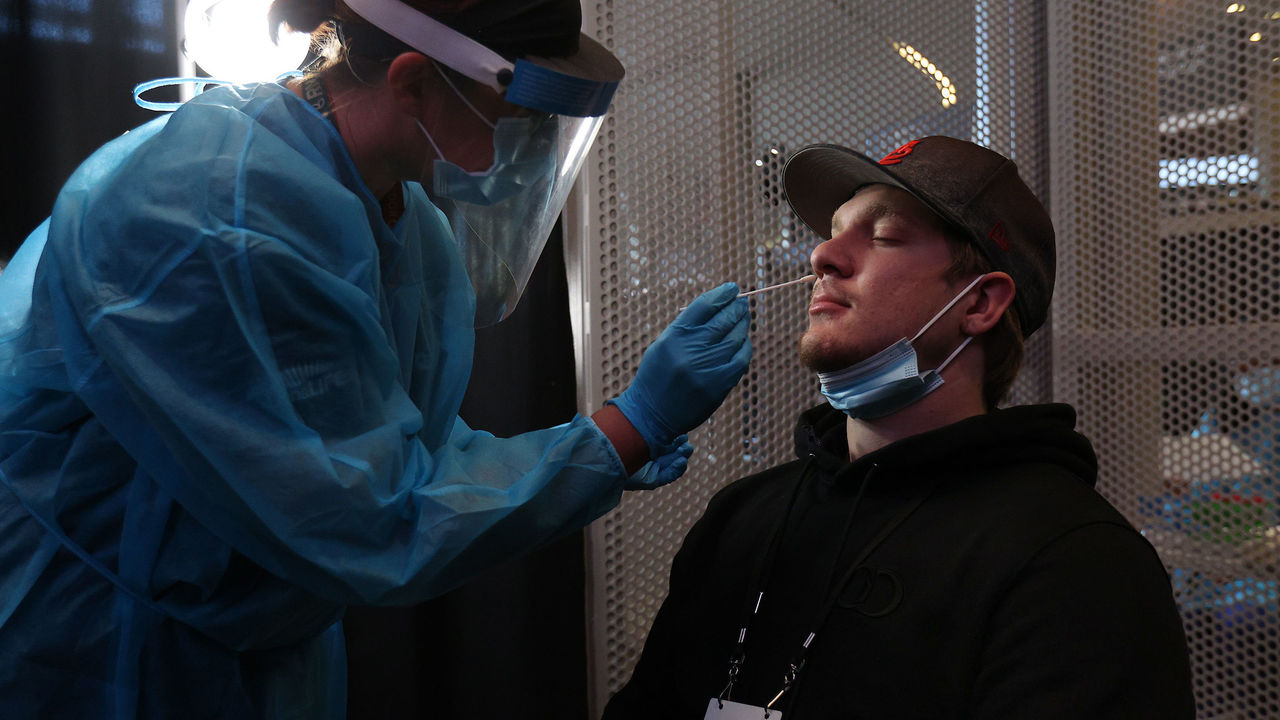 20. COVID-19 continues to dominate headlines
Reports indicate around 99% of NHLers are vaccinated. Huge props to the NHL, NHLPA, and the players themselves for buying into the greater good. Of course, a vaccinated person can still contract COVID-19, so, as we saw in the preseason, players and coaches will miss games to adhere to the league's strict protocols. A number of teams' seasons were completely derailed last year. I don't foresee that happening again, yet we're not out of the woods with this stubborn pandemic. For that reason, and the fact that the players are assuming all of the COVID-19-related insurance risk of going to the Olympics, COVID-19 will, unfortunately, remain a top storyline in 2021-22.
21. Senators finish higher than Canadiens in Atlantic Division
It's fair to say the Montreal Canadiens' run to the Stanley Cup Final was a half mirage. They ran hot after finishing 18th in the league standings. Now, they're starting the 2021-22 season without No. 1 goalie Carey Price while captain Shea Weber is expected to miss the whole year. The Habs have decent fill-ins (Jake Allen for Price; David Savard for Weber) and could score more goals with the emergence of Cole Caufield. However, the Ottawa Senators are rising and the potent mixture of a nothing-to-lose mentality and growth among a promising young core could very well vault them above Montreal in a top-heavy division. It will be super close - I'm not predicting a playoff spot for the Sens - but Ottawa is primed to surpass the Habs in points.
22. Jersey ads the tip of the iceberg
First, helmet decals. Now, starting this season, small jersey advertisements. And, like with the decals, we'll accept the visual change in due time. Even the sport's purists will forget about it after a while. Both of these have been introduced and accepted in part because the pandemic has decimated league revenue. Saying they're necessary would be a stretch but there's certainly a strong business case. Placing ads on helmets and jerseys creates a gateway to other pieces of equipment. Goalie pads are prime real estate. Are they next? Could shin pads be a bridge between jerseys and goalie pads? Maybe tricked-out skates first? At any rate, Pandora's box has been opened. There's no going back with these non-traditional ads. Just forward.
John Matisz is theScore's senior NHL writer.
Comments
✕
22 predictions for the 2021-22 NHL season
  Got something to say? Leave a comment below!