From the course to the rink, Trocheck is the link for new-look Hurricanes
Getty Images / Photo illustration by Nick Roy / theScore
A middle-aged man having lunch near the fireplace extends his hand to Trocheck and asks the Carolina Hurricanes forward how he's doing. He works in real estate here in the Raleigh-Durham area. Trocheck tells him he'll buy a home, no question, if he signs a long-term extension. Right now, in early September, with a season left on his deal, the Trocheck family is fine renting.
Trocheck takes a seat one table over. While scarfing down a quesadilla, waffle fries, and a beer, he gushes over head coach Rod Brind'Amour's impact on his experience so far in Carolina. In fact, he says, he's never played for a better coach. Brind'Amour and Trocheck hooked up for a round of golf the other day. They talked a little business - including the recent addition of young forward and potential future linemate Jesperi Kotkaniemi - but mostly chatted about non-hockey matters.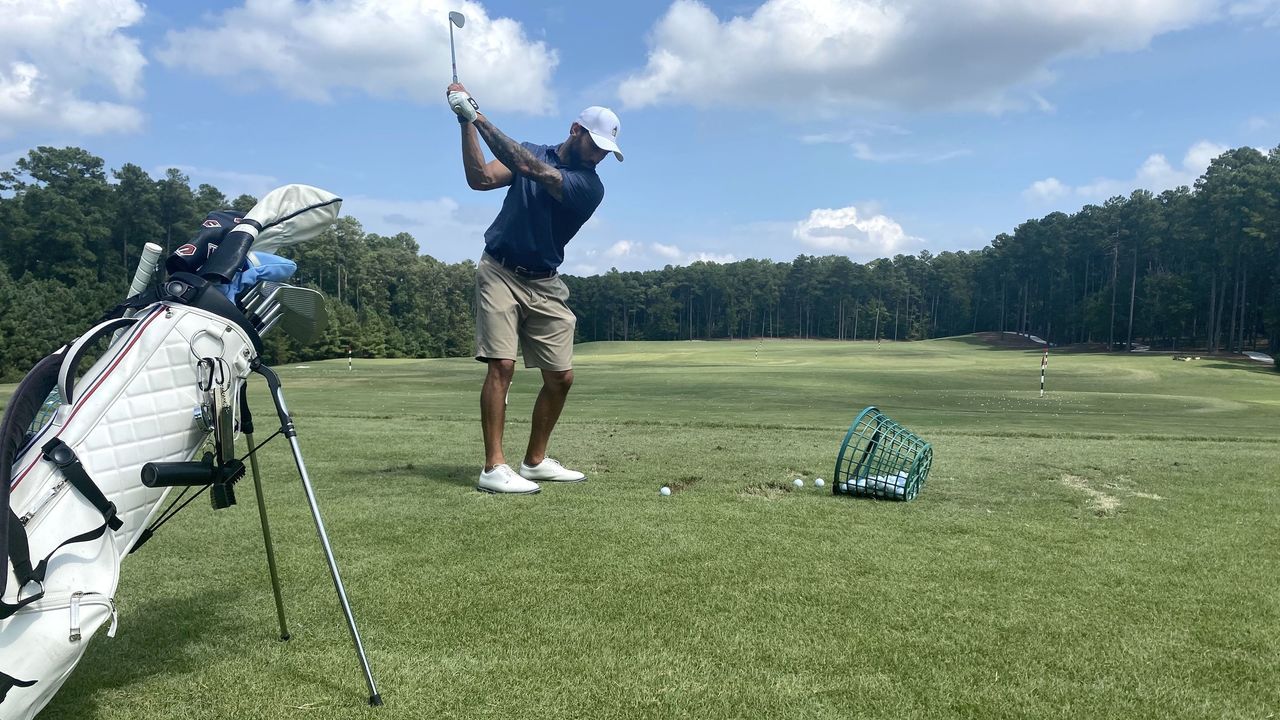 To Trocheck, Brind'Amour and the Hurricanes were just another rival and the laid-back Raleigh-Durham area was just another stopover as recently as 18 months ago. In the early going of trade deadline day last February, Florida Panthers general manager Dale Tallon called Trocheck to deliver the news that he'd been traded to Carolina for four lesser-known skaters. The GM and player met in the Panthers' Vegas hotel to discuss why Tallon had parted with the core piece. The conversation grew into a heart-to-heart.
"We talked more about life than the trade," Trocheck says. He's now on the Old Chatham driving range, whistling between swings. A few minutes ago, as Trocheck walked across the parking lot connecting the clubhouse and range, a few teammates chirped him from their vehicles, wondering where he'd been for the past 30 minutes.
Trocheck, who, at the moment, is the only Hurricanes player with a membership at the club, hosted about a dozen of them for 18 holes and lunch but left the group to eat inside with a guest. It's abundantly clear by the way teammates interact with Trocheck that he's a cultural catalyst, a 5-foot-10, 183-pound bridge between up-and-comers and veterans.
On the ice, Trocheck is a top-six center for a squad that, despite a polarizing offseason, believes it's on the cusp of something special. The 28-year-old has appeared in just 19 playoff games since breaking into the league in 2014. He needs more.
"Winning's been everything since Day 1," Trocheck says. "Since I was 3 years old."
Around the Hurricanes organization, the names Tom, Don, and Rod are attached to every conversation relating to the on-ice product. There's no siloing between owner Tom Dundon, president and general manager Don Waddell, and Brind'Amour, the NHL's reigning coach of the year.
Dundon is so heavily involved in the day-to-day activity that he's drawn comparisons to the Dallas Cowboys' Jerry Jones. Waddell holds the final vote on trades, signings, and draft picks and also presides over the business arms of the Hurricanes and PNC Arena. Brind'Amour is the rare coach who both chats one-on-one with ownership on a regular basis and serves as a consultant to the GM on personnel decisions.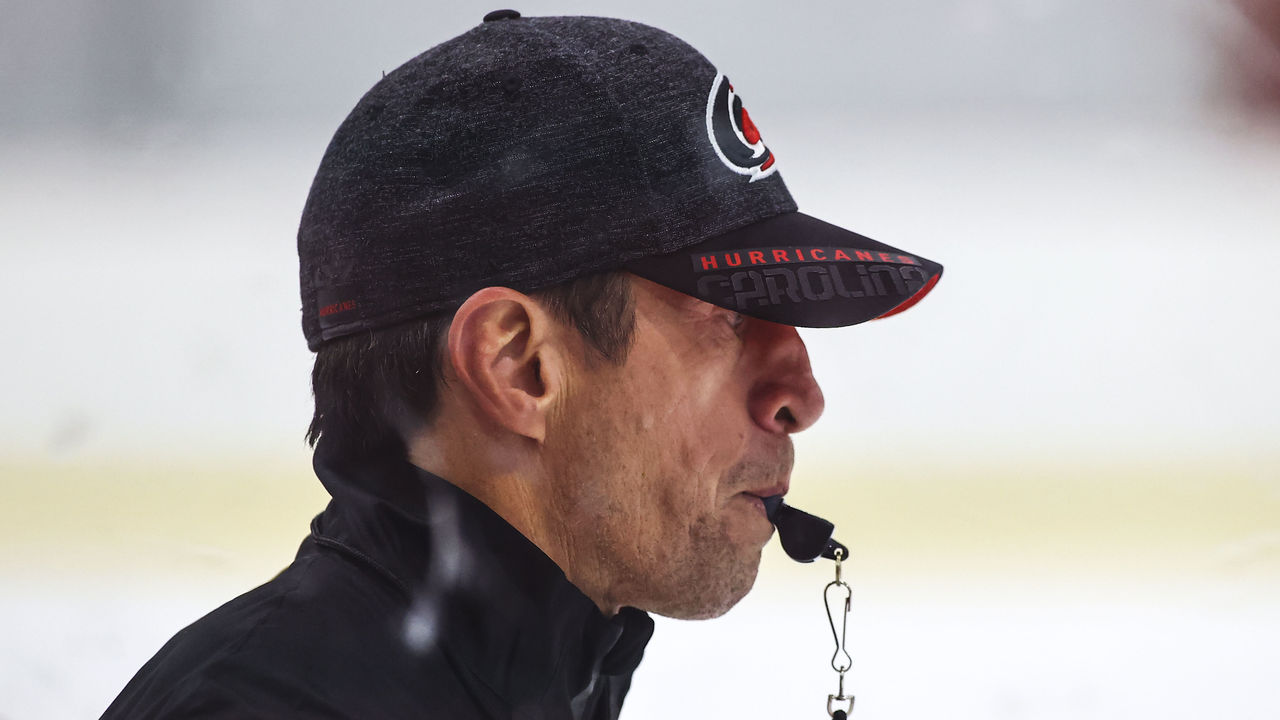 For a moment in the spring, it looked as if the trio might be on the verge of becoming a duo. But, following months of negotiations, Dundon and Brind'Amour came to terms on a deal to keep the face of the franchise behind the bench for three more years. From there, the Hurricanes got after it, turning over nine spots on the 23-man roster.
"That part is not ideal. I'll be honest with you; I didn't want to make any changes," Brind'Amour says during a lengthy interview at the Hurricanes' practice facility. "Why would we? We had the (third)-best record in the NHL. We lost to Tampa. Tampa's the best team in the league. We're knocking on the door. Part of the reason why we had so much success last year is, if you go back to a year ago, we had one change. One player."
In the next breath, Brind'Amour concedes that to expect little to no year-over-year changes would be foolish with the salary cap flattened by the pandemic. Key people are bound to move on, he says, referring to Dougie Hamilton, the Norris Trophy-caliber defenseman who, on the first day of free agency, inked a seven-year, $63-million contract with the New Jersey Devils.
Free-agent signee Tony DeAngelo and trade acquisition Ethan Bear are tasked with filling the Hamilton-sized hole on the right side. Waddell believes Carolina's revamped blue line, which also features incumbents Jaccob Slavin, Brett Pesce, and Brady Skjei, and newcomers Ian Cole and Brendan Smith, should be better defensively in 2021-22. But, the GM admits Hamilton's offensive punch will be difficult to replace.
If anybody is capable of moving the puck, joining the rush, or running a power play close to Hamilton's standards, it's DeAngelo. (He tied for fourth in points among NHL defensemen in 2019-20.) Conversely, if anybody is capable of disrupting a dressing room and dividing a fan base, it's DeAngelo. His past is checkered with incidents in which he harassed teammates and abused on-ice officials. The New York Rangers benched him for maturity issues and then, after a physical confrontation with a teammate, placed him on waivers for the purpose of buying out the remainder of his contract. On social media, DeAngelo has downplayed COVID-19's impact and fought with other users over hot-button political issues.
The Hurricanes say signing DeAngelo to a one-year, $1-million contract wasn't an impulsive decision. They did their homework. Brind'Amour had multiple probing conversations with DeAngelo and the team interviewed numerous ex-teammates and coaches, including David Quinn, Jesper Fast, and Skjei, all formerly of the Rangers.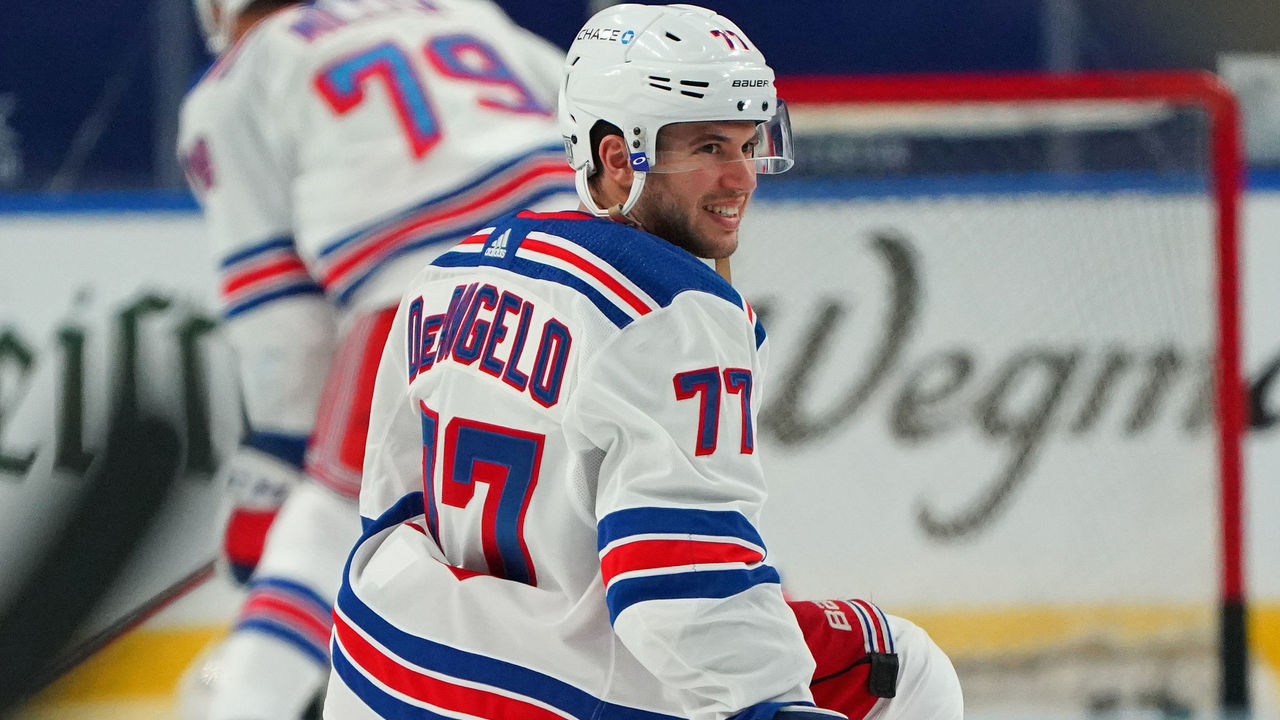 According to Waddell, the main takeaway from the process was that DeAngelo has "learned his lesson" and is "remorseful" about his past. "He also knows that, hey, we have high standards here. I go to the contract. He's probably, what, a $4-million player? If we paid him $4 million, I couldn't say all of these things. We paid him $1 million. We said, 'Tony, you come in and prove to us. Forget about the playing side. That's going to take care of itself. But prove to us that you can be the person that this organization wants to move forward with. And if you do that, everything's going to work out fine.'"
Brind'Amour brings up an anecdote involving his wife. "She just kind of looked at me and said, 'Well, if you don't give him a chance - he's admitted to (indiscretions), things he's not proud of - who's going to give him an opportunity? Are you just going to throw him out and be over at (25) years old?' Well, that doesn't make a lot of sense either. To have a willingness to let people change or show that they've changed seems kind of easy."
Amazingly, DeAngelo wasn't the signing that attracted the most national attention during Carolina's hectic offseason. The late-August offer sheet to Kotkaniemi counts as the biggest splash, especially since Kotkaniemi's old team, the Montreal Canadiens, ultimately chose not to match the one-year, $6.1-million deal. (Mind you, the social media pettiness associated with the offer sheet - which we'll discuss later - certainly supercharged outside interest in the transaction.)
The Hurricanes also traded their Calder Trophy finalist, goalie Alex Nedeljkovic, in late July, and then replaced him and his veteran partners with two goalies with recent injury issues, Frederik Andersen and Antti Raanta. That would normally be a spicy talking point coming into a season, but aside from the initial reactions to the additions and subtractions, the goaltending overhaul has largely flown under the radar. The DeAngelo and Kotkaniemi signings have commanded almost all of the oxygen.
Carolina's offseason has left many observers puzzled. Some are skeptical or cynical, or a combination of both. For example, the Hurricanes garnered the No. 1 spot on one publication's league-wide list of "most bizarre offseasons"; finished first with a 9.6 (out of 10) rating on an offseason "bizarro-meter ranking"; and inspired a frank question, "Did the Hurricanes outsmart themselves?"
Dundon, a Texas billionaire, became sole owner of the franchise this past June. He originally purchased a majority stake in the franchise in late 2017, which means the 2021-22 campaign will be Tom, Don, and Rod's fourth full season running the show. So far, the team has made the playoffs every year, winning four postseason series in total.
While Waddell says the upcoming 82-game slog will be the proving ground, the GM is confident they've built the "most talented" roster of the young but eventful Dundon era.
A day after his latest round at Old Chatham, Trocheck is sitting on a couch in his living room staring at the assembly instructions for a miniature hockey game. It's early afternoon and the work day - time in the gym and on the ice - has already wrapped.
Within arm's reach are Lennon, 10 months and sporting a stained shirt, and Leo, an inquisitive 3-year-old obsessed with hockey. Leo asks if he can place sticker logos of both the Hurricanes and Panthers on the plastic game. Dad allows it. Romeo, an overly friendly Goldendoodle, and Porter, a docile Golden Retriever, trot around the humans.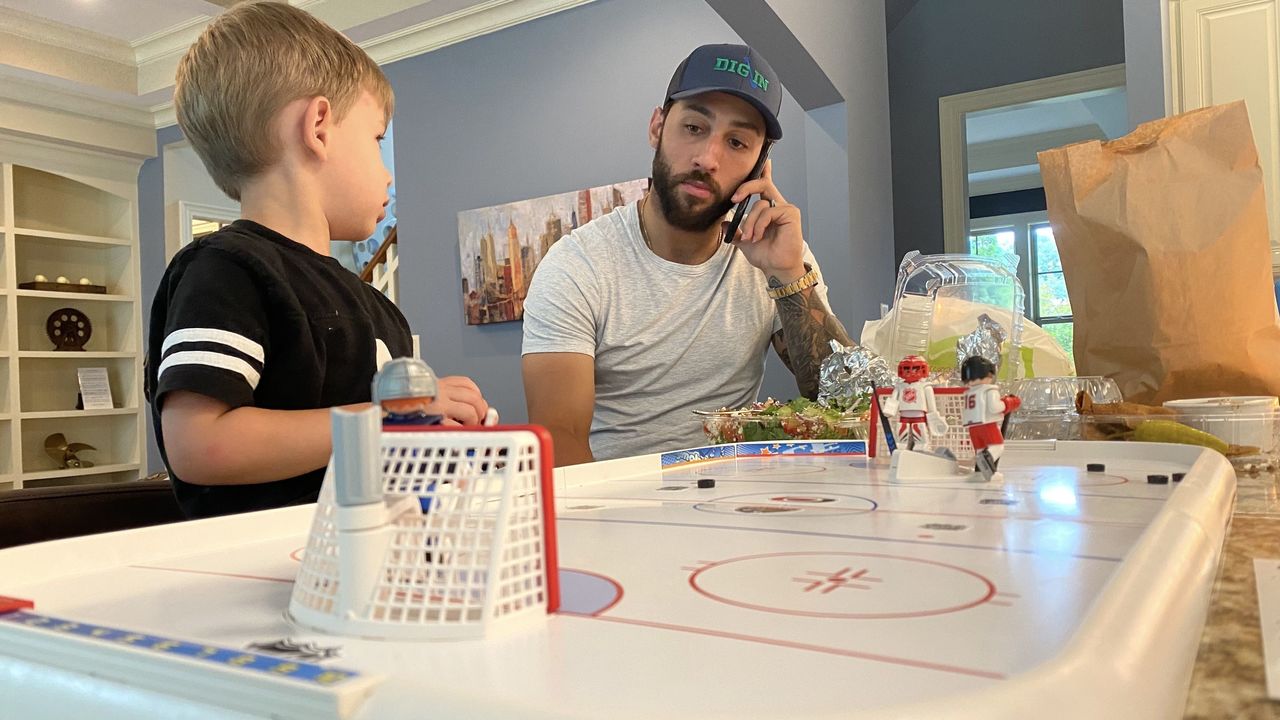 The Trocheck residence is simultaneously chaotic and quiet. This is life as a young dad.
"I love the friendship aspect of it," Trocheck says of fatherhood. "Leo's now my best friend. I can hang out with him." Of Lennon, he says she's "the most chill, happy baby on the planet." It's still a thrill for him to see her face light up when he comes home from the rink.
Trocheck and his wife, Hillary, met roughly a decade ago in a high school economics class in Saginaw, Michigan. Trocheck, who was born and raised in Pittsburgh, moved to Detroit at 12 to play in a more competitive minor hockey loop. He then spent his entire junior career with Michigan-based OHL teams in Saginaw and Plymouth. It wasn't until he turned pro that he left the state, splitting his rookie season between AHL San Antonio and NHL Florida, which drafted him in the third round, 64th overall, in 2011.
Trocheck, like every NHLer, will never forget his first big-league call-up in March 2014. Along with the delight of skating in the world's best league and sharing the ice with legends Roberto Luongo and Ed Jovanovski, he can vividly recall the presence of the late Jimmy Hayes; specifically, how Hayes, who was new to the team too, made him feel welcome.
"He was the first one to come knock on my door and ask me to go to dinner with the guys - like I had known him for 20 years," Trocheck says of Hayes, who died in August. (Trocheck was one of hundreds from the hockey community to attend Hayes' funeral in Boston.) "That always stuck out to me as something that made me feel more comfortable in my first few games," he adds. "It's tough for guys coming into the league. You're nervous, don't want to say too much, too little, and he made it a seamless transition."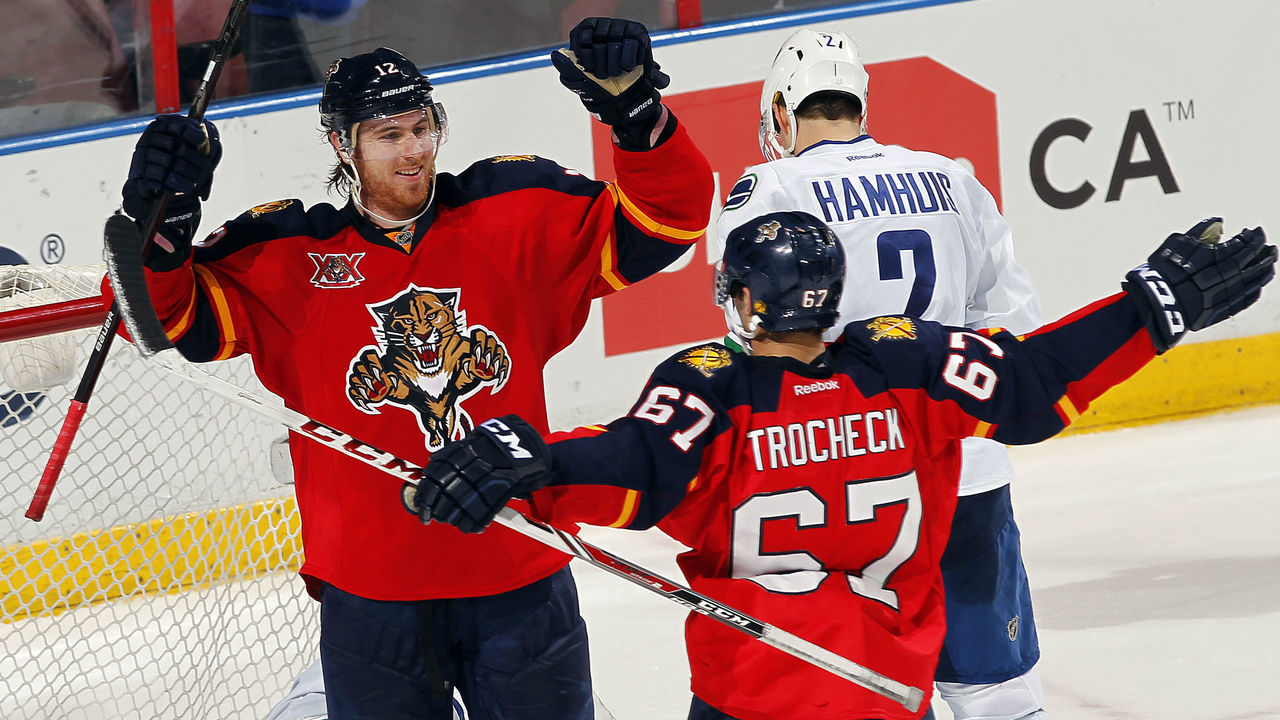 Trocheck posted a solid 30 points in his first 70 NHL games. He leveled up in 2015-16, with 53 points in 76 contests, and has never looked back. He blossomed in Florida alongside franchise cornerstones Aleksander Barkov, Jonathan Huberdeau, and Aaron Ekblad. Team success was a problem, though, as the Panthers made the postseason only once during Trocheck's tenure. He played for five different head coaches in seven years.
Despite the lack of success, Trocheck looks back fondly on his Florida days. He could have done without the injuries - chiefly the broken right fibula he suffered in 2018. Trocheck and an opponent had been battling for position when his leg pretzeled. His chilling screams filled the arena as play came to a halt and a stretcher arrived.
At that exact moment, all Trocheck could think about was Alex Smith. The NFL quarterback had recently suffered such a severe injury, and doctors were considering amputating Smith's leg because of an infection. "I was just hoping it wasn't serious enough that I was going to be done for my career," Trocheck says. Luckily, tests showed he had no ligament or muscle damage. The surgeon inserted a plate and some screws. Otherwise, he would be alright.
Trocheck faced another setback in 2019, cracking his left tibia blocking a shot. Somehow, he still suited up in 55 contests for the Panthers prior to the trade deadline, recovering fully only when the NHL went on its COVID-19 hiatus. There's more: In the 2020-21 playoffs, he suffered a Grade 2 MCL sprain in Game 2 of the Hurricanes' second-round meeting with the Tampa Bay Lightning. By Trocheck's estimation, he was at 30% health when he returned to the lineup for the fifth and final game of the series.
Not requiring surgery on his knee, Trocheck rehabbed this summer and felt 100% prior to training camp. In camp, he's missed two practices due to a "middle-body" injury, though Brind'Amour has told reporters he should be all set for the season opener next Thursday. The center position was barely touched in the offseason, so his spot in the lineup is unchanged: Sebastian Aho remains the top guy, Trocheck is the 2C, Jordan Staal is 3C, and veteran Derek Stepan is the new 4C.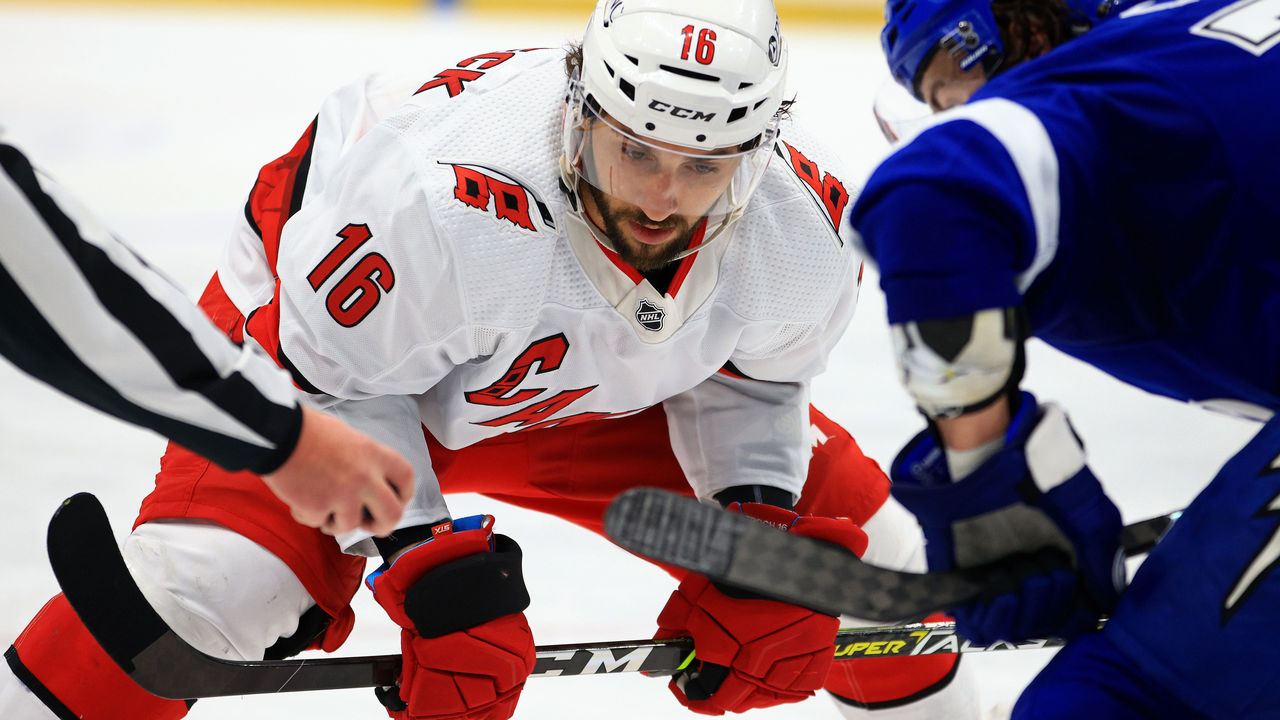 What makes Trocheck so effective as a center is how he's able to blend a low center of gravity and elite strength with speed, offensive instincts, and a pesty streak. He possesses the toolbox of a finesse player and the mentality of a grinder. The first thought to pop into Staal's head when Carolina acquired Trocheck was how much he hated playing against him. "Those are the guys that you want on your team, right?" Staal says.
Adds Brind'Amour: "The competitive nature of this group is really good and you have to have that. Troch is a ringleader in that. That's part of his deal."
Trocheck, who is mellow off the ice, admits to being some kind of a pest on it.
"Sure, I like to get under people's skin," he says on his back patio, as Hillary handles childcare duties inside. "It's just my competitive nature. I can't really hold it back."
The Philadelphia Flyers traded Brind'Amour to Carolina in 2000. It didn't take the future Hall of Famer long to spot the difference between a traditional and nontraditional market.
"I asked for directions to get to the arena here, and the people I asked didn't know what or where the arena was," Brind'Amour says. Over two-plus decades, though, he's watched the franchise - which arrived from Hartford in 1997 - come of age alongside the fan base. "Night and day would kind of be an understatement," he says.
Brind'Amour breaks it down: In the early years, before the salary cap was implemented in 2005, the Hurricanes "were doing the best" they could. Great, committed people. However, ownership lacked financial might, so the player payroll was low, staffing budget was tight, and facilities were subpar. Internal expectations were relatively low. (With arena construction delayed, the team actually played its first two seasons in a minor-league rink located 80 miles west of Raleigh.) In 2001-02, the Hurricanes finally broke through on the ice, making the Stanley Cup Final. The powerhouse Detroit Red Wings - whose payroll was essentially twice as large - disposed of them in five games.
The cap's introduction helped level the playing field with big-market teams for a while. Yet it became painfully obvious over time that teams spending to the upper limit would have a far greater chance of maintaining success than those who don't. According to CapFriendly, The Hurricanes were in the bottom three in cap spending for the three seasons before Dundon acquired controlling interest in the team from original owner Peter Karmanos.
Dundon increased spending the past two seasons and is projected to hit the upper limit in 2021-22. "Now, all of a sudden ...," Brind'Amour says before snapping his fingers. "That, to me, is the biggest thing. People talk about all of (these other factors), but at the end of the day, you've got to have the players. That's it. If you don't, you have no chance."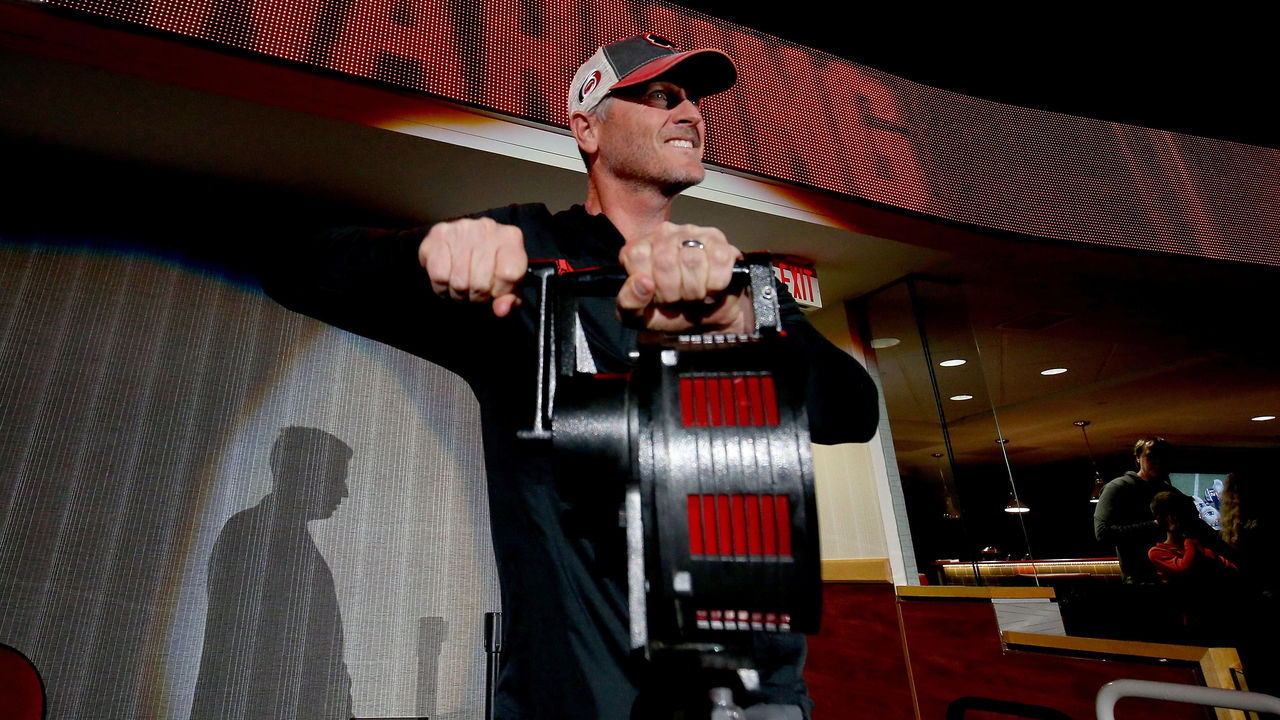 Dundon, a hockey outsider who made his money in subprime automobile lending, has brought a fresh outlook to the boardroom. North Carolina is a college basketball state. The ACC schools - Duke, North Carolina, NC State, and Wake Forest - dominate the sports landscape, and the Hurricanes won't change that anytime soon. What they can do is appeal to fans by developing a brand that prioritizes entertainment.
"We're in a market that we feel like we have to continue to sell the game. Not just on the ice, we have to sell it off the ice," Waddell says during a sit-down at PNC Arena. "We've put a lot of effort into and really ramped up our social team a few years ago."
Ah, yes, social media. The Storm Surge celebration doesn't become a phenomenon in 2018-19 without it going viral. The "Bunch of Jerks" nickname (and merchandise jackpot) doesn't persist if the Hurricanes don't embrace grumpy Don Cherry's commentary about the player-led Storm Surge. The David Ayres story of 2019-20 - remember him, the cuddly emergency backup goalie in Toronto? - isn't part of the NHL news cycle for a week straight if Carolina doesn't take full advantage of the moment.
This offseason, the Hurricanes doubled down in the wake of the Kotkaniemi acquisition. The offer sheet was partly revenge for the Canadiens presenting an offer sheet to Aho two years ago, so, of course, there was a cheeky $20 signing bonus baked into Kotkamiemi's deal, a reference to Aho's jersey number. There was also a "people don't forget" tweet; reverse Uno card tweet; matching press release quote; and French-language signing announcement. It was obnoxiously passive-aggressive, and Dundon signed off on all of it. "There's a lot of decisions we can make and move on," Waddell says of Dundon chiming in. "Something this big, everybody was involved."
Two days before the Kotkaniemi offer sheet was tabled, the team announced an eight-year extension for star forward Andrei Svechnikov. Fans apparently responded positively to all of the buzz, with a team spokesman confirming 2021-22 will be the Hurricanes' best year for season-ticket sales since 2007. (Carolina won its only Cup in 2006.)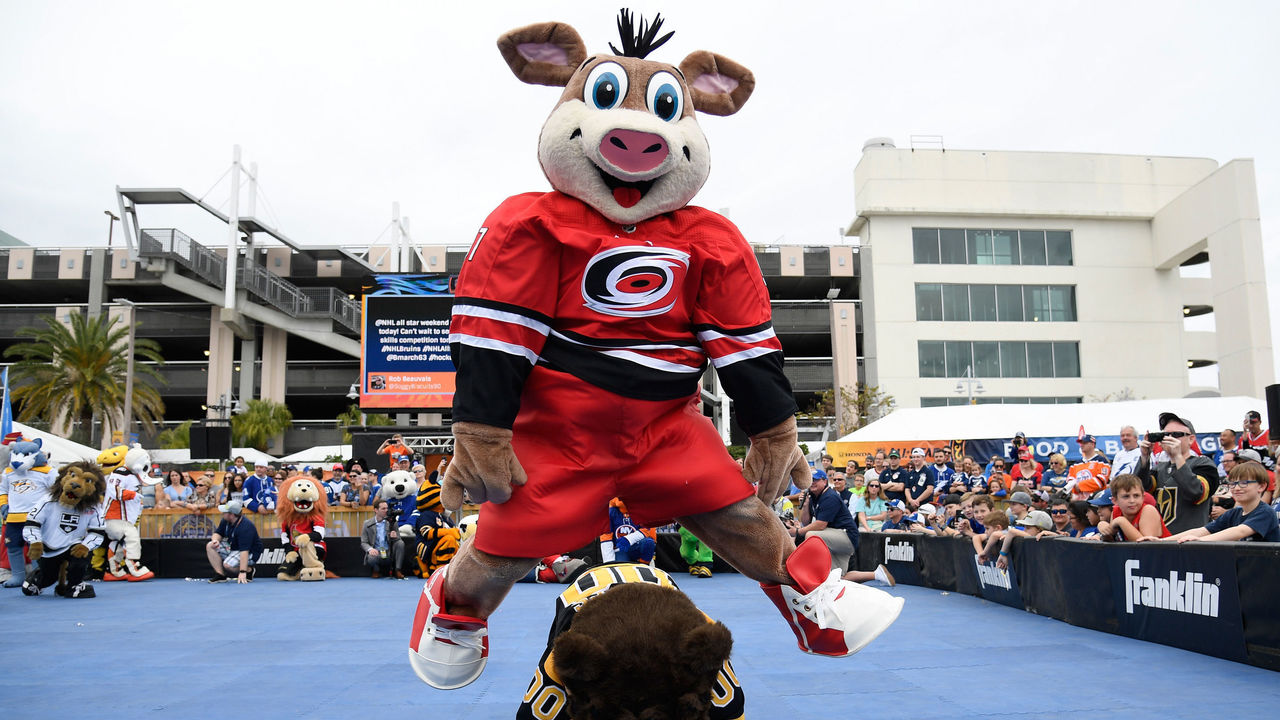 Brind'Amour, the captain of the '06 team, is one of the organization's prized assets. At the rink, he is the tone-setter not only with respect to Xs and Os, but also culture building and work ethic. (Famously, the 51-year-old stays in game shape, continuing to keep his "Rod the Bod" nickname relevant.) He seems to be universally adored by his players, too. "I wouldn't say there's been a lot of times where a coach has been make-or-break for a team I've played on," Trocheck says. "But I think Roddy really puts us over the edge."
A part of the appeal with Brind'Amour is that he's refreshingly authentic. There's absolutely no fluff. A multimillionaire several times over from his playing days, he drives an old GMC Sierra truck. And he'll drill cliches into his players' brains not because he feels that's what a coach should be doing, but because he really does swear by phrases like "Earn it" and "Win the day 1-0." Both are displayed prominently inside the team's practice facility.
"We were always an OK team, a good team, and we're now moving towards being the best," says Staal, a Hurricane since 2012. "That's the bar that we've raised here."
Trocheck is big on family. The black ink on his left arm is permanent proof.
Among a full sleeve of intricate tattoos are number sets for his parents' birthdates; music notes for his dad's saxophone- and piano-playing skills; haircut shears for the multiple hairdressers in his extended family; and grapevines for his Italian heritage.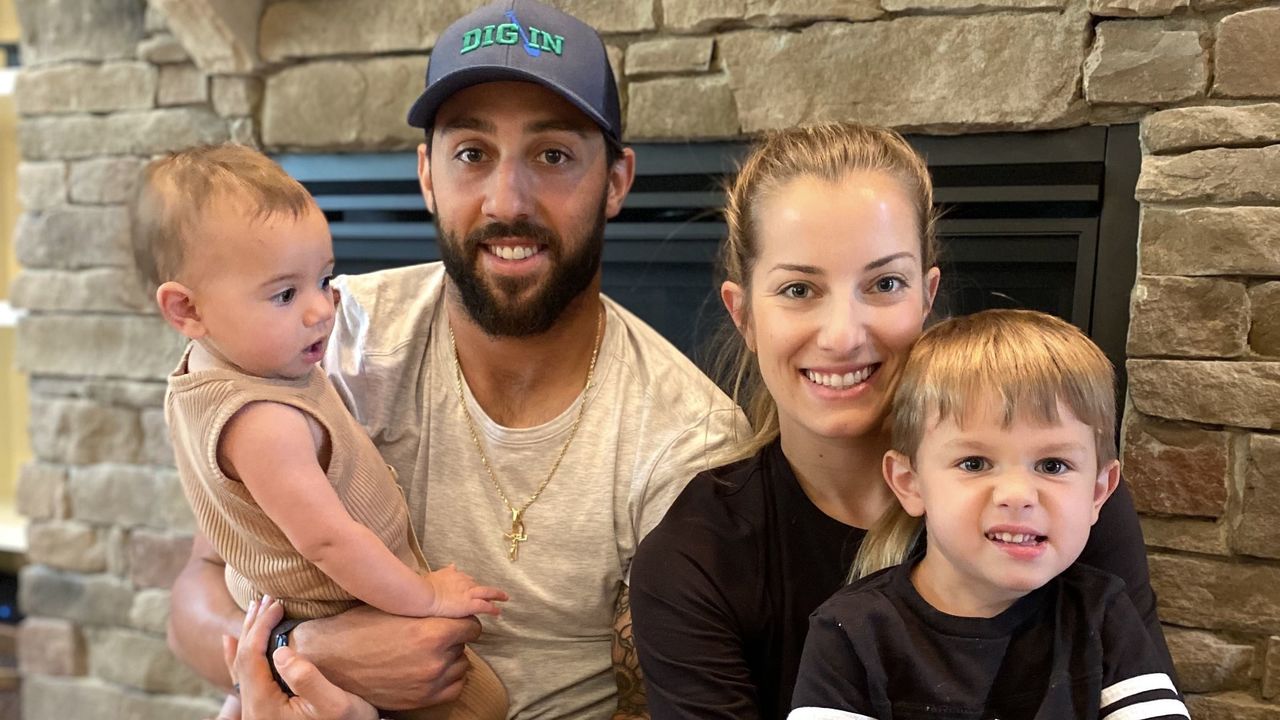 The Hurricanes view themselves as a family, which helps explain, at least in part, why Trocheck has meshed so well. He's a dressing room DJ. He's slowly making a name for himself as a legitimately good singer on the karaoke mic. And over the past month, he's brokered club memberships between five eager teammates and Old Chatham.
Every player on Carolina's roster and staff is fully vaccinated, so the fast-approaching season should be as normal as possible in terms of being able to bond on the road. These interactions pay dividends, Trocheck says. One example: The 2015-16 Panthers' 12-game winning streak followed a trip to New York City and the annual rookie party. "Things like that, it brings people together," he says. "You get close with the guys. If it's not the same team that it was the year prior, those are times you get to know everybody, really."
The new-look Hurricanes will have plenty of mingling to do on and off the ice. They must come together in short order, too, with the Metropolitan Division boasting five other strong but imperfect teams in the New York Islanders, Washington Capitals, Pittsburgh Penguins, New York Rangers, and Flyers. Carolina possesses one of the NHL's deepest forward groups and a formidable defense corps, even without Hamilton. The fate of the Hurricanes' season may rest on the shoulders of a high-risk, high-reward goalie tandem.
Trocheck, who's coming off an excellent season in which he tied his career high in points per game, has been lining up alongside Kotkaniemi and Teuvo Teravainen in preseason action. The trio might not stay together - preseason is for experimenting - yet Trocheck will nonetheless receive top-six minutes at even strength and a starring role on the power play. The pending free agent has an outside chance of making Team USA for the Beijing Olympics, as well.
"We're going to sit down at some point here and talk to (his representative) about a long-term deal," Waddell says. "He's a piece that, for multiple reasons, we'd like to keep around."
Trocheck loves it in North Carolina. He says the contract is not on his mind on the eve of the season, but he would consider signing long term. You can bet his coach is on board.
"He fits with what we expect out of a Carolina Hurricane," Brind'Amour says.
John Matisz is theScore's senior NHL writer.