'It screwed me': Lehner addresses infamous Fleury sword picture
Ethan Miller / Getty Images Sport / Getty
Vegas Golden Knights netminder Robin Lehner caught some heat when Marc-Andre Fleury's agent tweeted out the infamous impalement photo during the 2019-20 Stanley Cup Playoffs.
Seemingly feeling betrayed by his client's reduced playing time in the playoffs, Allan Walsh posted a photo on Aug. 22 which showed a bloodied sword engraved with Golden Knights coach Peter DeBoer's surname stabbing Fleury in the back.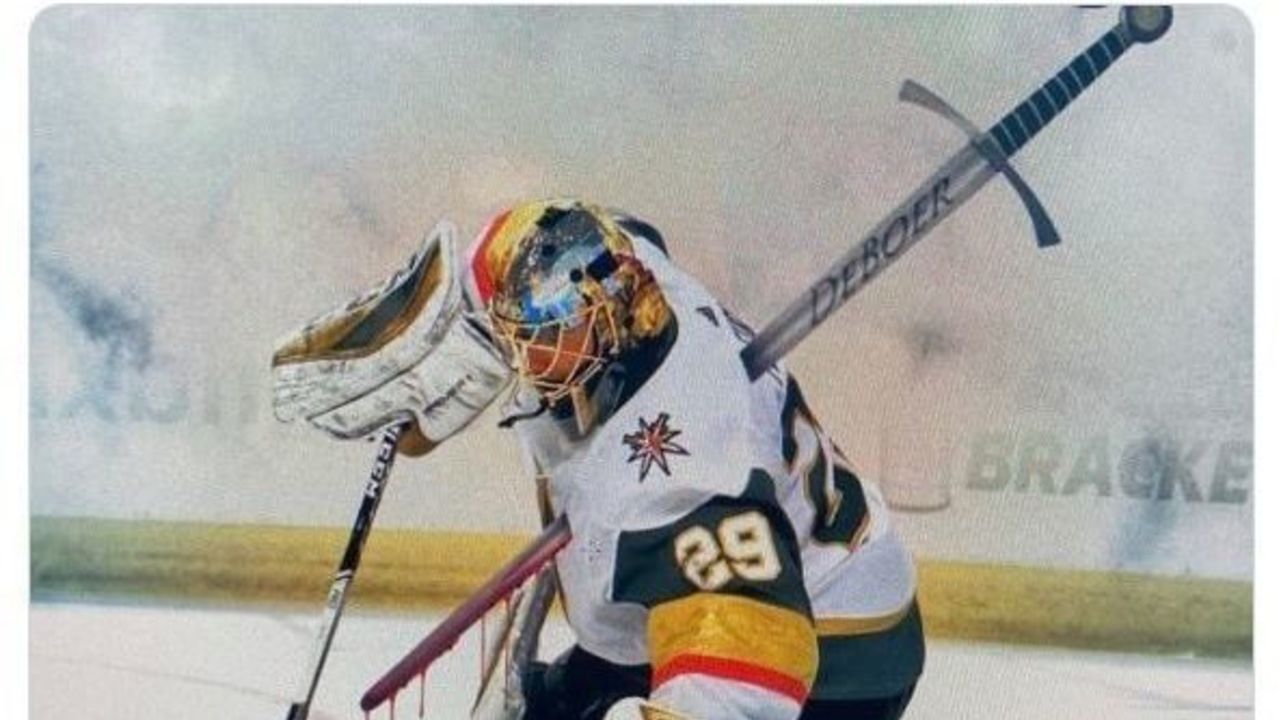 Walsh has since deleted the tweet, apparently at Fleury's insistence, but it's an experience Lehner won't forget anytime soon.
"When I opened my phone and saw it, I was laughing. I was like, 'What's going on here?'" Lehner said on "The Cam & Strick Podcast" on Monday. "It screwed me quite a bit … I got a lot of social media heat for that because it was kind of like Walsh rallying the Fleury cult against me."
Vegas leaned on Lehner heavily during the postseason after acquiring him at the 2020 trade deadline. The Swedish goaltender started 14 games while Fleury got the nod just three times (excluding the three round-robin contests before the playoffs officially began).
"It was not easy being around my phone, my social media during that time. I was the starting goalie trying to go win the Stanley Cup. It's probably not the best play, but (Walsh) is passionate for his own player," Lehner reasoned.
At the time, the 30-year-old said the post made Walsh look "terrible," but Lehner has since said he's gotten to know the agent and hails him as one of the few "fighting for all the NHL players' rights."
Lehner remembered running into Fleury shortly after seeing the dramatic tweet.
"Fleury comes up to me and right away is like, 'I'm sorry, sorry for this.' I started laughing, we both started laughing. It didn't matter," he said.
Lehner and Fleury cemented their status as the league's top tandem, taking home the William M. Jennings Trophy for their work in the crease this past campaign.
The Knights traded Fleury to the Chicago Blackhawks earlier this offseason. Lehner signed a five-year deal with the club in October 2020.
Comments
✕
'It screwed me': Lehner addresses infamous Fleury sword picture
  Got something to say? Leave a comment below!