NHL draft: Takeaways from trade-filled Day 1, players to watch on Day 2
Christopher Mast / Getty Images
Welcome to the Seth Jones experience, Chicago.
Also, welcome to a grand, swing-for-the-fences experiment by Blackhawks general manager Stan Bowman, who is attempting to retool on the fly and challenge for a fourth Stanley Cup in the Jonathan Toews-Patrick Kane era.
Bowman on Friday afternoon acquired Jones, the final draft pick in Friday's first round (Nolan Allen), and a sixth-round selection next year, in exchange for promising right-handed blue-liner Adam Boqvist, Friday's 12th overall pick (Cole Sillinger), Saturday's 44th overall selection, and a first-rounder in 2022.
The Blackhawks and Jones, who turns 27 in October, also reportedly agreed to an eight-year, $76-million extension that carries an AAV of $9.5 million. As of now, the 6-foot-4 defenseman will be the third-highest paid player at his position when the deal kicks in. (Jones has a year left on his current contract at $5.4 million.)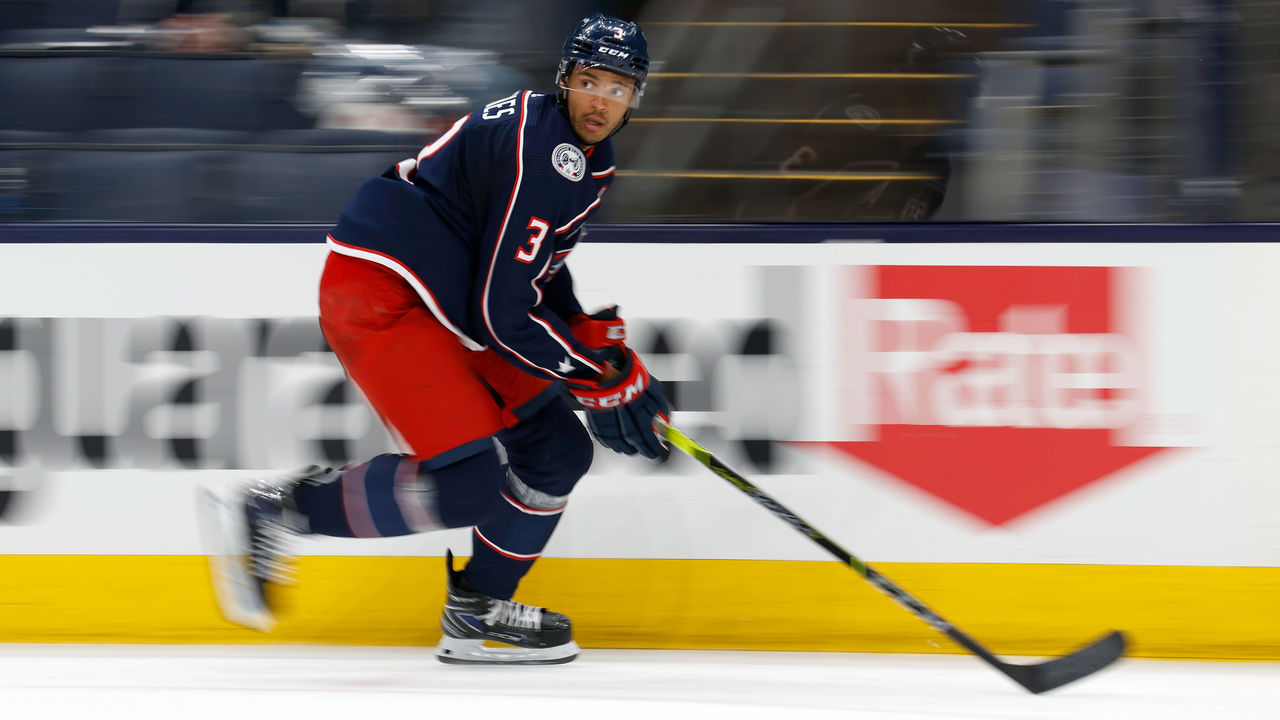 So, this is a whopper of an experiment for a few reasons.
First, if you happened to completely tune out the Columbus Blue Jackets during the 2020-21 season, this transaction probably feels like a steal - or, at the very least, a fair trade - for Chicago. If you watched Columbus closely, or even casually, you might have the opposite reaction, given Jones' terrible underlying numbers (45.6 5-on-5 xGF%, for instance) and relatively low production (five goals and 28 points) in 56 games on the team's top pairing.
The Blackhawks are clearly willing to bet on Jones returning to form after a pandemic-shortened season spat out some career-worst play. That's a reasonable bet, though the new contract may be a little rich for a guy whose stock should be low and who will be in his mid-30s at the end of the term. The $81.5-million salary cap isn't expected to rise much, if at all, over the next few seasons, so there are short-term implications to Jones' big ticket, as well.
In other words, the Blackhawks are investing a lot - all of the assets sent to Columbus, plus the extension - in hopes of a full-fledged rebound from Jones.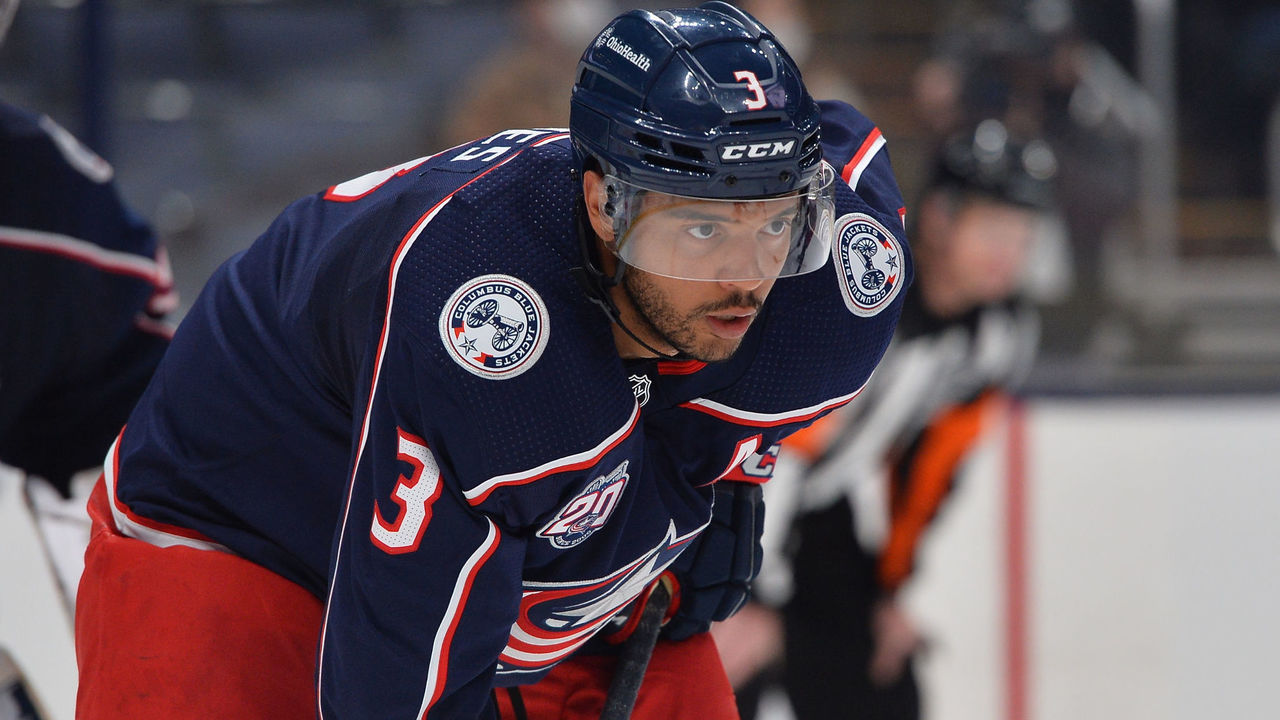 There's the brother factor, too. The Blackhawks acquired Jones' brother Caleb, another defenseman, in a trade last week that sent Blackhawks legend Duncan Keith to Edmonton. In hindsight, how savvy does that transaction look (purely from a player recruitment standpoint)? And did the first trade have to happen before the second swap, or is it just a cherry on top that the brothers are now in the same NHL organization?
Lastly, it'll be fascinating to see what else Bowman has up his sleeve. Toews is 33 and Kane is 32, and both of their contracts are up after the 2022-23 season, which means Chicago's window to win is pretty tight. And you don't acquire a guy like Seth Jones to sit on your hands. Bowman will need to work his magic throughout Chicago's lineup; this past season's 20th-ranked club finished 16th in goals for and 24th in goals against. Icing Seth Jones for 25 minutes a night should move the needle, sure, but it won't solve everything.
As for Columbus, Friday's trade was an inevitability for GM Jarmo Kekalainen, with Jones stating he had no desire to re-sign with the franchise that acquired him from the Nashville Predators in 2016. The two first-round picks are extremely valuable, and if Boqvist can hit his ceiling, he'll be an impact player.
Trade grades: Chicago, C+. Columbus, B.
Other 1st-round takeaways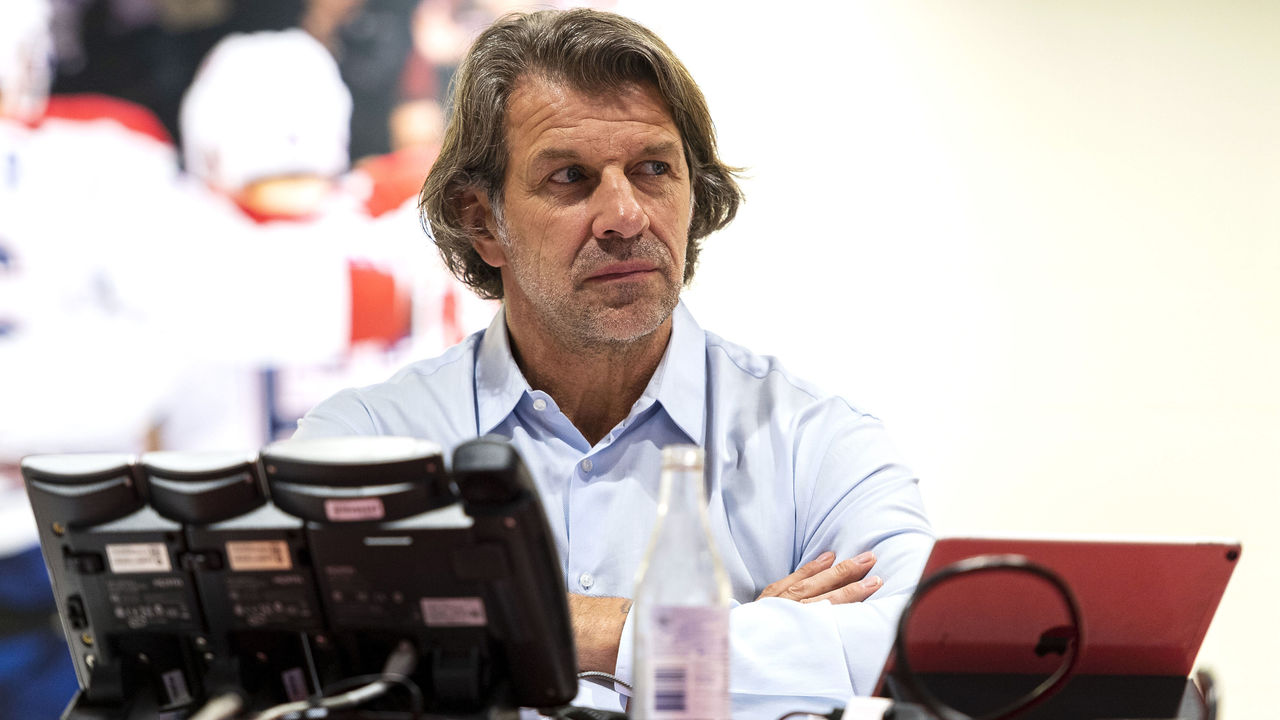 Speaking of the Blue Jackets, they took a swing of their own by selecting University of Michigan forward Kent Johnson at fifth overall. Johnson is a tantalizing prospect, a crafty playmaker with fantastic stickhandling and offensive instincts. But, since there are concerns about how his game will translate to the pros, the pick certainly carries risk. Amazingly, three of the top five picks were out of Michigan (Owen Power, Matthew Beniers).
With the second-last selection of the night, the Montreal Canadiens stunned the hockey world by picking defenseman Logan Mailloux, who earlier in the week renounced himself from the draft, asking teams not to select him. In November, Mailloux was charged in Sweden for taking and distributing an offensive photo without consent during a consensual sexual encounter. In a statement, the Habs said they are "making a commitment to accompany Logan on his journey by providing him with the tools to mature and the necessary support to guide him in his development. We are also committed to raising awareness among our players about the repercussions of their actions on the lives of others."
Earlier, the Ottawa Senators served up a shocking pick of a different kind at 10th overall. They took winger Tyler Boucher - at best a projected late first-rounder, according to public analysis - passing on a pair of elite goalies in Jesper Wallstedt and Sebastian Cossa. From there, Cossa (15th to the Detroit Red Wings) getting scooped up before Wallstedt (20th, Minnesota Wild) was a surprise in itself. Wallstedt of Sweden is the supposed true stud. Leave it to the unpredictable drafter Steve Yzerman to pull the trigger on Cossa, who had an unbelievable year in the WHL.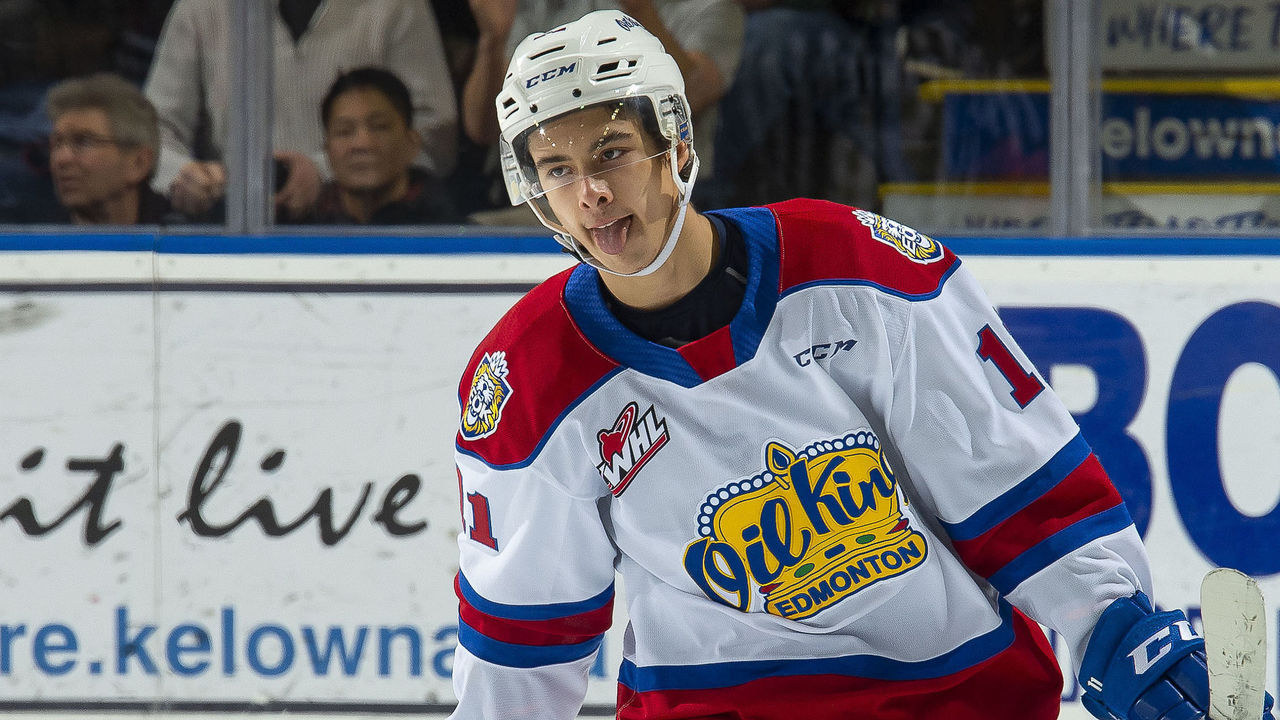 Arizona Coyotes GM Bill Armstrong had an interesting day, to put it mildly. He swapped captain Oliver Ekman-Larsson and forward Conor Garland for a trio of overpaid Vancouver forwards (Loui Eriksson, Jay Beagle, Antoine Rousel), plus the ninth overall pick on Friday, a second-rounder in 2022, and a seventh-rounder in 2023. Armstrong is slowly cleaning up the mess left by his predecessor, John Chayka, and did alright for himself, at least at No. 9. Dylan Guenther of the Edmonton Oil Kings projects to be a creative, top-six winger with scoring touch.
It's hard not to applaud the Buffalo Sabres for shipping out Rasmus Ristolainen to the Philadelphia Flyers for a nice haul, and then picking not only Power at first overall but also strong-skating Swedish forward Isak Rosen at 14th, all in one day. GM Kevyn Adams has a ton on his plate this offseason (see: Jack Eichel). This is an impressive jumping-off point.
Player to watch: Josh Doan
When first hearing of a prospect whose dad is an ex-NHLer, it's tempting to assume there's a direct on-ice correlation between father and son.
Marek Malik's son Nick is eligible for the 2021 draft? He must be a gigantic defenseman. Nope, he's a goalie. Mike Sillinger's son Cole is eligible too? He must be a gritty winger. Nope, he's an elite goal-scorer (picked by Columbus).
What about Shane Doan's kid? Well, there's at least some resemblance between the former longtime Coyotes captain and Josh, his 19-year-old son bound for Arizona State University. Josh, a forward, posted 31 goals and 70 points in 53 USHL games this past season for the Chicago Steel.
"What makes Josh so special is his elite details of the game, things that you won't see on a highlight reel or anything but end up having a major impact and make the guys around him better," Steel assistant general manager Noelle Needham said.
She then connected the dots between father and son: "I think this kid will play in the NHL for 15 years and be a captain. That's just what he's made of."
Comparisons aside, what's most interesting about the younger Doan is the way he processes the game. His hockey IQ is off the charts.
"One of my favorite things about him, something that makes him so successful, is what he does when he doesn't have the puck," Needham said. "Whether it's working to get to space, being patient to lift up a defender's stick so the puck slides through, or getting to certain areas and pulling guys with him, his ability to play without the puck makes him so valuable. His intelligence and work ethic really lends to success in that area."
Doan, for what it's worth, should be drafted at some point in the second round and, according to Needham, projects as a top-six NHL forward. Three years ago, she added, Doan stood 5-foot-4. He's now 6-foot-1.
Player to watch: Bryce Montgomery
Every year on Day 2, several players are selected well ahead of their consensus public rating. Because, as the cliche goes, it takes only one NHL GM to "reach" and take a player significantly higher than expected.
Given the uncertainty surrounding this particular draft class - mainly the havoc COVID-19 wreaked on scouting and a perception that it's below average in terms of overall talent - there will likely be plenty of "off-the-board" picks.
Bryce Montgomery - a 6-foot-4, 220-pound defenseman with wheels - has a real chance of becoming one such pick. NHL Central Scouting listed him 146th among North American skaters, but the native of Maryland could easily go in the top 100.
Montgomery, who's considered quite raw at this point, missed out on a chance to impress scouts due to the canceled OHL season. But he did flash serious potential last year in a limited role with the London Knights.
"Being on the ice with him, I was surprised at times (at) how well he could get around, pivot. And the speed that he can do things at - he has a really good stick, good first pass, good shot," Knights associate general manager Rob Simpson said.
Simpson said the vast majority of NHL teams called to express interest in Montgomery ahead of the draft. The manager believes Montgomery, who's not afraid to play physically, could blossom into a top-four NHL defenseman.
"From a purely athletic and skills standpoint, it's all there for Bryce," Simpson said. "The biggest thing he needs to work on is playing the game and making mistakes: learning this read should have been that read, or this turned into a two-on-one because of this situation, or here's the forecheck that was coming at you, and here's how you process that in-game. All of that repetitive learning that you need to be able to go through as a player, that's what he needs."
John Matisz is theScore's senior NHL writer.
Comments
✕
NHL draft: Takeaways from trade-filled Day 1, players to watch on Day 2
  Got something to say? Leave a comment below!