3 key takeaways from a somber Game 1 of Leafs-Habs
Mark Blinch / Getty Images
The Montreal Canadiens defeated the Toronto Maple Leafs 2-1 Thursday night at Scotiabank Arena, with a gorgeous third-period tally from forward Paul Byron providing the game-winner. It was the historic rivals' first playoff meeting in 42 years.
A frightening injury to Maple Leafs captain John Tavares rightfully overshadowed the highly anticipated North Division matchup. A bloodied Tavares had to be stretchered off the ice midway through the first period after Canadiens forward Corey Perry inadvertently kneed him in the head.
Postgame, Leafs coach Sheldon Keefe told reporters Tavares was "conscious and communicating well" and would stay overnight at a local hospital.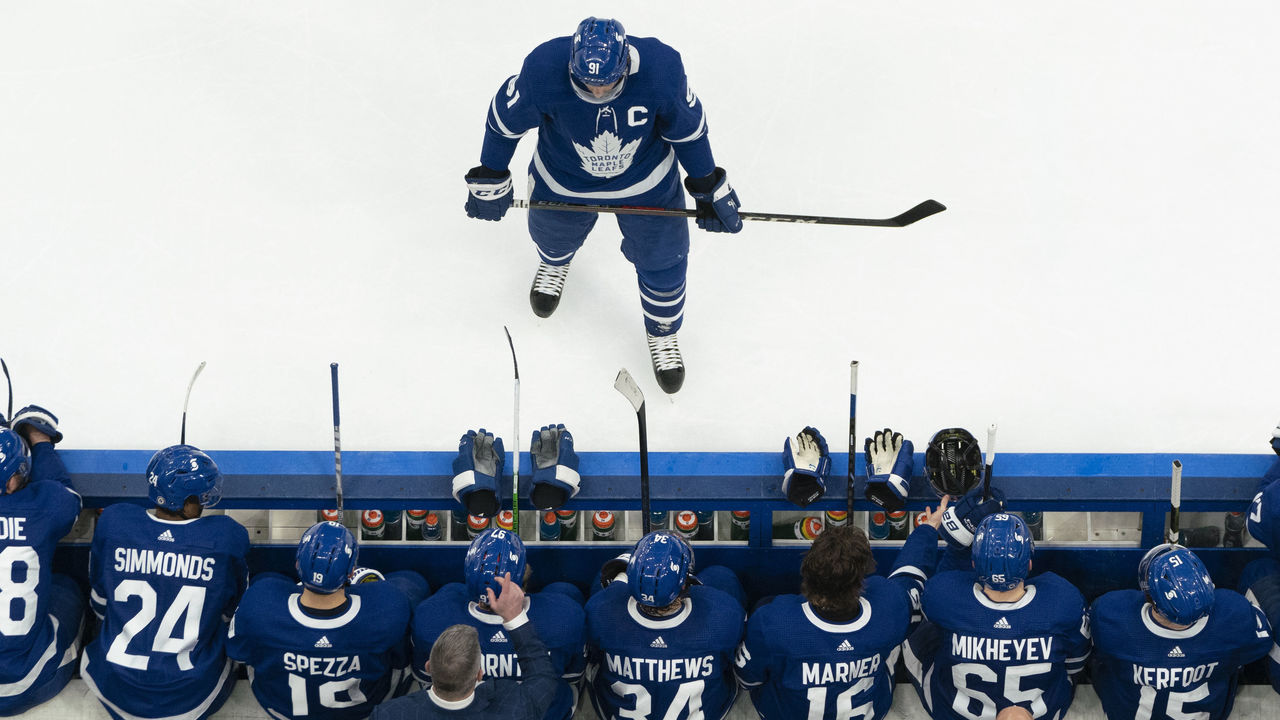 It's hard to extrapolate from a game that was stopped in its tracks by something more important than sports. But we'll try.
Here are three key takeaways from an emotional Game 1:
Matthews line tamed - for now?
The Habs did their best Winnipeg Jets impression Thursday by shutting out Rocket Richard Trophy winner Auston Matthews - much like the Jets did with Art Ross Trophy winner Connor McDavid in Game 1 of the other North series.
Montreal mostly held on for dear life against Matthews, who was buzzing around the offensive zone all night. Matthews dinged a post in the first and finished with a game-high eight shots on goal in almost 24 minutes of ice time.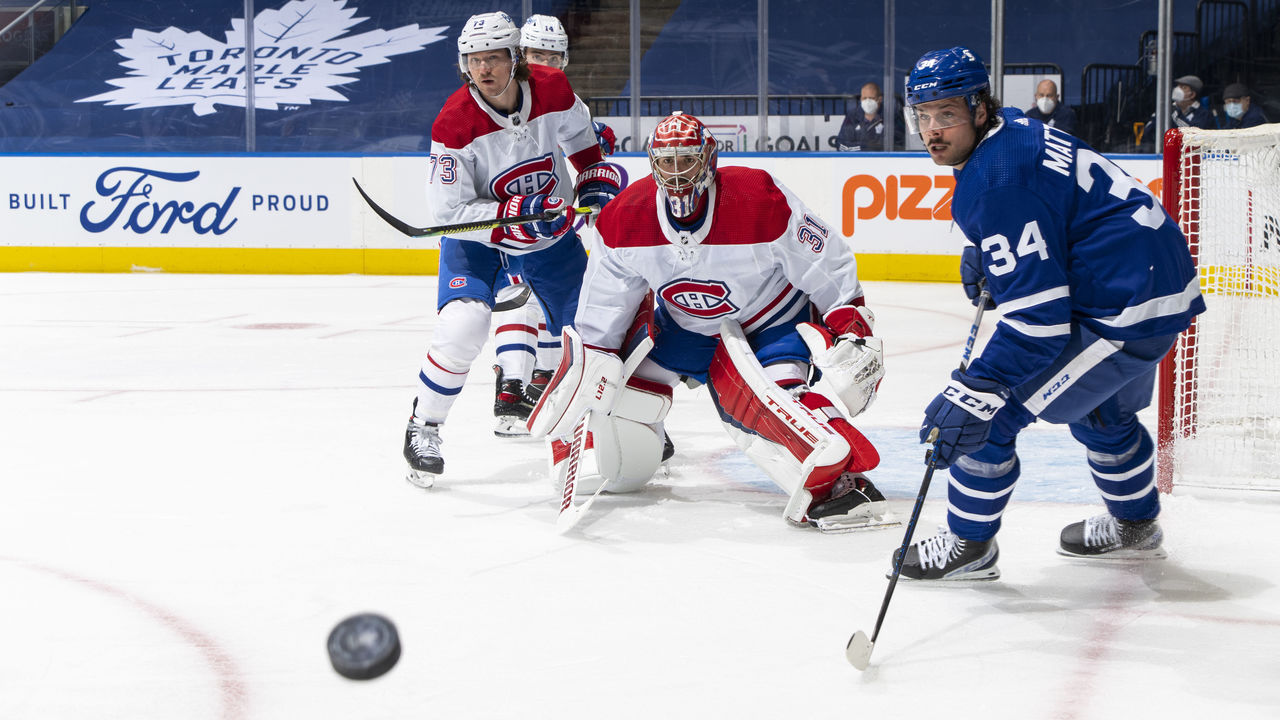 When Matthews was on the ice at even strength, the Leafs dominated to the tune of 21-10 in shot attempts and 15-5 in shots on goal, per Evolving Hockey. Matthews and winger Zach Hyman found myriad ways to infiltrate Montreal's defensive structure and challenged goalie Carey Price often. The line's third member, Mitch Marner, was less impressive. There were a few high-leverage moments when Marner failed to even get off a proper shot.
Nevertheless, the line's body of work versus all six North opponents this season suggests they'll find their groove over a best-of-seven series. The trio generated a ton of looks in Game 1, and Matthews and Marner racked up 10 and 11 points, respectively, in 10 regular-season games against the Habs.
That said, Price and the Canadiens undoubtedly made out well Thursday. Keeping Matthews and Marner pointless is a daunting task for any club - yes, even a club faced with minimizing one fewer star center for most of the night.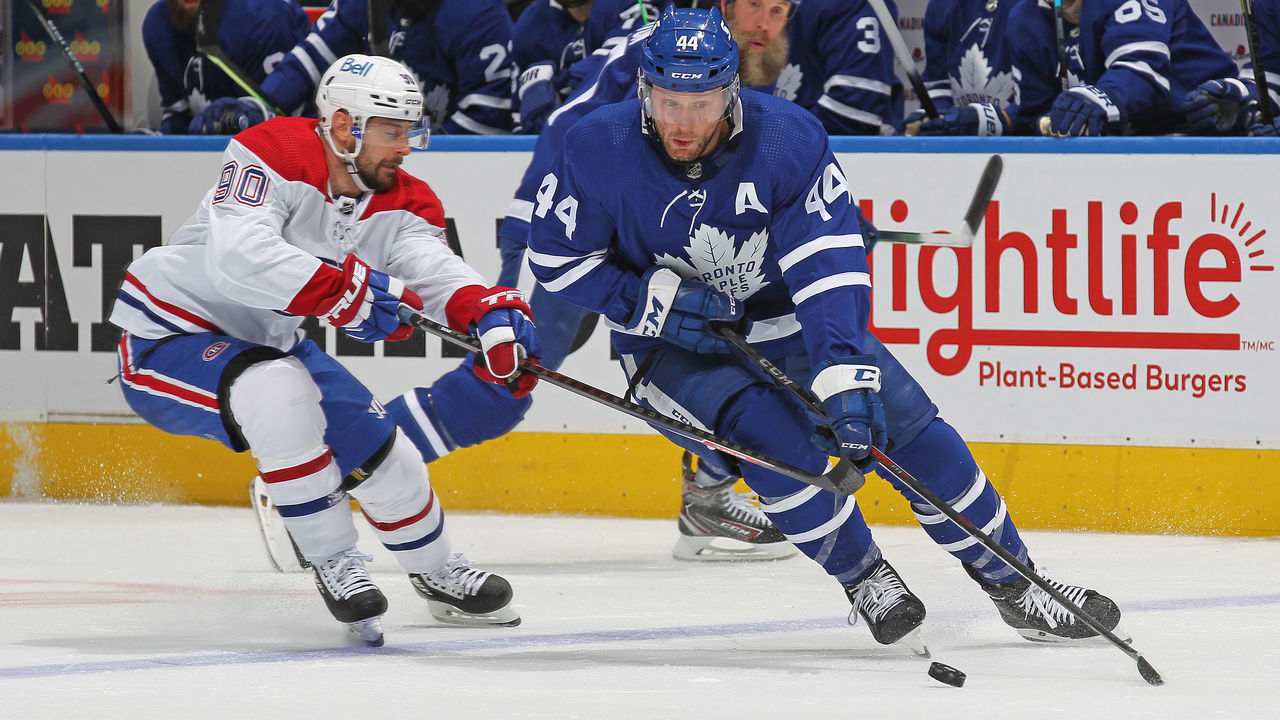 As for special teams, the Leafs managed to put the Habs on the man-advantage on five occasions - an inexplicable three times for sending the puck over the glass - while their own struggling power play was largely ineffective, again.
Sure, there were positive signs on Toronto's first two power-play opportunities. On the first, Matthews was his usual dangerous self from the right circle. On the second, William Nylander - who had a stellar game and notched the Leafs' lone goal - hit the crossbar from the goalmouth.
But then, on the fourth and final opportunity for Toronto, Byron disposed of any positive mojo by scoring a highlight-reel shorthanded goal on netminder Jack Campbell. It was a prototypical Byron tally built on speed and agility, and the timing only added salt to the wound for a floundering Leafs power play.
Toronto is running out of time to figure out how to score at five-on-four. If a team is lethal at even strength, power play proficiency can be a luxury in the regular season. That's not the case now, where the margin of error is thin.
Habs checking off right boxes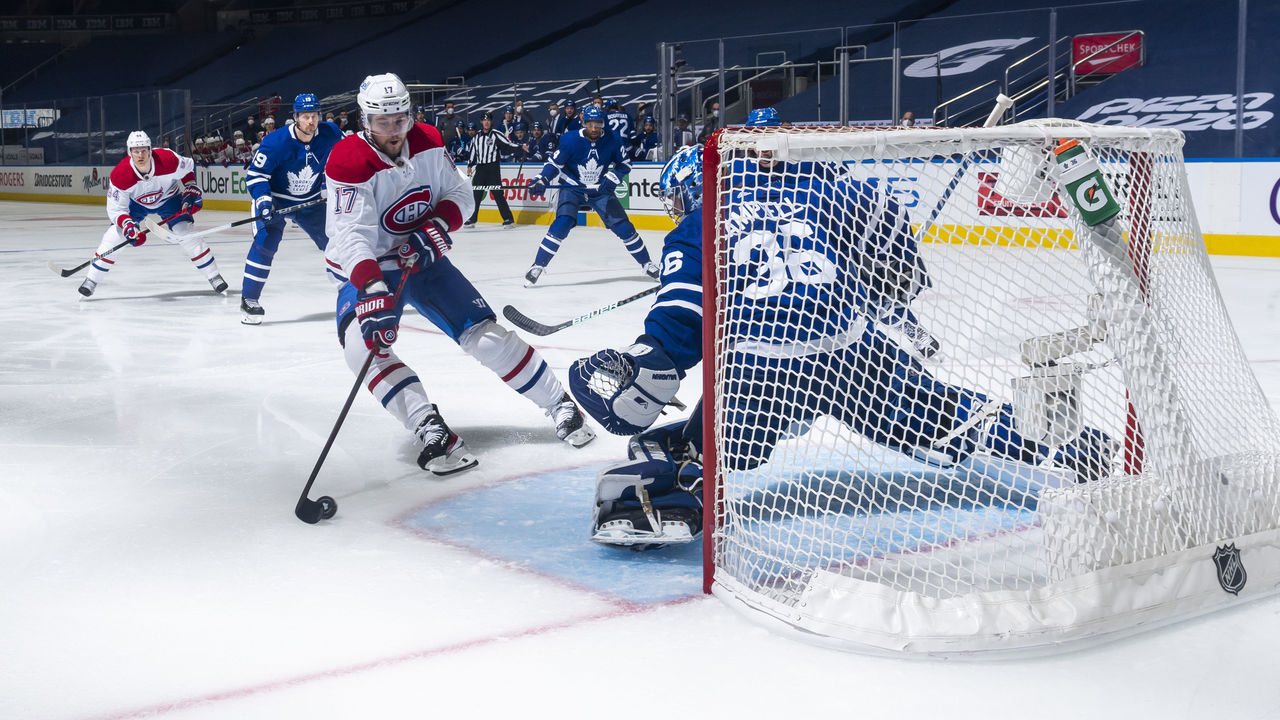 Josh Anderson, the 6-foot-3 Montreal forward who can skate like the wind, was the best player on the ice Thursday. It seemed as if he was starring on an odd-man rush every other shift. And he made Joe Thornton pay for turning the puck over by scoring the game's opening goal in transition.
This was exactly how the Habs drew it up - swarm Toronto's puck carrier, force them to make a poor decision, and then counterattack the other way.
As the less talented, less skilled squad in this series, Montreal will need at least one performance like Anderson's in every single game. At least one offensive catalyst - think also of Tyler Toffoli and Brendan Gallagher - to convert on a scoring chance in the early going to put the Leafs on their heels.
Anderson manufactured offense throughout the night, backchecked like a fiend on multiple sequences, and contributed three hits to his team's total of 55. Hits are a strange stat because it's more impressive to have the puck than deliver a body check, yet there's no denying that the Habs were ready to take away time and space whenever the Leafs had a clean look.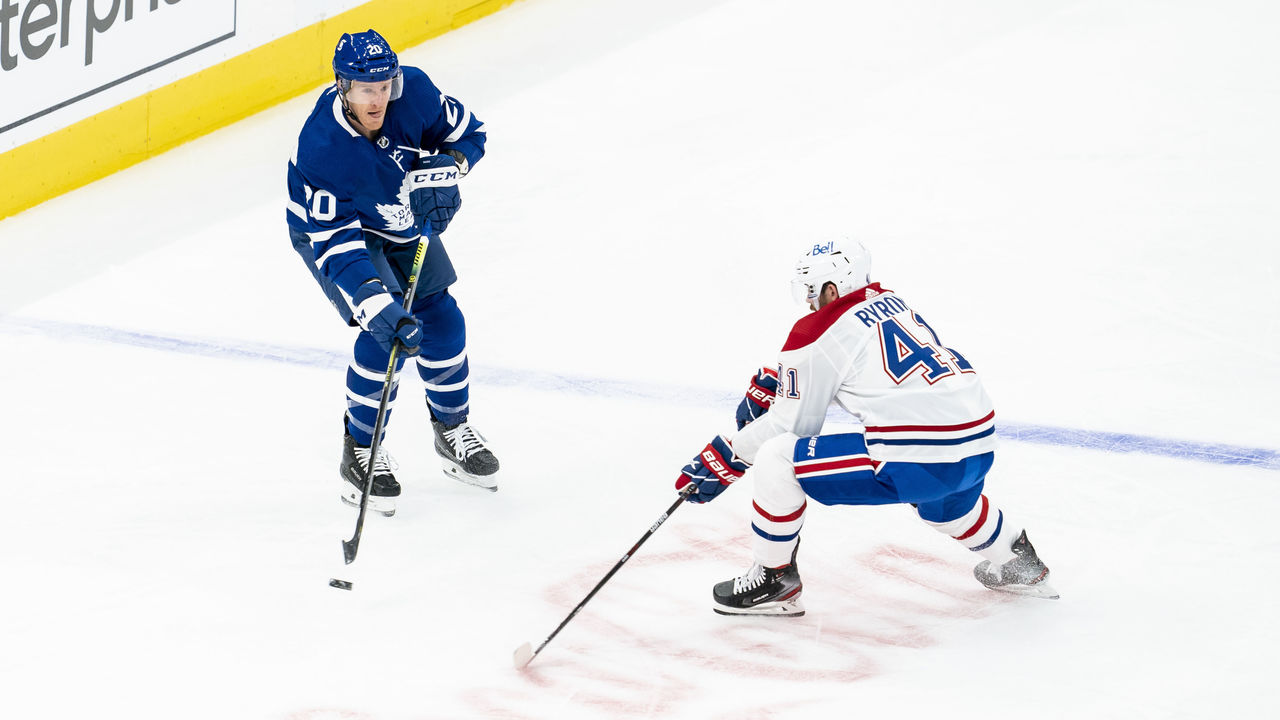 Physicality was a prominent talking point heading into the series - can Montreal consistently tap into the core of its team identity and disrupt Toronto from scoring a boatload of goals? The answer is "yes" through one game (though Matthews hilariously wasn't interested in retaliating in the second when Habs defenseman Ben Chiarot roughed him up behind the net).
Captain Shea Weber, one of several large bodies on the Canadiens' blue line, doesn't appear to be 100% healthy - which is something to keep an eye on in Saturday's Game 2. He notably wasn't deployed in a shutdown role Thursday and seemed a tad tentative, at least by his standards. Still, Weber skated for 22:50 and recorded six shots on goal, including a few patented hard point shots, so there's certainly nothing to pick apart about his overall performance.
Playoff Price is alive and well
The Habs don't win Game 1 without a statement performance from Price. According to Evolving Hockey, the Leafs generated enough quality offense to expect three goals. Well, the 33-year-old Price allowed just one on 36 shots.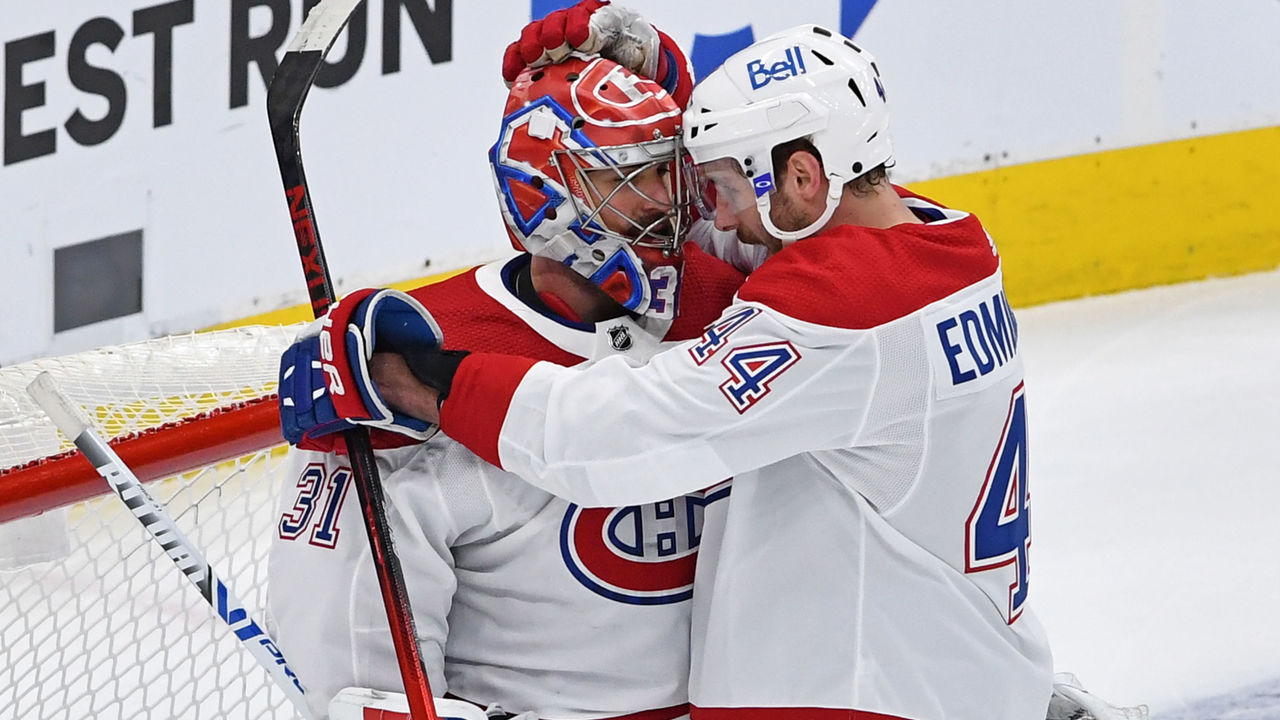 Price, of course, is coming off both a concussion and subpar regular season. Heck, he's had subpar regular seasons three of the past four years, leading a significant chunk of the hockey world to dismiss his ability to carry an underdog to a first-round upset in this weird, pandemic-shortened season.
There's just something about Price and the playoffs. He's posted save percentages of .936 (10 games in 2019-20), .933 (six games in 2016-17), and .920 (12 games in 2014-15) in Montreal's most recent postseasons, and he's rocking a cool .918 in 71 games over his entire career. He's a big-game player.
The pre-series chatter over which team had the edge in net tended to end with a shrug. Price and partner Jake Allen didn't instill a ton of confidence down the stretch. The Leafs' tandem of Campbell and Frederik Andersen features one goalie devoid of previous playoff experience and another with nothing but poor playoff experiences. After Game 1, there's simply no debate.
What Keefe decides to do with his forward lines ahead of Saturday will be of great interest to Price and the Habs. The chess match is far from over following a one-goal Game 1. First and foremost, though: Tavares' health and well-being. It's at the top of mind, the most important storyline of this series from a human perspective - for every single player, coach, and fan in the NHL.
John Matisz is theScore's senior hockey writer. You can follow John on Twitter (@MatiszJohn) and contact him via email (john.matisz@thescore.com)
Comments
✕
3 key takeaways from a somber Game 1 of Leafs-Habs
  Got something to say? Leave a comment below!