Recently, as the NHL's North Division playoffs neared, theScore recounted the twists and turns of one especially memorable all-Canadian series: the ascendant Edmonton Oilers' defeat of the dynastic Montreal Canadiens in 1981.
The staggering upset confirmed young Wayne Gretzky was a megastar, and it wasn't much of a struggle. The Oilers outscored the Canadiens 15-6 over a three-game sweep. But Canada's NHL playoff history doesn't lack for drama. Canadian teams have faced off 68 times in past postseasons; dozens of these series were rivalry showdowns, plenty more reached Game 7, and eight decided who won the Stanley Cup.
Ahead of puck drop up north, here's a rundown of seven all-Canadian series that enthralled fans, fomented ill will, clinched, boosted, or crushed championship dreams, and combined to feature 17 overtime goals, some of them unforgettable.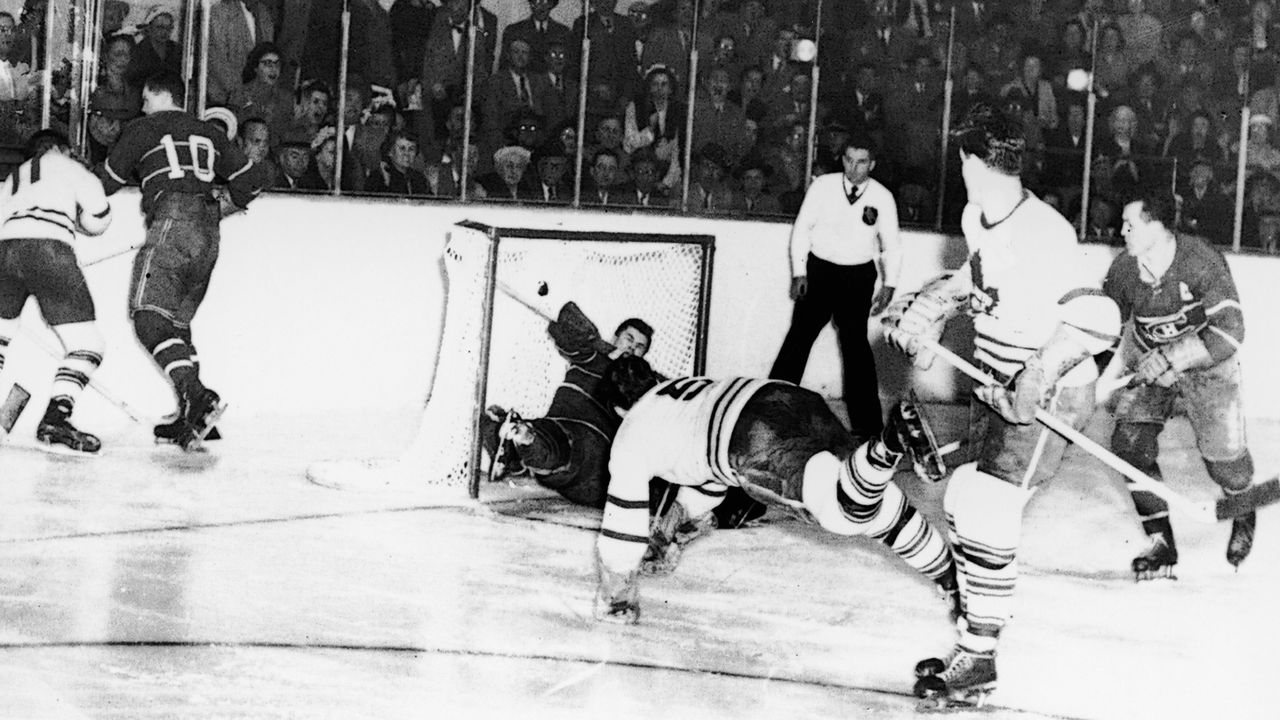 1951 Cup final:
Toronto def. Montreal 4-1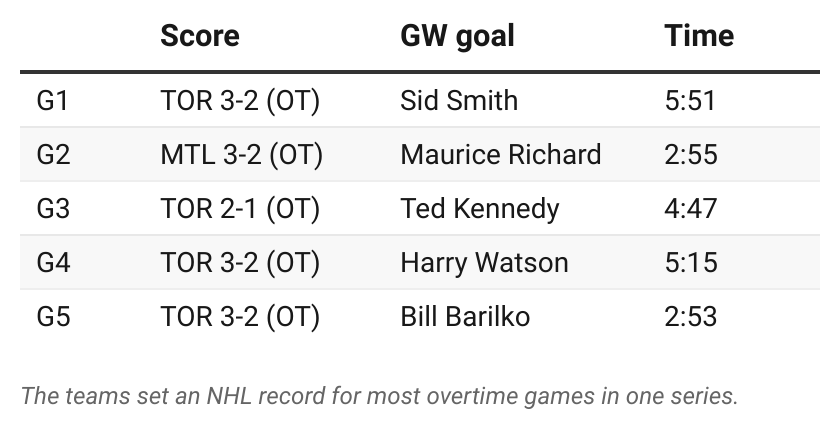 This series ended more quickly than the Canadiens and Toronto Maple Leafs' lone previous Cup clash, the violent six-game affair Toronto won in 1947 after Maurice Richard was suspended a game for stick-swinging. But the '51 edition is unique among NHL finals because every last contest required overtime.
Richard played OT hero in Game 2 for the overmatched Canadiens, who trailed the Leafs by 30 points (95 to 65) in the season standings. This was familiar ground for the "Rocket," a perennial 40-goal scorer when 30 per season was elite. Against the top-seeded Detroit Red Wings in the semis, he broke consecutive deadlocks in the fourth and third overtime periods.
Indeed, Richard found the net in all five games against Toronto, including a beautiful solo effort in which he dangled a backtracking defenseman and Leafs goalie Al Rollins to open the scoring in Game 5. Yet Toronto's depth offset Richard's consistent production amid the Leafs' all-time best run of play. The 1951 Cup victory was Toronto's fourth in five years, fifth in seven years, and sixth in 10.
Three playoff-hardened Leafs forwards - Sid Smith, Ted Kennedy, and Harry Watson - each netted an OT winner to stake Toronto to a big series lead. Tod Sloan's power-play goal tied Game 5 with 32 seconds left in regulation, and teammate Bill Barilko lunged to seal the result 2:53 into the extra frame.
Barilko's backhand goal was his first point of the series and the last of the brawny defenseman's life. Killed at age 24 that summer in a remote float-plane crash, his fate was memorialized in "Fifty Mission Cap," the Tragically Hip song. As the Hip hinted, the Leafs didn't win another Cup until April 1962, two months before Barilko's remains finally were found in the northern Ontario wilderness.
1984 second round:
Edmonton def. Calgary 4-3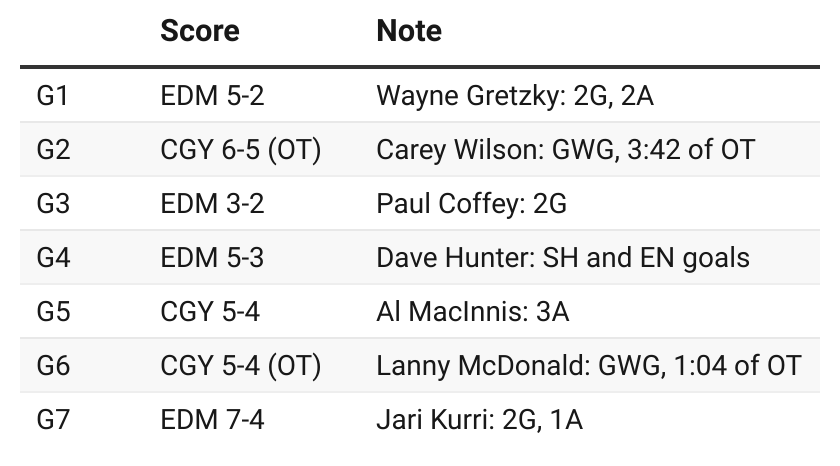 Few Canadian postseason matchups have recurred as frequently as the Battle of Alberta. Between 1983 and 1991, the Oilers and Calgary Flames met in five Smythe Division finals or semifinals, and indelible moments abounded: Steve Smith's own goal in '86, Theo Fleury's sliding celebration in '91, Esa Tikkanen's OT snipe that won Edmonton Game 7 of that series.
In 1984, history's best offense, the 446-goal Oilers, faced a pedestrian Flames club that pestered them until midway through Game 7.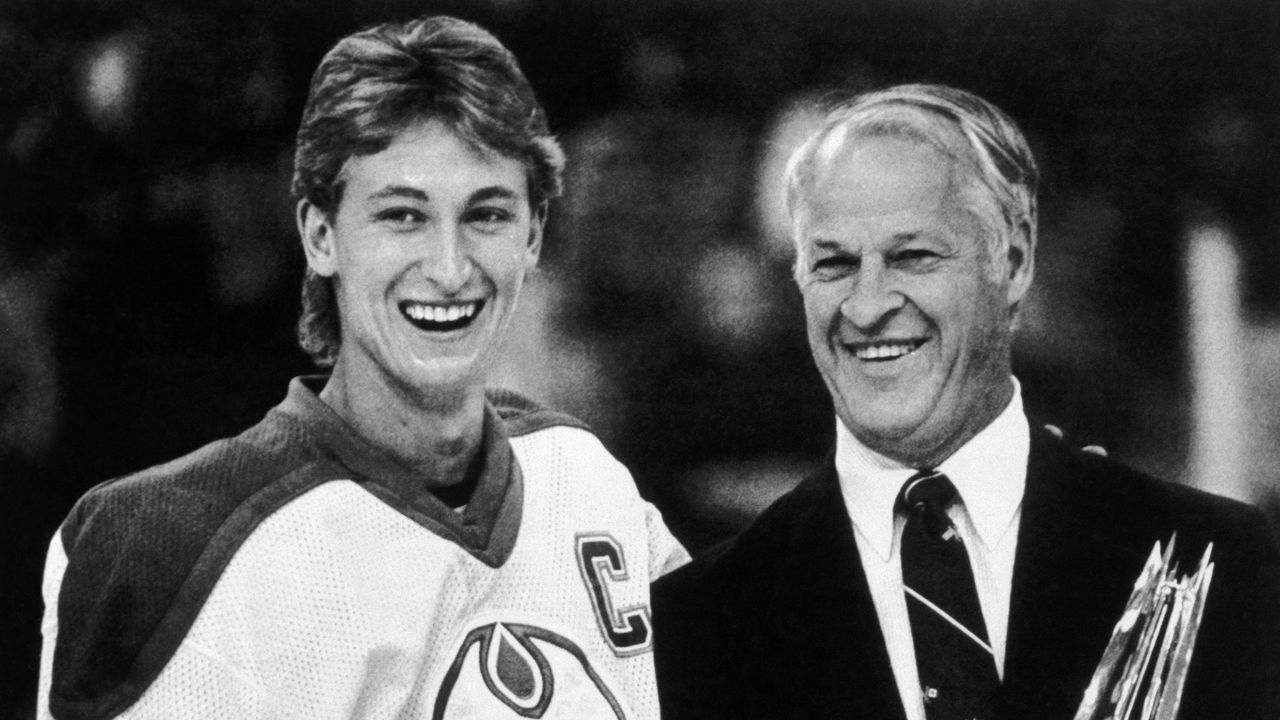 Edmonton won its first Stanley Cup in 1984, predictably following up Gretzky's bananas regular season (87 goals, 205 points). Glenn Anderson and Jari Kurri each surpassed 50 goals, and even netminder Grant Fuhr got in on the fun, slinging 14 assists to smash the league record for his position. The Oilers took 15 points from eight meetings with the Flames, the last a 9-2 beatdown in Calgary two weeks before their playoff rendezvous.
Then the juggernaut seemingly forgot how to hold a lead. Up 4-1 in Game 2, Edmonton allowed four straight goals and needed Gretzky to knot the score with 45 seconds left, only for Flames rookie Carey Wilson to pot the winner in overtime. Mark Messier bemoaned the Oilers' vanishing killer instinct. Head coach Glen Sather pinned the loss on the calendar, it being Friday the 13th.
Pushed to the brink via two home defeats, the Flames rebounded for consecutive 5-4 wins. Edmonton erased four Calgary leads in Game 6 (Messier's 4-4 goal off a third-period faceoff was delightfully strange), but Lanny McDonald - tenacity and skill personified - soon scored the first playoff OT goal at Calgary's new Saddledome.
McDonald had a splendid series (six goals, 13 points), but his club slipped in the second period of Game 7, squandering a 4-3 lead as Gretzky's gang tallied four times in 6:43. Two rounds later, Edmonton ended the Islanders' four-Cup dynasty to win the first of five in seven years, substantiating Oilers defenseman Kevin Lowe's analysis of what the Flames achieved, per the Edmonton Sun: "The series may have been the best thing that ever happened to (us)."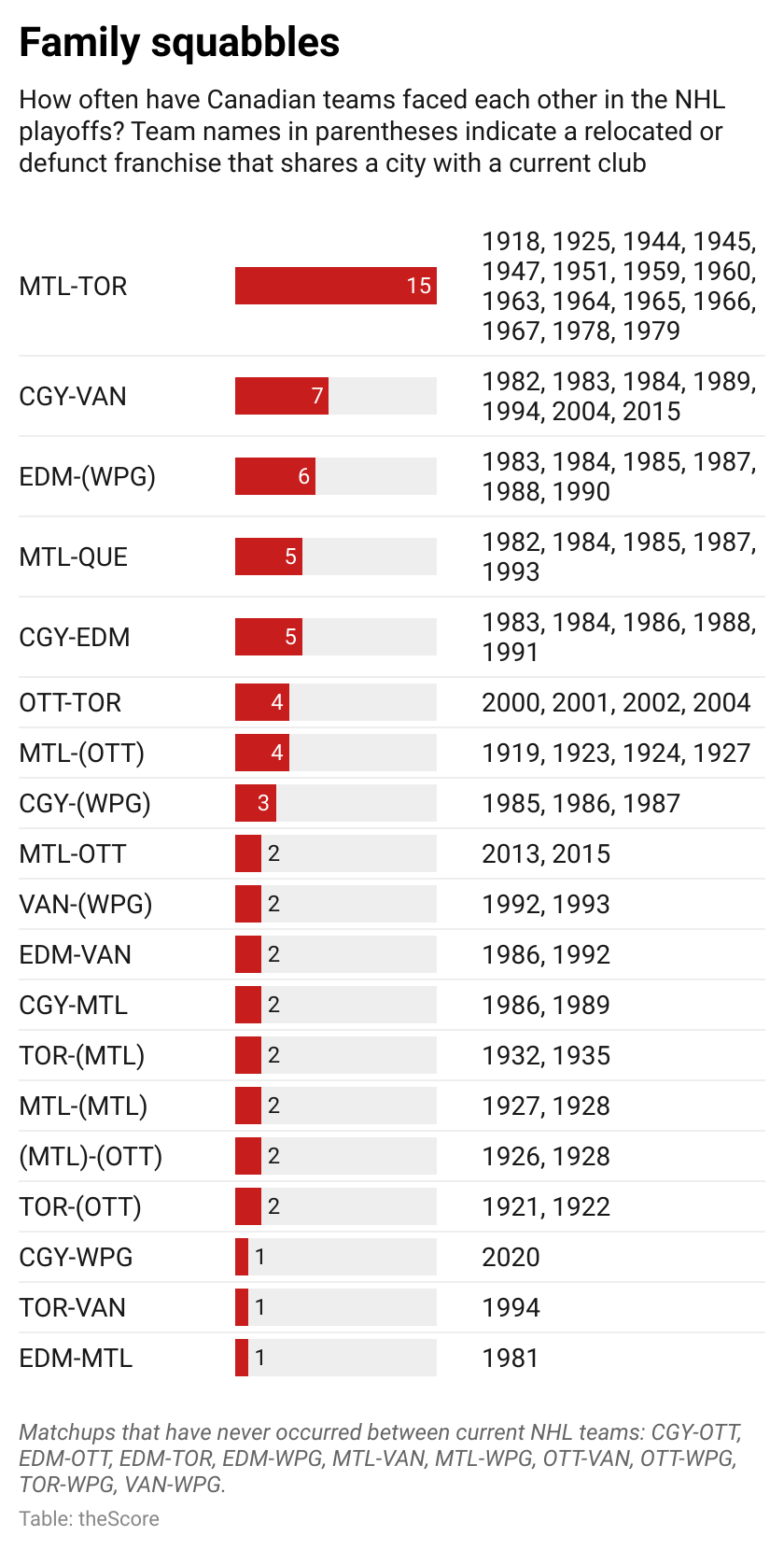 1985 second round:
Quebec def. Montreal 4-3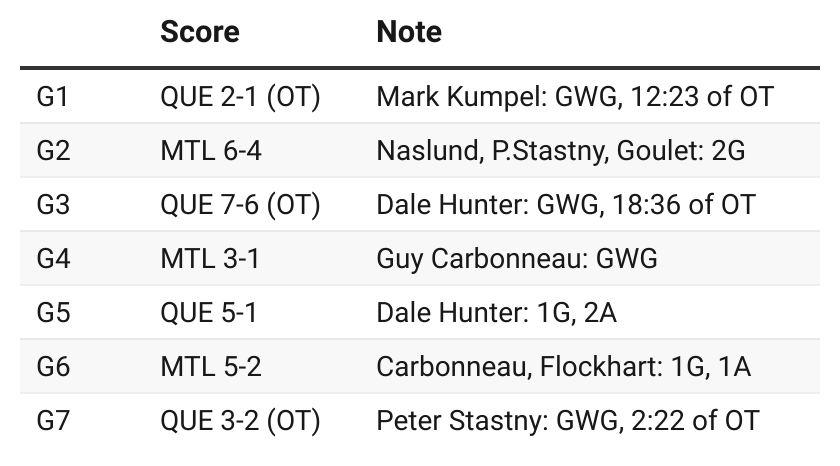 The NHL's old Adams Division served up several Quebecois playoff encounters in the '80s. The one in 1984 is remembered for the Good Friday Massacre, two brawls that bookended the second intermission of Game 6, got 11 players ejected - including the backup goalies, Quebec's Clint Malarchuk and Montreal's Richard Sevigny - and overshadowed the Canadiens' comeback that won them the series.
Safe to say the '85 rematch was hotly anticipated. Separated by three points in the standings, the Habs and Quebec Nordiques staged a proportionally tight battle, scoring 24 goals apiece and trading wins night by night.
Quebec won the odd-numbered games and dominated in overtime, including with Mark Kumpel's Game 1 winner and Dale Hunter's slap shot that closed a madcap, 13-goal Game 3. No one brawled, but the series still was rough, typified by Montreal's Chris Nilan, a protagonist of the Massacre, who amassed double-digit penalty minutes in five games and 79 PIMs overall.
By Game 7, two of Quebec's top scorers, Hunter and Michel Goulet, were hampered by an infected hand and bruised backside, respectively. Montreal's rookie goalie, Steve Penney, made a fine glove save on a breakaway but let in a soft wrister. In the Quebec net, a slapper to the collarbone knocked Mario Gosselin to his back, and Montreal scored twice in 10 minutes to negate a 2-0 deficit.
While his fellow stars slowed, Quebec center Peter Stastny picked up the slack, as was his tendency throughout a 1,239-point NHL career. Two minutes into OT, Stastny won a faceoff to set up a point blast, compelled Penney to bobble the rebound, and banged home the Nordiques' third shot of the sequence.
Sevigny, who'd swapped sides in free agency the previous summer, celebrated on Quebec's bench by standing atop the boards and leaping to the ice. He stuck the landing.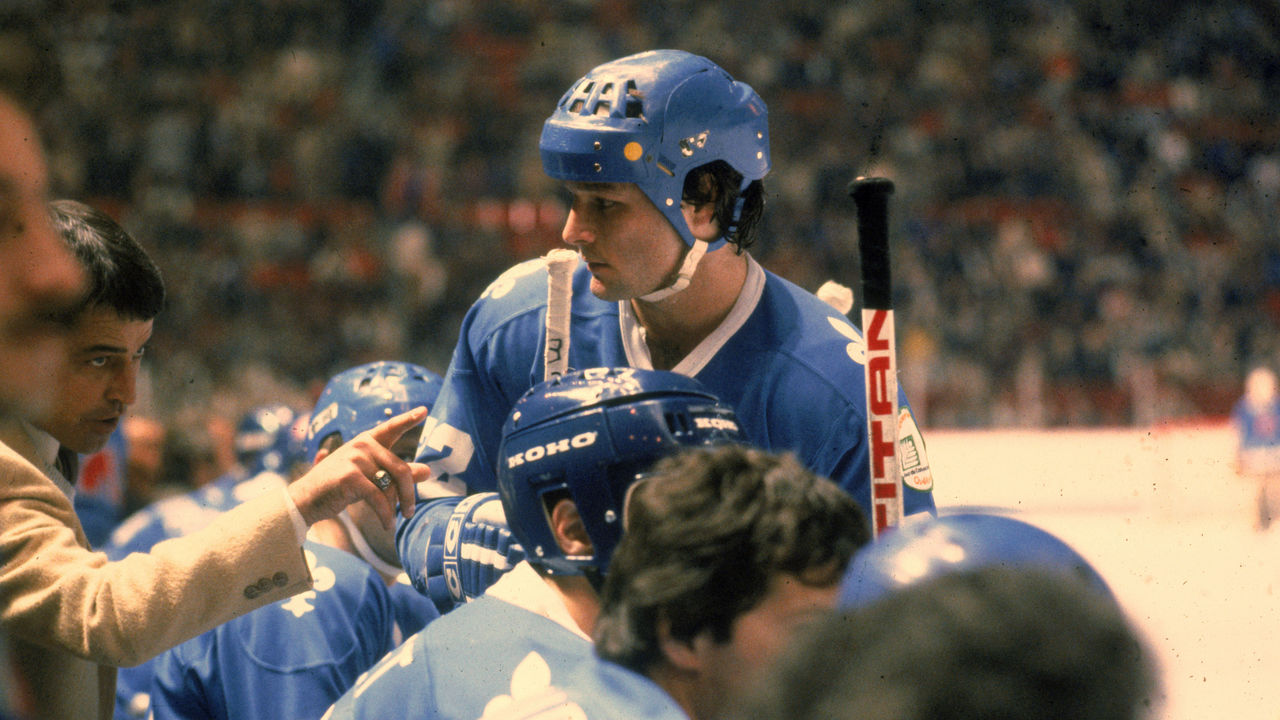 1989 Cup final:
Calgary def. Montreal 4-2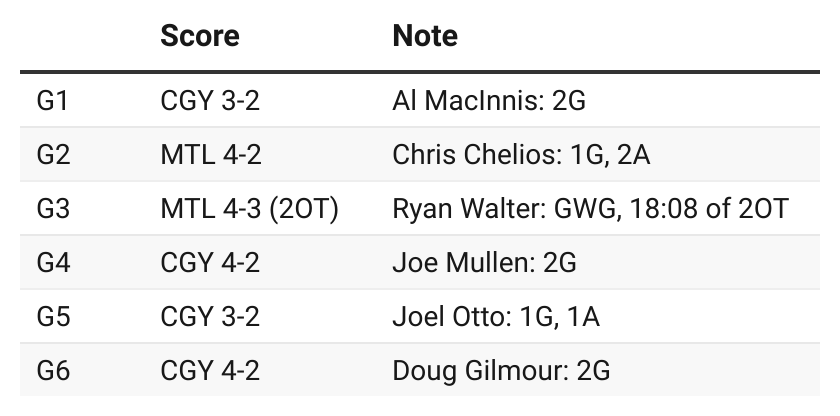 Most all-Canadian Cup finals - five of eight - set Montreal against Toronto during the Original Six era. The last two have been between Calgary and Montreal in 1986 and 1989.
No margin of victory in the Flames-Canadiens rematch exceeded two goals, befitting their joint rule of the league that season. Calgary's 117 points were most in the NHL in 1989, Montreal finished with 115 points, and no other club exceeded 92. Their defenses were the game's stingiest, and six of the league's top 31 scorers drew into the championship series.
Their collision course produced a marathon Game 3 scrap-fest; referee Kerry Fraser assessed five sets of offsetting minors in overtime alone. The difference was a disputed boarding penalty that the Flames' Mark Hunter took deep in double OT. Ryan Walter scored on a jam play by the crease the moment Hunter exited the box.
"It was total BS," Lanny McDonald told Sportsnet years later about the boarding call.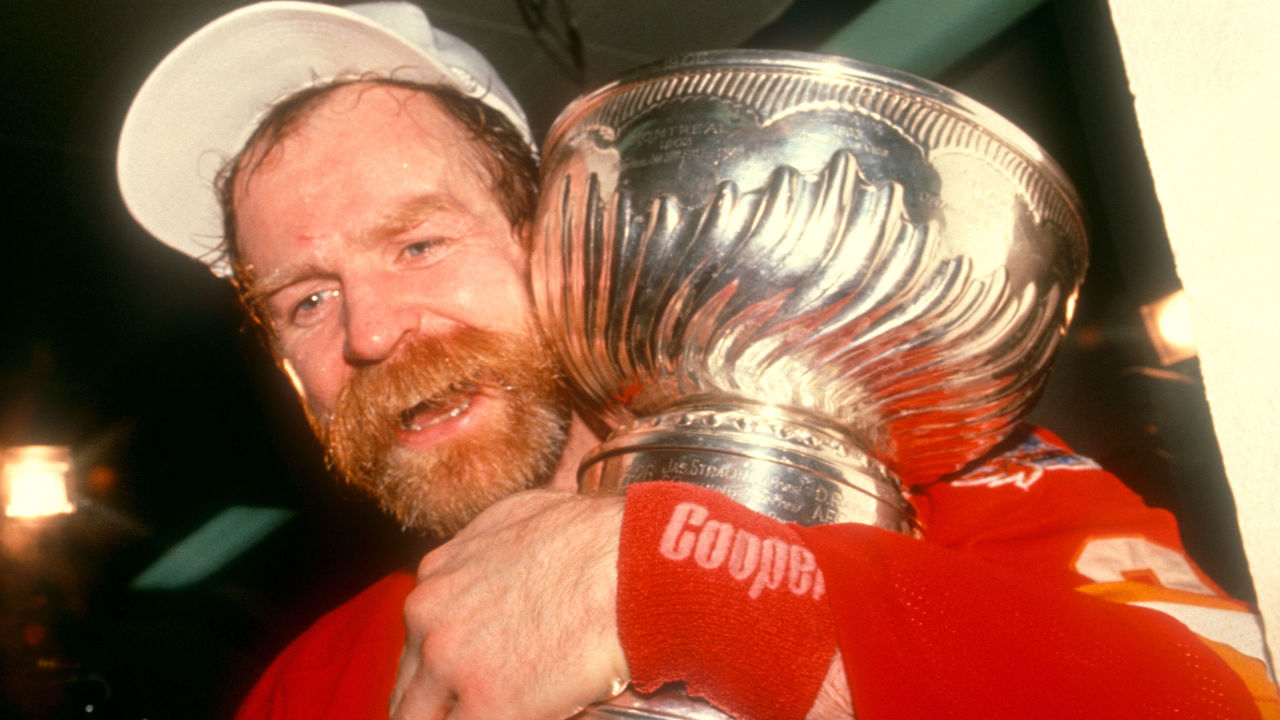 The Canadiens' edge was pronounced entering Game 4 at the Montreal Forum, where the home side went 30-6-4 that season. Desperate yet organized, the Flames limited Montreal to 19 mostly harmless shots in a 4-2 victory, and the Habs never led the rest of the series. Much of the credit fell to Joe Mullen, Doug Gilmour, and Conn Smythe Trophy winner Al MacInnis, who combined for eight goals over Calgary's last three wins.
Gilmour was clutch down the stretch in Game 6, and MacInnis' postseason was historic: No defenseman had topped the playoffs in points until he recorded 31. Two more memories resonate, both involving Calgary's 36-year-old co-captain; in his career finale, McDonald scored his first goal in two months off Joe Nieuwendyk's pretty cross-ice feed, and the images of him cradling the Cup later are iconic.
1990 first round:
Edmonton def. Winnipeg 4-3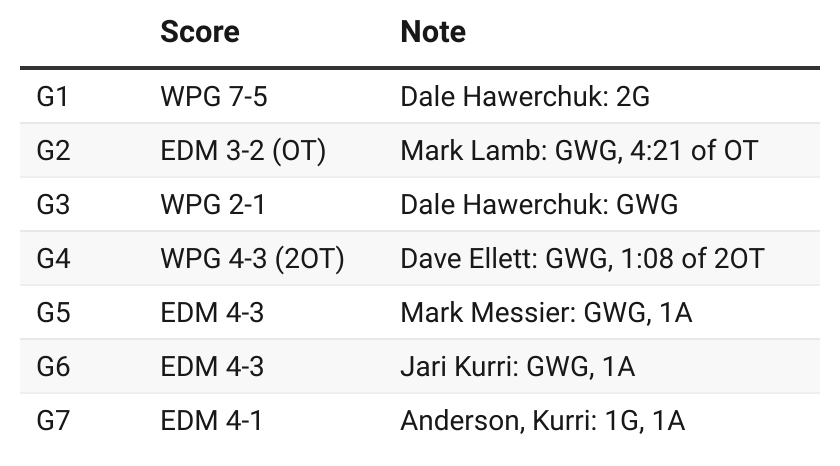 There are mismatches, and then there's the hurt that the Oilers inflicted in the Manitoba capital when Wayne Gretzky was around. Between 1983 and 1988, the original Winnipeg Jets lost 16 playoff games in a row to Edmonton, spanning blowout defeats in five Smythe Division series.
Demand for a breakthrough remained through 1990 when Gretzky was long settled in Los Angeles and the Jets iced their strongest lineup in several years. They were led by beloved center Dale Hawerchuk and point-per-game playmaker Thomas Steen. Hawerchuk's pair of goals fueled a Game 1 statement win. He scored again in Game 3 at Winnipeg Arena to break a 1-1 tie with 4:30 left.
At the end of Game 4, broadcaster Don Wittman remarked on Hockey Night in Canada that Winnipeg's barn was as loud as any in the NHL. The decibel count peaked in double overtime when 15,572 fans in white shirts went wild for Dave Ellett's greatest feat. The Jets were scoreless on seven power-play tries when Steen won a faceoff back to Ellett, whose cannon from the point on the man advantage put the Jets up three games to one.
Only six 3-1 series leads had been blown to that point in league history. Naturally, the Jets grew the total. They lost a two-goal lead in the back half of Game 5 and couldn't capitalize on their own three-goal comeback in Game 6; Jari Kurri unleashed a backbreaking slap shot from the right faceoff dot for the late winner. Edmonton goalie Bill Ranford, the eventual playoff MVP, shone in Game 7 with 26 saves.
"The Edmonton Oilers know that they could just as easily have been the vanquished as the victors," Wittman intoned on TV during the handshake line. They instead proceeded to clinch the Cup without Gretzky, and Jets 1.0 never won another playoff series.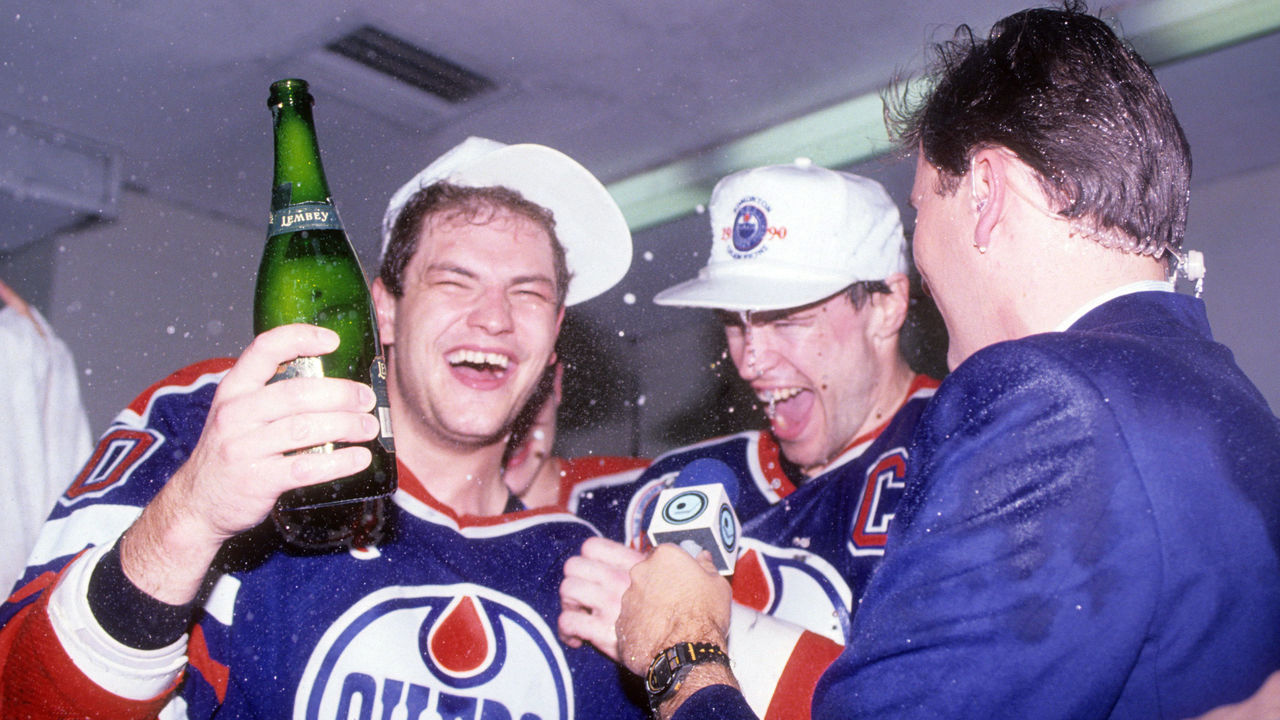 1994 first round:
Vancouver def. Calgary 4-3
Triumphing in this series was immensely meaningful to the Vancouver Canucks - they wound up surging to Game 7 of the final - and on a personal level to Stan Smyl. The assistant coach was the team's captain in 1989 when he rang the post and was stoned on a breakaway in overtime of a Game 7 loss to Calgary.
Five years later, Smyl's charges made history with sudden-death wins in Games 5, 6, and 7 of a series. Even the 1990 Oilers' high-wire act against Winnipeg hadn't been so delicate.
Calgary outpaced Vancouver by 12 points in the regular-season standings, and by mid-series, the Canucks' massive Game 1 win looked like an outlier. The Flames poured in 15 goals over the next three contests and Mike Vernon made 42 saves in Game 4, matching his total from the '89 Game 7 that haunted Smyl.
Pavel Bure, twice a 60-goal scorer, failed to light the lamp for four games, but soon he and three teammates went down in Canucks lore. Afforded a partial breakaway in OT of Game 5, Geoff Courtnall took advantage, beating Vernon glove-high with a clapper. Prowling the front of the net on an OT power play - the Flames were dinged for too many men - Trevor Linden shoveled home the winner in Game 6.
Vancouver goalie Kirk McLean reserved for Game 7 his best performance (46 saves) and denial, the above kick-stop on Robert Reichel's OT one-timer that was tailor-made to end the series. Instead, that honor fell to Bure, who deked Vernon in the second overtime to avenge the 1989 letdown.
"You don't forget things that happened in the past," Smyl told the Vancouver Province after the series, referring to his missed opportunities five years earlier.
"I knew I'd have to retire and never be able to do anything about it myself, but this is just as sweet. I can honestly say the ghost is risen now. It's gone."
2002 second round:
Toronto def. Ottawa 4-3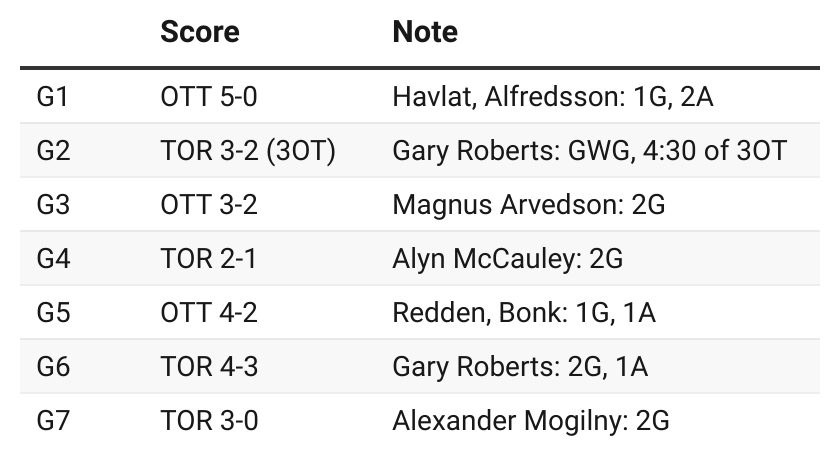 Ottawa's competed in six of this century's nine all-Canadian series, including four straight painful Battle of Ontario defeats. This edition was rancorous and dramatic, even though the Leafs' leading scorer, Mats Sundin, missed all of it with a fractured wrist.
Sundin's fellow Swede, Senators captain Daniel Alfredsson, made his presence felt. He scored and added two assists in Ottawa's opening rout, though he failed to solve Curtis Joseph on eight shots in Game 2. Toronto's netminder stymied 54 attempts all told, and Gary Roberts' wrist shot from a scrambled faceoff finally eluded Patrick Lalime in the third overtime.
Alfredsson netted the winner in Game 3 - the Leafs' plea for goalie interference was ignored - and stole the spotlight in Game 5's signature sequence. The score was 2-2 when Alfredsson hit Darcy Tucker from behind, left him crumpled by the boards, meandered to the net, and went top-shelf to claim the lead with 2:01 left. The restart was delayed five minutes as Toronto fans hurled cups over the glass.
"Full of anger" is how Leafs coach Pat Quinn described himself postgame. Toronto forward Travis Green said the no-call was "a bloody joke."
As it happens, boarding cost the Senators at home in Game 6. They led 2-0 early when Ricard Persson, making his first appearance of the series, was ejected for burying and bloodying Tie Domi. Toronto would score twice on the ensuing major. Alex Mogilny broke a third-period stalemate, and then he recorded two more goals in Game 7, which was all the support Joseph needed in a 19-save shutout.
Persson signed in Germany the next season, while his old club got one last crack at Toronto in 2004. The Leafs again prevailed in seven, marking the franchise's most recent series victory.
Nick Faris is a features writer at theScore.