Matthews continues ascent, Eichel destinations, and revisiting predictions
Mark Blinch / Getty Images
Boris Dorozhenko, the accomplished skating and skills coach based in Scottsdale, Arizona, can't help but think of fine art when tuning into Toronto Maple Leafs games. Watching his longtime student Auston Matthews, Dorozhenko sees an artist whose latest masterpiece - an absurd 40 goals in 50 games - is equal parts stunning and predictable.
"When we recognize the work of some famous painter, it's beautiful. And then the next one is even better," Dorozhenko said during a phone interview earlier this week. "So I think there's no limits to the type of improvement."
Dorozhenko uses the analogy to help contextualize the trajectory Matthews has been on since breaking into the NHL in 2016-17. Matthews arrives at training camp every year with something new to showcase: A mastered shooting technique, a greater dedication to defense, a leaner body. And every year, we're amazed, yet not necessarily surprised, by the improvement.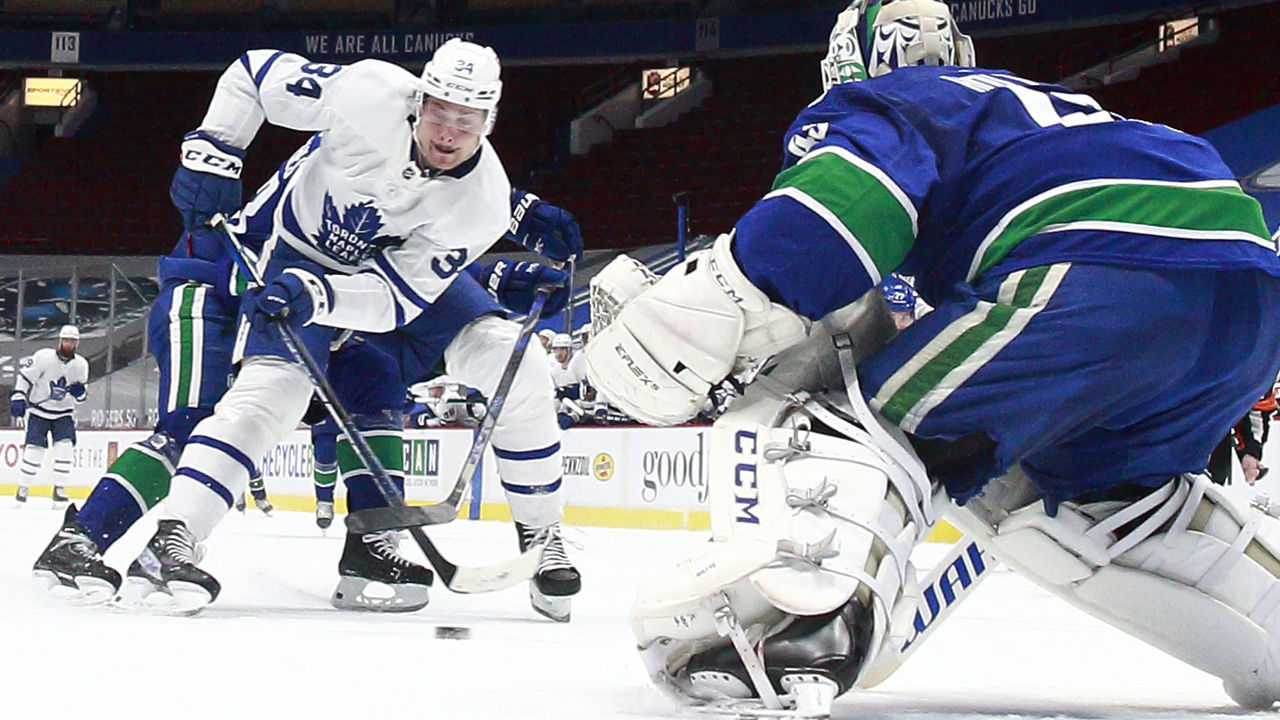 Dorozhenko believes Matthews is unique among most of his peers because whenever the 23-year-old adds something to his toolbox - say, a terrifying one-timer prior to the 2019-20 season - other parts of his game don't sag.
Matthews isn't simply satisfied with being elite. He continues to build on his base year after year, elevating his ceiling as an NHL player.
"Auston has a very analytical mind, and it's helped him every year to get better. There's no question," said Dorozhenko, who has been training Matthews for 16 years through his Next Generation Hockey school.
"I think," he later added, "we are observing a legendary player."
Good luck crafting a competent counterargument, given Matthews' prolific production this year. Heading into Toronto's final two regular-season games - Wednesday against the Ottawa Senators and Friday against the Winnipeg Jets - he's scoring at a pace we haven't seen since peak Alex Ovechkin.
With a goals-per-game rate of 0.80, Matthews' season is sandwiched between Ovechkin's 65 goals in 82 games in 2007-08 (0.79) and Mario Lemieux's 35 goals in 43 games in 2000-01 (0.81). And to think, Matthews was flirting with the elusive 50 goals in 50 games feat until a nagging wrist injury interrupted his blazing start to the season back in February.
Looking over Matthews' career shot profile, there are a few notable changes in 2020-21. First of all, he's pumping more shots on goal than ever before, averaging 4.3 per game. Secondly, according to MoneyPuck.com, he's been shooting the puck closer to the opposing goalie, with his average unblocked shot attempt distance now listed at 22.3 feet. Lastly, wraparounds: Despite appearing in just 50 games, Matthews has 11 recorded wraparounds, surpassing a previous high of 10 in his 82-game rookie season.
All three changes could be a byproduct of his ice time continuing to increase year over year; his wrist not being healthy enough to unleash as many long-range shots; and/or all-world facilitator Mitch Marner feeding him a variety of passes. It's most likely those things and Matthews' ability to burn the opposition in countless ways. He's the full package - a 6-foot-3, 220-pounder armed with a deceptive release and accurate shot, plus the skating, dangles, hand-eye coordination, and playmaking chops to keep defenses guessing.
Impressively, Matthews is credited with 12 game-winning goals but no empty-netters, suggesting he hasn't piled up a bunch of tallies in low-leverage situations. He isn't in the middle of a shooting percentage bender, either. At 18.7% for the season, he's up just 2.5% on his career average.
Ready for an unbelievable Matthews stat? When filtered through Hockey-Reference.com's "era-adjusted" equation, his production this year is tied for 12th all time in single-season goals, at 65. Let that sink in for a moment. Matthews, hurt wrist and all, managed to snag a spot barely outside the top 10 on a list attempting to fairly rank the greatest goal-scoring seasons ever.
If Matthews can remain healthy down the road, hitting the 50-goal milestone feels inevitable. How about 60 over a full season? Is that a realistic target?
"I believe he can score even more (than 60)," Dorozhenko said.
Best fits for Eichel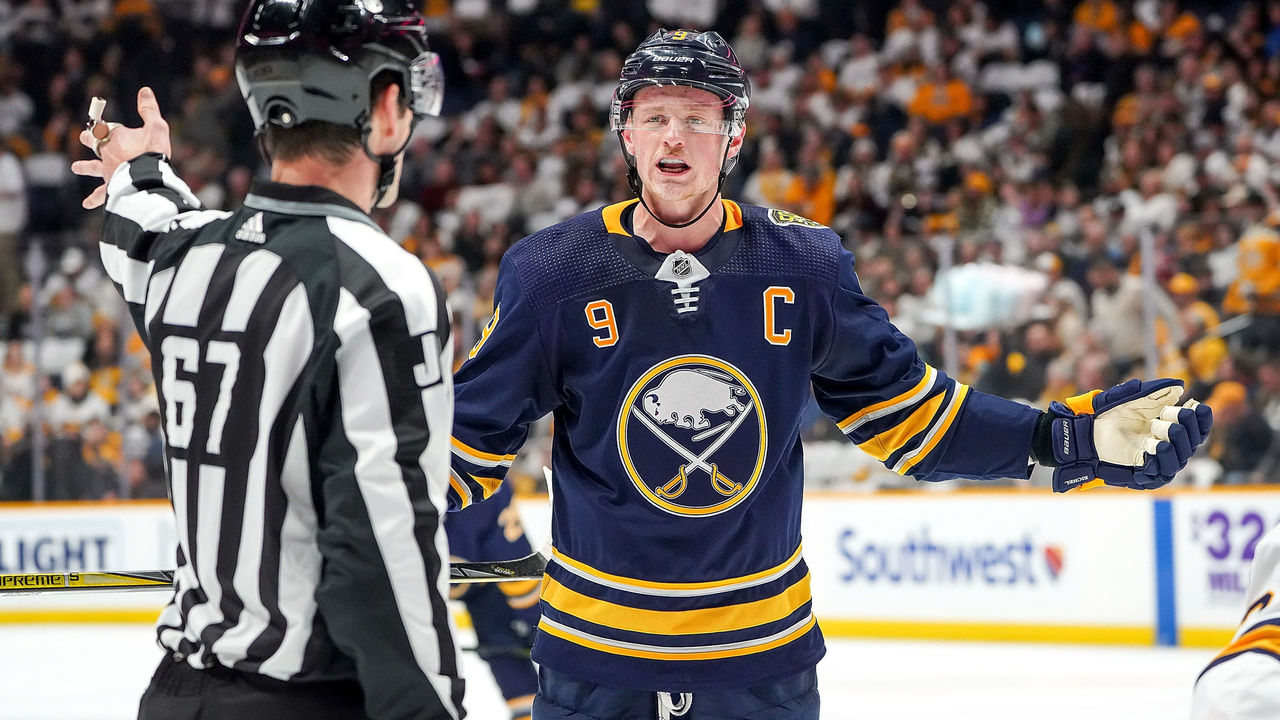 Now that the dust has settled on Jack Eichel's explosive comments regarding the "disconnect" between him and the Buffalo Sabres, it's time to identify some reasonable offseason landing spots for the likely-to-be-traded captain.
It's a complicated situation. There's no clarity on Eichel's neck injury, which presumably affects the market for acquiring his services. Also, who knows which direction Sabres brass wants to take this mess - full-on rebuild or significant retool. For this exercise, we'll assume they're tearing it down.
The one club Sabres general manager Kevyn Adams should be clamoring over is the Los Angeles Kings. L.A. is stocked with enticing prospects and first-round picks to build a trade package around. With the Kings on the rise again after taking time to retool for a second wind in the Drew Doughty-Anze Kopitar era, Eichel's availability aligns well with L.A. making a big splash.
The New York Rangers are in a similar spot to the Kings; another big-market franchise with a promising future and enough assets to chase an Eichel trade. Keep in mind that the rumor mill has linked Eichel to the Rangers in the past. Plus, Eichel's agents represented new general manager Chris Drury during his playing career.
The Detroit Red Wings can't be counted out, seeing as they have an abundance of cap space, draft capital, and plenty of desirable prospects. GM Steve Yzerman is methodical and patient, so it doesn't make intuitive sense. Then again, players of Eichel's caliber are rarely in play on the trade market.
The Vegas Golden Knights are always lurking thanks to the ballsy ownership and management trio of Bill Foley, George McPhee, and Kelly McCrimmon. The relatively new franchise has proven A) it isn't afraid to chase stars, and B) it can stickhandle its way around complications surrounding the salary cap.
The Columbus Blue Jackets seem destined for seismic change and desperately need a No. 1 center. They own five first-round draft picks over the next three years, including three in the upcoming draft, and could easily part with one of their NHL goalies - either Elvis Merzlikins or Joonas Korpisalo.
That's five teams and there's surely 10 more who will at least be kicking tires.
'Yotes got Chychrun's best
Hands up if you can name the goal-scoring leader among defensemen.
Anyone … ?
It's Jakob Chychrun, who scored 18 in 56 games for the Arizona Coyotes. The 23-year-old would be talked about far more often if he didn't play in Glendale.
This three-goal performance in early April shows off his lethal wrist shot:
It's easy to glean from the tape why outgoing Coyotes coach Rick Tocchet played Chychrun a team-high 23:23 a night - three minutes more than captain Oliver Ekman-Larsson. The two-way Chychrun loves to roam around the entire ice surface in a similar way to reigning Norris Trophy winner Roman Josi.
Chychrun, picked 16th overall in the 2016 NHL Draft by former GM John Chayka, is already five years into his career. He missed a combined 82 games due to injury in his previous four seasons - which is a shame because he's developed a reputation for being one of the sport's fittest players.
"Injuries are something that's a part of the game. I have had a little bit of bad luck with a couple of them, but I don't get down on myself," Chychrun said in January when asked if getting through a season unscathed was a top priority.
"I continue to take care of myself, take care of my body, and just put myself in the best situations to be available for my team. I make sure I stay on top of my everyday rituals of staying healthy. For sure, that's a goal of mine."
Mission accomplished.
Revisiting predictions
In January, we published my 21 predictions for the 2020-21 season. Five months in, why not quickly revisit a handful of them - you know, for fun.
Prediction: Pierre-Luc Dubois stays longer than Patrik Laine
This one was a total fail, considering the two disgruntled 20-somethings were, in fact, traded for each other. The awkward part is neither Laine in Columbus nor Dubois in Winnipeg have found success in their new hockey homes.
Prediction: The Wild are exciting - for a change
Bingo. Wild games have been wildly entertaining in the Kirill Kaprizov era. Really, Kaprizov alone - with that mesmerizing skill set and those late-game heroics - has skyrocketed Minnesota up the NHL watchability rankings.
Prediction: Taylor Hall finds better chemistry with Eric Staal than Jack Eichel
Complete whiff. Hall's stay in Buffalo was disastrous, and a lack of chemistry was at least part of the problem; he's now thriving in Boston. Plus, Staal is in Montreal and Eichel wants out. Ah! Sabres issues used to be so quaint.
Prediction: Analytics darling Ondrej Kase (finally) breaks out
To be determined? Kase has played a grand total of three games this season - the first two in January, the third on Monday. The winger was injured and then injured again, so this supposed breakout has either been delayed or killed.
Prediction: Tkachuk brothers post Gordie Howe hat tricks in the same game
Super ambitious prediction, and it definitely didn't come to fruition. Brady Tkachuk recorded his first Gordie Howe hat trick (goal, assist, fight) versus the Vancouver Canucks in late April, but brother Matthew still doesn't have one.
Prediction: League save percentage dips below .910
Hit. The NHL SV% is currently .908, which matches the mark in 2008-09, the last time it dipped below .910. As an interesting side, goals scored per game dropped ever so slightly, from 3.02 per team in 2019-20 to 2.93 this year.
3 parting thoughts
Jack Adams: Writers don't vote on coach of the year. If we did, I'd go: 1. Joel Quenneville, 2. Rod Brind'Amour, 3. Mike Sullivan, 4. Dean Evason, and 5. Sheldon Keefe. Florida hasn't missed a beat since Aaron Ekblad's injury.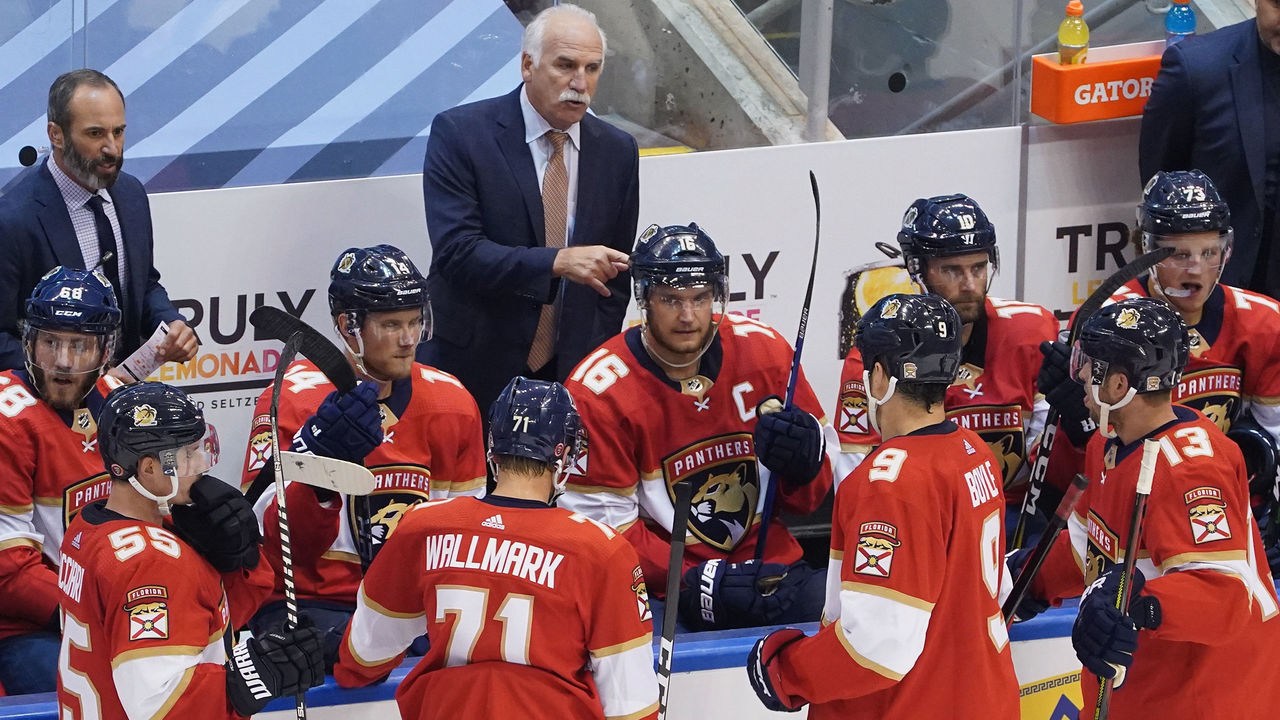 Ding!: With the regular season nearly over, the early winner of the Most Iron Hit Award is ... Nathan MacKinnon, who's dinged a league-high 10 posts or crossbars (eight posts; two crossbars). Kyle Connor and Leon Draisaitl have both struck iron nine times this season, while four others are tied for fourth.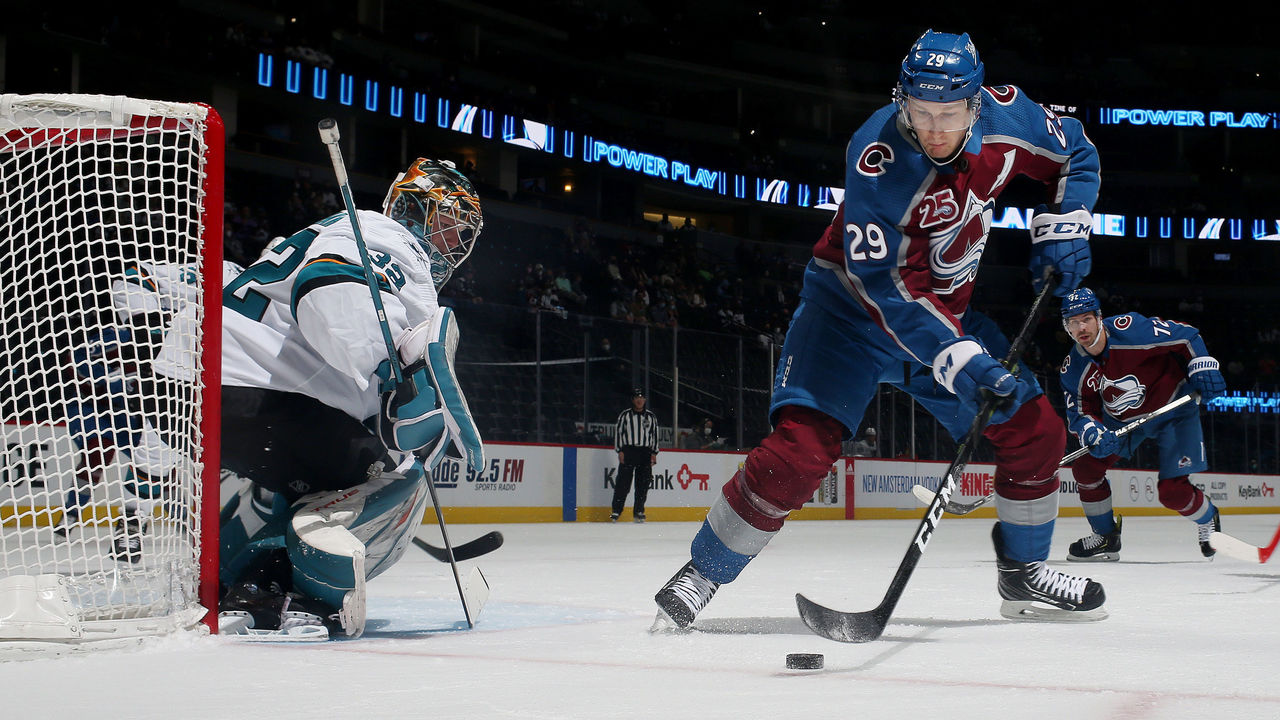 Connor McDavid: Sorry, Devils fans, but this tweet from Monday afternoon is pure gold. Are we sure McDavid is mortal? Oh, and the Oilers captain went on to pick up another two points - including the overtime goal - a few hours later.
Note: The original version of this piece noted the relationship between coach David Quinn and Jack Eichel. This piece has been edited to reflect Quinn's dismissal by the Rangers on Wednesday.
Note: The original version also included an observation about who might be the first player signed by the Seattle Kraken. We guessed it might be Seattle Thunderbirds' overager Keltie Jeri-Leon. On Wednesday, the team signed Luke Henman.
Takes, Thoughts, and Trends is theScore's monthly hockey grab bag.
John Matisz is theScore's senior hockey writer. You can follow John on Twitter (@MatiszJohn) and contact him via email (john.matisz@thescore.com)
Comments
✕
Matthews continues ascent, Eichel destinations, and revisiting predictions
  Got something to say? Leave a comment below!