Jets finally stifle McDavid, plus more takeaways from North playoff opener
Andy Devlin / NHL / Getty Images
The Winnipeg Jets topped the Edmonton Oilers 4-1 on Wednesday night in the NHL's North Division playoff opener. Here are three takeaways from Game 1.
McDavid subdued
Here's an underrated Connor McDavid stat to ponder as the Oilers seek to rebound in this series: 22 NHL skaters, discounting guys who barely played, scored at a point-per-game rate during the regular season. McDavid hit that mark in Edmonton's defeats alone.
Categorize No. 97's production by game result, and his club's drastic dependence on him is laid plain. McDavid torched defenses for 84 points in the Oilers' 35 regular-season wins, 2.4 per night and as many as Leon Draisaitl, who placed second in the league, recorded in total. Over 21 losses, including two following regulation, McDavid's production slipped to 21 points.
It's a crude metric but reflects what opponents can get away with: Spot this incandescent talent one goal or assist and you remain in the fight. Basically, Winnipeg can beat Edmonton if McDavid resembles, say, Sebastian Aho or Max Pacioretty. At his best, he's untouchable.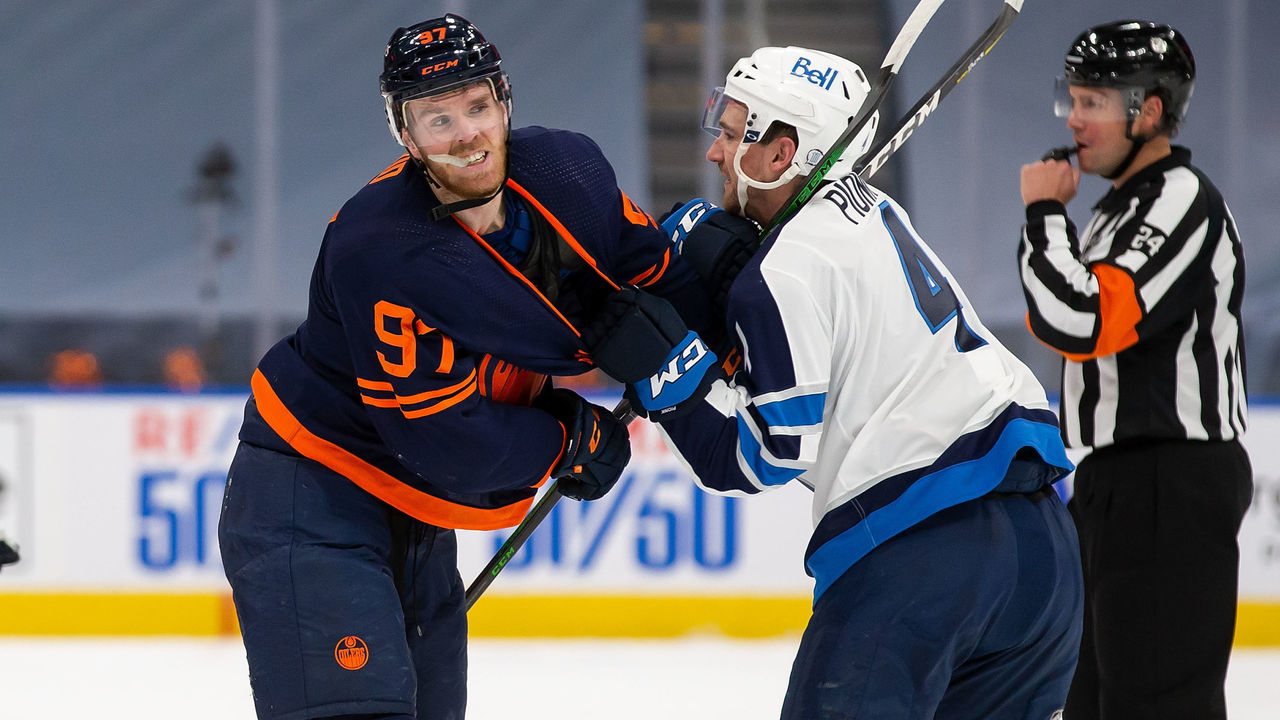 Credit the Jets, then, for holding McDavid to two shots on target and zero points. They largely nullified him as a threat on the rush, where he exploited Winnipeg this season en route to 22 points in nine meetings. A few times on Wednesday, McDavid slipped the notice of backcheckers to gain speed in transition, but the likes of Dylan DeMelo and Derek Forbort managed to keep pace, knock him off stride, and/or force an errant shot.
Per Natural Stat Trick, the Oilers controlled 65% of shot attempts at five-on-five with McDavid on the ice, a concession Winnipeg will make in the name of prudence. (The game plan: keep three men, minimum, between him and the net and rough him up when possible.) He wound up only being the night's third-most influential Connor, accounting for Connor Hellebuyck's first-rate goaltending and Kyle Connor's insurance marker into an empty net.
Indeed, this was the sort of game that Winnipeg had to win, assuming McDavid's season for the ages guarantees he'll break out soon. The Jets were aided in Game 1 by their discipline; their lone penalty - Paul Stastny's inadvisable high-stick in the neutral zone - on its own didn't fuel the Oilers' league-best power play.
An adjustment to monitor: Will Dave Tippett pair McDavid and Draisaitl at even strength more often to try to jump-start the offense? Deployed together in the waning seconds of the first period, they almost worked magic to open the scoring, though Draisaitl's sublime backhand, breakout pass went for naught. Forbort backpedaled to deny McDavid clean passage to the goal, and the Oilers captain's forehand flick flew wide. Crisis averted.
Jets coped without Ehlers
There's a case to be made that Nikolaj Ehlers is Winnipeg's most important forward. The Jets scored 35 goals and allowed a mere 18 at five-on-five this season with Ehlers on the ice, an elite ratio that no fellow Jets top-sixer came close to matching.
Safe to say the shoulder injury that's shelved Ehlers since April 24 continues to loom large, even with a one-win advantage. Ehlers, like Pierre-Luc Dubois, donned a yellow no-contact jersey at practices ahead of Game 1, and in their absence, the Jets were overwhelmed by Edmonton's forecheck and cycle game.
The fancy stats reflect poorly on Winnipeg's top lines. Connor, Mark Scheifele, and Blake Wheeler had their hands full with the McDavid matchup and rarely threatened offensively together - Scheifele's high miss on a three-on-one break was an outlier - until Tippett pulled Mike Smith in the last few minutes. Tapped to play on Stastny's wing, Kristian Vesalainen had a nice look at the net early, but they and Andrew Copp together gave up 11 scoring chances and only generated one.
Playoff hockey is funny sometimes. Besides Wheeler, who hopped off the bench before his linemates when he recorded an assist, the point-getters on Winnipeg's first two goals - Tucker Poolman, Dominic Toninato, Nate Thompson, and Logan Stanley - combined for a measly 11 points during the regular season. Before you rail about unsustainability, you have to tip your hat. Their dirty work and opportunism were decisive Wednesday.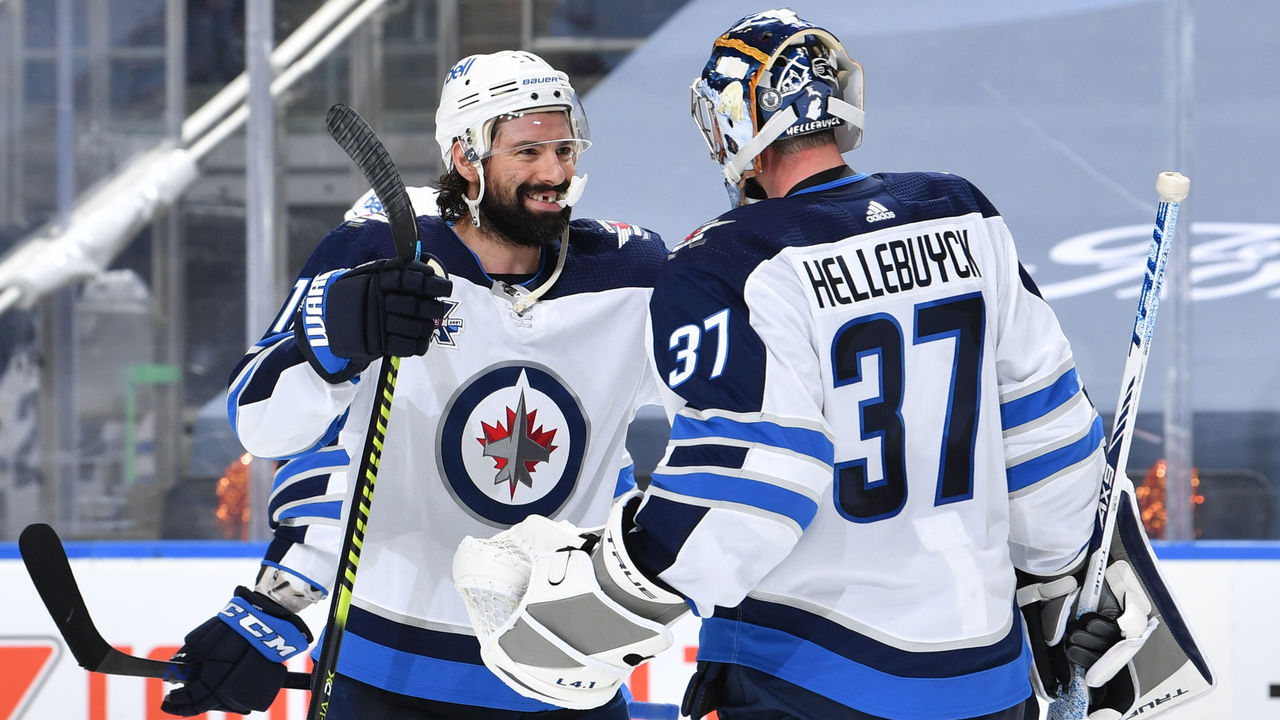 In similar circumstances, the Jets already have avoided last postseason's nightmare scenario. Their vaunted top six was thinned in Game 1 against the Calgary Flames when Scheifele and Patrik Laine were knocked out of the series. Winnipeg's lifeless offense went on to manage six goals in four games, two of them off Ehlers' stick. If he returns soon and has help, that'll put the Jets in an optimal position to offset McDavid's inevitable surge.
Yes, there's a goalie mismatch
Hellebuyck and Smith aren't in the same netminding echelon. Hellebuyck won the Vezina Trophy last year and posted a .916 save percentage in 2020-21 (and a .923 mark against opponents that weren't Edmonton, incidentally).
Contrast the 28-year-old star (Wednesday was Hellebuyck's birthday) at the peak of his powers with Smith, a 39-year-old journeyman who has enjoyed longevity but not consistency while cycling through five career teams. Smith's resume features one excellent season: He saved 34.29 goals above expected in 2011-12 for a squad, the Phoenix Coyotes, that ditched its former city name seven years ago.
So much time has since passed that Smith spent multiple seasons as a platoon option on either side of the Battle of Alberta. His play with the Flames and Oilers dipped to the point that he feared he'd be out of a job in 2021, Smith's wife, Brigitte, indicated to The Athletic's Scott Burnside ahead of the playoffs.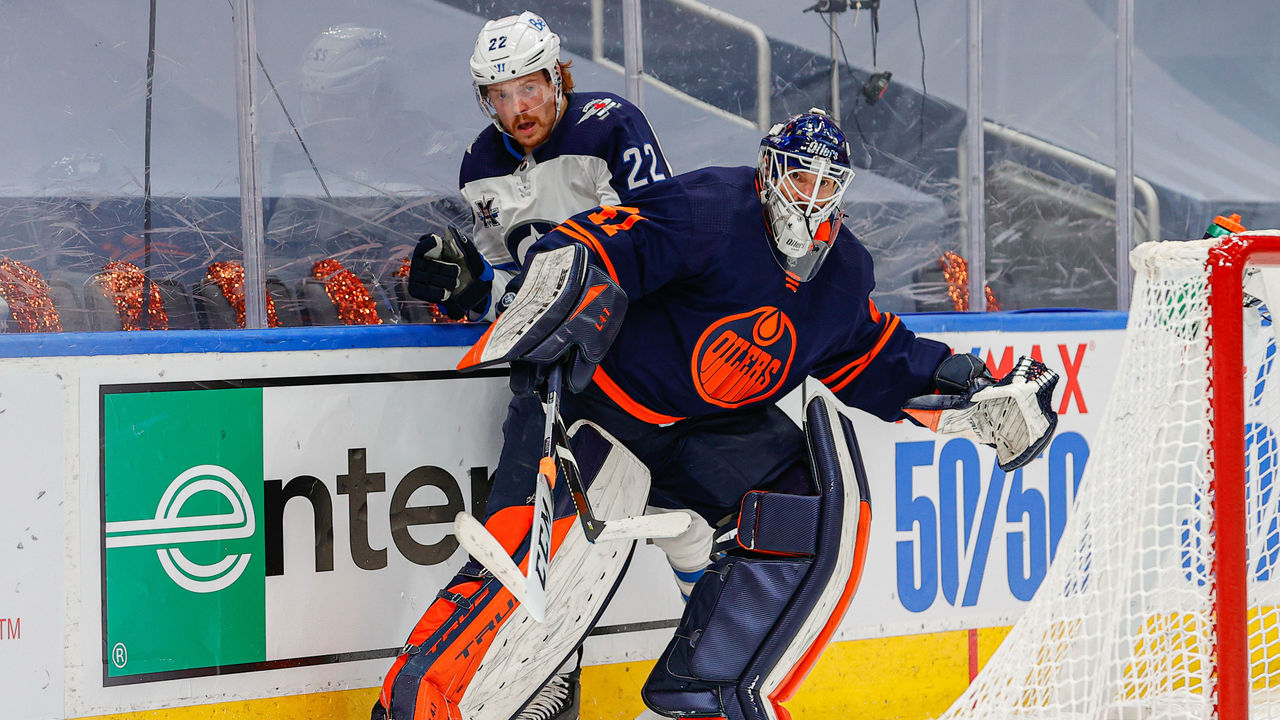 Instead, Smith re-upped with Edmonton on a one-year deal in the fall and, out of the blue, posted an impressive .923 save percentage this season. By usurping Mikko Koskinen, he turned a team weakness that prohibits contention into a source of strength, maybe Edmonton's most potent after the megastar duo up front.
All of this is to wonder: Is Smith out of his depth against Hellebuyck, or is he a worthy foil?
He wasn't bad in Game 1 but faltered in a critical moment, bobbling the rebound that let Poolman tie the score 2:37 after Jesse Puljujarvi's opening goal. Dominant on the cycle, the Oilers heavily outchanced the Jets in the second period - high-danger attempts were 8-3 - but the game stayed deadlocked until Smith was beaten in the third on Stanley's point blast that was tipped twice.
Hellebuyck was masterful in the last five minutes, stoning Draisaitl, Ethan Bear, and McDavid in turn before the empty-netters let him exhale. Par for the course for a player whose goals saved above expected figure (13.72) was second in the league this season to Marc-Andre Fleury, according to Evolving Hockey.
Smith deserves kudos for the four-month stretch when he threw it back to 2012. Allowing two goals is forgivable, maybe even a blip. But the bodies of work suggest Hellebuyck is more trustworthy, and now he has a series lead to work with.
Nick Faris is a features writer at theScore.
Comments
✕
Jets finally stifle McDavid, plus more takeaways from North playoff opener
  Got something to say? Leave a comment below!