4 key storylines for Game 6 between Canadiens and Golden Knights
Ethan Miller / Getty Images
The Montreal Canadiens played arguably their best game of the postseason Tuesday - and their victory brought them one win from the Stanley Cup Final. Game 6 of the Canadiens' semifinal series against the Vegas Golden Knights goes Thursday night at the Bell Centre. Here are four key storylines to watch:
Mark Stone's response
Stone is one of those rare players coaches almost never have to worry about.
The 29-year-old winger positively impacts the run of play in all three zones. He's emotionally and physically engaged in the game. And, perhaps most importantly, he's ultra-consistent. For these reasons, Stone is the Golden Knights' captain and an annual Selke Trophy contender.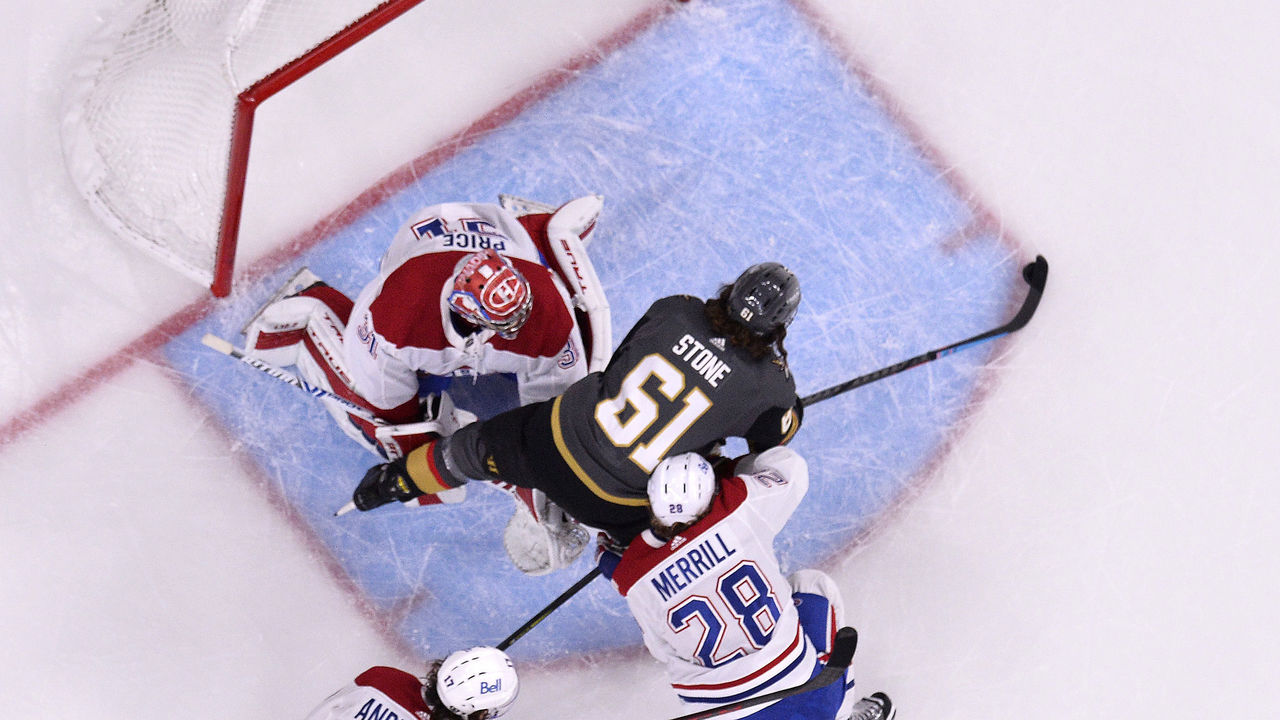 Yet this semifinal series has been taxing on Stone - Game 5, especially.
Stone uncharacteristically turned the puck over at the offensive blue line in Tuesday's affair, then barely backchecked as Montreal's Cole Caufield buried a pass from Corey Perry on a quick counterattack to make it 3-0 for the Habs. Stone, again uncharacteristically, whacked his stick on the boards and cursed to himself as he returned to the Vegas bench. It was only the second period.
He was clearly rattled and disgusted. Honestly, it's hard to blame him.
In 102 total minutes against Montreal, Stone has failed to register a point. He has just 12 shot attempts (six of which have missed the net or been blocked), four takeaways to two giveaways (a lackluster ratio for the takeaway king), and nine hits taken to six hits delivered. With Stone on the ice at five-on-five, the Golden Knights have owned 48% of the shot attempts (78-72), 31% of the expected goals (4.64-2.12), and 33% of the goals (4-2), according to Natural Stat Trick. None of those percentages are encouraging.
The Canadiens have basically rendered Stone, normally an extremely effective player at five-on-five, ineffective. A bounce-back Game 6 performance from him is essential if Vegas hopes to force a seventh contest.
Vegas' attack woes
Stone's lack of production wouldn't be so devastating if the rest of the Golden Knights' forwards weren't producing at similarly depressing rates.
Mattias Janmark scored a goal to put Vegas up 3-1 in an eventual 4-1 Game 1 victory, and Max Pacioretty scored the team's lone goal in a 4-1 Game 5 loss. Beyond those tallies - neither of which was crucial to the outcome of the game - it's been crickets. The Golden Knights have mustered just 11 goals in this series. Amazingly, nine have come from defensemen.
Naturally, frustration appears highest among the club's highest-paid forwards - Stone, Pacioretty, William Karlsson, Jonathan Marchessault, and Reilly Smith. The shift-by-shift output for all five hasn't been terrible (Smith, for one, has been fine), but it also hasn't been nearly good enough to win a series.
There seems to be a sharpness absent from Vegas' attack. Game 5, in particular, was littered with missed reads, missed passes, and missed nets.
Marchessault, the franchise leader in points, is a microcosm of the group's problems. The feisty winger has recorded a measly eight shots on goal through the first five games of the series despite notching 29 shot attempts. Of the 21 attempts that didn't count as a shot on goal, 11 were blocked, and 10 missed the net.
Insulation for Price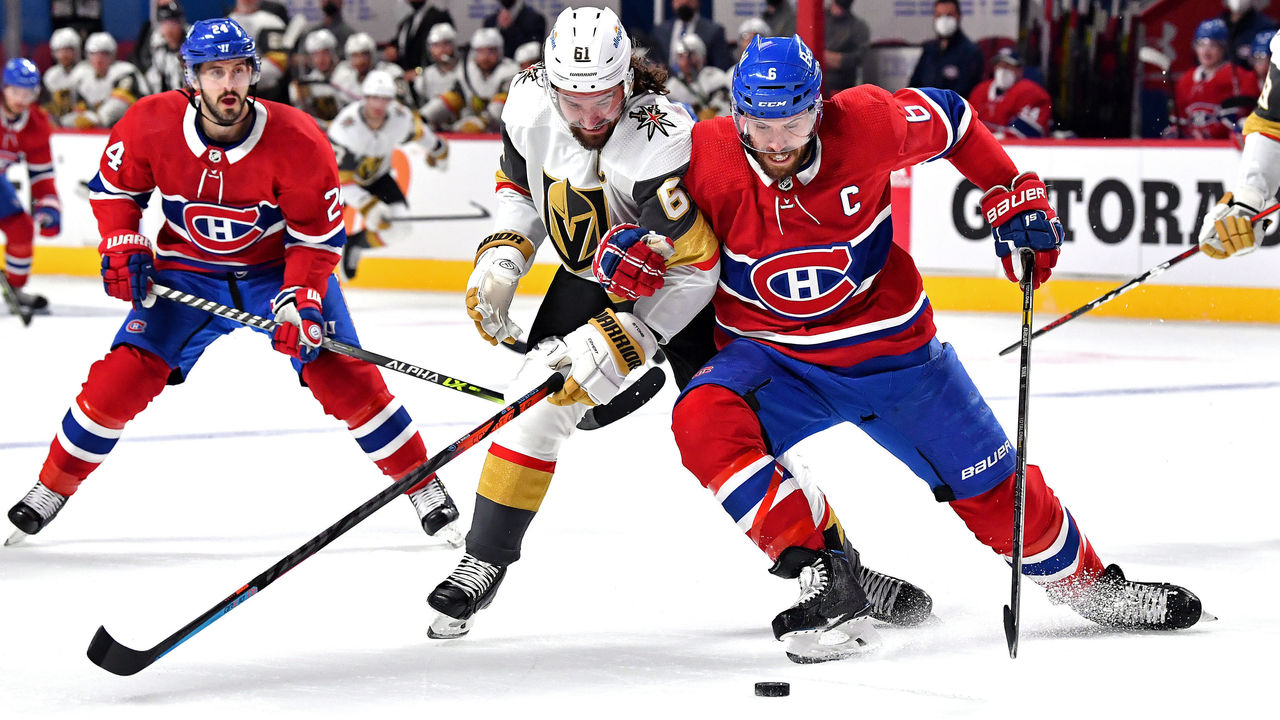 The catch in Vegas' quest to reignite the regular season's third-ranked offense is that Montreal has a say, too.
The Habs are a well-oiled machine, with four gigantic defensemen in Shea Weber, Jeff Petry, Joel Edmundson, and Ben Chiarot playing simple hockey. All series, they've clogged up the neutral zone, invaded passing and shooting lanes, and leaned on the opposition with physicality. Steely goalie Carey Price, meanwhile, has been standing on his head, building on his strong Conn Smythe Trophy case with a series save percentage of .929.
Stone, Marchessault, and the rest of the Golden Knights are facing the same issue that plagued the Toronto Maple Leafs and Winnipeg Jets: Not only is it incredibly difficult to penetrate the middle of the ice and get a clean shot on Price, but the 33-year-old is always in position and always in control of the rebound.
The Habs have built a fortress around their goalie, and their goalie is completely dialed in. Unless Vegas finds a way to create better offensive-zone puck movement and lure Montreal's blue-liners out of their rigid positioning, the Canadiens' plan will continue to work.
Suzuki-Caufield chemistry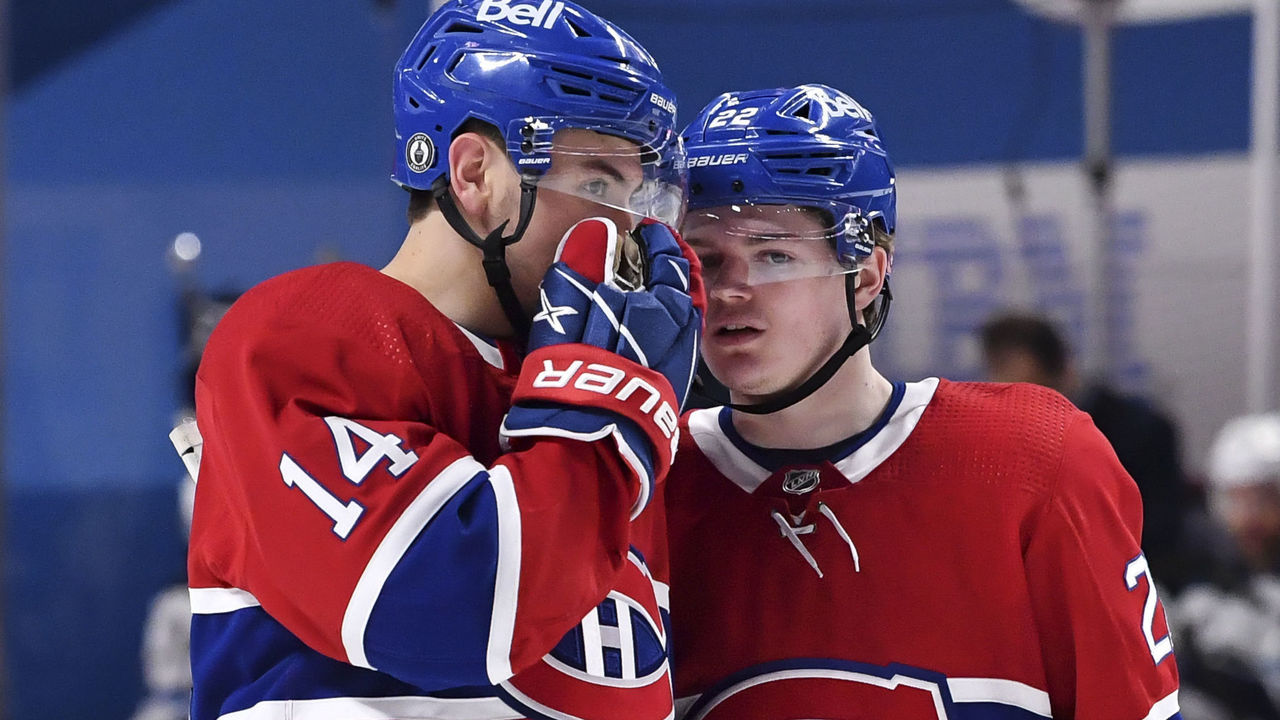 Golden Knights goalie Robin Lehner told reporters after Game 4 that the scouting report on Caufield indicated he likes to either shoot high or aim for the five-hole on breakaways. How did the smiley 20-year-old rookie respond?
He scored a fast-break goal in Game 5 that was neither high nor low - nor, really, anywhere close to the five-hole. On the aforementioned odd-man rush precipitated by Stone's turnover, Caufield's shot cleanly beat Lehner's goaltending partner, Marc-Andre Fleury. It remains to be seen which netminder will be tasked with trying to stop Caufield in Game 6, but the scouting talk is almost certainly over with.
Caufield and center Nick Suzuki have been a breath of fresh air for Canadiens fans this postseason. Not because the fan base didn't expect chemistry between the club's brightest offensive stars, but because of what a Caufield-Suzuki tandem might unlock for the storied franchise in both the present and future.
The well-rounded nature of Caufield's game has been on full display against Vegas. He probably has a higher hockey IQ and playmaking ability than most anticipated. He also has a nonstop motor and takes care of his defensive responsibilities. Caufield's nose for the net and wicked shot were hyped long before his NHL debut, and he's delivered with a series-leading three goals so far.
Suzuki, a second-year pro, can shoot and pass at elite levels, and both are showing well in his series-high five points. The 21-year-old is cerebral and responsible, and Montreal's coaching staff has rewarded him with 19 minutes of ice time a night. Suzuki is the No. 1 center the Habs needed.
Together with veteran winger Tyler Toffoli, Caufield and Suzuki have been electric. It's gravy, in many ways, because of their respective ages and lack of NHL experience. Game 6 offers another opportunity to witness a special tandem build further on its baseline chemistry - for this run and the future.
John Matisz is theScore's senior NHL writer. You can follow John on Twitter (@MatiszJohn) and contact him via email (john.matisz@thescore.com).
Comments
✕
4 key storylines for Game 6 between Canadiens and Golden Knights
  Got something to say? Leave a comment below!