McAvoy rising to the occasion, saluting Perron, and Tkachuk vs. Hughes
Christian Petersen / Getty Images
Late in the second period of Tuesday's Boston Bruins-Pittsburgh Penguins game, Charlie McAvoy corralled a short pass from goalie Tuukka Rask deep in Boston's end. He then transitioned from backward to forward skating, jetting north with a purposeful stride and aspirations of finding an open seam and teammate.
Near the red line, McAvoy shuffled a pass straight ahead to a streaking David Krejci, who subsequently took care of business in the Penguins' zone by dangling a defender and backhanding the puck past the goaltender:
Krejci's highlight-reel snipe opened the scoring in an eventual 3-1 win for Boston, and his magic with the puck was rightfully lauded on both the home and away broadcasts.
But the sequence also offered a snapshot of why McAvoy - who logged a game-high 27:52 of ice time Tuesday - is now unquestionably one of the NHL's premier defensemen at the age of 23.
McAvoy and Matt Grzelcyk (with help from the Bruins' defensively responsible first forward line) limited Pittsburgh's top trio of Sidney Crosby, Bryan Rust, and Jake Guentzel to only eight five-on-five shot attempts - none of which qualified as "high danger" - in over 11 minutes of head-to-head action. The teams' expected goals marks in those minutes, according to Natural Stat Trick, were a decisive 1.6 to 0.2 for Boston.
Old rival and new teammate Taylor Hall wouldn't be surprised by those stats; the former MVP marveled Monday at McAvoy's versatility.
"In this league, it's one thing to be offensive, it's one thing to produce on the power play, but if you can shut down the other team's best players five-on-five and be physical and make the game hard on them, it's a whole other story," said Hall, whom the Bruins acquired before the trade deadline.
"That's what the best guys do year after year. I've seen it, I've had to play against those guys, and it's just not fun. Shift after shift, you kind of get worn down, and that's what Charlie can do to teams."
Hall, who's known for being a studious pro, also praised McAvoy's puck-moving abilities, wicked shot, and knack for cutting off shooting and passing lanes.
"The way he reads the game and the way he moves his feet is pretty elite," he said.
As for McAvoy's ceiling as an NHLer?
"Still pretty untapped."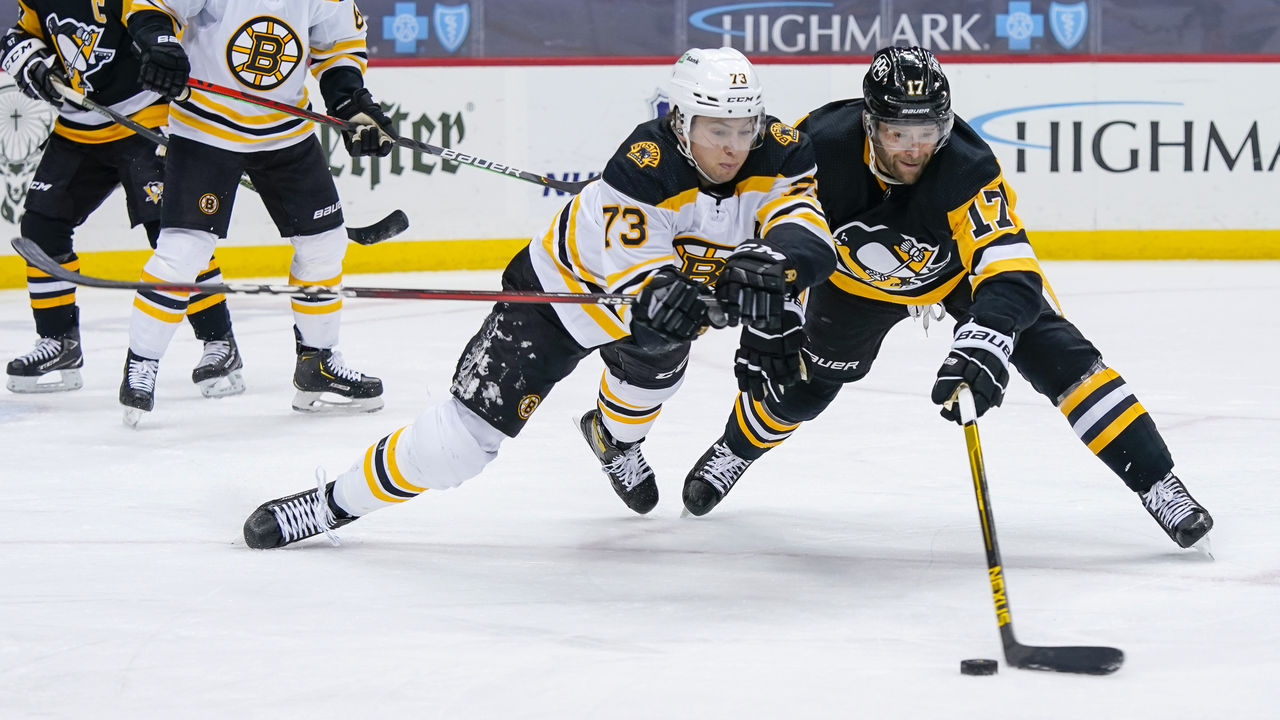 McAvoy has been relishing the role of the alpha dog after the departures of top-four defenseman Torey Krug and ex-partner Zdeno Chara, who both left Boston as free agents last offseason. The increased responsibility and pressure created by their departures would have overwhelmed some, but they've had the opposite effect on McAvoy. Frankly, he deserves to be in the Norris Trophy discussion as awards talk intensifies.
A loaded 2020-21 Norris field means McAvoy has a slim chance of winning the award for the defenseman "who demonstrates throughout the season the greatest all-round ability in the position." Adam Fox, Cale Makar, Victor Hedman, and perhaps one or two others are jockeying for that honor. But voters should save one of the five spots on their ballots for Boston's No. 73. After all, he has the all-around part nailed down.
In terms of pure production, McAvoy is 26th among NHL defensemen with 26 points in 44 games. If he were on the Bruins' top power-play unit, rather than their second, he might have a handful more. Regardless, his attention to detail - whether Boston has the puck or not - has produced some startling data.
Advanced stats website Evolving-Hockey.com ranks the duo of McAvoy and Grzelcyk (who is no slouch himself) first in expected goals share (64.8%) and fifth in goals share (68.4%) among 91 NHL defense pairs that have played at least 200 minutes at five-on-five this season. The Bruins have also outscored opponents 13-6 at five-on-five when McAvoy and Grzelcyk are both on the ice.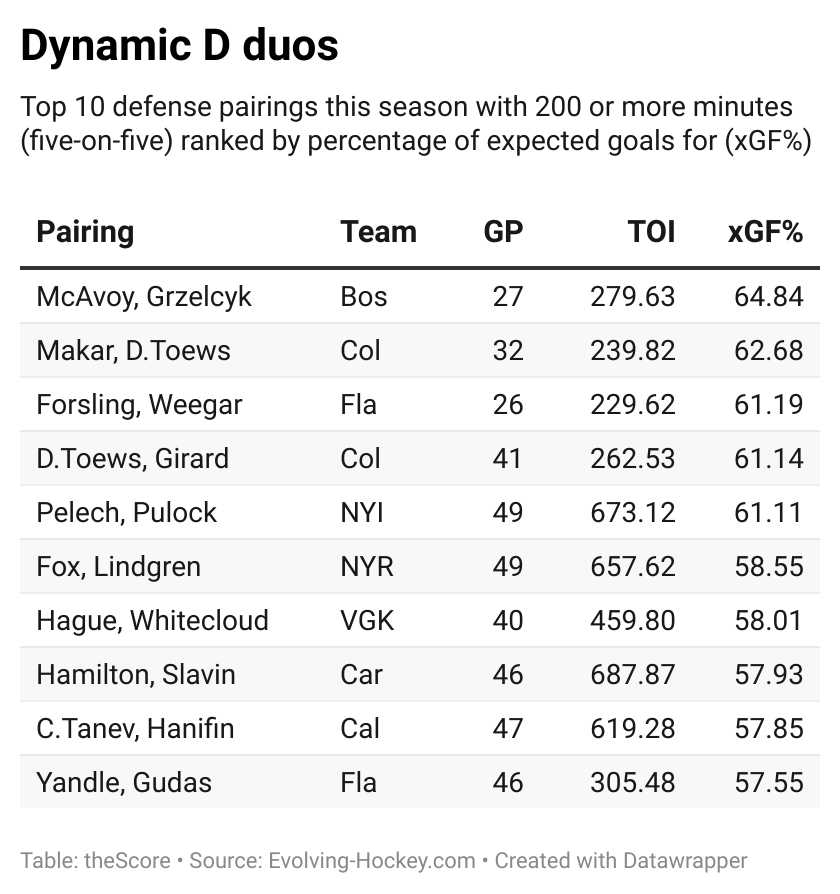 Not only does the McAvoy-Grzelcyk pairing tilt the ice in Boston's favor by generating a ton of high-quality looks for the Bruins while suppressing such chances for the opposition, but it also positively impacts the final score.
"He's one of those guys that, when you get out there with him, you're like, 'OK, this is a shift,' you're like, 'Let's get going,'" Hall said. "So it's been a lot of fun and, like I said, I still think he's going to get better and better."
Just call him Mr. Consistency
David Perron is a man of many nicknames: DP, French Toast, Mr. Overtime.
I'd like to suggest a new one: Mr. Consistency.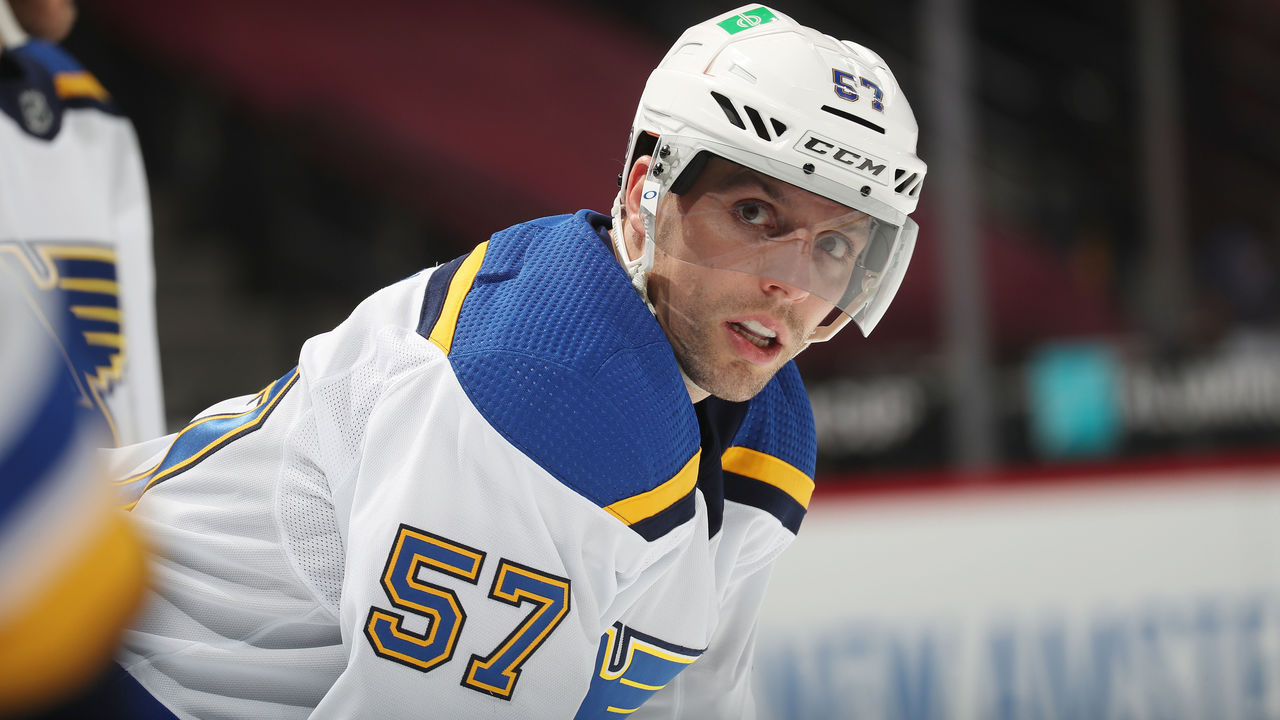 Perron, the Blues' assassin-like winger, is in his 14th NHL season. After his rookie campaign, he recorded nine straight seasons with a points per game average between 0.51 and 0.74. In his four most recent seasons, he's moved closer to a point-a-game player. Perron's been, well, consistently productive.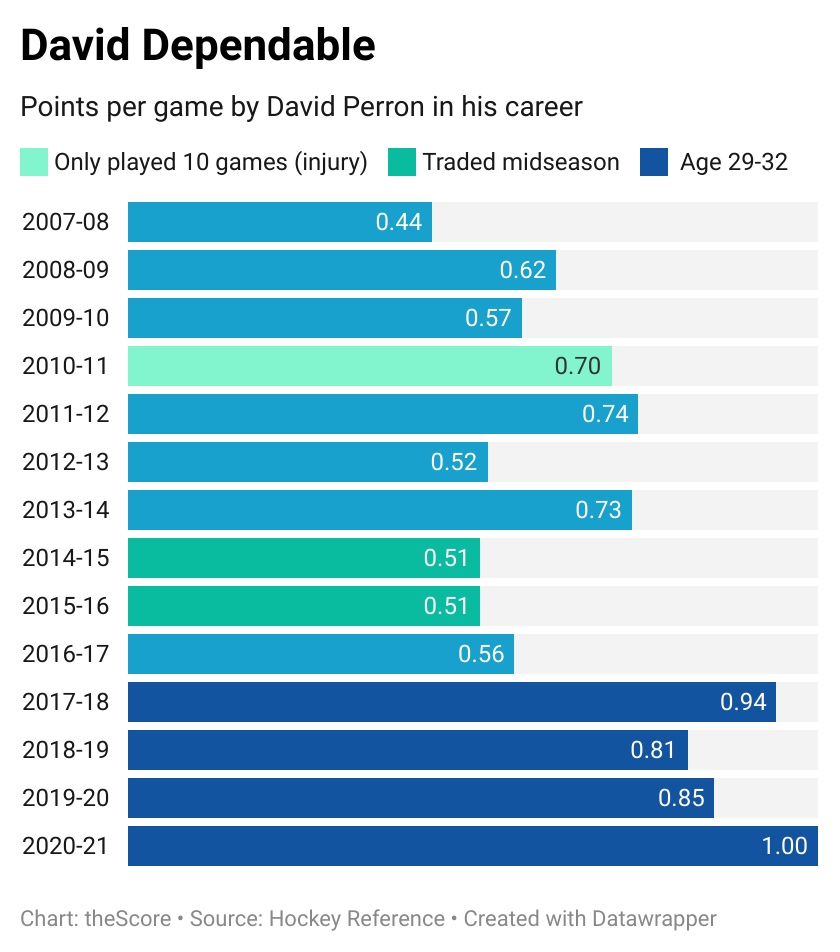 So consistent, in fact, that he's quietly tied for 80th in points per game among 416 skaters who have played at least 500 games since his rookie year in 2007-08. Not bad for a guy who has shuffled around the league as a piece in three trades and was a pick in the 2017 expansion draft.
"It's about him and his will and hanging on to pucks in the offensive zone," Blues head coach Craig Berube said when asked what's kept Perron relevant and effective. "Keeping pucks alive and finding a way to make plays and get pucks to the net. It's all about how competitive he is more than anything."
Perron's competitiveness can linger between poor outings, Berube explained. He might take something personally but will eventually turn the page.
"He wants to win, he wants to do well, and he really thrives off that," Berube said. "I've had a number of conversations with him where he comes and just sees me. He's upset about something, and he gets it off his chest."
Perron has bagged 14 goals and 33 assists in 47 games during this truncated season. He's having a career year, producing exactly one point per game.
It's notable he's still competing at all after suffering multiple concussions over his career. Perron, who turns 33 on May 28, is on track to play his 1,000th NHL game (postseason included) during the first round of this year's playoffs.
Bravo.
Faceoff prowess comes later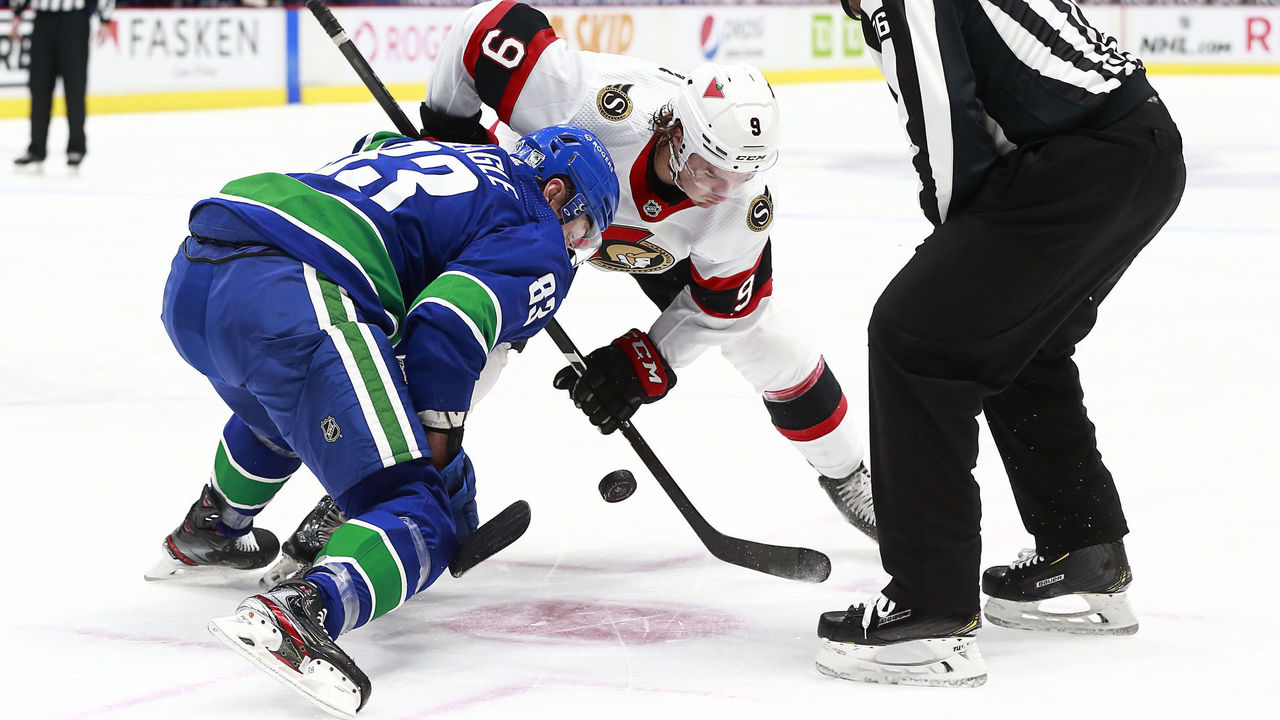 The faceoff circle is historically one area of the ice where rookies struggle.
Seriously, it seems like virtually all incoming centers get absolutely crushed on draws. It makes perfect sense, though. The faceoff is a learned mind game that also requires high baseline strength; rookies haven't been exposed to opponents' tendencies and aren't always fully mature physically.
Patrice Bergeron, Luke Glendening, Pierre-Edouard Bellemare, Claude Giroux, and Ryan O'Reilly own the highest faceoff win percentages among players who have taken at least 250 draws this season. They're all hovering around 60%.
Let's juxtapose each pivot's current faceoff percentage with their respective rookie rates: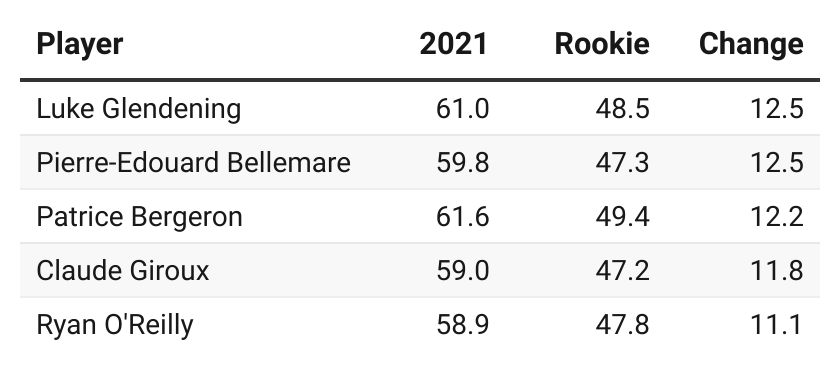 Those numbers make Josh Norris look like a faceoff savant. The Ottawa Senators rookie has won 333 of 631 draws (52.8%) this season, and though sample size shouldn't be forgotten when considering the 21-year-old's rate through 49 games, the early returns are a boon for Norris and the rebuilding Sens.
Montreal Canadiens forward Jake Evans (49.8% on 327 draws) is the only other rookie punching above 48%. Eetu Luostarinen of the Florida Panthers (48% on 398), Gabriel Vilardi of the Los Angeles Kings (45.6% on 539), and Pius Suter of the Chicago Blackhawks (43% on 561) round out the eligible first-year players. Man, it ain't easy in the circle.
Tkachuk bros vs. Hughes bros
Time for a hypothetical scenario.
You run an NHL team and can have either the Tkachuk brothers or the Hughes brothers on your team immediately and for a significant period of time (let's say five years). Do you pick Brady and Matthew Tkachuk or Jack and Quinn Hughes?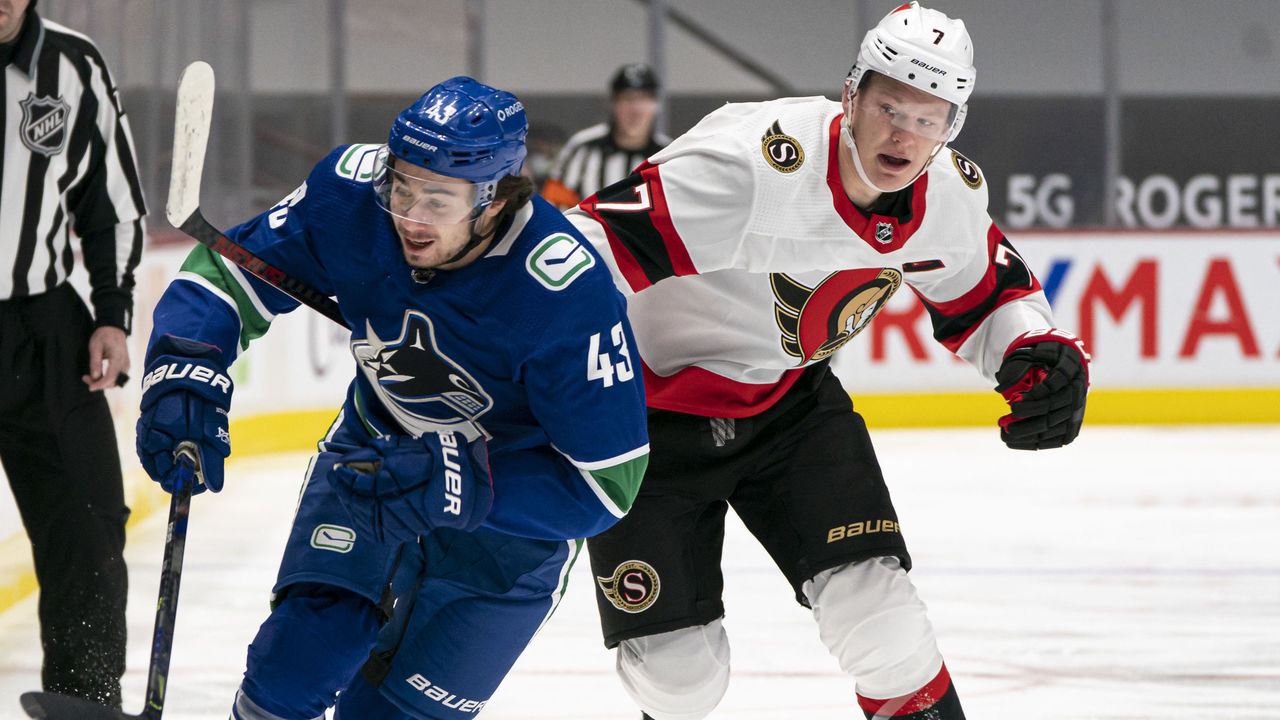 "I think I lean Tkachuk here," texted one member of an Eastern Conference team's front office (who, for the record, doesn't work for Ottawa or the New Jersey Devils).
"I don't know," he messaged again after mulling over the question for a minute. "It's a hard one to answer without knowing what team/core I have."
He continued: "Tkachuk brothers score OK. But they make an enormous impact analytically, and they make another huge impact that isn't measurable and is designed for (playoff) hockey.
"You have a lot more work to do if your hole is 1C/1D and have two elite wingers (like Brady and Matthew Tkachuk) ... If you can acquire an average core on top of those two, you're in great shape.
"If you have an average core in addition to the Hughes brothers, though, I'm not sure you're going on many (deep playoff) runs."
The insinuation is that while the Hughes brothers are supremely talented and fill premium roles - Jack a No. 1 center, Quinn a top-pair defenseman - the Tkachuk brothers' unique throwback style is more conducive to winning Stanley Cups. Still, there's no simple answer.
I also polled Twitter on this hypothetical. Of the 505 users who voted, 52.1% indicated they would take the Hughes combo, while 47.9% would take the Tkachuk duo. (I'm personally torn but would probably go with Team Hughes.)
Of course, this debate will be irrelevant in due time, with a third Hughes brother - Luke, an elite, draft-eligible blue-liner - entering the NHL soon.
3 parting thoughts
San Jose Sharks: It's another miserable year in Silicon Valley. The Sharks' overpaid veterans aren't living up to their contracts. Other players in the prime of their careers, like Timo Meier and Kevin Labanc, aren't popping as they should. The next wave of players doesn't have a particularly high collective ceiling, either. It might be time to bid farewell to GM Doug Wilson, who's been on the job a whopping 18 years. Something has to give, and firing another head coach won't be enough.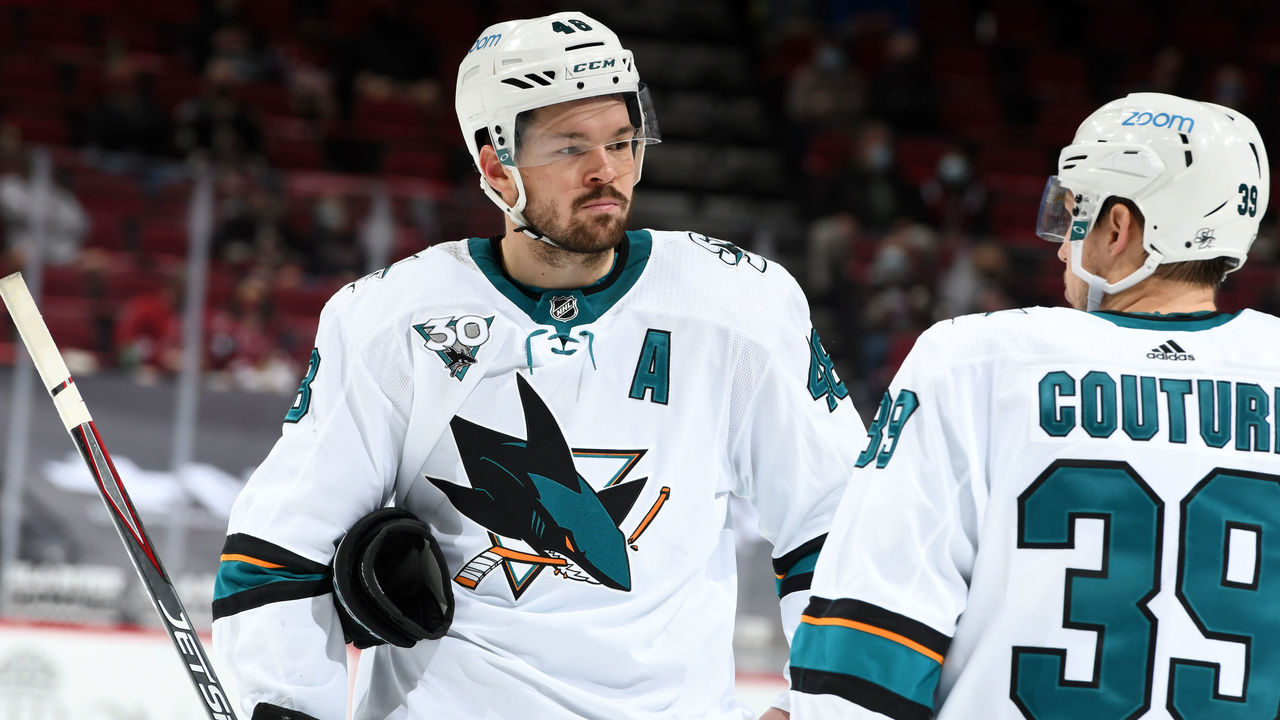 Calder Trophy: Props to Jason Robertson of the Dallas Stars for a stellar season, but, in my opinion, Kirill Kaprizov remains the front-runner for rookie of the year. The Minnesota Wild phenom is basically neck-and-neck with Robertson in points per game despite skating with inferior linemates (Victor Rask and Mats Zuccarello versus Joe Pavelski and Roope Hintz), and he's legitimately changed Minnesota's trajectory as a franchise. And enough with the "Kaprizov's old" nonsense. At 24, he qualifies for the award; end of story.
Jared McCann: It's nice to see McCann finally burying a bunch of goals with that lethal shot of his. He's up to 13 tallies in 37 games this season after campaigns of 19 in 78 and 14 in 66. Going back to his junior days, McCann's shot has always been his calling card. Sometimes it takes lining up with an elite playmaker (Crosby on the Penguins' power play, for example) to break through. I'm anxious to see if this momentum affects the 24-year-old's career arc.
Takes, Thoughts, and Trends is theScore's monthly hockey grab bag.
John Matisz is theScore's senior hockey writer. You can follow John on Twitter (@MatiszJohn) and contact him via email (john.matisz@thescore.com)
Comments
✕
McAvoy rising to the occasion, saluting Perron, and Tkachuk vs. Hughes
  Got something to say? Leave a comment below!