Kaleb Dahlgren lives big: How a Humboldt crash survivor found solace
Andre Ringuette / NHL / Getty Images
The buzzer at the hospital entrance sounded a little after 10:30 p.m. Visiting hours had ended for the night, stranding an NHL legend at the locked door. But it was April 2018, the month of the Humboldt Broncos bus crash, and Joe Sakic didn't want to leave Saskatchewan without seeing Kaleb Dahlgren.
At a dinner for Broncos families earlier, Sakic had heard that the alternate captain who'd suffered a severe brain injury and skull and vertebrae fractures was a childhood fan. Sakic's flight was to leave Saskatoon the next morning, so he found Dahlgren's father Mark to arrange a late drop-in. He rode shotgun to the hospital in the Dahlgren family SUV and, once there, helped Mark sway the wary receptionist. Her husband, it turned out, admired Sakic, too.
In Dahlgren's room in the rehab wing that night, Sakic broke down the secrets of his wicked wrist shot, the release that powered so many of his 625 career NHL goals. They spoke about his leadership philosophy as a captain and a general manager. Then Sakic brought up the winter of 1986, when in the midst of his breakout season with the major junior Swift Current Broncos, he survived a bus accident that killed four teammates. Dahlgren needed support to heal, and Sakic had advice on how to carry on: Strive to live fully to honor those 16 friends he lost.
"His message really sat with me," Dahlgren recently told theScore. "(The crash) happened in the past, and now it's what you do moving forward. That helped me reframe my mind toward controlling the things I can control. I couldn't control the crash. I couldn't control who's not here. But I could control how I respond to it."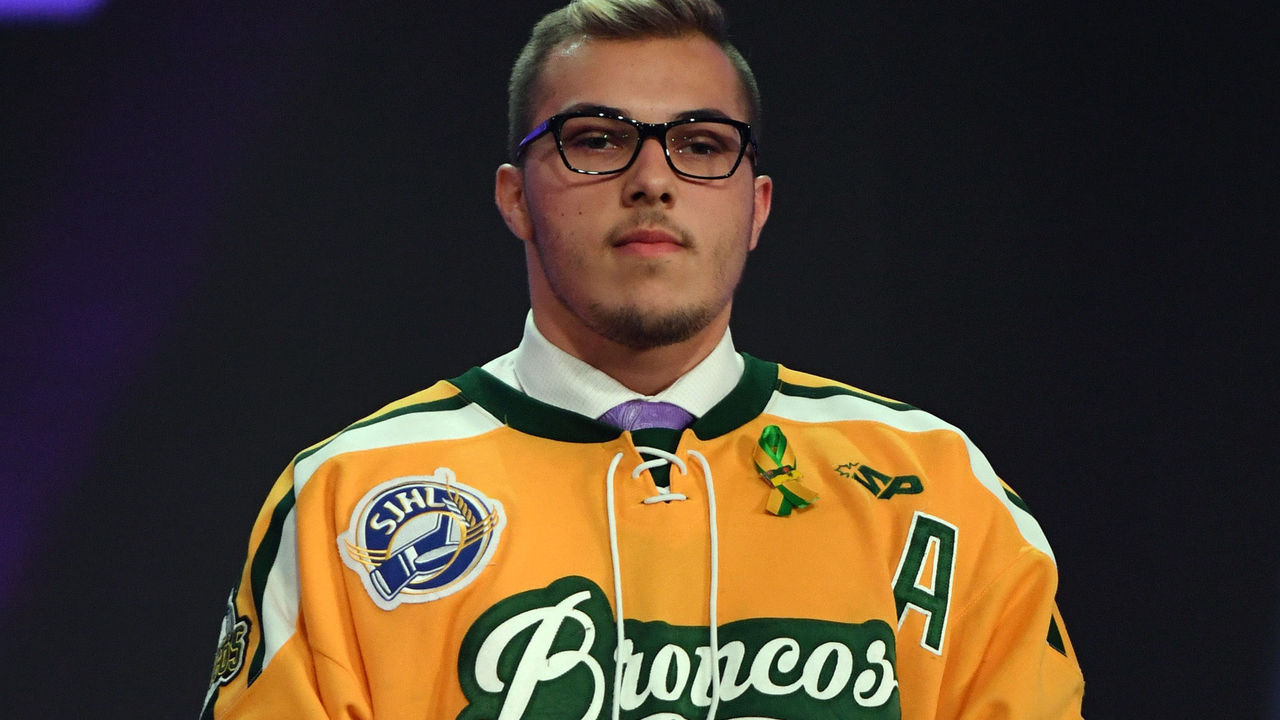 Dahlgren, 23, is the author of a memoir published in hardcover Tuesday. "Crossroads: My Story of Tragedy and Resilience as a Humboldt Bronco," inescapably chronicles the impact, literal and figurative, of April 6, 2018, when 29 players and team personnel set out for a Saskatchewan Junior A road playoff game they would never reach.
A couple of caveats apply. Dahlgren's memoir, he emphasizes, isn't the definitive story of the 2017-18 Broncos team for which Canada and the hockey world mourned, but "one of the 29." And "Crossroads" spans much more than the season he spent in Humboldt, though that year was formative and precious. His is a story of gratitude and hope, of braving sorrow and managing Type 1 diabetes, of the delight and belonging that Dahlgren still finds in hockey even as his brain injury continues to prevent him from playing.
It covers the totality of a young life scarred by trauma, animated by the ambition to help people, and preserved by the care of paramedics from the STARS air ambulance service to which Dahlgren is donating some of the proceeds from his book.
"They saved lives on April 6," Dahlgren said. He added: "A second chance at life literally is life-changing."
Hockey, Dahlgren writes in his book, was a childhood fulcrum that also introduced him to grief. In 2010, a car accident claimed the life of his 13-year-old teammate Brock Pulock. The next year, Dahlgren's Saskatoon strength coach, Chad Martin, died of brain cancer at 37. During the 2013-14 season, when Dahlgren left home to play midget AAA elsewhere in Saskatchewan, his dad was hospitalized with a rare liver disorder that sapped his muscle mass and prompted Dahlgren to rush home by car after a road game for fear his father wouldn't survive.
These trials shaped Dahlgren's perspective on handling loss. After the crash, grief overwhelmed him and returned in waves, but he also felt thankful he'd shared a close bond with the deceased. The onus was on him to live big in their light, a favored metaphor of his dad's. Caring gestures helped brace him, be it the sight of sticks on porches nationwide or encouragement from hockey luminaries, Sakic among them.
In spring 2018, Dahlgren's visitors at the hospital in Saskatoon included Connor McDavid, Ryan O'Reilly, Ron MacLean, and Hayley Wickenheiser, who posed for a photo in his No. 16 jersey. Glen Gulutzan and Todd McLellan, then the head coaches of the Calgary Flames and Edmonton Oilers, respectively, stopped by together; McLellan said if Dahlgren's recovery progressed, he'd invite him to training camp to skate on a line with McDavid. (The opportunity never materialized, though Dahlgren quips it was for the best: "He's pretty fast, and I'm pretty slow.")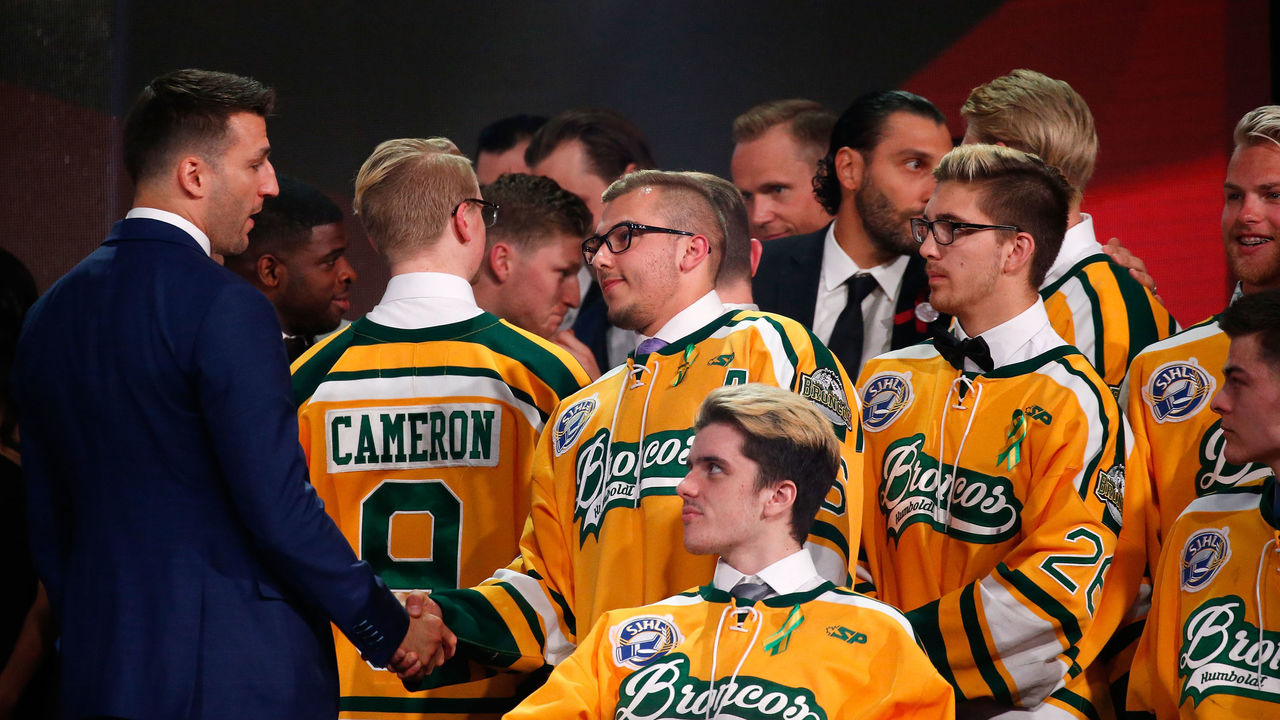 Anze Kopitar, the Los Angeles Kings captain, mailed Dahlgren his signed jersey and a T-shirt emblazoned with a rallying call: "Enjoy the Grind." Dahlgren embraced the mindset. When he was diagnosed with Type 1 diabetes at age four, pinpricks, glucose checks, and frequent snacks became as essential to his daily reality as the pursuit of high-level hockey. In 2018 and 2019, Dahlgren applied discipline and optimism to his physical rehab, seeking joy in the slog to rebuild his strength even as MRI scans revealed 10 lesions on his brain.
Doctors deemed it miraculous the bleeds didn't impair his memory, mobility, or speech. Once his fractures healed, he was able to move through the world as usual, except that he couldn't take contact on the ice again.
Dahlgren signed in 2018 to play for Toronto's York University, where for three years now he's studied commerce and handled all manner of jobs for the varsity squad. He joined the school's athletics council. He ran community events, weightlifting sessions, and on-ice skills drills. He peppered the club's goalies with shots and helped fortify the program's future, creating a multimedia recruiting handout to send to prospective commits. He met or video-called with several Canadian Hockey League grads who also wound up picking York.
"Hockey's not just playing the game on Friday and Saturday. It's about the practices. It's about the workouts. It's about team-building. It's about the culture in the dressing room," Dahlgren said. "That really helped me in the process of healing: still being involved with the team, still having an impact."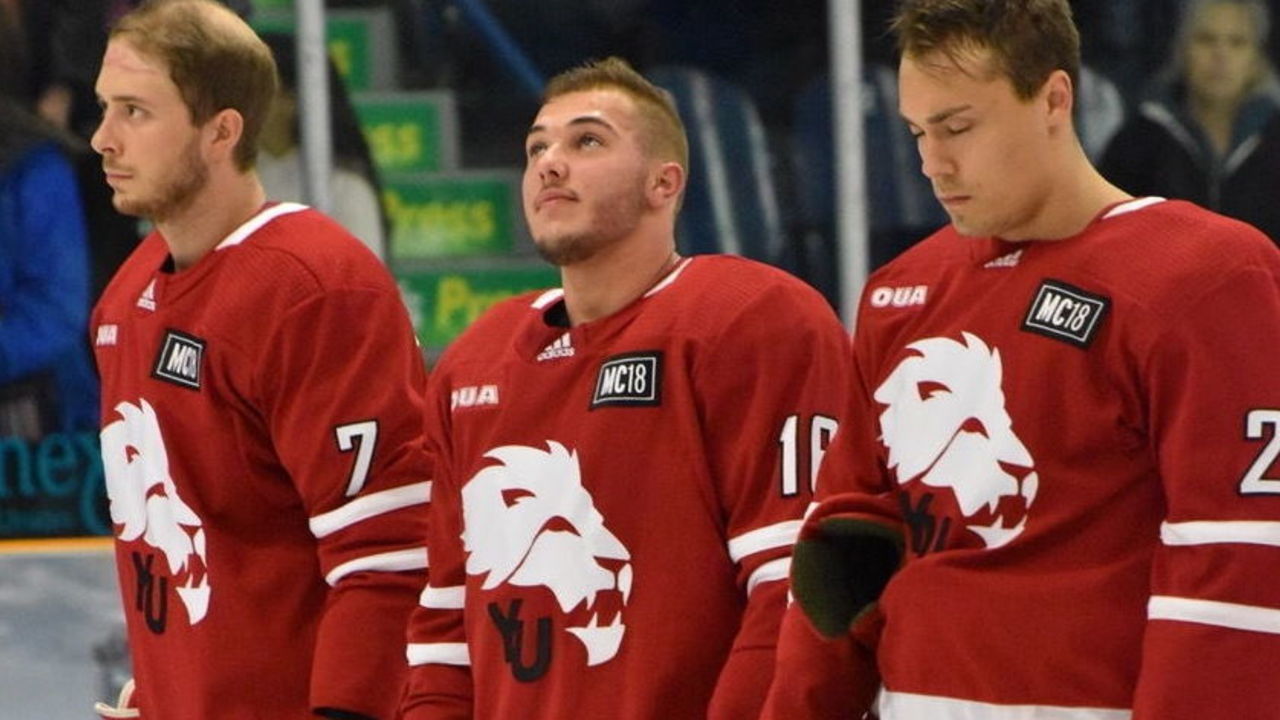 Accepting that he won't play again meant seeing a bigger picture, which Dahlgren has pondered for the last 12 months at home in Saskatoon. The coronavirus pandemic nixed York's 2020-21 hockey season and shifted Dahlgren's classes online, and now he's a month from graduating. He has specific and simple aspirations for the future: become a chiropractor, maybe open a sports practice, be there for his wife and kids, be happy.
Having grown up without a visible diabetic role model - Bobby Clarke was long retired, while Max Domi is practically his age - flourishing with his condition matters to Dahlgren, too.
When he was 20 and playing Junior A in 300-person Wilcox, Saskatchewan, he requested a trade to a bigger market where he could form an advocacy group for children with the disease. Dahlgren's Diabeauties launched in Humboldt, a platform for the message he wanted to relay widely. Doubts can be dispelled and dreams realized with diabetes, he said, so long as the person manages the disease, and not vice versa.
"Every day won't be a perfect day," Dahlgren said. "But there are always good days."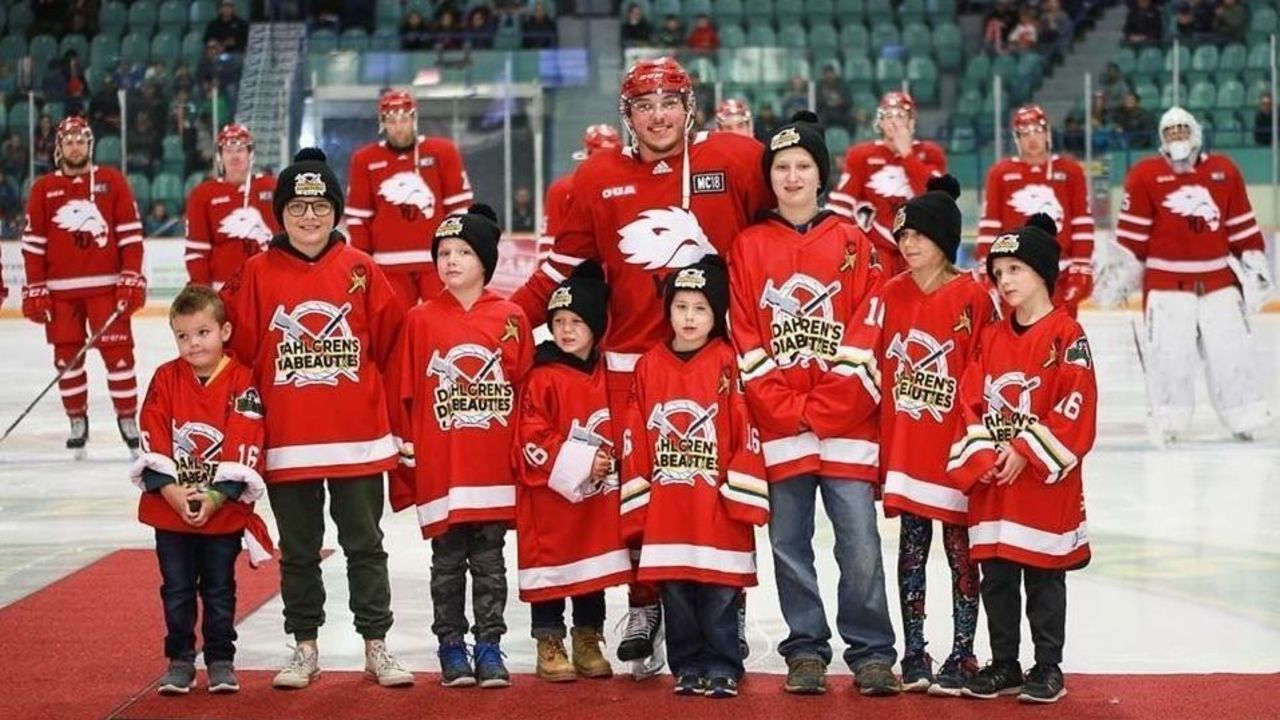 The Humboldt chapters of "Crossroads" double as a tribute to his fellow passengers on the bus, the 12 who survived - dispersed across Canada and the U.S., they still text in a group chat and hope to get together later this year - and the 16 who Dahlgren remembers daily "in the best light possible." Their personalities imbue him with purpose, pushing him to be his best self.
In the book, Dahlgren describes Logan Boulet, the defenseman who famously inspired a spike in organ donations across Canada, as contagiously selfless. He recalls how Dayna Brons, the trainer who treated his spate of shoulder, wrist, and rib injuries in Humboldt, helped him feel comfortable opening up about pain. Goalie Parker Tobin spurred him to embrace his inquisitive side. Captain Logan Schatz got him to let loose a little. Head coach Darcy Haugan made sure he'd always prioritize family. Browsing NHL stats on his laptop recently, Dahlgren was reminded of Brody Hinz, the Broncos analytics guru who never was happier than when he was at the rink.
One foggy night in Humboldt, Dahlgren writes, he and the late defenseman Stephen Wack drove from their billet home in town to stargaze in a vast field. An astronomy buff, Wack had a phone app that situated constellations and the planets. They parked and stood for a while in the darkness, the expanse above them twinkling to the horizon.
Months after the crash, in downtown Saskatoon, Dahlgren found solace and an unexpected link to the Broncos at the riverbank beside the Broadway Bridge. The arched structure was commissioned in the early 1930s to create work amid the Great Depression - to uplift people in hard times, Dahlgren observed. He'd sit alone on rocks in the cool air, watching birds fly overhead as sunlight peeked through the clouds. The quiet soothed him, and the details were mesmerizing.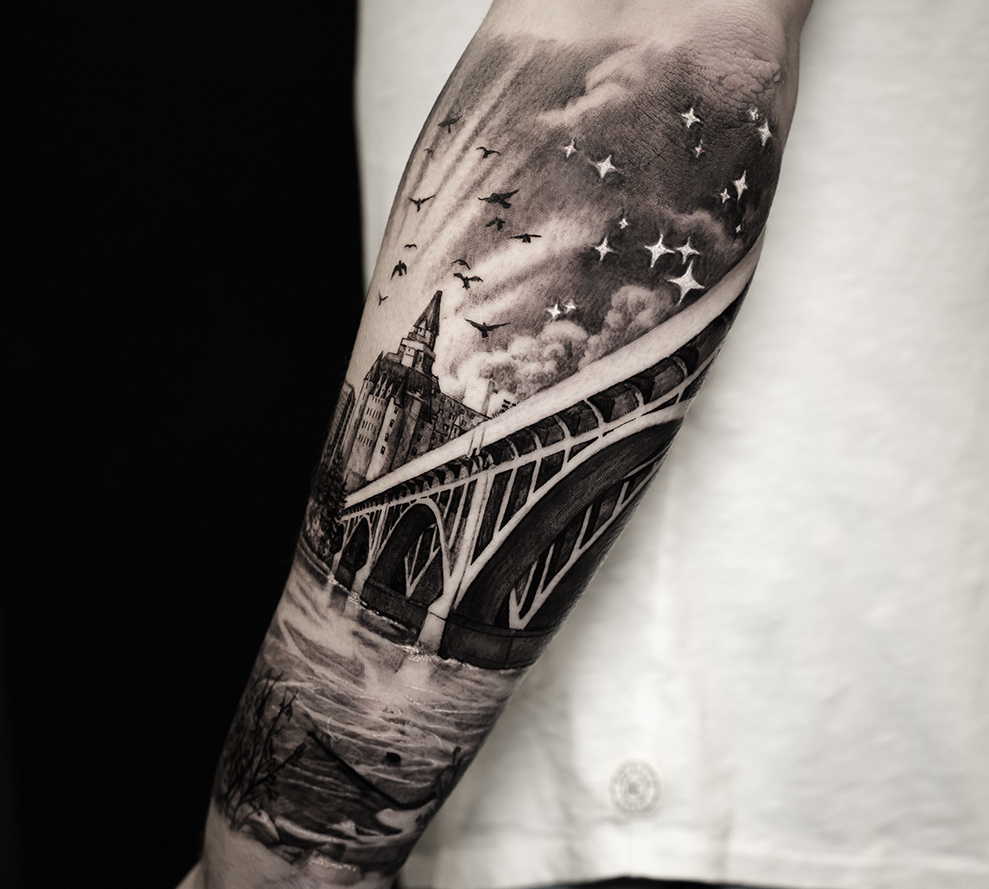 Eventually, he tattooed a version of this scene on his left forearm. Skate tracks line the frozen river below the bridge on his skin, and 13 birds soar in V formation into a sky that sparkles.
"Now I'm able to carry them on forever," Dahlgren said, thinking about his Humboldt team. "I have the birds and the light and the stars."
Nick Faris is a features writer at theScore.
Comments
✕
Kaleb Dahlgren lives big: How a Humboldt crash survivor found solace
  Got something to say? Leave a comment below!