McDavid's era-best stats, Necas' big breakout, and the Devils' saving grace
Kevin Sousa / Getty Images
Connor McDavid's elbow on Jesperi Kotkaniemi is top of mind right now - and rightfully so, he deserved a fine. But let's not get it twisted, hockey fans: What McDavid has accomplished this season, his sixth in the NHL, isn't diminished by one angry elbow.
McDavid has amassed 21 goals and 42 assists for 63 points in 37 games. He's nine points ahead of teammate Leon Draisaitl, the only other player so far to reach the 50-point mark. No. 97 isn't dining out on secondary helpers, either. No, McDavid ranks first in primary assists, with 28, and his 21 goals are just three back of Maple Leafs super sniper and buddy Auston Matthews.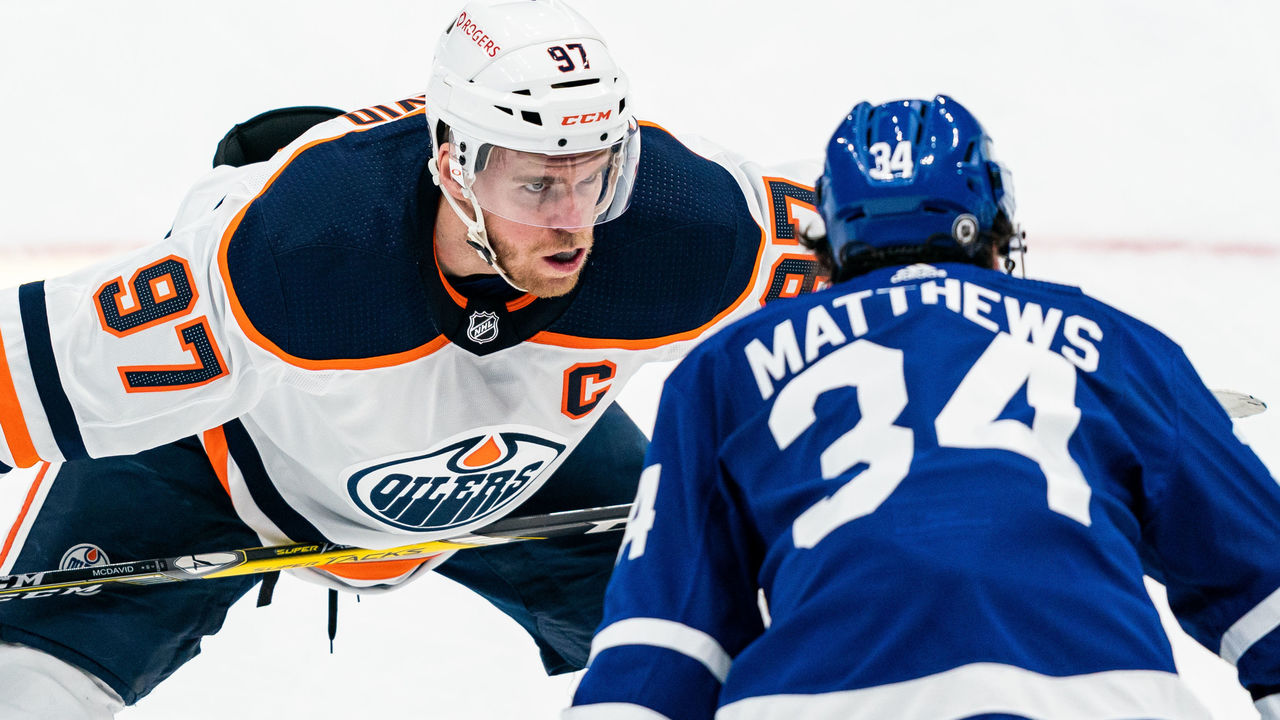 McDavid is on pace to replicate his 2016-17 awards haul, when he claimed the Art Ross, Hart, and Lindsay trophies. In fact, there isn't a logical Hart case to be made for anyone else. The 24-year-old has been the best and most valuable player - a man possessed. McDavid, the Oilers captain, skates for 22:19 a night, second among NHL forwards; he's collected a point on 52% of all Oiler goals; and Edmonton is primed to snag a North Division playoff spot.
McDavid's current points per game rate - 1.70 - is not only the highest of his career, but it's the highest of the entire salary-cap era, which began in 2005-06. Here's the list of cap-era players who have finished a season with 1.50 points per game or greater (minimum 37 games):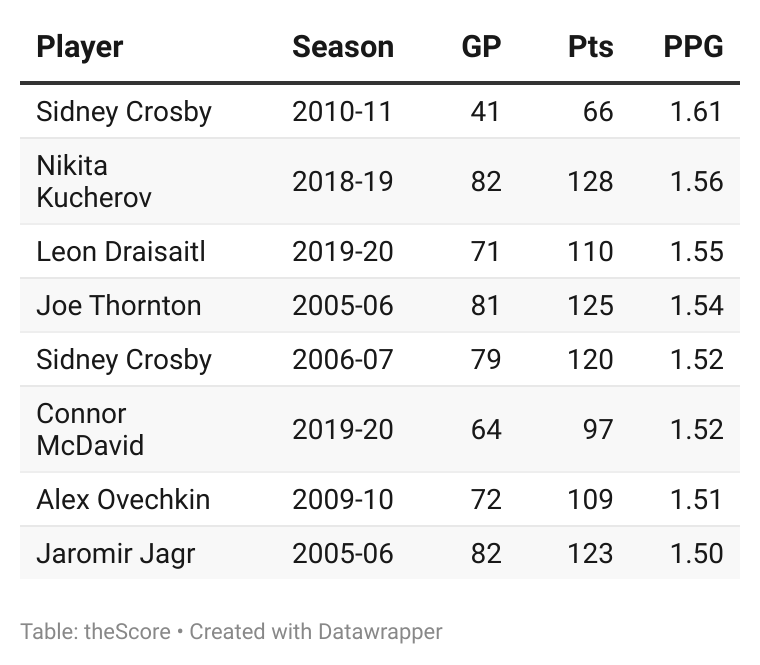 There are some McDavid-friendly variables at work. The 37-game sample size is relatively small, and the temporary North Division has been an offensive playground this season. We also can't ignore the impact of skating with another legitimate superstar like Draisaitl, who's been on the ice for 60% of McDavid's minutes.
Nevertheless, McDavid's producing at a rate that projects to 95 points over 56 games (which encompasses the rest of this season's schedule) or 139 points over a full 82 games. And it would be foolish to suggest McDavid won't challenge the 100-point mark this year - if he can stay healthy during the regular season's final six weeks.
The NHL trade deadline is approaching. You can bet Oilers general manager Ken Holland and his staff are debating the various scenarios with one consistent thought in the back of their minds: How do we maximize peak McDavid this season and for the five seasons remaining on his contract?
'Canes PP, Necas surging
The Carolina Hurricanes power play has been a juggernaut this campaign. In 107 power-play opportunities, the 'Canes have scored 32 times for a league-high 29.9% success rate. Last year, at 22.8%, they finished eighth in the NHL, which was still very good.
This year has brought next-level proficiency. Carolina is scoring 12.07 goals per 60 minutes on the power play, which is 2.24 goals better than second-ranked Tampa Bay.
"It's all personnel," head coach Rod Brind'Amour said earlier this week when asked about the driving forces behind the uptick. "I've been here for a long time, running the power play. I haven't really changed it from one year to the next too much. And yet, now, all of a sudden, it's, 'Oh, it's a good power play!'
"Well, we've been trying the same things for 10 years, you know? You get better players, and there's something to be said about guys that have been around each other now for a while, that chemistry, that kind of understanding of, OK, where are we going?"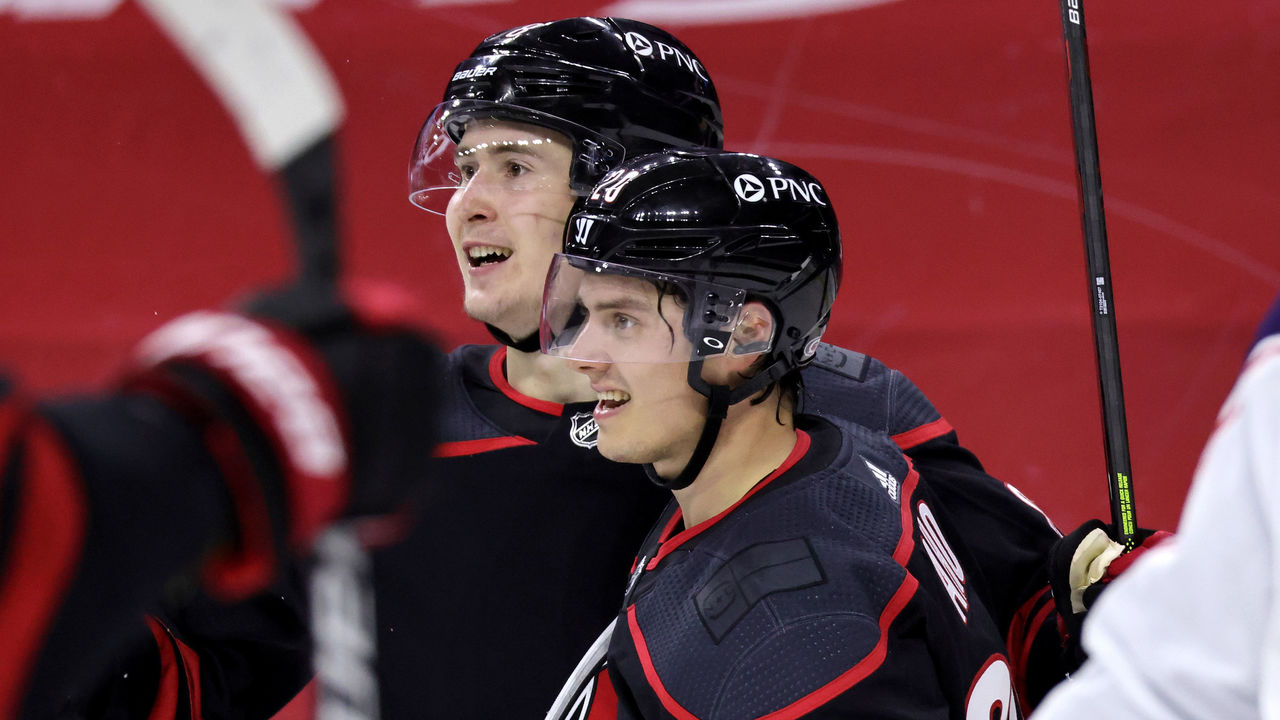 Quarterback Dougie Hamilton has collected a cool 14 power-play assists, while Vincent Trocheck leads all 'Canes in PP goals with six. Jordan Staal has bagged five, Sebastian Aho and Martin Necas both have four, and seven others have at least one tally. Everybody's pitching in.
In general, Necas is enjoying a breakout season, picking up 28 points in 31 games. The sophomore winger has become an essential member of the top power-play unit and is one of those "better players" at the coach's disposal.
"He's just blossoming and maturing," Brind'Amour said of the 12th overall pick in the 2017 NHL Draft. "The talent's always been there, but then you gotta figure out how to play. You take the video and the stuff that you get taught, and you go, 'Oh yeah, this does work …' And then you apply it to all that talent, and I think you're starting to see all of that kind of come together."
Carolina is tied with the Vegas Golden Knights for first in the NHL in standings points percentage. Frankly, the 'Canes are the Stanley Cup contender that media and fans aren't talking about nearly enough - especially since general manager Don Waddell has made it known he's looking for reinforcements ahead of the April 12 deadline.
Carrier's subtle impact
One of my favorite stats is penalty differential, which is a plus-minus rating for penalties drawn and taken. I find it provides a clearer picture of player discipline than raw penalty minutes. If a player is penalized a certain number of times but induces the opposition into committing infractions more often, that's a net-positive.
As of Thursday morning, Evolving Hockey's penalty differential leaderboard featured Nikolaj Ehlers alone at plus-15. McDavid, Brady Tkachuk, Conor Garland, and Johnny Gaudreau were next at plus-14. Jack Hughes is at plus-13; Kirill Kaprizov and William Carrier were at plus-11; and, to round out the top 10, Brayden Point and Elias Pettersson were at plus-10.
It's a list of nine offensive studs who frequently possess the puck … and Carrier, a 6-foot-2, 218-pound depth winger for the Vegas Golden Knights.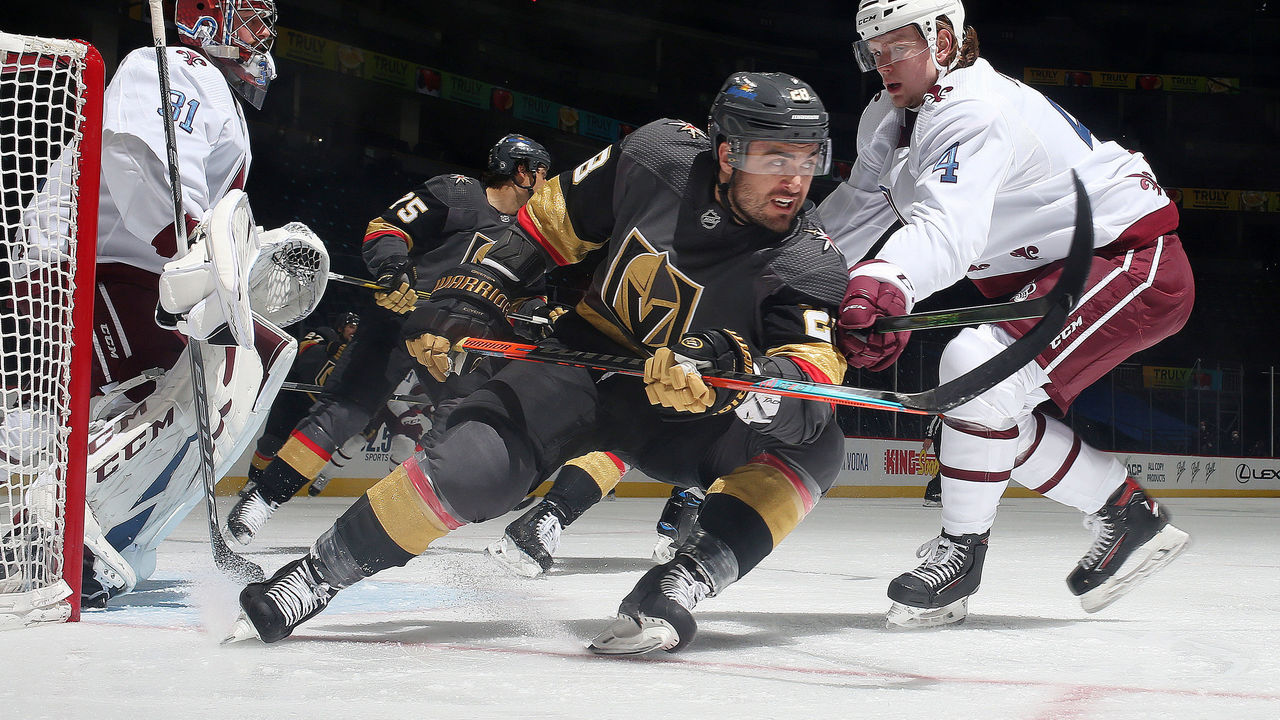 Carrier has taken five minor penalties and drawn 16 while averaging just 9:37 of ice time a night. What's more, two of those minors were assessed to him for delay-of-game infractions; he flipped the puck over the glass, and then he was picked to serve a team penalty after an unsuccessful coach's challenge.
So, really, Carrier has crossed the line just three times (high sticking, interference, hooking) and induced as many penalties as Gaudreau, Kaprizov, and Ehlers. Again, one of these players is not like the others.
Carrier has recorded two goals and three assists skating alongside Tomas Nosek and Ryan Reaves on Vegas' fourth line. It's a heavy, hard-forechecking line head coach Pete DeBoer lauds for their consistently disciplined play.
"Typically, when you've got intimidating players in the depth of your lineup, a lot of time the trade-off is, you know you're going to be taking minor penalties. And those guys don't," DeBoer said Wednesday of Reaves and Carrier. "Will, in particular, with his speed and his fearlessness with attacking holes on the ice, draws a lot of penalties 'cause his feet are always moving, and he's willing to go to those areas. The rest of our group can take a little bit of a page from that because I don't think we draw enough doing those things."
Player A vs. Player B
It never ceases to amaze me how seamlessly two wingers picked inside the top 10 of the 2014 NHL Draft have matched up over the past six-plus years.
Let's call them Player A and Player B for a moment.
Player A is listed at 6-foot and 191 pounds. Player B's the same height but 19 pounds lighter. Both are creative with the puck and possess dynamic skating abilities. Both broke into the league in 2015-16 and took a step back in 2018-19 but otherwise average roughly 60 points per 82 games. Both make a substantial amount of money - even relative to most of their peers - and are currently in the third year of long-term deals. That said, neither is the most talented or highest-earning player on their star-studded squads.
Player A's career average time on ice is 16:35. Player B's is 16:28. Player A has appeared in 343 games, 63 fewer than Player B's 406. That key discrepancy - games played - means the ideal way to compare their career production is to look at per-game stats. Let's see if they're in sync:

Like I said, amazing.
So who are they? Player A is the Leafs' William Nylander and Player B is the Jets' Ehlers.
Devils' two-headed saving grace
It isn't the sexiest storyline but props to the goalie tandem of Mackenzie Blackwood and Scott Wedgewood for keeping the New Jersey Devils afloat.
Corey Crawford's unexpected retirement put the Devils in a bind back in January. Blackwood, a 24-year-old still coming into his own as an NHLer, was supposed to share the starting load with Crawford, while the 28-year-old Wedgewood was slotted in as the No. 1 for AHL Binghamton. Both netminders were instantly elevated to more prominent and demanding roles.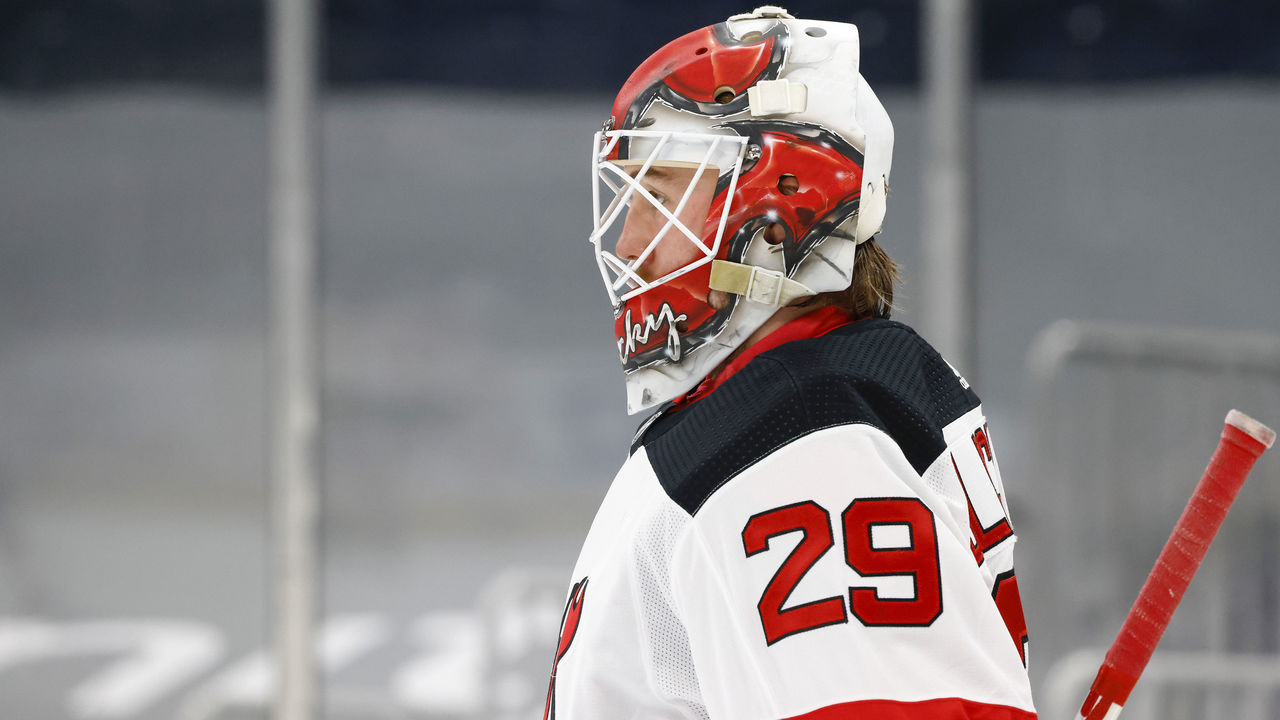 This season, Blackwood has posted a .911 save percentage in all situations and .919 at even strength through 20 games. Behind him, Wedgewood owns a .914 in all situations and .924 at evens in 11 appearances. Those aren't gaudy numbers. Yet consider New Jersey's team defense, which isn't exactly a world-beater, ranking 27th in shots against per game. In that context, Blackwood and Wedgewood have been more than good enough for the 13-16-5 Devils.
By design, rebuilding teams lose a lot. However, losing doesn't always have to be detrimental to the culture of the club. Competent goaltending tends to keep a group's collective head up because blowouts are minimized and the losing doesn't extend to depressing lengths, like Buffalo's 18-game disaster.
Keep in mind, too, that the Devils were off for the first half of February due to a COVID-19 spread within the team. Returning to the crease after a long break from stopping pucks would be difficult for any goalie, and Blackwood had it particularly hard as one of the players who experienced COVID symptoms.
3 parting thoughts
Trade market: If I'm the GM of a playoff-bound team looking for scoring, Taylor Hall is Plan B, C, or D. The former MVP's production has dropped off a cliff since leaving New Jersey in December 2019. Instead, one of Hall's ex-teammates, Kyle Palmieri, would be my primary target. The longtime Devil isn't having a banner year (eight goals in 33 games) but he has a long track record of recording 25-30 goals a season, carries a lower cap hit than Hall and would presumably command less in a trade, and also is on an expiring contract. The only question: Will GM Tom Fitzgerald re-sign him instead?
Nashville Predators: Don't get caught up in this mini-run, David Poile. The Preds GM should stick to the original plan of selling pieces ahead of the deadline. A Central Division playoff spot isn't guaranteed, and, even if one is secured, good luck in a first-round series versus Tampa Bay, Carolina, or Florida. Resetting the roster should be the top priority if Nashville wants to chase a Stanley Cup again in the medium term. The current group hasn't and won't get it done.
Carter Verhaeghe: The Florida Panthers have unearthed a gem in Verhaeghe, who is tied for second in the NHL in even-strength goals with 15 in 36 games. He's under contract with Florida for only $1 million per year through next season. I can't help but think of the Golden Knights' debut campaign and the type of performances we saw from William Karlsson and Jonathan Marchessault (ironically, former Panthers). Some players just need a team to believe in them, and Verhaeghe found a believer in Florida GM Bill Zito.
Takes, Thoughts, and Trends is theScore's monthly hockey grab bag.
John Matisz is theScore's senior hockey writer. You can follow John on Twitter (@MatiszJohn) and contact him via email (john.matisz@thescore.com)