The All-Nobody Team: 6 NHL players quickly becoming somebodies
Every NHL season offers players a chance to make a splash.
Roughly halfway through the 2020-21 campaign, there's been no shortage of obscure players assuming key roles on their respective squads. On any given night, a relative nobody has been causing fans outside their market to react to a wild highlight or statistic with some variation of, "Who's that guy!?"
Here, we've identified three forwards, two defensemen, and one goalie who have so far updated their NHL status from "nobody" to "somebody." To create structure, the player pool was limited to those who 1) were drafted after the second round, or not at all, and 2) entered the season with fewer than 500 regular-season minutes played.
(Tantalizing Wild forward Kirill Kaprizov technically qualifies within these parameters. However, we chose to exclude the well-hyped rookie since he was far from an unknown commodity coming into the year.)
Alright, let's get to the squad:
Carter Verhaeghe, Panthers, RW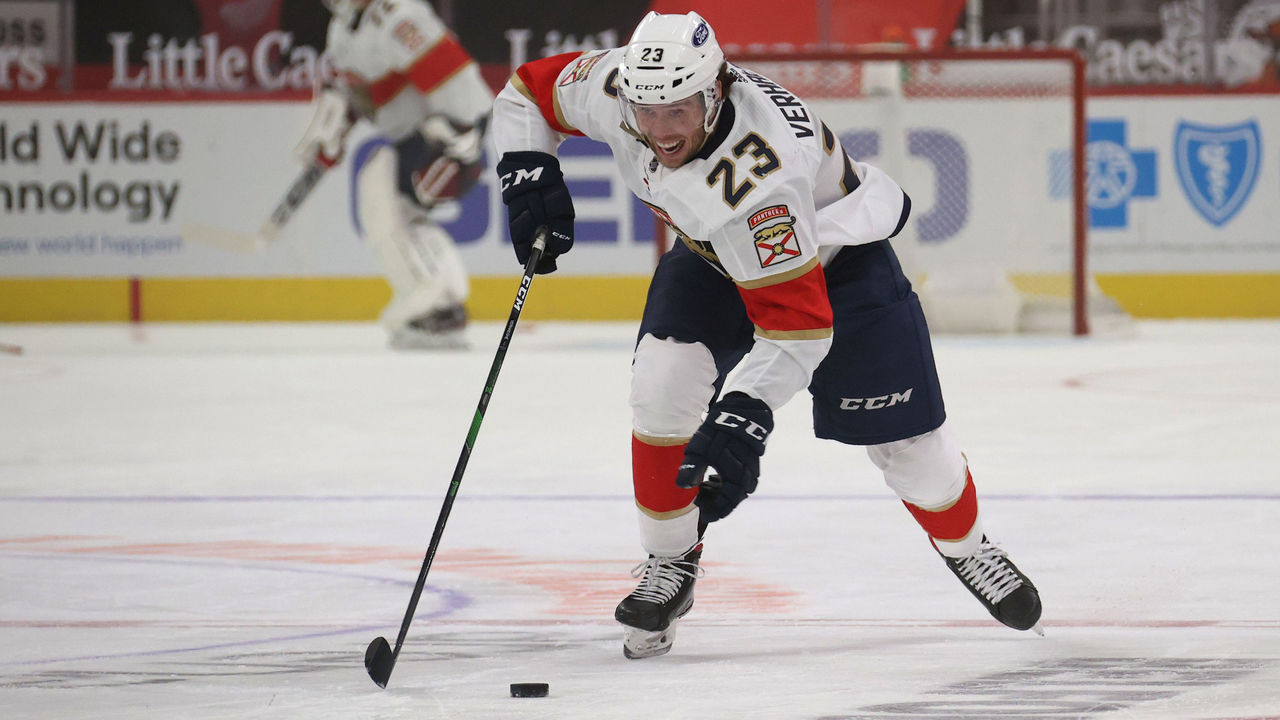 Whether it was GM Bill Zito, his scouting staff, his analytics staff, or all three, Florida's brain trust deserves a round of applause for the Verhaeghe pickup.
The club brought in the 2013 third-round pick this past offseason on a two-year, $2-million deal after the Lightning opted not to extend a qualifying offer to the forward. Tampa Bay, fresh off winning the Stanley Cup, had exceptional depth at the position and Verhaeghe was the odd man out amid a cap crunch.
The 25-year-old from Toronto has been a stellar sidekick to Aleksander Barkov in south Florida. Verhaeghe has amassed nine goals and nine assists in 26 games on Barkov's right wing, skating for an average of 17:25 per night. As an NHL rookie last year, he pitched in 13 points in 52 games on 9:22 of ice time.
Verhaeghe, who played 36 games in the ECHL and 211 in the AHL before making the jump, is a speedy puck hound with an above-average shot. It takes a certain type of player to mesh with the sport's best - think Zach Hyman of the Maple Leafs and Bryan Rust of the Penguins - and while it's still early, Verhaeghe appears to be that guy for Barkov.
"I didn't think he'd be on our top line. I didn't think we'd be getting that type of production (from Verhaeghe), to be totally honest," Panthers head coach Joel Quenneville told reporters a month ago. "At the same time, we liked the ingredients that he did bring to our team with quickness and perseverance."
Philipp Kurashev, Blackhawks, RW
You knew things were going well for the 21-year-old Kurashev when the Blackhawks shared this joyous image on social media in early February.
You knew things were going really well when Kurashev absolutely schooled the Red Wings en route to a gorgeous game-winning goal a week later. And you knew things were going really, really well when Kurashev fired the puck top corner during a shootout against the Lightning a few weeks after that.
Kurashev is clearly enjoying an eventful rookie season, contributing 10 points in 27 games. At even strength, Chicago's fourth-round pick in 2018 has been mainly lining up with reliable veterans Mattias Janmark and Carl Soderberg on the third line. He's also been used on the second power-play unit.
The kid's a bargain, too. The Blackhawks burned the first year of his entry-level contract by playing him in Rockford of the AHL in 2019-20. But he's got one more year left at an annual cap hit of $842,500.
Kurashev had a head start on the season, dressing in 13 games in the Swiss League before NHL training camp started. More fun facts: he represents Switzerland internationally but also has Russian citizenship; he played three years of Canadian major junior in Quebec City; he's fluent or close to fluent in four languages (English, German, Russian, and French).
Pius Suter, Blackhawks, C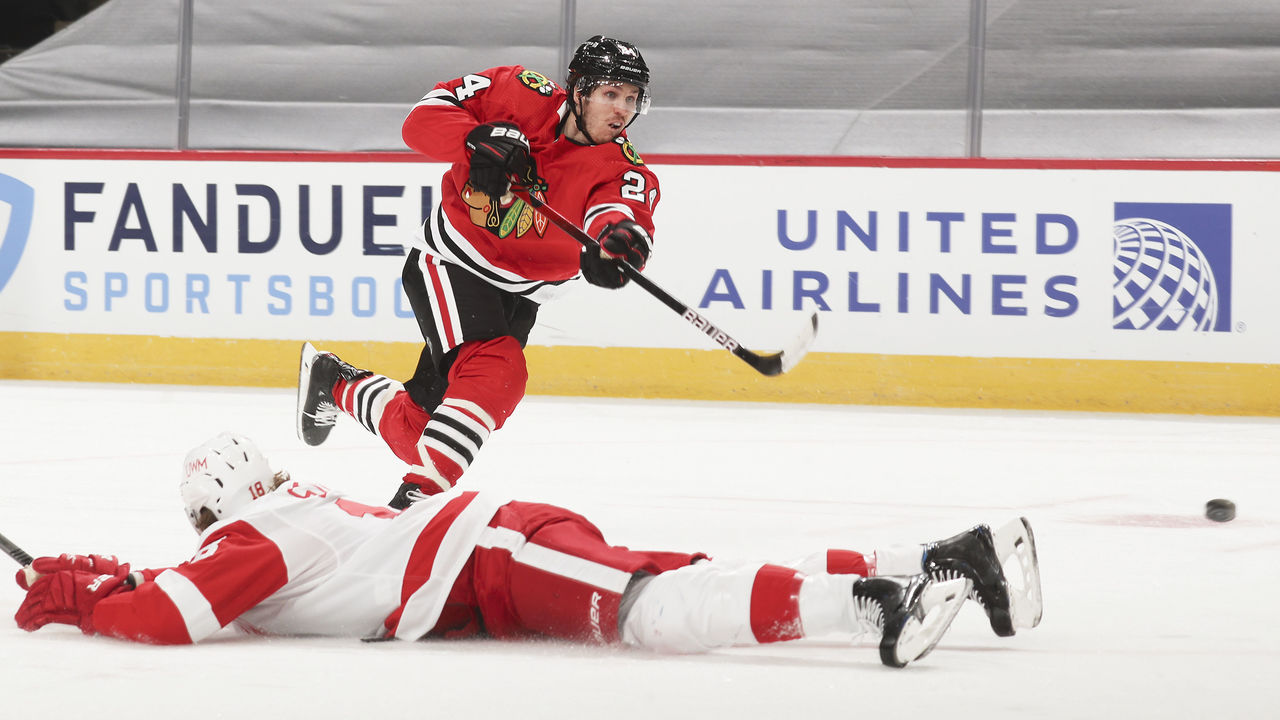 Suter is a combination of the two forwards listed above: He's riding shotgun to a superstar and being showcased by the resurgent 'Hawks.
Suter is currently second among NHL rookies in goals (eight), and his 13 points have him tied for fourth with first-year Stars forward Jason Robertson. Of course, it doesn't hurt that Suter is exchanging passes with Hart Trophy contender Patrick Kane and former 40-goal man Alex DeBrincat on Chicago's top line. He's averaging a healthy 16:26 of ice a night.
"Suter's just getting better and starting to familiarize himself with the NHL game," Kane told reporters last month. "He wins pucks back. He's driving the net really well and creating space for his linemates."
Suter went undrafted, was signed by the Blackhawks in July 2020, and didn't join the team until this January. The 5-foot-11 winger came over from Europe following five productive seasons in Switzerland's pro leagues and a strong showing at the 2018 Olympics, where he collected five points in four games.
It would be a stretch to declare Suter this year's Dominik Kubalik - considering the latter bagged 30 goals in 68 games alongside Kane as a rookie in 2019-20 - yet there's definitely an NHL future for the 24-year-old beyond his expiring entry-level deal. Suter's going to get paid.
Zach Whitecloud, Golden Knights, D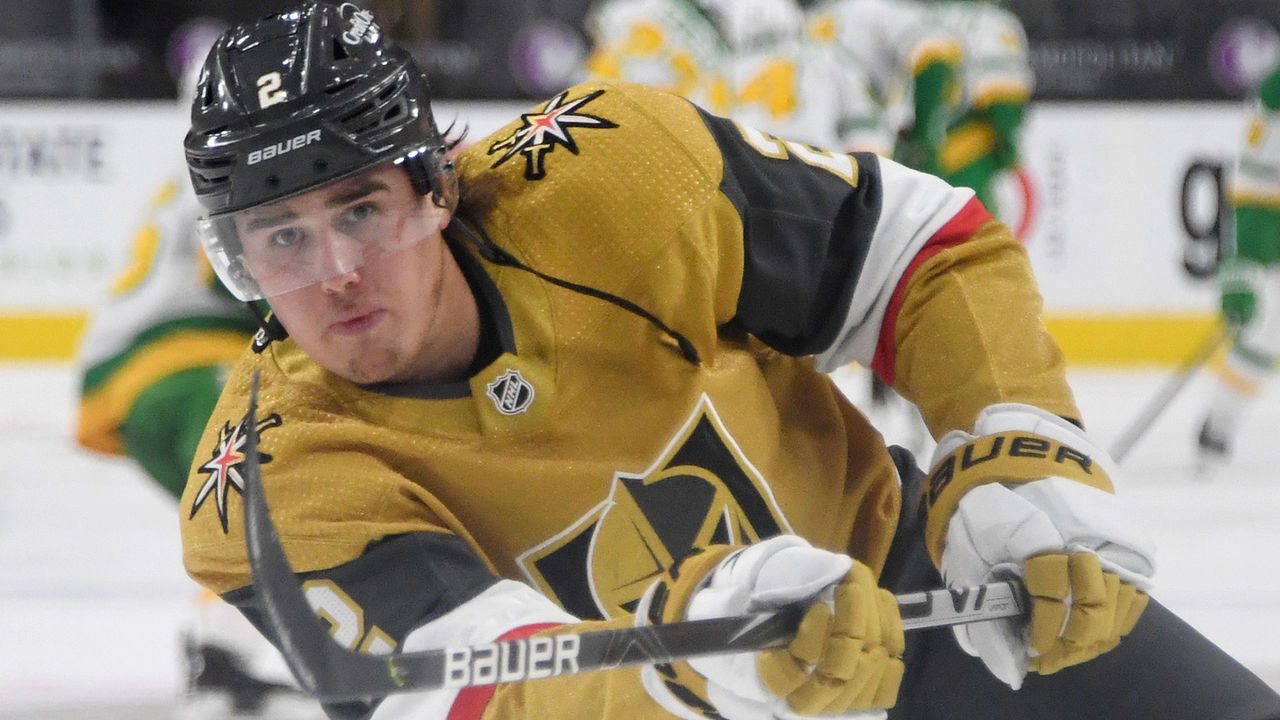 Whitecloud's stats - two goals and four assists - are modest. Below the surface, though, the 6-foot-2 right-hander is having a significant impact, especially on the defensive side. According to Evolving Hockey, his 1.55 goals against per 60 minutes of even-strength play is the 12th-best mark among 140 NHL defensemen who have played at least 300 minutes this season.
Whitecloud has actually appeared in three NHL seasons. The Brandon, Manitoba, native's first year featured just 17 minutes of action in one game, and last season he played only 229 minutes spread across 16 games.
The training wheels are officially off now. The undrafted 24-year-old from Minnesota's Bemidji State University has built off an impressive performance in the bubbled postseason, joining forces with fellow youngster Nic Hague on Vegas' second pairing.
Goal suppression is Whitecloud's bread and butter but he can also jump into the play. He showed flashes of his offensive skill set in two years of college and another two in the AHL, and at a $725,000 hit, he's exactly the kind of cheap labor a cap-strapped team like Vegas desperately needs.
Artem Zub, Senators, D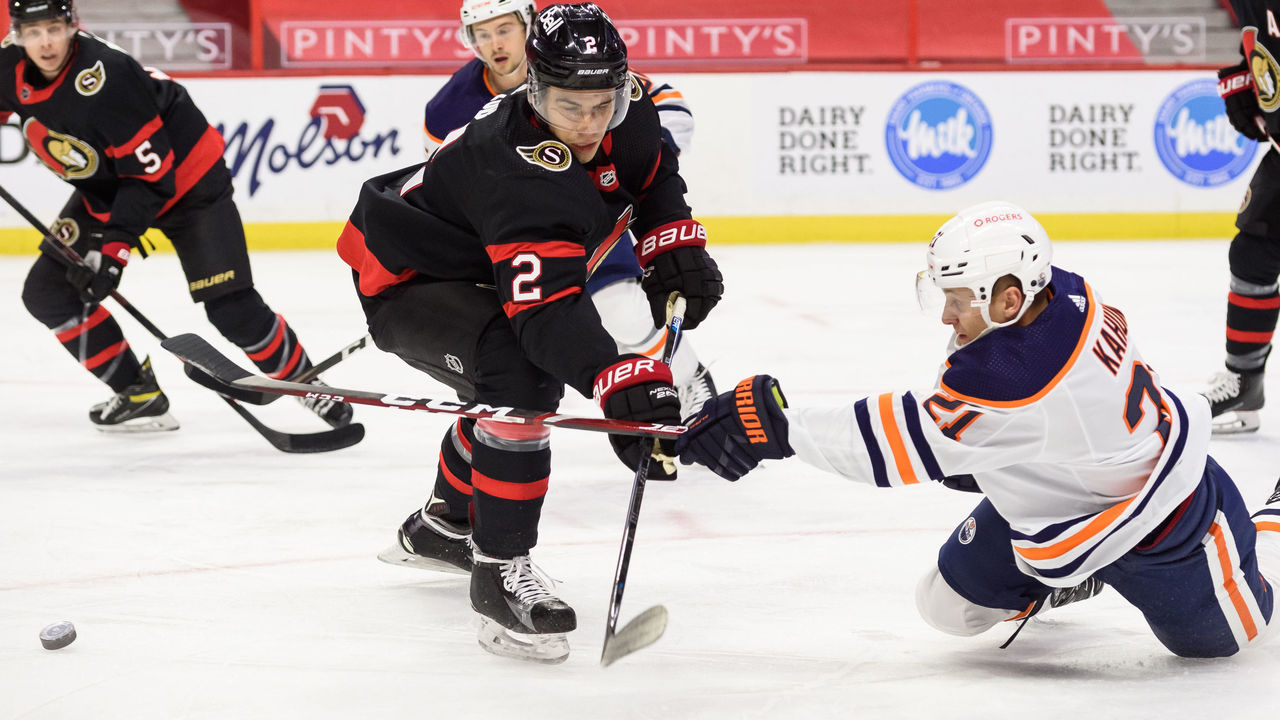 Beyond the fantastic name, Zub owns productive defensive metrics.
This table displays the leading defensemen in Evolving Hockey's GAR, or goals above replacement (a catch-all metric explained here):
The list is a weird mix of Norris Trophy-caliber blue-liners, second-pair guys, defensive stalwarts, and, randomly, Brendan Smith. Then there's Zub tied with Brett Pesce at 10th.
While GAR isn't a perfect stat, it does recognize the underlying effectiveness of certain players. Senators coach D.J. Smith is deploying Zub in a defense-oriented role alongside depth guy Mike Reilly, and the results are solid seeing as the North Division is filled with elite forwards.
Let's check out the HockeyViz.com heat maps that illustrate how Ottawa has fared defensively when Zub has been on the ice at even strength and shorthanded: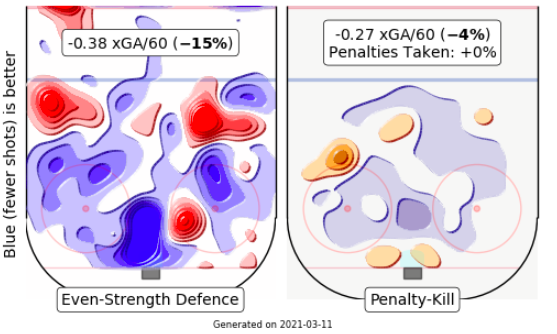 Blue/purple means low shot attempts against and red/orange means high shot attempts against. Put another way, the Senators are keeping the opposition away from the slot when Zub is patrolling the D zone.
Zub, who's 6-foot-2 and 198 pounds, has a boatload of high-level experience despite going undrafted. The 25-year-old rookie appeared in parts of six KHL seasons and also won a gold medal in 2018 with the Olympic Athletes from Russia. For Ottawa, he's pitched in six points in 21 games while making $925,000 on a one-year entry-level contract. Not bad.
Kevin Lankinen, Blackhawks, G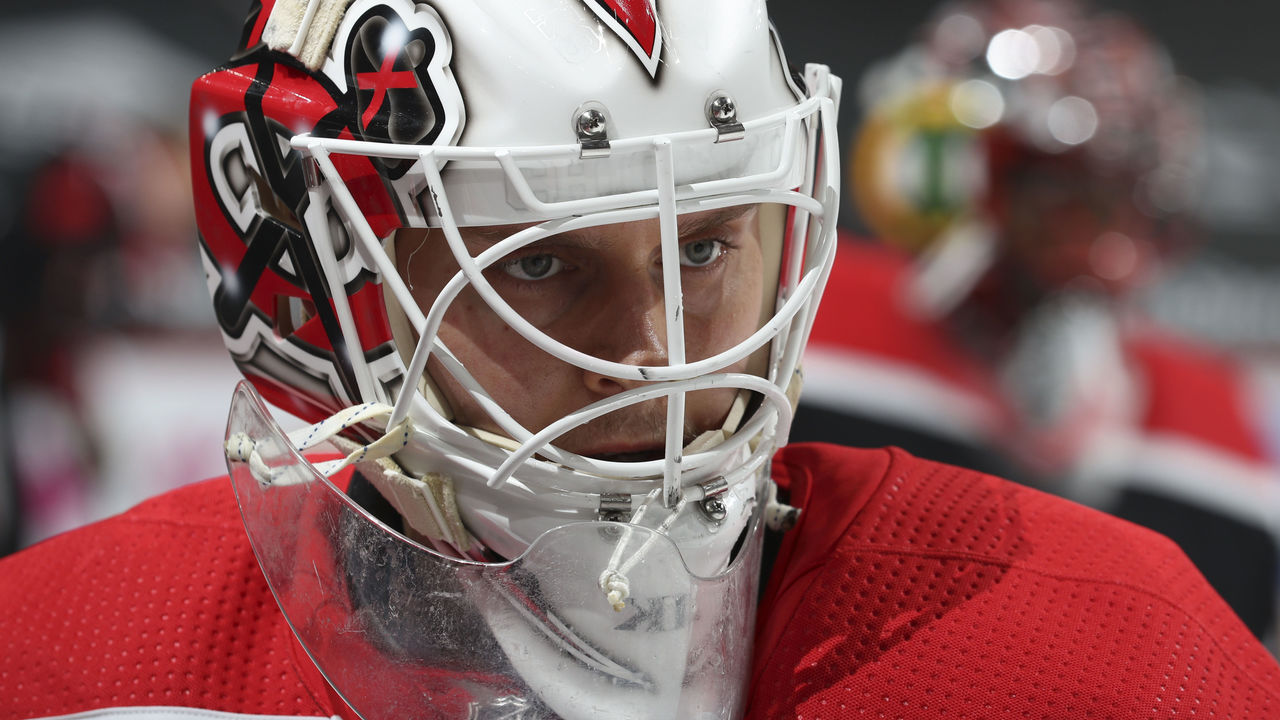 Rounding out the All-Nobody team is another undrafted Blackhawks rookie.
Lankinen is arguably the breakout star of the entire season. At 25, he's seizing his first opportunity at claiming an NHL net, owning a 10-4-4 record out of the gate. He's compiled a respectful .919 save percentage in all situations, and a gaudy .939 at even strength. If not for dominant runs from Andrei Vasilevskiy and Marc-Andre Fleury, Lankinen would be firmly in the Vezina Trophy discussion.
Some additional info on Lankinen: the Finn ranks fourth among all NHL goalies in goals saved above average with 8.02, according to Hockey Reference. He's earned 12 quality starts (which are awarded when a goalie stops more than the league's median save percentage) through his first 18 games, and he's an $800,000 cap hit in the first season of a two-year deal.
It was tempting to select Minnesota's Kaapo Kahkonen to fill this goalie spot, but Lankinen's robust body of work is a cut above and too good to ignore.
We'll come to see if these six players can sustain their success over the rest of the season and beyond. And at the team level, with the sample size growing, we'll find out if Chicago really has struck gold with these rookies.
John Matisz is theScore's senior hockey writer. You can follow John on Twitter (@MatiszJohn) and contact him via email (john.matisz@thescore.com).
Comments
✕
The All-Nobody Team: 6 NHL players quickly becoming somebodies
  Got something to say? Leave a comment below!