In praise of Fleury, handicapping the Vezina, and the NHL's worst contracts
Ethan Miller / Getty Images
Among the handful of major NHL awards handed out each year by a voting body, the Vezina Trophy tends to be the most predictable and straightforward.
Historically, Vezina voters - the league's general managers - have valued three main things: a heavy workload, winning, and a strong save percentage. Every Vezina winner in the past 10 non-lockout seasons has started at least 53 games, won at least 31 games, and owned a save percentage of at least .922.
That said, the uniqueness of this season calls for some mental gymnastics.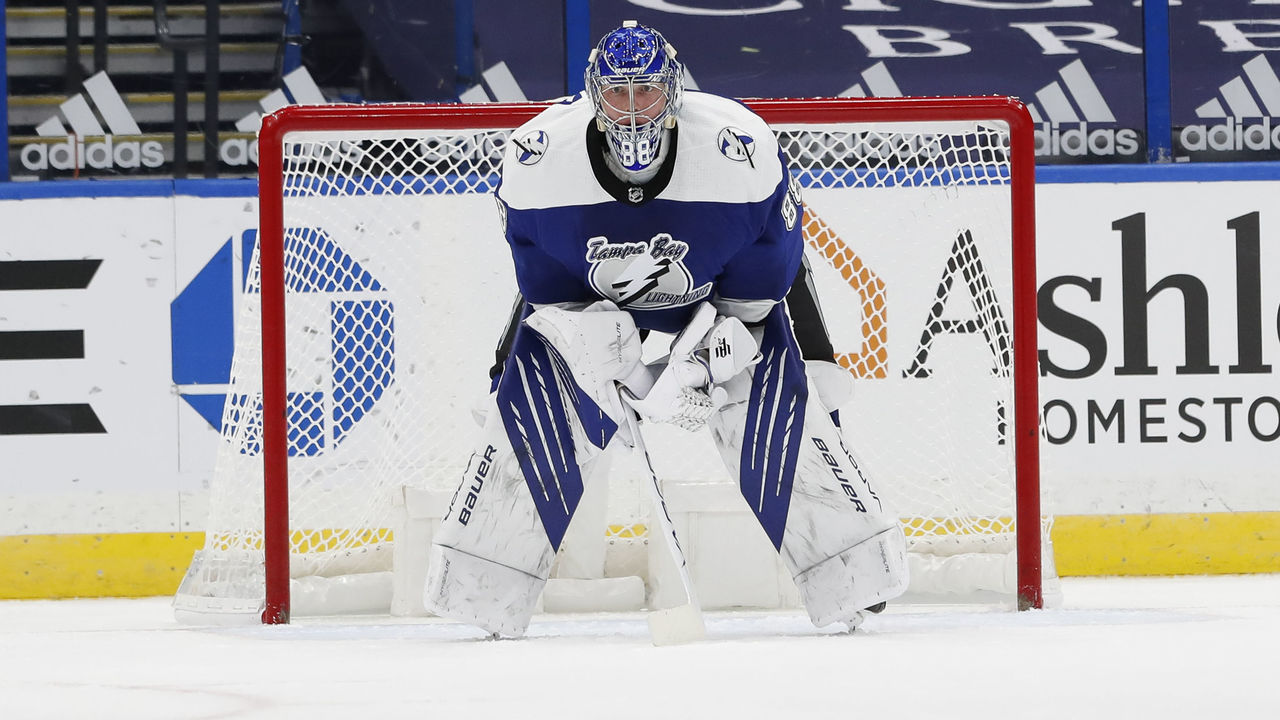 Teams are playing just 56 regular-season games, and coaches are giving extra starts to the backup in many instances to better tackle the condensed schedule. What's more, the league-average save percentage has dipped under .910 for the first time in 12 seasons while goalies exclusively face shooters from their division.
Do the GMs simply prorate their usual criteria? Or, do voters, on aggregate, adopt a more nuanced approach to the "best goalie of the year" debate?
Tampa Bay's Andrei Vasilevskiy, Vegas' Marc-Andre Fleury, Chicago's Kevin Lankinen, Florida's Chris Driedger, and the Islanders' Semyon Varlamov are all popping off the page this season.
Here's each netminder's baseline statistics and how they rank among the 29 goalies who have started at least 10 times through Thursday night's action:
| GOALIE | STARTS | WINS | SV% | EV SV% |
| --- | --- | --- | --- | --- |
| Vasilevskiy | 15 (t-6th) | 11 (t-1st) | .935 (2nd) |  .942 (2nd) |
| Fleury | 11 (t-21st) | 8 (t-8th) | .942 (1st) |  .943 (1st) |
| Lankinen | 14 (t-11th) | 8 (t-8th) | .921 (6th) |  .937 (3rd) |
| Driedger | 10 (t-24th) | 7 (t-12th) | .928 (t-3rd) | .927 (6th) |
| Varlamov | 14 (t-11th) | 9 (t-3rd) | .928 (t-3rd) |  .931 (4th) |
Let's dig deeper to account for shot quality, seeing as no two team environments are exactly the same. (Case in point: The Blackhawks' loose defensive structure is in stark contrast to the Islanders' lock-it-down style.)
Here's a breakdown of the same five goalies in the key categories of goals saved above expected (GSAx) and goals saved above average (GSAA) from Evolving Hockey:
| GOALIE | GSAx | GSAA |
| --- | --- | --- |
| Vasilevskiy | 11.84 (1st) | 11.67 (1st) |
| Fleury | 8.23 (2nd) | 10.06 (2nd) |
| Lankinen | 3.45 (4th) | 6.26 (4th) |
| Driedger | 2.32 (6th) | 6.16 (5th) |
| Varlamov | 3.27 (5th) | 8.67 (3rd) |
Vasilevskiy, the award's 2018-19 winner, appears to grade out the best based on what's presented above, though Fleury - who hasn't seen the crease quite as often as Vasilevskiy - carries great intrigue. He has gaudy stats and a tidy narrative. Fleury has never won a Vezina despite sitting fifth all time in goalie wins, so the affable 36-year-old is about as "due" as they come.
Meanwhile, Lankinen is building a convincing case for the Calder Trophy, Driedger is outduelling partner Sergei Bobrovsky in a big way, and Varlamov is playing arguably the best hockey of his career on a 10-6-3 Isles club.
Keep an eye on Colorado's Philipp Grubauer, Los Angeles' Cal Petersen, and New Jersey's Mackenzie Blackwood as the season chugs along. All have been fantastic so far, too, and could soon challenge the other five.
At any rate, good luck with this one, GMs. I don't envy you.
Fleury's resilient - again
Speaking of Fleury, he's managed to reclaim the Golden Knights' net following a bubbled postseason in which he appeared in only four of 20 games.
Remember, Fleury was also at the center of a firestorm set off by his own camp. (You may remember Fleury's agent tweeted an image depicting his client being impaled by a sword labeled "DeBoer," as in coach Pete DeBoer.) In the offseason, it felt like Fleury's name was constantly in the rumor mill.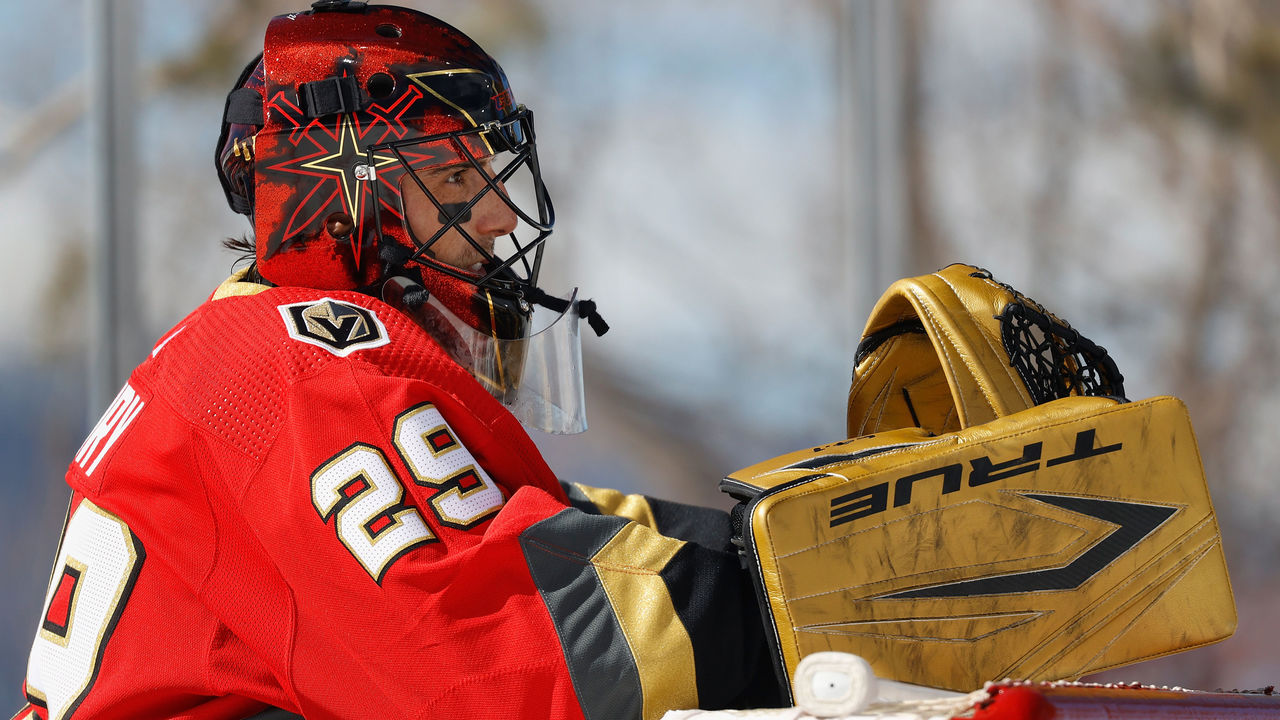 The early-season bounce back is impressive, and it reminds me of a conversation with Pascal Vincent, Fleury's Quebec junior coach.
Back in early 2004, Vincent watched a young Fleury struggle with "more than a few weeks" of confidence issues. Fresh off an all-time gaffe at the world juniors, the Pittsburgh Penguins returned Fleury - the 2003 first overall pick - to Vincent's Cape Breton Screaming Eagles following 22 NHL games.
"He's wearing the Team Canada jersey and he wants to win the gold, and even though you win as a team and lose as a team, he felt responsible, and that crushed him," recalled Vincent, who's now the head coach of the Winnipeg Jets' AHL affiliate.
Fleury, then 19, was so down he told Vincent he didn't believe he was as talented as the lesser-known junior goalies. The coach countered with a pearl of wisdom: that one moment won't define your career - unless you allow it to.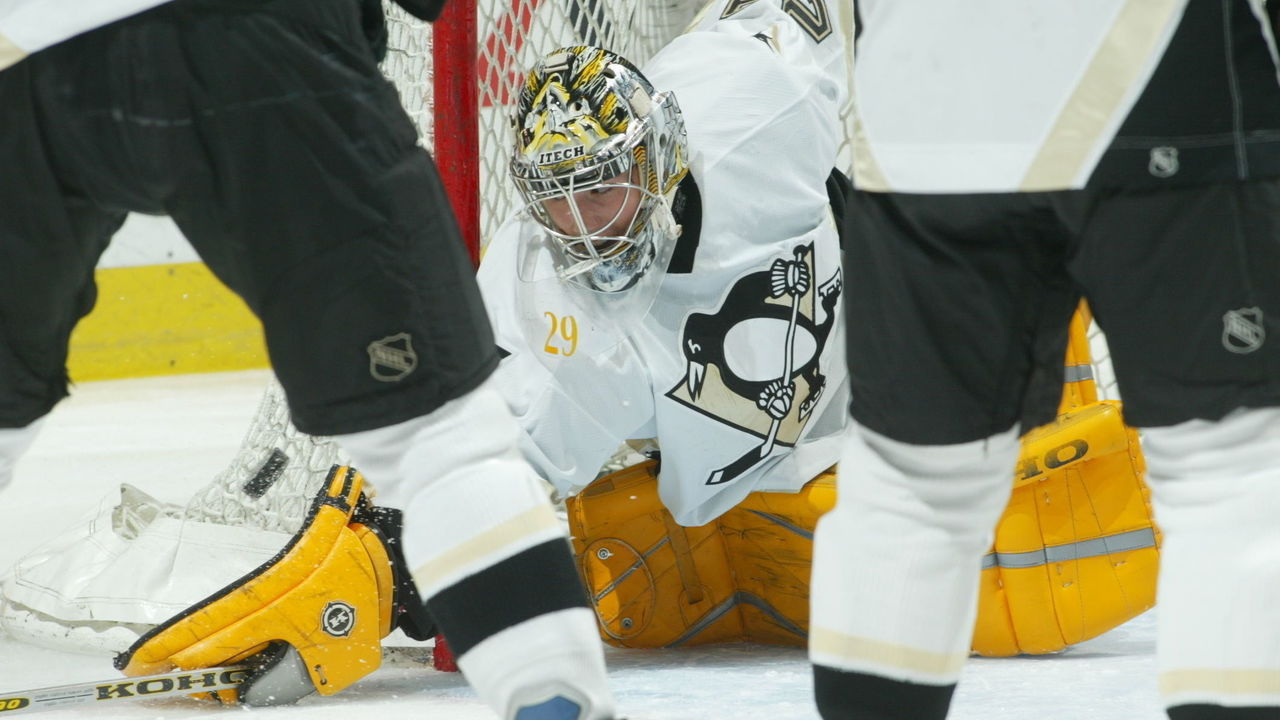 "I just had to let him be and (let him) go through his feelings," Vincent said. "Let him know that, 'Hey, I'm here. We believe in you. We're just going to wait for you to believe in yourself again, the way you should, and things will be fine. Don't worry about it. It sucks, it's not great. You feel the way you feel because you care so much. But we're here. And we'll be here this year, next year, in 10 years.'"
That lost confidence and joy - which is so prevalent in Fleury's demeanor on and off the ice - was eventually rediscovered, and life reverted back to normal.
"Looking back today and (on) what he's accomplished, I think what happened at that time was probably a blessing in his life," Vincent said.
Fleury's a grown man now, and these are two different situations, but there's some symmetry between Fleury's current bounce back and his arc in 2004.
Cats, Huberdeau sneaky good
Years of mediocrity and a lackluster showing in the bubble made the Florida Panthers easy to dismiss in the lead up to the season. Yet, 19 games in, the Cats are atop the Central Division with 28 points and sit third overall in points percentage. It's true they've already played Detroit six times, winning four, but the Panthers are also a combined 4-2 in their six meetings with the Tampa Bay Lightning and Dallas Stars, who met in the Stanley Cup Final last year.
Captain Aleksander Barkov has been lauded over his career for his two-way wizardry and has been praised again during this hot streak - rightfully so. Conversely, Jonathan Huberdeau, Barkov's longtime running mate, hasn't been properly credited throughout his career. The 27-year-old has been overshadowed, not only by Barkov, but also by his peers in bigger markets.
Huberdeau currently ranks eighth in league scoring with seven goals and 16 assists. He's the main facilitator on a lethal power play and is producing at a point-per-game pace on the wing for a third consecutive season.
"The people who have played with him over the years definitely realize how good he is," former teammate Vincent Trocheck said ahead of 2020 All-Star Weekend. "It's crazy to think this is his first All-Star Game. He's been in the league for eight years, and he's an outstanding player. He's probably deserved it six out of those eight years."
Huberdeau's 0.83 points-per-game rate since his 2012-13 debut is tied with Brock Boeser, Jake Guentzel, and Joe Pavelski for 42nd (minimum 100 games). That group is one notch below Jonathan Toews and Vladimir Tarasenko and one notch ahead of Alexander Radulov, Patrik Laine, and Kyle Connor.
Pretty solid company for the oft-overlooked star.
Forward TOI rabbit hole
On Monday, Toronto Maple Leafs winger Mitch Marner logged a career-high 26:41 of ice time in a 3-0 loss to the Calgary Flames. On the winning squad, Elias Lindholm clocked in almost a minute higher at 27:32.
Even though forwards typically don't see more than 22 minutes a night, Marner and Lindholm's ice times didn't seem to register as a league-wide story. At first glance, it looks like two top players earning a few extra shifts. No big deal. On second thought, 26:41 and 27:32 is a ton of ice time during a game that ended in regulation, no matter the underlying circumstances.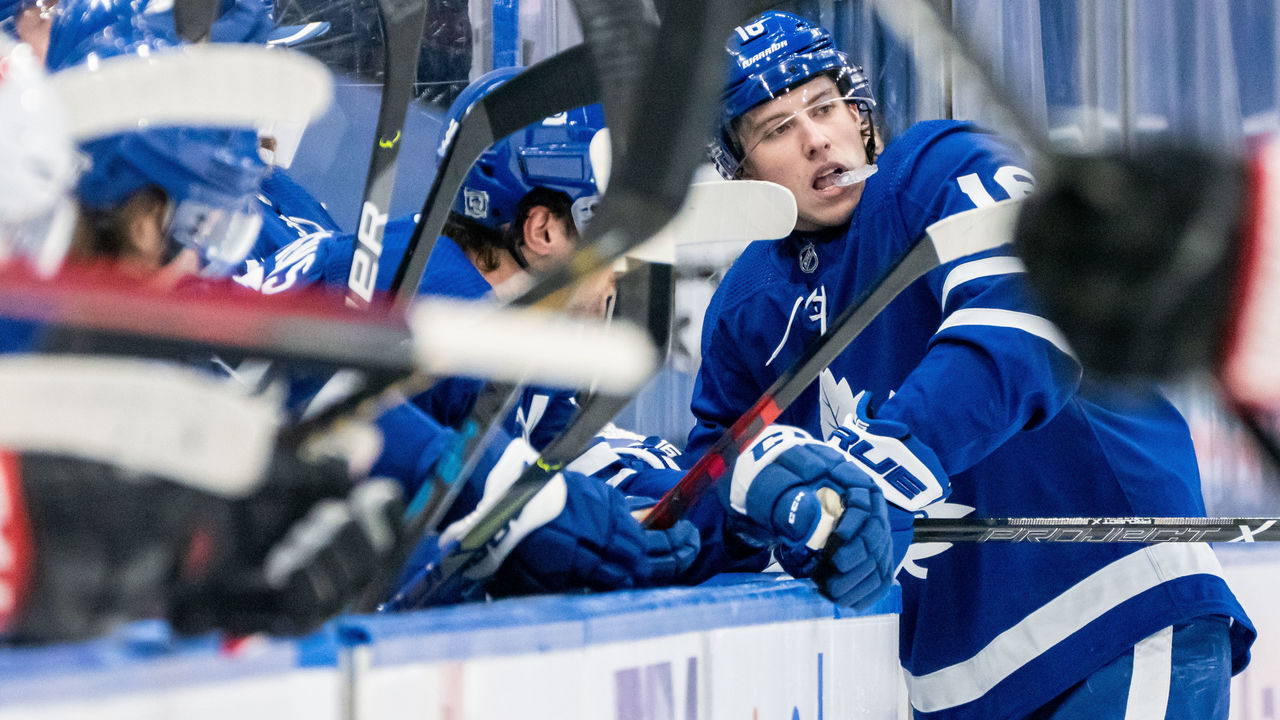 Is this a new trend? An anomaly? Let's parse the data to find out.
In 2019-20, two forwards (Leon Draisaitl and Jack Eichel) averaged 22 or more minutes, while nine averaged between 21 and 22, and 13 more averaged between 20 and 21. So far in 2020-21, four forwards (Marner, Connor McDavid, Patrick Kane, and Draisaitl) are averaging 22 or more minutes a game, while six are averaging between 21 and 22, and 14 are averaging between 20 and 21. That's two additional forwards in the 22-plus tier.
Let's check in on individual-game ice time.
A forward eclipsed the 26-minute mark on 15 occasions this season, whereas the 26-minute mark was eclipsed 41 times in 2019-20. That's a 26-minute forward in 2.6% of all team games this campaign versus 1.9% last season.
Since there have been only 291 games in 2020-21, it's too early to label nights like Marner's and Lindholm's a legitimate trend. Still, there appears to be something about this weird year that's leading to high-TOI games for select forwards. Perhaps it's because every game carries more weight in a shortened campaign, or maybe coaches want to push stamina limits.
Karlsson's double whammy
Frans Nielsen passing through waivers and Jeff Skinner getting scratched three times refueled the classic cap-era debate about the NHL's worst contract.
There are plenty of exorbitant cap hits out there. There are plenty of overcommitments to term as well. But it's the pile of double whammies - drawn-out, expensive deals for players providing little value or hope of value to the organization - where you'll find the worst of the worst.
Skinner, at $9 million through 2026-27, is certainly in the running for the (dis)honor. Matt Duchene and Marc-Edouard Vlasic, who make $8 million and $7 million, respectively, through 2025-26, are both cringeworthy. Bobrovsky, at $10 million through 2025-26, is perhaps worse than all three.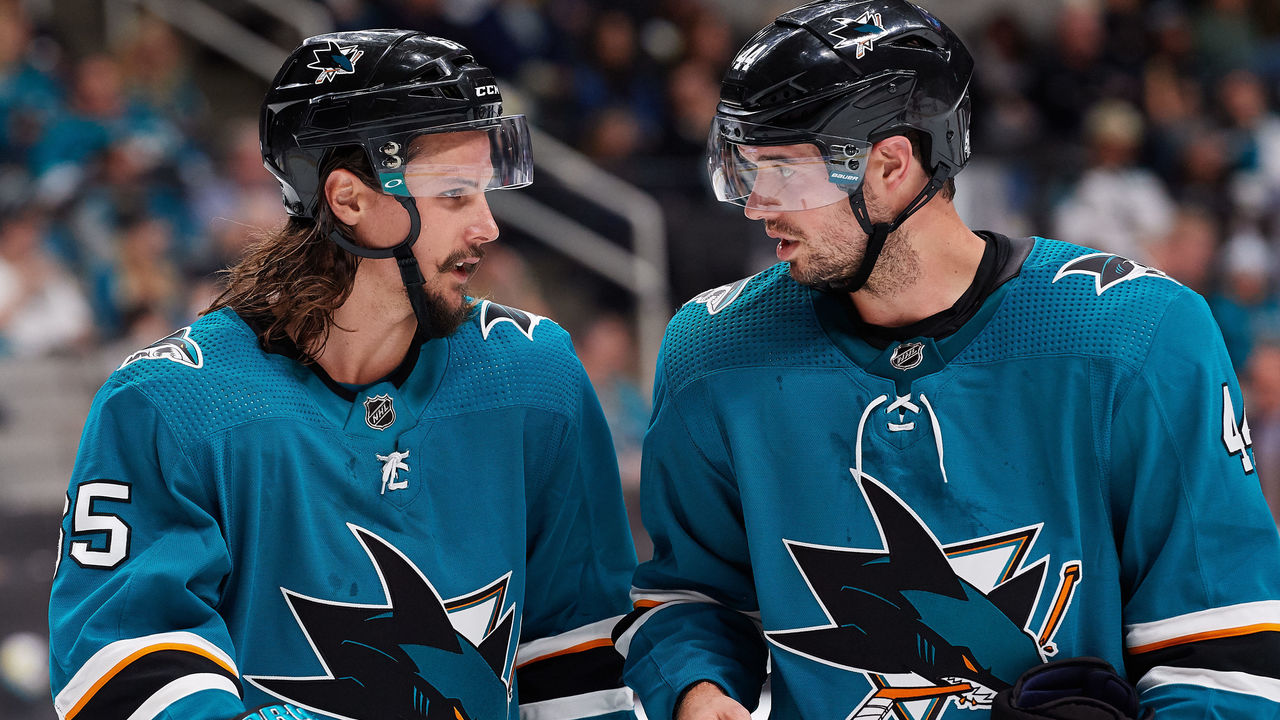 Yet, the worst contract might belong to Erik Karlsson, at $11.5 million through 2026-27. Karlsson, a two-time Norris Trophy winner, was on the trajectory of a first-ballot Hall of Famer before inking a massive, $92-million ticket with the San Jose Sharks in June 2019. But his game has tanked, in large part due to major injuries. He's a shell of his former self.
To put Karlsson's albatross contract into perspective, it eats up more than 14% of San Jose's allotted room under the $81.5-million upper limit. Armed with a no-move clause, he's locked in for another six years.
At the opposite end of the spectrum lives Conor Garland, whose expiring two-year deal is arguably the best non-entry-level, non-star contract in the NHL.
Last year, the Arizona Coyotes winger - who makes $775,000 annually - finished first among forwards in Cap Friendly's cost-per-point analysis. This year, he paces all players (including those on ELCs), making an efficient $43,055 per point (18 points in 19 games) in a first-line role with Arizona.
3 parting thoughts
Kirill Kaprizov: The Minnesota Wild stud and rookie scoring leader has delivered on the hype. Kaprizov's a mesmerizing player whose intensity, smarts, puck skills, and edgework are all pluses on the scouting report.
Dress code: Between the informal looks in the bubble, the Canucks going casual, and the Bruins reliving the 1990s at Lake Tahoe, how long until it's game over for the game-day suit and tie? I understand the "look good, play good" sentiment, but I'm in favor of the sport continuing to let its hair down.
L.A. Kings: Surprise! The rebuilding 9-6-3 Kings are in a playoff position in the West Division. It's been a statement first 18 games for 31-year-old Drew Doughty, and you've gotta respect the Michael Jordan-level pettiness.
Takes, Thoughts, and Trends is theScore's monthly hockey grab bag.
John Matisz is theScore's national hockey writer. You can follow John on Twitter (@MatiszJohn) and contact him via email (john.matisz@thescore.com).
Comments
✕
In praise of Fleury, handicapping the Vezina, and the NHL's worst contracts
  Got something to say? Leave a comment below!