It's Jan. 9 and the NHL is about to drop the puck on a new season.
Feels weird, doesn't it? Yes, the 56-game 2021 regular season starts Wednesday. It will be played amid a global pandemic and within a temporary realignment that's pitting regional rivals against each other exclusively. This setup - for various reasons, including a playoff format change and unavoidable COVID-19 outbreaks - is completely unique.
To help break down some of the major talking points associated with the start of this unpredictable season, theScore enlisted four hockey analysts:
Interviews were done individually and the answers were edited for brevity and clarity.
What are your top storylines to start this strange year?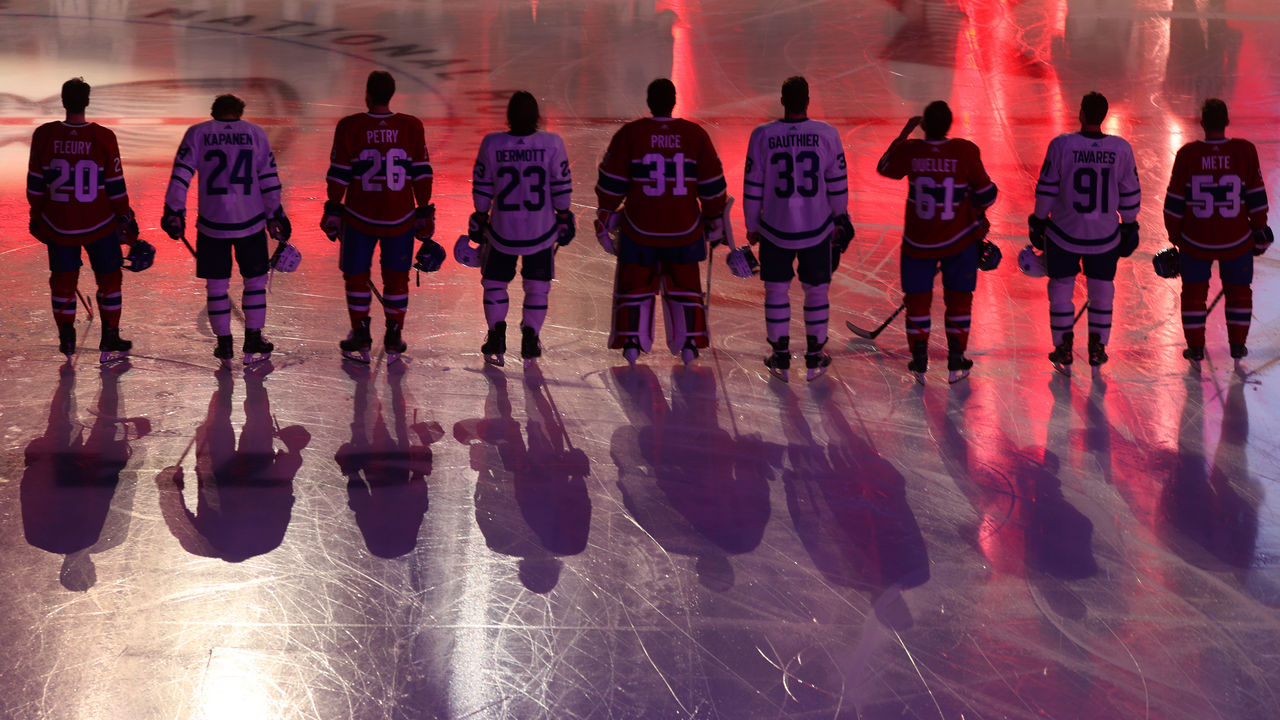 Ulmer: For me, I think it's just going to be the COVID adjustments. That's going to be the biggest hurdle for the teams this season. It'll be a lot of coaches having to rest players, keep them healthy. Goalie usage is going to be big. Obviously, if you play 56 games and it's almost every second night, you're going to have to have a clear plan.
There'll be a lot of long stretches, too, where teams don't have practices. You have so many games and you want to rest the players the next day and then get them ready for the next game. So, there's going to be a lot of coaching on the fly and I think that's going to be something every team is going to have to deal with. How do we keep these guys fresh? If we get into some bad habits, how do we correct these habits without having a lot of the on-ice practice you'd usually have?
Another thing that teams are going to have to deal with that you wouldn't have thought about before is that you're probably going to have to keep your goalies away from each other off the ice, just in the event that one gets COVID-19 and spreads it. You don't want to be playing 10 games with your third or fourth goalie if that happens. So, there are going to be a lot of adjustments on the fly. It's going to be a season like nobody's ever seen.
McCurdy: I think the rivalry component is heightened with no cross-division play. Every year people quote season series. Like, 'They played twice last year and this team won both of them!' It's two games, who cares. But this year you're going to go into a game toward the end of the regular season, and you're going to be like, 'Well, all they need is a win against this team, and they're really bad, but they actually lost six straight against this team. In fact, six of their nine losses are against this one team, so this is a tough matchup.' You're going to get some statistical curiosities like that, which I think are going to be really, really fun.
Kelly: How the league handles the COVID situation, overall. Well, not even really how they handle it but how it unfolds with the uncertainty of the whole pandemic, in general. There's going to be, more than likely, players who test positive during the season. There are contingency plans in place, obviously, but nobody really knows how it's all going to unfold. That'll be something to keep an eye on. But also, with 56 games, the potential for variance is greater than an 82-game season. I do think that you'll see a team or two who you might not have high hopes for, or a team you do have high hopes for, surprise. Just because there's less time to make up games or falter, overall, in a season of 56 games.
Woodley: I'm focused on the goalies with new teams and in new situations. Jacob Markstrom and how he plays in Calgary versus what we saw in Vancouver. I was really looking forward to seeing Henrik Lundqvist in Washington and am really sad we won't get to.
Beyond that, in terms of around the league and something that will hold true for a lot of different teams, is the three-goalie setup and how teams manage it. I think you're going to need three NHL-caliber goalies to get through a season. We saw in the playoff bubble, with guys dropping left, right, and center, that a condensed schedule doesn't lend itself to riding a No. 1 start to finish. We saw teams split games on purpose during the bubble.
I think you're going to see an even bigger shift toward tandem play, despite the fact that it's going to be tough because the playoff races are going to be so heated so fast that coaches might be thinking they can't afford to play their backup. But if you don't use your backup, what kind of risk is put on the No. 1? So, how do you manage not just No. 1 and No. 2 but also the fact that they might need No. 3? The schedule is intense. There's a lot of this pattern in the schedule: Three-in-four, one day off, and then another three-in-four. That's six games in nine days.
Where do you fall on the Connor McDavid/Nathan MacKinnon debate?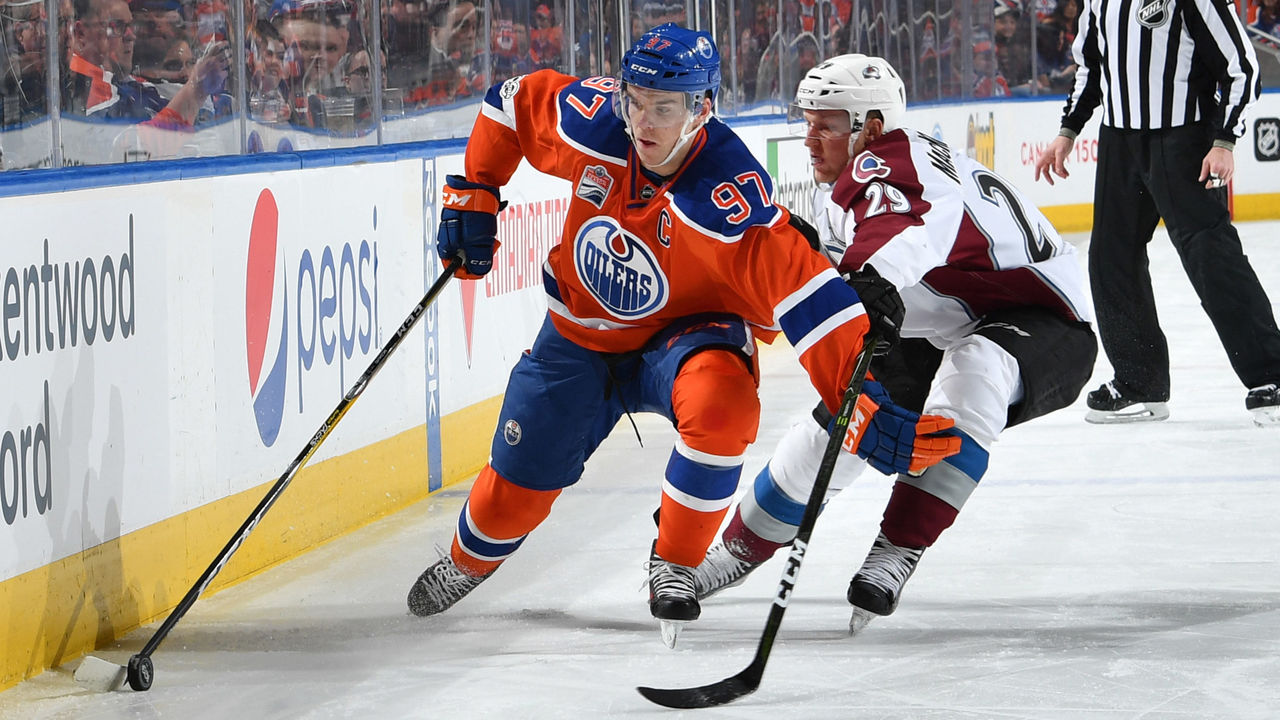 Ulmer: We all watched MacKinnon dominate in the bubble. And I had a front-row seat there, watching him against Arizona, just how dynamic he is. But for me, shuffling McDavid off the top rung is tough to do. MacKinnon's definitely closed the gap. Right now, heading into this season, it's a 1A/1B with those guys.
McDavid has less around him. He does have (Leon) Draisaitl, obviously, and it helps to have the Hart Trophy guy on your team, but you can basically play him with third-liners and he's going to still lead the league in scoring. Having said that, they're probably the only two guys in the NHL that teams really have to center their game plan around, just with how explosive they are. You always have to stay above them, make sure they don't get behind you, because once they get a step, they're gone.
MacKinnon's the more well-rounded player and he adds the ability to bowl you over along with his skill and his skating ability. For me, I think it's still Connor by a hair but MacKinnon's really closed that gap with how he's played recently, especially deep into the playoffs.
McCurdy: I understand the natural temptation to debate this kind of thing but I think it's a fool's errand to be like, 'This hockey player is quote-unquote better than that hockey player, straight up.' Now, both of those guys are dramatically better than pretty much the rest of the league. But I think you can get sloppy with that sort of thing, as if you're ordering all of the players in the league as if they're DVDs on your shelf or something. … I'm not trying to dodge the question, I swear. I prefer MacKinnon at the moment.
The point numbers are not the same as McDavid but I think he's a lot stronger defensively, and a lot of the specific aspects that McDavid is better at, MacKinnon is really not that far behind. McDavid is a tremendous shooter and MacKinnon is the tiniest step behind. I think MacKinnon's defensive impact is so much stronger that it really pushes him over the top for me.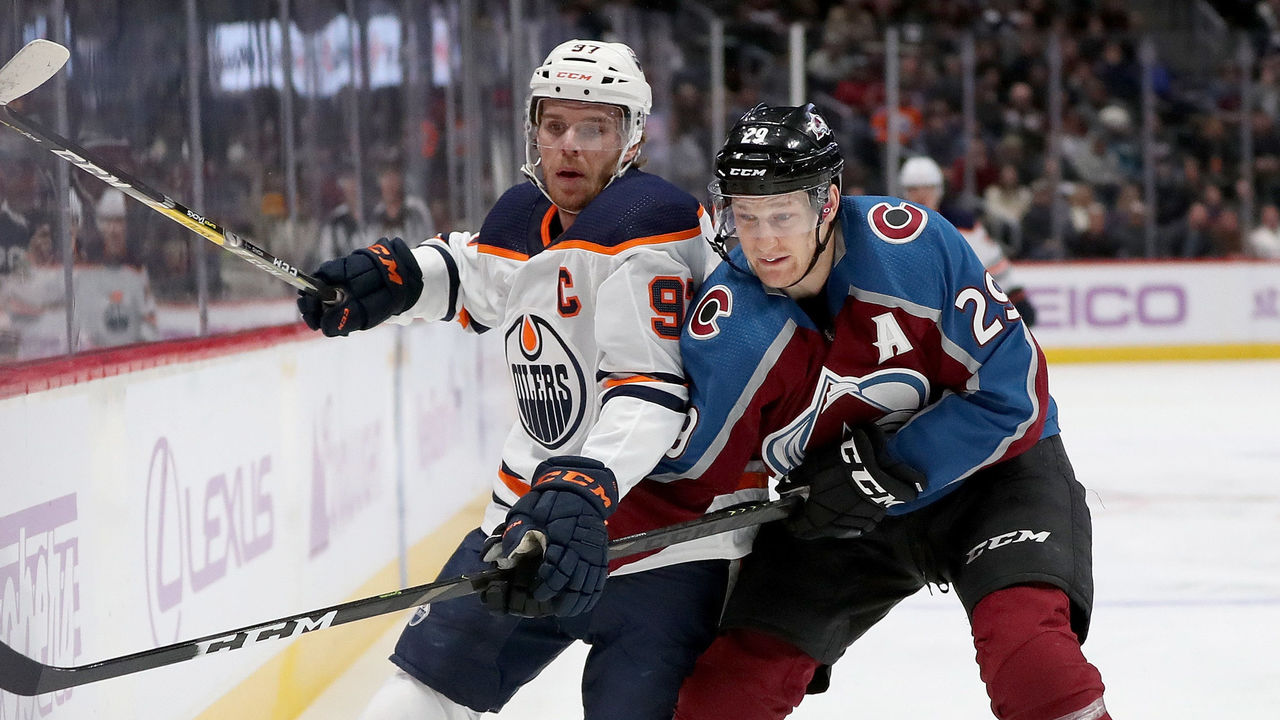 Kelly: I think you can have the debate but, for me, McDavid is still the best player in the world. I would have given a first-place Hart Trophy vote last year to MacKinnon. With where Colorado finished, some of the injuries the team had to guys he's used to playing with, and with what he did to elevate that team to be great, he shined. Individually, I think he had the better season. But I still think McDavid is the best player in the world.
They're incredibly similar in how they generate offense and their points. They're explosive off the rush. MacKinnon's more powerful, while McDavid's straight-ahead speed is unmatched with what he can do with his hands. They're very close. And look, they both give up a little defensively. People get on McDavid and Draisaitl and say they're not good defensive players or that they can't play defense and how it should hurt them in these types of discussions.
But you have to consider as well what those two players are asked to do on that team. Wayne Gretzky, people would agree, is the greatest hockey player of all time. Go count how many times in Edmonton and L.A. where he was below the hash marks in his own end. He was asked to create a ton of offense because of who he was and what he could do, and he did that at a greater rate than anyone in the history of the game. So, does McDavid or Draisaitl push for offense a little more than even MacKinnon or some other top players in the game? They do. It's a big part of what they're asked to do and what they believe they need to do to be successful overall.
Woodley: I will plead ignorance on this. I will defer to the other gentlemen on this panel. My thing is, as a goalie guy, and I did reach out to a couple of NHL goalies about this, I don't want either guy coming in one-on-one. They both have incredible speed but McDavid's is another level and what he does at high speeds scares the crap out of goalies.
The flip side of the question, and this is where I got more pro-MacKinnon answers back, was about who you would rather have as a teammate, as someone who is defending and coming back in front of you. I think, defensively, MacKinnon, whether it's him or who he's out there with, the performance seems to be a little bit better. In looking at some numbers, I didn't see a huge discrepancy but enough of a difference from an expected-goals metric at both sides of the rink. At the end of the day, neither guy would be fun to see coming down on you as a goaltender, but the answers I got from guys in the NHL is that MacKinnon might be the guy they'd prefer to have defending in front of them at this point in his career.
Who among Taylor Hall, Alex Pietrangelo, and Jacob Markstrom will find the most success on his new team? Which situation is the best fit?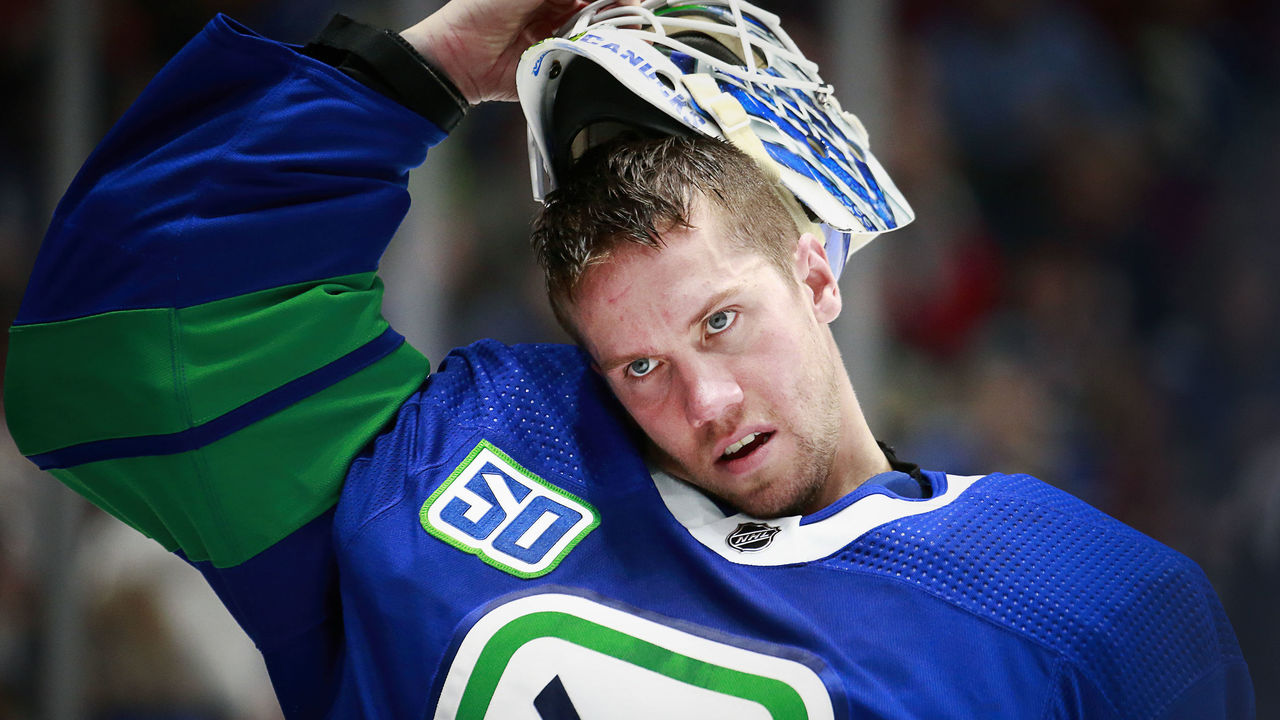 Ulmer: I liked all three moves. I think, having seen Taylor Hall up close last season, and how he prepares and works to be his best ... he's going to do really well alongside (Jack) Eichel. Markstrom finally gives Calgary its No. 1 goalie the team's been missing since (Miikka) Kiprusoff.
For me, I think Pietrangelo is the guy who fits his new team the best. With Vegas, he's a guy you can trust with defensive-zone starts, he can play on the penalty kill, you can put him on the power play. I know they have (Shea) Theodore, who is an up-and-coming, great offensive player, but you can also play Pietrangelo on the second unit or even the first with Theodore. What they missed in the playoffs, especially against Dallas, and it can be a little thing and also a big thing, was having a righty-lefty combo.
It's nice to have that right-handed shot to pinch down on pucks and keep plays alive. Having him as a right-handed player in that lineup, I think that's going to really add to Vegas' attack offensively, and he's so good defensively, also. I think Vegas is built really well with the team that it has and the two goalies it has, especially for a season like this. That strong goalie tandem and adding Pietrangelo put the team right there with Colorado in that division.
McCurdy: I actually like the fit of all three of those, although I don't think the total benefit of Hall in Buffalo is going to matter as much as the other two. Just because Buffalo is a really weak team even with Hall. Ralph Krueger, the coach in Buffalo, has pretty good defensive results in his recent return to the NHL. I think that makes Hall a decent fit there because he provides a lot of offense, which is what the Sabres really need now. But I don't think he's going to be able to make the impact that they really want. You put him with Eichel and you can find a half-decent third person for that line. But there aren't really any solid defensive pairs in Buffalo, at all.
The total amount of good Hall can do is very limited by the total team quality, whereas Markstrom is going to look really good in Calgary, although goaltending wasn't the worst of the Flames' deficiencies. So, I guess the answer really comes down to Pietrangelo in Vegas. I think he's going to be an excellent fit there. The team is very, very strong all around and I think that's going to give him a really good place to shine.
Kelly: Fit-wise, I like Markstrom in Calgary. I think the Flames really needed a goalie they could go to with no questions asked. Cam Talbot had a great stretch toward the end of the year last year, but Markstrom, for me, was a top-five goalie in the league. I would have probably had him third on a Vezina ballot on a Vancouver team that was very leaky defensively. He's got to do it again.
We don't have a huge sample of Markstrom being elite but he's going to a better defensive team in Calgary. The Flames certainly got better defensively as last year went on and into the playoffs. They went from below average to above average to pretty good. So, over 56 games, I think he helps them knock that goals-against average down.
Woodley: I'm going to go with Markstrom because it's the only thing I can really talk about in an educated manner. … How he manages a low-shot environment is one of the few remaining questions about Markstrom. One of the few times Vancouver had a low-shot environment last year, where you saw some of those happy feet from Markstrom and some things cost him on goals, you started to wonder.
When I look at the number of outside chances and easier, low-danger chances that the Canucks give up and I look around the league, guess what, Calgary is one of the few teams in the league that gave up even more. So, I think that is going to be a fit. As odd as it is to say, I think Markstrom will have this situation where he's seeing low-danger shots and it's making him feel good. … Fewer chances and fewer shots, that should be a good thing for a goaltender. But the reality is, it's the goalie's job to manage it and different goalies manage not being overly busy differently. … From that perspective, I think this is a good fit for Markstrom. ... I think he'll fit well in Calgary.
Which team confuses you at the moment? Who's hard to get a handle on in respect to their ceiling and/or direction?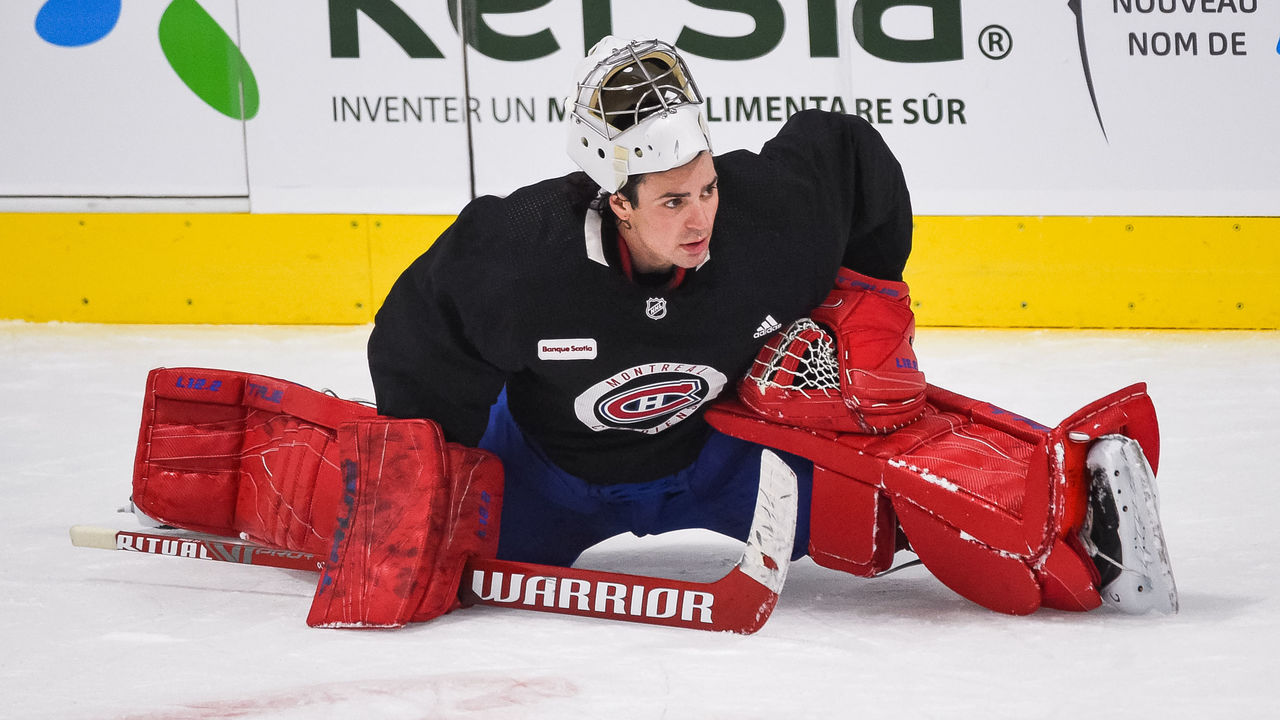 Ulmer: I would have loved to see Philly add a little bit more. That East Division is going to be a nightmare because it's going to be a dogfight with how many good teams are in that division. Having (Matt) Niskanen retire hurt the Flyers a little, but I still find them a top team. A guy like (Zdeno) Chara or (Mark) Borowiecki or a physical right-handed defenseman may have fit really well there, especially for this season. I still think they'll be one of the top teams in that division but maybe could have added one more physical piece there on that back end.
As far as direction, I mean, it's been in the news lately with the (Pierre-Luc) Dubois situation in Columbus. The Blue Jackets will be a team to follow for this season just with how their center depth is going to evolve there, especially if they have to eventually move Dubois. He's one of the top young centers in the league, so if you take him out of your lineup you've got (Max) Domi, who's a good player but probably better suited to be on the wing, and (Mikko) Koivu, who at his age is a very good add for this season, but down the line, what are they going to end up doing at center? That's one that's tough to prepare for, though. You can't really expect this situation, so you can't really put that on (general manager Jarmo) Kekalainen and his staff there.
McCurdy: Vancouver's probably the best one for that. My read last year is that the Canucks overperformed in a huge way, both in terms of shooting and in terms of goaltending. So, the shot rates were pretty weak last year but they rode the tremendous seasons from Markstrom and Elias Pettersson and Quinn Hughes, among others. They have a lot of other good players but those three guys, in particular, were tremendous.
Now Markstrom is gone, Pettersson ... is part of every team's pregame now, for sure. And Hughes was alongside Makar in those Calder talks, and for good reason, throughout last season. Can those guys repeat what they did? Especially when a part of what they were so good at last year was shooting. It's the most difficult-to-repeat skill in the whole league. I feel like the variance is there, where they could crash and burn really hard.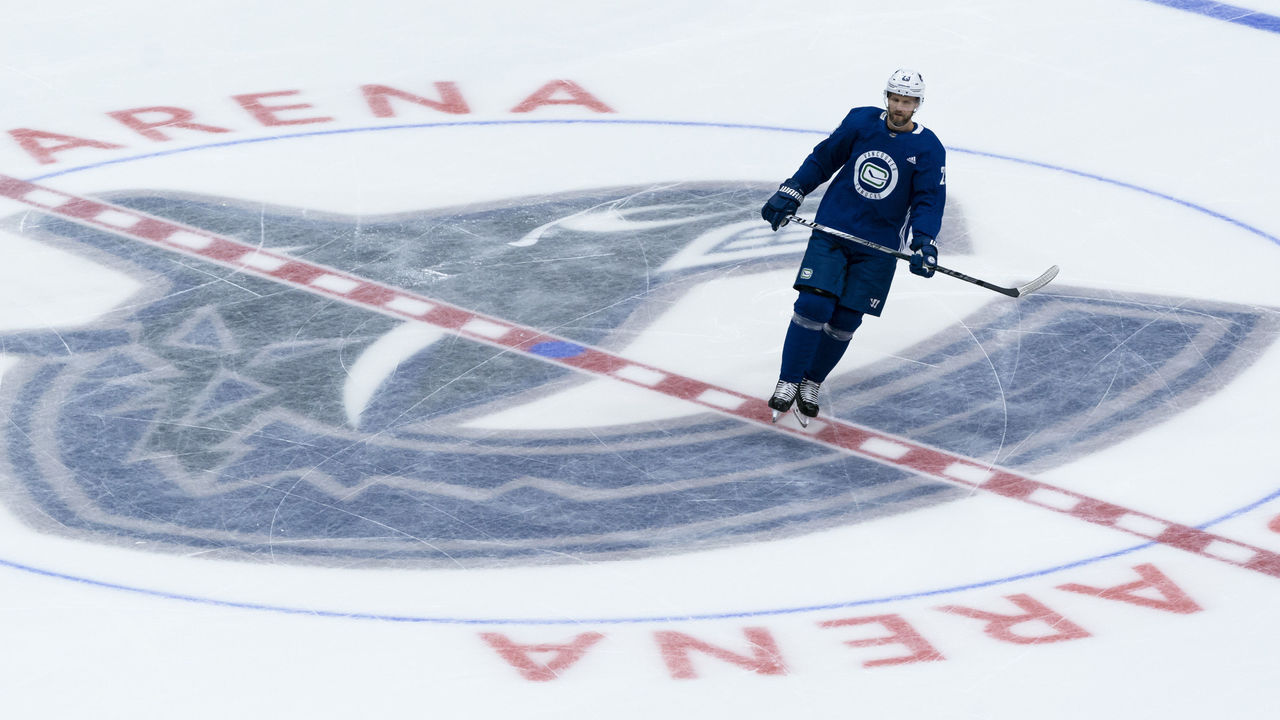 Kelly: There are a lot of teams. I'll try to narrow it down to just a couple. So, I picked Vegas last year to win the Stanley Cup. I watched the Golden Knights and I know why maybe I shouldn't have picked them. I know they got Pietrangelo but ... their forecheck and getting to the front of the net was a problem last year. Winning that net-front battle is something that matters in the playoffs and I didn't see enough of it from them. I want to watch them first to get a better handle on how they'll be this year.
Montreal has had a huge turnover. What if a lot of things go right for Montreal? I think the Canadiens can win that division if Carey Price plays as well as we know he can … if (Tyler) Toffoli and (Josh) Anderson come in and get 20-plus goals, or whatever that number is prorated on a 56-game schedule. (Alexander) Romanov could step into a top-four role. They could be a legit contender to win that division.
The New York Rangers are another team. Igor Shesterkin and (Alexandar) Georgiev getting a full season. How does that go? Shesterkin was unbelievable last year. You bring (Alexis) Lafreniere into the mix, you've got (Kaapo) Kakko going into his second year. Plus, their established stars. If they can get better defensively, not even good, just not second-worst in the league ... can they make a little bit of noise and get into the playoffs?
Woodley: I'm probably missing somebody because I'm narrow in my focus as a goalie guy but the easy answer is San Jose. It's interesting. I like the move for Devan Dubnyk. He gets reunited with (goalie consultant Adam Francilla), who he worked with during the offseason in terms of biomechanics and body mechanics. I think you're going to see a guy who is very good, very motivated, back on the top of his game. And you could see, over time, Dubnyk and Martin Jones feed off each other in a very positive way.
Yet I look at all of that and then I look at Brent Burns and I look at Erik Karlsson and remember the fact that one of them is on the ice for almost the whole game, and it's not such a great place for a goalie. Jones had the third-lowest expected save percentage among starters last season. It was a tough environment with a lot of odd-man rushes. … You're putting him in an environment that doesn't necessarily fit what he excels at. So, unless that environment changes ... that is a confusing move. Even if I like it from a personnel standpoint and think he can bounce back, goaltending never exists in a vacuum.
Which of the four new divisions would you NOT want to be in?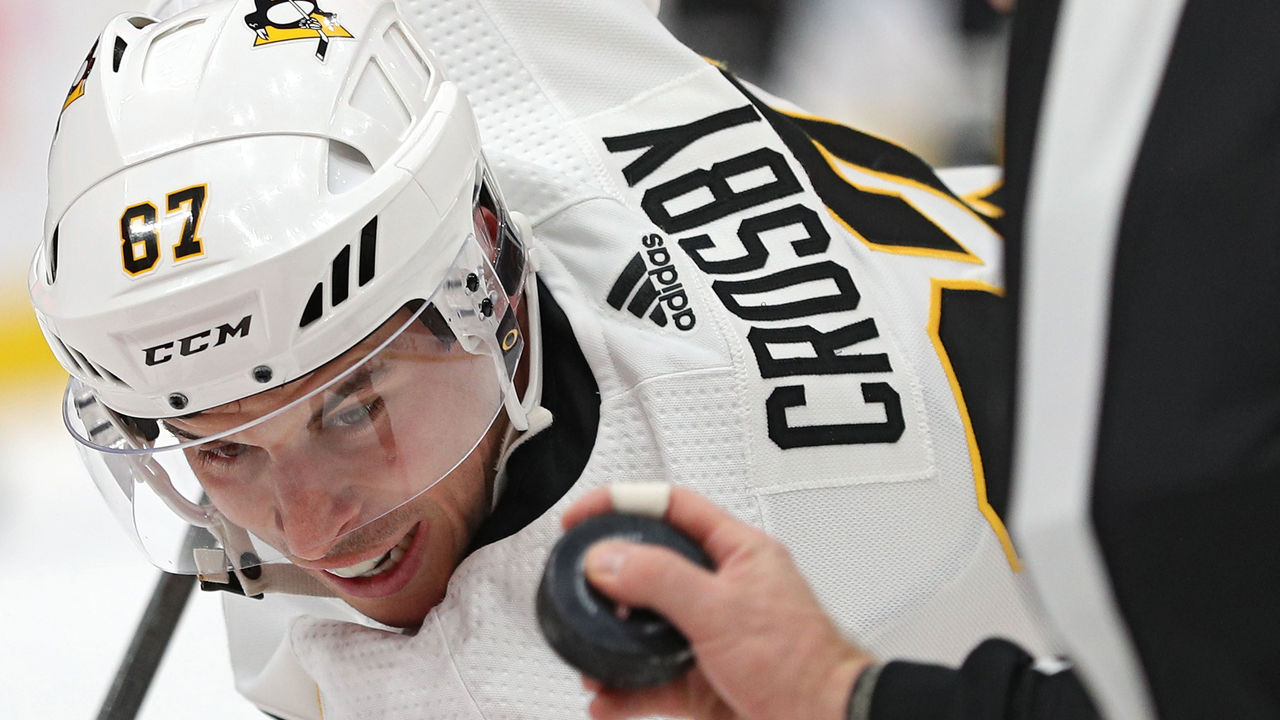 Ulmer: No question, it's the East with the competitiveness and the depth in that group. You've got Boston, the Islanders, Rangers, Philly, Pittsburgh, Washington. Two of those teams aren't going to make the playoffs. Even Buffalo's improved. ... But, with those top six teams, for two of them to miss the playoffs, you're talking maybe Pittsburgh, with the team taking one of its last few runs with that core.
Same thing with Washington. The Capitals made a few good additions. I liked the Chara addition for them, especially when they have to compete against these teams eight times. The East, for me, would be the division where it's going to be a competitive game every night other than, possibly, the Devils and sometimes the Sabres, depending on how their goaltending is.
McCurdy: All of the American divisions look about the same to me. They seem slightly stronger than the North. I think I'd probably prefer to be in the West or the Central because there are some easy teams to beat up on. Especially in the Central, where you've got both Chicago and Detroit, which I think are going to be reasonably straightforward victories for their opponents most nights.
But all of the divisions have this. San Jose is going to be reasonably easy to beat as well this year. The Sharks had terrible goaltending and then they decided to make it even worse. You've got a lot of confusion with Los Angeles, which isn't particularly good but now has several extremely good rookies. If the Kings decide to play none of them, they'll be really easy. If they decide to play all of them, it'll be bizarre because younger players give you more variance.
In terms of places I would not like to be, though, I'd say the East. It'd be my least-favorite choice. Both Pittsburgh and Boston look extremely good and likely to win a lot of games. And then after that, you have the Flyers, Capitals, Rangers, and Islanders. All of them look OK, at least. Even Buffalo and New Jersey have enough talent where, if you get the wrong night, you could be made to look really silly. Hall is going to score a handful of hat tricks and so is Eichel. If both of them have one on the same night, that's not your night to be whoever is on the other side of the rink. The East is kind of the Metropolitan Thunderdome, Take 2.
Kelly: It's the East. New Jersey's going to struggle again. Buffalo should be a bit better. But then you look at the other teams: Boston, the Islanders, the Rangers, Philly, Pittsburgh, Washington. That's a grind. There's a lot of good teams in that mix. Then you look at the all-Canadian division, write off Ottawa, and say the rest should be competitive. Although I am not high on Vancouver. I'm surprised how high a lot of people seem to be on Vancouver. So, I think it's gotta be that East Division. There are just so many teams who on any given night could and should win a hockey game.
Woodley: Probably whatever the old Metro was. The East. I just think that's the easiest answer in terms of where the teams are at. Even looking at the strength of the goaltending tandems, I think the toughest will be the East and the most interesting one might be the North.
Who are your picks for Cup finalists? Who's your Cup winner?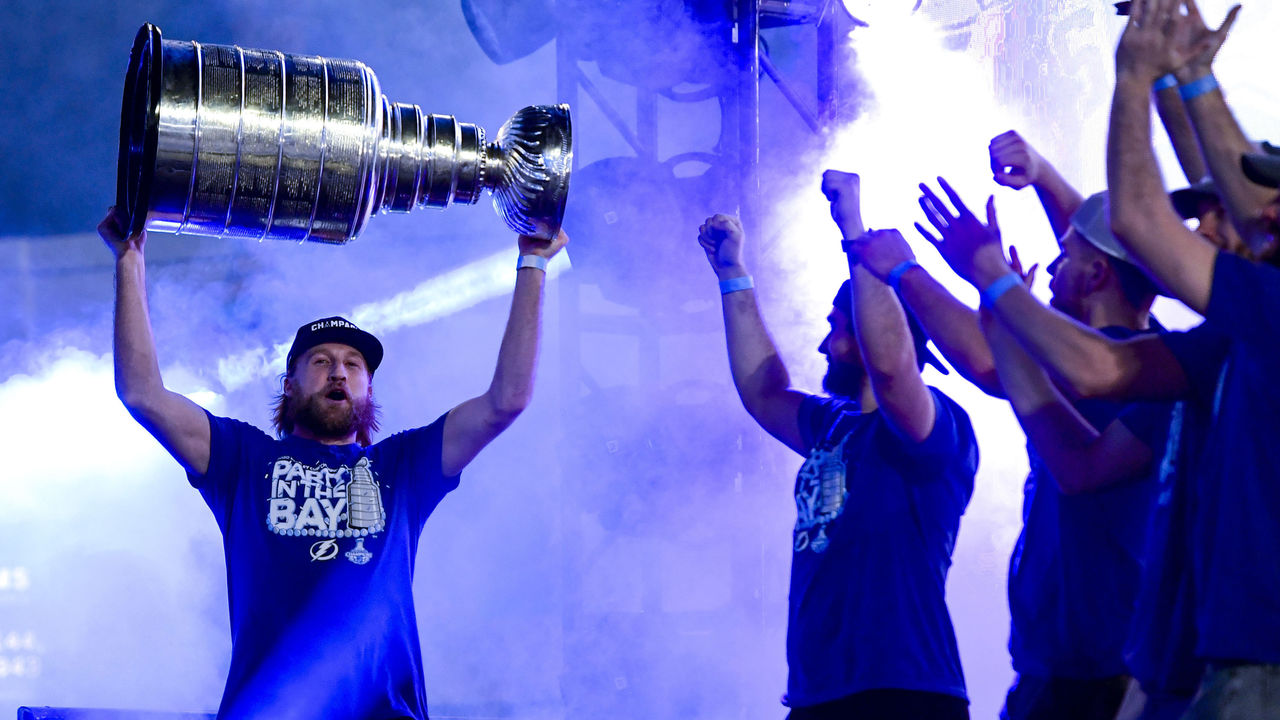 Ulmer: It's hard to go against the Colorado-versus-Tampa Bay final with the reseeding. I think they'll be the No. 1 and 2 seed. I just don't see a forward group with the depth of Colorado, and then Tampa Bay is built so well, especially on the back end.
This is a perfect year for Toronto to make it to the semifinals, and then we'll see what the Maple Leafs do once they get there. That's not for certain, though. I think Montreal's close to them and will make it close. I think it'll be either Toronto or Montreal in that division, and then it's kind of a toss-up with Washington, Philly, and Pittsburgh all competing for first in the (East) division.
Final four: Colorado, Tampa Bay, Toronto, and the Chara addition I think might get Washington there. One last kick at the can with that core as it's aging, and I think the Capitals will figure out a way with their rookie goalie to get there.
McCurdy: I expect Carolina to win this year. I think Carolina is going to take it over Las Vegas. That's my guess for the Final. Carolina has a lot of the foundation that makes it very easy to win consistently. The Hurricanes have a really strong offensive generation. The knock on them has always been that their goaltending has let them down and they haven't had the finishing talent to really clean teams up. So, you have lots and lots of shifts where they're dominating in the offensive zone but they don't actually score because they don't have anybody who can actually finish a play. And then they get attacked on the counter and their goalie does not help them out. That's been the Achilles' heel for Carolina, and I see that as being minimized now.
The team has some younger players, in particular, who are much better shooters of the puck, with (Andrei) Svechnikov being the most obvious example, and (Sebastian) Aho as well. I think the Hurricanes are going to be able to generate the kind of consistent offense of two or three or four goals every night that will let them actually win games instead of dominating and losing.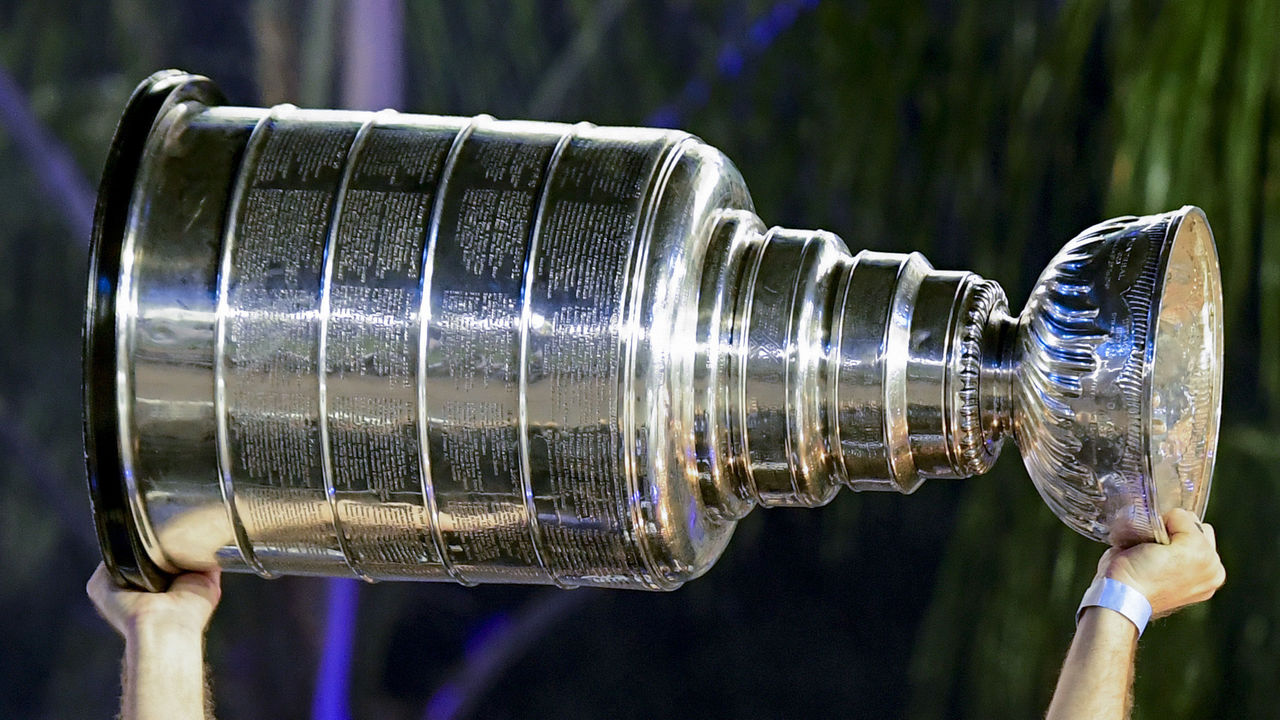 Kelly: Can I say no idea because it's a cluster of a season and who the hell could possibly know the answer to that? You know what, it could be the most random thing ever because of the shortened season and the weird playoff setup and all of that.
I've put some thought into this, though, and I'm going to say Colorado and Pittsburgh. The only real question last season with the Avalanche was the goaltending. I didn't know that it could hold up. (Philipp) Grubauer got hurt and he tends to do that. You're going into the last game of the season and you're playing a goalie who probably shouldn't even be in the league. That's still a question mark for me. But I think Colorado can do it. I know Vegas is in the division, St. Louis, too. But the Avs went through the grind last year and I think they've got the ability to do it.
Pittsburgh, for me, is another one of those teams that has one more push. The Penguins are a better defensive team than I think maybe they get credit for. I think (Evgeni) Malkin, if he can stay healthy, has another monster year in him. You know what (Sidney) Crosby is. I look at Pittsburgh's second line of Malkin, (Jason) Zucker, and (Bryan) Rust. In my opinion, that's the best second line in the league. I like the team's defense: (John) Marino, (Marcus) Pettersson, (Kris) Letang, etc. And then (Tristan) Jarry, to me, is pretty good. Not great, but he plays behind a good defensive team. I could pick Tampa Bay here but I think if some things go right for Pittsburgh, the team has another push left.
Woodley: Could we see a repeat champion in Tampa Bay? I mean, (Nikita) Kucherov comes back for the playoffs after his surgery. The Lightning would be an easy and safe pick. (Coach Jon) Cooper got their attention, clearly. As much as the focus has been on their big, heavy forwards and that offense, the numbers say Cooper got their attention defensively in terms of the high-danger chances they gave up in 2019-20 compared to the year before. Sometimes it's hard to keep that attention for a long period of time, but he got it done for a year. So Tampa Bay is a safe pick. It's hard to go against Colorado, too. But a big part of the Colorado equation is going to be its goaltending. The team didn't change much.
John Matisz is theScore's national hockey writer. You can follow John on Twitter (@MatiszJohn) and contact him via email (john.matisz@thescore.com).