'It's all there': Like Kopitar and Malkin, Quinton Byfield is the full package
Photo illustration by Nick Roy / theScore
On the surface, the Jan. 30 meeting between the Sudbury Wolves and Barrie Colts was just another game in the 2019-20 OHL season, the 37th contest of a 63-game year shortened by COVID-19.
The way MacAuley Carson sees it, though, the Wolves' 3-2 victory was more than just another game. It was the game in which he witnessed superstar teammate Quinton Byfield call his shot with Sudbury down 2-1 early in the third period.
Byfield, as Carson tells it, told a yapping Colts player to buzz off and then gave him a warning: Not only did Byfield plan to tie the game 2-2, but he would do so in spectacular fashion by rifling the puck top corner on a breakaway. You can probably guess what happened the next time his skates hit the ice.
In-game chirping is rampant in junior, Carson notes, but this was different. Byfield put his money where his mouth was and hushed the Colts faithful mid-celebration. "It was probably the first time I ever saw a guy say he was going to do something, and then actually do it the next shift," Carson said earlier this week, still amazed eight months later.
For good measure, Byfield later scored the overtime winner, burying his sixth shot of the night to cap the Wolves' late-game comeback. "That was the moment where I'm like, 'OK, this kid's pretty good,'" Carson said with a laugh. He likened the 6-foot-4 center's performance to an NBA player taking over in crunch time.
Byfield will again command attention Tuesday when the NHL gathers virtually for the first round of the 2020 draft. The New York Rangers are expected to select Canadian forward and consensus top prospect Alexis Lafreniere first overall. The Los Angeles Kings pick second and are projected to take either Byfield or German phenom Tim Stuetzle, with the Ottawa Senators taking the other at No. 3.
Truthfully, there is no wrong choice for the Kings. But if it were up to TSN's Craig Button, Byfield would be bound for California.
"My opinion on the selection at No. 2 is simple. We all know what Anze Kopitar means to the LA Kings. When I look at an Anze Kopitar-type player like Quinton Byfield, who better to learn from than the player you might be very similar to?" said Button, a former NHL general manager and scout.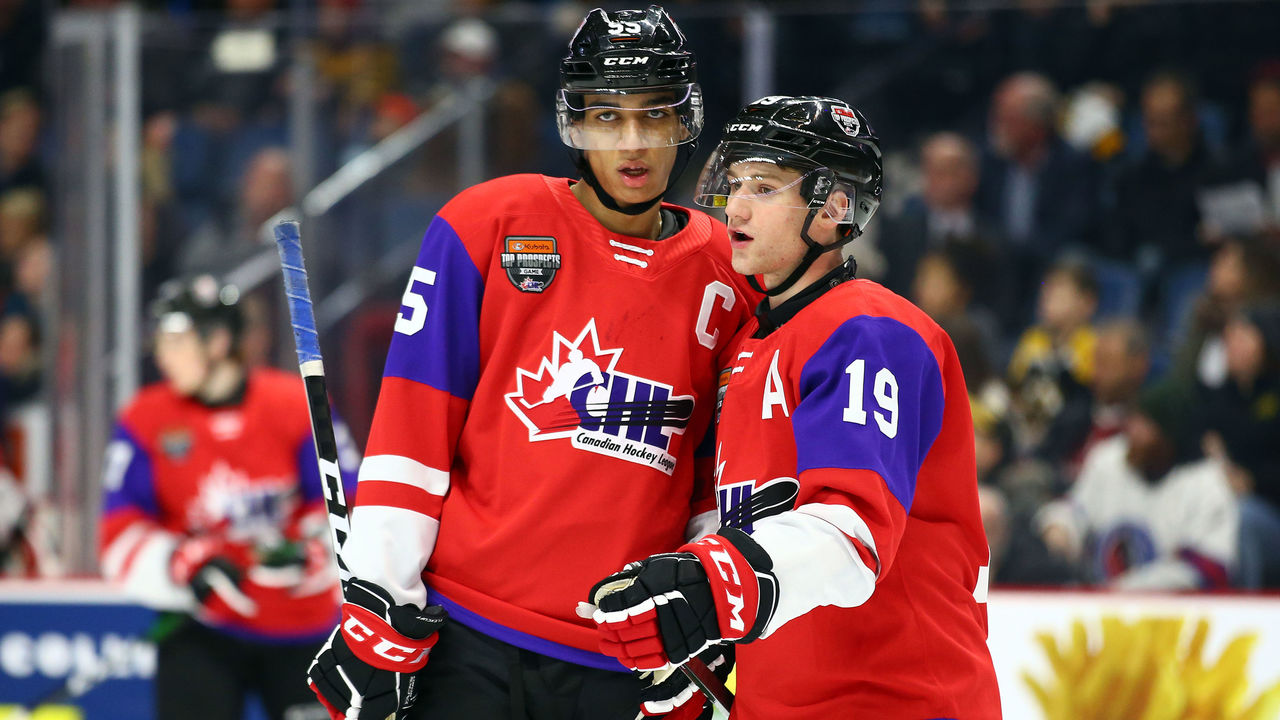 It's rare for a prospect to be compared to Kopitar, one of hockey's most unique two-way forwards. But Byfield, who only turned 18 on Aug. 19, actually qualifies. He boasts formidable size, explosive skating, high-end skill, and advanced vision. Byfield isn't currently in Kopitar's ballpark when it comes to his play away from the puck - the latter is a former Selke Trophy winner - yet Button believes he has the desire, attitude, and tools to eventually "make an impact on every square inch of ice" at the NHL level.
"I see him as a real, real bright prospect," Button said. "The athletic ability, the hockey ability, the determination, the competitive spirit - it's all there, it's all there. It's about continuing to grow and develop."
Unlike Kopitar, the lone Slovenian to star in the NHL, Byfield hails from a hockey hotbed. Though his father is from Jamaica and didn't grow up around the game, Byfield was born and raised in the Toronto suburb of Newmarket, becoming addicted to the sport at an early age. By his mid-teens, he'd established himself as a blue-chip prospect, drawing crowds of scouts before the Wolves eventually selected him first overall in the 2018 OHL draft. He delivered immediately, posting 61 points in 64 games to earn rookie of the year honors.
"He came in and played both roles, offensive and defensive. He would be out there late in games with goalies pulled," Wolves head coach Cory Stillman said. "If we pulled our goalie, everything ran through him. If their goalie was pulled, we had him on the ice because we knew he was going to get the puck out.
"He's smart, he can read plays, and he has a great stick. We knew from Day 1 that having him on the ice late in games was an advantage for us."
Commitments with Team Canada's world junior squad, a mid-season wrist injury, and the coronavirus pandemic truncated Byfield's sophomore OHL season, yet he still managed to bag 32 goals and add 50 assists to lead the Wolves with 82 points in 45 games. Scouts were impressed once again, this time by his constant improvements in blending the various aspects of his game.
"He has a power element, but it's combined with speed," explained Dan Marr, the director of NHL Central Scouting. "He's got nice, soft hands for a big guy, and he's got very good hockey IQ. This is an all-situational player."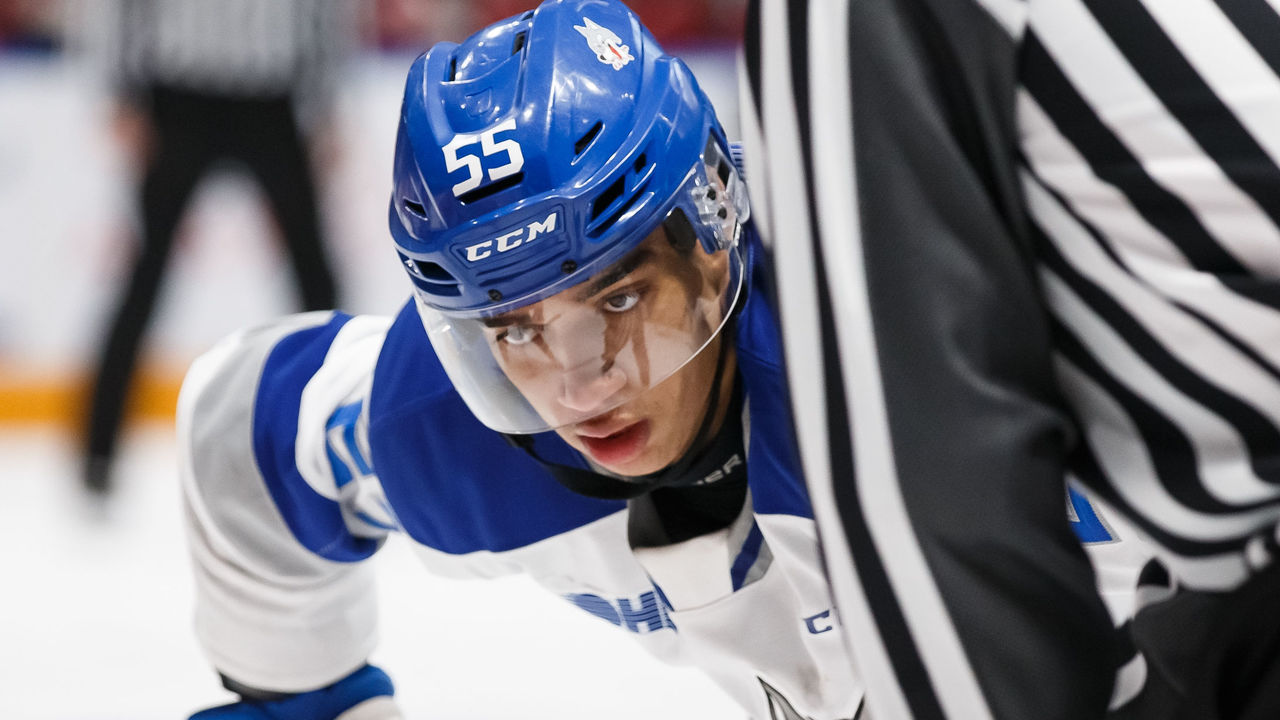 Like most scouts, Marr would rather not compare prospects to NHL stars. But he can't help himself with Byfield. Evgeni Malkin of the Pittsburgh Penguins, a popular comparable across the industry, comes to mind thanks to similarities in skating ability, stature, and puck skills. He also sees Byfield as a "clone" of 18-year-old Leon Draisaitl, who became the No. 3 pick in the 2014 NHL Draft and is now the reigning winner of the Art Ross and Hart trophies at 24. Interestingly, Marr's favorite comparable is a major throwback: Jean Beliveau of Montreal Canadiens lore.
"The way I like to describe him is that he plays the game the correct way. He has all the tools and the talent to flourish," Marr said of Byfield. "When I watched him initially, the way he handled himself, carried himself on the ice and off the ice, I'm sitting there and telling the other guys, 'Hey, this is like a Jean Beliveau-type player,' in terms of his impact on and off the ice."
Eric Lindros, you'll notice, is left out of the comparable conversation. Byfield isn't cut from the same cloth as Lindros, a bulldozer of a power forward in his heyday. At 220 pounds, Byfield is leaner, cleaner, and craftier. As Marr put it, the left-handed shooter is "a big guy who can show up on the highlight reel doing things that normally you only anticipate with smaller guys."
Erie Otters defenseman Jamie Drysdale, another top-10 talent in the 2020 draft, was asked last week for a scouting report on Byfield, his OHL opponent and international teammate.
"He's got the size, the speed, the hands, and pretty much all the tools you need to be a high-end forward," Drysdale said. He added: "The second that guy gets a step on you, you're kind of toast."
Drysdale and Byfield both made Canada's world junior team as underagers. They each appeared in seven games, but Byfield's impact on the squad's gold-medal run was minimal. He didn't see the ice often, and when he did, the dominant player seen in OHL rinks was nowhere to be found. This so-so showing, not uncommon for a 17-year-old suiting up in a best-on-best under-20 tournament, continues to follow Byfield. On a video call with reporters last week, he said adjusting to the lack of ice time was a "learning curve."
The OHL has yet to approve the opening of training camps due to COVID-19, so Byfield is in limbo until at least November. During this extended offseason, he's been training off the ice with fitness guru and ex-NHLer Gary Roberts, and competing on the ice against Connor McDavid and other Toronto-area pros such as Josh Anderson and Chris Tierney. Like all top prospects, his goal is to make the NHL next season. Is he truly ready, though?
From Button's vantage point, Byfield could play in the NHL immediately, but he doesn't project to be a key contributor right away. "I think it would be a massive mistake for the team who drafts Quinton Byfield to have him in the NHL next year," Button said. "Massive mistake."
Button would rather Byfield dominate every single night in the OHL and crush the 2021 world juniors, which are scheduled to take place around the winter holidays in a bubble environment in Edmonton. Remember, Button warns, Byfield is young, 10 months younger than Lafreniere and, despite his resume and makeup, still quite raw.
"I say this in the most complimentary way," Button said. "I honestly believe Quinton is still in the process of finding how good he can be."
Carson, for his part, has aged out of the OHL and is now playing for the University of New Brunswick men's hockey team. The former Wolves forward leans on a quote plastered on the walls of UNB's facilities to describe the road ahead for Byfield, a potential franchise-changing center who's just getting started.
"Your talent is your floor," he said. "And then your work ethic is your ceiling."
John Matisz is theScore's national hockey writer.
Comments
✕
'It's all there': Like Kopitar and Malkin, Quinton Byfield is the full package
  Got something to say? Leave a comment below!